'Direct Action' Archives
Tuesday, August 7th, 2018
How many people would love to tell Jacob Rees-Mogg to go and fuck himself? Well, last night we did so in joyful fashion. We paid a little visit to the countryside just outside of Bristol, to his mansion called Gourney Court in the quiet village of West Harptree.
For those of you who are reading this and do not know who this man is, he is one of the most detestable members of parliament ever, and fuck me they're a bad bunch. Other politicians claim he is the one truly ruling this country from behind the scenes. Here are some of his charming characteristics…
He is extremely wealthy, staunchly Roman Catholic, a clear friend to fascist groups and has his eyes fixed on being the actual political leader of this fucking prison island (after May decomposes fully).
He was raised by his nanny. After prep school he attended Eton college and then Oxford university (for the poshest people in the country). Him and his wife have a 100 million quid together, they just bought a new house in London for 5 million, he makes 168,000 pounds a year from his partnership in a hedgefund business called Somerset Capital Management that is worth 7.5 billion pounds (apparently it invests in tobacco, mining and oil and is based in offshore tax havens, for those who care about such details). He proudly claims he has never changed a nappy in his life despite having 6 kids.
He uses his religion as an excuse for his xenophobic views. He is opposed to same sex marriage and contraception, he is against feminism, LGBTQI people and specifically gender re-assignment. He is opposed to abortion in all circumstances including cases of rape. He has argued for the abolition of environmental protections and for fracking, he is pro fox hunting and has also argued for the Conservative party to be almost entirely white skinned. He is opposed to immigration, he supports zero hours contracts and loves the equally charming DUP (Northern Irelands right-wing Democratic Unionist Party) and the Conservative governments billion pound deal with them.
He fucking idolizes Margaret Thatcher and we're not even done yet…
In May 2013, he addressed the annual dinner held by the Traditional Britain Group, a group of fascists that calls for non-white Britons to be deported. Apparently he had been informed about these things by anti-fascist group Searchlight prior to his attendance.
After Rees-Mogg was confronted by anti-fascists in Bristol a year ago, Britain First (another fascist organisation) pledged to protect him at future events.
Rees-Mogg is backed by Nigel Farage, the disgusting former leader of nationalist UKIP party, who has probably the second most punchable face in politics after Rees-Mogg himself. He's also met with Steve Bannon of Breitbart News in the US.
He constantly spouts-off about these high morals of Catholicism from his position of other-worldly privilege with no comprehension of the realities of people at the other end of the financial spectrum.
Phew, that is an impressively exhausting list to sum up a contender for the worlds biggest arsehole.
For all of these reasons and more he was chosen as a perfect symbol of many things we struggle against as anarchists. And so… last night we left him over 60 soiled nappies spread across his grounds as he's no idea what they look like (don't ask where they came from! haha). We spread around condoms to see if the idea would grow on him, even decorating a crucifix in his garden with them. We left lots of lovely messages sprayed around many of the buildings on his property letting him know exactly how we felt about him and causing a considerable clean up job. The pièce de résistance: his wife's car (license plate Y7 HRM) sprayed with "SCUM" across the side in massive letters with a big sucker dildo planted on the bonnet! Beautiful.
Our action is not revenge or punishment (how could it be, there is no balance between our prank and this list of his accomplishments), but one (slightly sillier) glimpse into one of the multitude ways we exercise our critical analysis.
The conditions of our existence are under the control of people like this, but make no mistake, unlike one member of Bristol antifa who confronted Rees-Mogg, we are not supporters of the left or defenders of Jeremy Corbyn, we are not interested in a different leadership, in another form of representation, in a regime change, or in anything that merely shuffles around the makeup of power. We are opposed to all political forms including democracy. Democracy is shit, it breaks the link between thought and action. It does nothing but maintain the existence of alienated power since it requires that our desires be separate from our power to act, and any attempts to engage in that system will only serve to reproduce it. Voting does not give you a voice, it takes it away.
We continue to struggle for our ourselves, in solidarity with our comrades (inside and outside of the prison walls, across national boundaries and to those continuing to struggle who have been forced underground)… and in honor of a comrade who fell in the midst of fighting and who spent her life struggling against many of the issues mentioned above. Like the graffiti says around Bristol, "keep fighting!".

The Cornerstone group(1) can shove their faith and their flag up their arse and Momentum(2) can go fuck themselves as well!
Down with politics and politicians, religion and the State!

The Home-visit Cell
PS. Sorry for the long communique, blame Jacob Rees-Mogg for being such a massive prick.
–
(1) https://en.wikipedia.org/wiki/Cornerstone_Group
(2) https://en.wikipedia.org/wiki/Momentum_(organisation)
Tags: Bristol, Conservative Party, Gourney Court, Graffiti, Home visit, Jacob Rees-Mogg, Paint attack, Vandalism, West Harptree
Posted in Direct Action
Tuesday, July 24th, 2018
21.07.18: During the early morning hours of July 20th, we attacked the police station on Ulmen street in Rostock with fireworks.
This was in response to the completely unnecessary raids on the homes of our comrades in Greifswald. On Thursday morning, a total of 100 cops were used to search houses and apartments. This was obviously meant to send a clear message to those of us who are committed to the struggle for a better society and countering the shift to the right in society as a whole. Of course the police operation was immediately celebrated by the AfD.*
But in these times of right-wing and authoritarian mobilizations, they give us something to oppose, because the cops are always in opposition to our ideas for a liberated society.

No peace with the police! ACAB
*Translation note: Far-right political party Alternative für Deutschland / Alternative for Germany
Tags: Germany, Rostock, Solidarity Action
Posted in Direct Action
Monday, July 16th, 2018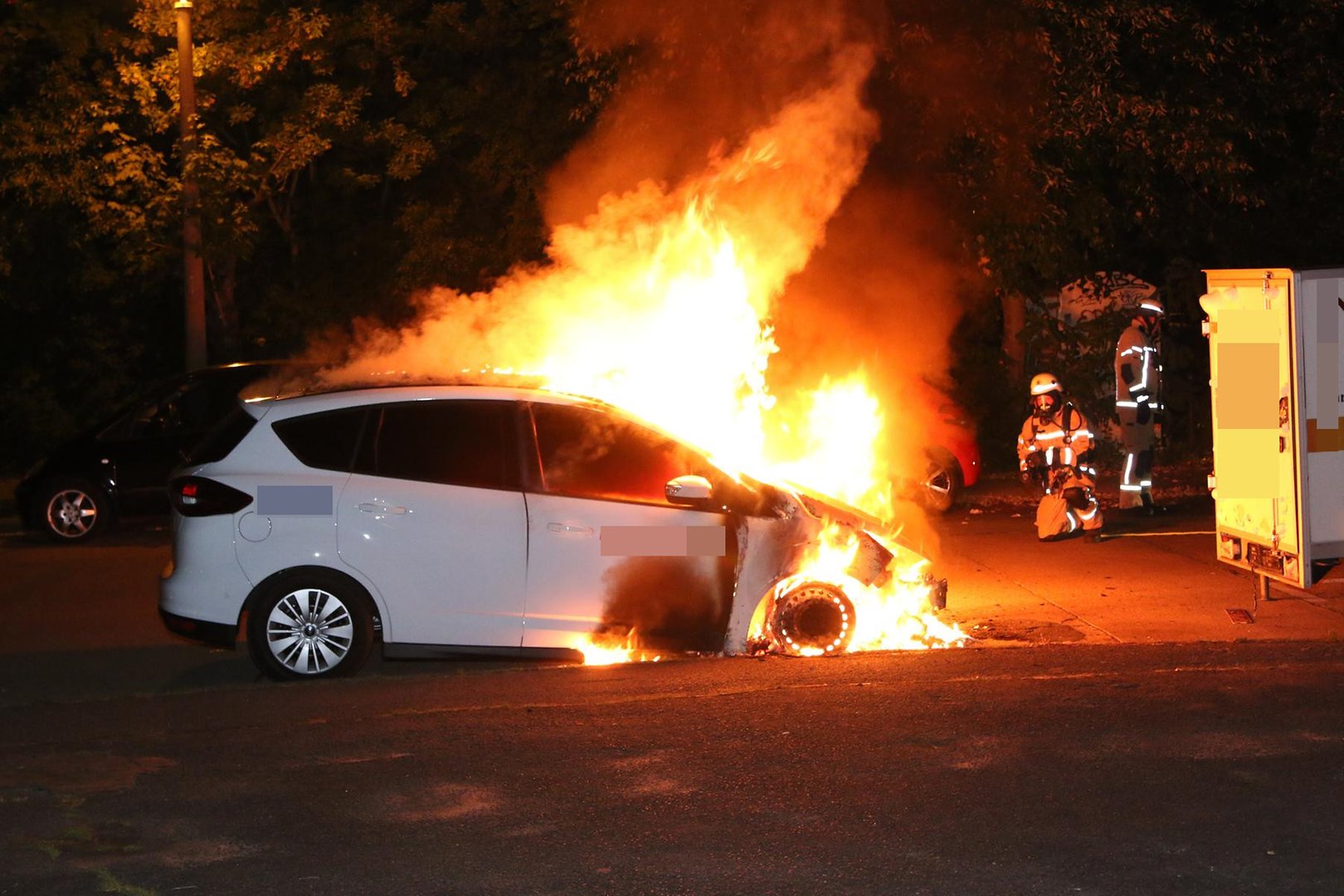 16.07.18: Last night a car belonging to the company Dräger was torched on Hänsel street in Baumschulenweg. Among other things, this corporation that is listed on the stock exchange, manufactures gas masks for police and military use.
In 2010, Dräger locations in Berlin and Cologne were attacked with paint:
"We hit Dräger because it is one of the biggest supporters of the international torture and murder scene, and in addition to sponsoring the police congrees, Dräger is also a leading international security and medical technology company".
From the Dräger annual report:
"Demand for our products increased in 2017, especially in Poland, Great Britain, Austria and Germany, as well as in Romania, Russia and Turkey…The increased demand for security products in particular contributed to the positive development of an increase in orders for medical technology too".
Freedom For All G20 Prisoners!
Tags: Arson, Berlin, Dräger, G20, Germany, Sabotage
Posted in Direct Action
Thursday, July 12th, 2018
11.07.18: Shhhh! Don't tell anybody that at dawn on Thursday, July 5th, a few hours before the World Cup quarter-finals, we put a TV broadcasting tower out of action between Saint-Rémy and Chevreuse, in Yvelines, the main department of all digital communications.
Don't tell anybody that the 'technical problem' was in fact an arson attack that destroyed its transmission cables, completely cutting off until today not just the television, but also the internet and three mobile phone operators (Free, Sfr and Bouygues) signals for the whole area.
Let's continue to sabotage the spectacle.
Let's attack all the technological cages.
Tags: Arson, France, Sabotage, Yvelines
Posted in Direct Action
Wednesday, July 11th, 2018
When you set out at night with the intention of burning or putting something out of action, interrupting the paralysis inherent in everyday life, you never know exactly what you will find once you are on the street. Which is how it was one night in mid-June when we came across a Diplomatic Corp car and one belonging to ENJOY* parked side by side next to the footpath. If until then, they had been united together in the same shitty existence in service of devastation, power and domination, we could not help but see their willingness to share the same demise together. And so, just like it was with some excavators in France not long ago, we took note of their will by enjoying the sight of the flames that enveloped them.
We hope that despite the high temperatures of recent days that the heat of this fire may bring a smile to all the comrades locked up in prisons, subjected to judicial controls or under surveillance…

To the Argentine comrade Diego Parodi… Strength, hold on!
To those facing investigation for the G20 in Hamburg.
For the prisoners and the accused of Operation Scripta Manent.
For Giova, Ghespe and Paska.

For Anarchy!
*Translation note: ENJOY is a 'sustainable' vehicle sharing company run by energy company ENI and public transport operator Trenitalia

Source
Tags: Arson, ENI, G20, International Solidarity, Italy, Rome, Sabotage, Trenitalia
Posted in Direct Action
Friday, July 6th, 2018
06.07.18: Last night we destroyed 6 Deutsche Bahn (German Railways) vehicles near Frankfurt West railway station. We are opposed to German support for the war of aggression by the Turkish government in Northern Syria as well as the ongoing raids and arrests of left-wing activists.
We set fire to six Deutsche Bahn vehicles used for making repairs. We deliberately carried out our action in a way that ensured there was no danger to anybody. Deutsche Bahn is a leading logistics partner of NATO. Dying and killing in the name of our 'democracies' is not an option for us. We will continue to side with the revolutionary forces in Syria and elsewhere.
Here in Germany there are enough reasons too, we do not even know where to start with this police state: the complete erosion of what once referred to itself as a constitutional state. Mass public manhunts. The raids against German technology associations because they have a donation account for a legal US email provider and for using an email address that was used to promote protests against the AFD! (Alternative for Deutschland, right-wing populist party)* Or the banning of Linksunten Indymedia. Or the arrests in the Rhine-Main area for alleged participation in the G20 protests. Or the searches in France, because those affected allegedly raised their arms at the G20. What a complete misunderstanding of every situation in the Schanze.**
(more…)
Tags: Arson, Deutsche Bahn, Frankfurt, G20, Germany, Sabotage
Posted in Direct Action
Thursday, July 5th, 2018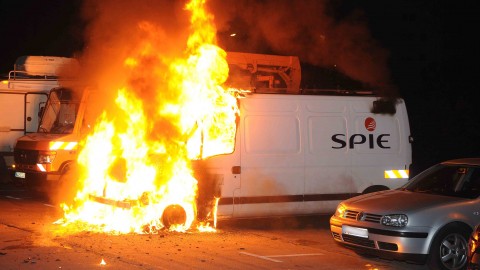 05.07.18: The wave of exuberant hatred for the arbitrariness of uniformed individuals spills once more across the borders of France to us. For the last two nights in Nantes, hundreds of teenagers have destroyed shops, set fire to cars and attacked the CRS (Compagnies Républicaines de Sécurité / general reserve of the French National Police) with Molotovs.
Aboubakar was executed on Tuesday night in a suburb of Nantes in his car by a police officer after he was placed under arrest during a vehicle inspection…
The police spread their version that they were in danger and it was in self-defense. It is obvious that the 'legitimacy' of the murder that they make public is found only in the self-created legitimacy of the police apparatus. Since we refuse to recognize that law, there can never be legitimacy for execution by a cop. (more…)
Tags: ABC Berlin, Arson, Germany, Nantes, Solidarity Action, SPIE (Prison Industry)
Posted in Direct Action
Wednesday, July 4th, 2018
On Wednesday, June 27th, 2018, the managers of Société Le Nickel (SLN), a subsidiary of the French company Eramet in New Caledonia, publicly complained about repeated sabotage targeting nickel mining and transportation infrastructure.
The sabotages have all been targeting an 11km conveyor that is used to transport the nickel ore from the deposit to the Kouaoua site (north-east of Grande-Terre) at the seaside, where around 200 people are directly employed. On June 23rd, during the last arson attack against this 'treadmill' that is nicknamed The Serpent, a stolen vehicle was placed under the infrastructure and then set on fire.
The financial cost related to these multiple sabotages amounts to 150 million CFP francs (1.25 million euros) for the company.
For the time being, SLN "does not plan to close its Kouaoua center", from which about 600,000 of the three million tonnes of ore that the company refines at its Noumea plant are extracted each year.
Until now, only one person has been arrested for these serial sabotages, a 31 year old man who was sentenced on June the 19th to 18 months in prison without parole. At the court case he had questioned "pollution" and the "promises" of public facilities that were not kept by SLN.
In New Caledonia, attacks against mining companies do not end in truces. Recently SLN suffered major damage not only to its Kouaoua site, but also at Thio during the transition to the year 2018. Other mining companies, such as Groupe Ballande, lost 5 vehicles and a workshop to the flames in Canala in early January 2018.

Source
Tags: Arson, Eramet, France, Sabotage, Société Le Nickel (SLN)
Posted in Direct Action
Tuesday, July 3rd, 2018
El lunes 4 de junio instalamos en el recorrido I 01 del Transantiago un artefacto incendiario, que logró su activación pero debido a algún fallo interno no generó el daño deseado. Tras la detonación el chofer baja a los pasajeros y conduce el microbus hacia el terminal de la empresa, donde es periciado por la policía.
Creemos en lo contagioso y reproducible de la acción destructiva, con lo que creamos necesario y tengamos al alcance. Desde la calle, saludamos a lxs grupos e individuxs que han decidido romper la normalidad imperante.
Atacamos en solidaridad con el machi Celestino Córdova, nuevamente en huelga de hambre, desafiando las disposiciones del Estado Chileno y el control de Gendarmería.
Nuestro ataque revive los latidos insurrectos del Punki Mauri, a 9 años de su muerte, la anarquía no acaba ni olvida.

¡Mauricio Morales presente!
¡En solidaridad con lxs presxs de la larga condena!
Célula Incendiaria Zoé Aveilla

Desde la prensa:
http://www.ahoranoticias.cl/noticias/nacional/226351-artefacto-incendiario-es-encontrado-en-bus-del-transantiago.html
https://www.biobiochile.cl/noticias/nacional/region-metropolitana/2018/06/05/investigan-artefacto-incendiario-dejado-al-interior-de-un-bus-del-transantiago-en-maipu.shtml
–

Claim of incendiary device in Transantiago bus
On Monday, June 4, we installed an incendiary device on Transantiago route I 01. The incendiary achieved its activation but due to some internal failure did not generate the desired damage. After the detonation the driver lowered the passengers out and drove the microbus to the terminal of the company, where it is investigated by the police.
We believe in the contagious and reproducible destructive action, with what we have within reach and for what is needed to create. From the street, we greet the groups and individuals who have decided to break the prevailing normality.
We attacked in solidarity with the machi Celestino Córdova, again on hunger-strike, defying the dispositions of the Chilean State and the control of police.
Our attack revives the insurrectionary beats of Punki Mauri, 9 years after his death, anarchy does not end nor forget.

Mauricio Morales present!
In solidarity with the prisoners with long sentences!
Incendiary Cell Zoé Aveilla

Tags: Arson, Chile, Incendiary Cell Zoé Aveilla, Santiago
Posted in Direct Action
Tuesday, July 3rd, 2018
Here we reproduce the report of the incendiary attack from 'Black and Green Arsonists' – their claim of responsibility for Green Nemesis Act 3. We note that the rhetoric of 'indiscriminate attack' can lend itself to the green authoritarianism of the Church of Eco-Extremism, and whilst the attacks don't possess the attributes of an authoritarian action it is worth being clear. There is a big difference between indiscriminately attacking the enemies and indiscriminately attacking random individuals. The communique has several interesting points about animal/earth liberationist struggle and we are happy to reproduce it. Until all are free.

Anonymous (delayed) report:
On October 28, we made a double hit in the area of ​​Zografou, burning a truck / refrigerator for meat transportation, with an incendiary mechanism. We also attacked a hunter's car by breaking and burning gasoline in its interior. We also take responsibility for the Green Nemesis Act 3.
We indiscriminately attack what contributes to the incarceration, abuse and misery of animals. Whether this is a cosmetic showcase or a butcher, etc.
ANTHROPOCENTRISM
People from the very old age used the animals for their benefit. With the development of technology and its means, the exploitation of animals grew, while the value of life was undermined. Anthropocentrism is the one that leads millions of animals to death in order to become food, and not only. Workshops full of experimental animals. Also people still use animals for their own fun. (more…)
Tags: Arson, Athens, Greece, Green Nemesis project, Sabotage
Posted in Direct Action
Tuesday, July 3rd, 2018
Unknown persons destroyed the windows of the Russian visacenter in Kanalstr. 14a, Hamburg, the night of the 22.06. Also "FUCK FIFA!", "FIGHT REPRESSION!" and"(A)" was spraypainted to the facade.
Since autumn 2017 there happen repressive attacks against anarchists in different Russian cities, in Belarus and on Krim. With torture, intimidation, blackmail and imprisonment they are targeted. At the same time the football worldcup is one of the biggest spectacles of power that is happening in Russia. The rich can enrich themself even more and behind the cameras, all this, as with the Olympic games or summit-meetings, can be used to develop repression and control against maginalised, poor and unwanted social groups and to develop aggressive gentrification.

Freedom and solidarity don't need Visa!
Tags: FIFA, Germany, Russia, Sabotage, Solidarity Action
Posted in Direct Action
Tuesday, July 3rd, 2018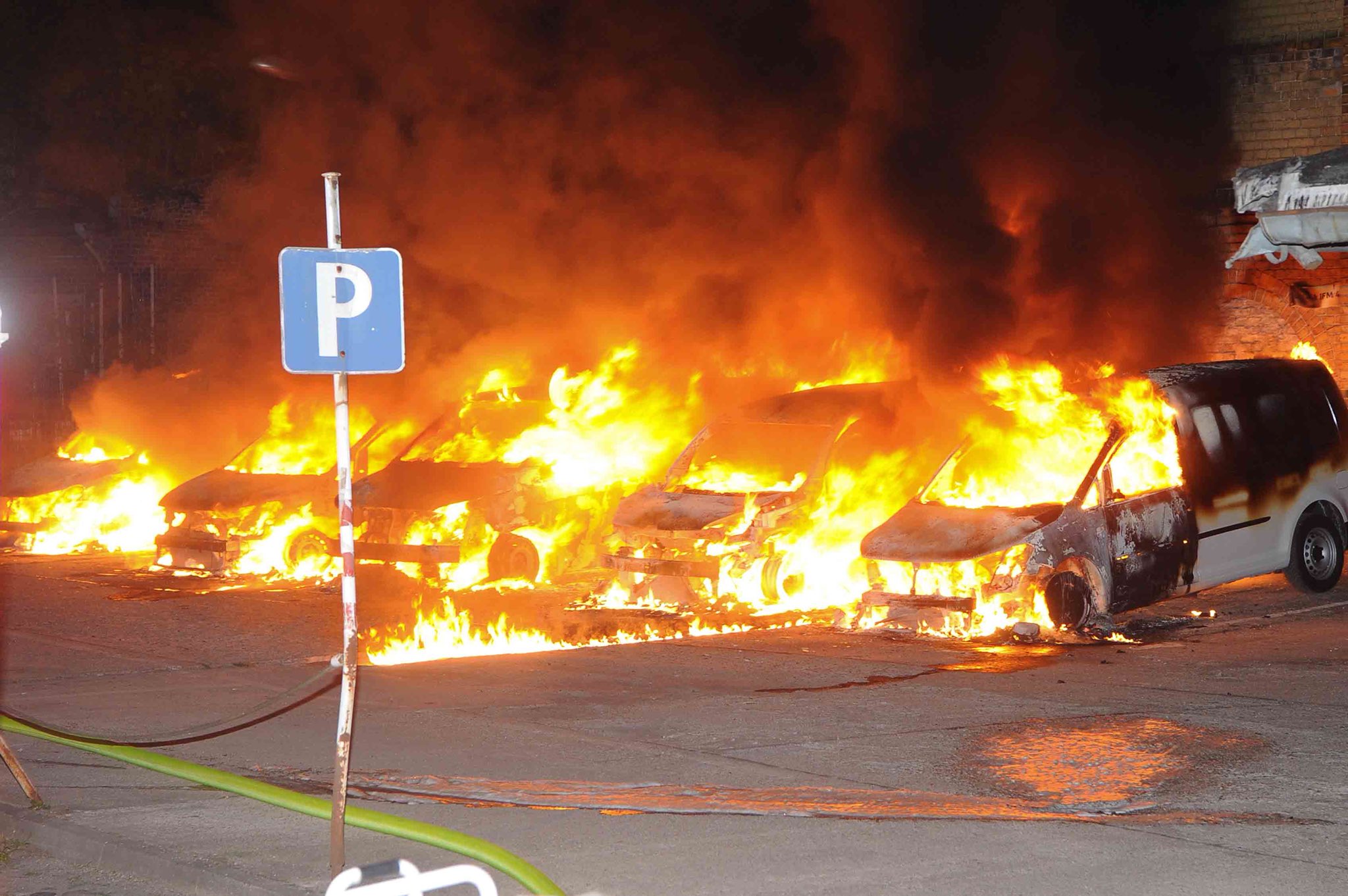 Berlin, June 2018
Restructuring power via digitization is in full swing. Hardly anything that cannot be complemented by a 'smart' in its name and thus a new place in this world has escaped this process. Everything is networked. Cameras, sensors and chips are constantly sending and letting things communicate. 'Big Data' is the currency of tomorrow. Even our relationships, actions and thinking are permanently exposed to digital access. Reduced to information, we feed the algorithms of the machines, helping to make the future manageable and controllable.
It's not always easy to hold on to the possibility of destroying this system as the rapid pace of the technological attack is widening and the net of domination stretches around us. All the more important are the moments of counterattack to reject the powerlessness that is spreading in the face of current developments. So we are all the more pleased that the answers to the misery produced by the colonization of the world via techno-industrial hegemony are found again and again in Berlin. Within the context of the planned Google campus in Kreuzberg, a fight has developed that is not only aimed at the tech giants and their universe, but also at the social level. Self-organization, direct communication and the power of the attack are the means of choice. Various acts of sabotage, such as the one last March by 'Vulkangruppe NetzHerrschaft zerreißen' have shown that the infrastructure of the flow of goods, communication and data networks is vulnerable and can be disrupted by arson attacks against cable networks and sensitive radio antennas. (more…)
Tags: Arson, Berlin, Deutsche Bahn, Germany, Telekom, Vodafone
Posted in Direct Action
Sunday, November 26th, 2017
19.11.17: Tonight, a group of people in Naarm / Melbourne, responding to the call out for 8 Days of Solidarity for Refugees, undertook an action targeting Serco. Serco is a multinational corporation which is directly responsible for the inhumane incarceration conditions faced by refugees, asylum seekers, and detainees, in so-called Australia. Serco is also a major player in the international privatised prison complex.
The group gained access to a central Naarm / Melbourne, Serco compound and immobilised 7 vehicles. The group also left spray-painted messages on Serco compound property, including vehicles, reading "Serco Psycho Scum", "Serco, profiting from refugee detention- this is war", and "Serco profits from misery, we hold YOU responsible".
Deaths in Detention Vengeance and Accountability Crew
Tags: Australia, Melbourne, Migrant Struggle, Sabotage, Serco
Posted in Direct Action
Sunday, November 19th, 2017
On the 17th of November, the leaders of the nations of the European Union gathered in Gothenburg for the EU summit. The EU maintains its external borders vigilantly, leading to countless deaths of people trying to enter Europe. Internally, the border controls returned during the latest "refugee-crisis", and at the Swedish border they are still in place. Borders and deportations protect the rich and powerful of the European societies, at the price of murder and incarceration, and they manifest themselves clearly in passports and police.
The police willingly do the insidious work of controlling the borders and carrying out deportations. At the same time, the EU gives the police forces of the member states extended possibilities for repressive cooperation, enabling them to exchange information and issue arrest warrants for sought-after people across the EU.
The police mobilized massively to protect the EU summit in Gothenburg, so we decided to strike somewhere else, away from their attention.
For these reasons, and many more, we attacked the passport office of the police in Malmö with rocks on the night of the EU summit.
We send warm rebellious greetings to those who fight against borders and nationstates and to those who fought the police on the 30th of September when Nazis were marching in Gothenburg, especially to those who are now jailed or going to trial for the events on that day.
Anarchists
Tags: Counter-Summit, EU, Gothenburg, Malmo, Sabotage, Sweden
Posted in Direct Action
Thursday, November 16th, 2017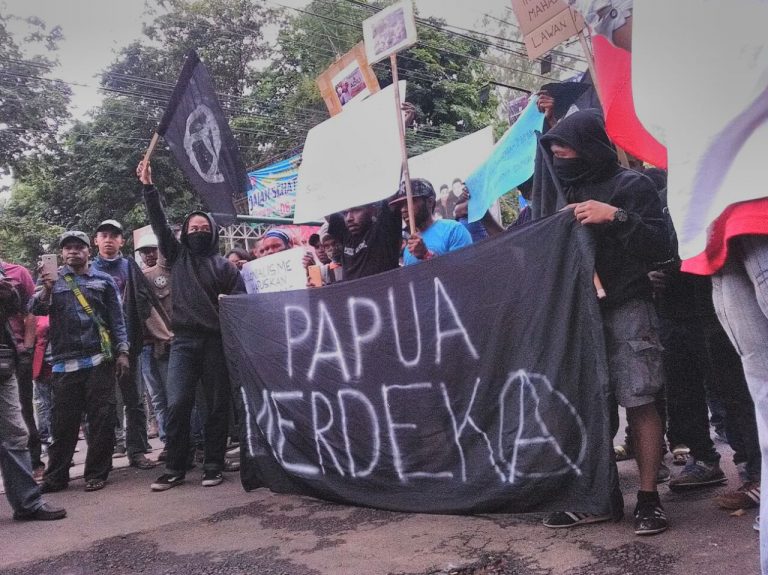 Freedom for Papua
15 November 2017
Solidarity between various alliances including Libertarian Student Federation (FML), Papuan Student Alliance (AMP) in the small town of Salatiga, at the Satya Wacana Christian University. This solidarity is a nationwide call from the KNPB (National Committee of West Papua) in order to give pressure to the Indonesian government to give rights to West Papuan independence and autonomy. In this case, anarchists and libertarians limited their solidarity for the full autonomy and freedom of West Papua from Indonesian state and not supporting the creation of West Papua as a nation-state.
Anarkis/FML
–
Salatiga (Jawa Tengah)
Solidaritas antar berbagai aliansi termasuk diantaranya Federasi Mahasiswa Libertarian (FML), Aliansi Mahasiswa Papua (AMP) terjadi di kota kecil Salatiga, tepatnya di Universitas Kristen Satya Wacana. Solidaritas ini merupakan seruan dari KNPB (Komite Nasional Papua Barat) dalam skala nasional untuk menekan pemerintah Indonesia agar memberikan hak untuk menentukan pilihan bangsa Papua Barat. Dalam hal ini, kaum anarkis dan libertarian, membatasi solidaritasnya dalam bentuk otonomi bangsa Papua Barat dan bukannya disintergrasi yang akan menciptakan negara baru lagi.
Videos Links (click on the links below):
Some anarchist students make their way out of campus
Demonstration outside of University
Tags: Demo, Indonesia, International Solidarity, Salatiga, West Papua, West Papua Independence
Posted in Direct Action