'Direct Action' Archives
Tuesday, November 5th, 2019
On the night of 31 October 2019, we, the anarchists of Kyiv, attacked a police station in the town of Vishnyovoe, Kyiv region (address: 22 Balukova Street). Having found a hidden approach to the parking lot, we used Molotovs to destroy police vehicles.
The police are an instrument of violence in the hands of the State. We can hear that the Ukrainian police have become "better" since the reform. When drunk policemen killed a 5-year-old child in Pereyaslav-Khemnitsky on 3 June 2019, they showed us what all these reforms cost. We do not need "improved police", but a new system: direct people's self-governance and real control of the people over the resources and economy of the country. The order must be ensured by the structures accountable to the self-government bodies. The police in their present form are executioners at the service of robbers and oppressors. It should be abolished as an institution.
We dedicate our operation to the memory of the Russian anarchist Mikhail Zhlobitsky. Exactly one year ago, Mikhail committed an act of retaliation against the executioners and sadists of the FSB. He detonated an improvised explosive device in the Department of FSB of Arkhangelsk and sacrificed his life. The solidarity of the revolutionaries does not know the state borders. We feel the pain of the distant like-minded person as our own. We are convinced that the feat of Mikhail Zhlobitsky will not be forgotten. We call on all honest people of the world to make October 31 a day of active action against the oppressors.
Freedom or death
Long live the revolution!
A group of revolutionary anarchists
Tags: FSB, Fuck the Police, Kiev, Misha Zhlobitsky, Solidarity Action, Ukraine
Posted in Direct Action
Wednesday, October 30th, 2019
On the Sunday morning, October 27, 2019, an explosion occurred in the Proletarsky district of Donetsk. The mobile communications tower of the Phoenix operator was blown up. The civilian population was not injured, but the equipment was destroyed. An explosive device was landed under a booth with equipment and triggered remotely. The people who committed the explosion published a video of the action. They also demonstrated a leaflet explaining their motives: "This was done to draw the attention to the inhuman tortures in the basements of the MGB (Ministry of State Security of "Donbass People's Republic"). Abuses and tortures with electric wires in the "people's" republics has become an everyday normality. The people of Donbass should go to a protest rally against tortures, or the fascist republic will be left without communication. "
Our comrades from the Combatant-Anarchist resource report that they received anonymous information that this action was performed by anarchists, in memory of the act of Mikhail Zhlobitsky.

From Anarchy Today
Tags: Donetsk, Russia, Sabotage, Solidarity Action, Torture, Ukraine, Videos
Posted in Direct Action
Monday, October 28th, 2019
A coalition of Bristol groups blocked all the entrances to BAE and MDBA in Filton this morning, [25/10/19] preventing the arms factories from opening. We stand in solidarity with the people of North and East Syria and against Turkish fascism! #Riseup4Rojava #BoycottTurkey #StopArmingTurkey

via Bristol Kurdish Solidarity Network
Tags: Anti-Fascism, Anti-Militarism, Bristol, International Solidarity, Kurdish Struggle, Rojava, Syria, UK
Posted in Direct Action
Saturday, October 26th, 2019
Prison Profiteers Attacked – Excavators Torched – Solidarity with the Park Bench 3
During the night of October 11th [2019], we set fire to two Eurovia Vinci excavators. Vinci, as a global company, has shown many times in the past and in the present that it apologizes for NOTHING and that it is ready to accept any order, no matter how dirty. (more…)
Tags: Arson, Eurovia, Eurovia-Vinci, Germany, Leipzig, Vinci, ZAD
Posted in Direct Action
Saturday, October 26th, 2019
On the night of October 21st [2019], a SUV car with a diplomatic plaque was burned, on rue Dumont d'Urville, behind the Greek embassy in Paris.
With this small action, we want to send a sign of solidarity to the anarchists in Greece, who fight against the State and Capital (legal and illegal) and to defend the occupied spaces.
For those who live and defend spaces of freedom.
For those who carry attacks against authority.
A thought also to the anarchists imprisoned there, in particular the two comrades imprisoned for a robbery in Thessaloniki or the members of the CCF [Conspiracy of Cells of Fire] still in jail.
Freedom for all!
Solidarity is the attack.
Koukouloforoi
[Claim originally published in attaque.noblogs.org].
Tags: Arson, Car Burning, Conspiracy of Cells of Fire, France, Greece, International Solidarity, Paris
Posted in Direct Action
Saturday, October 26th, 2019
On Monday, October 21nd, we send a message to several world media. We wrote an e-mail, that the bomb is in Istanbul Airport (Turkish Airlines company) and in MKEK – Mechanical and Chemical Industry company in Ankara.
There was no bomb. We just wanted to start a evacuation. When the police evacuate some place, they block production in this place.
This is sabotage of Turkish economy!
This is sabotage of Turkish army!
This is our support for revolutionary fighters in Rojava!
# Anarchists
Tags: Ankara, Evacuation warning, Istanbul, Kurdish Struggle, MKEK, Rojava, Turkey, Turkish Airlines
Posted in Direct Action
Saturday, October 26th, 2019
Branches of Turkish banks was attacked
Berlin, London, Sofia, Amsterdam, Paris. In these cities was attacked branches of Turkish bank (Işbank). For actions we used manual from the Network of Revolutionary Cells (SRB): "How to start evacuation"
Money from Turkish bank support terrorism of Turkish state. Turkish army killing civil people. For example, they killing a child named Sara Yusuf Hüseyin. Turkish army also killing revolutionary fighters in Rojava. We have to stop it!
Fight against Turkish bank is fight against terrorism!
– Commando Sara Yusuf Hüseyin
Tags: Berlin, Bulgaria, Commando Sara Yusuf Hüseyin, Evacuation warning, France, Germany, Kurdish Struggle, Kurdistan, London, Paris, Rojava, Sofia, Turkey, Turkish bank (Işbank), UK, War
Posted in Direct Action
Saturday, October 26th, 2019
E-mail communication dated 18 October 2019
It's a classic, it's a must-know thing!
On the night of 16 to 17 October 2019, the Toyota Prius car of the patrol police was burned to the ground. It happened at the guarded parking lot in Svyatoshinsky district of Kyiv. We, anarchists, take responsibility for the arson and will publish an exclusive video where you can see how the police car burns.
Why are we at war with the police bastards?
Today, our lives are under the iron control of the state and corporations. No one asks us whether we want it or not. The authorities do what they think is right. For them, we are a commodity, cattle and lowlifes. Everyone who wants to oppose this way of life is expected to face repression, death. But control and repression would not be possible without the police, the rotten body of the Interior Ministry. The police are the main instrument in the hands of the authorities. Therefore, we are forced to wage war with police crap – for the sake of freedom, for the sake of justice. (more…)
Tags: Arson, Car Burning, Dmitry Polienko, Kiev, Ukraine
Posted in Direct Action
Wednesday, October 2nd, 2019
[Claim appeared on Monday, September 30, on the website nantes.indymedia.org].
On Friday, September 27th [2019], the Nancy-Maxeville prison was attacked to denounce the repression of the nuclear State.
In the pre-evening of the demo against the nuclear waste-dump – project CIGEO « Vent de Bure » at Nancy – we attacked (symbolically) the prison of Nancy-Maxeville, to send greetings to our comrades who are imprisoned and those who are charged by repression. Also to set a sign for a society without prisons in general.
We marked the walls with the paint, smash the windows of some administration buildings, launch smoke bombs and flares in the yard of the prison and greet the prisoners with pyrotechnics in the surrounding area. The action was protected by crowsfeets [metal devices to puncture car tyres] and burning barricades on the access roads. (more…)
Tags: Anti-Nuclear, Anti-Prison, Bure, CIGEO, France, Nancy-Maxeville, Paint attack, Paint bombs, Sabotage
Posted in Direct Action
Tuesday, October 1st, 2019
EN: We are behaving badly, very badly– and we can behave worse!
El Estado mexicano en su lógica dominadora, continúa acusándonos de "provocadores" e imponiendo el pacifismo ciudadano del "pueblo bueno". Y ahora trata de ir más lejos…
Desde el púlpito mañanero AMLO intenta invisivilizarnos, exterminarnos, desaparecernos, es por eso que tergiversa el sentido de la lucha anárquica, de nuestra historia y hasta el mismísimo significado de la palabra ANARQUÍA. Por eso nos denomina "conservadores" mientras imparte "lecciones" a sus mascotas felices, con el consentimiento de las focas aplaudidoras que fingen ser periodistas cada mañana en palacio nacional.
Para AMLO, al igual que para todos los presidentes anteriores (y para todos lxs jefes de Estado en la historia), el/la mejor anarquista es el que está muertx o el oportunista que renuncia a las ideas y le lame las botas, como es el caso del estalinista converso Paco Ignacio Taibo.
Esa es la razón por la que AMLO miente y nos señala como "conservadores". Todxs sus enemigxs, somos "conservadores", incluixs lxs anarquistas. (more…)
Tags: Arson, Ayotzinapa, Demo, Mexico, Mexico City, Riots, Sabotage
Posted in Direct Action
Saturday, September 28th, 2019
Grecia: Aggiornamento sul processo contro l'anarchico Konstantinos Giagztoglou (settembre 2019)
09/26/2019
On Friday, September 20, 2019, in the special courtroom of the Korydallos prison, the trial against anarchist comrade Konstantinos Giagztoglou began.
CASE SUMMARY
Dinos was arrested in October 2017 in an anti-terrorist ambush when he left an apartment in central Athens, which he rented with false ID to help a persecuted comrade. He was arrested with an order issued by Special Investigator Eutychis Nikopoulos for the case of intercepted letter-bomb packages which were sent to officials of the European economic and political elite in the spring of that year. Since then he has been detained and accused of participating in a "terrorist organization", as well as construction and dispatch of explosive devices to officials of financial institutions and rating agencies throughout Europe, as well as an attempted murder for the package that injured Loukas Papadimos, the former prime minister of Greece. The comrade has declared from the first moment of his arrest and in an open letter to the anarchist movement, that renting the apartment was a conscious choice in the context of revolutionary solidarity, but does not accept any of the other accusations. (more…)
Tags: Athens, Greece, Konstantinos Yagtzoglou, Korydallos Prison, Loukas Papadimos, Pola Roupa, Repression, Trial
Posted in Direct Action
Saturday, September 28th, 2019
Moving bowed clock-hands walk around the grey metropolises. From grave to grave. From cell to cell. From apathy to apathy. From door to door. Doors also bowed, bent over, condemned to collapse if they don't see the clock-hands passing by at the right time. And time swallows the clock-hands, like the numbers that they were showing were something unimportant and conventional, like the only important thing was always just to walk around bowed. Some clock-hands broke off, and, for these ones, each pacified day is one more death for one of their aspects.
That's why they take their bodies all together and mill around the streets that smother them since their childhood. The enemy is there, inside fortresses that ensure the dominant order and normality. One of
these fortresses, the Zografou Police Station, was chosen to be targeted and attacked with incendiary devices at the dawn of this 14th of September. (more…)
Tags: Arson, Athens, Greece, Sabotage
Posted in Direct Action
Saturday, September 28th, 2019
On Sunday September 15, we attacked with stones and hammers:
New Democracy offices in: Painakos street, St. Eleftherios Petridou Street, Ano Glyfada Athanatou Street, Sunny street Marinou Antipa, Brahami street of Aghios Demetriou, Daphne street of Vouliagmeni, Thukididou street.
The bank branches: National road in Chalandri Zenonos street, National in Byron Formionos street, National road to Alimos Thoukididou street, National road in Glyfada Vouliagmeni street, Piraeus Corfu Street in Kypseli.
As long as the new power-holders, their media parrots, the cop-unionists smell the tale of "exile of Exarcheia" and "lawlessness," we perceive only a symbolism of the pursuit of universal doctrine and law.
More cops, fewer rights, fewer voices calling for and shouting, disappearing anything and anyone that spoils the showcase of tourism, "investment," the neoliberal vision of the free movement of goods. And what Exarcheia symbolizes, the uprisings in the city over the last 11 years (though we could go back further) are no good for businesses, they don't fit into the Airbnb metropolis they are seeking.
But as for them, Exarcheia (and their police occupation) express a symbolism of "fighting lawlessness," so too for us, they have the function of a symbolism of moments started for our attempts to invade the sky.
Although (most of) us live elsewhere, we have our political roots. In our neighborhoods, in our workplaces, in our schools, in the moving structures we have set up in our living spaces.
The "battle of the exiles" is not for us a "rebellious play ground" but part of a more comprehensive struggle that fights with self-organized unions, anti-fascist neighborhoods, local struggles…
In this symbolism of Exarcheia is all that the power wants to suppress.
And all that we want to disperse.
Occupations and living structures are spaces of struggle and freedom.
You will bleed to get them.
Comrades for the diffusion of Exarcheia
Original publication, 18th September 2019:
https://athens.indymedia.org/post/1600040/
Tags: Athens, Greece, Sabotage
Posted in Direct Action
Saturday, September 28th, 2019
Today morning 27 Sept, around 02:30 the neighbourhood of Exarchia was listening to the voice of 5 bullets, which came from the street of Char. Trikoupi to attack the military check point of MAT [Riot unit] at this street. The results of the armed attack are not clear yet, but we suppose that there were not killed or injured cops.
This is a warning for those who militarized and occupied our neighborhood, since an army is in our neighborhood, so the answer also should be in an armed way; what we are doing is return the violence that already we have received. The real terrorists are states, not us as a social resistance movement.
Unfortunately, a part of our movement is bringing the resistance to a peaceful way of struggle, which is unacceptable, because in our opinion a pacifist resistance movement is a dead resistance movement, so we think the violence and especially armed violence is necessary against all these attacks that we have received from the state.
Revolutionary anarchist armed strugglers (GANA)
27/9
Tags: Athens, Attentat, Exarchia, Greece, Revolutionary anarchist armed strugglers (GANA)
Posted in Direct Action
Thursday, September 26th, 2019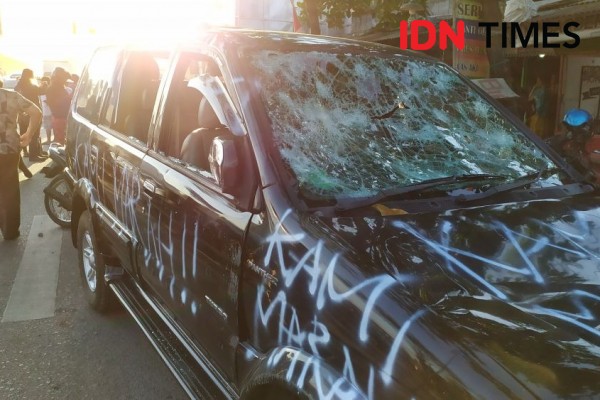 A demonstration outside Hasanuddin University (Unhas) I, Makassar Perintis Independence Street, took place as a series of demonstrations of community and student alliances of various regions. During the end of the demo today, comrades stopped two official state cars, brought the drivers out and trashed the vehicles. According to corporate media 19 people were arrested in the nearby area in a police round-up.
At September, 26, 2019, two cars of the Forestry Service South-Sulawesi Province (Makassar-Indonesia) had been damaged, by breaking all the windshields and then turning it in the middle of the road.
Here is the communique from that action:
1. We are angry because the country along with the Army and Police violently chased, evicted, fired, and killed our brothers in Papua, Kulon Progo, Urut Sewu, Bara barayya and Polongbangkeng.
2. We are angry because the government continues to attack us with torturous rules.
3. We are angry because the capitalists continually try to destroy our lives, destroy nature, burn forests, heap the oceans, destroy mountains, displace the living space of each species, build artificial buildings, to control what we should and should not consume.
4. We are angry because the media are preaching everything that is not important, eliminating cases of murder until the slaughter and continuing to work with the authorities to destroy the struggle of our combatants who fight for a better life.
5. There is no compromise for rulers and capitalists.
Below are link/news about that action:
https://nasional.tempo.co/read/1252801/unjuk-rasa-di-makassar-rusuh-massa-merusak-mobil-pelat-merah/full&view=ok
https://sulsel.idntimes.com/news/sulsel/aanpranata/unjuk-rasa-di-depan-unhas-dua-mobil-dinas-dirusak/full
Tags: Demo, Indonesia, Makassar, Riots, Sabotage, Sulawesi
Posted in Direct Action