'Direct Action' Archives
Friday, November 18th, 2016
An anonymous person (anarchist) set fire to a council vehicle in Pine Avenue, South Shields (Tyneside) in the early hours of Wednesday 9th November 2016. There was no media coverage at all of this fire.
This van was set alight as a direct attack against the council, local authority and councilors to cause disruption and cost money. The normal working class person in the U.K. is getting poorer each month and finding it harder to survive, meanwhile the rich fat cat councilors get richer by means of parking tickets, fines for dropping litter, putting a bin out at the wrong time and other so called offences.
Tags: Arson, Newcaste Upon Tyne, South Shields, UK
Posted in Direct Action
Tuesday, November 15th, 2016
The Apoist Youth Initiative has attacked a London-based organization that is close to Diyanet İşleri Başkanlığı (Presidency of Religious Affairs) and the Turkish Islamic Society in Newington Green / London.
The 30 youths who attacked these two fascist organizations declared that they had targeted them because of their dirty policies against the Kurdish freedom movement.
Both organizations were bombarded with fireworks, the windows were smashed and 'Turkey = ISIS (DAESH)' was spray painted on the walls.
The young people declared that similar actions would continue.
via Rojaciwan, translated by Insurrection News
Tags: Apoist Youth Initiative – NRW, Islamic State in Iraq and Syria (ISIS), Kurdish Struggle, London, Turkey, Turkish Islamic Society, UK
Posted in Direct Action
Tuesday, November 15th, 2016
From the German corporate media we learn that on the 23rd of October unknown attackers targeted a civilian system engineering company in Bremen that was equipping Bundeswehr (German armed forces) vehicles with new communications technology.
The attackers lit three separate fires at the premises which resulted in the complete destruction of 18 military vehicles.
The damage bill from the attack has been reported as being around 15 million Euros.
via Insurrection News
Tags: Anti-Militarism, Arson, Bremen, Germany
Posted in Direct Action
Wednesday, November 2nd, 2016
On the 7th and 8th of July 2017, when the most successful war criminals of the present, the most unscrupulous sweaters of human and nature, the self-titled leaders of this planet, meet in Hamburg, they will not be confronted and thus be revaluated with some demands for better governance or social enslavement.
They will feel the rage of the street, when they are rushing with their convoys through deserted districts and talk about the nightly attacks of the last few weeks.
This call, like so many others at similar meetings, does not want to lose itself in an analysis of the importance of the G-20 summit or the policy of their participants. The injustice of the world has been declared a thousand times, anyone who now feels no urge to act, does not need another text.
We want to speak of those who are already involved in the struggle against capitalism and its exerting states with their conforming societies – so, of US.
Since Seattle in 1999, summit protests were a catalysator of radical resistance; individuals and groups came together, swapped ideas, were standing together behind the barricades and carried the flame of resistance back to their regions. Even the shots of Gothenburg and Genoa, or the numerous infiltrated snitches could not stop the development of a Europe-wide chaotic network of autonomous / anarchist / antiauthoritarian tendencies.
Then the criticism of event hopping came up, as if someone had pleaded for it to operate as a riot tourist in any city. The protests against the G – 20 in Cannes and Nice 2011 were prepared in this champagne flush of some movement managers. Everything should become different, better, more political. At that time no conclusion or analysis was spread afterwards – the resistance had simply failed, only the usual alibi NGOs played their program.
So now it's Hamburg and the responsible persons in the murderous headquarters of the secret services, police authorities and military commandos are tearing their hair. They fear that We are coming. But we do not have a leadership that can be eliminated, our resistance does not depend on the cadre behavior of some individuals. Perhaps nothing will happen if you, who is reading this text right now, will not get active. Do not expect others to prepare something for you, so that you just have to jump up.
For sure there will be a big demonstration of the left idiots, who want to play their democratic ritual, as a certain Mr. Marx or Lenin applied to them 150 years ago. And maybe we will be there, too, or at the edge or behind the lines of the cops. There is still plenty of time to think about and prepare this.
However, we are calling for a campaign in the run-up – against any form of power. We want to destroy, by July 2017 (and if only symbolically …) the rule of patriarchy over women, the rule of the states over their borders and urban centres, the rule of labor over our time, the rule of money over our social behavior, the domination of the goods about our lives, the rule of the cops over the fear of repression in our minds.
In Hamburg and in every village, an infinite number of targets are suitable for destruction, so we should start now with it. So that in July 2017 the alienation between the world of the G – 20 and the rest has become so great, that we no longer need summits to come together. The militant campaign against the G8 in Heiligendamm 2007 could serve as a model, because it also gave, apart from pointless preliminary proceedings, a new generation of activists through self-determined clandestine actions and the fleeing cops from the hail of stones in Rostock, a feeling of their own strength and the possibilities of horizontal organization.
In addition we also call for a theoretical deepening of our practice, in which the presence or absence of anarchy should be tested for revolts, as recently in France, spectacles such as in Frankfurt in March 2015, rituals such as on May 1, or in the everyday neighborhood policy and in the fight against nazis.
Because everywhere where we are not present we cannot complain about the dominance of reformists. And where there are only empty phrases with an A available, it makes the superficial chattering of a "consensus of actions" heard with following distancing. Such a discourse would have to go beyond the hitherto (welcome) brief G – 20 references in the responsibility claims.
Our resistance against the G-20 summit does not want to be "victorious" in the sense of preventing this event. It just could be the beginning of something that could also start on any other day: The self-empowerment of the individual over the existing and the (self) organization in collective structures. But just a call to that one would hardly pay attention. Therefore,

Attack G-20 summit!
Throw Hamburg into chaos!
Destroy the European fortress!
Tags: Counter-Summit, G20, Germany, Hamburg, Riots
Posted in Direct Action
Wednesday, November 2nd, 2016
Update: Apoist Youth Initiative call for resistance to intensify in Europe
We, the Apoist Youth Initiative NRW – Revenge Team Sehîd Alîsêr Firat, claim the attack against the UETD (Union of European & Turkish Democrats) office in Grevenbroich on 28.10.16. This attack was revenge for the execution of two YJA-Star guerrilla fighters. They were executed by the Turkish military after being captured.
The execution of the two guerrilla warriors is symbolic of all ongoing attacks by the Turkish state against the will of the free women in Kurdistan. Through the publication of the video of their execution, the identity of the free women is to be shamed and humiliated. In the video it is clearly visible that the soldiers are using German G3 rifles. Everyone can clearly see in this video that the German state is on the side of the Turkish state in the war against democracy in the Middle East, in the war against the free women.
We repeat again: We will continue to attack all the institutions of the Turkish state until the dictator Erdogan is overthrown, Kurdistan is liberated and women gain their freedom. We are warning all German supporters of the Turkish state one last time: If you do not stop supporting fascism in Turkey, we will also attack you.

Jin Jiyan Azadî!
Bijî Serok Apo!
Long live international solidarity!
Apoist Youth Initiative – NRW
Revenge Team Sehîd Alîsêr Firat
November 1st, 2016
via Linksunten Indymedia, translated by Insurrection News
Tags: Apoist Youth Initiative – NRW, Germany, Grevenbroich, Kurdish Struggle, Kurdistan, Revenge Team Sehîd Alîsêr Firat, Rojava, Sabotage, Turkey, UETD (Union of European & Turkish Democrats)
Posted in Direct Action
Friday, October 14th, 2016
NEMESIS PROJECT
FIRST ACT

We claim responsibility for attacking the house of the district attorney Georgia Tsatani, in Ippokratous street in Athens city center, next to the Exarhia police department.
We knew that G. Tsatani has a police escort and that she is a guarded target, but this didn't stand in our way to accomplish our attack.
We chose a symbolic action with only material damage as a sole purpose, but the Conspiracy of Cells of Fire won't be limited to that…
We have two reasons for choosing this particular district attorney.
The first one is that G. Tsatani is a member of the para-judicial network whose job is to take out of sight case files that impinge the interests of the business and politics mafia (with a view to profit of course). She is the judicial vanguard of her masters.
The apex of her tainted career is the Vgenopoulos case, where G. Tsatani closed the case, aiding him to be discharged of his certain conviction. Her venality by the businessman Vgenopoulos pumped up more her invisible para-judicial account. These inconspicuous courtesies of businessmen can built the villas of the judges as an exchange for their "justice".
Another sample of this district attorney's writing, that is being kept diligently secret from the media, is Meimarakis' case. Georgia Tsatani is the one who took on the case file regarding the equipment and the bribes of Vagelis Meimarakis, the former minister of national defense back then and she made sure to "forget" to send these files in the parliament, with her sole purpose being to cover for him. The exchange of this conciliation was the placement of Tsatanis' daughter and husband as minister candidates in New Democracy on Meimarakis' presidency.
Georgia Tsatani was involved in the Vatopedi case, making clear once again the mafia-like partnership between Church and Justice, as well as in many other famous cases that she would "chop off" in order to conceal and protect the interests of authority.
The second reason for choosing to attack the district attorney Georgia Tsatani was her participation in the judicial thralldom of our comrades' relatives.
G. Tsatani was the one who viewed as unacceptable one of the applications of release by Evi Statiri, who is the wife of Gerasimos Tsakalos, member of the C.C.F. Thus, she contributed in the anti-guerrilla campaign and in one of the most immoral extortions against anarchist revolutionaries.
The vengeful obsession of the judges against the families of our comrades is a choice that all judges involved will be asked to pay and at a great cost. We have remembrance and most of all patience, persistence and diligence…
We are dedicating this action to the imprisoned members of C.C.F, Gerasimos Tsakalos, Christos Tsakalos, Giorgos Polydoros and Olga Economidou.
We are sending our solidarity to the anarchist comrade Aggeliki Spyropoulou, to all unshakeable political prisoners that lie in the cells of the Greek Democracy, as well as to the Italian comrades Alfredo Cospito, Nicola Gai and the anarchists persecuted in Italy within the undertaking "scripta manent" against F.A.I.
Soon the complete version of this proclamation will follow, as well as our initiative for "Nemesis" Project.
We will be back…
Translated by A-politiko.
–
Conspiración de las Células del Fuego reivindica ataque con bomba contra casa de fiscal.
["Reporte" por Sin Banderas Ni Fronteras]
Con un comunicado subido a internet el grupo de guerrilla urbana anarquista "Conspiración de las Células del Fuego" se atribuyó la responsabilidad por una bomba que explotó el día miércoles 12 de octubre en la casa de la fiscal G. Tsatani en el centro de Atenas, cerca de la estación de policía de Exarchia.
En el comunicado – disponible hasta ahora solo en griego- se detalla que el ataque se realizó aun a pesar de que la fiscal contaba con protección policial y que la bomba buscó generar daños materiales, pero que los ataques no se limitarán solo a eso. También se mencionan los motivos para centrar el ataque en la fiscal Tsatani, siendo uno de ellos su participación en el encarcelamiento de lxs familiares de lxs miembrxs presxs de CCF. El comunicado menciona más específicamente el rol jugado por la fiscal en el secuestro judicial de Evi Statiri (actualmente en la calle), quien es la compañera amorosa del compañero Gerasimos Tsakalos (miembro de CCF actualmente encarcelado en el módulo subterráneo de la prisión de mujeres de Koridalos).
Según la prensa griega, el ataque fue precedido por una llamada anónima de advertencia y la bomba explotó aproximadamente a las 23.45 horas del miércoles.
A continuación se pueden leer algunos extractos del comunicado a la espera de una versión en inglés que permita una mejor traducción al español:
"PROYECTO NEMESIS
PRIMER ACTO
Asumimos la responsabilidad por el ataque a la casa de la fiscal Georgia Tsatani en la calle Hipócrates, en el centro de la ciudad al lado de la estación de policía Exarchia.
Sabíamos que Tsatani tiene escolta policial (…) pero esto no fue impedimento para instalar nuestra ofensiva. Elegimos un acto simbólico destinado únicamente a daños materiales, pero en el futuro la Conspiración de Células del Fuego no se limitará a eso…
La elección de esta fiscal en concreto fue por dos razones principales.
La primera razón es que Tsatani es miembro del circuito (…) que se compromete a hacer "desaparecer" los archivos que afectan los intereses de los empresarios y de la mafia política (con fines de lucro, por supuesto). Es la vanguardia judicial de los patrones.
(…)
La segunda razón por la que elegimos golpear a la fiscal Tsatani fue por su participación en el secuestro judicial de los familiares de nuestrxs compañerxs (…) por lo que también contribuyó a su vez con la campaña judicial anti-guerrillera (…).
La furia vengativa de los jueces hacia lxs familiares de nuestrxs compañerxs es una opción por la que pagarán un alto precio (…)
Tenemos memoria y, sobre todo, paciencia, persistencia y consistencia…
Dedicamos esta acción a lxs miembros encarcelados de CCF Gerasimos Tsakalos, Christos Tsakalos, Georgio Polidoro y Olga Economidou.
Enviamos nuestra solidaridad a la compañera anarquista Angeliki Spyropoulos, a todxs lxs presxs políticxs no arrepentidxs en las celdas de la República griega y a los compañeros italianos Alfredo Cospito, Nicola Gai y lxs anarquistas perseguidxs en Italia dentro de la operación "Scripta Manent" contra la FAI.
Pronto lanzaremos todo nuestro manifiesto y propuesta para el 'Nemesis'.
Volveremos…
Conspiración de Células del Fuego / F.A.I."
–

Ver comunicado en griego acá.

Tags: Aggeliki Spyropoulou, Alfredo Cospito, Athens, Christos Tsakalos, Conspiracy of Cells of Fire, Conspiracy of Cells of Fire - Urban Guerilla Cell, Evi Statiri, Georgia Tsatani, Gerasimos Tsakalos, Giorgos Polidoras, Greece, Informal Anarchist Federation (FAI), International Revolutionary Front, International Solidarity, Nemesis Project, Nicola Gai, Olga Economidou, Operation Scripta Manent, Solidarity Action
Posted in Direct Action
Tuesday, September 13th, 2016
This is dedicated to all the very young ones, youths with no direction yet, the kids that punch out at everything. Those that hate being told what to do and hate authority, who've fell foul of the law, who don't even consider anarchy. Rebels without a cause. A prison gate is a border, it is a part of the class system, crime, scarcity and resource war. They need people to control and use in private prison labour. The prisons are exploding.
HMP Bristol, Horfield – 2 cars of screws are scratched up and tyres punctured, one a black sportscar – P6 SHT.
Horfield, Bristol – 12 Oak Road, house of screw has 'bars' sprayed on the windows and "screw" scrawled on the house in spraypaint.
Done in the International Week of Solidarity to Anarchist Prisoners, 23-30 August.
Solidarity to the anarchists in Italy arrested in Operation Scripta Manent and to all those in the prison uprising in America, 9 September.

Eco-anarchist vandals – FAI/IRF
Tags: Bristol, Eco-anarchist vandals - FAI/IRF, HMP Bristol, Informal Anarchist Federation (FAI), International Revolutionary Front, International Week for Anarchist Prisoners, Operation Scripta Manent, Prison Labour Strike, Sabotage, UK, Vandalism
Posted in Direct Action
Saturday, September 10th, 2016
On September 8th, in solidarity with prisoners taking action for the 9/9 prisoner strike, about a dozen people disrupted activities at the local Democratic Party campaign headquarters. Standing outside the building, people held a large banner announcing the prisoner strike while a statement was read and others passed out handbills. Additionally, a group of people went inside the headquarters to yell chants, clog sinks, tear down campaign posters, and scatter handbills. An American flag in the office found its way into a toilet. People walked away from the building tossing handbills in the air.
From the handbill scattered at the action:
As the ruling party, the Democrats and their Bureau of Prisons are responsible for the conditions in federal prisons and everyone being held hostage inside of them.
They profit from the labor of prisoners and contract with countless companies and industries that do the same, while prisoners earn as little as a few cents per hour.
They are responsible for the exorbitant prices of phone calls, commissary foods, and other basic necessities in prison. For the mailroom censorship, both institutionalized and arbitrary, of political and other materials. They are responsible for the poor quality of water and food that some must endure for decades, or even the rest of their lives. And for the dismal or nonexistent health care for prisoners when these conditions start to take their toll.
(more…)
Tags: Banner drop, Bloomington, Indiana, Prison Labour Strike, Racism, USA
Posted in Direct Action
Sunday, September 4th, 2016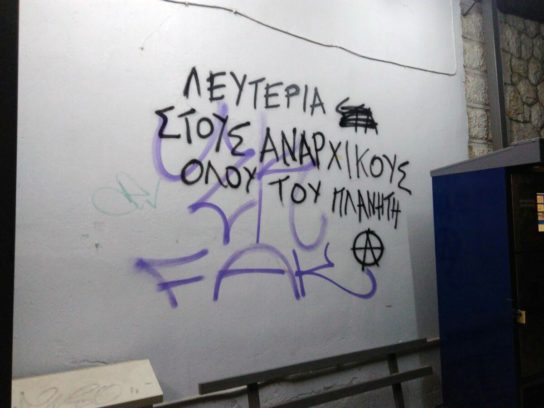 Photo above -"Freedom for anarchists all over the planet".
More pics on Contra-info.
Some days ago, we spray-painted slogans in the centre of Karditsa and blocked ATMs in response to the international call for a week of actions in solidarity with imprisoned anarchists.
We don't forget our imprisoned sisters and brothers throughout the world!
No imprisoned anarchist left alone!
The passion for freedom is stronger than all prisons!
Strength to fugitive comrades!
Anarchists
(September 2nd 2016)
Tags: Greece, International Week for Anarchist Prisoners, Karditsa, Sabotage
Posted in Direct Action
Thursday, September 1st, 2016
Received 1 September:
Our shards against their repression
This is the beginning of our week. And every day should start like this for those profiteers responsible for the prison system…
This morning, August 15th, we visited Television Service Jürgen Krüger and the SPD office of Björn Eggert in Oranienstraße in Kreuzberg and smashed their windows.
Television Service Krüger since thirty years holds the monopoly on examination of electronic sets from prisoners in Berlin. No radio passes him without being checked. This shall prevent forbidden goods or manipulated sets passing behind the walls. For prisoners this service costs a lot of money.
The company directly profits from the surveillance of prisoners. Besides this, it happened more than one time, that Krüger damaged radios or TV from prisoners.
Further Jürgen Krüger does the technical utilization from seized mobile phones and gives the hacked data to authorities. This company was hit several times, which could not prevent them continuing to take advantage of repression against prisoners… (more…)
Tags: Berlin, Björn Eggert (SPD), Black December, Black July, Germany, Rigaer 94, Rigaerstrasse, Sabotage, Solidarity Action, Television Service Jürgen Krüger
Posted in Direct Action
Thursday, August 25th, 2016
English translation via InsurrectionNews. Full pictures for the schematics of the fuse and incendiary device on ContraInfo.
To the anarchists of praxis
To the prisoners and fugitives of the social war
On the night of August 18 we activated an incendiary device during the journey of the 110 Transantiago bus in the neighborhood of Maipú. We do not whether our handcrafted ingenuity was a success or not as the action was silenced by the media.
We carried out this action in accordance with our ideas, principles and convictions. We seek to attack the service that transports thousands of people that reproduce the gears of the capitalist system. This service is one more cog, one that is destroying the earth and is complicit in the death of human and animal comrades. Our action damages the machinery of the social order, the law, its guardians, civilization and power.
Against all odds, when times are tough, we do not immobilize ourselves and continue to attack. We are not indifferent to the political prisoners, nor to the solidarity campaigns that arise for them, despite the various onslaughts of power. For our prisoners, fugitives and fallen we continue unabated. (more…)
Tags: Arson, Chile, Herminia Concha Nucleus of Attack, Santiago, Transantiago
Posted in Direct Action
Friday, August 12th, 2016
In the early hours of 6th August at Easton-in-Gordano Services, whilst the truck drivers were inactive in their cabs, 10-15 cars on four car-transporters were spray-painted causing their greedy earth-destroying companies loss of time and money infinitely larger than that we expended doing this opportunist crime.
Solidarity to all the imprisoned comrades and those on the run. Towards the international week of solidarity to anarchist prisoners – 23rd-30th August.

Eco-anarchist vandals – FAI/IRF
Tags: Bristol, Eco-anarchist vandals - FAI/IRF, Informal Anarchist Federation (FAI), International Revolutionary Front, International Week for Anarchist Prisoners, Sabotage, UK
Posted in Direct Action
Tuesday, August 9th, 2016
Tijuana, México

Durante los últimos meses hemos realizado algunas acciones
Alguna madrugada del mes de abril, realizamos pintas en el parque
industrial del Florido
Saboteamos cuatro cajeros automáticos del banco
Estas acciones no forman parte de un plan de lucha o son resolutivos de
algún congreso, estas acciones nacen de nuestros deseos y placeres de
atacar a los símbolos del capital
En alguna madrugada del mes de junio se colocaron lienzos en algunas
partes de la ciudad, el primer lienzo fue con motivos de un pequeño
gesto de solidaridad con lxs compas afines que propagan la guerra social
en Oaxaca, el segundo lienzo con motivos de propaganda de ideas:
"nuestra venganza sera una insurrección anarquista" y se hicieron pintas
contra la autoridad.
En alguna madrugada del mes de julio se colocaron dos lienzos, el
primero con motivos de tejer complicidad y solidaridad con lxs compas
afines y en lucha contra el fascismo y a autoridad policíaca en estados
unidos, en a que en los últimos meses lxs policías han estado asesinando
a personas de descendencia africana o cualquier otar que no sea la
personificación del individuo nacionalista estadounidense. El segundo
lienzo se colgó con motivo de un mensaje de insumisión contra la
autoridad policíaca que decía , "balas, bombas, puñales y fuego contra a
policía". (more…)
Tags: Individuales Anarquistas Insurrectxs Coordinadxs / FAI-FRI, Informal Anarchist Federation (FAI), International Revolutionary Front, International Solidarity, Mexico, Tijuana
Posted in Direct Action
Sunday, August 7th, 2016
According to the Greek press, on July 28 police reported another parcel bomb was sent to a state judge, in this case it was sent to the bastard P. Houzouris, who received a parcel bomb at home packed with nails and razor blades. [1]
After finding the suspicious package that was disguised as a book, the judge notified police. An anti-explosives squad then proceeded to detonate the device.
According to police, the parcel bomb was similar to the one that was sent in June to judge Isidore Ponga who presided over the judicial council that rejected a 2015 request for the release of Evi Statiri (wife of Gerasimos Tsakalos, member of the Conspiracy of Cells of Fire). [2]
The Greek press and the police are again trying to link our comrades from the Conspiracy of Cells of Fire to these attacks, this time pointing the finger at the comrade Christos Tsakalos who referred in a statement to a major trial that the judge P. Houzouris is presiding over.
The statement in question was published in Greece at the end of June. In it the comrade refers to the trial that the judge who received the parcel bomb presides over. The trial is known as the 'Noor 1′ trial, named after the boat on which a shipment of heroin was found. Comrade Christos, along with pointing out the inquisitor role of the judges also expressed in his statement: "Faced with the arrogance of the judges and the authorities who enjoy life like small gods in the throne of their offices, we must use the strategy of the anarchist urban guerrillas". [3]
With this statement the Greek media and police are linking the comrade with this new attack, however, no group has claimed responsibility for either of the parcel bombs.

(Report by Sin Banderas Ni Fronteras, translated into English by Insurrection News, slightly edited for clarity)
1. http://www.thenationalherald.com/131868/
2. https://emboscada.espivblogs.net/2016/grecia-paquete-bomba-contra-jueza-que-en-2015-nego-excacelacion-a-evi-statiri/
3. http://mpalothia.net/odiporiko-mnimis-gia-ti-diki-tou-schediou-apodrasis-s-p-f-christos-tsakalos/
Tags: Athens, Christos Tsakalos, Conspiracy of Cells of Fire, Evi Statiri, Gerasimos Tsakalos, Greece, Judge P. Houzouris, Letter Bomb
Posted in Direct Action
Sunday, August 7th, 2016
Somos parte de lo que la prensa llama vandalismo, somos parte de lo que la ciudadanía llama delincuencia, somos lxs individuxs que mediante pequeñas acciones tienden a romper con la asesina rutina, que dan el paso de la autocompasión y misericordia divina a la realidad tangible que enrostra su peor cara en el cotidiano, ese cotidiano que a gritos pide ser destruido para dar paso al ímpetu avasallador de la autonomía y la libertad total.
El saqueo y la destrucción se vuelven innato en un contexto de lucha para revoltosxs, rebeldes y antisistémicxs, sin lugar a dudas aquella práctica espontánea, como también organizada no decaerá nunca. Desde que lxs estudiantes secundarios, técnicos y universitarios le ruegan al Estado mejoras en la educación, las minorías deseosas de sedición continúan molestando a la autoridad incentivando al desborde generalizado. (1) (more…)
Tags: Chile, Sabotage, Santiago, Sebastián Oversluij Seguel
Posted in Direct Action