'Direct Action' Archives
Thursday, September 27th, 2018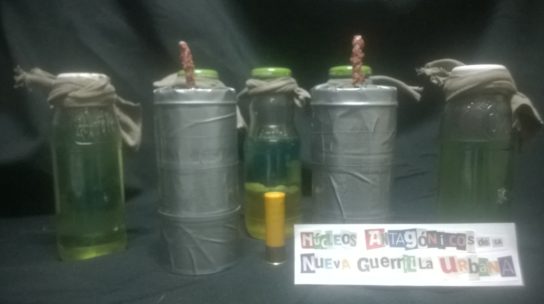 Santiago, 11 de Septiembre 2018
"Hemos decidido rebelarnos frente a esta realidad de mierda, que sin duda nada tiene que ver con nosotros. Pasan los años, y una pregunta me da vuelta en la cabeza. ¿Será siempre así? ¿Es que no tenemos derecho a una vida digna y alegre? ¿Todos los días serán iguales?
Nos cansamos de aplanar esquinas. De estudiar sin saber para qué. De tener que sacarse la cresta por un pedazo de pan. Nos cansamos de ver prostitutas de 11 años y que nos inunden con el Mapocho para salvar a Providencia. Estamos cabreados de los milicos asesinos, de pacos locos y prepotentes, de gerentes ladrones. (…) Queremos ser personas, vivir nuestra juventud. (…) Que no quede ningún asesinato, tortura o atropello sin justicia".
–Movimiento Juvenil Lautaro
El 11 de Septiembre es un hito, marca una antes y un después, lo queramos o no. El 11 de Septiembre ricxs y poderosxs de Chile golpearon la mesa e hicieron prevalecer sus privilegios. El proyecto legalista de la Unidad Popular y también expresiones más radicalizadas de la lucha, vieron notoriamente mermadas sus fuerzas para combatir lo que se avecinaba, de esta manera terminaron siendo aplastados por la bota militar. La derrota fue instalada. Los deseos y las ansias de libertad no pueden ser defendidos solo con buenas intenciones, esto lo aprendimos del dolor que conlleva una lección como esta.
La sociedad chilena fue quirúrgicamente modificada entre decretos, leyes, toques de queda, detenidxs desaparecidxs, muertxs (en falsos y reales enfrentamientos), montajes que avalaban el actuar dictatorial, torturadxs (humilladxs, violadxs, o llevadxs al extremo en simulaciones de fusilamiento), presxs políticxs, exiliadxs, entre otros tantos hechos cuya descripción se vuelve una pesadilla. No obstante y pese a ello, el 11 de Septiembre es una fecha de memoria y de no resignación a los sueños por una vida mejor. (more…)
Tags: Black September, Chile, Informal Anarchist Federation (FAI), Insurrection, International Revolutionary Front, Núcleos Antagónicos de la Nueva Guerrilla Urbana, Santiago, Social War
Posted in Direct Action
Thursday, September 27th, 2018
Erdogan – the stray dog from the Bosporus – will come to Berlin on September 29 and become a terrorist legitimized through the German state government. The warmongers and fascists will meet to resolve further deals on the "refugee issue". While the arms industry pops bottles and the Federal Republic of Germany grants arms exports into the billions, innumerable people are dying in this war. This is the reason for us to disturb, sabotage, and attack this state visit. Not all of us are facing this destruction deedless. Our signs of rage and resistance reached as well our international comrades, who will fight with us on the day the fascist is coming to Germany. Shoulder to shoulder against fascism! Down with Erdogan and his fascist collaborateurs! For freedom! (more…)
Tags: Afrin, Germany, International Solidarity, Kurdish Struggle, Rojava, Sabotage, Syria, Turkey
Posted in Direct Action
Thursday, September 27th, 2018
During the International Week of Solidarity with Anarchist Prisoners more than a dozen ATMs in different neighborhoods of Madrid were sabotaged. The tools for these types of sabotage and simple and easy: hammers and sprays.
We understand solidarity as a continuity of the struggle that has led to our compañerxs being held in the prisons of the State. Anarchist solidarity is much more than just a written word or doing assistance work with the prisoners. This solidarity is materialized via attacks against the structures of capitalism and State, and seeks to deepen the conflict through direct action.
Down with the walls of the prisons. Long live anarchy.
For the compañerxs hit by Operation Scripta Manent!
For the compañerxs facing repression following the Hamburg G20 summit!
For the Indonesian anarchists prosecuted after May 1st!
For Lisa and all the anarchist prisoners!
Anarchists
Tags: G20, International Week for Anarchist Prisoners, Madrid, Operation Scripta Manent, Sabotage, Spain
Posted in Direct Action
Thursday, September 27th, 2018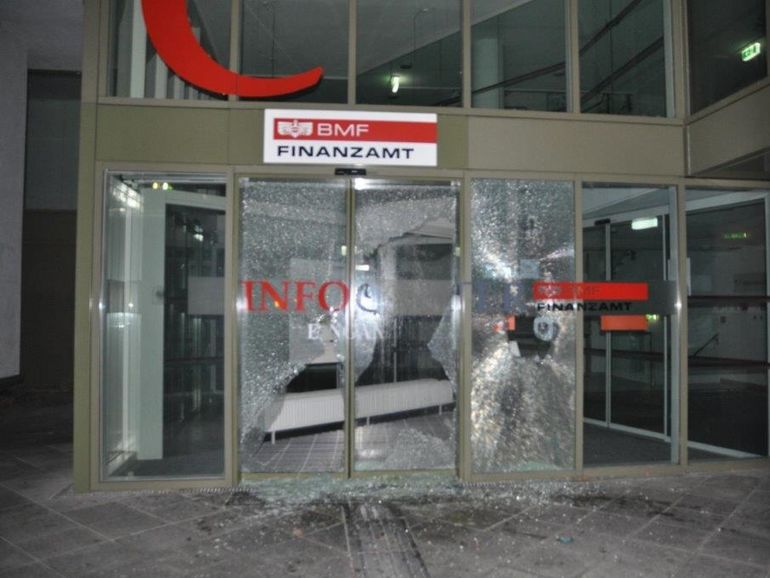 During the night from Sunday to Monday we attacked BIG (Federal Real Estate Company) with fire and paint. They are responsible for building the prison in Puch. We attacked the Hypo bank with paint. They are the symbol of Black / Blue corruption and the speculation policies of the ÖVP (Austrian People's Party) and FPÖ (Freedom Party of Austria). At the Tax Office we smashed windows and threw stink bombs, because we attack the State.
These actions took place in Salzburg on the 16th of September because a few days later the Austrian government is hosting an EU summit meeting to increase security and to introduce surveillance measures that will target migrants from the Middle East.
We shit on the demonstrations where the participants will be filmed, monitored and criminalized. We do not play by the rules of the powerful.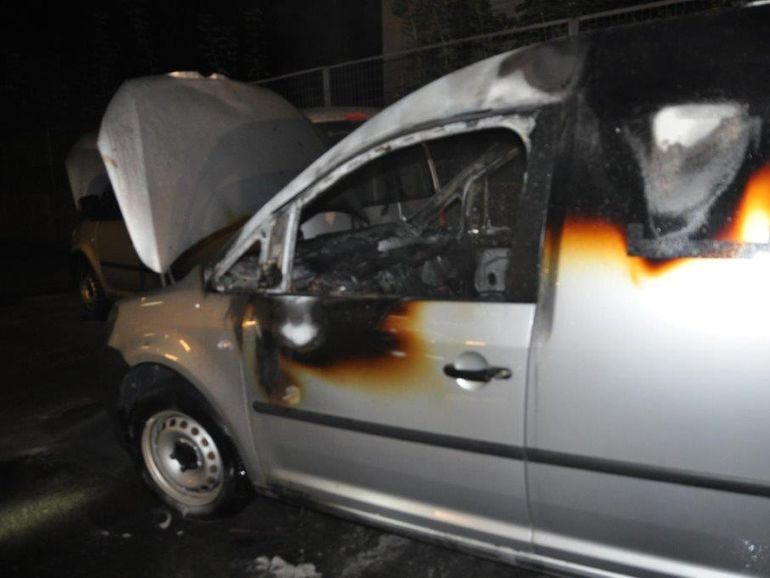 Tags: Arson, Austria, BIG (Federal Real Estate Company), FPÖ (Freedom Party of Austria), Hypo Bank, ÖVP (Austrian People's Party), Sabotage, Salzburg
Posted in Direct Action
Saturday, September 22nd, 2018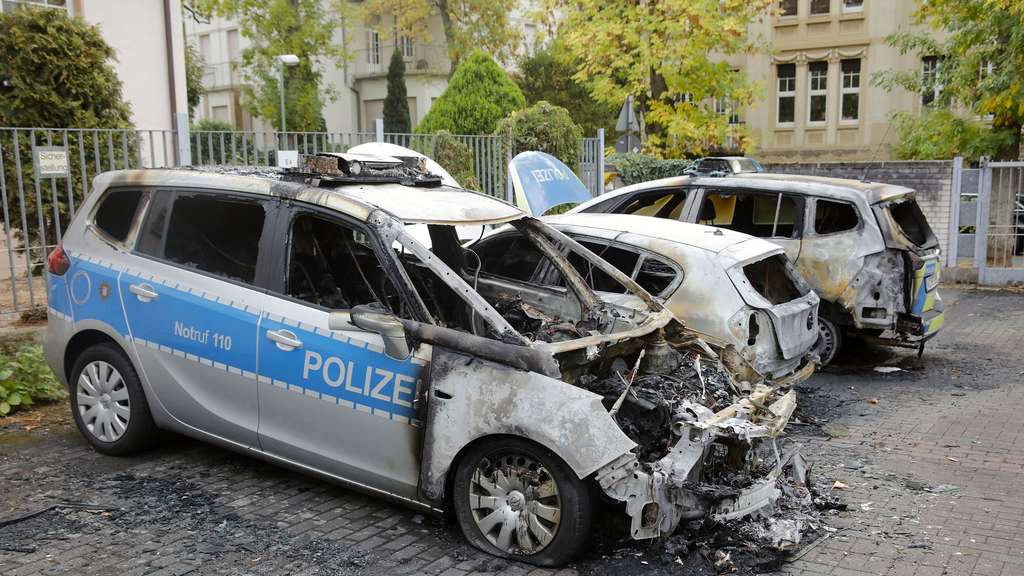 IT: Offenbach, Germania – Incediate auto della polizia contro la repressione e in solidarietà alla resistenza di Hambach
Yes, this is an attack against the police. This is an attack against the state power that the police represent. This is an attack against a regulatory power that for many people means daily humiliation, violence and exclusion.
In Offenbach, many people hate the police. On the night of the 13th to the 14th of September 2018 we torched some cop cars in the parking lot of the cop station in Offenbach am Main.
The letter claiming responsibility which was also sent to the media:
The best way to explain what we do is that everyone can understand the image of burning cop cars.
Yes, this is an attack against the police. This is an attack against the state power that the police represent. This is an attack against a regulatory power that for many people means daily humiliation, violence and exclusion.
In Offenbach, many people hate the police. (more…)
Tags: Arson, Frankfurt, Germany, Hambach Forest, Offenbach, Sabotage
Posted in Direct Action
Sunday, September 2nd, 2018
With this we take responsibility for the incendiary device we placed in front of the building of the German Society for Foreign Politics (DGAP) in Drake-/Rauchstraße (Tiergarten) in the night of 21.8.18.
13 litres of a petrol-oil-mixture shall be the beginning of putting an end to the undisturbed and fearless existence of the DGAP as a political advisor of the German war society.
Since the beginning of this year increased attacks against the war industry, their profiteers and financiers take and took place over all the German controlled territory. We join these attacks and let the fire speak from our side. War starts here! War on the war!
War starts here, in the halls of politics. War starts everywhere, where people throw away their empathy, to profit from the globalized misery. In the war-industry, the thinktanks of science, in the faceless administration of bureaucracy, in the form of uniformed slaves, who receive and obey orders in rank and file. War starts between human beings, when concurrence and aspiration to power reigns over solidarity and the free development of the individual.
German Security – Profit through war
Through the choice of the DGAP as the target of our incendiary device we declare the ideological architects of German-European hegemonic politics, the scientists and forerunners of a security paradigm which works with as well as alongside of warmongers and in this way are our enemies. What they declare about security is not ours. Their foreign policy is a policy of order. And their order needs tanks against uprisings and frigates against inflatable dinghies, it builds fences against the suppressed and works continuously to extend their ongoing misery. (more…)
Tags: Arson, Berlin, G20, Germany, International Solidarity, Kurdish Struggle, Rojava, Sabotage, Solidarity Action
Posted in Direct Action
Saturday, August 25th, 2018
[Noticias de la Guerra Social]
Durante la mañana del 22 de agosto 2018, un doble atentado incendiario sacudió a la red de metro interrumpiendo su servicio justo antes de su horario de apertura, retrasando todo el servicio. A las 6:20hrs cerca de la estación Santa Julia de la Línea 4-A, un neumático encendido habría sido lanzado a las vías del tren subterráneo, desde una pasarela, consiguiendo inhabilitar el servicio. En paralelo cerca de las 6:45hrs en la estación Los Presidentes, Línea 4 también un neumático en llamas habría sido arrojado desde una pasarela, saturando el servicio. (more…)
Tags: Arson, Chile, Sabotage, Santiago
Posted in Direct Action
Friday, August 17th, 2018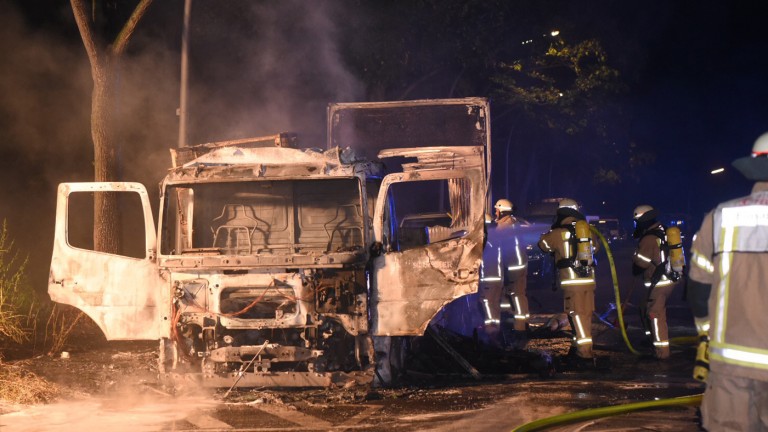 Berlin – Enemy supply lines attacked
We burned a truck of DB Schenker in the night to August 8th in Berlin-Wedding. When Erdogan arrives in Berlin on September 28. / 29., he will find our hostility here. Who rolls out the red carpet for the fascist Erdogan – X Day – is supposed to feel the ashes of the burning city in the nose.
Already since the year 2000, the ESG Elektronicsystem- and Logistics company runs together with its partner Schenker Germany AG (DB Schenker) the headquarters of logistics – called ZEBEL – of the German Armed Forces (Bundeswehr) in Kassel. From this hub with 17.000 square metres occurs the supply of civil partner companies and military repair workshops, which maintain Bundeswehr systems and vehicles. The transport of war material has most priority for DB Schenker. With it, the subsidiary company of Deutsche Bahn is responsible for the logistics and supply with NATO equipment to the Turkish Army in their war against the Kurdish areas. (more…)
Tags: Arson, Deutsche Bahn, G20, International Solidarity, Kurdish Struggle, Sabotage
Posted in Direct Action
Monday, August 13th, 2018
Una noche de julio: los automovilistas de la autopista Acceso Sur vieron inflamarse dos bolas de fuego que se expandieron ante sus ojos. Nuestros artefactos incendiarios funcionaron como estaba previsto, cortando el tránsito unos instantes en la principal vía de comunicación construída por el proyecto IIRSA-COSIPLAN en la zona centro de Chile, destinada al tránsito de mercancias hacia/desde el sur del país.
Madrugada del 01 de agosto: una lluvia de fuego se deja caer sobre una automotora ubicada a un costado de la autopista Vespucio Sur Express. Las bombas incendiarias que arrojamos cayeron como material piroclástico sobre los automóviles en venta.
Porque incendiando las calles saboteamos los canales nerviosos del flujo mercantil.
Porque atacando automotoras dañamos las máquinas que circulan por el cemento destruyendo el planeta como una plaga asesina. Así llevamos el incendio hasta las propias vitrinas donde se pone en venta la mercancía automotriz junto al sueño ciudadano del progreso sobre cuatro ruedas. (more…)
Tags: Arson, Chile, Grupo de conductas anti-sociales "Claudia López", IIRSA (Initiative for the Integration of the Regional Infrastructure of South America), International Solidarity, Sabotage, Santiago
Posted in Direct Action
Tuesday, August 7th, 2018
How many people would love to tell Jacob Rees-Mogg to go and fuck himself? Well, last night we did so in joyful fashion. We paid a little visit to the countryside just outside of Bristol, to his mansion called Gourney Court in the quiet village of West Harptree.
For those of you who are reading this and do not know who this man is, he is one of the most detestable members of parliament ever, and fuck me they're a bad bunch. Other politicians claim he is the one truly ruling this country from behind the scenes. Here are some of his charming characteristics…
He is extremely wealthy, staunchly Roman Catholic, a clear friend to fascist groups and has his eyes fixed on being the actual political leader of this fucking prison island (after May decomposes fully).
He was raised by his nanny. After prep school he attended Eton college and then Oxford university (for the poshest people in the country). Him and his wife have a 100 million quid together, they just bought a new house in London for 5 million, he makes 168,000 pounds a year from his partnership in a hedgefund business called Somerset Capital Management that is worth 7.5 billion pounds (apparently it invests in tobacco, mining and oil and is based in offshore tax havens, for those who care about such details). He proudly claims he has never changed a nappy in his life despite having 6 kids.
He uses his religion as an excuse for his xenophobic views. He is opposed to same sex marriage and contraception, he is against feminism, LGBTQI people and specifically gender re-assignment. He is opposed to abortion in all circumstances including cases of rape. He has argued for the abolition of environmental protections and for fracking, he is pro fox hunting and has also argued for the Conservative party to be almost entirely white skinned. He is opposed to immigration, he supports zero hours contracts and loves the equally charming DUP (Northern Irelands right-wing Democratic Unionist Party) and the Conservative governments billion pound deal with them.
He fucking idolizes Margaret Thatcher and we're not even done yet…
In May 2013, he addressed the annual dinner held by the Traditional Britain Group, a group of fascists that calls for non-white Britons to be deported. Apparently he had been informed about these things by anti-fascist group Searchlight prior to his attendance.
After Rees-Mogg was confronted by anti-fascists in Bristol a year ago, Britain First (another fascist organisation) pledged to protect him at future events.
Rees-Mogg is backed by Nigel Farage, the disgusting former leader of nationalist UKIP party, who has probably the second most punchable face in politics after Rees-Mogg himself. He's also met with Steve Bannon of Breitbart News in the US.
He constantly spouts-off about these high morals of Catholicism from his position of other-worldly privilege with no comprehension of the realities of people at the other end of the financial spectrum.
Phew, that is an impressively exhausting list to sum up a contender for the worlds biggest arsehole.
For all of these reasons and more he was chosen as a perfect symbol of many things we struggle against as anarchists. And so… last night we left him over 60 soiled nappies spread across his grounds as he's no idea what they look like (don't ask where they came from! haha). We spread around condoms to see if the idea would grow on him, even decorating a crucifix in his garden with them. We left lots of lovely messages sprayed around many of the buildings on his property letting him know exactly how we felt about him and causing a considerable clean up job. The pièce de résistance: his wife's car (license plate Y7 HRM) sprayed with "SCUM" across the side in massive letters with a big sucker dildo planted on the bonnet! Beautiful.
Our action is not revenge or punishment (how could it be, there is no balance between our prank and this list of his accomplishments), but one (slightly sillier) glimpse into one of the multitude ways we exercise our critical analysis.
The conditions of our existence are under the control of people like this, but make no mistake, unlike one member of Bristol antifa who confronted Rees-Mogg, we are not supporters of the left or defenders of Jeremy Corbyn, we are not interested in a different leadership, in another form of representation, in a regime change, or in anything that merely shuffles around the makeup of power. We are opposed to all political forms including democracy. Democracy is shit, it breaks the link between thought and action. It does nothing but maintain the existence of alienated power since it requires that our desires be separate from our power to act, and any attempts to engage in that system will only serve to reproduce it. Voting does not give you a voice, it takes it away.
We continue to struggle for our ourselves, in solidarity with our comrades (inside and outside of the prison walls, across national boundaries and to those continuing to struggle who have been forced underground)… and in honor of a comrade who fell in the midst of fighting and who spent her life struggling against many of the issues mentioned above. Like the graffiti says around Bristol, "keep fighting!".

The Cornerstone group(1) can shove their faith and their flag up their arse and Momentum(2) can go fuck themselves as well!
Down with politics and politicians, religion and the State!

The Home-visit Cell
PS. Sorry for the long communique, blame Jacob Rees-Mogg for being such a massive prick.
–
(1) https://en.wikipedia.org/wiki/Cornerstone_Group
(2) https://en.wikipedia.org/wiki/Momentum_(organisation)
Tags: Bristol, Conservative Party, Gourney Court, Graffiti, Home visit, Jacob Rees-Mogg, Paint attack, Vandalism, West Harptree
Posted in Direct Action
Tuesday, July 24th, 2018
21.07.18: During the early morning hours of July 20th, we attacked the police station on Ulmen street in Rostock with fireworks.
This was in response to the completely unnecessary raids on the homes of our comrades in Greifswald. On Thursday morning, a total of 100 cops were used to search houses and apartments. This was obviously meant to send a clear message to those of us who are committed to the struggle for a better society and countering the shift to the right in society as a whole. Of course the police operation was immediately celebrated by the AfD.*
But in these times of right-wing and authoritarian mobilizations, they give us something to oppose, because the cops are always in opposition to our ideas for a liberated society.

No peace with the police! ACAB
*Translation note: Far-right political party Alternative für Deutschland / Alternative for Germany
Tags: Germany, Rostock, Solidarity Action
Posted in Direct Action
Monday, July 16th, 2018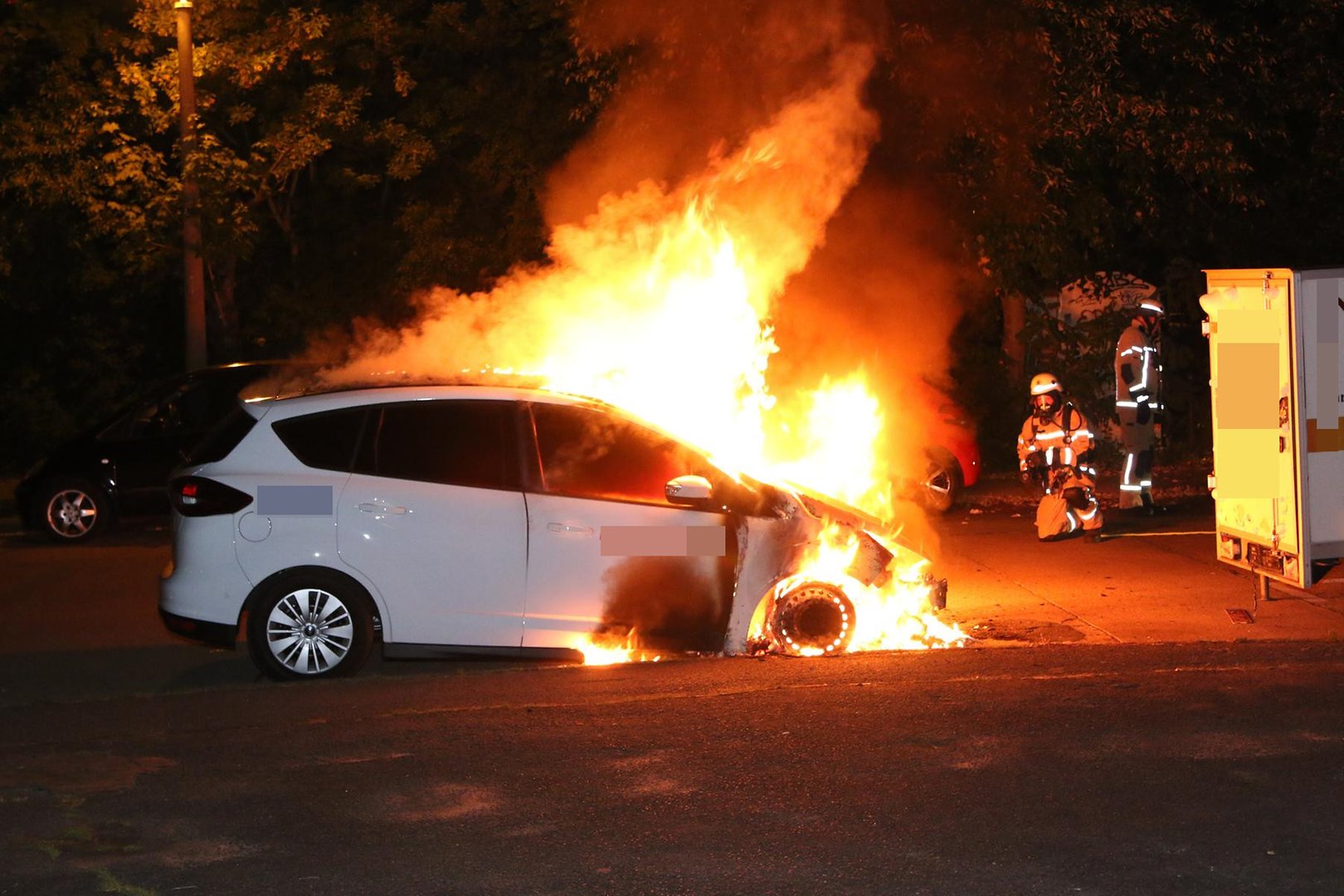 16.07.18: Last night a car belonging to the company Dräger was torched on Hänsel street in Baumschulenweg. Among other things, this corporation that is listed on the stock exchange, manufactures gas masks for police and military use.
In 2010, Dräger locations in Berlin and Cologne were attacked with paint:
"We hit Dräger because it is one of the biggest supporters of the international torture and murder scene, and in addition to sponsoring the police congrees, Dräger is also a leading international security and medical technology company".
From the Dräger annual report:
"Demand for our products increased in 2017, especially in Poland, Great Britain, Austria and Germany, as well as in Romania, Russia and Turkey…The increased demand for security products in particular contributed to the positive development of an increase in orders for medical technology too".
Freedom For All G20 Prisoners!
Tags: Arson, Berlin, Dräger, G20, Germany, Sabotage
Posted in Direct Action
Thursday, July 12th, 2018
11.07.18: Shhhh! Don't tell anybody that at dawn on Thursday, July 5th, a few hours before the World Cup quarter-finals, we put a TV broadcasting tower out of action between Saint-Rémy and Chevreuse, in Yvelines, the main department of all digital communications.
Don't tell anybody that the 'technical problem' was in fact an arson attack that destroyed its transmission cables, completely cutting off until today not just the television, but also the internet and three mobile phone operators (Free, Sfr and Bouygues) signals for the whole area.
Let's continue to sabotage the spectacle.
Let's attack all the technological cages.
Tags: Arson, France, Sabotage, Yvelines
Posted in Direct Action
Wednesday, July 11th, 2018
When you set out at night with the intention of burning or putting something out of action, interrupting the paralysis inherent in everyday life, you never know exactly what you will find once you are on the street. Which is how it was one night in mid-June when we came across a Diplomatic Corp car and one belonging to ENJOY* parked side by side next to the footpath. If until then, they had been united together in the same shitty existence in service of devastation, power and domination, we could not help but see their willingness to share the same demise together. And so, just like it was with some excavators in France not long ago, we took note of their will by enjoying the sight of the flames that enveloped them.
We hope that despite the high temperatures of recent days that the heat of this fire may bring a smile to all the comrades locked up in prisons, subjected to judicial controls or under surveillance…

To the Argentine comrade Diego Parodi… Strength, hold on!
To those facing investigation for the G20 in Hamburg.
For the prisoners and the accused of Operation Scripta Manent.
For Giova, Ghespe and Paska.

For Anarchy!
*Translation note: ENJOY is a 'sustainable' vehicle sharing company run by energy company ENI and public transport operator Trenitalia

Source
Tags: Arson, ENI, G20, International Solidarity, Italy, Rome, Sabotage, Trenitalia
Posted in Direct Action
Friday, July 6th, 2018
06.07.18: Last night we destroyed 6 Deutsche Bahn (German Railways) vehicles near Frankfurt West railway station. We are opposed to German support for the war of aggression by the Turkish government in Northern Syria as well as the ongoing raids and arrests of left-wing activists.
We set fire to six Deutsche Bahn vehicles used for making repairs. We deliberately carried out our action in a way that ensured there was no danger to anybody. Deutsche Bahn is a leading logistics partner of NATO. Dying and killing in the name of our 'democracies' is not an option for us. We will continue to side with the revolutionary forces in Syria and elsewhere.
Here in Germany there are enough reasons too, we do not even know where to start with this police state: the complete erosion of what once referred to itself as a constitutional state. Mass public manhunts. The raids against German technology associations because they have a donation account for a legal US email provider and for using an email address that was used to promote protests against the AFD! (Alternative for Deutschland, right-wing populist party)* Or the banning of Linksunten Indymedia. Or the arrests in the Rhine-Main area for alleged participation in the G20 protests. Or the searches in France, because those affected allegedly raised their arms at the G20. What a complete misunderstanding of every situation in the Schanze.**
(more…)
Tags: Arson, Deutsche Bahn, Frankfurt, G20, Germany, Sabotage
Posted in Direct Action