'Eco Struggle' Archives
Tuesday, September 22nd, 2020
NUEVA NORMALIDAD: EL TECNOMUNDO
JORNADAS DE REFLEXIÓN Y CRÍTICA CONTRA LA SOCIEDAD TECNOCIENTÍFICA
2 Y 3 DE OCTUBRE. MADRID
– Para descargar el texto para imprimir, pincha aquí.
Viernes 2 de octubre.
18:30h. "Actualización de los casos represivos del estado e internacional. Caso Bankia."
19:00h. Charla: "Herramientas de control social que nos ha traído la COVID-19, la distancia social y el confinamiento."
Local Anarquista Motín C/Matilde Hernández, 47 Vista Alegre u Oporto.
Sábado 3 de octubre.
13:00h. "Presentación de la revista "Libres y Salvajes", n.º 5.
17:00h. "Actualización de casos represivos a nivel estatal e internacional. Operación Arca."
18:00h. Mesa redonda: "La anarquía frente al Tecnomundo: Debate sobre cómo afrontar la situación actual."
EOA La Emboscada, C/Azucena, 67. Tetuán.
– (more…)
Tags: 5G, Anti-technology, Artificial Intelligence (AI), Biotechnology, Contra toda Nocividad (Zine), Coronavirus, Madrid, Nanotechnology, Smart Cities, Solidarity Event, Spain, Surveillance, Technological Singularity
Posted in Eco Struggle
Tuesday, September 22nd, 2020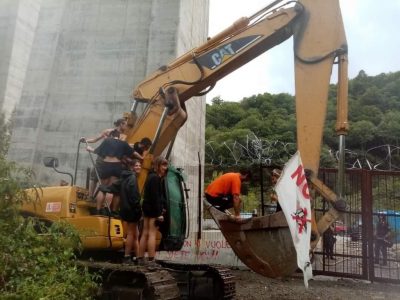 The No TAV campaign in northern Italy has been fighting an expensive, unneeded and corrupt high speed railway link for over three decades. The proposed mafia-linked freight train service from Turin to Lyon has been repeatedly exposed for its fantastical predictions and is slated by local people who see no reason to leave their homes for a white elephant. If you are already thinking about the similarities to HS2 here in England then you are in the right place. I will start by giving a very brief history of No TAV, then an update on recent events. In the second half, I will concentrate on what the Stop HS2 movement can learn from No TAV.
For those who have never heard of the No TAV movement, it is a campaign born thirty odd years ago to resist the construction of a 270 kilometre long high speed railway (Treno di Alta Velocita) between Turin (in Italy) and Lyon (in France). There is widespread opposition on both French and Italian soil, since the railway is a corrupt scheme proposing to transport freight based on fantasy figures and the people who live along the route see no benefit (the train won't be stopping there). They argue that the already existing railway infrastructure should be improved instead. The resistance is greatest in the breathtakingly beautiful Val di Susa (Susa Valley), which stretches from Turin to the Alps for fifty kilometres. In summer, the valley is bright with colours, the blue sky and green grass bisected by the snow on the mountains. It has a unique environment, since one side sees the sun and the other does not. The train line would rip straight through it before entering a tunnel of 57.5 kilometres to France. This tunnel would be longer than the Chunnel and in fact would just squeeze in as the longest rail tunnel in the world, if it ever gets built. Local people are concerned that drilling into the mountains will disturb uranium and asbestos deposts, that mafia construction will lead to health hazards and that the overall economic case for TAV no longer stands up. (more…)
Tags: Ecological Destruction, France, HS2, Italy, Lyon, TAV, Turin, UK, Val di Susa
Posted in Eco Struggle
Monday, September 14th, 2020
On 11th September a maxi-trial will begin in Lecce against almost a hundred demonstrators accused of having opposed the realization of the TAP gas pipeline in various ways. A sort of spectacular event with big numbers set up mainly to impress and leave a sign of repression that can also be a warning to others in some way. Besides the place, a bunker courtroom, chosen for the trial, officially for reasons linked to anti-Covid regulations, unofficially to create an atmosphere suitable for the criminalization of the TAP opposition, the obstinate and law-dependent clerks of Order and the Economy do not have much in their hands. In fact, we have nothing to defend. On the contrary: this trial should be an accusation that rebounds against those who are devastating the earth in the name of a progress that has been revealing its rotten face for centuries. Infrastructures with a strong impact such as a gas pipeline are feeding an energy-consuming system that only produces devastation, control, repression. It's enough to just take a look around. There is not one thing that is not connected and linked to everything else. That is why we can't see the realization of a gas pipeline as that alone. On the contrary, this is an operation that is colonizing places and minds. It is the expression of an economic system that is pushing the planet to the brink, to the slavery and death of millions of individuals. (more…)
Tags: Italy, Lecce, Repression, Trans Adriatic Pipeline (TAP), Trial
Posted in Eco Struggle
Thursday, September 10th, 2020
Women and fishermen from Kondingareng Island, Makassar City and NGO activists from ASP and KIARA blockaded the Boskalis ship Queen of the Netherlands in Galesong-Makassar waters. The action was carried out to stop the marine sand mining activities by the Boskalis ship which is damaging the environment and reducing the income of fishermen. The impact of mining activity has also created social conflict among the traditional fishermen.
Boskalis, the Indonesian state and its officials have been waging a campaign of terror against fishermen who oppose mining. Last August, Indonesian police sank 3 of the fishermen's boats and criminalized 3 of them for fighting against the mining.
The fishermen struggle autonomously and use direct action on many occasions such as intercepting mining boats and forcibly stopping mining activities.
Solidarity with the fishermen of Kondingareng Island!
via Anarchists in so-called Melbourne.
Tags: Blockade, Boksalis (Dutch Company), Ecological Destruction, Indonesia, Kondingareng Island, Makassar, Makassar City, Mining, Netherlands
Posted in Eco Struggle
Wednesday, August 19th, 2020
作者:CONTRA TODA NOCIVIDAD, March 2020 译者:晚霞
原文刊于 325 新发布的小册子 'Against the Fourth and Fifth Industrial Revolutions' (ACN)
对于这个星球的自然资源的过度利用正在将人类带入一个自毁的边缘。我们生活在大多数是由连续不断的化学产品(杀虫剂、杀虫剂、内分泌干扰物等)的蔓延而导致的传染病之中,这对于我们的健康是有危害的。与此同时,我们生活在会导致大量人口过敏与患病的高程度的放射性污染所包围的大气中。这种对自然资源的开发还带来了技术工业对领土的破坏:地中海变成了下水道、东南亚变成了充满了化工物的荒地、非洲变成了一个大垃圾场,等等。Covid-19病毒的出现是工业文明的一个结果。
对于我们来说重要的是并不是这个病毒可能由于栖息地的工业化而从一个蝙蝠开始变异,或者是否这是一次美国对于中国经济的攻击。对于我们来说,最重要的事是这是一个让一切生活进程、日常物品甚至是地球上的生物都商品化的这个体制最后的结果;这是贪婪的体制企图毁灭一切活物,从而让这个世界完全人工化。我们不能认为我们基于在地球上连续不断增长的生活方式实际上是有限的,不会带来这些后果并使得其他灾难到来。
我们日常生活中存在的数百种化学物质改变了自然进程,从而导致了数百种"灾难"(流行病、气候变化等)。这些产品在中国每年造成150万人死亡,而且没有在新闻中报道,既没有引发社会担忧,也没有被限制,也没有导致恐慌状态。在西班牙,每年有1万人死于污染,但并没有恐慌——他们只是工业世界继续运转所必需的受害者的一部分,因为重要的是进程和它的贪婪不会停止。 (more…)
Tags: Analysis, Anti-technology, China, Contra toda Nocividad (Zine), Coronavirus, Ecological Destruction, Repression, Spain
Posted in Eco Struggle
Monday, July 27th, 2020
ES | Adiós Walter Bond…
For us, animal liberation and human liberation are two parts of the same struggle, the liberationist struggle is total, and anarchist, or it is nothing.
We want to get word out to animal rights, vegan, animal liberationist and anarchist comrades that recently we both saw on animal liberation sites and received an anonymous call asking for solidarity to Walter Bond, after he got out of prison. Whilst news of Walter Bond, the 'Lone Wolf' Animal Liberation Front prisoner getting out was welcome, -we'd followed his case from the very beginning, feeling affinity with the arson attacks he'd been sentenced for-, we received bad news after publishing that was confirmed shortly afterwards through the Anarchist Black Cross.
We were informed that when Walter was getting near to the end of his release date, he had completely reneged anarchy and now appears to have embraced eco-fascism. In September 2019, Walter published an open letter(1) on his support site rejecting the anarchist movement. The themes in this reactionary and despicable letter borrow from eco-fascist criticisms of anarchy, (that hierarchy is 'natural'*, that anarchism is hypocritical when it comes to issues of power, that it is single-issue obsessed, only concerned with identity politics etc.). Around this same time, Walter wrote letters to various anarchist groups in the U.S. asking for support efforts from and contact with the anarchist movement to cease. Upon our request for any related information, Philadelphia Anarchist Black Cross forwarded us a photo of Neo-Nazi propaganda on the back of a letter from Walter. The original photo had been shared by the recipient in an animal liberation group in early 2020.
Reading Walter's open letter you can see that it's an ignorant and cowardly distancing from the anarchist movement and at the expense of ten years of international solidarity, it is also an insult to all those who supported him throughout his prison sentence and organised solidarity actions, wrote graffiti, provided financial aid etc. Many direct action sabotages were dedicated to Walter during his time in prison and we also supported him through spreading calls for international solidarity and our own activism.
That this open letter of Walter's came at the end of his sentence before he got out is the classic trick of the turncoat. Given that animal rights circles are increasingly being infiltrated and recuperated by nationalist, fascist and racist groups, not to mention just plainly stupid, liberal and narrow-minded ideas, it's urgently needed to get the word out about this issue and restate the fight for an anarchist animal liberation position.
We wrote to Walter's support group asking about their stance but never received a reply, make of that what you will. We strongly recommend stopping any solidarity with Walter Bond.
Fascist scum get out
325
Anarchists Worldwide
*Surprisingly, for an ex-anarchist, Walter must not have heard about or read one of the most important and famous anarchist classics, the superb book by P.Kropotkin, 'Mutual Aid: A Factor in Evolution'.
Update 27.07.2020: Walter Bond and Camille Marino, a woman with considerable influence within Vegan and animal liberation circles due to having served a prison sentence for threatening a vivisector, have launched a new website to promote their so-called new 'movement' that they are calling 'Vegan Final Solution'(2). The content of this website not only confirms that Walter Bond has fully embraced eco-fascism, it also shows that he is now attempting to indoctrinate and recruit people within the Vegan and animal liberation milieu to his poisonous, hate-filled, fascist ideology. From the information published on this website, we can see that 'Vegan Final Solution' are openly advocating third-positionist fascism as well as killing people that they have deemed as being either 'useless' humans or traitors to the animal liberation movement. The website also contains a link to a PDF document that they are describing as their manifesto that is titled 'A Declaration of War – Killing People to Save the Animals and the Environment'. We predicted that Walter would use his position of influence in Vegan and animal liberation circles to attempt eco-fascist entryism, so this was no surprise to us, however it is alarming to see how quickly he has embarked upon this project, which makes it all the more urgent to alert comrades to this situation so that Walter Bond and his associates are unable to gain either a voice or a foothold within any of our movements.
1: http://supportwalter.org/SW/index.php/2019/09/11/the-end-of-anarchy/
2: https://veganfinalsolution.com/about/
Tags: Animal Liberation, Anti-Fascist, Camille Marino, Eco-Extremism, Neo-Nazis, USA, Vegan Final Solution (Eco-Fascists), Walter Bond
Posted in Eco Struggle
Sunday, July 19th, 2020
INTERNATIONAL CALL!!
JOIN US IN THE HAMBACHER FOREST FOR A WEEKEND OF DISCUSSION, WORKSHOPS AND REVOLT FOR ANIMAL LIBERATION
24-27 SEPTEMBER 2020
After months of dystopian weirdness and unprecedented state-repression imposed on the basis of corona, borders are opening up and rage is exploding around the world. But with potentially no radical anti-speciesist gatherings in Europe this summer to contribute to the clash, we felt the need to set a rallying point!
The Hambacher Forest is an ongoing focal point for anti-capitalism and radical ecology on the continent – let's find each other there and take the opportunity to share skills and perspectives on how to confront human supremacy in the current context. In continuation with the anarchist animal liberation gatherings which took place in Marseille (2016), Bristol (2017), Bilbao (2018) and Rome (2019), we aim to connect those who incorporate the fight alongside other animals and their habitats into a broader struggle against all hierarchies – a struggle for total liberation.
A list of workshops – both hands-on and more theoretical – is soon to be announced. We also want to invite you to propose your own, whether over the coming weeks or more spontaneously once the event begins. Other contributions in the form of literature, stalls and whatever else are also warmly invited.
Remember, this event is:
– FREE, including vegan food for the duration of the event
– SELF-ORGANISED, so if you see a job it's yours!
– SQUATTED, taking place in an illegal land occupation
– ANTI-OPPRESSION, so fuck right off if you have racist/sexist/heterosexist/cissexist/speciesist or otherwise bigoted views + behaviour
– IN A FOREST, so be ready to camp and respect the ecosystem
More info about what to expect and how to get there will be released on the following website later on. You can also find translations of this callout there, soon to include German, French, Italian, Spanish, and more: www.forestantispedays.noblogs.org
Feel free to contact us with questions or whatever here:
forestantispedays (at) riseup.net
Spread the world and stay wild!!!
Tags: Anarchist Gathering, Animal Liberation, Forest Struggle, Germany, Hambach, Hambach Forest, International Solidarity
Posted in Eco Struggle
Saturday, July 4th, 2020
PDF: Programme français
https://www.resistenzealnanomondo.org/necrotecnologie/programmetrois-journees-contre-les-techno-sciences-24-25-26-juillet-2020/
Tags: Alessandria, Anarchist Gathering, Anti-technology, Artificial Intelligence (AI), Artificial Reproduction, Biotechnology, Italy, Nanotechnology, PDF, Resistenze Al Nanomondo, Technological Singularity, Transhumanism
Posted in Eco Struggle
Wednesday, June 10th, 2020
PDF: Programma secondo Incontro
THREE DAYS AGAINST TECHNO-SCIENCES
24-25-26 July 2020
Second international meeting
At Altradimora, strada Caranzano 72, Alessandria (AL), Italy
Tags: Alessandria, Anarchist Gathering, Anti-technology, Artificial Intelligence (AI), Artificial Reproduction, Biotechnology, Italy, Nanotechnology, Resistenze Al Nanomondo, Technological Singularity, Transhumanism
Posted in Eco Struggle
Thursday, June 4th, 2020
De un panfleto repartido en algunos pueblos de México:
Hay que entender que el turismo surge a partir de la industria y el capitalismo, es decir, al turismo le es inherente el modo de producción industrial y capitalista. Hay también que entender que las vacaciones fueron fruto de la lucha obrera, la cual fue prontamente absorbida (mercantilizada) por el sindicalismo charro y el bienestarismo estatal que anularía de tajo los frutos de la revolución social.
Ahora bien, el turismo es una forma de MERCANTILIZAR EL TIEMPO LIBRE, DE PONERLE PRECIO Y POR LO TANTO SUBERTIRLO A LA LÓGICA DEL MERCADO CAPITALISTA. No estamos de acuerdo con, ponerle precio a los ríos, bosques y montañas para visitarlos, ni para ser explotados por la industria turística sea municipal, comunitaria, federal o privada.
Muchas de las comunidades que ejercieron el eco turismo quedan vetadas de sus propios bosques, ríos, montañas, manantiales, etc. Porque ahora la ocupan y disfrutan los turistas que muchas de las veces son de clase acomodada y de piel blanca o blanqueada (Neo colonialismo) donde los mismos lugareños acaban siendo empleados y cosificados por el dinero que gasta el turista en sus territorios. (more…)
Tags: Eco-Tourism, Ecological Destruction, Mexico
Posted in Eco Struggle
Saturday, April 18th, 2020
ES | ¡RESISTENCIA A LA CUARTA REPRESIÓN INDUSTRIAL!
EL | Να αντισταθούμε στην 4η Βιομηχανική Καταπίεση
From The Acorn:
The First Industrial Repression saw us thrown off the land, forced into crowded towns and cities, used as human fodder for the dark satanic mills of the new steam-powered capitalist world.
The Second Industrial Repression electrified the rule of The Machine. New generations were born who had never tasted freedom. Their lives and their thinking were increasingly dominated by the rhythms of industrial mass production.
The Third Industrial Repression heralded the arrival of computers and robots. Human beings were now expected to meekly conform to these automated norms and functions.
And now we face the onset of the Fourth Industrial Repression (4IR), the most deathly repression of them all…
The 4IR wants to own, control and profit from everything that exists in this world.
Its Internet of Things aims to create a matrix of total connectivity, of which it is the owner.
You, your home, your family, your friends, your relationships and your activities will all belong to the 4IR. (more…)
Tags: 5G, Analysis, Anti-technology, Biotechnology, Coronavirus, Dictatorship, Ecological Destruction, Fourth Industrial Revolution, Internet of Things, Nanotechnology, Repression, Smart Cities, Technological Singularity, The Acorn
Posted in Eco Struggle
Saturday, April 18th, 2020
It's the story of a man who falls from a 50-story building.
To calm down as he falls into the void he keeps saying to himself:
So far so good.
So far so good.
So far so good…
But it's not the fall that matters, it' s the landing.
As in the metaphor of the French film "La Haine", we live in a world that has been condemned to disaster. The continued destruction of the ecosystems to extract raw materials, the systematic degradation of the earth's crust by monocultures and agro-industry, the expulsion or annihilation of species, the transformation of the oceans in dunghills, the irreversible damage to the ozone layer… has had an exponential advance in recent years. They've put us on a path which is more than evident a transformation, for the worse, of life on earth.
At the same time, we have generated societies that are annihilators of the different, of the enemies of risk and adventure.The perpetuation of hierarchies and authorities, slaves of an economic system that puts the flow of goods above everything else. Profit as the only ideology. In which the virtual imposes itself on reality. The simulation to the experience. (more…)
Tags: Analysis, Coronavirus, Repression
Posted in Eco Struggle
Friday, April 3rd, 2020
È ragionevole descrivere
una sorta di imprigionamento per mezzo di un'altro
quanto descrivere qualsiasi cosa
che esiste
realmente
per mezzo di un'altra che non esiste affatto
Daniel Defoe
Perché dovremmo sopportare una dieta di veleni non del tutto nocivi, una casa in sobborghi non del tutto squallidi, una cerchia di conoscenze non del tutto ostili, il frastuono di motori non così eccessivo da renderci pazzi?
Chi dunque vorrebbe vivere in un mondo non del tutto mortale?
Rachel Carson, Primavera silenziosa
Negli anni '60 Rachel Carson, biologa e ambientalista americana simbolo del movimento ambientalista internazionale, con il libro Primavera silenziosa lanciava una forte denuncia e un grido di allarme nei confronti dell'avvelenamento del pianeta causato dall'uso dei pesticidi e in particolare del DDT, al tempo prodotto e usato su vasta scala.
Una nocività di larghissimo uso come il DDT, usato ancora oggi anche se in forme più subdole, aveva portato a silenziare le campagne dai canti primaverili degli uccelli. Oggi, in tempi di Coronavirus, le nocività, oltre ovviamente i pesticidi, non solo sono aumentate, ma si sono trasformate in un intero sistema malato che quotidianamente quando non mette a rischio la sopravvivenza degli organismi viventi li condanna a vivere in un'esistenza tossica e sempre più sterile di biodiversità. La verità è molto semplice: noi stiamo soltanto cominciando a subire massicciamente l'effetto ritardato dell'avvelenamento chimico-nucleare-biologico-elettromagnetico cumulativo del pianeta, avvelenamento che accresce qualitativamente e quantitativamente ogni anno. La degradazione della natura e di noi stessi che ne siamo parte non può che portare a questo. In una situazione in cui le nocività si ri-combinano la questione non è se poteva succedere o no un qualche disastro climatico, chimico o di altra natura, ma quando questo sarebbe avvenuto. O, meglio, forse la domanda dovrebbe essere se non sta già avvenendo. (more…)
Tags: 5G, Analysis, Anti-technology, Coronavirus, Ecological Destruction, Gene Drive, Italy, Repression, Resistenze Al Nanomondo, Seveso, Technological Singularity, World Heath Organisation (WHO)
Posted in Eco Struggle
Friday, March 13th, 2020
Much is said about the Covid-19 coronavirus, and yet very little. There are fundamental aspects that remain in the shadows. I want to name some of these, different but complementary.
The first refers to the perverse mechanisms of capitalism to hide the true causes of the problem so as not to do anything about them, because it affects their interests, but it does deal with the apparent cure for the symptoms. Meanwhile, the State spends enormous public resources on prevention, containment and treatment measures, which do not act on the causes either, so this way of facing problems becomes a captive business for transnational companies, for example, with vaccines and medicines.
The dominant reference to viruses and bacteria is as if they were exclusively harmful organisms that must be eliminated. A war-like approach prevails, as in so many other aspects of capitalism's relationship with nature. However, due to the ability of viruses to jump between species, viruses and bacteria are a fundamental part of the coevolution and adaptation of living beings, as well as their balance with the environment and their health, including humans.
Covid-19, which now makes global headlines, is a strain of the coronavirus family, which causes generally mild respiratory diseases but can be serious for a very small percentage of those affected due to their vulnerability. Other coronavirus strains caused Severe Acute Respiratory Syndrome (SARS), considered an epidemic in Asia in 2003 but since disappeared in 2004, and Middle East Acute Respiratory Syndrome (MERS), which has also virtually disappeared. Like Covid-19, they are viruses that can be present in animals and humans, and as with all viruses, affected organisms tend to develop resistance, which in turn causes the virus to mutate again. (more…)
Tags: Animal Liberation, Anti-technology, Coronavirus, Repression
Posted in Eco Struggle
Monday, March 2nd, 2020
PDF: Second international meeting
This year too, we are proposing an informal, convivial and international opportunity for discussion and reflection among individuals and organisations engaged in building an analysis and a critique of what we may call the technoworld. A world which is going through an epoch-making paradigm shift, where all bodies and our very experience have become one of the most important new raw materials. Engineering of the living and digital control are increasingly replacing a large part of the previous market of commodities, which are becoming obsolete. On a planet which has been plundered well beyond its biological limits, the re-designing through synthetic biology and artificial reproduction in a eugenic key of human beings and their management represents the new path forward. This of course for those who will be included in the new power arrangement, for the others no plans have emerged, or perhaps the fact that they have not been presented is already an answer in itself, they will certainly not be satisfied with merely marginalising a part of the world.
For those who ask where the current system, based on systematic exploitation of the planet, can find a way to reorganise itself, incorporating into its discourse the farce of sustainability, the answer lies in taking over human beings themselves: managed, influenced and addressed in their behaviour so that they themselves produce processes which can turn them into commodities. This is the true essence of green and sustainable policies to save the planet from so many catastrophes, of which climate catastrophe is only a part. Human beings who will soon be genetically edited in a process of ongoing perfectibility, where the body will be seen as a limit to be overcome, where what is human will be considered an error, and must therefore continuously adapt to a machine world. A techno-scientific adaptability which will become the only possibility. We can now seem how the cybernetic paradigm, according to which "the environment we live in has always been so radically modified that today we are forced to modify ourselves", takes a material and dramatic shape. (more…)
Tags: 5G, Anarchist Gathering, Anti-technology, Artificial Intelligence (AI), Artificial Reproduction, Biotechnology, Coronavirus, Genetic Manipulation, Italy, Nanotechnology, Resistenze Al Nanomondo, Smart Cities, Technological Singularity, Transhumanism
Posted in Eco Struggle