'Eco Struggle' Archives
Thursday, November 5th, 2020
Born in Ravensburg in 1938, Klaus Schwab is a child of Adolf Hitler's Germany, a police-state regime built on fear and violence, on brainwashing and control, on propaganda and lies, on industrialism and eugenics, on dehumanisation and "disinfection", on a chilling and grandiose vision of a "new order" that would last a thousand years.
Schwab seems to have dedicated his life to reinventing that nightmare and to trying to turn it into a reality not just for Germany but for the whole world.
Worse still, as his own words confirm time and time again, his technocratic fascist vision is also a twisted transhumanist one, which will merge humans with machines in "curious mixes of digital-and-analog life", which will infect our bodies with "Smart Dust" and in which the police will apparently be able to read our brains.
And, as we will see, he and his accomplices are using the Covid-19 crisis to bypass democratic accountability, to override opposition, to accelerate their agenda and to impose it on the rest of humankind against our will in what he terms a "Great Reset".
Schwab is not, of course, a Nazi in the classic sense, being neither a nationalist nor an anti-semite, as testified by the $1 million Dan David Prize he was awarded by Israel in 2004.
But 21st century fascism has found different political forms through which to continue its core project of reshaping humanity to suit capitalism through blatantly authoritarian means. (more…)
Tags: Analysis, Anti-technology, Coronavirus, Fourth Industrial Revolution, Klaus Schwab, Repression, The Acorn, Transhumanism, UK, World Economic Forum
Posted in Eco Struggle
Tuesday, September 22nd, 2020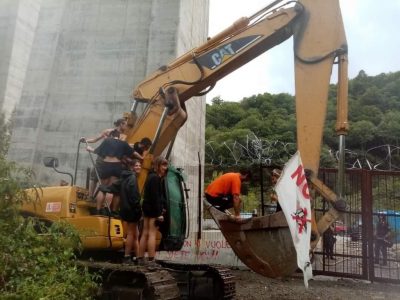 The No TAV campaign in northern Italy has been fighting an expensive, unneeded and corrupt high speed railway link for over three decades. The proposed mafia-linked freight train service from Turin to Lyon has been repeatedly exposed for its fantastical predictions and is slated by local people who see no reason to leave their homes for a white elephant. If you are already thinking about the similarities to HS2 here in England then you are in the right place. I will start by giving a very brief history of No TAV, then an update on recent events. In the second half, I will concentrate on what the Stop HS2 movement can learn from No TAV.
For those who have never heard of the No TAV movement, it is a campaign born thirty odd years ago to resist the construction of a 270 kilometre long high speed railway (Treno di Alta Velocita) between Turin (in Italy) and Lyon (in France). There is widespread opposition on both French and Italian soil, since the railway is a corrupt scheme proposing to transport freight based on fantasy figures and the people who live along the route see no benefit (the train won't be stopping there). They argue that the already existing railway infrastructure should be improved instead. The resistance is greatest in the breathtakingly beautiful Val di Susa (Susa Valley), which stretches from Turin to the Alps for fifty kilometres. In summer, the valley is bright with colours, the blue sky and green grass bisected by the snow on the mountains. It has a unique environment, since one side sees the sun and the other does not. The train line would rip straight through it before entering a tunnel of 57.5 kilometres to France. This tunnel would be longer than the Chunnel and in fact would just squeeze in as the longest rail tunnel in the world, if it ever gets built. Local people are concerned that drilling into the mountains will disturb uranium and asbestos deposts, that mafia construction will lead to health hazards and that the overall economic case for TAV no longer stands up. (more…)
Tags: Ecological Destruction, France, HS2, Italy, Lyon, TAV, Turin, UK, Val di Susa
Posted in Eco Struggle
Monday, September 14th, 2020
On 11th September a maxi-trial will begin in Lecce against almost a hundred demonstrators accused of having opposed the realization of the TAP gas pipeline in various ways. A sort of spectacular event with big numbers set up mainly to impress and leave a sign of repression that can also be a warning to others in some way. Besides the place, a bunker courtroom, chosen for the trial, officially for reasons linked to anti-Covid regulations, unofficially to create an atmosphere suitable for the criminalization of the TAP opposition, the obstinate and law-dependent clerks of Order and the Economy do not have much in their hands. In fact, we have nothing to defend. On the contrary: this trial should be an accusation that rebounds against those who are devastating the earth in the name of a progress that has been revealing its rotten face for centuries. Infrastructures with a strong impact such as a gas pipeline are feeding an energy-consuming system that only produces devastation, control, repression. It's enough to just take a look around. There is not one thing that is not connected and linked to everything else. That is why we can't see the realization of a gas pipeline as that alone. On the contrary, this is an operation that is colonizing places and minds. It is the expression of an economic system that is pushing the planet to the brink, to the slavery and death of millions of individuals. (more…)
Tags: Italy, Lecce, Repression, Trans Adriatic Pipeline (TAP), Trial
Posted in Eco Struggle
Monday, July 27th, 2020
ES | Adiós Walter Bond…

For us, animal liberation and human liberation are two parts of the same struggle, the liberationist struggle is total, and anarchist, or it is nothing.
We want to get word out to animal rights, vegan, animal liberationist and anarchist comrades that recently we both saw on animal liberation sites and received an anonymous call asking for solidarity to Walter Bond, after he got out of prison. Whilst news of Walter Bond, the 'Lone Wolf' Animal Liberation Front prisoner getting out was welcome, -we'd followed his case from the very beginning, feeling affinity with the arson attacks he'd been sentenced for-, we received bad news after publishing that was confirmed shortly afterwards through the Anarchist Black Cross.
We were informed that when Walter was getting near to the end of his release date, he had completely reneged anarchy and now appears to have embraced eco-fascism. In September 2019, Walter published an open letter(1) on his support site rejecting the anarchist movement. The themes in this reactionary and despicable letter borrow from eco-fascist criticisms of anarchy, (that hierarchy is 'natural'*, that anarchism is hypocritical when it comes to issues of power, that it is single-issue obsessed, only concerned with identity politics etc.). Around this same time, Walter wrote letters to various anarchist groups in the U.S. asking for support efforts from and contact with the anarchist movement to cease. Upon our request for any related information, Philadelphia Anarchist Black Cross forwarded us a photo of Neo-Nazi propaganda on the back of a letter from Walter. The original photo had been shared by the recipient in an animal liberation group in early 2020.
Reading Walter's open letter you can see that it's an ignorant and cowardly distancing from the anarchist movement and at the expense of ten years of international solidarity, it is also an insult to all those who supported him throughout his prison sentence and organised solidarity actions, wrote graffiti, provided financial aid etc. Many direct action sabotages were dedicated to Walter during his time in prison and we also supported him through spreading calls for international solidarity and our own activism.
That this open letter of Walter's came at the end of his sentence before he got out is the classic trick of the turncoat. Given that animal rights circles are increasingly being infiltrated and recuperated by nationalist, fascist and racist groups, not to mention just plainly stupid, liberal and narrow-minded ideas, it's urgently needed to get the word out about this issue and restate the fight for an anarchist animal liberation position.
We wrote to Walter's support group asking about their stance but never received a reply, make of that what you will. We strongly recommend stopping any solidarity with Walter Bond.
Fascist scum get out
325
Anarchists Worldwide
*Surprisingly, for an ex-anarchist, Walter must not have heard about or read one of the most important and famous anarchist classics, the superb book by P.Kropotkin, 'Mutual Aid: A Factor in Evolution'.

Update 27.07.2020: Walter Bond and Camille Marino, a woman with considerable influence within Vegan and animal liberation circles due to having served a prison sentence for threatening a vivisector, have launched a new website to promote their so-called new 'movement' that they are calling 'Vegan Final Solution'(2). The content of this website not only confirms that Walter Bond has fully embraced eco-fascism, it also shows that he is now attempting to indoctrinate and recruit people within the Vegan and animal liberation milieu to his poisonous, hate-filled, fascist ideology. From the information published on this website, we can see that 'Vegan Final Solution' are openly advocating third-positionist fascism as well as killing people that they have deemed as being either 'useless' humans or traitors to the animal liberation movement. The website also contains a link to a PDF document that they are describing as their manifesto that is titled 'A Declaration of War – Killing People to Save the Animals and the Environment'. We predicted that Walter would use his position of influence in Vegan and animal liberation circles to attempt eco-fascist entryism, so this was no surprise to us, however it is alarming to see how quickly he has embarked upon this project, which makes it all the more urgent to alert comrades to this situation so that Walter Bond and his associates are unable to gain either a voice or a foothold within any of our movements.
1: http://supportwalter.org/SW/index.php/2019/09/11/the-end-of-anarchy/
2: https://veganfinalsolution.com/about/
Tags: Animal Liberation, Anti-Fascist, Camille Marino, Eco-Extremism, Neo-Nazis, USA, Vegan Final Solution (Eco-Fascists), Walter Bond
Posted in Eco Struggle
Thursday, June 4th, 2020
De un panfleto repartido en algunos pueblos de México:
Hay que entender que el turismo surge a partir de la industria y el capitalismo, es decir, al turismo le es inherente el modo de producción industrial y capitalista. Hay también que entender que las vacaciones fueron fruto de la lucha obrera, la cual fue prontamente absorbida (mercantilizada) por el sindicalismo charro y el bienestarismo estatal que anularía de tajo los frutos de la revolución social.
Ahora bien, el turismo es una forma de MERCANTILIZAR EL TIEMPO LIBRE, DE PONERLE PRECIO Y POR LO TANTO SUBERTIRLO A LA LÓGICA DEL MERCADO CAPITALISTA. No estamos de acuerdo con, ponerle precio a los ríos, bosques y montañas para visitarlos, ni para ser explotados por la industria turística sea municipal, comunitaria, federal o privada.
Muchas de las comunidades que ejercieron el eco turismo quedan vetadas de sus propios bosques, ríos, montañas, manantiales, etc. Porque ahora la ocupan y disfrutan los turistas que muchas de las veces son de clase acomodada y de piel blanca o blanqueada (Neo colonialismo) donde los mismos lugareños acaban siendo empleados y cosificados por el dinero que gasta el turista en sus territorios. (more…)
Tags: Eco-Tourism, Ecological Destruction, Mexico
Posted in Eco Struggle
Saturday, April 18th, 2020
From The Acorn:
The First Industrial Repression saw us thrown off the land, forced into crowded towns and cities, used as human fodder for the dark satanic mills of the new steam-powered capitalist world.
The Second Industrial Repression electrified the rule of The Machine. New generations were born who had never tasted freedom. Their lives and their thinking were increasingly dominated by the rhythms of industrial mass production.
The Third Industrial Repression heralded the arrival of computers and robots. Human beings were now expected to meekly conform to these automated norms and functions.
And now we face the onset of the Fourth Industrial Repression (4IR), the most deathly repression of them all…
The 4IR wants to own, control and profit from everything that exists in this world.
Its Internet of Things aims to create a matrix of total connectivity, of which it is the owner.
You, your home, your family, your friends, your relationships and your activities will all belong to the 4IR. (more…)
Tags: 5G, Analysis, Anti-technology, Biotechnology, Coronavirus, Dictatorship, Ecological Destruction, Fourth Industrial Revolution, Internet of Things, Nanotechnology, Repression, Smart Cities, Technological Singularity, The Acorn
Posted in Eco Struggle
Saturday, April 18th, 2020
It's the story of a man who falls from a 50-story building.
To calm down as he falls into the void he keeps saying to himself:
So far so good.
So far so good.
So far so good…
But it's not the fall that matters, it' s the landing.
As in the metaphor of the French film "La Haine", we live in a world that has been condemned to disaster. The continued destruction of the ecosystems to extract raw materials, the systematic degradation of the earth's crust by monocultures and agro-industry, the expulsion or annihilation of species, the transformation of the oceans in dunghills, the irreversible damage to the ozone layer… has had an exponential advance in recent years. They've put us on a path which is more than evident a transformation, for the worse, of life on earth.
At the same time, we have generated societies that are annihilators of the different, of the enemies of risk and adventure.The perpetuation of hierarchies and authorities, slaves of an economic system that puts the flow of goods above everything else. Profit as the only ideology. In which the virtual imposes itself on reality. The simulation to the experience. (more…)
Tags: Analysis, Coronavirus, Repression
Posted in Eco Struggle
Sunday, December 29th, 2019
After COP25 and the Economic Stimulus Package: Stop Appealing to those Responsible! What We Need is a Revolt!
Wuppertal. Haan. December 26th, 2019. Since August 15th, 2019 we've occupied the Osterholz Forest. A lot has happened in these four and a half months. The forest that was supposed to be cleared in October is still standing, and that's good. We will continue to actively oppose the possible clearing for the capitalist interests of a private company called Oetelshofen.
On September 20th, millions of people took to the streets worldwide to demonstrate for climate justice. The German government's response should be a lesson to all those who think that decisive changes will come from the rulers. The "climate package" presented by the German government is above all an economic stimulus package for the (E) car industry. The proposed coal phase-out law is primarily a wind power phase-out law. The rulers are trying to cheat their way through by deceiving public opinion. Business as usual. The COP25 climate negotiations have also failed miserably. No wonder, because the rulers have long since understood what needs to be done, but that is exactly what they don't want to do. Those who believe that the rulers "have not yet understood the seriousness of the situation" succumb to a mistaken belief: the rulers have understood the seriousness of the situation very well. Their interests simply lie elsewhere. The lackeys of capital stand for an everlasting situation and their friends of green capital only want to change things slightly. Instead of destroying entire regions for coal, they now want to destroy unique landscapes for the mining of lithium for their electric cars. The same sauce, but now with a green colour. (more…)
Tags: Anti-Coal, Cop25, Ecological Destruction, Forest Struggle, Germany, Mining, Oetelshofen, Osterholz Forest, Squatting
Posted in Eco Struggle
Thursday, December 12th, 2019
PDF Flyer EN, + ES, IT
"On the altar of technological development we are sacrificing
every breath of our individual freedom and the possibility
to live a life that is really worth it."
NICOLA GAI.
"Anarchy rejects that life becomes an ideology,
shit or a little more, at best,
an impotent exit for frustrated men and women."
ALFREDO COSPITO.
It is a fact that the Italian war industry represents one of the "excellencies" of the national economy, as it is one of the few sectors that knows no crisis, it is certainly not a novelty, this field of investment that produces such high profits that are considered indispensable for the economy of any government, of any colour, with the due respect of all those who enjoy, for example, the hypocritical condemnation of the aggression carried out by Turkey towards the inhabitants and rebels of Rojava and who call for the formal blockade of the export of weapons produced in Italy to Turkey announced by the current government.
And if it is true that "the war begins here", which is where the weapons are produced, this is even more true because here, in Genoa, is one of the offices of Leonardo (formerly Finmeccanica), a state-controlled company, which is a world leader in the research and production of advanced technological systems for the military industries and for social control: Helicopters, fighter jets, drones, radars, attack systems, military land and sea vehicles, ammunition, electronic warfare systems and tele-operated, coastal and border protection systems, electronic social control systems to be applied in cities, ports and airports, and much more; Their catalogue is very wide. (more…)
Tags: Alfredo Cospito, Ansaldo Nucleare, Anti-Nuclear, Ecological Destruction, Finmeccanica, International Solidarity, Nicola Gai, Nucleo Olga FAI/FRI, PDF, Roberto Adinolfi
Posted in Eco Struggle
Thursday, December 5th, 2019
New blog launched as the response to the COP25 summit is underway. This blog serves to encourage people to participate in the protests, questioning and pointing to the real leaders of the destruction of the earth. Those leaders will sit these days to make decisions about the destiny of the world, promising to fulfill agreements that they have all breached since all this time and driving us at their pace towards disaster.
We cannot leave the future, if it exists, in the hands of these miserable deceivers!
Let's confront them, so "that they can't say we didn't do anything".
https://contracumbrecop25madrid2019.noblogs.org/
Tags: Black Bloc, Climate Chaos, Cop25, Demo, Ecological Destruction, International Solidarity, Madrid, Spain
Posted in Eco Struggle
Tuesday, November 12th, 2019
December 2nd, the rulers of the world are coming to Madrid. Some of the biggest murderers of this planet, of the biggest responsible of its devastation. They come to fill their mouths and calendars with the next plans of "fight against climate change". While global capitalism continues intact and most of the CO2 emissions emanate from industrial production, while their companies keep devastating forests and mountains to extract its natural resources.
And if that wasn't enough, at the same time, Chile burns and their streets are still covered by the ammunition caps from the security forces. But Piñera couldn't see his political planning disturbed by the revolt, he couldn't admit the mediatic focus questioning his dictation before such a social explosion. And thanks to the kindness of Spanish government, now he will be able to continue with his plans without getting disheveled.
But in Chile, normality couldn't be held anymore, and we neither want to hold it here. We won't allow the world leaders meet to design the destruction under the look of sustainability and respect, as if everything continues to go normally. As if they haven't been destroying all this time, as if they wouldn't carry thousands of corpses in their backs. We won't give them such legitimacy. Also, because we know, that the best way to show solidarity with the rebels is nothing but extend the revolt. Like in Hamburg, we want this summit to become hell.
Therefore, we encourage the system enemies to meet in Madrid, in the dates when the world owners have their appointment in this city. Stay aware to the next calls and infos. There will be enabled spaces to host those coming from other places.
On the other hand, neither do we trust that politics gestated in parliaments and offices will stop the destruction or stop the way to the collapse, that is increasingly inevitable. But we trust in the ability of every one to act, individually or in groups. That's why we want to make a call for decentralized action to point the responsible of environmental destruction. Politicians won't act against the Capitalism interests, but we do. Against climate change; direct action.

Attack those who destroy the Earth.
Tags: Black Bloc, Climate Chaos, Cop25, Demo, Ecological Destruction, Madrid, Riots, Spain
Posted in Eco Struggle
Tuesday, September 17th, 2019
IT: Contributo per l'incontro internazionale contro le tecno-scienze (Italia – luglio 2019) dell'anarchico Dino Giagtzoglou, prigioniero dello stato greco
GR: Ντίνος Γιαγτζόγλου: Συνεισφορά Στη Διεθνή Συνάντηση Ενάντια Στις Τεχνο-Επιστήμες
ES: Contribución a la reunión internacional contra las tecnociencias (Italia – julio de 2019) del anarquista Dino Giagtzoglou, prisionero del estado griego
Contribution to the international meeting against the techno-sciences (Italy – July 2019) by anarchist Dino Giagtzoglou, prisoner of the Greek state
Comrades
I start this letter with a certainty. I am sure that our life experiences are very different as well as the starting points of the struggle of each and every one. I also think that with many of you we have different ideological origins and disagreements or contrasts on individual issues. But I firmly believe that the will to resist the plans of Domination, stemming from the awareness of the fundamental social alienation that alienates us from ourselves and nature as a whole, and the revolutionary passion for the destruction of the mega-machine of Power unite us in a common vision of a world free from the shackles of civilization. By going through a variety of analyzes, striding kilometer distances and eliminating in practice the language obstacles, since we recognize that there is the community of struggle for total liberation, we can really keep the flame of the revolt lit and the wager of the social revolution open. I therefore send a warm greeting to the Resistenze Al Nanomondo collective and to all the participants in the international meeting against the techno-sciences, expressing in advance my eagerness to fill the gaps in knowledge, that my absence will undoubtedly cause, by studying your reflections, your conclusions and everything you can get me through the actions and collaborations that will come from your fermentations in Italy.
But let's take things in turn. For 21 months now, I have been pre-trial detained in the Greek prisons because I made the decision, like many fighters around the world, to realize my ideas by taking a battle position in the social war and fighting against power, here and now. So I am in prison because I put my ideas into practice beyond the limits of the law and certainly not by accident. (more…)
Tags: Anti-technology, Artificial Intelligence (AI), Biotechnology, Greece, Italy, Konstantinos Yagtzoglou, Letter, Nanotechnology, Resistenze Al Nanomondo, Technological Singularity, Transhumanism
Posted in Eco Struggle
Sunday, September 15th, 2019
Various institutions, environmental groups, trade unions and student groups gathering under the name "Fridays for Future" have announced a so-called "Week for Climate" from the 20th to the 27th of September. Basically this week consists of programmed and alienating demonstrations in which the State and other institutions (UN, G7 etc) are being asked to remedy or take action against the disaster they are causing. In their simplistic and reformist discourse they never criticize the cause of the ongoing devastation: industrial techno capitalism and its technocratic organization of the world. They are the ones who criticize climate change without criticizing those who produce it: they have a corpse in their mouths, those who defend the myth of progress, of sustainable development and of a 'comfortable' life in exchange for slavery and the commodification of every aspect of our lives, a life sold to technological domination. They are the ones who have purchased the new fashionable product, climate change, from the supermarket of rebellion. Fridays for Future? Today more than ever the future does not exist, we live in an eternal present and any vestige of the past has been erased. The technological prostheses that surround and colonize us make us live in a continuous state of sleepwalking, where the catastrophe is not about to come as they insist on warning us, the catastrophe is here and now, the catastrophe is the alienating life directed by the algorithms of our 'virtual assistants', the catastrophe is a world already devastated by industry.
(more…)
Tags: Climate Chaos, Ecological Destruction, Madrid, Spain
Posted in Eco Struggle
Sunday, September 15th, 2019
In Turkey, Aydin Hunter Association (Aegean Region) was attacked by ALF. The locks of the association were glued, slogans were painted to the doors. The signboards were destroyed.
Hunting is murder!
Until all are free.
The action was dedicated to the vegan anarchist prisoner Marius Mason.
Turkhis:
Aydın'daki avcılık derneğine ALF tarafından saldırı düzenlendi. Derneğin kapısı yapıştırıcı ile kullanılamaz hale getirildi, derneğin tabelaları parcalandı, kapılara yazılamalar yapıldı.
Av, cinayettir!
Tüm hayvanlar özgür olana kadar!
Eylem, vegan anarşist tutsak Marius Mason'e adandı.
Tags: Animal Liberation Front, Aydin Hunter Association, Marius Mason, Turkey
Posted in Eco Struggle
Sunday, September 15th, 2019
In the early hours of September 3, 2019, all of the prisoners on a small mink farm in Hölkemåla, Blekinge, Sweden, escaped from the cages. In total about 1500 persons managed to get free.
We gave a helping hand by disassembling the fence of the farm and then opening all the cage doors. We removed parts of the fence using a wrench to ensure a way out. The fur farm was situated right next to a lake where we hope that as many as possible now get to live.
In a world where freedom exists only in moments of rebellion and insurrection, we still think that the possibility of a life in the forest and lake is quite the opposite of that in a cage. We do recognize that the already destroyed eco-systems and colonised nature is nothing like a dream, but since it is all that we have it is where we will go from our imprisoned existences. A passion for freedom is what drove us to this hidden killing facility to increase the freedom for all of us. Our desire to share this moment of freedom with the minks is rooted in solidarity and love as well as anger and hatred towards those who dominate us and try to steal our lives.
We strongly believe that there is no limit to the things we can do, all we need is to make up our minds and pick a target.
We send our love to Eric King, Matthias in Switzerland and all other prisoners around the world!
Tags: Animal Liberation, Blekinge, Hölkemåla, Sweden
Posted in Eco Struggle