'Eco Struggle' Archives
Tuesday, July 23rd, 2019
On the night of July the 8th a car parked outside the office of SCA in Östersund in mid Sweden was torched. SCA is one of the companies responsible for the clearcutting and destruction of oldgrowth forests in Sweden.
Their terror of the wild will have consequences. We will no longer stand by silent and watch their eco-terrorism destroy the last wild forests in the north of Europe.
With fire and sabotage we will hunt you. Destroy the one who destroys.
For the wild!
ELF
Tags: Arson, Earth Liberation Front, Östersund, SCA (Forestry Industry), Sweden
Posted in Eco Struggle
Sunday, June 23rd, 2019
Tags: Extinction Rebellion (XR), Reformism, UK
Posted in Eco Struggle
Saturday, June 22nd, 2019


via Biteback:
"Guinea Fowl liberated from Plumpton College, Game Management Facility, in the early hours of Sunday 2nd June 2019.
These birds have been taken to a safe place far away from the oppressors wishing to profit from selling a chance to shoot these birds in the name of 'sport' or 'conservation'.
Fuck the hunters. Fuck Capitalism and Fuck Vegan Campout!
This liberation is dedicated to all Sabs, past, present and future who in our humble opinion are the cornerstone of the Animal Rights Movement.
We are disgusted that Vegan Campout has banned the Sabs and the organisers of vegan campout are sucking up to the CUNTryside Alliance[*], when they have been offered a free site to hold the campout in Wales since the start! What the actual FUCK?!
UNTIL ALL ARE FUCKING FREE, WE WILL NOT REST!
We urge you all to make a stand!
Stay Safe, Fuck Shit Up and make it personal!
Love n Rage Xx"
–
* Countryside Alliance is a hunters and land-owners organisation of the traditionalist right wing in UK.
Tags: ALF, Animal Liberation, East Sussex, Plumpton College, UK
Posted in Eco Struggle
Thursday, May 16th, 2019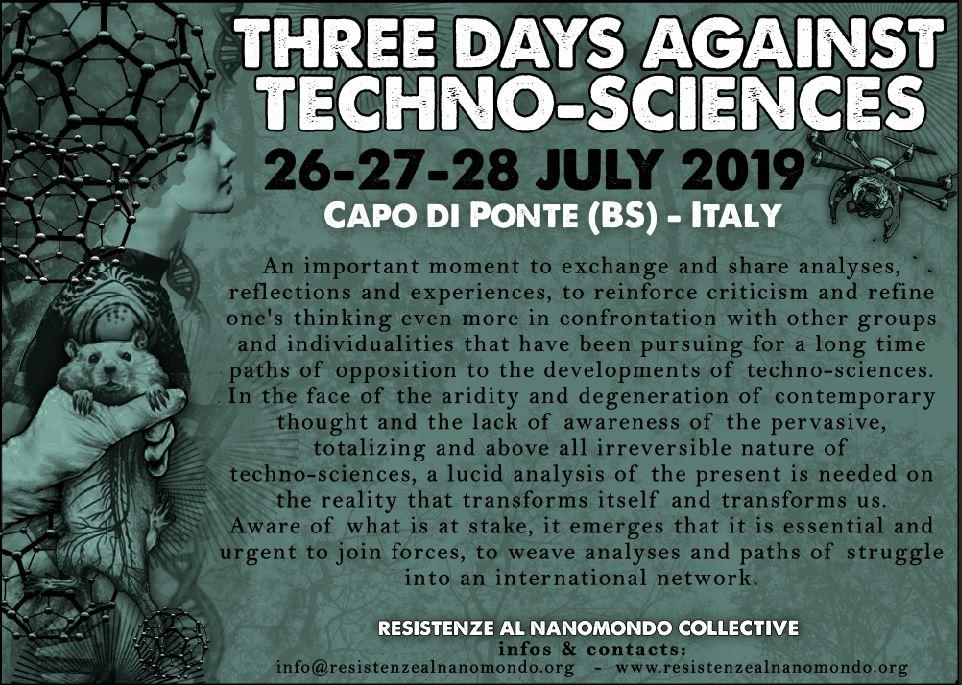 "Capo di Ponte Theme Park" in Prada – Capo di Ponte (BS)
FRIDAY 26TH
13.00 lunch
14.30 Presentation of the meeting
15.00 In the temple of Janus. About the relationship between technology, exploitation and racism
For the Italics Janus had two faces: a bearded one depicting the sun and a beardless one depicting the moon. For the Romans, the sun and the moon soon became peace and war. The temple of Janus, in the Roman Forum, was closed in time of peace and open in time of war. Today the door of that temple is always closed because of the war and the unnamed of the present time. Embodied in the technological apparatus and its silent injunctions, war is the planetary movement of digital democracy. Racism is its "moment of truth", in that it explicitly affirms what its machines have never stopped doing to the colonial peoples. The algorithm command prepares the chief's orders. The abstraction from the body, from the earth, from nature produces the comfortable bulwark of national belonging and the desire to lynch the different as a backlash. What was experienced in the colonies goes back.
Some of the editors of the anarchist magazine "I Giorni e le Notti" (Days and Nights) (Italy)
(more…)
Tags: Anarchist Gatherings, Anti-technology, Artificial Intelligence (AI), Biotechnology, Italy, Nanotechnology, Technological Singularity
Posted in Eco Struggle
Sunday, April 21st, 2019

Rome, 26th-28th July 2019
An occasion to meet each other, to share analyses and skills and to discuss experiences and strategies in the fight against the oppression of animals and the destruction of their habitats. A fight that for us is part of the wider fight against every form of exploitation, oppression and authority, for total liberation.
This gathering wishes to connect individuals and small groups of like minded people working for animal liberation in a way that is radically different from that undertaken by the majority of animal right groups nowadays. Animal activist groups that lack wider politics, be it for political apathy or for well thought out choices, are becoming increasingly appealing to people with fascist, nationalist, sexist and racist views. (more…)
Tags: Animal Liberation, Italy, Rome
Posted in Eco Struggle
Wednesday, April 17th, 2019
THREE DAYS AGAINST THE TECNO-SCIENCES
26-27-28 July 2019
Capo di Ponte (BS) Italy
The program will come soon
An important moment to exchange and share analyses, reflections and experiences, to reinforce criticism and refine one's thinking even more in confrontation with other groups and individualities that have been pursuing for a long time paths of opposition to the developments of techno-sciences.
In the face of the aridity and degeneration of contemporary thought and the lack of awareness of the pervasive, totalizing and above all irreversible nature of techno-sciences, a lucid analysis of the present is needed on the reality that transforms itself and transforms us. Aware of what is at stake, it emerges that it is essential and urgent to join forces, to weave analyses and paths of struggle into
an international network.
Resistenze al Nanomondo Collective
www.resistenzealnanomondo.org
For info and contacts: info@resistenzealnanomondo.org
http://www.resistenzealnanomondo.org/
http://www.resistenzealnanomondo.org/necrotecnologie/three-days-against-the-tecno-sciences-26-27-28-july-2019/
Tags: Anarchist Gathering, Anti-technology, Biotechnology, Ecological Destruction, Italy, Nanotechnology, Technological Singularity
Posted in Eco Struggle
Monday, March 25th, 2019
From Unoffensiveanimal:
After seeing a few reports appear about game birds released from breeding farms, a map has been made public containing some of the breeding farms within the U.K.
The shooting industry in the U.K. breeds mostly pheasants, partridges and ducks in factory farm conditions, and then they have a whole system of introduction into the wild during the summer to get the birds in place for the shooting season that starts in September.
It isn't new to see reports of game farms being visited by the ALF with thousands of animals released, and it is no surprise. As a tactic, game farms are at its weakest point right now, when mating season is happening and they need to collect the eggs to incubate them in huge hatcheries . When breeding birds are released into the wild, there is not only a loss of "stock" but also they are unable to breed the birds they need to then distribute them in shoots. Although it is a liberation action, it carries the weight of economic sabotage and finds a solution to the burden of caring for thousands upon thousands of animals in safe homes, as game birds can be simply released into the wild. There is no doubt that many of them will die, but let's remember that all of them plus their offspring would die during the next shooting season. (more…)
Tags: ALF, Animal Liberation, Sabotage, UK
Posted in Eco Struggle
Saturday, March 23rd, 2019
On February 2018, Arraijanal, one of the last parts of natural beach on the coast of Andalucia (Spanish state), was squatted to protect it from the attempt of environmental destruction in order to build a football stadium and sports town on this area. Some centenary trees were cut down and the area was fenced in, but that didn't stop the activists from establishing a permanent protest camp.
This protest camp have been evicted several times, but our comrades managed to reoccupy it and keep the struggle during six months, and for now the building works have been stopped.
On May 24th, two comrades involved in this project got arrested while the police was trying to remove banners and camping material from the occupation. That resulted in a court case in which they are accused of resistance, offense against authority and bodily harm to the cops proceeding this arrest. (more…)
Tags: Andalucia, Arraijanal, Spain, Squatting, Trial
Posted in Eco Struggle
Friday, March 8th, 2019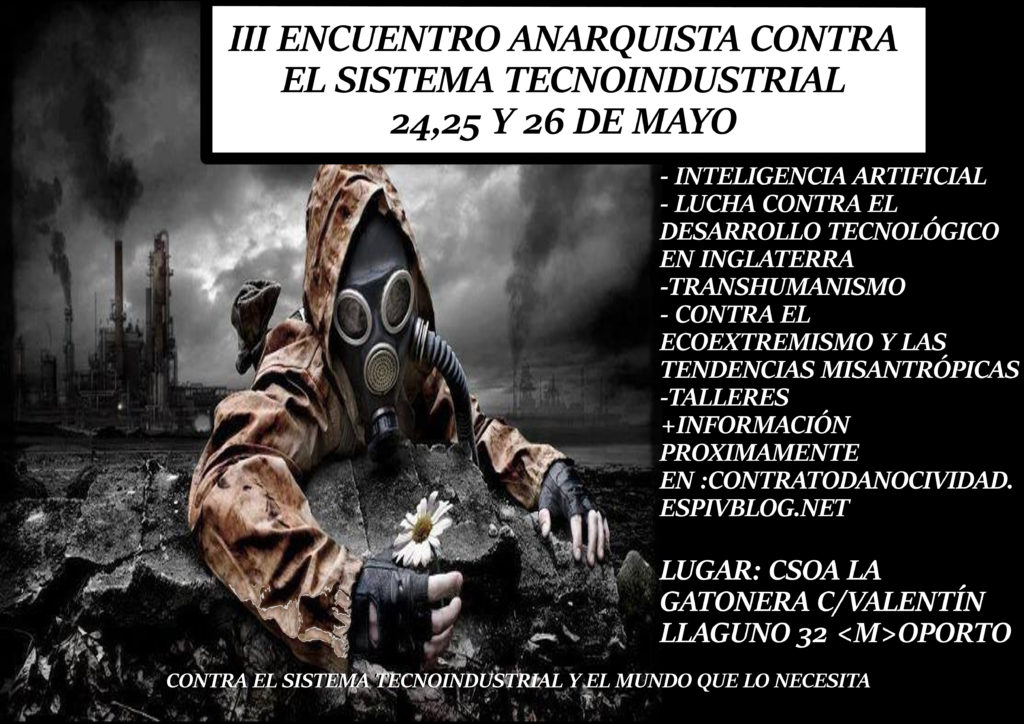 III ENCUENTRO ANARQUISTA CONTRA EL SISTEMA TECNOINDUSTRIAL Y SU MUNDO
Por tercer año consecutivo tendrá lugar en el CSOA La Gatonera (C/ Valentín Llaguno, 32) el Encuentro contra el sistema tecnoindustrial.
Este encuentro surge debido a la necesidad de generar un discurso contra el sistema de dominación en el que nos hayamos, dicho sistema impregna el mundo que nos rodea bajo una lógica tecnocientifica donde todo es medible, cuantificable y por tanto, está sujeto a un control. Dicho desarrollo se basa en la sustitución de los procesos naturales por procesos técnicos sometiendo así a los individuos, animales y el ecosistema a la mega máquina.
Cómo anarquistas consideramos que la lucha debe integrar la necesidad de proteger nuestro medio y recuperar la autonomía que este sistema nos ha arrebatado.
Durante el encuentro se realizarán charlas sobre:
– Inteligencia artificial
– Lucha contra el desarrollo tecnológico en Inglaterra
– Transhumanismo
– Contra el ecoextremismo y las tendencias misantrópicas
Y mucho más…
+ Información próximamente en:
contratodanocividad.espivblogs.net
– Para contactar: contratodanocividad@riseup.net
ACUDE Y DIFUNDE
¡POR LA LIBERACIÓN TOTAL!
Tags: Anti-technology, Madrid, Spain
Posted in Eco Struggle
Thursday, March 7th, 2019
ES: ¿ACABAR CON LA HUMANIDAD PARA ACABAR CON EL DOMINIO? – SOBRE LA CORRIENTE MISANTRÓPICA EN ENTORNOS ANÁRQUICOS
As a result of the recent explosive attack carried out by ITS at a bus stop in Chile, seeking to kill humans, we publish an article from #3 of the magazine Kalinov Most (October 2018). For more information it is also possible to read: Misanthropic Wild Trends: Other expressions of authoritarianism and sacred thought (Kalinov Most # 1 October 2017).
"Humans are a disease. They are the cancer of this planet.
They are a plague. And we are the only cure."
(Agent Smith- The Matrix)
Previously we already outlined a critique (1) of the ecoextremist tendency and of several of its derivatives, particularly its authoritarian characteristics and its defence of a sacred quasi-religious thought that, as anti-authoritarians, produces so much disgust in us.
The preparation of that article sought to focus mainly on those aspects that seemed key to us to deepen the exposure of the reproduction of what we deeply despise, but without a doubt, it was not the only thing that has been written. Simultaneously, from different territories, there has been continuing reflections and critiques specifically against ecoextremism (2) in its different versions. Writings that, far from seeking to show a good, positive or citizenist anarchism, seek to sharpen the exercise of offensive anarchic praxis.
In this text we will look in depth at another aspect that we can identify in this same trend, but to be honest, it also exceeds it by far. We will not focus on any specific group, magazine, web page, publication or promotional acronym, but rather on a way of understanding and referring to this world. We are talking about the misanthropic tendency and its derivatives. (more…)
Tags: Analysis, Chile, Eco-Extremism, Individualists Tending Toward the Wild (ITS), Kalinov Most
Posted in Eco Struggle
Thursday, February 28th, 2019
COMMUNIQUÉ FROM MEMBERS OF ALF ARGENTINA, BUENOS AIRES
In the first week of this month; February, members of the ALF have entered a poultry farm and rescued more than 20 chickens, which now enjoy a life in freedom.
We will continue to rescue animals and sabotage centers of torture and death until the end of speciesism.

ANIMAL LIBERATION – EARTH LIBERATION
LONG LIVE DIRECT ACTION
Tags: ALF, Animal Liberation, Argentina, Buenos Aires
Posted in Eco Struggle
Sunday, February 24th, 2019
Tankers leaving Cuadrilla's shale gas site, 2 January 2019.
Photo: Ros Wills

From Drill or Drop?
The shale gas company, Cuadrilla, is seeking permission to add new chemicals to its fracking operations in Lancashire.
In details published today, the company said it wanted to change the composition of the fracking fluid so that more sand could be carried into fractures in the shale rock.
This follows news earlier this month that Cuadrilla had fully fracked only 5% of its first well at the site at Preston New Road near Blackpool. Fracking operations, between October and December 2018, were paused at least five times because they induced earth tremors measuring 0.5ML or above. Fracturing equipment has since been moved off the site.
Today's application to the Environment Agency also seeks permission to use methanol, alternative drilling muds and a new biocide. If approved, the changes would additionally make it clear that Cuadrilla can frack each well more than once. (more…)
Tags: Caudrilla, Ecological Destruction, Fracking, UK
Posted in Eco Struggle
Sunday, February 17th, 2019
No 6. Winter 2019.
210 pages. Printed on recycled paper.
Ebook/PDF versions are out now.
Books ship late February 2019.
Click here to pre-order the book.
Click here to buy the EBook.
Opening Editorial: Kevin Tucker
Reachin' Out
ESSAYS
To the Captives: Kevin Tucker
The Spectacular Growth and Failure of Cities: John Zerzan
Wolf Encounters: Four Legged Human
Breath at the Threshold: Joan Kovatch
Surprisingly Peaceful Extreme Anarchies: Peter Gardner
Art and Meaning: John Zerzan
Walking: Gabriella Halas
The Puzzle of Symbolic Thought: John Zerzan
Fucking it Up: Fossil
Twilight of the Evening Lands: John Zerzan
Sex & Gender, Less Exact: Kevin Tucker
DISCUSSION
Human Nature: John Zerzan
Rewilding with Children: Two Filthy Trolls
The Case Against Philosophy: John Zerzan
Casing Philosophy: Cliff Hayes
This is Not a Pipebomb: Kevin Tucker
Philosophy, Case-Skinned: Joan Kovatch
The Postmodern Now: John Zerzan
FIELD NOTES FROM THE PRIMAL WAR
True Crime Case File: Attacks on Self-Driving Cars
Hunters by Choice: an Interview with Luis Felipe Torres Espinoza
The Point of Contact: an Interview with Madhusree Mukerjee
Regardless of Intent: an Interview with Sita Venkateswar
Block 22: Cliff Hayes
REVIEWS
Affluence without Abundance
The Horse in Human History
Wolf Nation
We
Natural Causes
Lost Connections
Tags: USA, Wild Resistance Journal
Posted in Eco Struggle
Sunday, February 17th, 2019
Unoffensive Animal was born out of the necessity to inspire activists. After complaining about how the radical left has an incline to disregard veganism and qualify it as classist and colonialist, and after feeling completely disheartened by animal rights activists disregarding human issues, we decided to create a media outlet able to bring both sides and to help radicalise activists.
Unoffensive Animal is an anarchist collective. We are non-profit and strongly anti capitalist. We are queer and/or queer allies. We are antifascists. We are vegan, animal liberationists and we have even been called forest "jihadis". We stand against animal exploitation and against human exploitation. We oppose racism, bigotry and nationalism. We believe in direct action, but we also believe in diversity of tactics. We know that human liberation is animal liberation and that animal liberation will never happen under capitalism. (more…)
Tags: ALF, Animal Liberation, Earth Liberation Front, Unoffensive Animal
Posted in Eco Struggle
Monday, January 28th, 2019
EN: End humanity to end domination? – On the misanthropic current in anarchic environments
¿ACABAR CON LA HUMANIDAD PARA ACABAR CON EL DOMINIO?
SOBRE LA CORRIENTE MISANTRÓPICA EN ENTORNOS ANÁRQUICOS
A raíz del reciente atentado explosivo realizado por ITS en un paradero de bus en Chile, buscando matar humanos, difundimos un artículo del número 3 de la revista Kalinov Most (Octubre 2018).
Para más información también es posible leer: Tendencias Salvajes Misantrópicas: Otras expresiones de autoritarismo y de pensamiento sagrado (Kalinov Most#1 Octubre 2017) (Disponible AQUÍ)

"Los humanos son una enfermedad. Son el cáncer de este planeta.
Son una plaga. Y nosotros somos la única cura"
(Agente Smith-Matrix)
En su momento ya bosquejamos una crítica1 a la tendencia ecoextremista y a varios de sus derivados, particularmente sobre aquellas características autoritarias y la defensa a un pensamiento sagrado cuasi-religioso que, como antiautoritarixs, tanto asco nos produce.
La elaboración de aquel artículo buscó centrarse principalmente en aquellos aspectos que nos parecían claves a profundizar para develar la reproducción de aquello que despreciamos profundamente, pero sin lugar a dudas no fue lo único que se ha escrito. En simultaneo, desde distintos territorios, se ha seguido reflexionando y criticando a la especificidad del ecoextremismo2 en sus distintas versiones. Escritos que lejos de buscar mostrar un anarquismo bueno, positivo o ciudadanista, persiguen afilar el ejercicio de praxis anárquica ofensiva. (more…)
Tags: Analysis, Chile, Eco-Extremism, Individualists Tending Toward the Wild (ITS), Kalinov Most, Santiago
Posted in Eco Struggle