'Eco Struggle' Archives
Thursday, April 28th, 2011


21 April 2011
"On the afternoon of Thursday the 21st of April 2011 we visited the Indonesian Embassy in London, UK to deliver a letter to the Indonesian Government in Jakarta. This was done in solidarity with the people of Kulon Progo, whose lives and land are threatened by the Iron Sands Mining Project being carried out by the Australian Mining Company PT Indomine and the Indonesian State. We also visited the London offices of the Anglo Pacific Group round the corner in Mayfair to deliver the same letter to be sent to Indonesia and Australia. Anglo Pacific Group holds royalties in PT Indomine.
(more…)
Tags: Anglo Pacific Group, Indonesia, International Solidarity, Kulon Progo, PPLP-KP (Coastal Farmers Association of Kulon Progo), PT Indomine
Posted in Eco Struggle
Sunday, April 24th, 2011
From 2nd of 9th of April 2011 and after, actions to defend "Khimki hostages", Alexei Gaskarov and brothers Maxim and Denis Solopov were organised in six countries and 25 cities. Alexei Gaskarov and Maxim Solopov are currently out from jail, in court facing charges following from a demonstration, which was organised 28th of July 2010 in Moscow suburb of Khimki against construction of Moscow-St. Petersburg toll road, and the gross human rights violations against its opponents. Denis Solopov has been granted an UNCHR refugee status in Ukraine, but in beginning of April he was detained and is currently waiting his deportation court in Lykyanovka prison of Kiev.
Tags: Alexei Gaskarov, Denis Solopov, Forest Struggle, Khimki, Maxim Solopov, Repression, Russia
Posted in Eco Struggle
Saturday, April 16th, 2011
11 April 2011
"Just before midnight on Monday night some angry souls with paint descended upon the Shell offices at Duckmaster near Bolsover (not far from Chesterfield), They proceeded to paint the doors and windows in red and black, with a hint of green for good measure.
This action was carried out as small gesture of love and solidarity with those fighting against Shell in County Mayo Ireland.
This was done with rage against Shell, one of many multi-nationals who continue to rape and pillage the planet in the name of profit.
This was done because we are anarchists who are in love with this planet, and willing to strike wherever and whenever we see fit in order to defend it from corporate greed.
We know this action alone will not stop Shell, but it is a manifestation of desires to see harm done to those who destroy the planet and every living creature on it. We will continue, we will build and develop skills, we will strike again.
We encourage others to express their desires for the defense of the earth, and those with similar inclinations to take action against Shell and all other multi-nationals throughout the summer. "
Tags: Chesterfield, Duckmaster, Ireland, Rossport, Shell, Solidarity Action, UK
Posted in Direct Action, Eco Struggle
Thursday, April 14th, 2011
APECO = Aurora Pacific Economic Zone and Free Port, a huge capitalist industrial development threatening the lives and environment of a large number of people, animals, fish and nature, whilst being promoted as an 'ecological development' by the insidious 'green-wash' public relations of professional advertising companies. This is a report 325 received from our correspondent there:
Last April 7 and 8 (2011), a huge crowd of approximately 500 people participate to support the two days Anti-APECO Caravan Rally. This people are came from different sector such as farmers, fisherfolks, students, womens sector, indigenous community and churches. They are all against the APECO development because of the unlawful, inhumane and destructive aspects of this governmental project that will affect the natural resources, livelihood and all the inhabitants that already live here. (more…)
Tags: Anti-APECO Caravan, APECO, Aurora Pacific Economic Zone and Free Port, Aurora Province, Casiguran, Globalisation, Indigenous Struggle
Posted in Eco Struggle
Tuesday, April 12th, 2011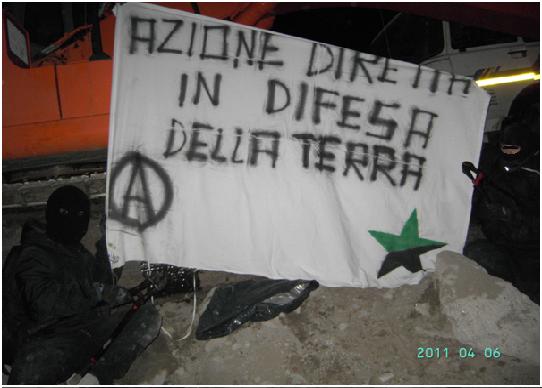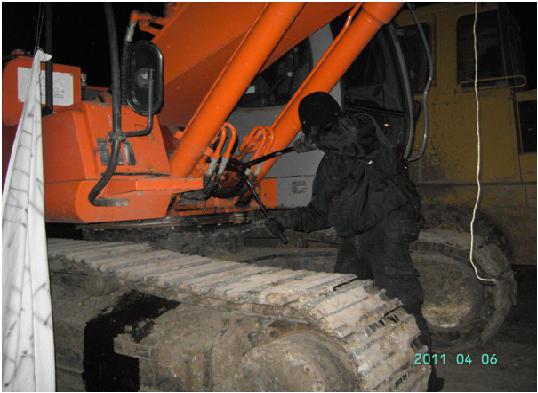 6 April 2011
In Albano Laziale, near Rome, there was an action made by eco-anarchists against a developing local open rubbish-dump where an incinerator is planned. The rubbish-dump is a huge hole of approximately 40m of great depth more than a soccer-field. The comrades were able to infiltrate the facility despite the presence of employees and security. Many different parts of the facility were sabotaged including 2 excavators, 1 truck, 1 seam compressor, various hydraulics, various electrical works etc. Sand in the tank of one vehicle. Stolen documents of the service yard, including building plans and photos of the intense activities in the yard.

"Direct Action in Defense of the Earth"
Tags: Albano Laziale, Italy, Rubbish-dump, Sabotage
Posted in Direct Action, Eco Struggle
Saturday, April 9th, 2011
International day of action called by American comrades for the long-term revolutionary eco-anarchist prisoners under severe prisons conditions and subject to FBI & prison authority repression. The day is also called for all long-term anarchist prisoners around the world.
International Day of Solidarity for Marie Mason and Eric McDavid!
June 11th began as an international day of solidarity with long-term anarchist prisoner Jeff "Free" Luers in 2004. At the time, Jeff was serving 22+ years. Infuriated by the environmental devastation he saw occurring on a global scale, Free torched three SUVs at a car dealership in Eugene, Oregon (OR). The sentence imposed on him was meant to send a clear message to others who were angered by capitalism's continued war on the Earth's ecosystems – and to those who were willing to take action to put a stop to it. Free is, after all, not alone in his concerns about climate change, fossil fuels, pollution and genetically modified organisms.
After years of struggle, Jeff and his legal team won a reduction in his sentence and he was released from prison in December 2009. But in the years intervening Jeff's arrest and release, the FBI had carried out a series of indictments and arrests in an attempt to devastate the radical environmental and anarchist communities. Two of the people caught up in this maelstrom of repression were Eric McDavid and Marie Mason. (more…)
Tags: Eric McDavid, International Solidarity, Marius Mason, USA
Posted in Eco Struggle, Prison Struggle
Friday, April 8th, 2011
On March 14 and 23, 2010 two court hearings in the case of antifascists Alexei Gaskarov and Maxim Solopov who were accused of organizing attack on the Khimki City Administration, took place at the Khimki City Court.
Accusation against Alexei and Maxim is absurd and based on false evidence of three alleged eyewitnesses identifying them as persons who participated in the riots. However, during the investigation Alexei Gaskarov, Institute of Collective Action correspondent, passed a polygraph test which showed that he didn't lie and participated in the riots. Besides, the case materials contain a large number of photos and detailed video which completely refute the Prosecution's Case. (more…)
Tags: Alexei Gaskarov, Forest Struggle, Khimki, Maxim Solopov, Russia
Posted in Eco Struggle, Prison Struggle
Tuesday, April 5th, 2011
APRIL 10th 2011 – "NO MORE FUKUSHIMA": GLOBAL CALL FOR SOLIDARITY ACTIONS AGAINST NUCLEAR PLANTS
We took big risks depending on nuclear energy in exchange for creating unlimited prosperity. Then we are now facing assumed danger. Human beings seem to have taken a wrong choice. We have to make sure. No more nuclear plants.
We individuals living in Tokyo are planning an demonstration against nuclear plants on 10th April in Koenji, Tokyo. We also would like to call for global solidarity actions on the same day. We believe that the global response and action will be significant support for all disaster victims and movements against the current nuclear policy in general.

CALL FOR ACTION:
This is a global call for actions on 10th April.
We sincerely hope that you will take any actions together on that day.
Work with us in solidarity against all nuclear plants worldwide!

PLEASE SEND US:
Plans for actions and Records of actions.
Please send us the texts, documents, footage, images and/or anything else relating to your actions to:
http://410nonuke.tumblr.com/
in strong solidarity,
Tags: Anti-Nuclear, Demo, Fukushima, Japan, Koenji, Nuclear Disaster, Tokyo
Posted in Eco Struggle
Thursday, March 31st, 2011
325 received this following message from the Philippines, where struggling indigenous people, the Agta-Dumagat Tribe, and their allies are resisting a huge mega-project of capitalist development/tourism/industrialism in the Aurora region, which is being heavily 'green-washed' by public relations/advertising companies for the purpose of hiding the destructive nature of the plan. (more…)
Tags: APECO, Aurora Pacific Economic Zone and Free Port, Aurora Province, Casiguran, Globalisation, Indigenous Struggle, Philippines
Posted in Eco Struggle
Monday, March 28th, 2011
Received from the PPLP-KP (Coastal Farmers Association of Kulon Progo). This is their release of a position paper in regard to the plan to mine iron from the coastal sands of Kulon Progo, Indonesia.
there is no peace without justice
and there is no justice without conscience
PPLP KP
"Since 2006, we, the coastal inhabitants of Kulon Progo Regency, have struggled to defend our Human Rights (as guaranteed by UU [Undang-Undang = regulation] No 39 of 1999), Economic, Social and Cultural Rights (as guaranteed by UU No 11 of 2005), and Right to Land (as guaranteed by UU no 5 of 1960). The presence of these rights and the prospect that they will continue into the future are under threat, due to the policies of the Kulon Progo Regency Government to mine iron sands and build a steel factory in an area which is settled by, and provides a livelihood for, its inhabitants. Just as it was known that it would, this mine has triggered a conflict between the people and the government, with no end in sight."
Read the full document here (PDF).
–
Australian links for solidarity actions + more:
Indomines Pty Ltd are the Australian arm of the project, their offices are located at Level 1, 15 Rheola Street, WEST PERTH, WA, AUSTRALIA, 6005
Indo Mines
http://www.indomines.com.au/asx-announcements/
http://www.indomines.com.au/
http://www.asx.com.au/asx/research/companyInfo.do?by=asxCode&asxCode=IDO
Their Interim Financial Report (dated 16/03/11) reports a number of interesting things:
* Indomines remains in debt to Anglo Pacific Group, whom also apparently remain the largest shareholder of Indomines stocks. Their head offices are located at 17 Hill Street, Mayfair, London W1J 5NZ, Telephone: +44 (0) 20 7318 6360
* Indomines has appointed Outotec "to complete the process evaluation and design of the Iron Project". This is to occur at Outotec Ausmelt, located at 12 Kitchen Road, Dandenong South (03) 9794 6200.
* Outotec also has offices located in Melbourne (72 Market St., South Melbourne), and a number of other Australian locations.
* "On 11 January 2011, the Company announced that the Bupati Kepala Daerah Kabupaten Kulon Progo ("Regional Government") had approved the Company's Environmental Impact Assessment scoping document (KA-ANDAL). The KA-ANDAL approval enables Indo Mines to complete the environmental and social base line measurements and engineering design required to finalise the Feasibility Study for the Jogjakarta Iron Project"
* "The planned staged development of the Jogjakarta Iron Project ("Iron Project") continued to take shape with the Board approving the commencement of commercial trials of iron concentrate production in the first half of 2011. This decision will allow the Company to generate modest early cash flow from the Iron Project while also building its operating expertise ahead of full-scale production in mid-2012. A feasibility study assessing the potential to initially produce 2 million tonnes of iron concentrate per year from the Iron Project is scheduled for completion in June.
* "There is also further potential to produce 1 million tonnes of pig iron per year at a later date. A feasibility study for the pig iron development will be completed in the next 18 months."
Outside of the interim report, it should be known that StoneBridge, "a staff owned boutique investment firm with over 15 years experience in the Australian public and private markets", has been managing placements for Indomines. StoneBridge's website boasts of being the 'sole lead manager for IndoMines' with a 'A$6.5 million Placement'.
They are located at:
Adelaide
Suite 5, 148 Greenhill Road
Parkside
ADELAIDE SA 5063
T +61 8 8291 1111
Gold Coast
Level 11, 50 Cavill Avenue
SURFERS PARADISE QLD 4217
T +61 7 5504 2111
Melbourne
Level 13, 8 Exhibition Street
MELBOURNE VIC 3000
T +61 3 8660 7222
Perth
Level 6, 105 St Georges Terrace
PERTH WA 6000
T +61 8 6436 3111
Sydney
Level 27, Governor Phillip Tower
1 Farrer Place
SYDNEY NSW 2000
T +61 2 8336 7700
Finally, firms that either are or were large shareholders of Indomines include:

Merrill Lynch, Deutsche Bank & Rockcheck.
Tags: Anglo Pacific Group, Australia, Deutsche Bank, Indo Mines, Indonesia, Jogjakarta Iron Project, Kulon Progo, Merrill Lynch, Outotec, Position Paper, PPLP-KP (Coastal Farmers Association of Kulon Progo), Rockcheck
Posted in Eco Struggle
Friday, March 25th, 2011
25 March 2011
"BANK CENTRAL ASIA ATM ATTACKED WITH FIREBOMBS DURING MIDNIGHT LASTNIGHT.
BRIEF COMMUNIQUE: ONGOING SOCIAL WAR AND SOLIDARITY WITH BIMA, KULON PROGO, AND ALL THE OPPRESSED BY THE STATE AND CAPITALISM."

INDONESIANINTIFADA.WORDPRESS.COM – SOCIAL WAR / DISTURBANCE / INSURRECTION – Direct-Action Info Indonesia (more…)
Tags: Bank Central Asia, Bima, Indonesia, Jogja Magasa Iron, Kulon Progo, Mining, Molotovs, PT Indomining, PT. Jogja Magasa Iron (JMI), Solidarity Action
Posted in Direct Action, Eco Struggle
Thursday, March 24th, 2011
20 March 2011
"On Equinox night last Sunday two huge graders at Broken Cross Open Cast Coal Site in South Lanarkshire were trashed. One of them was as big as a three story building and used to load coal on to lorries, headed for railheads and power stations. Hydraulics, electrics and steel cables were cut, and anything breakable was broken. They won't be used for a while.
This action was taken by autonomous activists in solidarity alwaysvaltrexonline.com with all those opposing corporate rule and ecological suicide, and despite ever increasing security at Scottish Coal's mines in the area. Scottish Coal will soon be applying for three new open cast mines in the Douglas Valley, including a whole new 1 million tonne extension to Broken Cross, extending the life of the mine and its impacts on the people around it for years to come.
Fuck Scottish Coal."
Tags: Broken Cross Mine, Douglas Valley, Mining, Open Cast Mine, Sabotage, Scotland, Scottish Coal, South Lanarkshire, UK
Posted in Direct Action, Eco Struggle
Tuesday, March 22nd, 2011
20 March 2011
"Extensive damage done to four dumper trucks, two large excavators, two heavy duty bulldozers, a generator and a pump.
On Equinox night we entered the gravel and coal opencast extraction site at Castlebridge near Rosewell, Mid Lothian. The absence of security and the conveniently unlocked cabs made our night very productive. Tyres were drilled, hydraulics and electronics cut. Inside the cabs we found all sorts of expensive goodies like GPS, radios and various dials and screens to rip out and smash. The excavators had a bewildering array of electronic panels and engines the size of cars, we did what we could to immobilise these machines that destroy our health and that of the earth.
Scottish Coal will repair what was done, but hopefully at great cost.
We took this action in solidarity with the communities of the Douglas Valley who are currently resisting plans to roll out three new mines over the next couple of years. We aim to undermine the use of coal as a fuel in this country as we will always be reliant on extraction elsewhere in the world, where the damage done to environment and communities is potentially much worse.
Love, Rage and Bolt Croppers."
Tags: Douglas Valley, Mining, Rosewell/Castle Bridge Coal Mine, Sabotage, Scotland, Scottish Coal
Posted in Eco Struggle
Friday, March 11th, 2011
On Wednesday morning activists entered Scottish Coal's Mainshill Open Cast Coal Site in South Lanarkshire to disrupt coaling operations. As two activists managed to reach and scale a huge 260 tonne "prime mover" in the bottom of the pit, one of the two biggest machines on the site, other activists there to support them were brutally attacked by Scottish Coal employees and Trustcare Security.
The action lasted for over 4 hours before a specialist police team from Glasgow removed the people occupying the excavator, which was in the process of loading coal from the seam on to dump trucks. Police arrested four people, two of whom were only supporting the action, and all have been charged with aggravated trespass. (more…)
Tags: Mainshill, Repression, Scottish Coal, UK
Posted in Eco Struggle
Wednesday, March 9th, 2011
The people of Kulon Progo call for your international solidarity as they resist corporate greed and ecological destruction, please spread this information and act. More info + links to follow.
Thursday Morning, 24 February, mining corporation wants to re-open its office and operational sites which already been closed and destroyed by the peasants December last year. Failed.
Monday, 28 February, media noted that Jogja Magasa Iron and some Japanese investors failed to come.
Wednesday, 2 March, 9 cars with heavy arms police guard came to the pilot project for only 10 minutes.
Yesterday Morning, 7 March, 31 Police truck, 700 special police force (called Mobile Brigade), water cannon, detention car, police dogs, tear-gas, and heavy weapons came to the village…
WE NEED IMMEDIATE SOLIDARITY NOW!
Kulon Progo Self-organised Struggle Against Neoliberal Megaproject
Tags: Australian Kimberly Diamond, Indonesia, International Solidarity, Jogja Magasa Iron, Kulon Progo, PPLP-KP (Coastal Farmers Association of Kulon Progo), Repression, Special Forces Police
Posted in Eco Struggle