'Eco Struggle' Archives
Thursday, December 12th, 2019
PDF Flyer EN, + ES, IT
"On the altar of technological development we are sacrificing
every breath of our individual freedom and the possibility
to live a life that is really worth it."
NICOLA GAI.
"Anarchy rejects that life becomes an ideology,
shit or a little more, at best,
an impotent exit for frustrated men and women."
ALFREDO COSPITO.
It is a fact that the Italian war industry represents one of the "excellencies" of the national economy, as it is one of the few sectors that knows no crisis, it is certainly not a novelty, this field of investment that produces such high profits that are considered indispensable for the economy of any government, of any colour, with the due respect of all those who enjoy, for example, the hypocritical condemnation of the aggression carried out by Turkey towards the inhabitants and rebels of Rojava and who call for the formal blockade of the export of weapons produced in Italy to Turkey announced by the current government.
And if it is true that "the war begins here", which is where the weapons are produced, this is even more true because here, in Genoa, is one of the offices of Leonardo (formerly Finmeccanica), a state-controlled company, which is a world leader in the research and production of advanced technological systems for the military industries and for social control: Helicopters, fighter jets, drones, radars, attack systems, military land and sea vehicles, ammunition, electronic warfare systems and tele-operated, coastal and border protection systems, electronic social control systems to be applied in cities, ports and airports, and much more; Their catalogue is very wide. (more…)
Tags: Alfredo Cospito, Ansaldo Nucleare, Anti-Nuclear, Ecological Destruction, Finmeccanica, International Solidarity, Nicola Gai, Nucleo Olga FAI/FRI, PDF, Roberto Adinolfi
Posted in Eco Struggle
Thursday, December 5th, 2019
New blog launched as the response to the COP25 summit is underway. This blog serves to encourage people to participate in the protests, questioning and pointing to the real leaders of the destruction of the earth. Those leaders will sit these days to make decisions about the destiny of the world, promising to fulfill agreements that they have all breached since all this time and driving us at their pace towards disaster.
We cannot leave the future, if it exists, in the hands of these miserable deceivers!
Let's confront them, so "that they can't say we didn't do anything".
https://contracumbrecop25madrid2019.noblogs.org/
Tags: Black Bloc, Climate Chaos, Cop25, Demo, Ecological Destruction, International Solidarity, Madrid, Spain
Posted in Eco Struggle
Tuesday, November 12th, 2019
December 2nd, the rulers of the world are coming to Madrid. Some of the biggest murderers of this planet, of the biggest responsible of its devastation. They come to fill their mouths and calendars with the next plans of "fight against climate change". While global capitalism continues intact and most of the CO2 emissions emanate from industrial production, while their companies keep devastating forests and mountains to extract its natural resources.
And if that wasn't enough, at the same time, Chile burns and their streets are still covered by the ammunition caps from the security forces. But Piñera couldn't see his political planning disturbed by the revolt, he couldn't admit the mediatic focus questioning his dictation before such a social explosion. And thanks to the kindness of Spanish government, now he will be able to continue with his plans without getting disheveled.
But in Chile, normality couldn't be held anymore, and we neither want to hold it here. We won't allow the world leaders meet to design the destruction under the look of sustainability and respect, as if everything continues to go normally. As if they haven't been destroying all this time, as if they wouldn't carry thousands of corpses in their backs. We won't give them such legitimacy. Also, because we know, that the best way to show solidarity with the rebels is nothing but extend the revolt. Like in Hamburg, we want this summit to become hell.
Therefore, we encourage the system enemies to meet in Madrid, in the dates when the world owners have their appointment in this city. Stay aware to the next calls and infos. There will be enabled spaces to host those coming from other places.
On the other hand, neither do we trust that politics gestated in parliaments and offices will stop the destruction or stop the way to the collapse, that is increasingly inevitable. But we trust in the ability of every one to act, individually or in groups. That's why we want to make a call for decentralized action to point the responsible of environmental destruction. Politicians won't act against the Capitalism interests, but we do. Against climate change; direct action.

Attack those who destroy the Earth.
Tags: Black Bloc, Climate Chaos, Cop25, Demo, Ecological Destruction, Madrid, Riots, Spain
Posted in Eco Struggle
Tuesday, September 17th, 2019
IT: Contributo per l'incontro internazionale contro le tecno-scienze (Italia – luglio 2019) dell'anarchico Dino Giagtzoglou, prigioniero dello stato greco
GR: Ντίνος Γιαγτζόγλου: Συνεισφορά Στη Διεθνή Συνάντηση Ενάντια Στις Τεχνο-Επιστήμες
ES: Contribución a la reunión internacional contra las tecnociencias (Italia – julio de 2019) del anarquista Dino Giagtzoglou, prisionero del estado griego
Contribution to the international meeting against the techno-sciences (Italy – July 2019) by anarchist Dino Giagtzoglou, prisoner of the Greek state
Comrades
I start this letter with a certainty. I am sure that our life experiences are very different as well as the starting points of the struggle of each and every one. I also think that with many of you we have different ideological origins and disagreements or contrasts on individual issues. But I firmly believe that the will to resist the plans of Domination, stemming from the awareness of the fundamental social alienation that alienates us from ourselves and nature as a whole, and the revolutionary passion for the destruction of the mega-machine of Power unite us in a common vision of a world free from the shackles of civilization. By going through a variety of analyzes, striding kilometer distances and eliminating in practice the language obstacles, since we recognize that there is the community of struggle for total liberation, we can really keep the flame of the revolt lit and the wager of the social revolution open. I therefore send a warm greeting to the Resistenze Al Nanomondo collective and to all the participants in the international meeting against the techno-sciences, expressing in advance my eagerness to fill the gaps in knowledge, that my absence will undoubtedly cause, by studying your reflections, your conclusions and everything you can get me through the actions and collaborations that will come from your fermentations in Italy.
But let's take things in turn. For 21 months now, I have been pre-trial detained in the Greek prisons because I made the decision, like many fighters around the world, to realize my ideas by taking a battle position in the social war and fighting against power, here and now. So I am in prison because I put my ideas into practice beyond the limits of the law and certainly not by accident. (more…)
Tags: Anti-technology, Artificial Intelligence (AI), Biotechnology, Greece, Italy, Konstantinos Yagtzoglou, Letter, Nanotechnology, Resistenze Al Nanomondo, Technological Singularity, Transhumanism
Posted in Eco Struggle
Sunday, September 15th, 2019
Various institutions, environmental groups, trade unions and student groups gathering under the name "Fridays for Future" have announced a so-called "Week for Climate" from the 20th to the 27th of September. Basically this week consists of programmed and alienating demonstrations in which the State and other institutions (UN, G7 etc) are being asked to remedy or take action against the disaster they are causing. In their simplistic and reformist discourse they never criticize the cause of the ongoing devastation: industrial techno capitalism and its technocratic organization of the world. They are the ones who criticize climate change without criticizing those who produce it: they have a corpse in their mouths, those who defend the myth of progress, of sustainable development and of a 'comfortable' life in exchange for slavery and the commodification of every aspect of our lives, a life sold to technological domination. They are the ones who have purchased the new fashionable product, climate change, from the supermarket of rebellion. Fridays for Future? Today more than ever the future does not exist, we live in an eternal present and any vestige of the past has been erased. The technological prostheses that surround and colonize us make us live in a continuous state of sleepwalking, where the catastrophe is not about to come as they insist on warning us, the catastrophe is here and now, the catastrophe is the alienating life directed by the algorithms of our 'virtual assistants', the catastrophe is a world already devastated by industry.
(more…)
Tags: Climate Chaos, Ecological Destruction, Madrid, Spain
Posted in Eco Struggle
Sunday, September 15th, 2019
In Turkey, Aydin Hunter Association (Aegean Region) was attacked by ALF. The locks of the association were glued, slogans were painted to the doors. The signboards were destroyed.
Hunting is murder!
Until all are free.
The action was dedicated to the vegan anarchist prisoner Marius Mason.
Turkhis:
Aydın'daki avcılık derneğine ALF tarafından saldırı düzenlendi. Derneğin kapısı yapıştırıcı ile kullanılamaz hale getirildi, derneğin tabelaları parcalandı, kapılara yazılamalar yapıldı.
Av, cinayettir!
Tüm hayvanlar özgür olana kadar!
Eylem, vegan anarşist tutsak Marius Mason'e adandı.
Tags: Animal Liberation Front, Aydin Hunter Association, Marius Mason, Turkey
Posted in Eco Struggle
Sunday, September 15th, 2019
In the early hours of September 3, 2019, all of the prisoners on a small mink farm in Hölkemåla, Blekinge, Sweden, escaped from the cages. In total about 1500 persons managed to get free.
We gave a helping hand by disassembling the fence of the farm and then opening all the cage doors. We removed parts of the fence using a wrench to ensure a way out. The fur farm was situated right next to a lake where we hope that as many as possible now get to live.
In a world where freedom exists only in moments of rebellion and insurrection, we still think that the possibility of a life in the forest and lake is quite the opposite of that in a cage. We do recognize that the already destroyed eco-systems and colonised nature is nothing like a dream, but since it is all that we have it is where we will go from our imprisoned existences. A passion for freedom is what drove us to this hidden killing facility to increase the freedom for all of us. Our desire to share this moment of freedom with the minks is rooted in solidarity and love as well as anger and hatred towards those who dominate us and try to steal our lives.
We strongly believe that there is no limit to the things we can do, all we need is to make up our minds and pick a target.
We send our love to Eric King, Matthias in Switzerland and all other prisoners around the world!
Tags: Animal Liberation, Blekinge, Hölkemåla, Sweden
Posted in Eco Struggle
Monday, September 9th, 2019
In the heart of Easton, next to a school, in a busy residential area between a well used railway line and a motorway, is enough aviation fuel to cause a major explosion. Aviation fuel contains over 2,000 chemicals. Once ignited it has a much higher BTU (British Thermal Unit) than gasoline and can burn much longer. In Easton, there are 6 white tankers, each 60 foot long.
We are often labelled "terrorists" but if we were then… boom! bye, bye! Instead, we decided to attack these containers with dark blue paint. In executing this small act of defiance we hope to highlight their existance, and the danger they pose. This prank was also done to add to the current discourse and campaigns around the expansion of Bristol Airport. (more…)
Tags: Bristol, Easton, Paint attack, Solidarity Action, UK, Vandalism
Posted in Eco Struggle
Thursday, August 29th, 2019
Indigenous Mura people in Canutama, Brazil painted their bodies with orange-red paint and took up long bows and clubs as they headed into the jungle this week, prepared for battle against logging companies, who are destroying the rainforest with the support of the fascist Bolosonaro regime.
More than 18,000 Mura people live in Amazonas state, the largest state in Brazil's Amazon rainforest.
Logging companies have cleared away an area the size of several football fields near their village, leaving a broad dirt hole in the ground pockmarked by the treads of heavy machinery.
"With each passing day, we see the destruction advance: deforestation, invasion, logging," said Handerch Wakana Mura, one of several leaders of a tribal clan of more than 60 people. (more…)
Tags: Brazil, Canutama, Ecological Destruction, Handerch Wakana Mura, Indigenous Struggle, Mura, Raimundo Praia Belem Mura
Posted in Eco Struggle
Wednesday, August 21st, 2019
Graffiti on Hoarding Boards of 'Ashton Rise' new urban sprawl development…..
15/08/19
At the 'Ashton Rise' development on the South Bristol Metro Bus Route (near Bristol City Football Club) graffiti was sprayed:

"Yet more urban sprawl… this time on allotments, and social housing…. Check 325.nostate.net tag Bristol for eco-actions".
This was "socially cleansed" within 24 hours… maybe they feel a bit threatened? The standard "art-graffiti" around the area still remains.
Ashton Rise has a budget of £21 million. The council brag of it's "affordable" nature, but the only thing that's cheap about their project are the promises of "creating communities" and "sustainability".
They can remove our traces… but they will never crush our rebellious hearts!
—
Thanks to the vandals for the shout out.
Tags: Ashton Rise Development, Bristol, Graff, Graffiti, Paint attack, UK, Vandalism
Posted in Eco Struggle
Tuesday, July 23rd, 2019
On the night of July the 8th a car parked outside the office of SCA in Östersund in mid Sweden was torched. SCA is one of the companies responsible for the clearcutting and destruction of oldgrowth forests in Sweden.
Their terror of the wild will have consequences. We will no longer stand by silent and watch their eco-terrorism destroy the last wild forests in the north of Europe.
With fire and sabotage we will hunt you. Destroy the one who destroys.
For the wild!
ELF
Tags: Arson, Earth Liberation Front, Östersund, SCA (Forestry Industry), Sweden
Posted in Eco Struggle
Sunday, June 23rd, 2019
Tags: Extinction Rebellion (XR), Reformism, UK
Posted in Eco Struggle
Saturday, June 22nd, 2019


via Biteback:
"Guinea Fowl liberated from Plumpton College, Game Management Facility, in the early hours of Sunday 2nd June 2019.
These birds have been taken to a safe place far away from the oppressors wishing to profit from selling a chance to shoot these birds in the name of 'sport' or 'conservation'.
Fuck the hunters. Fuck Capitalism and Fuck Vegan Campout!
This liberation is dedicated to all Sabs, past, present and future who in our humble opinion are the cornerstone of the Animal Rights Movement.
We are disgusted that Vegan Campout has banned the Sabs and the organisers of vegan campout are sucking up to the CUNTryside Alliance[*], when they have been offered a free site to hold the campout in Wales since the start! What the actual FUCK?!
UNTIL ALL ARE FUCKING FREE, WE WILL NOT REST!
We urge you all to make a stand!
Stay Safe, Fuck Shit Up and make it personal!
Love n Rage Xx"
–
* Countryside Alliance is a hunters and land-owners organisation of the traditionalist right wing in UK.
Tags: ALF, Animal Liberation, East Sussex, Plumpton College, UK
Posted in Eco Struggle
Thursday, May 16th, 2019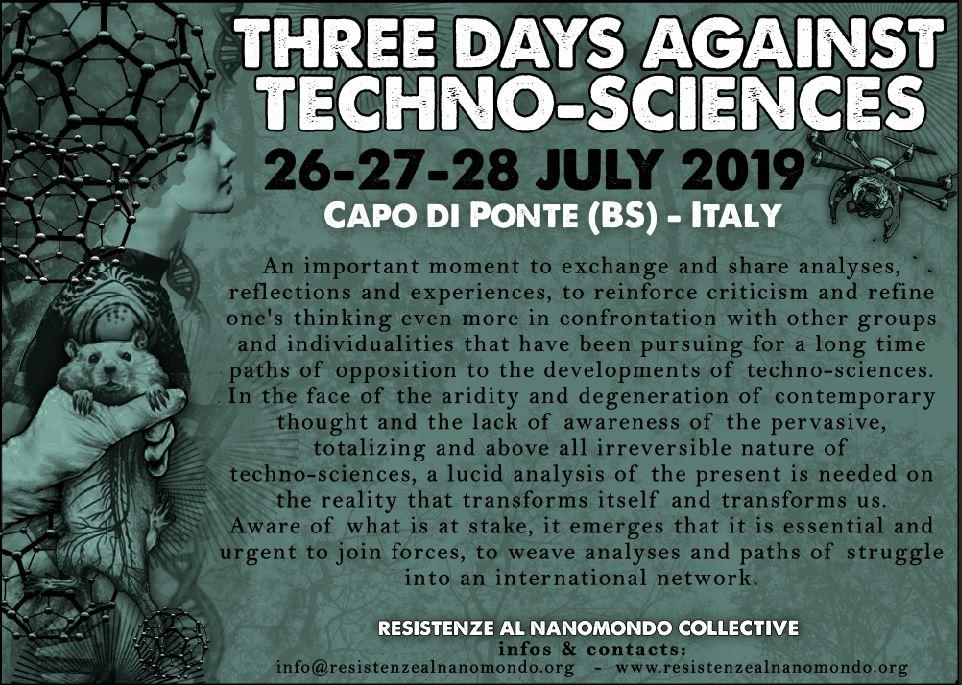 "Capo di Ponte Theme Park" in Prada – Capo di Ponte (BS)
FRIDAY 26TH
13.00 lunch
14.30 Presentation of the meeting
15.00 In the temple of Janus. About the relationship between technology, exploitation and racism
For the Italics Janus had two faces: a bearded one depicting the sun and a beardless one depicting the moon. For the Romans, the sun and the moon soon became peace and war. The temple of Janus, in the Roman Forum, was closed in time of peace and open in time of war. Today the door of that temple is always closed because of the war and the unnamed of the present time. Embodied in the technological apparatus and its silent injunctions, war is the planetary movement of digital democracy. Racism is its "moment of truth", in that it explicitly affirms what its machines have never stopped doing to the colonial peoples. The algorithm command prepares the chief's orders. The abstraction from the body, from the earth, from nature produces the comfortable bulwark of national belonging and the desire to lynch the different as a backlash. What was experienced in the colonies goes back.
Some of the editors of the anarchist magazine "I Giorni e le Notti" (Days and Nights) (Italy)
(more…)
Tags: Anarchist Gatherings, Anti-technology, Artificial Intelligence (AI), Biotechnology, Italy, Nanotechnology, Technological Singularity
Posted in Eco Struggle
Sunday, April 21st, 2019

Rome, 26th-28th July 2019
An occasion to meet each other, to share analyses and skills and to discuss experiences and strategies in the fight against the oppression of animals and the destruction of their habitats. A fight that for us is part of the wider fight against every form of exploitation, oppression and authority, for total liberation.
This gathering wishes to connect individuals and small groups of like minded people working for animal liberation in a way that is radically different from that undertaken by the majority of animal right groups nowadays. Animal activist groups that lack wider politics, be it for political apathy or for well thought out choices, are becoming increasingly appealing to people with fascist, nationalist, sexist and racist views. (more…)
Tags: Animal Liberation, Italy, Rome
Posted in Eco Struggle