'Eco Struggle' Archives
Thursday, September 14th, 2017
"Sulle ITS e minacce virtuali" [it]
Translated from La Rebellion de las Palabras
"The Old World is dead and the new one takes time to appear. In this chiaroscuro appear all the monsters … "
Antonio Gramsci
This is neither intended to be a retort nor an attempt to disarm any discourse, nor a criticism. It is a response to a series of threats received by email and I think this has made these people definitely touch the bottom and they cannot become more ridiculous.
There have been several critical texts and reflections from different parts of the world that have been raised in recent months against ITS in Mexico and in general against the tendency that calls themselves "eco-extremists". We can read the contributions of insurrectionary anarchist groups in Mexico, as well as critiques of other comrades like Eat, in Indonesia, criticism made by one of the people who runs the blog 'It's Going Down!' in North America, or the two texts published from the United Kingdom, titled "Eco-extremism and the Indiscriminate Attack – The Church of ITS Mexico" and "Darko Mathers was not an Eco-Fascist". It was quite obvious that from that the "eco-extremist" tendency would be answered. After all, in recent years, the dialectic between different groups of direct action against domination (whether they consider themselves anarchists or not) has been constant, taking advantage of the actions to establish a fruitful dialogue that sharpens theory and practice, improving the blows of those people who were punctual and strategic or as an already unavoidable part of their lives, had opted to attack here and now. And of course, the replicas of the ITR (Individualities Tending toward the Ridiculous) did not wait, although I have to say that they were even more disappointing than we would have imagined at first (and that my expectations were difficult to overcome). (more…)
Tags: Analysis, Eco-Extremism, Individualists Tending Toward the Wild (ITS), La Rebellion de las Palabras, Mexico
Posted in Eco Struggle
Tuesday, August 29th, 2017
From Indonesian Counter-Information (Click for photos):
29-8-2017
From 08.00 this morning, Communities who joined in refusal (PWPP or Community Against Eviction – Kulon Progo) of the new airport development began gathering near heavy equipment located on the border of Glagah-Palian in order to block the equipment that will destroy the coastal areas. Fish farmers also participated to confront the heavy equipment that will destroy their ponds. At around 10.00am, approximately 500 police moved the people who were occupying the heavy equipment. The community was forced to retreat. The eviction and destruction of community land with heavy machinery continued from 11.00am. (more…)
Tags: Airport, Community Resistance, Eviction, Indonesia, New Yogyakarta International Airport (NYIA), Yogyakarta
Posted in Eco Struggle
Wednesday, August 23rd, 2017
Since 8 August last week, particularly in Macanan Glagah area and 10 August heavy machinery were already operating within the compromised area (the area in which some community of peasants already sold their land and compromised with the project, although their relocation is still unsure) for the development of New Yogyakarta International Airport (NYIA). Despite community and peasant resistance against NYIA, the government and PT Angkasapura, cooperating with this large company from India as the airport major investor: GVK corporation. We urge comrades in India to communicate with us and build international solidarity..
Mainstream coverage of past struggle against NYIA in English:
http://www.thejakartapost.com/news/2015/10/31/islands-focus-hunger-strike-over-kulon-progo-airport-continues.html
http://www.thejakartapost.com/news/2015/05/21/kulon-progo-airport-development-violates-human-rights-komnas-ham.html

Grassroot and independent media coverage (Indonesia):
Facebook: Jogja Darurat Agraria
Note: The struggle against NYIA is connected to the previous struggle of peasants in Kulon Progo against iron mining in which they won the struggle, not through legal means but through community grassroot struggle (riots, arrests, and massive international solidarity makes it difficult for the project to continue) that goes beyond the language of the state. But the development of NYIA can change the past victory and reinstate the power of capital through continuous development of megaprojects which means that the peasants surrounding area will be threatened by these continual development.
Profiles of national and multinational corporations responsible for NYIA:
Indian company:
http://www.gvk.com/
Angkasapura Profile:
https://en.wikipedia.org/wiki/Angkasa_Pura
Article about the corporation and their collaboration (mainstream coverage)
https://article.wn.com/view-lemonde/2016/02/16/GVK_India_to_Invest_US500_Million_in_The_Development_of_Kulo/
Tags: Airport, Indonesia, Kulon Progo, New Yogyakarta International Airport (NYIA), Yogyakarta
Posted in Eco Struggle
Thursday, August 3rd, 2017
"ITS o la retorica di decomposizione" [it]
From the website La Rebellion de las Palabras, critique of the excremental choir calling themselves "Eco-Extremist Mafia" – aiming at the eco-fascist and nihilist-right groupscule Individualists Tending toward the Wild (ITS), written by anarchist-insurrectionalist groups, CCF-Mexico, anonymous others in the territory of the Mexican State:
(Joint Pronouncement)
"The Tiger, in its unconquered gait, accumulates the memory and the traces of the road travelled, to stubbornly reaffirm it; unrestricted freedom that does not assure food but which a priori omits any possibility of degenerating into a herd or of assenting to grazing. Indomitable and irreducible, it confronts the most tenacious enemies. To do this it wields its instincts, taking advantage of its portentous night vision, its prodigious smell and its finely tuned ear. In its right attack: it disfigures, tears, kills and dies, to be reborn indomitable and fierce. Nothing escapes this becoming and it is exposed to the most daring hunters and the most tenacious tamers, veterinarians and circuses, taverns and altars, customs and laws, systems of thought and political institutions. Everything is shaken, torn or eliminated in this movement of which only the imagination can disern a principle but of which nothing and no one is able to decipher its objectives and its end. (…) Anarchism, conceived not as an inescapable realization but as a permanent tension embodied in an open configuration of thought and action, is also a tiger, indomitable and fierce, affected from end to end by this capricious walk into freedom." – Gustavo Rodríguez
"Everything that we can identify as negative elements within our "space ", is also the responsibility of each of us to contribute to eliminate them. Bureaucracy, hegemony, informal hierarchies, intrigues, false friendships and false 'comrades' stabbing our backs have existed since the dawn of the so-called anarchist movement, because they are an intrinsic part of the human factor and our contradictions that constantly arise and are in conflict with each other. All these pathologies are due to attitudes that do not properly belong to a particular anarchist tendency but are present in all, and as long as they are not treated for what they really are, we will find them in front of us again and again." – Conspiracy of Cells of Fire / Metropolitan Violence Cell

To the comrades in the Mexican region and the world, to the incendiaries and refractories of the planet, to the internationalists committed to a new coordination of anarchic informality:
Exactly 5 years and seven months ago we signed a "joint statement" at the request of a comrade for whom we feel great affection and respect. That text was entitled "2nd Joint Statement of the Anarchist Insurrectional and Eco-Anarchist Groups". It was an unquestionably necessary writing given the context in which it was written and so we clarified it from the first lines: (more…)
Tags: Analysis, Autonomous Cells of the Immediate Revolution – Praxedis G. Guerrerro, Black International, CCF - Metropolitan Violence Cell, Conspiracy of Cells of Fire, Conspiracy of Cells of Fire - Mexico, Eco-Extremism, Gustavo Rodriguez, Individualists Tending Toward the Wild (ITS), Informal Anarchist Federation (FAI), Insurrectional Cell Mariano Sanchez Añon (CI-MSA), Letter, Mexico
Posted in Eco Struggle
Friday, July 21st, 2017
"'Triste' – crítica del compañero Eat a la tendencia eco-extremista y al grupo ITS en México" [es]
–
It is sad to see "them" resorting to such incoherent, deluded, and even ahistorical if not unfactual analysis of contemporary anarchism and its various movements, successes and failures. It is even more sadder that the critique was poorly written. If the FAI never accomplished anything as the critique said, it is because FAI ideas were and are always to be put on trial of practice and its diverse variants. There is no monopoly of narrow individualism in the FAI as far as I comprehend it, as it is just an idea to encourage anarchists to attack with informal and antiorganisationalist forms (even this also is always within a context), because "it" [FAI] doesn't believe in the binary logic that this critique does. While the critique seemed, at first, to try to dismiss a binary vision of the world it falls on the same mistakes when it doesn't even know nor understand how they or their moralistic-triumphant-over-others-methods originated and empowered.
While I was in full support of ITS in attacking technocrats, NGOs, and its effort in deconstructing the western anarchist moralistic-christian tendency, they too fall to the same logic as their so "ideological enemies of gringo" anarchism. (more…)
Tags: Analysis, Conspiracy of Cells of Fire, Eat, Eco-Extremism, Individualists Tending Toward the Wild (ITS), Indonesia, Informal Anarchist Federation (FAI), Mexico
Posted in Eco Struggle
Friday, July 21st, 2017
"Éco-extrémisme et attaque indiscriminée – l'Église d'ITS Mexique" [fr]
"Eco-extremismo y el ataque indiscriminado – La Iglesia de ITS México" [es]
"Eco-estremismo e l'attacco indiscriminato – La Chiesa di ITS Messico" [it]
–
"And Severino Di Giovanni's actions were never violent for the sake of it. They were never indiscriminate or striking at anything at all in order to create a tension that would favour power and it's politics of consolidation. They were always guided by a precise revolutionary reasoning: to strike the centres of power with punitive actions that find their justification in the State's violence, and which were aimed at pushing the mass towards a revolutionary objective. Di Giovanni always took account of the situation of the mass, even though he was often accused of not having done so" JW & AMB
Anarchism and Violence
Severino Di Giovanni in Argentina by Osvaldo Bayer
Elephant Editions
I don't represent any organisation or group, I am writing this from my personal perspective, as nihilist-anarchist of an anti-civilisation insurrectional tendency. I have carried out direct action in defense of the Earth, so the state and society would probably view me as an "Eco-Extremist", although I'm unconcerned with this term as it's become a sect-like ideology of the Church. I haven't written before about the Church of ITS Mexico or the idiot pseudo-nihilist(s) in Italy because over the last few years they clearly became reactionary and more akin to far-right 'black' groupscules.
It has been some years since the Church of ITS Mexico said something like that 'the FAI doesn't represent us', that the 'CCF doesn't represent us'… Well I can't recall anything like that being said by CCF or FAI or anyone else in the first place, so why is the ITS Church still issuing sermons about it now and why have they not embarked on a one-way trip far away from the black anarchy they proclaim is irrelevant and gone off into the nihilising abyss like they said they would, leaving all us anarchist nuns alone? (more…)
Tags: Anti-Fascism, Eco-Extremism, Individualists Tending Toward the Wild (ITS), Mauricio Morales, Mexico, Severino Di Giovanni, UK
Posted in Eco Struggle
Saturday, May 13th, 2017
"When horror knocks at your door, it's difficult to hide from. All that can be done is to breathe, gather strength, and face it…. I shared news of the woman found in University City. From the first moment, I was angered and protested the criminalization of the victim. The next morning I woke up to the horror and pain that she was my relative."
– Statement from the family of Lesvy Rivera to Mexican society
"[W]e take responsibility for the homicide of another human in University City on May 3rd….Much has emerged about that damned thing leaning lifeless on a payphone… 'that she suffered from alcoholism, that she wasn't a student, this and that.' But what does it matter? She's just another mass, just another damned human who deserved death."
– 29th Statement of Individualists Tending Toward the Wild (ITS)
Some things shouldn't have to be said, but as is too often the case in this disaster of a world, that which should be most obvious often gets subsumed to the exigencies of politics, ideologies, money, emotion, or internet clicks. The purpose of this piece is to condemn the recent acts of eco-extremists in Mexico and those who cheer them on from abroad.
This critique does not aspire to alter the behavior of Individualists Tending Toward the Wild (ITS), Individualities Tending Toward the Wild (ITS), Wild Reaction (RS), Indiscriminate Group Tending Toward the Wild (GITS), Eco-extremist Mafia, or whatever they will change their name to tomorrow. Like any other deluded, sociopathic tyrant, these individuals have declared themselves above reproach, critique, reason, or accountability. They have appointed themselves judge, jury, and executioner; the guardians and enforcers of Truth using a romanticized past to justify their actions. As absolutist authoritarians, they have constructed a theoretical framework that, while ever-shifting and inconsistent, somehow always ends with a justification for why they get to hold a knife to the throats of all of humankind. In short, they think and act like the State. (more…)
Tags: Analysis, Anti-Fascism, Eco-Extremism, Individualists Tending Toward the Wild (ITS), Mexico, USA
Posted in Eco Struggle
Friday, April 21st, 2017
En recuerdo del oso polar Taco y del corte de calle por su la libertad donde participó el compañero Javier Recabarren el 26/12/2014.
El oso polar Taco nació el 10 de diciembre del año 1996 en Holanda, fue traído 2 años después a Chile a la cárcel-zoológico Metropolitano de Santiago. Durante el año 2014 y 2015 muchas serían las instancias que se realizaron exigiendo su liberación. El compa Javier Recabarren sería parte activa de aquellas, confeccionando lienzos y participando de marchas y concentraciones que eran convocadas abiertamente.
El día 26 de diciembre del año 2014, el compa junto a otrxs anónimxs tenían planeada una pequeña acción para visualizar la situación de cautiverio que afrontaba Taco, exigiendo su libertad. De esta manera el grupo llegó hasta una arteria en la comuna de Estación Central, donde mantenían mucho material para lo inevitable. Por la noche arrojaron todo los escombros que tenían escondidos y se lo entregaron al hermoso fuego. (more…)
Tags: Burning Barricades, Chile, Javier Recabarren, Santiago, Taco the Polar Bear
Posted in Eco Struggle
Thursday, April 13th, 2017
From the 29th April to the 2nd of May we invite you to Bure, where we organise a diy music/workshop festival in solidarity with one of the processes going on in the fight against CIGEO and its world, a local farmer, and our friend Jean-pierre is suspected of helping the realisation of the occupation of Bois le Juc, his tractor and trailer are still held confiscated since more than half a year now. The festival ends with a manifestation in front of the court in Bar-le-Duc on the 2nd of May. During the festival several concerts will take place with agricultural workshops, discussion and presentation of the struggle against CIGEO.
Tags: Anarchist Gatherings, Anti-Nuclear, Bure, CIGEO, Demo, France
Posted in Eco Struggle
Wednesday, February 22nd, 2017
An anarchist look at the forest fires in south-central Chile
And on the attempts of the power to take advantage aiming at the Mapuche and anarchist subversion.
For a couple of weeks, the expansion of various firefighting areas in the forest industry business in the south-central part of the country has been reported in Chile. These fires were spread over various territories and have resulted in irreparable damage to various natural ecosystems and native forests, reaching homes and causing the deaths of people and a large number of animals in what is already a true ecocide that is still continuing.
These forest fires and their consequences have become the subject of the news agenda in recent weeks, with the political, business and media class (dis)informing and imposing a version of the origin of the fires that omits- or leaves last – any responsibility on the part of forestry companies. In turn, given the magnitude of the catastrophe, several groups and organizations seek to support the devastated territories and criticize from various positions the way the government has tackled the problem. (more…)
Tags: Chile, Forest Struggle, Mapuche
Posted in Eco Struggle
Wednesday, January 25th, 2017
UPDATE: 07.45 AM
The two remaining anti-nuclear activists have now been removed from the road leading to the south gate of HMNB Clyde and arrested by the MoD police. As far as we know, all three arrested activists are being taken to Clydebank and expected to be released later.
–
This morning at 06.45 AM, four anti-nuclear activists blocked the ongoing morning traffic at the south gate of HMBB Clyde in Faslane. Action was recorded by activists from the nearby Faslane Peace Camp, a protest site dedicated to campaigning against nuclear weapons since 1982. The protesters interrupted the morning routines by walking into the line of traffic and pulling a banderol over the road.
Three activists formed a sit-in blockade, shutting the entry and soon causing a traffic jam of estimated 300 cars. The undercover MoD police car and a regular police vehicle arrived to the scene soon. The protesters are being cleared from the road. Three arrests are to be expected. (more…)
Tags: Anti-Nuclear, Faslane, Scotland, UK
Posted in Eco Struggle
Sunday, November 27th, 2016
Bulacan is one of the major industrial and agricultural center. It is strategically located between the commercial center of Manila and the industrial and trading centers of Northern Luzon.  One of the traditional rice granary of the Philippines. Despite the great challenge posed by El Niño on agriculture, this province pulled off a bountiful harvest that has propelled it to being recognized by the Department of Agriculture as a Hall of Famer in the Agri-Pinoy Rice Achievers Award.
All of a sudden this claim progressively changing due to land conversion for real estate development, mall culture and consumerism. The food production in this area are now getting low because vast agricultural land are now becoming a low-cost housing project, supermarkets and malls. (more…)
Tags: Baliuag, Bulacan, Critical Mass, Food Not Bombs, Philippines
Posted in Eco Struggle
Saturday, November 26th, 2016
Emergency call-out from the forest occupation in Bure, France: the nuclear monster is coming in for a kill
You know how these occupations often go: bad people start destroying the environment, good people intervene, and in the end the bad people get the papers to favour them and start the bulldozers once more. This is exactly what just happened in the woods of Lejuc, near the village of Bure in France. And that's why we need you. To come. Here. And resist. Big time.
«Some people re-occupied this forest two months ago. To support them I decided to put myself on the line and officially squat the place. I changed my home address here, there's a mailbox and everything now, and I'm an official resident. Hopefully I'll makes destroying all this a bit more difficult for Andra bastards!» says Sven Lindstrom, the first official squatter of the Lejuc forest. For obvious reasons he's entitled to have his say in this call-out. (more…)
Tags: Anti-Nuclear, Bure, CIGEO, Forest, Forest Struggle, France, Lejuc, Squatting
Posted in Eco Struggle
Friday, November 11th, 2016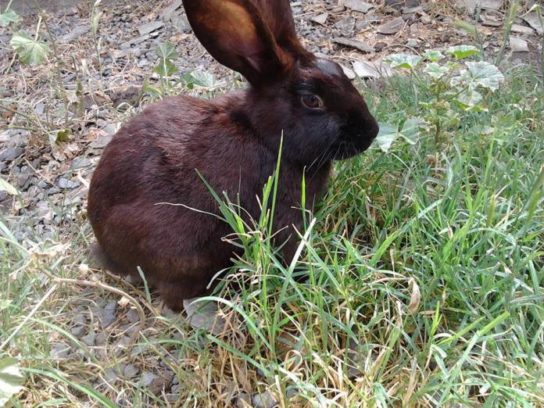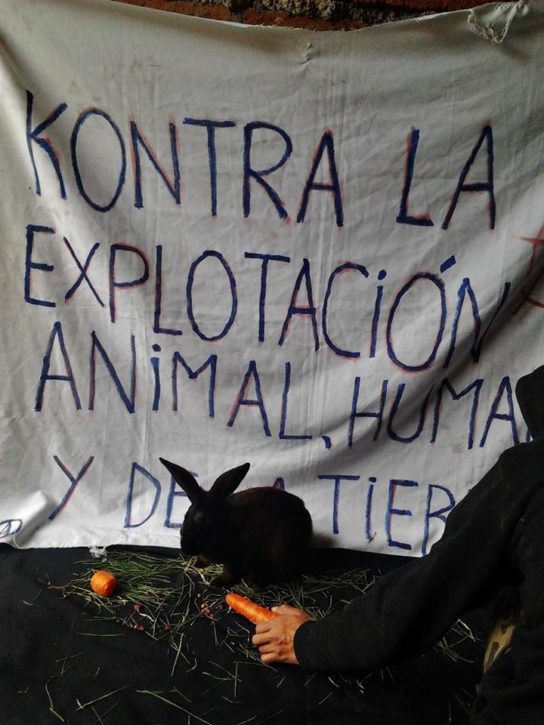 The rabbit was released from a tiny cage and given a new loving home in memory of Animal Liberation Front warrior Barry Horne, who died on hunger strike until death in defense of all life 15 years ago. For the animals.
Tags: ALF, Animal Liberation, Barry Horne, Chile, Santiago, UK
Posted in Eco Struggle
Friday, August 12th, 2016
Recently the anarchist comrades of Etnikobandido uploaded several posts about their recent activities in Philippines, check out their blog here.

Art, Ecology, Resistance 2016
2015 was recorded to be the hottest year in the history of mankind. Meanwhile the recent typhoon Yolanda was tagged to be the strongest storm, which has already been exceeded by other storms from other countries. Changes in weather patterns has become unexplainably irregular. These are the symptoms of Climate Change, which is for the most part caused by human activity.
People had invented technology that rely on limited sources such as minerals from underground. The act of taking and processing materials like these causes substantial amount of carbon, which heats up the planet at a faster rate. This heat affects the whole world. A cold place snows up easier, while hot places dry up more more easily. It also storms more often in places where rain usually falls. Sadly, this kind of deluge hits developing countries often. (more…)
Tags: Climate Chaos, Ecological Destruction, Etnikobandido infoshop, Mining, Philippines, Typhoon Yolanda
Posted in Eco Struggle