'Eco Struggle' Archives
Thursday, August 11th, 2016
A cold night, rain and thundering far away. Totally wet sitting nearby the enclosure and waiting until the patrol comes.
It's safe. We can go.
We know this place, so the rescue is done quickly.
We have took four chickens and going away. Four chickens whose world was changed in a few minutes.
–
Few words from the anonymous team member
For the first time in my life I can see how the animals live in the factory farms.
There is a very strictly scheduled mode. Light clock timer determining night and day, right now imitating night by darkness. I am shining with the flash-lamp over the hall where hundreds of chickens survive – sentenced to death alive. There's no time to think about daily cruelty and torture. It's time to take action.
From today, rescue is an indispensable part of my life. (more…)
Tags: ALF, Animal Liberation, Czech Republic, Osman Evcan
Posted in Eco Struggle
Thursday, July 7th, 2016
5 de Julio. Camufladxs por la ciudad nos dirigimos a unas improvisadas instalaciones de maquinarias retroexcavadoras junto a varios container donde dormían algunxs custodixs. Dos bombas de ruido lanzamos a la infraestructura como ataque contra quienes devastan la tierra sin cuestionamientos amparadxs por el Poder.
¡Fuerza Natalia Collado! Tus palabras nos llenan de frenesí y nos inspiran para contribuir de alguna manera (por mínima que sea) a la lucha contra el Dominio.
No olvidamos a Sebastián Oversluij a más de dos años de su muerte en combate en una tentativa de expropiación. Abrazamos sus ideas y actos que en vida defendió fieramente. La defensa de la tierra, lxs animales y la guerra contra toda inmunda autoridad.
¡A PROPAGAR LA ACCIÓN CONTRA LA DOMINACIÓN!
¡NATALIA COLLADO A LA KALLE!
¡SEBASTIÁN "ANGRY" OVERSLUIJ PRESENTE!
Frente de Liberación de la Tierra – FLT
Tags: Chile, Earth Liberation Front, International Solidarity, Natalia Collao, Noise-bomb, Santiago, Sebastián Oversluij Seguel
Posted in Eco Struggle
Thursday, May 26th, 2016
In Pyhäjoki there is (still) a camp against building a nuclear power plant, a camp which was brutally attacked by police during the action week.
http://fennovoima.no.com/en/ older texts and other info about the camp etc.
http://takku.net/article.php/20160516153858779
Reclaim the Cape -action week took place in Pyhäjoki from 22 April to 1 May of 2016 and dozens of people where detained by the police. 11 activists were arrested. Five of them were released in a few days after the detention. After this, six activists were still kept in remand prison. One activist still remains in prison.
On Monday 16 May there was detention trial and the court decided to continue the imprisonment of the activist. The only explanation for the continued imprisonment was that the activist might try to avoid the trial.
The lawyer argued that this is not sufficient enough ground for the continued imprisonment, because all other activists living permanently abroad have already been released. Neither the court nor the police responded to or commented this argument. Charges must be pressed at the latest on Tuesday 31 May, but it is possible that the prosecutor will do it earlier. (more…)
Posted in Eco Struggle
Sunday, May 1st, 2016
Repression against those who oppose Fennovoima-Rosatom nuclear power plant project continues: and it's getting worse and worse. On Friday 29.4. two protest camp sites got evicted at Pyhäjoki, Finland. Police operations were, on Finnish scale, massive.
Not big. Massive. Present were roughly 20 police vans, officers in riot gear, border patrol's helicopter, sections from both national SWAT teams, dog units and specially equipped riot vans. Police declared the eviction of both camp sites by presenting a legally vague, written police order without even specified locations of the camp sites or other information. Just an order to leave and a declaration that police will arrest everyone "under the police law" it considers to "be connected to the locations" or "able to disrupt public order".
The majority of the protest campers and Reclaim the Cape-action week participants grouped up and vanished into the forests without negotiating with the police.
As we speak, both sites are being emptied of infrastructure and belongings. Comrades are being searched and picked from the woods. Those been detained are being helped and awaited outside the cells. New campsite is under construction, but not public. (more…)
Tags: 'Stop Fennovoima camp', Anti-Nuclear, Ecological Destruction, Eviction, Fennovoima, Finland, Fuck the Mainstream Media, Fuck the Police, International Solidarity, Pyhäjoki, Repression
Posted in Eco Struggle
Tuesday, April 26th, 2016
On the evening of 23 April a group of saboteurs set fire to high-voltage cables at the Hambach site, preventing the place from working. Hambach forest is the scene of a protracted ecological battle against the company RWE, which is aiming to destroy the forest for coal mining. The construction operation will now suffer huge financial losses due to the successful arson.
Find the communique in German here:

http://linksunten.indymedia.org/de/node/176670
Tags: Arson, Germany, Hambach Forest, RWE
Posted in Eco Struggle
Monday, April 18th, 2016
In a cold world,
in the cold north,
our hearts still always have warmth to share for those
who've had to sacrifice their freedom in the struggle for freedom for all.
On the night of Monday 11th of April, 2016, in Tampere, Finland, milk company Valio's dairy plant got a paintbomb on its facade, as did meat company Saarioinen.

Happy birthday Abdul "Lone Wolf"!!
Tags: Animal Liberation, Finland, Paint attack, Paint bombs, Supreme Vegan Power, Tampere
Posted in Eco Struggle
Monday, April 18th, 2016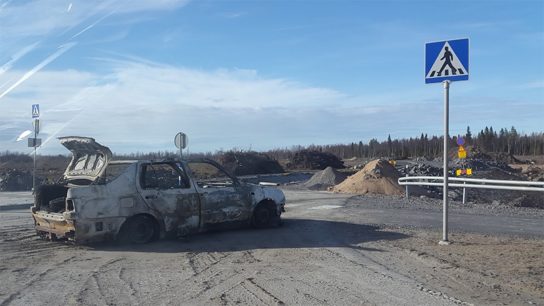 Fennovoima-Rosatom tries to build a new nuclear power plant in Pyhäjoki, Finland. Nuclear energy is by every standard outdated technology, financially unprofitable, it increases the centralization of energy production and produces hazardous nuclear waste for generations to come.
On top of it all, Fennovoima-Rosatom is destroying unique nature as we speak and messing up the Bay of Bothnia. The chosen location is a crappy one for a nuclear power plant by any means. Close to sea, close to groundwater. For example, the builders need to lift the ground level with meters to even get to start the constructions.
On Tuesday 12/04 at 6 in the morning we blocked the traffic of the only road leading to the construction site, and the landfills from continuing, by burning a crappy car filled with car tires etc. In the middle of that Fennovoima road.
The paintjob on the car said "Dialog Devil". That's our dialogue and that's what we have to say to everyone demanding dialogue with Fennovoima-Rosatom.
We also want to send our solidarity to Hambach forest occupation where comrades are battling against the climate killing energy giant RWE despite heavy repression against them. One struggle!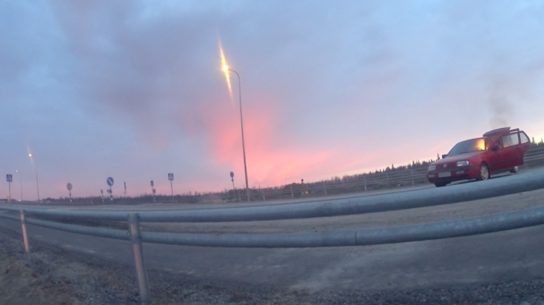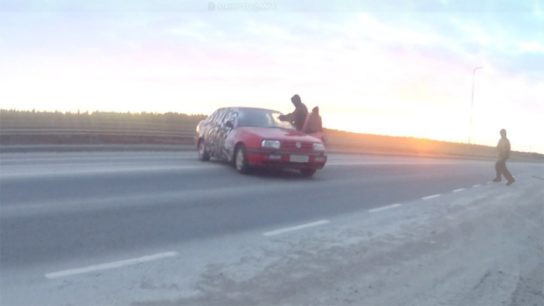 Tags: Anti-Nuclear, Arson, Barricades, Blockade, Burning Barricades, Ecological Destruction, Fennovoima, Finland, Hambach Forest, Pyhäjoki
Posted in Eco Struggle
Saturday, April 9th, 2016
The Human Brain Project (HBP) began in 2013; it is a research project with an ultimate goal to be achieved within the next 8 years: to create IT simulation of the functioning of the human brain. A massive project made possible only by the billion euros financing granted by the European Commission in the context of the programme 'FET- Future and Emerging Technologies'.
Techno-sciences as an investment
The programme represents a sort of 'New Deal' for the new millennium: to advance scientific convergence in futuristic, therefore risky from an economic point of view, fields in order to come out with even more technological applications that can produce profits in both a social (that is to say control over society) and economic context.
The projects competing for this massive financing were six, one more fearsome than the other. They all had in common a techno-scientific convergence intended to develop new 'revolutionary' technological applications in the dystopia in which we are living. For example, the objective of one of the competing projects was to reconstruct all the biological processes of the human body virtually, so as to create a universally standardized model of a patient, which could be personalized by simply changing its anatomic, physiological and genetic characteristics1. (more…)
Tags: Anti-technology, Biotechnology, BlueGene/Q Lemanicus, Brain Mind Institute, Cineca, Henry Markram, Human Brain Project, Italy, Letter, Luca Bernasconi, Switzerland
Posted in Eco Struggle
Thursday, March 24th, 2016
Note of Instinto Salvaje: We joyfully salute from a distance the news of the closure of the proceedings against our comrades Billy, Silvia and Costa, who will not be prosecuted in Italy. For now we publish the news complied from TG Magddalena and enemy sources. We send all our love and solidarity to the three comrades.
Finally, on the morning of March 23, 2016, the trial of Billy, Silvia and Costa was completed. A little before 12:00 am in court room 47, where the reading of the process was given.
"Ne bis in idem" (The fundamental right not to be judged twice for the same offense), the court ruled that prosecution was "not applicable for lack of jurisdiction" since our comrades were already condemned in Switzerland for possession, transportation and handling of explosives during the attempted attack on an IBM nano-technology research center in Zurich claimed by the Earth Liberation Front, where they served sentences of more than three years. So this "fundamental right" applies to not be judged twice for the same act. Therefore, the three anarchists will not be judged in Italy.
Billy, Silvia and Costa were not present in the court room, but were informed of the results of the procedures and the support and solidarity of our comrades who were present.
Soon we will be updating with more depth about case of the three comrades.
Tags: Costantino Ragusa, Earth Liberation Front, IBM, Italy, Luca Bernasconi, Nanotechnology, Silvia Guerini, Switzerland, Switzerland Earth Liberation Front, Trial, Turin, Zurich
Posted in Eco Struggle
Thursday, March 24th, 2016
After the courtcase of LAUtonomia activist Sarah on the 22 of March at the court district of Cottbus our compa Huba got arrested. Sarah was released and got arrested straight away again for something else but we do not have the info on why and for what. Sarah was in jail for a month for not giving ID after getting caught shoplifting. When leaving the courtroom civil cops and the screws hold Huba at the door and confronted him with a warrant for his arrest. The same day he saw a judge in Cottbuss. He came as a spectator for the court case and left in hand-cuffs.

Right now he is in the JVA Wriezen and will be transported to Aachen this week. He is charged with violent assault that allegedly happened the 11 of November in the cutting area of the Hambach forest.
We do not know how long it will take for Huba to arrive in Aachen. prisoner transport normally takes quite a long time. Huba will be transported from prison to prison where he will be put in one person cells with no access to books, sports or other things that you would normally get when you are in jail. when arriving in Duren he will be seeing another judge. (more…)
Tags: Forest Struggle, Germany, Hambach Forest, Huba, Repression
Posted in Eco Struggle
Tuesday, March 22nd, 2016
Attacking UK's coal transport system – Severing the lines that feed the machine
Severing the lines that feed the machine is not impossible. When people take up civil uprising in the UK, if people are able to shove their obligations to one side to open up an avenue, they mainly have the ability and possibility to be able to grasp their will for something new. The war is not over when those moments stop, it sparks up in little raptures here and there, showing that we are not crushed, things can be brought to a grinding halt again, even for a split second.
It just takes a few bright spirits and we see it clear, when the smug confidence of authorities is knocked, a few pins get hit out and things can be seen in a different light. Out of synch and off balance, everything no longer appears structurally sound, life feels more up for grabs.
The new horizon peaked through our cloudy day, Sunday 6th March, and we hope this uncomplicated act of sabotage we have undertaken exposes the vulnerability of their complex matrix.
We took a risk assessment and as night just started to close in we entered the 1st railway tunnel, we cut both lines with a portable disc cutter, we didn't imagine de-railing a locomotive but wrecking disruption and economic damage (time is money). We entered a 2nd and did a further two cuts, marking them all with pink paint, and leaving a banner as a warning. (more…)
Tags: Anti-Coal, Avon Gorge, Avonmouth, Bristol, Sabotage, UK
Posted in Eco Struggle
Monday, March 21st, 2016
In this issue: in Italian language:
– Starting again from Nature
– The struggle against technology: a few thoughts
– Transplants: tears of those who receive and those who give or sell
– Post-human anti-specist crossing
– Fastidious Xylella, unbearable State – Chronology of a false emergency and considerations on the subject
– Leaps in the night…
– A letter to the Expo 2015 catering – Analysis of a counterproductive action
– Solidarity and complicity, on nocivities and the need to oppose them – Notes on the attempted attack on IBM in Switzerland by Silvia Billy Costa and their trial in Italy
EDITORIAL:
What does starting again from Nature mean? Has it been abandoned?
We're certainly losing interest in it precisely when it deserves all our attention, commitment and energy.
Hearing the urgency for green spaces, environmental dangers, more ecological catastrophes to come, yet another rare and 'photogenic' species at risk of extinction… being shouted out by the media every day, our capacity for empathy towards what is less and less around us or under our feet, the Earth, has become saturated.
The daily description of the ongoing ecocide is lost among many other likewise serious events such as war; in this inextricable tangle of cause and effect, one puts up with the impotence in thinking about the future and understanding the present, so much so that certain milieus now incapable of looking beyond have come to the point of even supporting misanthropic theories about human extinction. (more…)
Tags: Biotechnology, Costantino Ragusa, Ecological Destruction, Italy, L'Urlo della Terra, Luca Bernasconi, Silvia Guerini, Zine
Posted in Eco Struggle
Wednesday, March 16th, 2016
Ongoing eviction in the Hambach forest! Support needed!!
15.03.2016 – Yesterday morning the meadow occupation was surrounded by cops. This turned into a huge police operation: All main paths in the forest were cleared, fixed and broadened, all barricades and tripods destroyed. Until today four unoccupied platforms were evicted. Police forces are still present all around, chasing people who try to build new barricades…
This is an urgent call-out for all kinds of support! What has happened the last two days is a massive attack! Because all the roads are cleared and passable for big machinery, it is important to protect the forest occupations NOW!
Come to the Hambach forest, we need food, water, blankets and most of all more people with fresh energy!
For more information: www.hambachforest.blogsport.de

Tags: Eviction, Forest Struggle, Germany, Hambach Forest
Posted in Eco Struggle
Wednesday, March 9th, 2016
From Winter Oak:
If there is one present-day current of thought that stands out as even more repugnant than all the other repugnance of industrial capitalism, it is transhumanism.
For those who have not come across it before, this is a warped ideology that wants to physically merge humans and industrial technology, with the "dream" of abolishing mortality and creating a super-race of cyborgs or Daleks.
Whether or not this is ever likely to come true is pretty much beyond the point – the transhumanists are dangerous simply in that they are promoting a way of thinking, a way of envisaging the future, that is completely bound up with the extension of industrial capitalism and, of course, completely against any idea of caring about the living planet.
The transhumanists form part of an ultramodern neoliberal cult – also worryingly infecting supposedly "radical" circles – which regards the very idea of "nature" as out of date and builds its cold worldview on a fetish for all that is false, artificial, inhuman. (more…)
Tags: Acorn, Anti-technology, Didier Coeurnelle, France, Lyons, Technological Singularity, Transhumanism, UK
Posted in Eco Struggle
Wednesday, March 9th, 2016
2nd March: The last session of the trial took place at the court in Turin. Prosecutors and defence lawyers gave their statements. Prosecutors demanded 5 years and 8 months for Costa, 5 years and 4 months for Silvia and Billy.
The sentence is due 23 March.
tgmaddalena.it
silviabillycostaliberi.noblogs.org
Tags: Costantino Ragusa, Italy, Luca Bernasconi, Silvia Guerin, Trial, Turin
Posted in Eco Struggle