'Eco Struggle' Archives
Saturday, May 13th, 2017
"When horror knocks at your door, it's difficult to hide from. All that can be done is to breathe, gather strength, and face it…. I shared news of the woman found in University City. From the first moment, I was angered and protested the criminalization of the victim. The next morning I woke up to the horror and pain that she was my relative."
– Statement from the family of Lesvy Rivera to Mexican society
"[W]e take responsibility for the homicide of another human in University City on May 3rd….Much has emerged about that damned thing leaning lifeless on a payphone… 'that she suffered from alcoholism, that she wasn't a student, this and that.' But what does it matter? She's just another mass, just another damned human who deserved death."
– 29th Statement of Individualists Tending Toward the Wild (ITS)
Some things shouldn't have to be said, but as is too often the case in this disaster of a world, that which should be most obvious often gets subsumed to the exigencies of politics, ideologies, money, emotion, or internet clicks. The purpose of this piece is to condemn the recent acts of eco-extremists in Mexico and those who cheer them on from abroad.
This critique does not aspire to alter the behavior of Individualists Tending Toward the Wild (ITS), Individualities Tending Toward the Wild (ITS), Wild Reaction (RS), Indiscriminate Group Tending Toward the Wild (GITS), Eco-extremist Mafia, or whatever they will change their name to tomorrow. Like any other deluded, sociopathic tyrant, these individuals have declared themselves above reproach, critique, reason, or accountability. They have appointed themselves judge, jury, and executioner; the guardians and enforcers of Truth using a romanticized past to justify their actions. As absolutist authoritarians, they have constructed a theoretical framework that, while ever-shifting and inconsistent, somehow always ends with a justification for why they get to hold a knife to the throats of all of humankind. In short, they think and act like the State. (more…)
Tags: Analysis, Anti-Fascism, Eco-Extremism, Individualists Tending Toward the Wild (ITS), Mexico, USA
Posted in Eco Struggle
Friday, April 21st, 2017
En recuerdo del oso polar Taco y del corte de calle por su la libertad donde participó el compañero Javier Recabarren el 26/12/2014.
El oso polar Taco nació el 10 de diciembre del año 1996 en Holanda, fue traído 2 años después a Chile a la cárcel-zoológico Metropolitano de Santiago. Durante el año 2014 y 2015 muchas serían las instancias que se realizaron exigiendo su liberación. El compa Javier Recabarren sería parte activa de aquellas, confeccionando lienzos y participando de marchas y concentraciones que eran convocadas abiertamente.
El día 26 de diciembre del año 2014, el compa junto a otrxs anónimxs tenían planeada una pequeña acción para visualizar la situación de cautiverio que afrontaba Taco, exigiendo su libertad. De esta manera el grupo llegó hasta una arteria en la comuna de Estación Central, donde mantenían mucho material para lo inevitable. Por la noche arrojaron todo los escombros que tenían escondidos y se lo entregaron al hermoso fuego. (more…)
Tags: Burning Barricades, Chile, Javier Recabarren, Santiago, Taco the Polar Bear
Posted in Eco Struggle
Thursday, April 13th, 2017
From the 29th April to the 2nd of May we invite you to Bure, where we organise a diy music/workshop festival in solidarity with one of the processes going on in the fight against CIGEO and its world, a local farmer, and our friend Jean-pierre is suspected of helping the realisation of the occupation of Bois le Juc, his tractor and trailer are still held confiscated since more than half a year now. The festival ends with a manifestation in front of the court in Bar-le-Duc on the 2nd of May. During the festival several concerts will take place with agricultural workshops, discussion and presentation of the struggle against CIGEO.
Tags: Anarchist Gatherings, Anti-Nuclear, Bure, CIGEO, Demo, France
Posted in Eco Struggle
Wednesday, February 22nd, 2017
An anarchist look at the forest fires in south-central Chile
And on the attempts of the power to take advantage aiming at the Mapuche and anarchist subversion.
For a couple of weeks, the expansion of various firefighting areas in the forest industry business in the south-central part of the country has been reported in Chile. These fires were spread over various territories and have resulted in irreparable damage to various natural ecosystems and native forests, reaching homes and causing the deaths of people and a large number of animals in what is already a true ecocide that is still continuing.
These forest fires and their consequences have become the subject of the news agenda in recent weeks, with the political, business and media class (dis)informing and imposing a version of the origin of the fires that omits- or leaves last – any responsibility on the part of forestry companies. In turn, given the magnitude of the catastrophe, several groups and organizations seek to support the devastated territories and criticize from various positions the way the government has tackled the problem. (more…)
Tags: Chile, Forest Struggle, Mapuche
Posted in Eco Struggle
Wednesday, January 25th, 2017
UPDATE: 07.45 AM
The two remaining anti-nuclear activists have now been removed from the road leading to the south gate of HMNB Clyde and arrested by the MoD police. As far as we know, all three arrested activists are being taken to Clydebank and expected to be released later.
–
This morning at 06.45 AM, four anti-nuclear activists blocked the ongoing morning traffic at the south gate of HMBB Clyde in Faslane. Action was recorded by activists from the nearby Faslane Peace Camp, a protest site dedicated to campaigning against nuclear weapons since 1982. The protesters interrupted the morning routines by walking into the line of traffic and pulling a banderol over the road.
Three activists formed a sit-in blockade, shutting the entry and soon causing a traffic jam of estimated 300 cars. The undercover MoD police car and a regular police vehicle arrived to the scene soon. The protesters are being cleared from the road. Three arrests are to be expected. (more…)
Tags: Anti-Nuclear, Faslane, Scotland, UK
Posted in Eco Struggle
Sunday, November 27th, 2016
Bulacan is one of the major industrial and agricultural center. It is strategically located between the commercial center of Manila and the industrial and trading centers of Northern Luzon.  One of the traditional rice granary of the Philippines. Despite the great challenge posed by El Niño on agriculture, this province pulled off a bountiful harvest that has propelled it to being recognized by the Department of Agriculture as a Hall of Famer in the Agri-Pinoy Rice Achievers Award.
All of a sudden this claim progressively changing due to land conversion for real estate development, mall culture and consumerism. The food production in this area are now getting low because vast agricultural land are now becoming a low-cost housing project, supermarkets and malls. (more…)
Tags: Baliuag, Bulacan, Critical Mass, Food Not Bombs, Philippines
Posted in Eco Struggle
Saturday, November 26th, 2016
Emergency call-out from the forest occupation in Bure, France: the nuclear monster is coming in for a kill
You know how these occupations often go: bad people start destroying the environment, good people intervene, and in the end the bad people get the papers to favour them and start the bulldozers once more. This is exactly what just happened in the woods of Lejuc, near the village of Bure in France. And that's why we need you. To come. Here. And resist. Big time.
«Some people re-occupied this forest two months ago. To support them I decided to put myself on the line and officially squat the place. I changed my home address here, there's a mailbox and everything now, and I'm an official resident. Hopefully I'll makes destroying all this a bit more difficult for Andra bastards!» says Sven Lindstrom, the first official squatter of the Lejuc forest. For obvious reasons he's entitled to have his say in this call-out. (more…)
Tags: Anti-Nuclear, Bure, CIGEO, Forest, Forest Struggle, France, Lejuc, Squatting
Posted in Eco Struggle
Friday, November 11th, 2016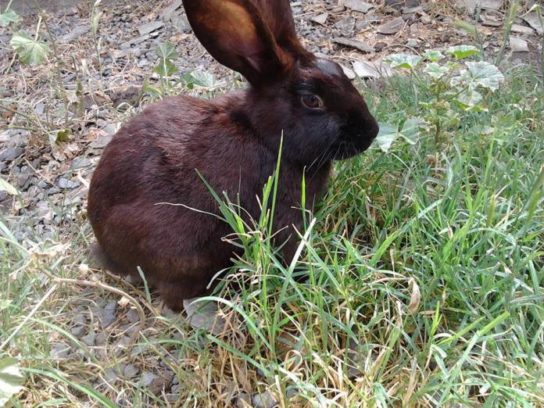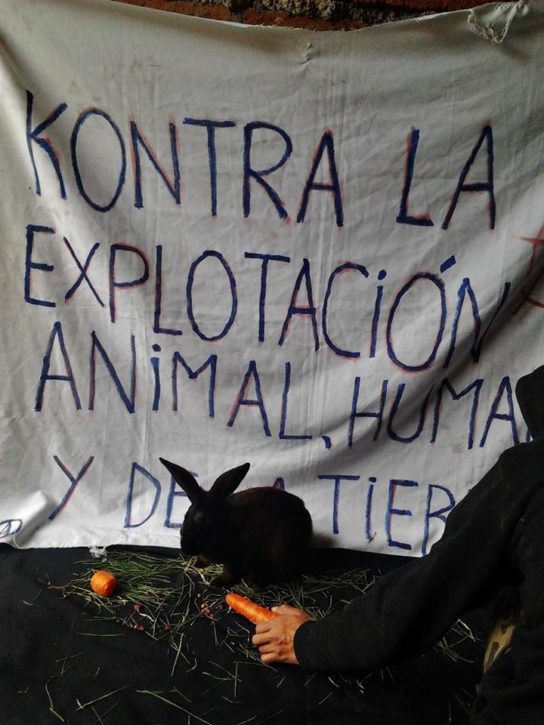 The rabbit was released from a tiny cage and given a new loving home in memory of Animal Liberation Front warrior Barry Horne, who died on hunger strike until death in defense of all life 15 years ago. For the animals.
Tags: ALF, Animal Liberation, Barry Horne, Chile, Santiago, UK
Posted in Eco Struggle
Friday, August 12th, 2016
Recently the anarchist comrades of Etnikobandido uploaded several posts about their recent activities in Philippines, check out their blog here.

Art, Ecology, Resistance 2016
2015 was recorded to be the hottest year in the history of mankind. Meanwhile the recent typhoon Yolanda was tagged to be the strongest storm, which has already been exceeded by other storms from other countries. Changes in weather patterns has become unexplainably irregular. These are the symptoms of Climate Change, which is for the most part caused by human activity.
People had invented technology that rely on limited sources such as minerals from underground. The act of taking and processing materials like these causes substantial amount of carbon, which heats up the planet at a faster rate. This heat affects the whole world. A cold place snows up easier, while hot places dry up more more easily. It also storms more often in places where rain usually falls. Sadly, this kind of deluge hits developing countries often. (more…)
Tags: Climate Chaos, Ecological Destruction, Etnikobandido infoshop, Mining, Philippines, Typhoon Yolanda
Posted in Eco Struggle
Thursday, August 11th, 2016
A cold night, rain and thundering far away. Totally wet sitting nearby the enclosure and waiting until the patrol comes.
It's safe. We can go.
We know this place, so the rescue is done quickly.
We have took four chickens and going away. Four chickens whose world was changed in a few minutes.
–
Few words from the anonymous team member
For the first time in my life I can see how the animals live in the factory farms.
There is a very strictly scheduled mode. Light clock timer determining night and day, right now imitating night by darkness. I am shining with the flash-lamp over the hall where hundreds of chickens survive – sentenced to death alive. There's no time to think about daily cruelty and torture. It's time to take action.
From today, rescue is an indispensable part of my life. (more…)
Tags: ALF, Animal Liberation, Czech Republic, Osman Evcan
Posted in Eco Struggle
Thursday, July 7th, 2016
5 de Julio. Camufladxs por la ciudad nos dirigimos a unas improvisadas instalaciones de maquinarias retroexcavadoras junto a varios container donde dormían algunxs custodixs. Dos bombas de ruido lanzamos a la infraestructura como ataque contra quienes devastan la tierra sin cuestionamientos amparadxs por el Poder.
¡Fuerza Natalia Collado! Tus palabras nos llenan de frenesí y nos inspiran para contribuir de alguna manera (por mínima que sea) a la lucha contra el Dominio.
No olvidamos a Sebastián Oversluij a más de dos años de su muerte en combate en una tentativa de expropiación. Abrazamos sus ideas y actos que en vida defendió fieramente. La defensa de la tierra, lxs animales y la guerra contra toda inmunda autoridad.
¡A PROPAGAR LA ACCIÓN CONTRA LA DOMINACIÓN!
¡NATALIA COLLADO A LA KALLE!
¡SEBASTIÁN "ANGRY" OVERSLUIJ PRESENTE!
Frente de Liberación de la Tierra – FLT
Tags: Chile, Earth Liberation Front, International Solidarity, Natalia Collao, Noise-bomb, Santiago, Sebastián Oversluij Seguel
Posted in Eco Struggle
Thursday, May 26th, 2016
In Pyhäjoki there is (still) a camp against building a nuclear power plant, a camp which was brutally attacked by police during the action week.
http://fennovoima.no.com/en/ older texts and other info about the camp etc.
http://takku.net/article.php/20160516153858779
Reclaim the Cape -action week took place in Pyhäjoki from 22 April to 1 May of 2016 and dozens of people where detained by the police. 11 activists were arrested. Five of them were released in a few days after the detention. After this, six activists were still kept in remand prison. One activist still remains in prison.
On Monday 16 May there was detention trial and the court decided to continue the imprisonment of the activist. The only explanation for the continued imprisonment was that the activist might try to avoid the trial.
The lawyer argued that this is not sufficient enough ground for the continued imprisonment, because all other activists living permanently abroad have already been released. Neither the court nor the police responded to or commented this argument. Charges must be pressed at the latest on Tuesday 31 May, but it is possible that the prosecutor will do it earlier. (more…)
Posted in Eco Struggle
Sunday, May 1st, 2016
Repression against those who oppose Fennovoima-Rosatom nuclear power plant project continues: and it's getting worse and worse. On Friday 29.4. two protest camp sites got evicted at Pyhäjoki, Finland. Police operations were, on Finnish scale, massive.
Not big. Massive. Present were roughly 20 police vans, officers in riot gear, border patrol's helicopter, sections from both national SWAT teams, dog units and specially equipped riot vans. Police declared the eviction of both camp sites by presenting a legally vague, written police order without even specified locations of the camp sites or other information. Just an order to leave and a declaration that police will arrest everyone "under the police law" it considers to "be connected to the locations" or "able to disrupt public order".
The majority of the protest campers and Reclaim the Cape-action week participants grouped up and vanished into the forests without negotiating with the police.
As we speak, both sites are being emptied of infrastructure and belongings. Comrades are being searched and picked from the woods. Those been detained are being helped and awaited outside the cells. New campsite is under construction, but not public. (more…)
Tags: 'Stop Fennovoima camp', Anti-Nuclear, Ecological Destruction, Eviction, Fennovoima, Finland, Fuck the Mainstream Media, Fuck the Police, International Solidarity, Pyhäjoki, Repression
Posted in Eco Struggle
Tuesday, April 26th, 2016
On the evening of 23 April a group of saboteurs set fire to high-voltage cables at the Hambach site, preventing the place from working. Hambach forest is the scene of a protracted ecological battle against the company RWE, which is aiming to destroy the forest for coal mining. The construction operation will now suffer huge financial losses due to the successful arson.
Find the communique in German here:

http://linksunten.indymedia.org/de/node/176670
Tags: Arson, Germany, Hambach Forest, RWE
Posted in Eco Struggle
Monday, April 18th, 2016
In a cold world,
in the cold north,
our hearts still always have warmth to share for those
who've had to sacrifice their freedom in the struggle for freedom for all.
On the night of Monday 11th of April, 2016, in Tampere, Finland, milk company Valio's dairy plant got a paintbomb on its facade, as did meat company Saarioinen.

Happy birthday Abdul "Lone Wolf"!!
Tags: Animal Liberation, Finland, Paint attack, Paint bombs, Supreme Vegan Power, Tampere
Posted in Eco Struggle