'Library' Archives
Thursday, December 3rd, 2020
EN | PDF: 325 #12 – 'Against the Fourth and Fifth Industrial Revolutions'
ES | PDF: 325 #12 – 'Contra la Cuarta y Quinta Revolución Industrial'
Presenting 56 pages of anti-organisational, insurrectional, anti-civilisation anarchy of the 21st Century. A collection of critical texts and letters from anarchist points of view examining the new changes in production and social control brought about by new technologies which are ushering in a totalising prison-world and the advance of smarter-than-human machines. This issue of 325 builds on the considerations and content of the last issue which took as it's focus the subject of the Technological Singularity. Six years later, the mechanisms, ideologies and impacts of this global dystopian project are nearer and clearer and the texts you will read in this new issue deal with the emerging realities of these technological revolutions.
For the first time, 325 is coming out in 3 languages: First in English, with Spanish and Italian to follow. Printed copies are available, but we also encourage people to print out their own copies and distribute them in their area.
CONTENTS : 325#12
3. Editorial
4. Automation, Robotics & Labour in the 4th & 5th Industrial Revolutions
8. From Riot to Insurrection – Excerpt
9. A Small Criticism of Science and its World
10. Covid-19 World: Epidemics in the era of Capitalism
12. The Fractures of Dominion
13. Coordinated Incendiary Attacks Against Relay Antennas in Grenoble, France
14. The 4th and 5th Industrial Revolutions
17. The Artificial Reproduction of the Human: The Road of Transhumanism
23. Machine Psychology: A Disappearing Act
25. Oblique Look
28. Smartphones, Ringtones, Capital
29. Cashless Societies and Crypto-Currencies: End of the Traditional Era of Banking and Finance
32. Contribution to the 1st International Meeting Against Techno-Sciences by imprisoned anarchist Dino Giagtzoglou
38. Cybernetic Society and its World
48. Against Starlink
50. Space : Part 1
51. To Be Released
53. Direct Action Chronology
ANTI-COPYRIGHT NETWORK 2020
Tags: 325 Magazine, Analysis, Anti-Prison, Anti-technology, Artificial Intelligence (AI), Artificial Reproduction, Biotechnology, Coronavirus, Crypto-Currencies, Cybernetics, Fifth Industrial Revolution, Fourth Industrial Revolution, Insurrection, International Solidarity, Konstantinos Yagtzoglou, Nanotechnology, PDF, Prison Society, Robotics, Sabotage, Starlink, Technological Singularity, Transhumanism, Zine
Posted in Library
Monday, November 16th, 2020
PDF: Confrontación
¡NADA HA ACABADO!
SEGUIMOS EN REVUELTA CONTRA TODA AUTORIDAD.
A un año del inicio de la revuelta desatada en Chile desde el 18 de octubre de 2019, seguimos propagando CONFRONTACIÓN.
Tags: Chile, PDF, Santiago, Social Insurrection, Zine
Posted in Library
Monday, November 9th, 2020
PDF: Fantasma Number 4
LEAVING COVERED TRACKS BEHIND (EDITORIAL)
Once a again darkness soaks a new day. I open my eyes and see the past years in fast motion: the jungle with its trees, its undergrowths and its branches which scratched my legs. These one liana which dangled not far from me while i was lost sitting on the ground. I remember like it was yesterday how I reached for it, straightened myself up and took heart again. There was wide green, high rocks, dark caves and deep canyons long after I blazed myself a trail out of the covert. All of a sudden I stepped in front of a gigantic waterfall with its tempting song of deadly maelstrom. Vainly it tried to attracted me from the waterside to ruin me. I walked on. Today the sky is cloudless and it seems to become a good day. I rub the sleep out of my eyes, listen shortly to the busy stillness and then get up from my way too soft mattress. My feet are hurting, they got sore from the long marches through the mist. But it is a good pain because it tells me that I left tracks behind. For all of those, which their life will bring on the same path. I arrived the city now, a new phase of life begins. (more…)
Tags: Fantasma, PDF, Zine
Posted in Library
Friday, October 30th, 2020
Apresentação e Lançamento do livro Foge Cara, Foge! de Xosé Tarrío González

Edições Crônica Subversiva. Porto Alegre 2020.
É a primeira versão em português de um livro que desde a década dos noventas vem enchendo de amor e ódio a quem o lê. Amor pela liberdade e ódio pelas prisões.
O autor, Xosé Tarrío, um anarquista que se faz tal sequestrado pelo estado espanhol, nos compartilha uma parte da sua vida, na que entra em prisão por um furto menor e termina encarcerado pelo resto da sua vida.
Porém, ele é de aquelas pessoas que não decai na luta, que espalha cumplicidade e solidariedade, que nunca se submete, levando a dignidade aos extremos que nos torna seus cúmplices e odiamos, junto com ele, a cada carcereiro que procura humilhar os presxs.
O relato pessoal de Xosé Tarrío nos bate na cara com o retrato cotidiano das práticas miseráveis dos carcereiros e de todo o aparelho institucional que sustenta o sistema carcerário. Aí a importância de traduzi-lo, porque o cárcere aqui, e cada vez mais, está normalizado e se ampliando. (more…)
Tags: Brazil, Porto Alegre, Xose Tarrio, Zine
Posted in Library
Friday, October 30th, 2020
Questo numero del giornale viene pubblicato in un inedito formato, una speciale edizione murale. Un manifesto e quattro brevi articoli che spaziano da una concisa analisi sull'insostenibile concretezza dello Stato e sul disciplinamento individuale a delle riflessioni sulle conseguenze dello stato di pandemia nel quadro della «svolta autoritaria di nuova forma» in corso da tempo, da importanti interrogativi sulla natura dell'agire rivoluzionario, tra ecologismo radicale e conflitto sociale e di classe, al valore profondo e radicale, attivamente significativo, della solidarietà rivoluzionaria con i compagni anarchici imprigionati.
Un foglio che non rappresenta un mutamento editoriale definitivo rispetto alle analisi critiche, di attualità e teoriche che abbondano nei precedenti numeri, dato che a partire dal prossimo numero "Vetriolo" tornerà nel consueto formato. La scelta di questa speciale edizione murale nasce nei mesi di segregazione di massa disposta dallo Stato con l'emergenza legata alla pandemia di coronavirus. Abbiamo sentito in questo periodo l'esigenza di ulteriori spazi di comunicazione in grado di rompere il «distanziamento» che le autorità hanno voluto e vorrebbero interporre tra ciascuno di noi. Abbiamo sentito il desiderio di propagare, ancora, delle «grida» contro la repressione, tanto più in un momento a nostro avviso estremamente importante per l'anarchismo tutto, ovvero il processo d'appello dell'operazione «Scripta Manent», nonché nel contesto delle innumerevoli inchieste che le procure d'Italia continuano a indirizzare contro il movimento anarchico. (more…)
Tags: Italy, Vetriolo, Zine
Posted in Library
Saturday, October 17th, 2020
EN | Incendiary Dialogues: For the Propagation of Anarchic Sedition
ES | Diálogos Incendiarios
PT | Diálogos Incendiarios
IT | Dialoghi incendiari

Printed copies coming soon…
We present a new book by Black International Editions, an internationalist project of anarchic diffusion that, from an informal and seditious anarcho-insurrectional intent, resurfaces in Spanish, Portuguese, Italian and English, with a new title: "Incendiary Dialogues: For the Propagation of Anarchic Sedition". The title is based on a dialogue on the course of the anarchic war between comrades Alfredo Cóspito, Gustavo Rodríguez and Gabriel Pombo da Silva.
We consciously decided to launch this booklet on May 22, in timely celebration of Chaos Day, remembering anarchist comrade Mauricio Morales, who, on a day like today in 2009 left this life fighting against Power when the bomb he was carrying in his backpack exploded prematurely, detonating a few meters away from the Gendarmerie School in Chile.
We dedicate this book to all our comrades in prison around the world, with a special dedication to our comrade Alfredo Cóspito, imprisoned in Italy, and to our beloved Gabriel Pombo Da Silva, who was arrested in Portugal and extradited to Spain at the time this book was published. We send all our strength to comrade Gabriel in the face of this new revenge by the authorities for his eternal irreducible struggle.
This book will have printed versions that will circulate in affinity spaces, among comrades and diverse anarchic projects around the world. We invite you to actively support its diffusion by sharing its digital version, printing copies and/or making presentations and launches wherever there is a willingness to do the impossible in order to spread chaos and extend anarchic warfare.
Editorial collaborators of Black International Editions.
May 22nd, 2020 …
Tags: Alfredo Cospito, Analysis, Black International, Black International of Anarchists of Praxis, Communique, Gabriel Pombo da Silva, Gustavo Rodriguez, International Solidarity, Mauricio Morales, PDF, Zine
Posted in Library
Thursday, October 8th, 2020
IT | PDF: "Andare all radice" – Marco Camenisch & John Zerzan
"Andare alla radice"
È uscito l´opuscolo "Andare alla radice" contenente un intervista di John Zerzan a Marco Camenisch.
PREFAZIONE
In una soleggiata cucina del sudest della Svizzera ho preso parte a questa magnifica conversazione con uno dei miei eroi, Marco Camenisch, e un caro amico che gli aveva più volte fatto visita durante i molti anni passati in prigione. Quest'incontro aveva per me un valore importantissimo, soprattutto perché, a differenza di Matteo, avevo conosciuto Marco solo la notte prima. Scriversi è una cosa, per quanto molto preziosa, ma di certo nulla può sostituire la possibilità di sedere faccia a faccia, l'uno di fronte all'altro. La nostra causa comune, per come la vedo io, è quella di eliminare la civilizzazione, la sua marcia funebre, e sostituirla con comunità di rapporti diretti, faccia a faccia. La società di massa ha soppresso la comunità. Ogni volta che ci s'incontra, come nel nostro caso, ci si prepara al suo ritorno. La nostra esplorazione ha ravvivato in ciascuno di noi l'anelito profondo per un nuovo mondo. È presente in ognuno, per quanto soffocato o deformato, nonostante le mastodontiche e onnipresenti forze contrarie. Le ore passate in così buona compagnia mi hanno rigenerato, stando assieme a guerrieri che non si arrendono. Prima di tornare in Italia con Matteo, ho salutato Marco che stava pulendo il pavimento della cucina della casa dove alcuni compagni ci avevano ospitato. Sorrideva e canticchiava, e questo mi ha reso ancor più felice!
John Zerzan
Eugene, Oregon, febbraio 2020
–
"Andare alla radice"
The booklet "Going to the root" has been published with an interview by John Zerzan with Marco Camenisch.
PREFACE
In a sunny southeastern Swiss kitchen I took part in this wonderful conversation with one of my heroes, Marco Camenisch, and a dear friend who had visited him several times during his many years in prison. This meeting had a very important value for me, especially because, unlike Matteo, I had met Marco only the night before. Writing is one thing, though very precious, but certainly nothing can stop you from sitting face to face, one in front of the other. Our common cause, as I see it, is to eliminate civilization, its funeral march, and replace it with a community of direct, face-to-face relationships. Mass society has suppressed the community. Every time we meet, as in our case, we prepare for its return. Our exploration has enlivened in each of us the deep yearning for a new world. It is present in each one of us, no matter how stifled or deformed, despite the mastodontic and omnipresent opposing forces. The hours spent in such good company have regenerated me, being together with warriors who do not give up. Before returning to Italy with Matteo, I said goodbye to Marco who was cleaning the kitchen of the house where some of our comrades had hosted us. He was smiling and humming, and that made me even happier!
John Zerzan,
Eugene, Oregon, February 2020
https://istrixistrix.noblogs.org/
Tags: Analysis, Anti-Nuclear, Anti-technology, Ecological Destruction, Interview, Italy, John Zerzan, Marco Camenisch, PDF, Repression, Switzerland, TAV, Zine
Posted in Library
Friday, September 25th, 2020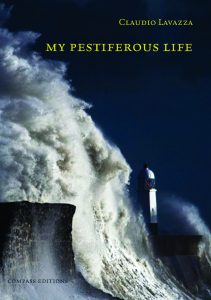 Claudio Lavazza, rebel, anarchist, bank robber and gentleman. During the 70s in Italy he participated in the struggle against State and Capital, arms in hand. Contrary to the grave-diggers of subversion, after this experience, he never traded his desire to overthrow the existent for a political career. He never resigned, nor sought refuge in any State, which could have granted him a controlled freedom. He kept fighting, against winds and tides.
After 16 years on the run, never renouncing his anarchist coherence, nor the joy of living as a free man, he was arrested after a bank robbery in Córdoba, Spain, in 1996. On this occasion, three comrades, including Claudio, were seriously injured and two policewomen lost their lives. Claudio was subsequently locked up in the special prison regime FIES, where – even in this toxic place – he continued his battle with firmness and perseverance.
After serving twenty-two years in the Spanish dungeons, he was temporarily extradited to France – since his sentence in Spain is not yet finished – in the summer of 2018. Here he would stand trial for a bank robbery of the National Bank of Saint-Nazaire, which took place in 1986. For this robbery he had already been sentenced in absentia to thirty years of prison.
Going to take money where there is plenty is always a possibility, as a refusal of the blackmail of work and exploitation, to seize the necessary means to carry out a struggle against the State. However, back then in Saint-Nazaire, "the tightrope robbers" did not just touch any safe. They expropriated the State's vault, emptying the pockets of those who oil the gears of power of almost twenty-six million euros.
Even when faced with the most adverse conditions, when everything needed to be rebuilt and re-imagined, Claudio beat his own path, with countless smiles and struggles. As an anarchist, his passion is freedom; his enemy is power. There is no time to waste when one is armed with this conscience.
It is up to each one of us to forge our own journeys, to undermine, harm, expropriate and destroy everything that belongs to power, its structures and its servants.
Claudio Lavazza, My Pestiferous Life
300 pages / 8 euros
Printed May 2020
Compass Editions
via Actforfreedomnow.
Tags: 'My Pestiferous Life', Bank Robbery, Claudio Lavazza, Córdoba, FIES, France, Italy, Spain, Zine
Posted in Library
Thursday, September 24th, 2020

PDF to print (11 x 17)
Poster text:
Fire to the Cybernetic Prison
It's never too late to resist
Artificial Intelligence
AI labs, recipients of several $100M in government funding, are working to put "machine learning" algorithms in the service of a long list of industries. Under an "ethical" facade, some applications will simply allow well-placed capitalists to further enrich themselves. Others aim to reinforce repression, whether detecting shoplifters at the supermarket with automated video surveillance, developing facial recognition tools that work even on partly covered faces, or "predicting" crime or the probability of a prisoner re-offending.
5g Wireless Networking
The unprecedented bandwidth of 5G technology enables the deployment of AI on the scale of a city in real time. Every movement becomes trackable thanks to thousands of cameras integrated into a centralized surveillance apparatus. This vision is already in practice in more than one European "smart city". Countless sensors dotting public spaces, in businesses, cars and public transit, and worn on our bodies aim to make every action the object of calculation, prediction and control, all under an eco-friendly label. By its pervasiveness, a web of algorithms is made invisible and therefore impossible to resist.

Robotics and Automation
Self-driving cars. Robotized warehouses. Cashierless stores. Delivery robots that call the cops when they are attacked. An infrastructure is being deployed that will change the world of work and our living environment permanently. We don't mourn the disappearance of back-breaking and boring jobs. A dehumanizing pace is imposed on the remaining workers, who must keep up with the machines and productivity software or be shown the door. Meanwhile, what measures of social control and what exploitative schemes await the new excluded masses of an age of technological unemployment?

Life in Front of a Screen
Possibilities for authentic relations between humans and with our surroundings are increasingly erased in service of a virtual hyper- connectivity. Understanding, discovery, and the search for meaning are reduced to production of data. Attention deficit, memory problems, loss of emotional skills and imagination, disrupted sleep, musculo-skeletal pain, anxiety, loneliness, depression: the symptoms of addiction to online technologies are worsening as the proportion of the population that has spent their entire lives immersed in touch screens grows.
For free and full lives, open to the unknown
Be the outage in their network!
Anonymous submission to MTL Counter-info
Tags: 5G, Anti-technology, Artificial Intelligence (AI), Robotics, Surveillance
Posted in Library
Thursday, September 24th, 2020
Il numero 5 del giornale anarchico "Vetriolo" uscirà in un'inedita edizione murale, online e cartaceo. Una scelta, la nostra, che non rappresenta un mutamento editoriale definitivo, rispetto alle solite lunghe analisi critiche, di attualità e teoriche. Con ogni probabilità, "Vetriolo" tornerà nel consueto formato. La scelta di una edizione murale nasce nei mesi di prigionia di massa disposta dallo Stato con il pretesto dell'emergenza Coronavirus. Abbiamo sentito in questi mesi l'esigenza di una comunicazione in grado di rompere il distanziamento che le autorità vorrebbero interporre tra ciascuno di noi. Abbiamo sentito il desiderio di vedere appesi nei muri nelle nostre città le nostre e le vostre «grida» contro la repressione, tanto più in un momento a nostro avviso importante per l'anarchismo tutto, rappresentato dal processo d'appello dell'operazione «Scripta Manent», nonché dalle innumerevoli inchieste che le procure d'Italia continuano a indirizzare contro il movimento anarchico. Un'edizione murale vuole anche essere uno strumento in mano a quei refrattari che volessero sfuggire a futuri scenari autoritari, come l'antico gesto di appendere un manifesto. Divulghiamo, come anticipazione, il nostro articolo sul processo «Scripta Manent». Un contributo in vista del prossimo fine settimana di mobilitazioni.
A breve gli altri scritti e il manifesto murale. Per richieste di copie e contatti: vetriolo[at]autistici.org.
* * *
Un contributo per il processo d'appello dell'operazione «Scripta Manent».
In alto la mente e i cuori!
Quanti esseri hanno attraversato la vita senza mai svegliarsi!
E quanti altri si sono accorti che stavano vivendo solo per il monotono tic-tac degli orologi! (more…)
Tags: CNA Italia, Informal Anarchist Federation (FAI), Operation Scripta Manent, Repression, Vetriolo, Zine
Posted in Library
Thursday, September 24th, 2020
Palabras previas
Compañeres, luego de un par de meses llenos de actividad y contratiempos, con gusto podemos compartir con ustedes un nuevo número del boletín anticarcelario Rebrote.
Con un estado de «excepción" extendido hasta el mes de diciembre, una vez más el gobierno y empresariado en Chile pretenden contener la rabia y el carácter que lleva impregnado desde hace muchos años el mes de septiembre. Un mes lleno de memoria y lucha, que históricamente se ha visto marcado por la acción subversiva e insurrecta en las calles, y que desde hace ya un buen tiempo no se vivía con un toque de queda ni la presencia de miserables militares.
Además de tener excusas para la vigilancia durante este mes en particular, entendemos que parte de la estrategia del poder también es poder prever lo que ocurra en el próximo octubre, cuando se cumpla un año del inicio de la revuelta y se realice también el circo constituyente. (more…)
Tags: Chile, PDF, Rebrote, Zine
Posted in Library
Tuesday, September 22nd, 2020
Las rebeliones de la miseria
«Todos los sistemas de control se basan en el binomio castigo-premio. Cuando los castigos son desproporcionados a los premios y cuando a los patrones ya no les quedan premios, se producen las sublevaciones.»i
Burroughs
En esta segunda década del siglo cada vez son más frecuentes las revueltas urbanas a lo largo y ancho de la geografía global, con sutiles variaciones en cuanto a su duración e intensidad. Hong Kong, Francia, Argelia, Irak, Haití, Líbano, Cataluña, Ecuador, Bolivia, Sudán, Chile, Bielorusia y, ahora, Estados Unidos de Amérikkka, han sido sede de multitudinarias protestas ampliamente reseñadas en los medios de domesticación masiva. Como he señalado en otras ocasiones, éstas manifestaciones tienen motivaciones muy particulares que las explican; sin embargo, es indiscutible que todas poseen un vínculo intangible que funge como denominador común de la mayoría de estas movilizaciones: el hartazgo y la rabia de la desesperanza.
Lejos de la retórica izquierdista que insiste contra toda evidencia que «mientras haya miseria habrá rebelión», lo que en verdad ha motivado las rebeliones recientes no ha sido la «miseria» sino la conjunción del hartazgo y la desesperanza. Estos dos factores –que impulsan la añoranza por lo «malo conocido» y anhelan el retorno al Estado benefector, al capitalismo industrial y a la sociedad del trabajo–, son los causantes del malestar generalizado que ha desembocado en la revuelta global de nuestros días.
Tags: Analysis, Gustavo Rodriguez, Riots, Social Insurrection
Posted in Library
Wednesday, September 16th, 2020
PDF: Svart måne – Eld
This is the first number of the Swedish zine Svart måne (Black moon). It's a publication that focuses on anti-civilisation anarchy. By promoting and translating texts about anarchy of praxis we're hoping to inspire individuals into arming their desire and awaking their wolf spirit.
The first number is called Eld (fire). Eld is one of the disruptive and destroying powers of the universe. Although this is the name of the number it has no thematic connection to the texts inside.
The texts is a collection of translations and original texts and all but two are written in Swedish. It starts with an intro text and then dives into a translation of Lone wolfs are not alone by imprisoned members of Conspiracy of Cells of Fire. This is followed by two shorter translated texts – On savage attack and the moralization of violence by Guará and the text Subversive anarchy, a brief history of illegalist, individualist and nihilist anarchy by Renzo Conners.
Following these three translations are the original texts which is all kept anonymous:
-En individs anticivilisatoriska väg (An individual's anticiv journey)
-Normbrott (Break of norm)
-To death, the love of my life
-Att (försöka) hålla snuten på avstånd (To (try to) keep a distance to cops)
-En solidaritet utan namn (A solidarity without name)
-Sweden is a socialist trap
-Mellan tydliga tvivels tvångströjor (The distinct doubts between straight jackets)
-Slaveri är det normala och teknologins fördummande effekt (Slavery is the normal and the dumbing down effect of technology)
If you want to contribute with texts or graphics you can contact us at svartmane att riseup dot net. We run submissions in swedish, danish, norwegian and english.
For the anarchist attack
Svart måne
Tags: PDF, Svart måne, Sweden, Zine
Posted in Library
Wednesday, September 9th, 2020
De la revista 325 (próximamente en español):
DE | Automatisierung, Robotik und Arbeit in der 4ten und 5ten industriellen Revolution
EN | Automation, Robotics & Labour in the 4th & 5th Industrial Revolutions
Desde que comenzó la primera Revolución Industrial en la década de 1700, las sucesivas revoluciones industriales han afectado profundamente a los trabajadores, a los propios trabajadores, creando incluso el concepto de 'clase trabajadora', cómo vivían, su integración en los agujeros del infierno urbano que avanzaban, las prisiones de las fábricas, molinos y pozos mineros, incluso sus hijos no se libraron de la indignidad, ni siquiera de la muerte de la esclavitud moderna de la época. La industrialización, el resultado de la mecanización en la industria, alimentó la esclavitud moderna y la domesticación de los seres humanos en todos los rincones de los imperios y colonias en expansión, no solo en el resto del planeta vivo. Ahora estamos en la cúspide del comienzo de una 4ta Revolución Industrial (4IR) e incluso una 5ta (5IR) que afectará tan radicalmente nuestro encarcelamiento dentro de la sociedad tecnológica como las hizo en las anteriores. El concepto mismo de trabajo, incluso el trabajo mismo, cambiará más allá del reconocimiento una vez más. Ya en la consiguiente 'pandemia del coronavirus' y en los controles de toque de queda que se han aplicado a miles de millones en todo el mundo, las señales de las próximas revoluciones industriales ya están apareciendo, y se informa que millones perdieron sus empleos en muchos países. (more…)
Tags: 'The Uncivilized', 3D Printing, 4ta Revolución Industrial (4IR), 5G, 5ta Revolución Industrial (5IR), Alfredo M. Bonanno, Analysis, Artificial Intelligence (AI), Automation, Cashless Society, Coronavirus, Drones, Fifth Industrial Revolution, Fourth Industrial Revolution, From Riot to Insurrection, Ingreso Básico Universal, Intelligent Surveillance, Internet of Things, Reino Unido, Repression, Robotics, Surveillance, UK, Universal Basic Income
Posted in Library
Wednesday, September 9th, 2020
From 325 #12:
DE | Automatisierung, Robotik und Arbeit in der 4ten und 5ten industriellen Revolution
ES | Automatización, robótica y mano de obra en la 4ta y 5ta revoluciones industriales
Since the first Industrial Revolution began in the 1700's, successive industrial revolutions have profoundly affected labour, the workers themselves, creating even the concept of the 'working class', how they lived, their integration into the advancing urban hell holes, the prisons of the factories, mills and mining pits, even their children were not spared the indignity, even death of modern slavery of the time. Industrialization, the result of mechanisation in industry, fed modern enslavement and domestication of human beings in every corner of the spreading empires and colonies not just the rest of the living planet.
We are now on the cusp of the beginning of a 4th Industrial Revolution (4IR) and even a 5th (5IR) that will affect just as radically our imprisonment within the technological society as it did in the previous ones. The very concept of labour, even work itself will change beyond recognition once again. Already in the ensuing 'coronavirus pandemic' and curfew controls that have been enforced on billions worldwide, the signals of the coming industrial revolutions are already appearing, with millions being reported to lose their jobs in many countries. (more…)
Tags: 'The Uncivilized', 3D Printing, 5G, Alfredo M. Bonanno, Analysis, Artificial Intelligence (AI), Automation, Cashless Society, Coronavirus, Drones, Fifth Industrial Revolution, Fourth Industrial Revolution, From Riot to Insurrection, Intelligent Surveillance, Internet of Things, Repression, Robotics, Surveillance, UK, Universal Basic Income
Posted in Library