'Library' Archives
Friday, April 3rd, 2020
PDF: PUBLICACIÓN MUNDO COVID-19.1
MUNDO COVID-19, Nº 1
LAS EPIDEMIAS EN LA ERA DEL CAPITALISMO
– Recopilación de textos de análisis internacionales durante el estado
de alarma.
https://contratodanocividad.espivblogs.net/
contratodanocividad@riseup.net
Tags: Analysis, Anti-technology, Contra toda Nocividad (Zine), Coronavirus, International Solidarity, PDF, Repression, Spain, Technological Singularity, Zine
Posted in Library
Friday, April 3rd, 2020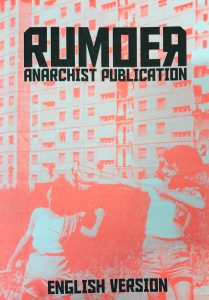 The second edition of the anarchist publication Rumoer is out! A publication which will hopefully provoke discussion, irritation, inspiration, agitation, and attack. Because we do not want a raise in wages, but the destruction of work. Because we do not want to shout 'boo!' but want to hear BOOM! We want a confrontation without compromise with the system that is destroying our lives and the planet.
In this issue some extra attention for the rampaging Covid-19 virus. But also just the ongoing anarchist interventions and other topics: an interview with a graffiti maker in Lebanon, the fight against Shell, post-gentrification and the use of the Signal app.
If you want to receive the new Rumoer, send an email to: rumoer (((A))) riseup /// net. Since most social centres are currently closed, we ask you to help spread the latest edition. Order some extra copies and bring it to your neighbours, isolated family, friends and comrades.
You can also download the new Rumoer or print it yourself. The link to the downloads can be found at rumoer.noblogs.org
Remember, the streets are empty, the possibilities are open. Keep 1.5 meters away, but always at least ten times as much from the police!
Tags: Coronavirus, Counter-info, Graff, Graffiti, Lebanon, PDF, Rumoer (Zine), Sabotage, Shell, Signal (PGP App), Zine
Posted in Library
Tuesday, March 31st, 2020
Desde agosto de 2019, la revista CONFRONTACIÓN ha estado en las calles pasándose de mano en mano, de compañerx a compañerx, propagándose en varias regiones de Chile gracias a voluntades solidarias que hacen posible que las ideas anárquicas/anti-autoritarias circulen y aporten a los procesos de liberación individual y colectiva.
Con un primer número en agosto y una edición especial en noviembre pasado, este 2020 comenzó para nosotrxs con la creación, impresión y distribución del segundo número (tercera entrega en la práctica) con dos mil ejemplares, el cual ha tenido una muy buena acogida entre lxs compañerxs, por lo que iremos subiendo de a poco a internet los artículos las ediciones en formato digital.
Porque la reproducción del orden de opresión y privilegios se ha impuesto a través de la historia por medio de la represión y la intoxicación de las mentes y de lxs cuerpxs por todo tipo de gobiernos, estamos por la CONFRONTACIÓN contra los enemigos de la libertad luchando por una vida sin Estados, leyes, constituciones ni autoridad.
Invitamos a todxs quienes deseen obtener y/o aportar a la distribución de la publicación impresa a que nos escriban a nuestro correo:
CONFRONTACION@RISEUP.NET
Tags: Chile, Periódico Confrontación, Zine
Posted in Library
Saturday, March 28th, 2020
Sale a la luz el primer número de una nueva publicación anarquista en Madrid, en tiempos de Estado de Alarma, por la extensión de la guerra social.
Contenido:
-Hacia aguas desconocidas
-Que vuelvan las huelasgas. Que proliferen las okupaciones. Que lleguen los saqueos
-Sobre el ataque a nuestros lazos
-Crónica de motines, fugas y sucesos en las cárceles y CIES a causa de la crisis del coronavirus
-¿Volver a dónde? ¿Volver a qué?
Hacia aguas desconocidas
Llevamos más de una semana en estado de emergencia. La capacidad destructiva del virus no es algo ya cuestionable. Pero nos gustaría
hacer unos apuntes sobre sus consecuencias no clínicas y sobres sus orígenes.
(more…)
Tags: Coronavirus, Madrid, Repression, Spain, Zine
Posted in Library
Friday, March 20th, 2020
PDF: The Time is Now
This is a PDF explaining how to sabotage game farms. It needs to reach as many people as possible. Against all authority, speciesism and capitalism.
THE TIME IS NOW, BRING DOWN THE GAME FARM INDUSTRY
A step by step guide to sabotaging game farms and putting an end to this fucked up industry.
Game farming is abhorrent. Hunters will use the excuse of conservation as a justification for their murderous actions, but game farming cannot be sustained in any way. Breeding wild animals to be released with the sole purpose of killing them, modifying the countryside to suit the needs of the hunting community and killing all other wildlife in the process with the only aim of capitalising on animal exploitation. Game farming is, indeed, a multi million industry that can be toppled very easily using direct action.
As game farming is an incredibly lucrative business based on breeding and rearing wild animals, direct action focused on sabotaging the infrastructure and releasing the animals into the wild is the biggest and most impactful action anyone can do bring the business to their knees. I will repeat this to clarify: YOU CAN STOP THIS INDUSTRY BY WALKING IN THE COUNTRYSIDE.
This document will solely focus on how to liberate and sabotage game bird farms as a map has been made available with hundreds of entries throughout Europe where you can find your closest farms. That does not mean we do not encourage you to seek other farms, like deer, wild boar and even fox (yes, people are breeding foxes for hunting) and do exactly the same thing. You might need to modify some of the advice, but it will still be good for the most part.
Tags: Animal Liberation, Manuals, PDF, Sabotage, UK, Zine
Posted in Library
Wednesday, March 18th, 2020
PDF: Portada – Memoria y Combate
PDF: Libro – Memoria y Combate
La presente publicación nace con la intención de difundir destellos de la vida de un anarquista de la región chilena que falleció producto de un accidente. La publicación busca ser un aporte para la construcción de la memoria combativa, que, en este caso y como podrán encontrar en sus páginas se ha manifestado con diferentes gestos concretos a lo largo de los años con iniciativas, propaganda, sabotajes, fuego, reflexiones, anécdotas y más, gestos anónimos por el compañero y que hoy son compilados y salen a la luz en un nuevo formato. Para nosotrxs la muerte de un anarquista no puede pasar desapercibida, sea la forma que sea su muerte. Un/a compañerx que asume su vida en permanente lucha contra la opresión, la explotación y el poder en sus múltiples formas y concreta sus ideas en hechos es totalmente dignx de rescatar, difundir y replicar, es por eso que no olvidamos a Javier Recabarren, su muerte es un llamado para continuar firmes en la praxis subversiva anarquista. (more…)
Tags: Chile, International Solidarity, Javier Recabarren, PDF, Santiago, Zine
Posted in Library
Tuesday, March 10th, 2020
If you look closely almost every police intervention requires vehicles. And even the Power Rangers need wheels. The vehicles and not radio or riot gear, not even the policemen themselves, are the key to their capacity to intervene. A mobile unit without mobility is just useless.
It can not be understood why there are still areas that suffer the militarized police ravages that do not use this easy and so effective tactics.
First of all the wheels are not punctured, but cut to be precise. Cutting wheels in any of its variety and situations [Here Manual in Spanish] is by far the easiest, cheapest and most effective method to counter its immediate repressive action.
[Make one stabbing cut with a screwdriver or sturdy boxcutter into the softer sidewall of the tyre, not the tread]
Especially organized in coordinated parties of "Wheel Hunters" (see below).
I.e. a campaign of 20 vehicles per day for a week would collapse car cranes, workshops and some stocks. To increase the khaos, also cut the wheels of these same car cranes.
We agree that burning vehicles is in any case the most effective and definitive but has a number of drawbacks: alert all the rest of cops, reinforcements are called, they usually carry fire extinguishers in their vehicles, they will be likely to initiate an CSI [forensic] investigation and request CCTV records, which could initiate a repressive campaign, if you get caught in the action they will charge you with terrorism and attempted murder, and much more dangerous, you will face a shot instead of a blow. (more…)
Tags: Fuck the Police, Manuals, Sabotage
Posted in Library
Saturday, February 29th, 2020
Decolonization Means No State × 4
These flyers were produced with the intention to disrupt the liberal narratives surrounding the Wet'suwet'en struggle, and the activism we have seen emerge as a result of the most recent waves of state violence. Simultaneously we are inspired by the actions of many of our comrades, especially the Mohawk blockades and those engaged in militant demos and sabotage. We hope these flyers continue to feed the fire of insurrection.
Reconciliation is Dead, and Decolonization Means no State were heavily inspired by Tawinikay's (aka Southern Wind Woman) work – much of the words appearing on them are Tawinikay's directly. Her work provides a critical and revolutionary stance on current struggles to shut down so called Canada – we are very grateful for this work. As anarchists working to refine our perspective and practice, Tawinikay's critical intervention with the struggle and Indigenous solidarity work many of us engage in demands our engagement.

Against the state and capital
For a growing militant movement
Links to Tawinikay's work: 1, 2
Tags: #ShutDownCanada, Anti-pipelines, Canada, Ecological Destruction, Indigenous Struggle, PDF, Sabotage, Wet'suwet'en
Posted in Library
Wednesday, February 26th, 2020
How to Make Paint Bombs
Eggs filled with paint. Make a tiny hole either end of the egg, about the size of a syringe (no needle). Get the egg fluid/yolk out without leaving DNA traces on the egg. You can use the syringe or air pressure. After you have got the disgusting egg mess out by any safe means possible, let it dry and seal the bottom of the egg with strong tape (no DNA traces!). We like to use a parchment parcel tape because the paint bonds with the tape before drying, which helps destroy any forensics on the tape and the parchment doesn't survive the action as well as the plastic-type tape. Fill the egg with paint via the syringe, being careful about all the paint traces, i.e. don't get paint everywhere. Let it dry and cover the top hole with tape. We find it good to place all the eggs in an egg box.
Be careful about the egg box because sometimes they are marked with a QR/barcode that shows where the eggs/egg box is manufactured and also it's point of sale. Be careful about where you got the paint, tape, eggs from etc. Police forensics can trace different types of paint, tape and eggs too. Keep a clean preparation space, clothes and no unexposed skin or hair. It's a good preparation practice for further illegalist work.
With the eggs -paint-bombs- you can hit up targets quickly and almost silently (compared with smashing the windows), and gives you a good practice for
using stones and molotovs in actions. Learn how to throw if you can't do it very well! The paint will splash back if you are too close to the target. Make sure the paint won't come out during flight. The eggs can be transported inside the box and used in night actions, demos etc. Just don't smash them on yourselves or in your bag accidentally and never throw anything from the back of a crowd, only from the front before disappearing into the mob!
It's possible to make a lot of these and mass paint-bomb targets with high coverage in places under quite intense surveillance due to the speed of use and lack of noise. Using the paint-bombs newer comrades and those a 'little out of shape' can gain experience and learn from the techniques, checks and practices used in an active setting.
Serve up the eggs as needed to banks, corporations, government facilities, advertising, technocrats, animal abusers, fascists, etc.
Good luck, and take care of each other!
Tags: Manuals, Paint attack, Paint bombs, PDF, Sabotage, Vandalism
Posted in Library
Wednesday, February 19th, 2020
PDF: Storms & Lightnings
Tags: Analysis, Arson, France, PDF, Sabotage, Zine
Posted in Library
Thursday, February 13th, 2020
FR: Une carte des incendies d'antennes-relais – Solidarité avec Badger
PDF: International solidarity with Badger
Bristol Mast Fire
Fourteen arson attacks against telecommunications and mobile phone masts in the Bristol and Bath area took place over the last decade.
This imaginal map is an attempt to show a rough sketch of how these attacks were spread over a large area.
The Earth is being rapidly destroyed by a matrix of greed, consumerism, technology and industrial exploitation which has poisoned the air, rivers and land, harmed all living beings and made millions of species extinct.
These attacks caused substantial losses for the capitalist companies and shows that the system can be sabotaged through organisation and direct action. One way to hit the system is by economic and strategic sabotage in all fronts.
The cost of the damage can never equate to the profits the system loots from our lives everyday and the damage that it has done to the Earth.
Despite years of police repression against the anarchist movement no one has been charged with the fires but the cops have accused a fugitive anarchist comrade 'Badger' for involvement in one incendiary strike in 2013 that took out police radio, Vodafone services and TV and digital coverage to 80,000 homes and businesses.
The action was claimed by the FAI/ELF – Horizons of Burning Rage.
Police also accuse Badger of trashing the windows of right-wing rag 'Bristol Post' in the riots of 2011. Innocent or guilty is irrelevant to our solidarity.
Stay free Badger – Long live anarchy!
International solidarity to Badger
Freedom for ALL – Destroy Civilisation
Tags: Anti-technology, Flyposter, Huw 'Badger' Norfolk, International Solidarity, New Horizons of Burning Rage FAI / ELF, PDF, Sabotage
Posted in Library
Friday, February 7th, 2020
PDF: 'A sea of possibilities in the concrete desert: Territory, city and insurrection'
Brochure from squatters and resisting spots in Madrid, Athens and Berlin
This publication is a compilation of texts that emerges from the discussions and the work we started in the wake of the event "A sea of possibilities in the concrete desert. Territory, city and insurrection" that happened in Madrid during June 2019 in Local Emboscada and Local Anarquista Motin. Is the product of a joint work of some comrades from Berlin and Madrid, that does not finish with the publication of this pages and pretends to extend the discussion that we have shared.
What does it mean to take territory against the State and Capitalism? How can we take it through our struggles? How does it work domination in the territories that we inhabit? Does it mean our way of living in a territory a conflict with the system?
December 2019,
Madrid and Berlin.
Tags: A sea of possibilities in the concrete desert: Territory, city and insurrection' (Zine), Germany, La Emboscada, Local Anarquista Motin, PDF, Spain, Zine
Posted in Library
Saturday, February 1st, 2020
Recibido por correo electrónico. Para descargar el PDF aquí.
UN MAR DE POSIBILIDADES EN EL DESIERTO DE HORMIGÓN
Esta publicación es una recopilación de textos que surge de los debates y el trabajo que comenzamos a raíz de las jornadas «Un mar de posibilidades en el desierto de hormigón, Territorio, ciudad e insurrección» que sucedieron en Madrid durante junio de 2019 en La Emboscada y en Local Anarquista Motín. Es el fruto de un trabajo conjunto de algunas compañeras de Berlín y Madrid, que no termina con la publicación de estas páginas y que pretende extender el debate que hemos compartido. ¿Qué significa tomar territorio frente al Estado y el Capitalismo? ¿Cómo podemos tomarlo a través de nuestras luchas? ¿Cómo funciona la dominación en los territorios que habitamos? ¿Supone nuestra manera de habitar el territorio un conflicto con el sistema?
Diciembre 2019,
Madrid y Berlín
Índice:
-Territorio, ciudad e insurrección. Proyectualidad y propuestas de lucha.
-Conclusiones de las jornadas (Madrid)
-Conclusiones de las jornadas (Rigaer 94)
-Lo llaman "Zona de peligro" (Rigaer 94)
-La lucha por el territorio en Exarchia
-Rompiendo la espada del capital que amenaza Exarchia
-La ciudad como instrumente de dominación
-La única administración posible. Sobre la cuestión de las ciudades
Tags: Berlin, Eviction, Exarchia, Madrid, PDF, Repression, Rigaer 94, Rigaerstrasse, Sabotage, Social Insurrection, Squatting, Zine
Posted in Library
Tuesday, January 28th, 2020
PDF: Jurnal Anarki – Edisi Menjelang Badai
INTRO.
EDITORIAL.
KIDUNG BAGI UNABOMBER PART I.
KIDUNG BAGI UNABOMBER PART II.
KETIKA MASYARAKAT MEMBESARKAN HITLER.
KRITIK ATAS PRIMATA, EVOLUSI, DAN ANARKISME.
PRIMATA, EVOLUSI, DAN ANARKISME.
TEKNOFASIS KAPITALISME.
GERAKAN SOSIAL, MUSIK, DAN SEORANG HERRY SUTRESNA.
MAYDAY 2019: DUNIA ADALAH MILIK MEREKA YANG MUDA.
ARSITEKTUR DAN APOKALIPS – IVAN THEO.
TETEK BATOK.
BAGAIMANA ANAK PEMBURU DAN PERAMU BELAJAR – PETER GRAY.
PAPUA BARAT, KOLONIALISME, DAN SOLIDARITAS TANPTA BATAS – VERONIKA KOMAN.
KEBANGKITAN GLOBAL FASISME.
DOMESTIKASI DAN ANARKI PRIMAL – KEVIN TUCKER. [">EN]
MERENGKUH KEKOSONGAN KREATIF: SEKELUMIT KISAH RENZO NOVATORE
Tags: 1st May, Analysis, Anti-Fascism, Ecological Destruction, Herry Sutresna, Indigenous Struggle, Indonesia, Jurnal Anarki, Nazi, Papua, PDF, Renzo Novatore, Ted Kaczynski, West Papua, West Papua Independence, Zine
Posted in Library
Monday, January 20th, 2020
Issue 10 of "Fenrir" has been published, an ecological anarchist publication, 80 pages, A4 format. Italian language.
In this number:
Editorial
If not now, when?
The black sun of the future (Autopsy of the revolution, part II)
The rise of the new populist right: an analysis of the current situation
5G, the network of domination
Resuming our black path, by Gustavo Rodriguez
Marginal contributions to an ongoing debate, by Gabriel Pombo da Silva
News from the necro-world
Updates on Prisoners and State Repression
Letters from prison
The cost is 4 euros per copy, or 3 euros for orders of 5 or more copies. The cost of shipping with ordinary "book folding" is € 1.30.
To receive one or more copies write to us: fenrir at riseup.net
Help us distribute "Fenrir", if you have a distro or want some copies, contact us!
–
Italia: È uscito il n. 10 di "Fenrir", pubblicazione anarchica ecologista (gennaio 2020)
È uscito il n.10 di "Fenrir", pubblicazione anarchica ecologista, 80 pagine, formato A4.
In questo numero:
Editoriale
Se non ora, quando?
Il sole nero dell'avvenire (Autopsia della rivoluzione, parte II)
L'ascesa delle nuove destre populiste: un'analisi della situazione in corso
5G, la rete del dominio
Riprendendo il nostro nero cammino, di Gustavo Rodriguez
Contributi marginali a un dibattito in corso, di Gabriel Pombo da Silva
Notizie dal necromondo
Aggiornamenti sui/lle prigionierx e sulla repressione di Stato
Lettere dal carcere
Il costo è di 4 euro a copia, oppure di 3 euro per ordini di 5 o più copie. Il costo della spedizione con "piego di libri" ordinario è di 1,30 euro.
Per ricevere una o più copie scrivici: fenrir at riseup.net
Aiutaci a distribuire "Fenrir", se hai una distro o vuoi un po' di copie, contattaci!
via insuscettibilediravvedimento.
Tags: 5G, Analysis, Anti-technology, Ecological Destruction, Fenrir, Gabriel Pombo da Silva, Gustavo Rodriguez, Italy, Zine
Posted in Library