'Library' Archives
Thursday, January 12th, 2012
The Russian Revolution in the Ukraine (March 1917 – April 1918)
Nestor Makhno
Introduction by Alfredo M. Bonanno
Foreword by Daniel Guerin
Translated by Paul Sharkey
Newly released free PDF E-Book from Elephant Editions of the collected personal memoirs of Nestor Makhno, the legendary insurgent anarchist fighter, genius tactician, and general leader of the insurrectionary Makhnovist army in Ukraine. Features an introduction by Alfredo M. Bonanno and a foreword by Daniel Guerin.
From the introduction of Alfredo M. Bonanno:
"Although the Russian anarchists of the past are still alive in our hearts today, their actual historical and human experiences seem far off in the night of time. We are talking about only a few decades, yet it is as though the dust of centuries has piled up on these events, preventing us from understanding them. Always victorious in battle, Makhno appears as a fearless knight galloping invincible at the head of the Ukrainian insurgents, first against the white Russians of Denikin or Wrangel, then against Trotsky's Red Army. (more…)
Tags: Alfredo M. Bonanno, Daniel Guerin, Elephant Editions, Nestor Makhno, PDF, The Russian Revolution in the Ukraine
Posted in Library
Saturday, December 31st, 2011
New from Act For Freedom Now! Revolutionary Struggle PDF – Trial Solidarity Zine
Download now for free from Actforfreedomnow! A collection of letters, texts and communiques from the armed group ' Revolutionary Struggle' and their accused. Released during their current trial and intended to be one more nail in the coffin of the legitimacy of the State and the capitalist system.
From the introduction:

In the days of April 2010, when the Greek government finally agreed to accept a loan from the International Monetary Fund to begin the take-over of the country into the hands of the international financiers, the security services had prepared a media spectacle to mark the occasion: the capture of 6 anarchist fighters for the purpose of the submission of the social struggle.
Anarchist fighters who had been a thorn in their side for some time, were now hostages. Hostages who had humiliated the demoralised and brutal Greek intelligence services, anti-terrorist divisions and their American occupier counterparts, the CIA, who had sought out the Revolutionary Struggle ('Epanastatikos Agwnas' – EA – in Greek language) for a Rocket Propelled Grenade attack against the US Embassy in Athens. This daring and symbolic action came amongst scores of other targeted attacks which struck for years with symbolically definitive high-impact blows against the institutions of capitalism and government, accompanied by dozens and dozens of pages of critical, thoughtful and articulate anarchist analysis of the institutional structures that parasite on the social wealth produced by labour, with social and economic self-organisation put forward as an anti-capitalist and anti-state egalitarian alternative. Revolutionary Struggle are Nikos Maziotis, Pola Roupa, Kostas Gournas and the fallen Lambros Foundas. Together they formed a group of social-libertarian anarchists based in the busy capital, Athens, who directed their armed activities in the class interests of the exploited workers of Greece and within/alongside the specific mass anarchist/anti-authoritarian movement from 2003-2010.
And now, they continue their fight in the court rooms and prisons of the Greek regime, where they push an even harder fight to the legitimacy of the capitalist enemy. As this collection was being assembled, the show-piece trial against the comrades continues, which is partnered by a campaign of repression against the anarchist/anti-authoritarian movement in general and specifically to several anarchists who deny responsibility. What the Greek security services and their foreign colleagues wish to prevent through intimidation, surveillance and imprisonment is contagion. Contagion of tactics which made a mockery of their system and showed how easily it could be struck by anyone. Contagion of ideas which has now spread far beyond the world-wide anarchist/anti-authoritarian movement into the general masses of people who are angry with everything, wishing to see it all come down and something much more humane begin. …
FREEDOM FOR THE PRISONERS – HONOUR TO LAMBROS FOUNDAS
Trail updates and more from: actforfree.nostate.net
Tags: Athens, Kostas Gournas, Nikos Maziotis, PDF, Pola Roupa, Revolutionary Struggle, Zine
Posted in Library
Saturday, December 31st, 2011
Dark Nights is an anarchist & anti-prison PDF freesheet to download and print out on the fly.
Click here: 4 pages A4 / Double sided A3 / Print to size.
This issue has a special front-page contributed by the comrades in Mexico of Conspiracion Acrata, an insurrectionary anarchist magazine, about refusing the legalistic demands of the State, and the anarchist-individualist thought which informs this. Plus, round-up of news : from UK, about police repression of an anarchist demo during the N30 General Strike; from Greece, news about the continued political-judicial harassment of Christos Stratigopoulos, who was arrested for a bank robbery alongside Alfredo M. Bonanno in Trikala, now accused of more 'crimes' of expropriation; Montreal, Canada, was the place of a great solidarity action for G20 prisoners, with an interesting and critical flyer denouncing the prison system and capitalist society; and not least, again from Greece, a short report of an action with molotovs against riot police in Exarchia outside the Culture Ministry, Athens, shortly after the attempt by imprisoned members of CCF and P.Vlastos to escape from Korydallos prison.
1. About "Anti-Judicial Anarchism", Max Stirner, Luigi Galleani, CCF & More.
2. UK: Mass Arrests in Hackney.
3. Montreal, Canada: Counter-info action in solidarity with the G20 prisoners.
4. Greece: Solidarity with Christos Stratigopoulos.
5. Greece: Riot police attacked with molotovs at the Culture Ministry in Exarcheia, Athens.
Organise & Resist – Zines are for life not just Xmas!!
Anti-Copyright Network 2011
Tags: Athens, Canada, Christos Stratigopoulos, Conspiracion Acrata, Conspiracy of Cells of Fire, Dark Nights, G20, Greece, Hackney, Luigi Galleani, Max Stirner, Molotovs, Montreal, PDF, Repression, UK
Posted in Library
Wednesday, December 28th, 2011
dissentingvoices.org/etnikobandido
Tags: Gasera, Philippines, Zine
Posted in Library
Thursday, December 22nd, 2011
Here is an English translation of an article from the journal Conspiracion Acrata from Mexico referring to the idea of "Antiguiridismo Anarchico". We hope you like it.
"Antigiuridismo Anarchico" which translates to "Anti-Judicial Anarchism" is a concept which has been used throughout anarchist history to define the attitude of a radical and total rejection of the concept and practice of the "justice" of the State, or as otherwise said – the judicial methods of the State including defence through a lawyer. This attitude or concept is or should be something normal within the anarchist movement but there are few companer@s who have put it into practice for diverse reasons or strategies.
Antigiuridismo Anarchico is the rejection of declaring a position to the State in front of the court or contributing to the circus of the State. Often the declarations of those who position themselves in this attitude are only directed as a dialogue or explanation to the compañer@s of their movement. This attitude is the rejection of any legal resources through which one could obtain "freedom". (more…)
Tags: Argentina, Azione Rivoluzionaria, Brigate Rosse, Conspiracion Acrata, Conspiracy of Cells of Fire, Emma Goldman, Gabriella Segata Antonilli, Greece, Italy, Luigi Galleani, Mario Buda, Max Stirner, Mexico, Sacco and Vanzetti, Severino Di Giovanni, USA
Posted in Library
Thursday, December 22nd, 2011
[English translation of the introduction is below, by comrades of war on society]
Si doña, esto es una guerra…
Una guerra contra los dominados imponiendo un sistema en el que todos están incluidos, bajo un mismo orden que da papeles diferentes a diferentes personas diciendo (e imponiendo a la vez) la idea malévola de que siempre será así. Que nada sucede ni aún cuando miles de cosas sucedan.
La mejor arma de los sostenedores de la dominación es la imposición de un sistema que genera el consenso, el falso diálogo que intenta disfrazar un mundo de posibilidades infinitas que el capital y sus gobernantes deciden que no debe aparecer. El reforzamiento de los ideales nacionales de parte de la izquierda, por ejemplo, tiene el objetivo claro de domesticar (aún más) a la población creando la idea de que esto debe permanecer así como está, que éste es el mejor, el único escenario posible y que será así por siempre. Por eso tanta banderita, tanta unión entre empresarios, políticos y sindicalistas, tanta mierda organizada. Por eso Pachano, Tinelli, el peluquín de Tabaré y los calladitos de derecha esperando su nueva oportunidad. (more…)
Tags: Montevideo, Periódico Anarquía, Uruguay, Zine
Posted in Library
Sunday, November 13th, 2011
This is a comprehensive guide written by and for non-techie anarchists. A variety of issues related to computer anonymity and security are explored in detail, with extensive links for further reading and exploration.
Topics include: ISP, IP, MAC Address, Session Data, User Agent, Referer, 802.11 Nickname, Scripts, Encryption, Secure Deletion, Viruses, Malware, Keyloggers, Rootkits, Passwords, Email, Linux, Livesystems, Metadata, and Destruction of Hard Drives.

<3 some anarchists
Tags: Anonymity, Security, Zine
Posted in Library
Tuesday, November 1st, 2011
Το κείμενο που ακολουθεί αποτελεί την ολοκληρωμένη προκήρυξη της αγγλικής οργάνωσης International Informal Anarchist Federation/FAI. Η μετάφραση του κειμένου από την αγγλική έγινε από τη Συνωμοσία Πυρήνων της Φωτιάς/Άτυπη Αναρχική Ομοσπονδία.

[English translation: What follows is the complete text of the English organization International Informal Anarchist Federation / FAI. The translation from English was done by the Conspiracy of Cells of Fire / Informal Anarchist Federation.]
Tags: Conspiracy of Cells of Fire, Informal Anarchist Federation (FAI), Informal Global Federation / Anarchist Network, International Informal Anarchist Federation / FAI, International Revolutionary Front, Rain & Fire
Posted in Library
Tuesday, November 1st, 2011
New booklet just released from Act for Freedom / Elephant Editions, all about the struggle in Indonesia against the mega-project threatening the coastal farming communities of Kulon Progo, featuring action reports, communiques, international solidarity and more.
Download the booklet from 325
The booklet is designed in a format to be printed out and reproduced. Please distribute.
–
Soli-website for Kulon Progo.

FREEDOM FOR THE PRISONERS IN INDONESIA AS ELSEWHERE
Tags: Bandung, Indonesia, Informal Anarchist Federation (FAI), International Conspiracy for Revenge, International Revolutionary Front, International Solidarity, Kulon Progo, PPLP (Paguyuban Petani Lahan Pantai = Shoreline Farmers' Association), PPLP-KP (Coastal Farmers Association of Kulon Progo), RO-FAI (Indonesia Section), Tukijo
Posted in Eco Struggle, Library
Tuesday, September 27th, 2011
The rebellious anarchist magazine is back with another 92 pages of resistance and revolution to keep you ticking. D.I.Y and not for profit, this magazine aims to be a voice from the uncontrollables. 325 has long provided a platform for prisoners and anarchist/autonomous groups/individuals to communicate, and we're proud to present this latest issue, as we received a lot of new inputs and efforts. The global network of solidarity and direct action spreads and multiplies – this magazine is only a glimpse of it.
A large selection of texts received from UK sets off the riot of info contained within this edition, and we give space to cover, amongst other subjects; the repressive anti-anarchist crack-down in Italy this year; lengthy insightful open letters and uncompromising statements from Greek anarchist prisoners of the Conspiracy of Cells of Fire and their accused; several articles form themed sections concerning Germany, Indonesia, and Chile etc. Whilst Philippines, Mexico and Russia also have a presence. A selection of poetic columns from Argentinian anarchist Rodolfo Gonzalez Pacheco, and the usual International Resistance News and Brief Global Reports make up the regular features.
The world-wide anarchic revolutionary insurrectional current could never be summed up in pages alone and grows day-by-day beyond our capability to report it. Consider these texts and images as contributions to an ongoing process of revolutionary solidarity and struggle.
Free PDF download and paper version directly available from 325 for suggested £2.5 / €3 suggested soli-donation per issue (postage extra), or pick it up from any decent anarchist distro which stocks it. Free copies available to prisoners (if they can receive it). Any money generated will be put into the 325 network and given to the funds of anarchist, eco & class-struggle prisoners.

As the crow flies… the jackanory never stops… This issue is dedicated to the memory of Gary DS & Casey. OG DSG RIP (Riot in Peace).
Articles include:
– For Riotous Assemblies not Reasonable Dissent
– Letter from Anarchist/Antifascist Prisoner Thomas Blak
– The Struggle Against the Existent Continues
– To address moral elitism within the anarchist milieu in response to the rioters of August 6th onwards…
– Incitement to Burn
– Beyond the 'Movement' – Anarchy!
– Against the British 'anti-capitalist movement': Brief notes on their ongoing failure
– To act without outside authorisation, clearance or a big pat on the back from the movement
– 'Rain & Fire' by UK sector of FAI
– A few notes on recent repressive attacks against anarchists in Italy
– To believe, to obey and to work
– 'Direct Action' by Rodolfo Gonzalez Pacheco
– About the case of Silvia, Costas & Billy
– About Solidarity
– About the "Conspiracy of Cells of Fire" case
– P.Argyrou – Statement to the Court
– Cells of Fire are Our Souls
– Political Statement of P.Masouras
– 'DO NOT SAY THAT WE ARE FEW' by FAI
– Mass sabotage in Berlin
– Sketches of the last few years anti-militarist praxis in Germany
– 'There is nothing to reform' by Gabriel Pombo da Silva
– Liebig 14 Evicted
– Solidarity with Chilean Struggle
– 'With the Rebels…' by Rodolfo Gonzalez Pacheco
– Tortuga Presente! Active Solidarity with Luciano!
– News from the Social War in Sulawesi and Java – Indonesia

link : http://325.nostate.net/library/9-325-net.pdf
Tags: 325 Magazine, 325#9, Fuck the Law, Insurrection, Library, PDF, Rioters, Sabotage
Posted in Library
Tuesday, August 16th, 2011
Tags: Flyposter, Fuck the Law, Insurrection, Just nick it, Looters, Rioters, Riots, UK
Posted in Library
Monday, July 11th, 2011
325 is pleased to present this newly released Elephant Editions free PDF download of the classic pamphlet Fra Contadini by the Italian anarchist, Errico Malatesta (1853–1932).
This classically successful text is a simple to read explanation of anarchist ideas in a conversational style. It was first printed in 1884, when it appeared in La Questione Sociale, the paper that Malatesta founded in Florence, Italy.
It is accompanied by an introduction by present day Italian anarchist-insurrectionalist comrade, Alfredo M. Bonanno, who reiterates the practical reality of expropriation and insurrection, and affirms the senselessness of attempting to "update" comrade Malatesta's great work, which attempts "… to convince the peasant, the worker, the emarginated 'lumpen' proletariat reader, of the mechanism of exploitation and repression, of the system of ideological and political swindling, with the aim of pushing them to rebel in the struggle against the class enemies, and ultimately, to insurrection."
The title also includes a short biography of Malatesta by David Poole.
Tags: Alfredo M. Bonanno, Elephant Editions, Errico Malatesta, Fra Contadini, PDF
Posted in Library
Friday, June 17th, 2011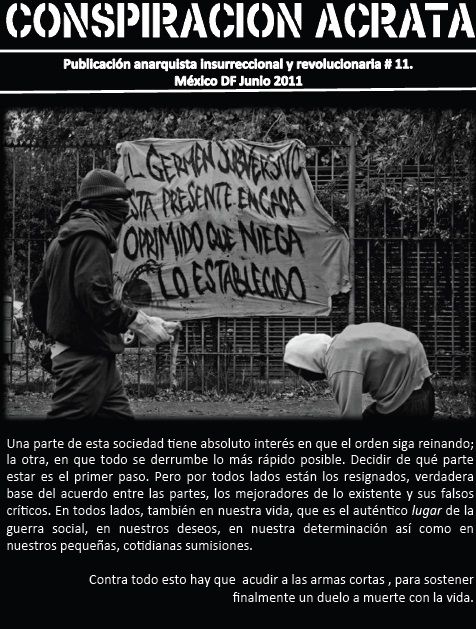 New edition of the Mexican anarchist publication, "Conspiración Acrata", #11.
–
– Editorial.
– Noticias incendiarias y acciones mundiales.
– Marcha, meeting y planton, y de paso un buen raspon que avala el martirologio libertario x. CIA.
– III. Afinidad y organización informal. Alfredo Maria Bonanno.
– Nosotrxs y lxs muertxs que se los llevo el viento.
– De la teoria a la practica x: Giannis Dimitrakis.
– Acciones, sabotajes, comunicados.
– Algunos escritos, poemas del compañero Mauricio Morales.
– Algunas noticias incendiarias de Mexico y el Mundo.
– Comunicado de las barricadas incendiarias en C.U.
– Articulos de opinion Acrata.
– Anarquismo del sigo XXI: La insoslayable necesidad de abandonar todo lo ajeno x: Gustabo Rodriguez.
– Un texto que fue enviado y que el congreso no quiso difundir.
– Mauri: la ofensiva no te olvida: Comunicados de Acciones en Mexico para el Mauri.
– Reseña de la actividad en solidaridad con lxs compas del caso bombas.
– Contra portada: Poema de Gabriel Pombo da Silva.
link: aqui
Tags: Conspiracion Acrata, Mexico, Publications
Posted in Library
Saturday, June 4th, 2011
Fictional Movement or Real Movement? [+ Cover label]
2009-2011/ Elephant Editions
Translated by Jean Weir
325 is pleased to present for the first time in English, these two new free online PDF editions from well-known anarchist-insurrectionalist comrade, Alfredo M. Bonanno, translated and produced by Elephant Editions. These pamphlets consist of two sections from 'Movimento e progetto rivoluzione'; sections which analyse and explore the role of the anarchist revolutionary project within mass social struggle, and also the changing nature of that struggle, with differing political and subversive structures contrasted and examined in regard to their direction and impetus, and not only. We welcome you to print out and distribute these texts to interested readers, which cut to the heart of the topics of, amongst others; movement politics, minority struggle, and widespread social change, with their prescient nature and enduring critical value.
Download here: Why a Vanguard?
Original title: Avanguardia, perche?
Published in: Movimento e progetto rivoluzionaria, Edizioni di "Anarchismo", January 1977
From the introduction:
"The ideas that follow are aimed at going into the problem of the relations between the movement of the exploited and the revolutionary anarchist movement.
The conclusion is very simple and constitutes the starting point of a reflection that we are proposing to all comrades: it is not within the enclosure of the specific anarchist movement that one works for the revolution, but outside in the reality of struggles, which at this moment do not see us present. In this sense the anarchist movement still has a long way to go. In the face of the urgency of the situation it has become imperative for all sincere revolutionary anarchist comrades to reflect on the ways and conditions of organising oneself to contribute to the widening, in the libertarian sense, of the present situation of crises and discomfort.
The time for hesitation and waiting is over. May whoever is available for the revolutionary struggle seek his or her comrades and not indulge in waiting for a sign or clarification on the part of the specific movement."
Sections:
Why a vanguard?
The organisational question
The illusion of quantity
Authoritarian group and libertarian one
The relationship between groups: the vertical structure and the horizontal one
Authoritarian boss and libertarian leader
An attempt to examine the character structure of the libertarian militant
The conflict between total and partial
Revolutionary alienation
Revolutionary tension
The solution of the problem of the vanguard
+
Download here: Fictional Movement or Real Movement? [+ Cover label]
Original title: Movimento fittizio e movimento reale,
Published in the volume Movimento e progetto rivoluzionario, Edizioni di "Anarchismo", June 1977.
From the introduction:
"Following on from the text 'Why a Vanguard?', the present work continues to go into the problem of the relations between the movement of the exploited and the revolutionary anarchist movement.
The anarchist revolutionary project is the bridge that is thrown in the direction of specific reality, uniting the experiences of selforganisation that are often singularly isolated. It is also the overcoming of the distinction between anarchist minority and movement of the exploited; from the moment the project is in course, all barriers start to fall and one finds oneself struggling for a common goal."

Sections:
The movement of the exploited
The anarchist movement
Fictitious movement and real movement
The real anarchist movement
Organisation
The dangers of the primacy of doing
The false dilemma between theory and practice
The first contact with the reality of the struggle
More on the misconception of the quantitative growth of the minority
Contact with reality and the consequences
The fragmentary nature of the reality of the struggles
The revolutionary anarchist project
Tags: Alfredo M. Bonanno, Elephant Editions, Fictional Movement or Real Movement?, Why a Vanguard?
Posted in Library
Thursday, May 12th, 2011
325 is pleased to announce the publication of a new Elephant Editions pamphlet by Alfredo M. Bonanno called "Errico Malatesta and Revolutionary Violence" [+ Cover]. The title offers insight into the well-regarded Italian anarchist Errico Malatesta (1853–1932), and offers a discussion of his ideas.
This PDF is being made available for all comrades and interested people to download at no charge. We actively encourage you to print and distribute these important anarchist theoretical texts which pose a real danger to the established order in their circulation.

"My effort did not, nor does it here, intend to provide arguments supporting revolutionary violence. It just wanted, and still does, to make a contribution to the revolutionary ideas and activity of Errico Malatesta. Many unwarranted things have been said about this anarchist who all too often has been enlisted under the banner of whatever side or even party. Like all true revolutionaries, Malatesta did not bother to sort through his papers, he addressed problems as they occured in reality, always ready to look for evidence in the social conflict rather than in a theoretical syllogism."
From the Introductory notes by Alfredo M. Bonanno, Trieste, Italy 2008
Tags: Alfredo M. Bonanno, Elephant Editions, Errico Malatesta, PDF, Revolutionary Violence
Posted in Library