'Library' Archives
Thursday, December 22nd, 2011
[English translation of the introduction is below, by comrades of war on society]
Si doña, esto es una guerra…
Una guerra contra los dominados imponiendo un sistema en el que todos están incluidos, bajo un mismo orden que da papeles diferentes a diferentes personas diciendo (e imponiendo a la vez) la idea malévola de que siempre será así. Que nada sucede ni aún cuando miles de cosas sucedan.
La mejor arma de los sostenedores de la dominación es la imposición de un sistema que genera el consenso, el falso diálogo que intenta disfrazar un mundo de posibilidades infinitas que el capital y sus gobernantes deciden que no debe aparecer. El reforzamiento de los ideales nacionales de parte de la izquierda, por ejemplo, tiene el objetivo claro de domesticar (aún más) a la población creando la idea de que esto debe permanecer así como está, que éste es el mejor, el único escenario posible y que será así por siempre. Por eso tanta banderita, tanta unión entre empresarios, políticos y sindicalistas, tanta mierda organizada. Por eso Pachano, Tinelli, el peluquín de Tabaré y los calladitos de derecha esperando su nueva oportunidad. (more…)
Tags: Montevideo, Periódico Anarquía, Uruguay, Zine
Posted in Library
Sunday, November 13th, 2011
This is a comprehensive guide written by and for non-techie anarchists. A variety of issues related to computer anonymity and security are explored in detail, with extensive links for further reading and exploration.
Topics include: ISP, IP, MAC Address, Session Data, User Agent, Referer, 802.11 Nickname, Scripts, Encryption, Secure Deletion, Viruses, Malware, Keyloggers, Rootkits, Passwords, Email, Linux, Livesystems, Metadata, and Destruction of Hard Drives.

<3 some anarchists
Tags: Anonymity, Security, Zine
Posted in Library
Tuesday, November 1st, 2011
Το κείμενο που ακολουθεί αποτελεί την ολοκληρωμένη προκήρυξη της αγγλικής οργάνωσης International Informal Anarchist Federation/FAI. Η μετάφραση του κειμένου από την αγγλική έγινε από τη Συνωμοσία Πυρήνων της Φωτιάς/Άτυπη Αναρχική Ομοσπονδία.

[English translation: What follows is the complete text of the English organization International Informal Anarchist Federation / FAI. The translation from English was done by the Conspiracy of Cells of Fire / Informal Anarchist Federation.]
Tags: Conspiracy of Cells of Fire, Informal Anarchist Federation (FAI), Informal Global Federation / Anarchist Network, International Informal Anarchist Federation / FAI, International Revolutionary Front, Rain & Fire
Posted in Library
Tuesday, November 1st, 2011
New booklet just released from Act for Freedom / Elephant Editions, all about the struggle in Indonesia against the mega-project threatening the coastal farming communities of Kulon Progo, featuring action reports, communiques, international solidarity and more.
Download the booklet from 325
The booklet is designed in a format to be printed out and reproduced. Please distribute.
–
Soli-website for Kulon Progo.

FREEDOM FOR THE PRISONERS IN INDONESIA AS ELSEWHERE
Tags: Bandung, Indonesia, Informal Anarchist Federation (FAI), International Conspiracy for Revenge, International Revolutionary Front, International Solidarity, Kulon Progo, PPLP (Paguyuban Petani Lahan Pantai = Shoreline Farmers' Association), PPLP-KP (Coastal Farmers Association of Kulon Progo), RO-FAI (Indonesia Section), Tukijo
Posted in Eco Struggle, Library
Tuesday, September 27th, 2011
The rebellious anarchist magazine is back with another 92 pages of resistance and revolution to keep you ticking. D.I.Y and not for profit, this magazine aims to be a voice from the uncontrollables. 325 has long provided a platform for prisoners and anarchist/autonomous groups/individuals to communicate, and we're proud to present this latest issue, as we received a lot of new inputs and efforts. The global network of solidarity and direct action spreads and multiplies – this magazine is only a glimpse of it.
A large selection of texts received from UK sets off the riot of info contained within this edition, and we give space to cover, amongst other subjects; the repressive anti-anarchist crack-down in Italy this year; lengthy insightful open letters and uncompromising statements from Greek anarchist prisoners of the Conspiracy of Cells of Fire and their accused; several articles form themed sections concerning Germany, Indonesia, and Chile etc. Whilst Philippines, Mexico and Russia also have a presence. A selection of poetic columns from Argentinian anarchist Rodolfo Gonzalez Pacheco, and the usual International Resistance News and Brief Global Reports make up the regular features.
The world-wide anarchic revolutionary insurrectional current could never be summed up in pages alone and grows day-by-day beyond our capability to report it. Consider these texts and images as contributions to an ongoing process of revolutionary solidarity and struggle.
Free PDF download and paper version directly available from 325 for suggested £2.5 / €3 suggested soli-donation per issue (postage extra), or pick it up from any decent anarchist distro which stocks it. Free copies available to prisoners (if they can receive it). Any money generated will be put into the 325 network and given to the funds of anarchist, eco & class-struggle prisoners.

As the crow flies… the jackanory never stops… This issue is dedicated to the memory of Gary DS & Casey. OG DSG RIP (Riot in Peace).
Articles include:
– For Riotous Assemblies not Reasonable Dissent
– Letter from Anarchist/Antifascist Prisoner Thomas Blak
– The Struggle Against the Existent Continues
– To address moral elitism within the anarchist milieu in response to the rioters of August 6th onwards…
– Incitement to Burn
– Beyond the 'Movement' – Anarchy!
– Against the British 'anti-capitalist movement': Brief notes on their ongoing failure
– To act without outside authorisation, clearance or a big pat on the back from the movement
– 'Rain & Fire' by UK sector of FAI
– A few notes on recent repressive attacks against anarchists in Italy
– To believe, to obey and to work
– 'Direct Action' by Rodolfo Gonzalez Pacheco
– About the case of Silvia, Costas & Billy
– About Solidarity
– About the "Conspiracy of Cells of Fire" case
– P.Argyrou – Statement to the Court
– Cells of Fire are Our Souls
– Political Statement of P.Masouras
– 'DO NOT SAY THAT WE ARE FEW' by FAI
– Mass sabotage in Berlin
– Sketches of the last few years anti-militarist praxis in Germany
– 'There is nothing to reform' by Gabriel Pombo da Silva
– Liebig 14 Evicted
– Solidarity with Chilean Struggle
– 'With the Rebels…' by Rodolfo Gonzalez Pacheco
– Tortuga Presente! Active Solidarity with Luciano!
– News from the Social War in Sulawesi and Java – Indonesia

link : http://325.nostate.net/library/9-325-net.pdf
Tags: 325 Magazine, 325#9, Fuck the Law, Insurrection, Library, PDF, Rioters, Sabotage
Posted in Library
Tuesday, August 16th, 2011
Tags: Flyposter, Fuck the Law, Insurrection, Just nick it, Looters, Rioters, Riots, UK
Posted in Library
Monday, July 11th, 2011
325 is pleased to present this newly released Elephant Editions free PDF download of the classic pamphlet Fra Contadini by the Italian anarchist, Errico Malatesta (1853–1932).
This classically successful text is a simple to read explanation of anarchist ideas in a conversational style. It was first printed in 1884, when it appeared in La Questione Sociale, the paper that Malatesta founded in Florence, Italy.
It is accompanied by an introduction by present day Italian anarchist-insurrectionalist comrade, Alfredo M. Bonanno, who reiterates the practical reality of expropriation and insurrection, and affirms the senselessness of attempting to "update" comrade Malatesta's great work, which attempts "… to convince the peasant, the worker, the emarginated 'lumpen' proletariat reader, of the mechanism of exploitation and repression, of the system of ideological and political swindling, with the aim of pushing them to rebel in the struggle against the class enemies, and ultimately, to insurrection."
The title also includes a short biography of Malatesta by David Poole.
Tags: Alfredo M. Bonanno, Elephant Editions, Errico Malatesta, Fra Contadini, PDF
Posted in Library
Friday, June 17th, 2011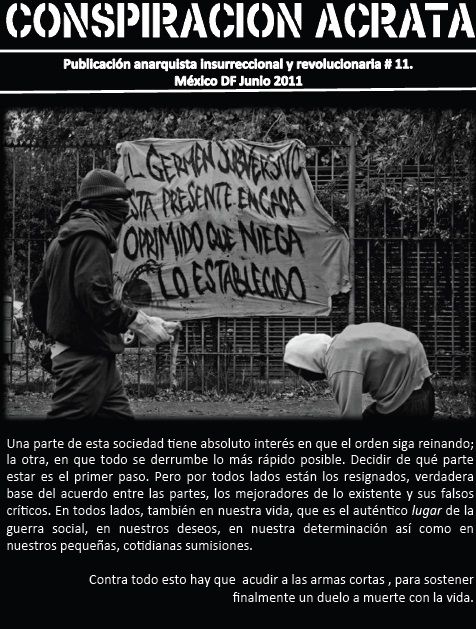 New edition of the Mexican anarchist publication, "Conspiración Acrata", #11.
–
– Editorial.
– Noticias incendiarias y acciones mundiales.
– Marcha, meeting y planton, y de paso un buen raspon que avala el martirologio libertario x. CIA.
– III. Afinidad y organización informal. Alfredo Maria Bonanno.
– Nosotrxs y lxs muertxs que se los llevo el viento.
– De la teoria a la practica x: Giannis Dimitrakis.
– Acciones, sabotajes, comunicados.
– Algunos escritos, poemas del compañero Mauricio Morales.
– Algunas noticias incendiarias de Mexico y el Mundo.
– Comunicado de las barricadas incendiarias en C.U.
– Articulos de opinion Acrata.
– Anarquismo del sigo XXI: La insoslayable necesidad de abandonar todo lo ajeno x: Gustabo Rodriguez.
– Un texto que fue enviado y que el congreso no quiso difundir.
– Mauri: la ofensiva no te olvida: Comunicados de Acciones en Mexico para el Mauri.
– Reseña de la actividad en solidaridad con lxs compas del caso bombas.
– Contra portada: Poema de Gabriel Pombo da Silva.
link: aqui
Tags: Conspiracion Acrata, Mexico, Publications
Posted in Library
Saturday, June 4th, 2011
Fictional Movement or Real Movement? [+ Cover label]
2009-2011/ Elephant Editions
Translated by Jean Weir
325 is pleased to present for the first time in English, these two new free online PDF editions from well-known anarchist-insurrectionalist comrade, Alfredo M. Bonanno, translated and produced by Elephant Editions. These pamphlets consist of two sections from 'Movimento e progetto rivoluzione'; sections which analyse and explore the role of the anarchist revolutionary project within mass social struggle, and also the changing nature of that struggle, with differing political and subversive structures contrasted and examined in regard to their direction and impetus, and not only. We welcome you to print out and distribute these texts to interested readers, which cut to the heart of the topics of, amongst others; movement politics, minority struggle, and widespread social change, with their prescient nature and enduring critical value.
Download here: Why a Vanguard?
Original title: Avanguardia, perche?
Published in: Movimento e progetto rivoluzionaria, Edizioni di "Anarchismo", January 1977
From the introduction:
"The ideas that follow are aimed at going into the problem of the relations between the movement of the exploited and the revolutionary anarchist movement.
The conclusion is very simple and constitutes the starting point of a reflection that we are proposing to all comrades: it is not within the enclosure of the specific anarchist movement that one works for the revolution, but outside in the reality of struggles, which at this moment do not see us present. In this sense the anarchist movement still has a long way to go. In the face of the urgency of the situation it has become imperative for all sincere revolutionary anarchist comrades to reflect on the ways and conditions of organising oneself to contribute to the widening, in the libertarian sense, of the present situation of crises and discomfort.
The time for hesitation and waiting is over. May whoever is available for the revolutionary struggle seek his or her comrades and not indulge in waiting for a sign or clarification on the part of the specific movement."
Sections:
Why a vanguard?
The organisational question
The illusion of quantity
Authoritarian group and libertarian one
The relationship between groups: the vertical structure and the horizontal one
Authoritarian boss and libertarian leader
An attempt to examine the character structure of the libertarian militant
The conflict between total and partial
Revolutionary alienation
Revolutionary tension
The solution of the problem of the vanguard
+
Download here: Fictional Movement or Real Movement? [+ Cover label]
Original title: Movimento fittizio e movimento reale,
Published in the volume Movimento e progetto rivoluzionario, Edizioni di "Anarchismo", June 1977.
From the introduction:
"Following on from the text 'Why a Vanguard?', the present work continues to go into the problem of the relations between the movement of the exploited and the revolutionary anarchist movement.
The anarchist revolutionary project is the bridge that is thrown in the direction of specific reality, uniting the experiences of selforganisation that are often singularly isolated. It is also the overcoming of the distinction between anarchist minority and movement of the exploited; from the moment the project is in course, all barriers start to fall and one finds oneself struggling for a common goal."

Sections:
The movement of the exploited
The anarchist movement
Fictitious movement and real movement
The real anarchist movement
Organisation
The dangers of the primacy of doing
The false dilemma between theory and practice
The first contact with the reality of the struggle
More on the misconception of the quantitative growth of the minority
Contact with reality and the consequences
The fragmentary nature of the reality of the struggles
The revolutionary anarchist project
Tags: Alfredo M. Bonanno, Elephant Editions, Fictional Movement or Real Movement?, Why a Vanguard?
Posted in Library
Thursday, May 12th, 2011
325 is pleased to announce the publication of a new Elephant Editions pamphlet by Alfredo M. Bonanno called "Errico Malatesta and Revolutionary Violence" [+ Cover]. The title offers insight into the well-regarded Italian anarchist Errico Malatesta (1853–1932), and offers a discussion of his ideas.
This PDF is being made available for all comrades and interested people to download at no charge. We actively encourage you to print and distribute these important anarchist theoretical texts which pose a real danger to the established order in their circulation.

"My effort did not, nor does it here, intend to provide arguments supporting revolutionary violence. It just wanted, and still does, to make a contribution to the revolutionary ideas and activity of Errico Malatesta. Many unwarranted things have been said about this anarchist who all too often has been enlisted under the banner of whatever side or even party. Like all true revolutionaries, Malatesta did not bother to sort through his papers, he addressed problems as they occured in reality, always ready to look for evidence in the social conflict rather than in a theoretical syllogism."
From the Introductory notes by Alfredo M. Bonanno, Trieste, Italy 2008
Tags: Alfredo M. Bonanno, Elephant Editions, Errico Malatesta, PDF, Revolutionary Violence
Posted in Library
Thursday, May 12th, 2011
Dark Nights is an anarchist & anti-prison PDF freesheet of resistance reports and repression news to download and print out.
Two part special issue for May 2011. Four pages of UK news with an eight page European Social Struggle supplement / A3 size.
#11 : Anti-System Conflict in the United Kingdom
This issue carries news about the increase in subversive action across the UK and the recent repression wave against squats and autonomous social centres in the wake of the March 26th TUC Demo / Black rzocoruse.com Bloc. Also covers Telepathic Heights eviction, Stokes Croft riots etc.
#12 : European Social Struggle – May Supplement
The longer supplement has a combative Mayday report from Barcelona, a small contribution on the topic of Solidarity by the Conspiracy of Cells of Fire in Greece, and the call for an escalated struggle against Genetic Manipulation by Swiss eco-anarchist prisoners, who are on hunger strike May 1 to 28, in Switzerland (Billy, Marco, Silvia and Costas).

Organise and Resist.
Anti-Copyright Network 2011
Tags: Barcelona, Black Bloc, Bristol, Conspiracy of Cells of Fire : Imprisoned Members Cell, Costantino Ragusa, Dark Nights, Hunger Strike, London, Luca Bernasconi, Marco Camenisch, Mayday, PDF, Silvia Guerin, Stokes Croft, Switzerland, Telepathic Heights
Posted in Library
Wednesday, April 13th, 2011
Download: PDF zine version by Dark Matter Publications.
+ Spanish translation: Cover & Contents.
–
Urgent message for all those who have or are in danger of being labelled mentally ill
Selling cures for the problems they created
It is well known that depression has been on a steady rise in the past few decades. This increase apparently isn't about to stop since the World Health Organization (WHO) recently predicted that, by 2020, depression would be the second most prevalent health problem in the world, just below heart disease, and offered as an explanation that this was due to a previous underestimation of the number of people suffering from this "illness". (more…)
Tags: Anti-Psychiatry, Reclaim Your Mind : Manifesto, War on Kids
Posted in Cognitive Liberty, Library
Monday, March 28th, 2011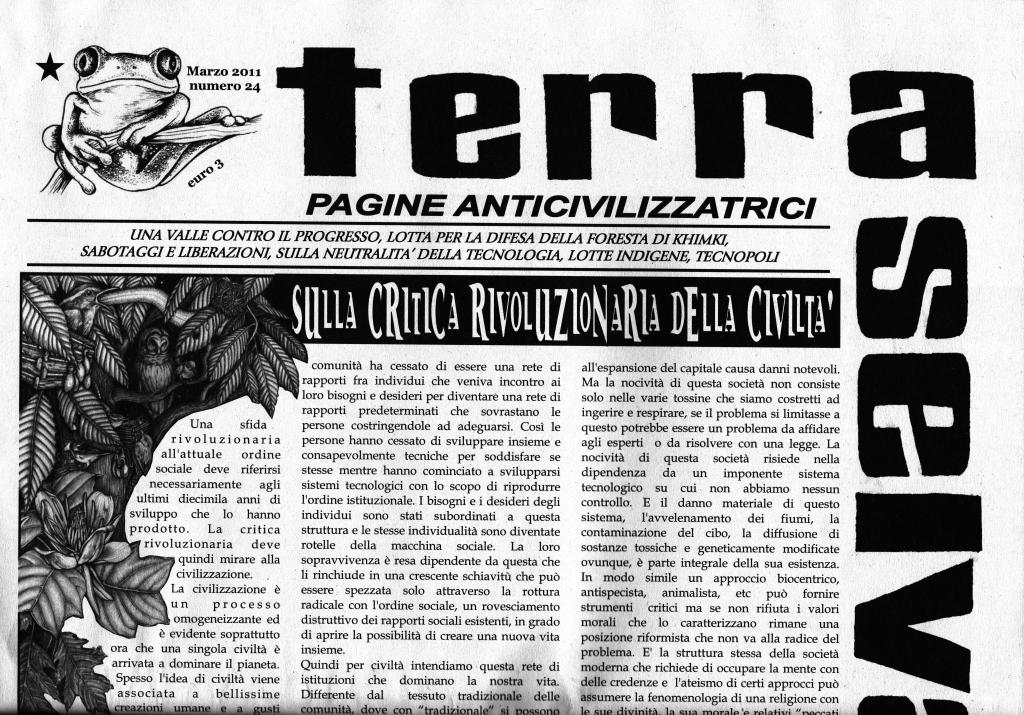 Nuova uscita di TERRA SELVAGGIA- Pagine Anticivilizzatrici, n°24 Marzo 2011
Per richiedere copie di "Terra Selvaggia – Pagine Anticivilizzatrici" e contatti:
mail: ilsilvestre(at)riseup.net
posta: IL SILVESTRE – C/O F. BONAMICI C.P 88 56127 Pisa Centro (Pi), Italia
Tags: Italy, n°24 Marzo 2011, Terra Selvaggia, TERRA SELVAGGIA- Pagine Anticivilizzatrici
Posted in Library
Wednesday, March 23rd, 2011
Actforfreedomnow – Bourbouras present a 68 page publication about the most recent situations and events connected with the Revolutionary Organisation Conspiracy of Cells of Fire and their 17 January International Solidarity Call for an International Revolutionary Front / Informal Anarchist Federation (Global).
Free PDF – Paper copies available in single copies or bundles (10x = £20 + postage) from 325.nostate.net or from the radical distros which carry 325 magazine. Benefit for CCF prisoners and accused of the same case – Nonprofit.
"In the chaos of our own existence we are a part of the imponderable element which organizes subversion, plans mutinies, that leave even ourselves dazed. The translation of texts, letters, communiqués, etc. so that comrades in other countries around the world can read about the desires and ideas and projectuality of the comrades in Greece, is one more weapon at our disposal. What began as a simple desire and a challenge, has brought us into a new field of experiences, acquaintances and responsibilities. Now that we're here, they will not get rid of us easily.
We have become another aspect of the asymmetric threat. The war to the end, has already begun. …"
From the introduction by Actforfreedomnow – Bourbouras.
A huge storm of revolt raged through the streets of Greece in December 2008. After the 15 year-old Alexis Grigoropoulos was murdered in coldblood by a cop, riots spread throughout the whole country for several weeks. Hundreds of corporate and government targets were attacked, plundered and set on fire. Although it was anarchists and anti-authoritarians who took the lead in this storm during the first week after the murder, it spread itself fast and many people got involved in this revolt against miserable living conditions, against the authorities and against the hopelessness offered by this world to the exploited and oppressed. But the revolt didn't cease at the end of 2008, neither did it start on the day of the murder. The attacks against the structures of State and Capital went on and spread to several smaller towns in Greece.
About 180 fire attacks and, since a couple of months, artisan ['homemade'] bombing attacks were carried out under the name of 'Conspiracy of Cells of Fire'. The attacks targeted banks, car dealers, shopping centres, governmental institutions, police stations, offices of political parties, houses of politicians, judges, criminologists, journalists, private security firms and companies building prisons,… and always accompanied by elegantly critical and nihilistic claims of anarchist responsibility.
The claims did not only criticize Capital, State and Authority (in all of their aspects), but also the resignation of the exploited, their herd mentality, their collaboration with the system. The Conspiracy of Cells of Fire (CCF) refuse to regard oppression and exploitation as simply being imposed by batons and blackmail, but understand it as a social relation in which all have their responsibility –and make or don't make the choice to fight against it.
In September 2009 extensive anti-terror raids attempted to strike the CCF, these raids became one more political tool to attack the wider anarchist & anti-authoritarian movement, a situation which intensified when two members of the CCF were captured during an operation in November 2010, Athens. Against the ongoing legalistic kidnapping of our comrades and for the escalation of struggle for total liberation, the Conspiracy of Cells of Fire : Illegal Sector called for an informal global project based on anarchist subversion, direct action and international solidarity. These papers document some of the many communiques, letters and legal & court updates concerning the Conspiracy of Cells of Fire, the accused comrades of the same case, plus solidarity actions resulting from the call for a formation of an Informal Anarchist Federation / International Revolutionary Front.
Whilst this publication can of course only offer a partial view upon the situation and topics, it is produced in the spirit of rebellion which fuels the total war against domination. It is an unfinished document that seeks collaboration through acts of refusal. The international call which has been circulated for the subversive formation of an International Revolutionary Front / Informal Anarchist Federation (Global), which is based on the principles of international solidarity, permanent subversion and constant conflict should be discussed, debated and acted upon without delay.
Dedicated to:
CONSPIRACY OF CELLS OF FIRE: IMPRISONED MEMBERS CELL + THE ACCUSED OF THE SAME CASE
14 AUGUST CHILEAN PRISONERS
ALL FIGHTERS & HOSTAGES OF THE TOTAL WAR AGAINST ALL EXPLOITATION & HIERARCHY.
FOR A GLOBAL INSURRECTIONAL NETWORK & INFORMAL COORDINATION
——
Anonymous Editions / Anti-Copyright Network
March 2011 / NET-DIY
——
PLEASE SPREAD – REPLICATE – RE-POST
——
Tags: Athens, Conspiracy of Cells of Fire, Conspiracy of Cells of Fire : Imprisoned Members Cell, Greece, Informal Anarchist Federation (FAI), Informal Global Federation / Anarchist Network, International Revolutionary Front, International Solidarity, Our Lives of Burning Vision
Posted in Library, Prison Struggle
Monday, February 28th, 2011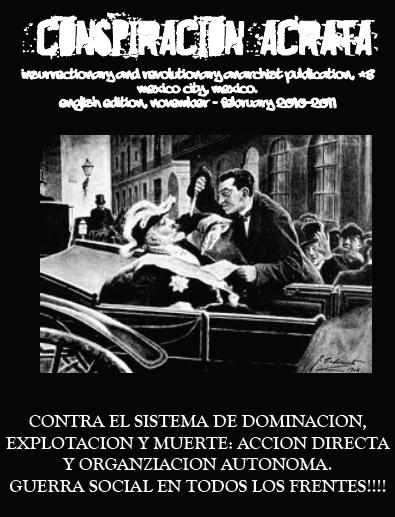 Insurrectionary and revolutionary anarchist publication
Mexico city – Mexico
English edition – February 2010-2011
"Salud! This here is one more number of the insurrectionary and revolutionary anarchist publication that we call CONSPIRACION ACRATA. This project was born during the month of March of 2009 as a medium for the diffusion of the insurrectional anarchist struggle. During this time we have completed 8 editions, with this being the most recent. This edition, completely in English (except the addition of the editorial) was made with the aim of spreading the social war that is being fought in Mexico to English speaking countries, this special edition is a compilation of texts, news, critiques, communiqués from anarchist and eco-anarchist cells in Mexico as well as various texts that were edited for past editions. This publication was also formed from the importance of the diffusion of revolutionary anarchist ideas that are often strongly criticized by individuals who feel they have the role of the judge of the revolution, and instead of putting forth objective critiques, only assert prejudiced and condemnatory critiques which aim to isolate the anarchist compañer@s of action from the entire movement."
Tags: ALF, Autonomous Cells of the Immediate Revolution – Praxedis G. Guerrerro, Conspiracion Acrata, ELF, Mexico, PDF
Posted in Library