'Library' Archives
Sunday, October 7th, 2018
PDF: Dark Nights #47 – EN
PDF: Dark Nights #47 – ES
'Against Surveillance State UK – Against Facial Recognition CCTV'
'Contra la Vigilancia del Estado de Reino Unido – Contra el CCTV de Reconocimiento Facial'
International anarchist newsletter in English and Spanish versions. Latest issue of Dark Nights returns after more than two years. Download, copy and distribute.
Boletín anarquista internacional en versiones en inglés y español. El último número de Dark Nights regresa después de más de dos años. Descargar, copiar y distribuir.
Anti-Copyright Network

+ Facial Recognition CCTV article as A4 PDF to be enlarged to A3 and flyposted.
Tags: Analysis, Anti-technology, CCTV, Dark Nights, Insurrection, Intelligent Surveillance, Novichok Case, PDF, Repression, Sabotage, Social War, Zine
Posted in Library
Thursday, September 27th, 2018
Here is the second issue of the anarchist newsletter written by and with contributions from those on the run or illegal.
Find the PDF and the site here:
https://fantasmamagazine.noblogs.org/
Tags: Fantasma, PDF, Zine
Posted in Library
Thursday, September 20th, 2018
Fire Ant is a new publication focused on spreading the words of anarchist prisoners and generating material solidarity for our imprisoned friends. Begun as a collaboration between anarchist prisoners and anarchists in Maine, Fire Ant seeks to raise material aid for anarchist prisoners while fostering communication between anarchists on both sides of the walls.
Issue #1 contains writings by Michael Kimble, Jennifer Gann, Eric King, and Sean Swain, as well as a text in solidarity with Marius Mason.
If you would like to support Fire Ant and wider efforts in solidarity with anarchist prisoners, please print and distribute this publication or donate to Bloomington ABC's Anarchist Prisoner War Fund.
The Fire Ant collective can be contacted at
Fire Ant
PO Box 164
Harmony, ME 04942
USA
via Bloomington ABC
Tags: ABC Bloomington, Maine, PDF, USA, Zine
Posted in Library
Tuesday, August 28th, 2018
Information relating to recently dispossessed members on Mallingbar Country.
PDF: KUNIN LAW: CROW AND COUNTRY
A Letter To All First Nations
Ronald Roe
Walman Yawuru descendant,
Goolarabooloo Elder, Broome, Western Australia.
+ How Native Title backfires – big time …
Tags: Australia, Indigenous Struggle, PDF
Posted in Library
Thursday, August 23rd, 2018
Tags: Chile, La Bomba Zine, PDF, Santiago, Zine
Posted in Library
Saturday, July 28th, 2018
Two new publications in English. "The Russian government, like any authoritarian regime, can not exist without the image of the enemy, external or internal. But people since Soviet times have got used to an eternal "threat of the West" and its spies. Therefore, the society is increasingly being pushed onto the needle of brutal massacre of " public enemy forces". For this purpose, the topic of extremism is actively promoted and new "enemies" are being stamped out."
1) Radical Anarchists in Belarus, Ukraine, Russia 2008-2017 + Video
Tags: Belarus, Repression, Russia, Ukraine, Video
Posted in Library
Saturday, July 21st, 2018
PDF: 26 La Bomba 26 Marzo 2018
Tags: Chile, La Bomba Zine, PDF, Santiago, Zine
Posted in Library
Tuesday, July 17th, 2018
PDF: Against Eco-Extremism : Mirror image of Civilisation & Religion
Small booklet compiling the recent texts critical to the so-called 'Eco-Extremist' trend written by nihilist-anarchists and anarchist-insurrectionalists from around the world.
Produced in collaboration with Verde Press.
Tags: Analysis, Eco-Extremism, Individualists Tending Toward the Wild (ITS), PDF, Zine
Posted in Library
Tuesday, July 10th, 2018
As we'll be publishing a collection of the critiques of "eco-extremism" from the nihilist-anarchist and anarchist-insurrectionalist tendency that were previously published on our site and elsewhere, we republish this PDF which looks slightly deeper into the Little Black Cart published journal, Atassa, and the Church of ITS Mexico, as largely our tendency has not seen fit to waste too many words on anything other than dismissals of this crap. Although we really disagree with the author's overarching positions on many topics "Letter to the Anarchist Galaxy", "Nihilist Recuperation" etc, that they use to give frame to their argument and find the tedious referencing and 'social-insurrectionary' style to be repetitive, fanciful, lengthy and overcooked (which is a typical feature of these kind of texts from that sector of the solar-system), nevertheless we think it's an interesting addition to the salt of critique advancing the dialogue against green authoritarianism and wee dafties. Where arrogance and stupidity meet, nothing good comes!!
[USA] Of Indiscriminate Attacks and Wild Reactions
An Anti-Civ Anarchist Engages with ITS and Atassa, their Defenders and Their false Critics
The following is the introduction to a short book critiquing so-called "eco-extremism" in Mexico, and those in support of it in the United States. To read two essays on the subject already published on IGD, go here.
Read and Download HERE
Author's Note to IGD readers: This essay was written a year ago, in haste. It was prompted by the escalation in 2017 of conflict between insurrectionary anarchists and proponents of a new school of purportedly anti-civilization ideology known as "Eco-Extremism", both in Mexico and the US. This conflict was signaled in part by the appearance of a US journal called Atassa: readings in Eco-Extremism, which presented ideas and writings associated with the armed struggle group known as Individualidades tendiendo a lo Salvaje, abbreviated ITS but most often translated from the Spanish as Individualists Tending toward the Wild (a group with a history stretching back to around 2011).
Some of you will remember the publication around the same time of two brief pieces of news/criticism on It's Going Down by Scott Campbell ("There's Nothing Anarchist About Eco-Fascism," and "Not Our Comrades: ITS Attacks on Anarchists") which also dealt with this conflict. These pieces appeared in the wake of ITS claims of responsibility for various apparently misogynistic or random murders, physical attacks on anarchists, and a ramping up of reactionary rhetoric on the part of the mysterious and media-savvy group. Fast forward to recent weeks, and a slew of the online Egoist milieu has issued its own analyses and condemnations of ITS, Atassa, and Eco-Extremist ideas in what appears to be an ongoing fallout. (more…)
Tags: Eco-Extremism, Individualists Tending Toward the Wild (ITS), PDF, USA, Zine
Posted in Library
Tuesday, July 10th, 2018
A call from a variety of groups to make some noise for the upcoming prison strike, kicking off on August 21st, 2018.
This is a challenge to every anarchist, abolitionist, rebel and determined fighter against prison society and white supremacy in Amerikkka: Between Monday, July 16 and Saturday, July 21, we're calling on you to help unleash a concerted and spectacular array of solidarity actions before the upcoming prison strikes!
Prepare now, bring mayhem everywhere!
As you likely know, prisoners will strike from August 21st to September 9th. They anticipate guards and administrators to respond with violent reprisals, media distortions, and extended lockdowns. Defending the strikes from the outside is an essential component of its success. Don't wait; retaliation has already started and as August 21st approaches we expect to see transfers, preemptive lockdowns, and more. (more…)
Tags: Prison Labour Strike, USA
Posted in Library
Monday, July 9th, 2018
"INSURGENCY: An Anarchist journal of Total Destruction issue #0" will be a zine project focused on anti-speciesist eco-defense, nihilist anarchy and insurrection.

Searching for essay submissions related to:
-Anti-civ anarchist critiques of psychiatry, mental "illness" and medication.
-Non-primitivist critiques of civilization.
-Thoughts on anarchy beyond leftism, towards savage attack.
-Anti-civ sxe critiques of intoxication culture.
-Nihilist-anarchist vegan critiques of speciesism and anthropocentrism.
-Post-left anarchist critiques of the recent wave of Tiqqunist/The Invisible Committee popularity within radical circles.
-Post-left anarchist critiques of leftism (anarcho-communism in particular).
-Anti-civ queer nihilist critiques of gender and of queer as part of "lgbtq etc".)
-Nhilist-anarchist attacks/communiques against infrastructure in "america". (if any. ha.)
-Armed self-defense.
-Rewilding.
Submit essays to warzone_distro (@) riseup.net
Tags: USA, Warzone Distro, Zine
Posted in Library
Sunday, July 8th, 2018
A zine creating and distributing project focused on anarchy, insurrection and anti-civilization.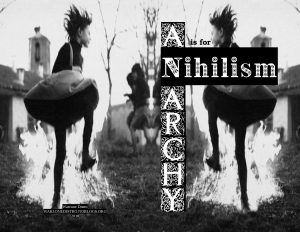 A is for Nihilism – This zine does not represent any "official" definition, nor a new program or political ideology. Instead it merely presents some common anarchist-nihilist ideas which encourage an anti-political critique of all social control and order, in favor of individual empowerment, anarchy and insurrection.
https://warzonedistro.noblogs.org/
Tags: PDF, Warzone Distro, Zine
Posted in Library
Saturday, July 7th, 2018
Tags: Chile, Conspiracy of Cells of Fire, La Bomba Zine, Nemesis Project, PDF, Santiago, Sebastián Oversluij Seguel, Zine
Posted in Library
Wednesday, July 4th, 2018
Issue 9 of FENRIR, an anarchist eco publication in support of prisoners and direct action, with updates and analyses on the anarchist and animal, human and earth liberation struggle all over the world, is available.
80 pages A4
In this issue:
– Editorial
– If not now, when?
– Big data and techno-capitalist society
– The insurgents' autism, a piece of writing by Alfredo Cospito
– Autopsy of the revolution
– Ideology of science
– Notes on de-realization
– Conversations between anarchists
– Interview with Gabriel Pombo da Silva
– A suggestion
– Nisan Farber and the anarchists in Bialystok
– News from the necro-world
– Updates on prisoners and state repression
– Letters from the prison
– Suggested reading
The price is 3 euros per copy or 2 euros for orders of 5 and more copies.
Postal fees are 1.50 euros.
To receive one or more copies write to: fenrir@riseup.net
Help us distribute Fenrir; if you have a distribution or want some copies, get in touch!
Tags: Alfredo Cospito, Anti-technology, Fenrir, Gabriel Pombo da Silva, Italy, Zine
Posted in Library
Monday, July 2nd, 2018
Behind every project there is one or more individuals. Fairly large projects don't grow by themselves. They need love and passion. When there is no more love, it's time to move on and build something else.
This project, AnarchistLibraries.net, forks off from The Anarchist Library project, and serves as an international platform for anarchist sites focusing on publishing and archiving texts.
I've been involved with The Anarchist Library since the very beginning, formatting texts, building the libraries' software and assisting in the creation of new ones in languages other than English.
When the people based in the United States involved in the library project decided to publish so-called eco-extremist material, despite the objections which were raised, existing problems and divergences came to light. What to publish? Where is the line drawn? Who decides and on what ground? With whom does one want to work? The U.S. group decided that they are the library and they have the final word. (more…)
Tags: AnarchistLibraries, Counter-info, Eco-Extremism
Posted in Library