'No Borders' Archives
Saturday, December 12th, 2015
24/11/2015

MY FIRST EXPERIENCES IN ISTANBUL
THE LIFE OF A SYRIAN REFUGEE IN TURKEY HAS NO VALUE
It happens that the conditions inside the refugee camps in Syria are very very bad. Even the simplest needs of life cannot be satisfied since there is no clean water or good food or cloth to protect us from the winter. There is not enough heat inside the nylon tents where 10 or more people live. The situation is worsening every day.
That's the reason why they decided to seek shelter elsewhere and leave the refugee camps in Syria. So they decided to enter into Turkish territory as refugees, believing that the living conditions in Turkey where better. But unfortunately it was not for the best but for the worst. Because in Turkey they don't have the most basic human rights, just because they are refugees and not tourists. Turkish factory owners started to exploit them, taking advantage of their situation of extreme need for a piece of bread. This is how the Syrian worker in Turkey can work up to 16 hours a day and most of the days of the week in exchange for a piece of bread and the house rent.
Their wage is less than that of the Turkish worker. They have no health insurance to be covered from accidents. To make things worst the unions don't organize them.
The factory owners take advantage of this and use the government and the police. The refugees are arbitrary detained.
Here in Turkey, in Istanbul, we saw with our own eyes what happened with 2 young Syrian refugees who were detained under the bogus charge of committing theft. They spent 40 days in prison suffering beatings, tortures, humiliation and starvation. They lived the brutality of the Turkish police.
This is how Turkey receives the Syrian refugees.
Abu Al Braa, co-author of the book "Syria Under Fire"
Tags: Abu Al Braa, Letter, Syria, Turkey
Posted in No Borders
Tuesday, June 30th, 2015
Also: "This is how we do it": Neighbourhood Solidarity after East Street raid.

In the wake of the militant resistance to the immigration raid on East Street London on the 21st, this message above was painted …
As one of the East Street Two remains caged at Gatwick Detention Centre we sprayed our message of vengeance at the offices of the United Kingdom Border Agency.
To explain the organised misery of their oppression the agents of this racist state need scapegoats to blame. We dismiss their petty attempts to divide us and will continue to fight together as we did on Sunday until all borders are destroyed, their fences and prisons torn down.
With paint, fists and crowbars we will destroy the rotten infrastructure and poisonous ideology of this racist system. Let this message be a warning – every deportation must be met with furious resistance.
Fuck UKBA- Vegeance on all authority – until every deportation is stopped.
Tags: East Street Market, Fuck the Police, Graffiti, Racism, UK, UKBA
Posted in No Borders
Tuesday, June 23rd, 2015
Home Office immigration enforcement have been targeting the East Street market in Walworth, London SE17, all week, with no less than five raids over previous days. Today they came again at 5PM and snatched one man from a fish shop, presumably accused of working without legal documents.
But this time, things were not going to go so easy for the thugs in blue. After call-outs went out through the local grapevine and also on social media, people from the area including the next door Aylesbury Estate rushed down to the scene. The Home Office snatch van was blockaded and penned in on a side street off the market. The bullies retreated inside the van with their prisoner while it was surrounded by people's bodies and by makeshift barricades, the tires were let down, and it was pelted with rotten fruit and eggs from the market.
(more…)
Tags: East Street Market, Fuck the Police, Immigration Raids, London, Racism, Riots, UK, UKBA
Posted in No Borders
Saturday, June 6th, 2015
NEWS CENTER – Girê Spi Civil Society Forum stated that around 600 Kurdish civilians who fled Girê Spî due to an ISIS massacre threat and arrived at the border to northern Kurdistan have suffered a tear-gas attack by Turkish soldiers. According to a report by ANHA (Hawar News Agency), Girê Spî Civil Society Forum said in a statement on the subject that Rojava Kurds remained stuck at the border to Bakurê (North) Kurdistan amid attacks by ISIS gangs and Turkish soldiers.
The Civil Society Forum remarked that Turkish soldiers attacked the Kurdish civilians and did not allow them to move further in an attempt to keep them away from the border. The statement underlined that hundreds of people, including women and children, who were given 5-days of time by ISIS to leave their villages, remain stuck on the border with North Kurdistan where they were hindered by Turkish soldiers. (more…)
Tags: Girê Spî, Insurrection, Islamic State in Iraq and Syria (ISIS), Kurdistan, Lions of Rojava, Rojava, Syria, Turkey, War
Posted in No Borders
Monday, April 27th, 2015
Antifrontex days 19-22 May, 2015
On May, 21st, 2015 the crème de la crème of European racism will gather in Warsaw, Poland, to celebrate the 10th anniversary of the creation of one of the most influential meta-organisations that guards assets of the Fortress Europe. The organization, not widely known, until recently standing in the shadows, is a hybrid of border police and intelligence service, as well as aggressive promoter of anti-migrant policy. Frontex (from French Frontieres exterieurs), being discussed here, is the executive body of EU (anti)migration policy – enjoys autonomy in decision-making (for EU foreign policy), and has a yearly growing budget, which is not accounted. Budget, used to finance futuristic projects, straight from distopia, like an automatic system of land drones, known as TALOS project, carried out in cooperation that included Warsaw University of Technology, Israeli Aerospace Industries and a lot of other military corporations.
The trust also allows them to conduct their own foreign policy on migration – dealing with the neighboring dictatorships (Belarus, Libya, Tunisia, Algeria), sponsoring and organizing repression against refugees in a secure buffer zone, which blurs responsibility. As a result, the border of Europe moves farther away from the 'old continent', helping to hide the effects of this policy in the eyes of Europeans. Sponsored camps in the countries of the global south and ruthless anti-human migration policy of the EU countries result in real victims – tens of thousands of people drown, starve, are left at sea or desert, or are directly shot – every year more than at the Berlin wall in the entire time of its existence. (more…)
Tags: Demo, Frontex, Poland, Warsaw
Posted in No Borders
Saturday, April 18th, 2015
From Movement for Justice via RabbleLDN:
Anna Rjabova and Lillija Jezdovska are brave fighters for their own freedom and for the rights and freedom of their fellow detainees in the notorious Yarl's Wood detention centre, near Bedford. On Thursday 9th April they were part of an integrated group of African, Caribbean and East European women who gathered to physically block the deportation of Lucy N, a victim of torture from Kenya. The women gathered together, sitting around Lucy, linking arms and singing.
That afternoon 30+ 'guards' employed by Serco (the private company that manages Yarl's Wood) forced their way into Lucy's room, wearing full riot gear and armed with batons. You can hear the moment the guards entered the room and dragged the women away here, there were 3 guards for every woman. Anna, Lillija and four other women were handcuffed and taken to Kingfisher wing, the isolation block within Yarl's Wood.
Anna and Lillija had been brutally beaten on their legs with a baton by one of the guards, Jo Singh, against whom Lillija had previously made official complaints. Anna had to be taken to Bedford hospital for treatment on Saturday. They have made further complaints and have spoken to the Prison Inspectors currently visiting Yarl's Wood. (more…)
Tags: Jo Singh, Racism, Serco, UK, UKBA, Yarl's Wood Detention Centre
Posted in No Borders
Saturday, April 4th, 2015
The recent wave of hunger strikes and other protests in UK migration prisons has subsided, as prisoners have been silenced, moved between prisons, and humiliated and beaten. This report from the Anti Raids Network is just one of many cases of how people are treated in detention centres and during deportation attempts.
Tahar Khalifa beaten by guards in an attempted deportation on Tuesday 31st March.
On Tuesday, 31st March, Tahar Khalifa, detained at Brook House detention centre [one of the two migration prisons inside the perimeter of Gatwick Airport], was forcibly removed from the centre in an attempted deportation to Tunisia, on flight TU791 at 1745hrs. As he was going up the stairs to the plane he was physically assaulted and beaten by the guards.
In a statement Tahar says that there were multiple officers trying to get him up the stairs; one was choking him, another was twisting his upper body. Tahar was handcuffed at the front and one officer was holding him by the wrist and pulling very hard. (more…)
Tags: Brook House (Immigration Detention Centre), Migrant Struggle, Racism, Repression, Tahar Khalifa, UK
Posted in No Borders
Wednesday, March 18th, 2015
From RabbleLDN:
As of yesterday (Sunday 15 March) we had heard of hunger strikes and other protests taking place in 8 detention centres across the UK, as prisoners started refusing food in Dungavel (Scotland, near Glasgow) and Dover. There is now rebellion in the majority of the UK's migration prisons.
The other six known to be protesting are Yarl's Wood (Bedfordshire), Harmondsworth and Colnbrook (Heathrow airport), Tinsley House and Brook House (near Gatwick Airport). (See previous report here.) (more…)
Tags: Colnbrook, G4S, Harmondsworth, Hunger Strike, Migrant Struggle, Mitie, Serco, UK
Posted in No Borders
Tuesday, March 10th, 2015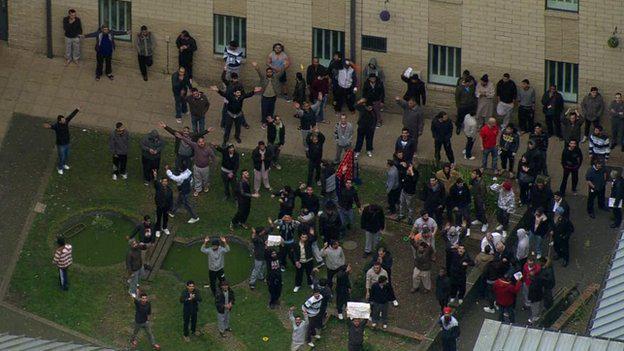 Update: Protests spreading across immigration detention centres in UK.
Resistance continued yesterday at Harmondsworth and Colnbrook. Over 70 people detained had gathered in the courtyard to continue the protest.
Outside at 9am a group of people made a solidarity demonstration in support of the protests. They could hear people shouting 'Freedom' and 'No Food'. The police were called to the protest and one person was pushed aggressively. Guards and centre managers are asking detainees to go to their rooms and come to talk to the managers one-by-one or in pairs. Detainees have refused and ask the management/staff to come and listen to them in the yard. (more…)
Tags: Colnbrook, Demo, Harmondsworth, Hunger Strike, Migrant Struggle, Racism, UK, UKBA
Posted in No Borders
Saturday, January 17th, 2015
On the 25th of January the fascist group Sauvons Calais are planning a march against migration at Place d'Armes at 2 am.
Now is the time for movement – we call for migration and any action attacking the fascism we see rise around us. In Calais we see more fascist gatherings, more threats, whilst the occupation of life by the state is ongoing. More and more the cops impose their control on the streets, jungles, houses, places were we live and sleep, our movements, the harbour and the highways, the parkings and the gas stations. Still the deaths caused by the border regime continue. The law of Europe. The fascist voices getting more seats in the shiny parliamentary rooms.
We call for anti-fascist mobilisation. The wind showed us the way in December, blowing down the new security fence at the port, installed by the UK government in a €15 million deal with the French authorities to seal the border. All things can be torn down. We dream of a time when not only so called organised fascists will not gather in the streets, but also cops and politicians responsible for the border regime don't have the opportunity to rule over our lives and movements. (more…)
Tags: Calais, Demo, France, Migrant Struggle, Racism
Posted in No Borders
Wednesday, November 26th, 2014
325 receives and transmits:
In the night between the 20th and 21st of November 2014, we smashed the windows and covered the entrance of the International Organization for Migration (IOM) headquarters in Geneva with paint as an act of solidarity with the migrants they survey and try to control.
Posing as a humanitarian organization, the IOM actually supports their fundingmember states in maintaining their borders and economic interests at the cost ofhuman lives and freedom. In addition to states, their corporate donors: Chevron,DOW, and UBS all have their starring roles in ecological and economic catastrophesthat displace people from their homes.
We attack the IOM for closely working with Frontex to build up "Fortress Europe",their involvement in (Australia's offshore) detention prisons, providing states with data on migration routes and migrants' identities, their so-called "voluntary return programs" that bribe migrants to return to their points of origin, and for all other material and technical support they provide in the international regime of migration control.
This was only a small act of solidarity, but the nights are cold and dark and we rather smash any part of the state's constructed borders and the glass buildings of their guardians than to sleep through the winter.
We remember the 19 July 2013 riot at the Nauru Detention Center and it reminds us that the only response to that kind of imprisonment is destruction.
No person is il/legal! Close the camps!
p.s. Greetings to our unknown friends that seem to have been out in Geneva at around the same time painting the French Consulate blood-red in memory of Rémi F!
Tags: Frontex, Geneva, International Organization for Migration (IOM), No Borders, Switzerland
Posted in No Borders
Tuesday, October 28th, 2014
325 receives and transmits this report:
The early hours of October 24th, we hit "Bristol" bar in Davaki Street, Ampelokipous with an incendiary device. This specific shop belongs to a well known member of Golden Dawn who was also a candidate in the local elections, Christos Zervas, and it is one of the Golden Dawn's deputies and other fascists' hangout.
This action is devoted to the memory of Pavlos Fyssas, of Shehzad Luqman and the other innumerable immigrants who were victims of state violence, expressed in the sea and land borders.
We carry on the antifascist struggle in the streets and in the squares and we wait nothing from the state "antifascism" and its fellow travelers, they are our enemies instead.
We don't forget the struggle's imprisoned and prosecuted ones.
Preventative arrests, persecutions and torture will not go unanswered.
(Anonymous claim of responsibility)
Translation by VbD
Tags: Anti-Fascism, Arson, Athens, Christos Zervas, Golden Dawn, Greece, Migrants, No Borders, Pavlos Fyssas, Shehzad Luqman
Posted in Anti-Fascist, No Borders
Saturday, October 18th, 2014
Received anonymously from Sweden, the links and videos below concern some immigration detention centres there:
Close the Camps: Mapping of migrant camps is a site which aims to provide a dynamic and interactive mapping of migrant detention in Europe and beyond. Towards this end the site aims to:
• Record the sites, forms and conditions of migrant detention and their serious human consequences
• Enable access to information concerning migrant detention sites and contact with detained persons
• Mobilise all those who oppose migrant detention and removal measures to protect migrants human rights
Marsta:


http://bambuser.com/v/2940811
Uppsala Migrationsverket:
http://sp.yimg.com/ib/th?id=HN.607989197016793415&pid=15.1&P=0
Flen:

yotube link: https://www.youtube.com/watch?v=lpMHItiGNZA

Kallered:

vimeo link: http://vimeo.com/45368121

http://en.closethecamps.org/
Tags: Counter-info, Migrant Struggle, Migrants, Racism
Posted in No Borders
Saturday, October 11th, 2014
325 receives and transmits:
Early Tuesday morning (7 Oct. 2014), a German federal police car was set on fire at the Badischer Bahnhof (train station) in Basel. The car was completely destroyed. This action was in solidarity with the struggling refugees in Berlin and everywhere!
There, as here in Switzerland, people are degraded to problems for which a solution should be found. The solutions of politicians and authorities, as well as the cops as their henchmen, always mean confinement to detention centers, repression and often deportation to peoples' countries of origin, or third countries.
The struggle of migrants, which they have determined for themselves against the systematic oppression they face, encourages us and at the same time, shows us the need for us to contribute to the sabotage of this repression machinery.
This action is also our response to the upcoming European police operation 'Mos Maiorum' (13th-26th Oct. 2014), which will attempt to have 18,000 police, in cooperation with Frontex, control and arrest as many people without residence permits as possible.
Active solidarity with all struggling migrants in Berlin and everywhere!
translated from: http://switzerland.indymedia.org/de/2014/10/93441.shtml
Tags: Arson, Basel, Berlin, Car Burning, Frontex, Migrants, Mos Maiorum, Racism, Solidarity Action, Switzerland
Posted in No Borders
Saturday, September 27th, 2014
In Shingal, Kobane and all Rojava, ISIS is Dehak and the people are Kawa
by Devrimci Anarşist Faaliyet – DAF – Revolutionary Anarchist Action
In Kurdistan, people are fighting against ISIS, "the procreated violence" given birth to by capitalism and the States that start wars for their own benefits. ISIS, the subcontractor of the States that pursue income strategies on the region, is attacking people while yelling "Islamic State!" and "holy war, jihad!". People are suffering from hunger and thirst, getting ill, getting injured; migrating and dying. They are still fighting in that struggle for existence. People are fighting not for the schemes and strategies around meeting tables, not for income, but for their freedom.
As freedom is to exist in danger of being non-existent. As freedom is to live. Like the fight of Kawa, defending the life by resisting against Dehaks.
And now the USA, the EU, Turkey, all the states that have expectations of income from the region, are establishing coalitions against ISIS, the "procreated violence" which in reality isn't a disturbance to them at all. (more…)
Tags: Devrimci Anarşist Faaliyet - DAF - Revolutionary Anarchist Action, Insurrection, Islamic State in Iraq and Syria (ISIS), Syria, Turkey
Posted in No Borders