'Prison Struggle' Archives
Wednesday, November 11th, 2020
On the 12th of November anarchist revolutionary from Gomel, Dzmitry Rezanovich will become 31. And he is meeting his birthday in prison.
Dima is an active participant of the anarchist movement in Belarus. In 2014 he joined the revolution on barricades of Maidan in Ukraine. Soon after this he crossed the Ukrainian-Russian border by train using his brothers passport, so he was detained on the railway station in Kursk (Russian Federation) and was passed into the hands of FSB. In Russia Dima spent 4 months in the deportation center in Kursk. There he participated in the 4-days long hunger strike against conditions of imprisonment. The struggle end up successfully so locked up people got the right to take shower every day and have home food from their friends and families. Dima refused to serve in the military of Belarus: "It is not interesting for me to serve in the military of Belarus. This army can be forced to serve against people, as I have noticed a lot of times. It's better to accept prison for 2 years than go to army". At the moment Dima is a hostage of the KGB together with 3 other anarchists. They were detained near the Belarus-Ukrainian border on the night of October 29. They were charged under part 3 of article 289 of the Criminal Code of Belarus (act of terrorism committed by an organized group) and article 295 of the Criminal Code of Belarus (illegal arms trafficing). Dima is refusing to testify.
We are calling for solidarity actions with rebel Dima Rezanovich! Let's make actions during all this week.
You can send your communiqué, photos and videos on our email: munroeeffect@riseup.net, or in our Telegram-bot: @munroe_effect_bot
Tags: Belarus, Dzmitry Rezanovich, Gomel, International Solidarity
Posted in Prison Struggle
Monday, November 9th, 2020
Tags: Anti-Prison, Coronavirus, Flyposter, International Solidarity, Italy, Repression
Posted in Prison Struggle
Thursday, November 5th, 2020
We express our solidarity with the prisoners of the Chilean state, who have already been in preventive isolation for more than 8 months, due to the sanitary measures for the Covid 19 virus. We understand that the authorities are once again using isolation, as a method of repression and torture against those who are held in the dungeons of the capitalism. Using the prohibition of family visits as a punishment for those who have already been sentenced by the laws of the Chilean state-capitalist-prison.
From the other side of the world, we send a warm greeting to those, who resist the scourges of repression and the effects of the Covid 19 pandemic-control, both inside and outside the prison walls.
With fire in our hearts and hands… Here nothing is over, everything continues….
"Until the last bastion of the prison society is destroyed."
"As long as misery exists, there will be rebellion."

From the territory dominated by the German capitalist state.
November 2020
–
Alemania: Solidaridad sin fronteras con lxs presxs del estado chileno
Expresamos nuestra solidaridad con lxs prisionerxs del estado chileno quienes ya cumplen más de 8 meses de aislamiento preventivo a causa de las medidas sanitarias por el virus Covid 19. Entendemos que el Poder utiliza nuevamente el aislamiento como método represivo y de tortura contra quienes se encuentran recluidos en las mazmorras del capital. Usando la prohibición de recibir visitas de familiares como castigo a quienes ya han ido sentenciados por las leyes del estado-Capital-Prisión chileno.
Desde el otro lado del mundo enviamos un afectuoso saludo a quienes resisten dentro y fuera de los muros de las prisiones los azotes de la represión y los efectos de la pandemia-control Covid 19.
Con fuego en el corazón y en las manos… Aquí nada ha acabado, todo continua….
"Hasta destruir el Último Bastión de la sociedad Carcelaria".
"Mientras exista miseria, habrá rebelión".

Desde el territorio dominado por el estado-capital Alemán
Noviembre 2020
–
Wir solidarisieren uns mit den Gefangenen des chilenischen Staates, die nun schon seit mehr als 8 Monaten der präventiven Isolation aufgrund der Gesundheitsmaßnahmen wegen des COVID 19 Virus ausgesetzt sind.
Die Macht benutzt erneut die Isolation als eine repressive Methode und als Folter gegen diejenigen, die in den Kerkern des Kapitals eingesperrt sind.
Das Verbot von Familienbesuchen wird als Strafe eingesetzt für diejenigen, die bereits durch die Gesetze des chilenischen Staates- Kapitals- Knasts verurteilt worden sind.
Wir schicken herzliche Grüße von der anderen Seite der Welt an diejenigen, die sich innerhalb und außerhalb der Knastmauern den Peitschen der Repression und den Auswirkungen der Pandemie-Kontrollen von COVID 19 widersetzen.
Mit Feuer im Herzen und in den Händen…Der Kampf ist noch lange nicht vorbei, es geht weiter….
"Bis die letzte Bastion der Knastgesellschaft zerstört ist."
"Solange es Elend gibt, wird es Aufstand geben."
Aus der Region, die durch den kapitalistischen Staat Deutschland dominiert wird
November 2020
–
Wyrażamy solidarność z więzniami stanu Chile, którzy już ponad 8 miesięcy przebywają w prewencyjnej izolacji, w związku z sanitarnymi środkami zapobiegawczymi przed wirusem Covid19.
Widzimy, ze władza po raz kolejny używa izolacji jako metody represji i tortury przeciwko przebywającym w lochach kapitalizmu. Używają zakazu wizyt rodzinnych jako karę przeciw tym, którzy już zostali skazani prawami stanu-kapitalistycznego-więzienia Chile.
Z drugiego końca świata, przesyłamy pozdrwienia do tych, którzy opierają się batom represji oraz kontroli narzuconej pod pretekstem pandemii, zarówno w środku, jak i poza murami więzienia.
Ogień w naszych sercach i rękach. Tutaj nic nie jest skończone, wszystko kontynuuje…
"Aż ostatni bastion więziennego społeczeństwa zostanie zniszczony."
"Póki istnieje niedola, będzie rebelia."
Z terytorium zdominowanego przez niemiecki kapitalistyczny stan.
Listopad 2020
Tags: Chile, Flyposter, Germany, International Solidarity, Repression
Posted in Prison Struggle
Thursday, November 5th, 2020
IT | Sull' Operazione Bialystock – Una lettera di Nico dal carcere
FR | Un texte de Nico, depuis la prison de Terni, sur l'opération Bialystok
EL | Κείμενο του Nico, συλληφθέντα της επιχείρησης Bialystok
(28th September 2020)
ON "OPERATION BIALYSTOK"
These short notes from a brief reading of the papers at my disposal concerning so-called Operation Bialystok were written to enlighten, albeit superficially given my subjective point of view, some of the salient contents of this new anti-anarchist investigation and the consequent repressive developments. The cyclical movements of the social conflict have always been followed by repressive waves, to the point that we often end up stating there is "nothing new under the sun". However, analysing the changes in paradigm and the instruments being used along with those occurring in society as a whole means we can put them in context, identify their causes and specific goals and develop appropriate strategies of resistance and counter-attack. In fact repression changes and understanding it in its transformations should be of interest to those who are determined "always to do better" in the anarchist struggle against all power.
In the specific case that concerns me the most interesting part is the report that the prosecutor presented to the investigating judge with the request for custodial measures. The "wide overview" that the investigation aspires to is evident right from the first pages, an investigation whose declared goal is that of understanding the recent development of the anarchist movement in the Italian territory and, in the case in point, what some are referring to as the "New Anarchy". (more…)
Tags: Alfredo Cospito, Analysis, Informal Anarchist Federation (FAI), International Revolutionary Front, Italy, Letter, Nico Aurigemma, Operation Bialystok, Operation Scripta Manent, Repression
Posted in Prison Struggle
Wednesday, November 4th, 2020
via Actforfree:
To all the solidarity comrades.
With these lines we want to update very briefly the situation of our comrade Gabriel Pombo da Silva.
Since he is in the prison of León, for the first time in his life as a prisoner, in general one can say that he is not suffering from open provocations and that he is being left "in peace". However, a few weeks ago they began not to deliver the books sent by mail with the old excuse that they have no legal deposit (some have legal deposit and others do not) and it seems that correspondence has become slower, which, until now, despite the intervention of communications, has worked quite well. (more…)
Tags: Gabriel Pombo da Silva, León, Spain
Posted in Prison Struggle
Friday, October 30th, 2020
Como ya es conocido, lxs compañerxs se encuentran en prisión desde julio acusadxs de distintos ataques explosivos ocurridos en julio del 2019 y febrero del 2020. El proceso judicial en su contra continua abierta al igual que el plazo investigativo, sin mayores novedades.
En la situación particular de cada unx, podemos informar que:
Francisco aún permanece encarcelado en la Sección de Máxima Seguridad de la Cárcel de Alta Seguridad, y durante el último tiempo ha vivido dos allanamientos realizados por personal policial de inteligencia en colaboración con los carceleros. Esta incautación se tradujo en la requisa de los apuntes de la defensa del compañero, bosquejos de textos además del hostigamiento permanente y continuo por parte de la fiscalía que ha solicitado estos allanamientos.
Mónica, por su parte, se encuentra en el Modulo de Connotación Publica en la cárcel de San Miguel, enfrentándose a una fuerte y completa censura de la comunicación durante semanas. Sin poder entrar ni sacar ninguna carta bajo ningún formato, finalmente y tras varias insistencias la administración carcelaria constituyo un protocolo para que la compañera pueda sacar cartas, pero al mismo tiempo prohibió que se le envíen cartas por correo directamente a la cárcel. En vista a esta situación se ha levantado provisoriamente la siguiente dirección para que compañerxs de otras latitudes envíen su correspondencia y podamos entrarla: Sta Isabel 0151 local 6. Providencia. Santiago
A pesar de las aperturas y desconfinamiento, en las cárceles siguen sin visitas y solo mediante llamadas y videollamada monitoreadas por gendarmería.

¡Solidaridad con Mónica y Francisco!
Tags: Chile, Francisco Solar, International Solidarity, Monica Caballero, Repression, Santiago
Posted in Prison Struggle
Friday, October 30th, 2020
COMUNICATO DI DAVIDE DELOGU
È un peccato non riuscire a leggere i vostri comunicati. Purtroppo, non potendo scrivere un contributo per la lotta, a causa del muro della censura che blocca, faccio uscire in questi pochi minuti le mie gioiose parole di complicità e tenacia tra noi prigionieri in lotta. Ritengo, infatti, importante la coesione come fattore di crescita della componente rivoluzionaria contro l'attacco del sistema penitenziario nella sua logica di seppellire, controllare e vessare. Una logica che porta avanti con metodi vessatori totalitari e attraverso una politica infame di aggressione con diverse forze autoritarie che agiscono come corpo unico per colpire più forte e per cercare di distruggerci. Contro l'annullamento dell'umano e dei miei principi con la tipologia dell'isolamento nell'isolamento con il 14bis in cui mi trovo, la mia risposta è «guerra».
Io considero che se toccano a uno di noi toccano tutti e ritengo che il mutuo appoggio e la solidarietà combattiva, come sta avvenendo in questa battaglia, possa rafforzare anche noi come corpo che si unisce quando bisogna mettere a compimento l'attacco e contro-attacco al nemico che vorrebbe annientarci. Da parte mia, nonostante tutto, è la conflittualità quotidiana che faccio esplodere contro le continue vessazioni e tutto ciò che esiste. Quindi nessuna pace. Oltre questo, continuo con il rifiuto di recarmi nel merdoso passeggio, lotta che dura già da mesi contro l'isolamento. Inizio lo sciopero del vitto dal 26 ottobre, sciopero che lego allo sciopero del vitto dei compagni dell'AS2 di Terni che hanno dato vita a questo percorso solidale di cui ne vado fiero, insieme a tutti gli altri compagni che partecipano nelle altre galere. Il mio sciopero dell'aria è illimitato mentre quello del vitto proseguirà oltre il 1 novembre, che in 14bis è come se fosse un mezzo sciopero della fame, per esprimere il mio appoggio solidale allo sciopero della fame di Natascia contro la censura. Unisco i miei scontri contro l'isolamento in questo contesto di scioperi per esprimere quindi anche il mio appoggio solidale a Natascia. Il mio sciopero del vitto proseguirà oltre il 1 novembre fino a quando Natascia non terminerà il suo sciopero della fame contro la censura.
Un abbraccio carico di forza di combattere a tutti i compagni e le compagne che dentro stanno andando contro la brutalizzazione del sistema sbarrocratico fino ai suoi accanimenti prepotenti e con l'auspicio che anche fuori si pratichi la rabbia che esplode nella solidarietà diretta più libera di agire.
Presoneri anarchicu, Davide Delogu
Tags: Davide Delogu, Italy, Letter
Posted in Prison Struggle
Friday, October 30th, 2020
In solidarity with anarchist prisoners
Detention conditions in Italian prisons continue to worsen; in the face of the COVID emergency, the demands of the prisoners have remained mostly unheeded, triggering riots in tens of prisons, followed by strong State repression, with punitive transfers and criminal proceedings. In those riots, many prisoners died. The responsibility for those deaths belongs to the State. The changes made by the prison systems since last spring have in many cases meant a reduction in contacts with the outside world, reductions in activities, isolation, making prison conditions increasingly unlivable. To date, there are no signs of improvement, although there would have been plenty of time to act on the situation. The new provisions do not bode well, with even more restrictive measures for the high security sections and an extension of the use of the 41bis regime1 of slow torture that aims to bend the basic structures of individual identities.
In the face of this, those who dare to be against prisons, against the state that manages them and the society that needs them, those who carry out practices of solidarity inside and outside the walls, are increasingly locked up on this side of these walls. The latest anti anarchist investigations are clearly a way to oppose solidarity brought to anarchist prisoners. (more…)
Tags: Coronavirus, Francesca Cerrone, Italy, Letter, Operation Bialystok
Posted in Prison Struggle
Thursday, October 29th, 2020
Rotating Hungerstrike in Spanish prisons
From last 1st of September on at least 14 prisoners, mostly anarchists, take actually part of a new rotating hunger strike against the precarious health conditions in the Spanish prisons. They reinvicate also a 14 point program against isolation custody (FIES/DERT), tortures and physical and psychical violence from the prison guards, dispersion of prisoners far from their home, etc. Every comrade is doing a 10-days-hungerstrike, one following other, every month 3 prisoners.
Violence in Spanish prisons is very common, every year 200 prisoners die inside Spanish prisons violently or from drugs, no medical attention or diseases. Actually in corona times, the conditions in jail are mostly insoportables (bad food, no activities, no visits…). Last month of August our comrade Carmen Badía Lachos was violated from a prison guard inside the 'hospital' part of the Zuera-prision (Zaragoza). (more…)
Tags: Carmen Badía Lachos, Claudio Lavazza, Gabriel Pombo da Silva, Hunger Strike, International Solidarity, Repression, Spain
Posted in Prison Struggle
Wednesday, October 14th, 2020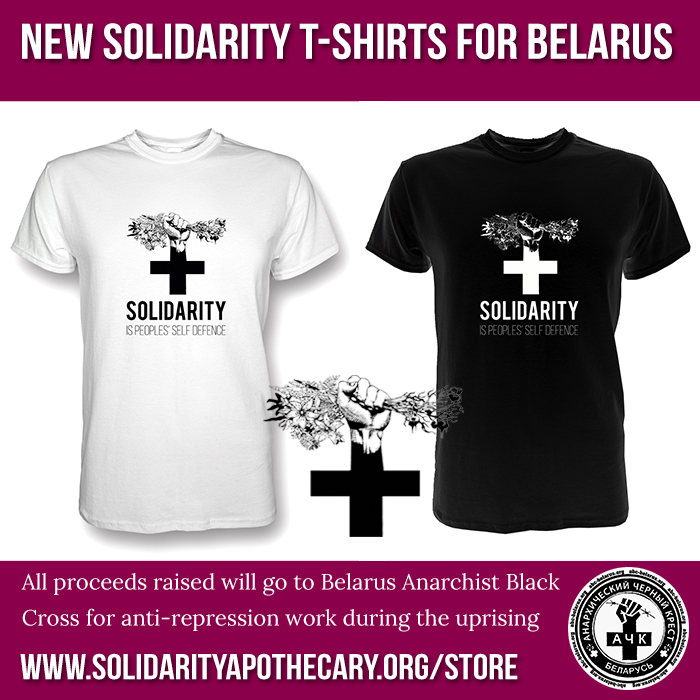 The Solidarity Apothecary is screenprinting tshirts to help raise funds to send to Anarchist Black Cross Belarus.
You can buy one here: https://solidarityapothecary.org/store/
People in Belarus are no stranger to state violence or repression living under a Dictatorship. However, as people have taken to the streets to protest, thousands are experiencing state violence at an unprecedented scale. In the first three days of the uprising in August, more than 5000 were detained by police. Many are experiencing beatings, torture, rape and sexual assault. One person was murdered. Despite the repression, people continue to fight on the streets.
Income from this t-shirt will go towards defendant support, meeting people from jails, legal costs and other anti-repression work. Solidarity is the peoples' self defence!
Please note this is a pre-order. An order will be placed with the printer on the 3rd of October and may take longer than usual to screenprint due to covid-19 restrictions. Thank you for your patience!
To learn more about the situation in Belarus check out:
ABC Belarus – https://abc-belarus.org
Belarus: Anarchists in the uprising against the Dictatorship – https://crimethinc.com/2020/08/12/belarus-anarchists-in-the-uprising-against-the-dictatorship-an-interview
Pramen (for translated news) – https://pramen.io/en/main/
Tags: ABC Belarus, Belarus, International Solidarity, Police Brutality, Repression, Social Insurrection, Solidarity Apothecary, Torture, UK
Posted in Prison Struggle
Thursday, October 8th, 2020
Eric King describes himself as a 33-year-old vegan anarchist political prisoner and poet who was arrested and charged with an attempted firebombing of a Congressperson's office in Kansas City, Missouri, in September 2014. King was charged with throwing a hammer through a window of the building, followed by two lit Molotov cocktails. The criminal complaint states that both incendiary devices failed to ignite. King was identified as a suspect by local police because he had previously come under suspicion for anti-government and anti-police graffiti. After accepting a non-cooperating plea agreement, King was sentenced to ten years in June 2016. His release date is October 2023. He has served his time in various facilities of the federal Bureau of Prisons, or BOP.
King is currently facing one count of assaulting a government official for an incident that occurred in August 2018 at the Federal Correctional Institution (FCI) Florence. According to King's account, he was taken into a mop closet, out of sight of prison cameras, and beaten up by a corrections officer. The officer then said that King had assaulted him. King has been housed in a segregation cell at FCI Englewood since August 2019, fighting this charge. Overall, King has spent about three years in solitary confinement. He now faces a maximum of 20 additional years in prison. Read more about Eric King here: supportericking.org.
–
My toilet is right next to my cellmate's face, not hyperbolically, it is literally three inches from where he lays his head. I am in the FCI Englewood Secure Housing Unit (SHU)—the oddest SHU in the Bureau surely. In this segregation unit, you will get inmates from the Low [security prison], pre-trial people and folks like myself and my cellie who are on writ [having a court case] from other penitentiaries. This oddball combo makes no sense and causes a localized class system, all a part of the psych-ops of this odd rust bucket of a prison.
On August 17, 2017, I was taken into a mop closet by Super Patriot Lieutenant. I have been in solitary ever since, 19 months and counting. I learned how bad it can get, discovering new ways they can torture you; mentally and physically. Whether being choked while being held in four-point restraints for seven hours, being held in a cell for four days without a functional toilet filled with someone else's feces, I have seen their brutality and am stronger for it. I hope. (more…)
Tags: Eric G. King, International Solidarity, Isolation, Letter, Repression, USA
Posted in Prison Struggle
Tuesday, October 6th, 2020
ES | Comunicado del compañero subversivo Pablo Bahamondes Ortiz
Historically, the prison has been designed for those who for various reasons do not fit in or do not submit to the logic of domination and exploitation that the powerful on duty offer as the life we ​​should live.
Prison is one more consequence of our unwavering conviction to declare ourselves eternal enemies of capital, the state and its lackeys. Political prisoners are the ones who assume with our own lives the propagation and expansion of the permanent insurrection against misery and the destruction of humanity as a whole.
Subversion is the essence of every process of struggle, be it popular or revolutionary, which reaches a point where they tend to stagnate as a result of countless events… but mainly where a large part of the organization have agreed to spaces of power, turning to a fight of an institutional nature and framed under the rules of the powerful, thus maintaining the governability of the bourgeois state and seizing the dreams of the poor. (more…)
Tags: Chile, Letter, Pablo Bahamondes Ortiz "OSO"
Posted in Prison Struggle
Tuesday, October 6th, 2020
Giannis Dimitrakis was sentenced to 11.5 years without mitigation for robbery, possession of a weapon and use of a forged document.
Kostas Sakkas was sentenced to 7 years and 10 months on the same charges.
However, both were acquitted of the charges of resistance and possession of drugs that the cops had included in the case file …
The co-accused anarchist comrade Dimitra Syrianou was sentenced to two years in prison with a three-year suspension for simple complicity in robbery, and was released.

Anarchists from Act for freedom now!
Tags: Dimitra Syrianou, Giannis Dimitrakis, Greece, Kostas Sakkas, Repression, Thessaloniki
Posted in Prison Struggle
Friday, September 25th, 2020
IT | Dichiarazione di Alfredo Cospito letta in aula il 9 settembre 2020 per l'appello del processo Scripta Manent
ES | Declaración del compañero Alfredo Cospito
Statement by Alfredo Cospito read in the courtroom on September 9, 2020 for the appeal of the Scripta Manent trial
I would have liked to be silent and let only my lawyer speak (who is more than capable), but seeing that my ideas have been torn to shreds and that words that I have never said have also been put in my mouth, I am forced to intervene directly in the first person.
For us anarchists the end does not justify the means, we firmly believe in the ethics of the means we use, for us it is the means that justify the end, not the other way around.
That is why I must reiterate that I have never made an apology for massacres or mass murder (as stated by – the prosecutor – Sparagna in a previous hearing). The prosecutor is confused, deliberately confusing "terrorism" with "massacre."
Two ugly words (without a doubt): one belongs to me, "terrorism", the other is totally foreign to me, "massacre."
(I open a brief parenthesis on "terrorism")
Sparagna, in order to create the monster ("the bloodthirsty anarchist," myself, so we can understand each other), has fished in the context of many of my writings, extrapolating phrases at random. Phrases that are the result of a diatribe (from one of the many debates) that our movement is going through, "the legitimacy of the use or not of the term 'terrorism' in an anarchist sphere." For those who are not anarchists, it is difficult to understand the passion with which we anarchists collide on certain issues. (more…)
Tags: Alfredo Cospito, Analysis, Black International, Black International of Anarchists of Praxis, Conspiracy of Cells of Fire, Earth Liberation Front, Informal Anarchist Federation (FAI), International Revolutionary Front, Italy, Nucleo Olga FAI/FRI, Operation Scripta Manent, Repression, Roberto Adinolfi, Trial
Posted in Prison Struggle
Thursday, September 24th, 2020
Programa #6 de Negras Tormentas Radio
Programa internacionalista realizado el martes 25 de agosto del año 2020 como especial de música en el marco de la "Semana Internacional de Solidaridad con lxs Anarquistas Encarceladxs". En este se compartieron textos del compañero Marcelo Villarroel Sepúlveda (prisionero de la guerra social) y se destaca la participación de manera conjunta con la Red Solidaria Antikarcelaria con Juan y Marcelo.
Para ver más visita: //www.facebook.com/sinfronterasninaciones/
Tags: Anarchist Radio, Chile, International Solidarity, International Week for Anarchist Prisoners, Marcelo Villarroel Sepúlveda, Negras Tormentas Radio, Radio, Repression, Santiago
Posted in Prison Struggle