'Prison Struggle' Archives
Saturday, September 28th, 2019
On September 30th, 2019, the trial with 4 anarchists and one environmentalist accused in operation Fenix 2 will be taking place at the district court of Most, at 8:30 a.m. Come to support them at the courthouse or by any solidarity action. Let them know you are not apathetic to their future as you are not towards the freedom of all of us. Any way of expressing support is welcomed!
Tags: ABC Czech Republic, Czech Republic, Fenix 2, Repression, Trial
Posted in Prison Struggle
Saturday, September 21st, 2019
20.09.19: According to the latest reports from Bulgarian media, antifascist comrade Jock Palfreeman, who was granted parole yesterday, has been released from Sofia Prison but transferred immediately to the Sofia Busmantsi Immigration Detention Centre […] . According to the media this is because Comrade Jock does not have a valid passport or identity documents. He will remain at the detention centre until he receives a new passport. It is not clear whether he will then remain in Bulgaria or leave the country.
Comrade Jock was filmed and photographed being escorted from the prison by plainclothes officers to a waiting car. Comrade Jock yelled out to waiting reporters "Thanks to Desislav Traykov, Deputy Chief of Prison!" before being bustled into the vehicle. Desislav Traykov recently resigned from his post following a scandal involving a 16 year old drug trafficker.
Many sectors of the Bulgarian political elite are outraged at the release of Comrade Jock, however media reports indicate that the decision to grant Jock parole is final.

via anarchistsworldwide
Tags: Bulgaria, Jock Palfreeman, Sofia
Posted in Prison Struggle
Saturday, September 21st, 2019
BURNING HEARTS CANNOT BE LOCKED AWAY
FREEDOM FOR THE THREE ON THE PARK BENCH!
On the night of 8 July 2019, three of our comrades were arrested on a park bench. On the same night there were several house searches in various districts of Hamburg, during which some of the people were forced out of their beds with weapons. The suspicion, according to the Attorney General's Office, was the preparation of an arson attack. On 9 July, the three were brought before the magistrate. Two of them were remitted from custody and the third had her arrest warrant suspended, with conditions – she has to report once a week and is not allowed to leave the country – and she has been on the outside ever since. A evaluation trial for the pre-trial detention was requested by the defence and then withdrawn two weeks later. A new date is not foreseeable at the moment.
Currently DNA was taken from the two prisoners for comparison. The person outside did not have to give any DNA, since the alleged traces found are only male DNA. The two in custody are doing well, considering the circumstances. Since the LKA (State criminal police office) officials are present at every visit, the visits that take place twice a month for one hour depend on the LKA calendars. Telephone calls (1 hour per month) and letters are also monitored, listened to and read by the LKA,
the prison and the General Prosecutor's Office. Accordingly, there is never a moment of private communication between the two and their friends or family. It is clear to them what this place should do to them – but they keep their heads up and share solidarity and contact with fellow prisoners. (more…)
Tags: Germany, Hamburg, Letter, Park Bench 3
Posted in Prison Struggle
Saturday, September 21st, 2019
Long term CSC prisoner Kevan has been moved again, to another CSC Unit….
Kevan Thakrar A4907AE
HMP Full Sutton
York
YO41 1PS
UK
Tags: Close Supervision Centre CSC, Kevan Thakrar, Prison Transfer, UK
Posted in Prison Struggle
Sunday, September 15th, 2019
In recent weeks, as already written, Beppe was transferred from the AS2 ["High Surveillance 2"] section of the Rossano Calabro prison to the Pavia prison. The interview with the lawyer showed that he is in the protected section, where there are collaborators of justice, former law enforcement officers, sex offenders and trans and homosexual prisoners (who have explicitly requested to be among the protected). Beppe had requested to be transferred from the Rossano AS2, where the vast majority of prisoners are Islamic, due to incompatibility and had also requested an approach to his home, thus indicating the AS2 sections of the north-center of Italy where there are currently anarchist comrades. The provocative response to his request was the transfer to the protected section of the Pavia prison. Let's not leave him alone!
To send letters and telegrams to Giuseppe:
Giuseppe Bruna
C. C. di Pavia
via Vigentina 85
27100 Pavia
Italia [Italy]
Source
Tags: Giuseppe Bruna, Italy, Operation Prometeo, Prison Transfer
Posted in Prison Struggle
Sunday, September 15th, 2019
We as the former solidarity group are hereby publicly ending our solidarity and support activities for the prisoner, who was arrested in Zurich at the end of January 2019. Up until now the prisoner is still being held in pre-trial detention.
The person wrote a statement on the charges of arson against several military vehicles in Hinwil (Small town near Zürich) and on a police emergency radio antenna in Zurich, a statement which we cannot support. He then presented the statement to the public prosecutor's office at the final interrogation of the investigation.
First, the person made statements that could be used specifically against the comrade who has been wanted internationally since July 2016 for the same sabotage of a police radio antenna. The prisoner seems to be aware of the possible incriminating use of his statement against the comrade on the run. (more…)
Tags: Snitches / Informers, Switzerland, Zurich
Posted in Prison Struggle
Sunday, September 15th, 2019
Hello everyone!
I am Robert and from 6 July I find myself locked up in the prison of Sassari. I am accused together with two comrades of sending "explosive bags" to two public prosecutors, Sparagna and Rinaudo, and to the director of the DAP [1]. At dawn on May 21st [2019] we were searched and taken to jail. Beppe and I were locked up in Opera, where we spent a month in the "observation" section. This is the area where prisoners are placed who must serve the 15 days of punitive isolation or those considered to be of high risk for self-harm. In our case, we found ourselves in that section, given that Opera does not have an AS2 ["High Surveillance 2"] but "only" AS1, AS3 and the inevitable 41bis. Having been banned from communicating with the other inmates, we spent a month in single cells with the blind permanently closed and an hour of air in the morning in a squalid narrow courtyard. In that section it was also forbidden to use cookers, so we adapted to the prison food, which was almost always inedible. Not that I had ever had any expectations for these places of psychological and physical annihilation. (more…)
Tags: Giuseppe Bruna, Italy, Operation Prometeo, Repression, Robert Firozpoor
Posted in Prison Struggle
Monday, September 2nd, 2019
Comrade Malik Speaks! This Also Means That I Am an AntiFascist! Expect Us!
Revolutionary Greetings Comrades!
By now the word has gotten out that I've left the New Afrikan Black Panther Party-prison chapter and embraced Anarchism. This is a tough time but as J. Cole raps in his song "Middle Child," he says: "Everything Grows, its destined to change!" I have changed!
I am still holding on to my belief in Eco-Socialism. Plain and simple, climate change is real and not a hoax. Think many of ya'll who have felt these unusually hot temps recently can attest that something is most certainly going on and I can guarantee you that these imperialist multi-national corporations that deal in fossil fuels have no interest in saving our beautiful planet or ensuring that the humyn species is able to survive– they just don't care so we have to make them care! But that is not why I am communicating with you today! (more…)
Tags: Anti-Prison, Antifa, Keith Malik Washington, Letter, New Afrikan Black Panther Party – Prison Chapter, Racism, USA
Posted in Prison Struggle
Sunday, September 1st, 2019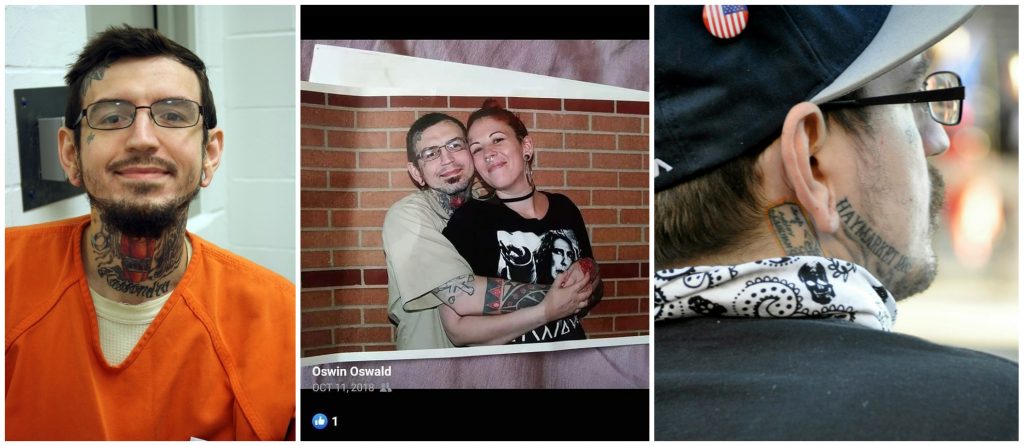 For folks who are unaware Eric is an anarchist and anti-fascist prisoner who was sentenced to 10 years for an attempted arson, an action in solidarity with the Ferguson uprising in Kansas city. Throwing two Molotov cocktails into a state representatives office at night time. He has since remained outspoken against the prison system. Exposing abuses and standing tall in the face of constant attacks and oppression.
In august of last year Eric was dragged into a broom closet and attacked by Lt Wilcox at FCI Florence. Attacked because he is an anarchist and anti-fascist. It was timed to line up with the surgery for his wifes cancer. He was subsequently tortured and abused and never checked out medically despite being kicked in the head for 5 plus minutes. And tied to a 4 point restraint for 8 hours, having to urinate himself resulting in nerve damage to his wrists. (more…)
Tags: Anti-Prison, Eric G. King, USA
Posted in Prison Struggle
Saturday, August 31st, 2019
(it-en-fr-es) Italia: Operazione Prometeo – Riferimenti per benefit e aggiornamenti
Italy: Prometeo Operation – References for benefits and updates

REPRESSIVE OPERATION 'PROMETEO'
Natascia, Robert and Beppe were arrested on May 21st 2019. They were accused of sending three explosive packages in 2017 to the PM (public prosecutor) Sparagna and Rinaudo, and to Santi Consolo, who was the director of the DAP (Department for the Penitentiary Administration) of Rome. More information is available here.

UPDATES ABOUT NATASCIA, ROBERT AND BEPPE
Natascia has been imprisoned in the jail of L'Aquila, in the AS2 (high security) section, which is actually a 41-bis section. Anna, another comrade, is also imprisoned in this section. She was arrested in 2016 following a repressive operation called SCRIPTA MANENT. Silvia is still being held in the jail of Turin (Torino) where she was transferred in order to be present for minor trials. Natascia began a hunger strike while she was in the jail of Rebibbia (in Rome), in solidarity with Anna and Silvia who began a hunger strike to demand the closing of the AS2 section in L'Aquila. All the three of them ended the hunger strike on June 28th (Anna and Silvia maintained the hunger strike for one month). Right after the end of the hunger strike, after almost 6 weeks of detention, Natascia received her first visit in jail. On July 11th, the re-examination hearing was held, which Nat was only allowed to attend by video conference. (more…)
Tags: Alfredo Cospito, Giuseppe Bruna, Informal Anarchist Federation (FAI), International Solidarity, Italy, Juan Antonio Sorroche Fernandez, Letter, Natascia Savio, Repression, Robert Firozpoor
Posted in Prison Struggle
Thursday, August 29th, 2019
Two writings by anarchist prisoner John Paul Wootton. The first writing is his thoughts on the injustice system and the use of prisons by the state which realistically culminates in a complete waste of time to what the claim of why prisons are used, i.e. to "rehabilitate" people that commit "crimes" to make them "better and functional members of society".
John Paul's second writing is a reflection on why he became vegan and why he will remain vegan. John Paul is still struggling in the prison system to gain full rights to living a more vegan life in prison.
John Paul has been imprisoned with his co-accused Brendan McConville for the last 10 years. Both men have been falsely convicted of the shooting dead of a cop in Craigavon, Ireland in 2009. Ever since the two have been fighting the injustice imposed on them by the British colonial system. (more…)
Tags: Craigavon 2, Ireland, John Paul Wootton, Letter, UK
Posted in Prison Struggle
Thursday, August 22nd, 2019
Kundgebung in Solidarität mit Grup Yorum!
Freitag, 23. August 2019, 18 Uhr
Kottbusser Tor – Kreuzberg
Grup Yorum im Hungerstreik. Am 25. August 2019 werden es 100 Tage sein.
Mitglieder der Musikband Grup Yorum begaben sich am 17. Mai 2019 in einen Hungerstreik. Ihre Hungerstreik-Erklärung enthielt diverse Forderungen, darunter die Freilassung der gefangenen Bandmitglieder und die Einstellung der Verfahren, die Beendigung der Polizeirepression gegen den Istanbuler Kulturverein İdil, die Streichung der Namen der Bandmitglieder von den "Terrorlisten" und die Aufhebung der Konzertverbote. (more…)
Tags: Berlin, Demo, Germany, Grup Yorum, Hunger Strike, International Solidarity, Turkey
Posted in Prison Struggle
Wednesday, August 21st, 2019
WEEK OF SOLIDARITY WITH ANARCHIST PRISONERS 23-30 AUGUST
To act in solidarity is completely up to the interpretation of an individual or collective. One could write a letter or visit a prisoner. Others could hold an event for prisoner awareness or a benefit gig. But then there are also the lone wolves who creep around in the darkness of night, lighting up the night sky with flames of rage and solidarity. No matter what act of solidarity is done, it's completely up to the expression of the rebel individual or collective. The point is to show the anarchist fighters encaged in the belly of the beast that they are not alone, we haven't forgotten them.

THE SOCIAL WAR AGAINST TECHNO-INDUSTRIAL CIVILIZATION CONTINUES
SOLIDARITY WITH ALL IMPRISONED ANARCHISTS
SOLIDARITY WITH ALL ANARCHIST FIGHTERS
Tags: Flyposter, Green Anarchy Ireland, International Solidarity, International Week for Anarchist Prisoners
Posted in Prison Struggle
Wednesday, August 21st, 2019
On Wednesday, 24.07, anarchist comrades Christos and Gerasimos Tsakalos, members of the Conspiracy of Cells of Fire were released. The comrades were originally convicted with sentences of over 70 years, which were reduced to 20. The comrades made use of the Paraskevopoulos law that was introduced by the previous SYRIZA-led government and were released after having served 8 years of their 20 year sentences.
Gerasimos Tsakalos was arrested with his friend and comrade Panagiotis Argyros on November 1, 2010. Their arrests took place after a parcel bomb was sent to a courier company in Pagrati. Five months later, Christos Tsakalos was arrested in a coordinated counter-terrorism operation.
After their arrests they claimed full responsibility for their actions and proclaimed themselves "proud members of the Conspiracy of Cells of Fire". During their imprisonment in Korydallos prison, the CCF claimed responsibility for Phoenix Project actions, including the bombing of the Prison Director's car as well as sending a parcel bomb to the former head of the anti-terrorism unit, Dimitris Chorianopoulos.
(information compiled from various Greek language sources)
via Anarchists Worldwide.
Tags: Athens, Christos Tsakalos, Conspiracy of Cells of Fire, Gerasimos Tsakalos, Greece, Informal Anarchist Federation (FAI), International Revolutionary Front
Posted in Prison Struggle
Wednesday, July 24th, 2019
IT: SOLIDARIETA' A DINOS GIAGTZOGLOU
SOLIDARITY WITH DINOS GIAGTZOGLOU
αλληλεγγύη
Anarchist Dinos Giagtzoglou was arrested in central Athens on 28 October 2017, one of Greece's national days, in an ambush by anti-terrorist police forces as he left a safe house-hideout rented by him under a false name, carrying weaponry.
Initially he got imprisoned in the prison of Larissa, a city 355 km from Athens, with the aim of isolating him from his comrades, family and friends, making the talks with the lawyer extremely difficult and preparing for his trial almost impossible since the case files contain thousands of pages in digital format.
On 21 February 2018, he was transferred back to Athens for a pending trial about an old arrest in clashes with the riot police in the context of a general strike against the Greek government's austerity economic measures in May 2011. After the postponement of this trial he began a hunger strike demanding to be typically transferred to Korydallos prison, close to his place of residence. (more…)
Tags: Athens, Greece, International Solidarity, Konstantinos Yagtzoglou, Korydallos Prison
Posted in Prison Struggle