'Prison Struggle' Archives
Wednesday, October 17th, 2018
Rupression.com campaign statement about the accused
In February 2018, a campaign was launched in Russia to support those accused in the Network case. Among the main goals of the campaign were fundraising for legal costs, organizing humanitarian support for the arrested and offering support to their relatives. The resources gathered have so far been distributed according to the financial circumstances of the respective families and the needs of the arrested. Further financial support is being distributed according to the choices made by those the arrested throughout the investigation.
Currently two of the accused, Igor Shishkin, and Yegor Zorin, are firmly siding with the investigation.
Igor Shishkin has not filed a torture complaint, although traces of torture were reported on his body by the Independent Public Oversight Committee (ONK). He has signed agreement prior to being present in court, which means that he has fully admitted his guilt. He is actively cooperating in the investigation of the criminal case, and also giving testimony against other suspects. (more…)
Tags: Igor Shishkin, Repression, Russia, Yegor Zorin
Posted in Prison Struggle
Monday, October 15th, 2018
Some Yogyakarta prisoners are free!
Here are some Yogyakarta prisoners who have been released after undergoing trial and reading the verdict:
– MD detention decision of 5 months, the term of detention served, free October 9, 2018.
– OO for 5 months detention decision, deducted the period of detention served, free October 9, 2018.
– MI and MEA prisoner decision 5 months 15 days, detained prison term, free 14 October 2018.
– ZW and AMH detention decision 5 months 15 days, the detention period will be deducted, free October 14, 2018.
There are still other prisoners undergoing the trial process including Ucil (BV).
We will provide updates on any developments in the trial as soon as the information is available.
Nobody is free until everybody is free!
(Info via Palang Hitam Indonesia / Anarchist Black Cross Indonesia)
–
Sebagian tahanan Yogyakarta sudah bebas!
Berikut adalah beberapa tahanan Yogyakarta yang sudah dibebaskan setelah menjalani sidang dan pembacaan putusan:
MD putusan tahanan 5 bulan, bebas 9 Oktober 2018
OO putusan tahanan 5 bulan, bebas 9 Oktober 2018
MI dan MEA putusan tahanan 5 bulan 15 hari, bebas 14 Oktober 2018
ZW dan AMH putusan tahanan 5 bulan 15 hari, bebas 14 Oktober 2018
Hari ini, Senin 15 Oktober 2018 sidang dilakukan untuk MC dengan kesaksian dari BV dan AM.
Perkembangan persidangan akan segera kami kabari kembali.
Tidak ada yang bebas sampai semuanya bebas!
Tags: Brian Valentino (Ucil), Indonesia, Mayday, Repression, Trial, Yogyakarta
Posted in Prison Struggle
Wednesday, October 10th, 2018
The first Saturday after the comrade's transfer, concentration in front of Wad Ras. Stay tuned for new information that may be coming!!
2018/10/08 Solidaritat Rebel

via actforfree
Tags: Barcelona, Catalunya, Demo, Prison Transfer
Posted in Prison Struggle
Wednesday, October 10th, 2018
Some prisioners from diferent spanish jails are going to start a new hunger strike. In the last hunger strike the 1th of May, they didn't get attention from media or society so they are going to make theirselves in danger again to get the rights that they legally have. Their objective is having a less hard diary life and prove that jail is not the solution: It's just a place to shut in people that are not agree with the system or these who are not productive for it. (more…)
Tags: Hunger Strike, International Solidarity, Spain
Posted in Prison Struggle
Sunday, October 7th, 2018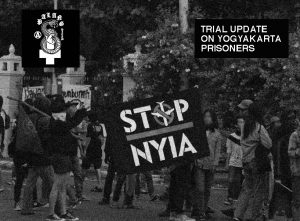 We need to explain, that we have difficulty finding information regarding detainees due to separate case files and also different the trial schedules between them and the schedules change of the trial day, but this did not stop us from giving information to you (readers).
Since October 6, 2018, we have been striving to get the latest information regarding the Class War Prisoners in Yogyakarta who were related to the M1 incident that happened in the past at the intersection of UIN Yogyakarta, from those 11 prisoners they have all received legal assistance (Advocate), with the following details: (more…)
Tags: Indonesia, Repression, Trial
Posted in Prison Struggle
Saturday, October 6th, 2018
Each year the end of August (23-30.8.) is the time for the International Week of Solidarity with Anarchist Prisoners. And to make sure that you know what this week is about and why it is needed we made an interview with a comrade who is part of the group that organized this years' Week of Solidarity.
This audio has been published originally as part of the International Anarchist Radio Network's "Bad News" show #15 (September 2018), which you can find here.
You'll find the audio (to listen online or download in different sizes) here.
You can find other English and Spanish language audios here.
Tags: Anarchistisches Radio Berlin, International Solidarity, International Week for Anarchist Prisoners
Posted in Prison Struggle
Thursday, October 4th, 2018
Appeal from the International Anarchist Defence Fund, project of the Anarchist Black Cross and related groups.
A-Fund turned one year this September. This was the time when we issued our first call for joining the project last year. It took us another half a year to figure out collective processes and the concept of the fund. We have tried our best to reach out to groups with a call to donate, but so far we haven't received as much feedback as we were expecting. The lack of publicity results in low number of donations, and this situation can eventually lead to the loss of interest from the side of support-seekers. We would like to provide bigger support, but this involves attracting more donations. We are determined to break this vicious circle. But we need your help.
So, as our next steps, we have identified reaching out to all possible anarchist groups, asking them to spread information about the fund, spread our flyers, put a banner on their websites, putting advertisements in anarchist magazines, etc. But the problem is that we don't know so many languages and contexts, that's why we need the help of volunteers from all imaginable countries and regions who would help us compile a comprehensive list of anarchist collectives in their regions, get links to their websites and contacts, identifying sites with open publication, etc.
If you are one of these people, please feel free to contact us at a-fund@riseup.net
you can have a look at our last quarterly report
https://afund.antirep.net/second-quarterly-report/
Tags: International Anarchist Defence Fund, International Solidarity
Posted in Prison Struggle
Wednesday, September 19th, 2018
Corporate Watch released its new report on prison expansion in England, Wales and Scotland: PRISON ISLAND. It shines a light on one of the biggest prison building programs in generations.
The UK prison population has risen by 82% in the last 30 years. We are increasingly becoming a 'prison island', where state violence and imprisonment are used to maintain a divided society built on exploitation. England and Wales have the highest imprisonment rate in western Europe, with Scotland the third most imprisoning country.
This once-in-a-generation prison building programme represents a significant expansion of the repressive apparatus of the British state, entrenching the power of corporations in the criminal justice system even further. This report aims to document and contextualise this escalation in mass incarceration and provide information to support those fighting against it.
https://corporatewatch.org/prisonisland
Tags: Prison Industrial Complex, UK
Posted in Prison Struggle
Wednesday, September 19th, 2018
Dear Comrades,
ABC Warsaw would love to invite you for Antiprison Days, which takes place October 26th-28th 2018 in Warsaw! Right now we prepare the program for this event but we can tell you that our plans are so ambitious!
It's 5th time when we organize Antiprison Days in Warsaw. We invite you to join interesting discussions and worsksops (for ex. presentation about the "Network" repressions or workshop about transformative justice). Also we are planning anti-police and anti-repression movies, benefit tattoos, and disco party!
We see Antiprison Days as a opportunity to meet with people, exchange knowledge and skills, talk about topics important to us, and making links between groups and individuals and have fun – and sharing our ideas with new people as well. So if you would like to join us (maybe with your distros or presentation/workshop) you're more than welcome!
At the beginning of October we will present to you the program of the event. If you have any suggestions, proposals or questions – please write to us.
Hope to see each other in Warsaw
In solidarity
Warsaw ABC
Tags: ABC Warsaw, Anarchist Gathering, Poland, Warsaw
Posted in Prison Struggle
Sunday, September 9th, 2018
Finally, last Wednesday, September 5, was the reading of the sentences against comrades Kevin and Joaquin, these sentences can be appealed, but for the moment it is unknown what actions their lawyers will carry out.
The sentences were as follows:
KEVIN GARRIDO FERNÁNDEZ: 17 years of prison in maximum security, for possession of explosives and the placement and possession of explosive devices. In addition, sentenced to 61 days in minimum degree for illegal possession of a bladed weapon.
JOAQUÍN GARCÍA CHANKS: 10 years of prison in medium security, for placing explosive devices and a 3-year prison term in maximum security for the crime of illegally carrying a firearm.
For the moment this is what we can tell, as soon as we have more information we will update on the situation of the comrades. We make a call to demonstrate solidarity in the face of the prison sentences dictated against Kevin and Joaquín. No sentence against our comrades should be left without an answer.
SOLIDARITY AND STRUGGLE!
INSURRECTION AND ANARCHY!
FREEDOM TO KEVIN AND JOAQUIN NOW!
–
CHILE: SENTENCIAN A 17 AÑOS A KEVIN GARRIDO Y 13 AÑOS A JOAQUÍN GARCÍA
Finalmente el pasado miércoles 5 de Septiembre se realizó la lectura de las sentencias contra los compañeros Kevin y Joaquín, estas condenas pueden ser apeladas, por el momento se desconoce el accionar a llevar a cabo por lxs abogadxs.
Las sentencias fueron las siguientes:
KEVIN GARRIDO FERNÁNDEZ: a 17 años de presidio mayor en su grado máximo como autor de los delitos de colocación de artefacto explosivo y posesión y tenencia de explosión. Además de 61 días de presidio menor en su grado mínimo por porte ilegal de arma punzante.
JOAQUÍN GARCÍA CHANKS: a 10 años de presidio mayor en su grado medio por colocación de artefactos explosivos y a 3 años de presidio mayor en su grado máximo por el delito de porte ilegal de armas de fuego.
Por el momento es lo que podemos contar, en cuanto se tenga mayor información se actualizará la situación de los compañeros. Hacemos un llamado a demostrar la solidaridad frente a las condenas de prisión dictadas contra Kevin y Joaquín. Ninguna sentencia contra nuestrxs compañerxs puede quedar sin una respuesta.

¡SOLIDARIDAD Y LUCHA!
¡INSURRECIÓN Y ANARQUÍA!
¡LIBERTAD A KEVIN Y JOAQUÍN AHORA!
Tags: Chile, Joaquín García Chanks, Kevin Garrido, Santiago, Trial
Posted in Prison Struggle
Wednesday, September 5th, 2018
On August 30th, 2018, a group of comrades took the street in front of the transition house of the president-elect of Mexico, Andrés Manuel López Obrador. There, they briefly blocked traffic and showered the police, media and bystanders with flyers denouncing the judicial corruption and state repression being carried out against community members of Eloxochitlán de Flores Magón, Oaxaca. The banner blocking the highway read: Freedom to the Prisoners of Eloxochitlán de Flores Magón—Week of Solidarity with Anarchist Prisoners.
This action kicks off a series of events planned in the lead up to anarchist prisoner Miguel Peralta's final court date on September 28th, 2018. We encourage you all to remain attentive to upcoming events and actions.
Free all prisoners! Down with the Prison Walls!
Communique:
Eloxochitlán de Flores Magón is a municipality located in the Sierra Mazateca in the state of Oaxaca. The majority of the inhabitants speak Mazateco and the municipality is registered beneath the Internal Normative System, or Uses and Customs of Indigenous communities. (more…)
Tags: Demo, Eloxochitlán de Flores Magón, International Week for Anarchist Prisoners, Mexico, Oaxaca, Solidarity Action
Posted in Prison Struggle
Tuesday, September 4th, 2018
On Sunday, 2/9/18, banners from prisoners in Larissa were hung in A Wing. The banners were in solidarity with striking prisoners in the US, the banner reads "SOLIDARITY TO ALL US STRIKING PRISONERS – UNTIL THE DESTRUCTION OF ALL PRISONS"
Outside of the prison, 15 comrades were present, they called out slogans and had a little contact with the comrades who put the banner.
Tags: Banner drop, Greece, International Solidarity, Larissa, Prison Labour Strike, Solidarity Action, USA
Posted in Prison Struggle
Saturday, September 1st, 2018


Above: Banner of solidarity hung by Utopia AD, Greece, with the prison labour strike of the US prisoners and with the anarchist prisoners around the world.
Solidarity text to prisoners of "Lee Correctional Institution" prison of U.S.A.

In light of what happened at the "Lee Correctional Institution" prison in the state of South Carolina, U.S.A., and with the tragic death of 7 of our detained and 17 seriously injured and with the full responsibility of the service of the prison, the director and the chief guard, as they knew they were members of rival gangs and intentionally placed them in the same wing, being proud about their cowardly result. We, the prisoners of the A' wing based on solidarity with all South Carolina imprisoned fighters and all the prisons of America, declare our support in the general situation of this time, setting as a primary purpose the opposition to the dirty manipulations the director and the guards exercise in the prisons, having for result the death of our retained brothers. (more…)
Tags: Greece, International Solidarity, Prison Labour Strike, USA
Posted in Prison Struggle
Thursday, August 30th, 2018
Not Ideological Solidarity but Critical Revolutionary Solidarity: A Personal Reflection of Yogyakarta/Indonesia Anarchist Black Cross (Palang Hitam)

Knowledge chooses its project,
each project is new and chooses its moments,
each moment is new, but simultaneously emerges from
the memory of all the moments that existed before
The Interior of the Absolute
It is fair to say that the Black Cross were initiated after the May Day event in Yogyakarta 2018, a demonstration/blockades that ended up in a riot between the so-called "local people" and the demonstrators (many, even the so-called Student Organization involved in the organizing blamed the Black Clad anarchists for igniting the riot and provoked property destruction, and to their surprised the graffiti that call to "Kill the Sultan", until now there have been no one claimed this). Therefore, even Palang Hitam now are progressing their activities to other places and helping other revolutionaries who are facing the same legal consequences or just being in the grassroots conflict to provide medical aid, its "over-lapping" solidarity still meant that Palang Hitam were originated, initiated, and activated by the comrades who are "on the list" (of the powers that be) and those who are completely not on the list but decided to actively participated. So, in order to specified the location of these comrades, mainly central java, it is fair to say that Palang Hitam is Palang Hitam Yogyakarta or Central Java.
What being said in this short critical reflection are based on specific geographical and historical understanding of the anarchist movement or the revolutionary movement of individuals against state and capitalism in Indonesia. There's no need to say about the contrast between our geographical location and our comrades in the west and those who are also in the global south, especially considering prison solidarity in its historic sense. Indonesia, have plenty of oral history about prison rebellion and rebellious individuals, but these were almost never written, these were almost like mythopoesis among criminals for generation and some even become so legendary that it always inspired rebellion each time there's a prisoner get beaten very severely or until they die. It is obvious there's almost no official history of them because, who want to write about these violent, lawless, and cool individuals? Even the so-called radical academics tend to avoid this subject. (more…)
Tags: Analysis, Brian Valentino (Ucil), Indonesia, Mayday, Repression, Yogyakarta
Posted in Prison Struggle
Wednesday, August 29th, 2018
There is a new text, which came out from the cooperation of some people from couple of Anarchist Black Cross groups and Crimethinc. It is published in connection with both the ongoing prison strike in US and the global week of solidarity with anarchist prisoners. ABC Czech Republic asked us to share and spread the article:
Taking a Global View of Repression – The Prison Strike and the Week of Solidarity with Anarchist Prisoners
Tags: International Solidarity, International Week for Anarchist Prisoners
Posted in Prison Struggle