'Prison Struggle' Archives
Monday, January 2nd, 2017
Damien was arrested on Wednesday, December 7 in Bretagne, charged with attacks against the Chambre of Commerce, a Jaguar dealership, and other targets during a demo that took place on April 14 between Paris' 10th and 19th districts. This is his first letter out since being denied bail.

I'm writing from Fleury, where I'm being held in preventative detention[1]. Since the charges against me are, as usual, totally boring and unimaginative, I wanted to offer a different telling of the lovely spring night of revolt, written by some true lovers of disorder, so that my comrades have an accurate and realistic depiction of what I'm alleged to have done: "Reportback on April 14: hold in the rage too long and it bursts out like it should"[2]
I don't want to complain, so I won't give a detailed account of my arrest, similar as it was to all those that happen each day, here and around the world.
However, it does seem important to mention a few things.
During the search, the cops found some anarchist propaganda, namely some newspapers, brochures, posters, and tracts, as well as a few texts in the process of being translated. I refused to sign the papers dealing with the search as well as those for my being held taken into custody. (more…)
Tags: Bretagne, Damien Camélio, France, Repression
Posted in Prison Struggle
Monday, January 2nd, 2017
The anarchist comrades accused of participating in the expropriation of a bank office in Aachen in the month of November 2014 are still imprisoned in Germany awaiting trial that will start on January 23rd 2017. The dutch comrade, also judged for expropriation of a bank office on the same territory, is free at the moment, although the prosecutor has appealed the decision after the judge granted acquittal.
From Solidaritat Rebel, we want them to feel our solidarity for it to cross borders, bars and walls, and send them all our strength and complicity.
We want to unmask and point out three important protagonists responsible for the kidnapping of our comrades.

1) The prosecution: Pax Bank and its partners
The bank offices where the expropriations were carried out belong to Pax Bank and Aachener Bank – ever since its founding by priests in Cologne in WWI – linked to the catholic church and recently also to the arms trade. While preaching humility, morals and ethics, they fill their pockets selling weapons in wars, for which they later ask to be prayed for. Another proof of the unbreakable alliance between Church and Capital. (more…)
Tags: Aachen, Bank Robbery, Germany, Trial
Posted in Prison Struggle
Thursday, December 29th, 2016
For my part I did not know Angry, but his death (to which I was not indifferent) brought him close to me via his writings, drawings, songs and the memories of other people that they relived with great affection and that allowed me and allows others to go beyond the day of December 11 and take a deeper meaning from the memory of a compañero and also of others. A sense of recognition of the person himself, of a being who took the step of defying himself, the society and this civilization of domination by compelling himself to live another life that was not established or pre-fabricated. With the ups and downs, contradictions and successes that come from rebellious decisions and wills.
The memory of which I speak comes from a feeling of affinity with the compañero and certain experiences, practices, desires, feelings and ideas that fill our life with a sense of self, pride and the impulse to walk along a similar path of struggle and confrontation, of desires and creation. (more…)
Tags: Chile, Letter, Natalia Collao, Sebastián Oversluij Seguel
Posted in Prison Struggle
Wednesday, December 28th, 2016

via Fire on the Horizon:
Last Thursday (23rd Dec) another riot broke out on prison island, this time it exploded at HMP Swaleside, as 60 masked prisoners took over a wing at the Category B training prison on the Isle of Shippey. The riot lasted for more than 6 hours as fire as extensive damage was done to the wing, fire extinguishers let off and pool balls thrown at screws. Again a riot unit called 'Tornado Team' had to be sent into the prison to quell the riot, which did not end till 1am the following day. Pictures and video footage that were sent out on illegally smuggled in phones show the rioters in full control of the wing rearing themselves up to fight the authorities, chanting loudly 'Swaleside is burning!'
Tags: HMP Swaleside, Prison Riots, UK
Posted in Prison Struggle
Wednesday, December 28th, 2016
From Smash IPP, via Rabble:
UPDATE: Reportback from demo
Noise Demo at the 'very worst' jail in the UK
Thurs 29th Dec, 6.30pm at HMP Hindley, Bickershaw, Wigan WN2 5TH
HMP Hindley has been branded "the very worst prison ever seen" by a watchdog, with prisoners often banged up in their cells for days at a time, and very high levels of violence. Right now a prisoner takes their own life every 3 days, and many more harm themselves, at the highest rate since records began. "IPP" prisoners, trapped inside without a release date, are the most likely to kill and harm themselves.
This time of year will be a difficult time for prisoners and their friends and families on the outside. Let's stand with prisoners & let them know they are not forgotten. Come to this prison demo with your loudest noisemakers, and let's build the pressure on the Governor of HMP Hindley to act.
There will be lifts from Manchester and Liverpool. If you would like to have a lift or can offer to give others a lift then e-mail us at info@smashipp.org to arrange.

Hosted by Smash IPP and Manchester No Prisons
Tags: Demo, HMP Hindley, UK, Wigan
Posted in Prison Struggle
Friday, December 23rd, 2016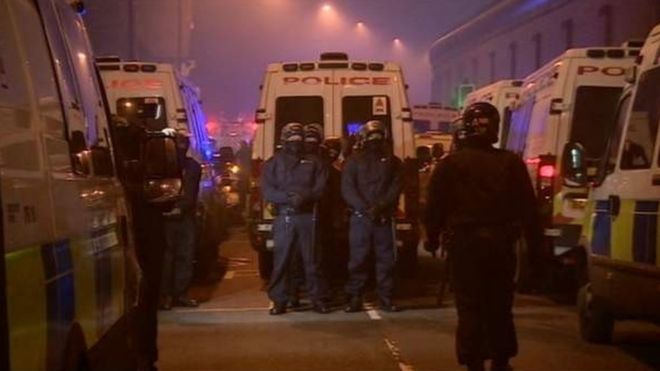 Last night a full scale riot escalated at HMP Birmingham, better known locally as Winson Green, continuing for 12 hours as several riot cop units were unable to contain the escalating rebellion. The outbreak of rage began when some inmates broke lights and grabbed fire hoses in the prison's N Wing. The screws moved in to lock prisoners back in their cells while the fracas was contained, prisoners overpowered a screw, took his keys and started unlocking the cells. Screws were forced to flee after the rioters numbering 600 cut through chains and burned documents in the worst prison disorder for more than 20 years. Internal connecting security gates were left chained to prevent rioters taking control of the whole prison, but it was not enough to stop the rebellion spreading. Prisoners used stolen equipment to cut through the chains. Within a short time four wings – said to be L, M, N and P – fell under the control of the rioters, who also broke into the security store, pharmacy and gym.  Prison owners scumbag G4S had to admit defeat and handed over control of the jail to the Ministry of Justice. Specialist response 'Tornado' teams were sent in to try to restore order as fires broke out and inmates chanted 'war cries' which could be heard outside. (more…)
Tags: Fuck the Law, G4S, HMP Birmingham, Prison Riots, UK
Posted in Prison Struggle
Friday, December 23rd, 2016
[Note: December 2016 marks both what would have been Kuwasi's 70th birthday and the 30th anniversary of his death (murder) from AIDS-related illnesses while serving a life sentence on charges related to the robbery of a Brinks armored car undertaken to fund guerrilla activities.]
I became acquainted with Kuwasi Balagoon in the 1990s through his writings and the writings of revolutionaries that knew and fought alongside him. What is clear is that Kuwasi had an intense love for New Afrikan people and all oppressed people, and an equally intense hatred for racist and oppressive authority, and dedicated the bulk of his life in defense and liberation of all oppressed people. First as a member of the Central Harlem Committee for Self-Defense and later as a Black Panther and soldier within the Black Liberation Army. Soldier is really a misnomer, because a soldier is one who follows orders and the dictates of authority without question. And that wasn't Kuwasi. We see that Kuwasi was rebellious as a young kid and later in his stay in the military. Kuwasi can best be defined as a warrior who lived to fight.
Sundiata Acoli, a comrade of Kuwasi's within the Black Liberation Army, wrote that if we had read Kuwasi's poem "I'm a Wildman" we would know Kuwasi, because he was a wildman – and that we need more of today. Sundiata also wrote that Kuwasi hated authority. I don't know when Kuwasi officially or theoretically became an anarchist, but it's clear that he was always an anti-authoritarian. He exemplified that through the numerous actions he carried out, from bucking in the military to the numerous prison breaks after being captured, which one isn't supposed to do simply because authority says you should. It's against the law, right?
Well, Kuwasi didn't give a flying fuck about the law. He understood to really be free, one must act outside the law and destroy the lawmakers and their authoritarian institutions. Kuwasi's trial statement says it all – it's brilliant, defiant, and clearly shows what we should be about. I'm sure Kuwasi caught a lot of grief and heartache for becoming an anarchist because it's seen as a white thing, just as Ashanti Alston spoke about. But I'm sure Kuwasi said fuck you to those who criticized him for being an anarchist.

Micheal Kimble
Tags: Black Liberation Army, Black Panther Party, Kuwasi Balagoon, Michael Kimble, Racism, Sundiata Acoli, USA
Posted in Prison Struggle
Friday, December 23rd, 2016
Podcast about anarchist organising in Mexico:
https://itsgoingdown.org/igdcast-anarchist-solidarity-mexican-prisons/
Tags: Mexico
Posted in Prison Struggle
Wednesday, December 21st, 2016
[Text for a gathering in memory of Sebastian Oversluij that took place in an anarchist squat in Chile]

The real death is forgetfulness.
On the 11th of December 2013 a robbery took place on a bank at the district of Pudahuel. When the anarchist Sebastian Oversluij walked in the bank announcing the robbery, he received the bullets from the armed guard-keeper of the bank-defender of the wealthy and authoritarian. Sebastian fell down dead after he emptied his machine gun…
But every day there are deaths without dying. Deaths that are repeated every day… because of the mornings alarm clock so you won't be late at work, because of the sad routes between the lonely crowd that goes to offices, factories, stores, because of the boss's yells who wants more from you and faster, because of the mechanical movements during the work that kills creativity, because of the feigned politeness, because of the debasing salary as recompense for the life that they have stolen from you.
A life that is measured based on money.
When we rob a bank, we don't steal the money, we take back the life that they have stolen from us.
But a robbery can be an addictive job also. A job like everyone else's, with the only difference that the "salary" isn't sure and in case of industrial accident, jail or death awaits you. Often the robbers are not different from the salaried workers, they only work less in conditions of high risk. But they share the same cast of mind. The one of a consumer who deifies money, who admires the power of riches and his car, his clothes, his watch, which are the prolongation of himself.
Sebastian Oversluij was not a robber. He was an anarchist. He refused to be a slave on the boss's blocks. He was a disclaimer of work because he refused the morality of working, the morality of a slave who thinks like a consumer. A robbery by itself isn't a revolutionary action. But it is one of the methods of the anarchist war, so that we take back from the bosses the stolen time and organise it aggressively against them, planning anarchist actions, helping comrades in captivity, strengthening publishing ventures and creating armed infrastructure of attack against dominion.
We belong to the generation that Sebastian belonged to. A generation that has no age, no nationality. The generation of the impatient, the uncompromising and the dreamers.
We don't need heroes, we want comrades who set fires with their ideas.
When we keep alive in our memory Sebastian and all the comrades who fell on the battlefield, we keep the struggle alive. A fight against dominion and we know that jail or death are often the cost. But as one said: "Five free birds started the journey to the South. Only one arrived, but what their journey for certain wanted to say, that it was worth it for trying to fly…"

Conspiracy of Cells of Fire – Urban Guerrilla Cell
Giorgios Polidoros,
Christos Tsakalos,
Gerasimos Tsakalos,
Olga Economidou
Tags: Christos Tsakalos, Conspiracy of Cells of Fire, Conspiracy of Cells of Fire - Urban Guerilla Cell, Gerasimos Tsakalos, Giorgios Polidoros, Greece, Informal Anarchist Federation (FAI), International Revolutionary Front, Olga Economidou, Sebastián Oversluij Seguel
Posted in Prison Struggle
Wednesday, December 21st, 2016
[Text for a gathering in memory of Sebastian Oversluij that took place in an anarchist squat in Chile]
One can never be really lost unless oblivion wraps one in her arms.
It's been three years now that comrade Sebastian Oversluij does not walk anymore through the paths of searching for the wild beauty of anarchist action. It's been three years now that some of our brothers and sisters there in Chile feel his absence stretching their hearts. It is three years since the bullets of a sneak-security guard of the "Banco Estado" took his life, extinguishing the flame of the anarchist spirit that used to burn inside him.
But we, in our turn, as well as many others, we are not willing to let our comrade disappear in the fog of oblivion. We honor our brother just like we honor his choice of passing into action, attacking a bank-a temple of money, emptying the enemy's wallet, expropriating the minimum that we should get comparing to what authority expropriates from our own lives. The bank robbery carried out by an anarchist always carries inside the seed of refusal. The refusal to submit to a world where you're restricted to sell your soul to the cruel laws of free market, so that you can live to work and work to consume and consume to fill in your existential gaps with a pile of useless objects.
We know that we are very far away and that our words have to cross an entire ocean to reach you. But we hope you'll be able to feel the affinity we all feel with all those who discover the ways to keep our brothers close to us at the events, in discussions, in our imagination, but above all in the continuing of spreading the constant anarchist revolt itself.
The members of Conspiracy of Cells of Fire- FAI/IRF
Mihalis Nikolopoulos
Giorgos Nikolopoulos
Haris Hatzimihelakis
Theofilos Mavropoulos
Panagiotis Argirou
Damiano Bolano
Tags: Chile, Conspiracy of Cells of Fire, Damiano Bolano, Giorgos Nikolopoulos, Haris Hatzimichelakis, Informal Anarchist Federation (FAI), International Revolutionary Front, Mihalis Nikolopoulos, Panagiotis Argirou, Sebastián Oversluij Seguel, Theofilos Mavropoulos
Posted in Prison Struggle
Wednesday, December 21st, 2016
During the first week of December, the trial preparation was concluded against the comrades Nataly, Juan and Enrique who are accused of various explosive attacks against police stations and metro stations.
In this bureaucratic / judicial instance it is sought to establish what evidence will be presented in the oral trial.
We must remember that these comrades are being held in the former penitentiary, the maximum security section and San Miguel Prison while the prosecution for their part raises accusations that seek to sentence them for decades and decades of imprisonment.
It is expected that they will soon set a date for the completion of the trial as a culmination of the democratic inquisition to punish the rebellious insurrectionists.
All our solidarity with Juan Flores, Nataly Casanova and Enrique Guzman!
via Publicacion Refractario, translated by Insurrection News
Tags: Chile, Enrique Guzmán, Juan Flores Riquelme, Nataly Casanova, Trial
Posted in Prison Struggle
Wednesday, December 21st, 2016
(Received 12/12/16)
The comrade Alfredo Cospito, imprisoned in AS2 [high security wing] in Ferrara for the kneecapping of [CEO Roberto] Adinolfi and who recently received a new arrest warrant for the operation named "Scripta Manent" — an operation which has led, on request of the Turin Prosecutor's office, to a new wave of prison guards censorship on the prisoner's correspondence — writes to us that his texts are being systematically confiscated.
In particular, Alfredo has sent a long contribution for a new publishing project, a new anarchist magazine of agitation and of theoretical analysis, which should be published at the beginning of next year. Alfredo wasn't aware that his letter has been confiscated until 10 days after he sent it, when he did not receive any answer from the addressees who, unaware, actually urged him to send them the welcome contribution. In other words, the head of the wing, whose sad and infamous job is to photocopy every incoming and outgoing letter for prisoners subjected to the censorship and to send a copy to the prosecutor Sparagna [in charge of the Op."Scripta Manent"], decided that in this case the spying was not sufficient; that the comrade's text was not to come out at all. (more…)
Tags: Alfredo Cospito, Ferrara, Italy, Operation Scripta Manent, Repression
Posted in Prison Struggle
Saturday, December 17th, 2016
On December 16, the Supreme Court reduced the sentences of comrades Mónica Caballero and Francisco Solar, accused of placing a bomb in the Cathedral-Basilica of Our Lady of the Pillar in Zaragoza in October 2013, repealing the initial sentence of 12 years that was dictated by the National Court to 4 years and 6 months.
This decision was made after partially received an appeal by the defense for the comrade Francisco Solar, who asked that they should not be convicted for the crimes of terrorist damage and separate injuries as if they were the result of two different actions as it was originally in the National Court. In addition the defense noted that the comrades took care when they placed a small homemade device to attack the religious symbol of established power and that they did not intend to cause any injury to any person. To reinforce this defense it noted that at the time of the attack the Basilica was closed to the public and that in addition the device did not contain shrapnel and that they gave a warning before the device was detonated. (more…)
Tags: Francisco Solar, GAC (coordinated anarchist groups), Informal Anarchist Federation (FAI), International Revolutionary Front, Monica Caballero, Spain
Posted in Prison Struggle
Sunday, December 11th, 2016
On the 8th of December the court acquitted the comrade from Amsterdam accused of a bank robbery of 2013 in Aachen.
Over 60 people were present in court, to show their support. The judge refused the rough indications argumented by the prosecution that aimed to prove the presence of the comrade in the bank on that morning more then 3 years ago.
However, the prosecution has already announced their recourse to the revision court. This means that a judge now will revise the whole court case to see if there were any procedural mistakes or incoherence with the judges reasoning for his decision. In case this court finds any errors, the trial will have to be re-done in the court of Aachen, but by a different judge. If this recourse fails, these charges and juridical procedure will be closed.
However, there are two comrades still in pre-trial detention with charges for a bank robbery that was committed in 2014. Their trial will begin at the end of January.
We send strength and courage to the comrades inside, may they feel the solidarity through the concrete walls and iron bars.
https://solidariteit.noblogs.org
Tags: Aachen, Bank Robbery, Germany, Trial
Posted in Prison Struggle
Thursday, December 8th, 2016
On November 21st, after a nine-month postponement, my trial commences at the court of appeal. It's been two years since the completion of my trial at the court of first instance, when I was sentenced to 25 years imprisonment for the charges of common complicity to homicide and robbery in connection with the events on Paros island on 10/8/2012. I was acquitted of participation in CCF as well as of direct perpetration of homicide by a majority opinion. It was a political (not judicial) compromise and a result of conflict between the manipulation of this particular case by the police in cooperation with the mainstream media during the first days after my arrest, on the one hand, and the lack of any evidence, along with the solidarity expressed by the audience and the reaction of independent media, on the other. Thereof emerged the temporary Solomonic solution of my partial acquittal of the charges, deferring the prospect of a conclusive decision until a trial at the court of appeal.
Apart from the appeal initiated by myself, in which I upheld a full acquittal of all charges, there was also one more appeal, as of right, initiated by a gentleman called Δράκος [Dragon] –namely, a public prosecutor whose surname obviously adds further symbolism to the witch-hunt orchestrated by the Counter-terrorism Service. Eventually, the division of opinion between the presiding judge, Mr. Hatziathanasiou, – who voted for my conviction for all charges- and the two other members of the court – who chose the more moderate option that eventually prevailed- made room for further manipulation. (more…)
Tags: Athens, Bank Robbery, Frame-up, Giorgos Karagiannidis, Greece, Korydallos Prison, Kostas Sakkas, Tasos Theofilou
Posted in Prison Struggle