'Prison Struggle' Archives
Tuesday, May 5th, 2020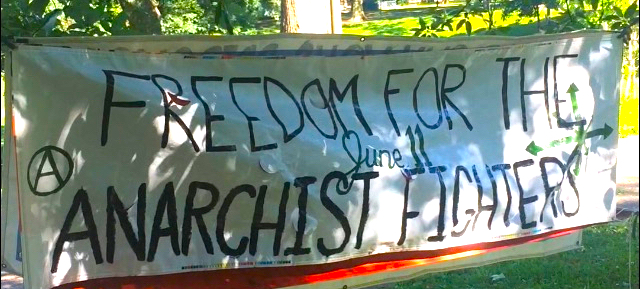 June 11th: International Day of Solidarity with Marius Mason and All Long-Term Anarchist Prisoners. In the 16 years this tradition has been observed, June 11th has facilitated support and action inspired by imprisoned anarchists — from noise demonstrations outside of jails to letter-writing nights, from fundraisers to arson. Setting aside this day is one way of remembering anarchists who are serving long prison sentences, generating support for them, and inspiring solidarity actions.
Because social struggles phase in and out, this day is a way to make sure that our imprisoned comrades are not forgotten. June 11th is a way of combating amnesia, of trying to sustain a long-term memory in the anarchist space. June 11th is a day against oblivion.
The context of June 11th this year is one in which our lives have been wrenched out of normality. A scary time, but also a time for innovation. And an especially important time to remember and support our imprisoned loved ones. While calls to release people from jails, prisons, and ICE detention facilities during the pandemic are growing louder and having some success, it's likely that many of our comrades' names will not be on the list for early release. Whether it's due to marginalized identities, terrorism enhancements, a history of standing up to guards and prison administration, or just being an outspoken anarchist, this means that their long sentences and already abhorrent health care and mistreatment could carry even worse consequences.
Our new daily lives and our responses to the pandemic can carry with them the memory and support for imprisoned anarchists. Where we are working fewer hours, we can write more letters. Where our kids are now learning from home, we can include prisoners' names in lessons about courage and about state repression. Where we give ourselves over to mutual aid projects, we can take inspiration from our comrades and invoke their contributions and memories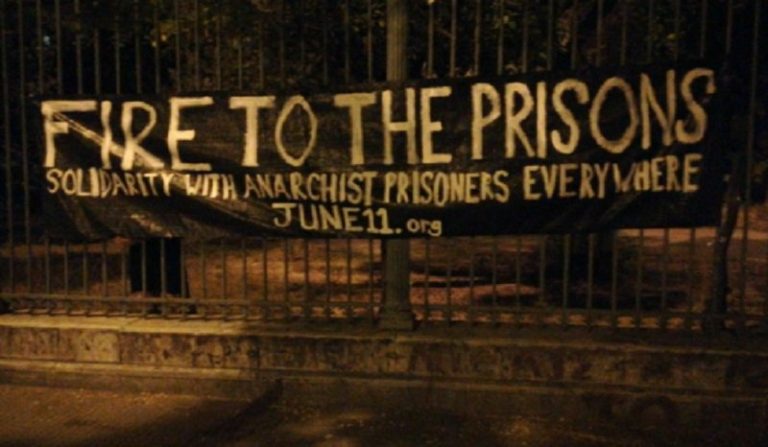 In the last year, Connor Stevens of the Cleveland 4, all remaining members of the Conspiracy of Cells of Fire urban guerrilla group in Greece, and Tamara Sol in Chile have been released from prison.
Eric King is still in segregation and now faces a 20 year charge related to self-defense actions he took in 2018. His support team has started a legal defense fund. He is scheduled to go to trial in the summer of 2020.
Anna Beniamino co-initiated a hunger strike against especially-repressive prison conditions in May 2019. Alfredo Cospito and other imprisoned anarchists in Italy later joined this hunger strike. Alfredo reported experiencing health problems related to the strike.
Michael Kimble was put in solitary after defending a prisoner from being beaten by guards. In February he and his support team launched a fundraising campaign for a lawyer to overturn his conviction. Jeremy Hammond was called in October to testify in the same grand jury that re-imprisoned Chelsea Manning. Both refused to testify. In March, Jeremy was released from contempt as the grand jury concluded and was returned to the federal prison system, though he is currently being held in the Grady County Jail in Oklahoma.
Marius Mason continues to serve his 22 year sentence, currently at Danbury CT. He is petitioning for compassionate release for health reasons during Covid-19. His support site is currently down, but people can donate through PayPal and Venmo and updates will be coming on Twitter and FB until the website is back up.
Lisa of the Aachen bank robbery case was recently restricted by a prison magistrate from being able to leave prison on weekends and during the day.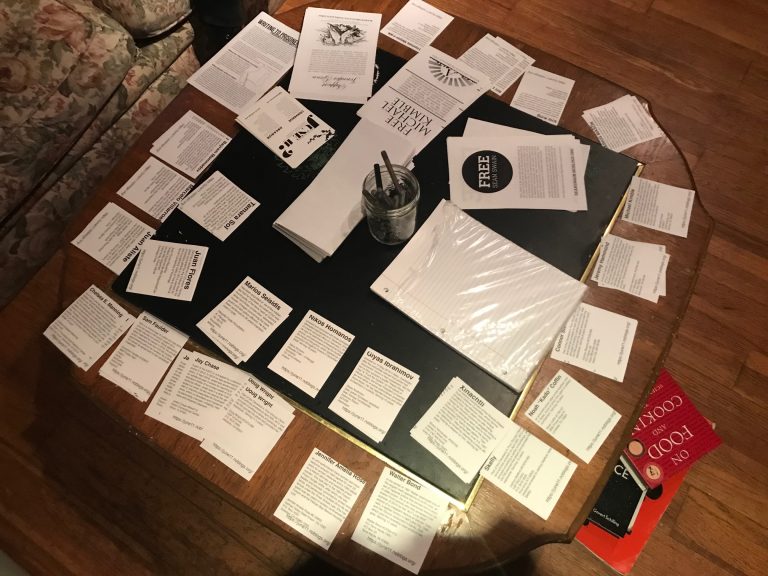 As members of the struggles of the '60s and '70s complete their sentences, and younger partisans of recent struggles emerge from shorter stints in prison, we can connect with them in mutually-enriching relationships. The challenges of being released from prison can be mitigated by a strong community of support; communities of support can deepen their own understanding of prison by direct interaction with former prisoners. These relationships can strengthen each of their participants, and expand beyond in the form of new projects and initiatives to free those still held captive.
One important and often neglected aspect of prisoner support is aid to the families of the imprisoned. Family members – often constituting a prisoner's primary or only base of support – bear the emotional, financial, and mental hardships of their loved ones behind bars. The exorbitant costs of commissary, phone calls, and visits put undue strain on those who, in most cases, are already struggling to make ends meet. Social atomization, which leaves most of us feeling lost, can be hell for those whose close companions have been stolen by the state, and who lack communities of support. These struggles continue after prisoners are released, with friends and family trying to find them employment, places to live, help with parole or other forms of diffuse detention, etc. Project FANG provides travel funds to the families and friends of animal and earth liberation prisoners, allowing them to visit their imprisoned loved ones. The Rosenberg Fund for Children provides aid to the children of activists targeting by the state. Aside from supporting these projects, we encourage anarchists to form relationships with the families of anarchist prisoners: some may not share our ideas (though many do!), but they do share our desire to see loved ones in prison survive and thrive.
As the world descends further into crisis, we are less and less able to evade questions about how we live, what sorts of relationships we create together, and what worlds we wish to inhabit. On the one hand, there is ever-increasing state power, the slavery of the individual to the technological system, and the anomic loneliness of modern life. On the other, there are complex and difficult possibilities of decentralized lifeways in which individual freedom and shared joys mix in an alchemy which affirms both. Our bonds, tempered over years of living and fighting together, can prove the starting point for these new forms of existence. Those behind bars – who we have kept present with us in our garden plots and forest wanderings, in the melodies of our songs and in the adrenaline rush of our night work – are a part of the new world we hope for. Let's not forget them for one moment.
We encourage translation and dissemination of this call. Please email translations to june11th (at) riseup (dot) net.
Tags: International Solidarity, June 11, June 11th Solidarity, USA
Posted in Prison Struggle
Friday, May 1st, 2020
"I will not equivocate — I will not excuse — I will not retreat a single inch — AND I WILL BE HEARD. The apathy of the people is enough to make every statue leap from its pedestal, and to hasten the resurrection of the dead."
Fraternal, revolutionary greetings, in the true spirit of internationalism and solidarity against all forces of evil, destruction and self-destruction, hoping this one finds you, family and friends in the very best, as it leaves me, during these trying times of not only the deadly Coronavirus COVID-19, but of the same deadly white supremacist pig-germ that now occupies the White House, that is as deadly as COVID-19 for our impoverished communities, and for the imprisoned, and poor immigrants seeking a better way of life, all pushed back by this sheer imperialist arrogance and elitism of the billionaire, money-laundering pig club that has taken over the halls of political power in the U.S. of A., a clear and present danger to all of humanity and planet Earth. Let future generations disown us and label us as spineless cowards, if we do not act to stop this insanity and madness!
You have the free liberty to duplicate these materials and share them with the rest of the world, on social media or to whomever or wherever you find my words, in the hopes that this extreme state repression I am being subjected to by these racist police state pigs may stir the senses of world humanism, and motivate others to join the freedom train, in whichever ways they can, in spreading the word of the true realities of what Amerikkka's racist, pig prison torture chambers are all about, all in the name of the corporate greed profiteering of those who make a livelihood of imprisoning others and upholding the fascism of this capitalist/imperialist totalitarian police state. There is only one way out of this misery for us, and that is through class struggle and social revolution. I have my shovel in hand, and have joined the club of grave diggers, to dig the future grave of this racist, oppressive and criminal system of robbery called capitalism. Expropriate the expropriators! (more…)
Tags: Anti-Prison, Coronavirus, International Solidarity, Letter, Texas, USA, Xinachtli
Posted in Prison Struggle
Sunday, April 26th, 2020
SOLIDARIDAD CON LXS PRESXS Y COMPAÑERXS MOVILIZADXS EN LA CÁRCEL DE ALTA SEGURIDAD Y A LO LARGO DE LAS CÁRCELES DE CHILE.
¡MAURICIO MORALES PRESENTE!
Imagen: carcelero en llamas por ataque molotov contra furgón de Gendarmería en disturbios en el exterior de la Universidad de Santiago de Chile (enero 2012).
Tags: Anti-Prison, Chile, Flyposter, Mauricio Morales, Santiago
Posted in Prison Struggle
Tuesday, April 21st, 2020
Like many of you in the free world, I have been monitoring closely the daily COVID-19 briefings broadcast from the White House. I have also been observing and analyzing the propaganda disseminated by the mainstream media in regard to the deadly pandemic.
What has been missing from the presidential daily briefings and news media platforms such as CNN and Fox News is any mention of the effect COVID-19 has had on Amerika's world leading prison population.
There has been a glaring lack of transparency and accountability in regard to what is actually happening inside both federal prisons and immigration detention centers as well as state prisons all across the United Snakes of Amerika. With your mutual aid and solidarity, I will attempt to fill that void in reporting.
I am an older Black man who is currently incarcerated at a high security federal prison in Louisiana, USP Pollock. A few miles down the road from USP Pollock is a low security federal prison known as FCI Oakdale.
The most recent data and information coming out of FCI Oakdale reports over 60 confirmed cases of COVID-19 and at least 10 deaths. I request that all of you reading this report help confirm these numbers. Bureau of Prisons (BOP) employees have been instructed to keep quiet in respect to the current situation at FCI Oakdale. (more…)
Tags: Coronavirus, FCI Oakdale, International Solidarity, Keith Malik Washington, Letter, Louisiana, Racism, Repression, Tasheem Carter, USA, USP Pollock
Posted in Prison Struggle
Friday, April 17th, 2020
New: From the Greek Prisons Updates, by Solidarity translations
(Video clip sent from Delta sector)
Today is the third day of the prisoner strike in Korydallos. Basically the prisoners who work in the jail's kitchen and the ones who work as cleaners are on strike. Social services is only supplying 2 sandwiches per day for each prisoner. Everything else is the same.
Nothing much changed of prison life although there is the strike.
At least here in Alpha sector.
Problem is that the strike didn't yet start in all prisons of Greece, but it did start in around 65%.
And there are not yet determined demands. It is obvious it is for changes of law because of corona but nothing is specified what exactly we want.
Last 2 days there was symbolic noise protest of prisoners. Against closing of the cells at 20h, which is the normal time of cell closing. Basically just hitting doors to make noise to annoy cops, but nothing happened here they just closed us in cells
In Delta sector of Korydallos prisoners have set some fires yesterday.
After the fire, MAT (riot cops) arrived and they heavily beat one guy and took him with them. I don't know where they took him, I just hope they will not say "he died of corona". Maybe they took him to an isolation cell or to the jail hospital…
–
To find out more about the current situation in the Greek prisons read these articles on the site of Actforfreedomnow:
1. Greece: Imprisonment is a death sentence
2. Thebes, Greece: Rebellion in the women's prisons of Eleonas in Thebes following the death of a prisoner – Announcement of women prisoners
3. Athens, Greece: CALL FOR SOLIDARITY WITH DETAINED WOMEN AT PETROU RALLI PRISON
4. Greece: Transfer of Pola Rοupa to the prison of Eleonas in Thebes and update on the situation in the Greek prisons
Tags: Athens, Coronavirus, Greece, International Solidarity, Korydallos Prison, Repression
Posted in Prison Struggle
Friday, April 17th, 2020
Call for financial support to the Solidarity Fund for imprisoned and persecuted militants
The Solidarity Fund for imprisoned and persecuted militants was established in 2010 in a circumstance where, on the one hand, a hard capitalist restructuring was carried out under the guise of the "economic crisis" and, on the other hand, the radical movement, having very recent memories from the experience of the social revolt of December '08, was in full bloom. Under those circumstances, repression became even more intense, resulting in an ever-increasing number of political prisoners. It is precisely in this context that the Solidarity Fund was formed, initially setting out to provide regular and consistent support to those persecuted or imprisoned for their subversive action or for their participation in social struggles.
The basic aim of the structure is to ensure decent living conditions for the imprisoned comrades through a process that would take place within the political movement; thereby taking the material dimension of solidarity a step beyond close family, friendly and comrade relationships, as well as to help with the immediate coverage of emergencies (such as court expenses and bails for the persecuted). Yet, the actions of practical solidarity and the building and development of communication bridges and united struggles between those inside prisons and those outside of it, remain as priorities of the people who form and sustain the structure.
(more…)
Tags: Athens, Greece, International Solidarity, Repression, Tameio
Posted in Prison Struggle
Thursday, April 16th, 2020
On Saturday 11th of April, relatives took Ilya Romanov, anarchist prisoner from LPU-21. Prosecutor did not appeal decision of the court of Zubovo-Polyanski of Republic of Mordovia, which has ordered to release Romanov for basis of his health. We congratulate Ilya, and everyone who was fighting for his release from prison!
Court had decided 31st of March that Romanov should be released, as he was paralyzed in the colony after stroke.
Ilya Romanov joined anarchist movement in the Soviet Union in late 80's, and he is one of the oldest veterans of the movement. Most of the time since 1998 he has spent in prisons of Russia and Ukraine. In 2015 he was sentenced to 10 years in prison, as authorities claimed he had "justified terrorism" and "prepared a terrorist attack". Investigation began, when a firecracker exploded in his hand, not far from military commission of Nizhny Novgorod. Due to explosion, his left hand had to be amputated.
In prison colony, a new criminal case was opened against Romanov. His lawyers say, that cellmate of Romanov used his smuggled smartfone to publish calls to global jihad, obviously as part of a plot by authorities. In 2018 he was sentence to a new prison sentence, in autumn of 2019 he suffered a stroke after which partially paralysed him.
Tags: Ilya Romanov, Nizhny Novgorod, Russia
Posted in Prison Struggle
Thursday, April 9th, 2020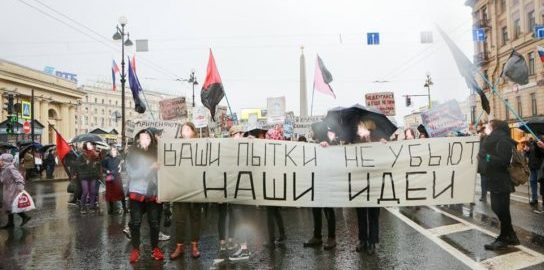 From ABC Dresden:
Around a month ago before the whole Europe was locked down by the national states, anarchist movement in different parts of the world was shaken by the news from Russia around "Network Case". Liberal news portal "Meduza" published information that some of the defendants from Penza were involved in murder of two people while they were on the run. This information brought back the topic of how we organize our solidarity and what are the limits of our solidarity. Although we are not located in the region, we have a connection to our comrades in Russia. We organized many solidarity events for those prosecuted under "Network" case in the city of Dresden. For example, an evening at the end of December, where we encouraged people to write to Russian Anarchists and Antifascists in prison.
This text is not an attack on the solidarity campaign or the anarchist movement in Russia. We are writing it to proceed with further discussion – only that way we can learn and avoid repeating the same mistakes as before.
"Network" creation
We think most of the people who are going to read this text already know the history of the case. But we will repeat a short version of it so everybody is on the same page here. (more…)
Tags: "Network Case", ABC Dresden, Analysis, Germany, International Solidarity, Russia
Posted in Prison Struggle
Thursday, April 9th, 2020
Revolutionary Greetings Comrades! Today is Tuesday, April 7th, 2020. This morning the entire prison population here at USP Pollock was screened for Covid-19 and issued protective Masks! The Registered Nurse who was part of the screening team was named Pennison. I asked Mr. Pennison Two Important questions:
#1.) Are there any Confirmed Cases of Covid-19 on the entire Federal Correctional Complex here at Pollock?
He answered: "No"
#2.) Have there been any Suspected Cases of Covid-19 on the Complex??
His answer was: "Yes, but they have been ruled out."
Be advised that this morning a prisoner on my Housing Unit claimed to have Covid-19 symptoms! He has been placed in quarantine. Please Pray for the Best!
The Fcc-complex at Pollock includes a Satelite Camp, a Medium Facility and a U.S. Penitentiary where I am currently Housed.
I Must take this opportunity to issue a National Call for Action!!! Now!!!
(more…)
Tags: Anti-Prison, Coronavirus, Keith Malik Washington, Letter, USA
Posted in Prison Struggle
Tuesday, April 7th, 2020
I've Spent 27 Years in Solitary Confinement. Here Are Some Tips on Making the Best Use of Time Alone.
By Keith Lamar, via AMW.
In solitary, I'm already quarantined somewhat. The only way we would get sick is if a CO [correctional officer] or somebody brings it in. It's probably inevitable because the guards, even if they don't have a temperature, can still be carrying the virus. And they are the ones who pass out mail, who give us food. I'm doing what I can in terms of washing my hands frequently, but there's only so much you can do. You just sitting here waiting to catch it.
I had a strict rule with my family that if anyone is sick please don't come visit, because once you get the flu [here] it's just torture. They don't give you any medications, beyond ibuprofen, so you pretty much have to suffer through. If you catch something as severe as coronavirus, I don't know how they intend to deal with that. Perhaps they would ship you out to another facility, a hospital. I'm definitely afraid.
They have suspended all visitations, so our families aren't able to come. Before, I was getting five to six visits a month: nieces and nephews, my uncles, aunts, friends. I realize there's a pandemic, so I'm all for suspending visits temporarily. My fear is that after this is said and done, they will use this as an excuse to extend the no-visit policy. I went 18 years without being able to hug my family. That's the only concern I have, besides getting sick. (more…)
Tags: Coronavirus, Isolation, Keith Lamar, Letter, Repression, USA
Posted in Prison Struggle
Saturday, April 4th, 2020
Greece : Transfer of Pola Rοupa to the prison of Eleonas in Thebes and update on the situation in the Greek prisons
We are experiencing the deepest systemic crisis that is killing. Covid 19 was created by deep poverty and inequality. Doctors have already spoken out about the new poverty conditions that all kinds of epidemics are hatching in different parts of the globe. Covid 19 is a child of inequality, and as it gets deeper, new viruses may be born that may be even more murderous than this coronavirus. Isn't it time for political criticism? But it is the very system of capitalism and the market economy of political oligarchy called representative democracy that creates an ever-widening gap between wealth and poverty, resulting in an ever-increasing poverty spreading across many countries on the planet.
A prominent pulmonologist who has publicly raised the issue of extreme poverty as a cause of the pandemic and has said that if inequality is not addressed, we will continue to have such pandemic phenomena, never again appeared on television screens. The way covid 19 is treated is also done according to social and class conditions, although the system is essentially responsible for this development. Covid 19 may not discriminate against who it hits, but not everyone has the luxury of proper care (large homes with compliance with safety and hygiene, good nutrition) and not everyone has the ability to purchase overpriced materials to protect themselves, especially now with the millions of unemployed in Greece, locked in their homes and even exposed to hunger. Patients with covid 19 no longer have access to public hospitals that are already under the weight of the pandemic due to shortages of materials, infrastructure, and staff, while diagnostic tests are limited. (more…)
Tags: Analysis, Coronavirus, Greece, International Solidarity, Letter, Nikos Maziotis, Pola Roupa, Prison Transfer, Repression, Revolutionary Struggle
Posted in Prison Struggle
Saturday, April 4th, 2020
El viernes 27 de Marzo la Cárcel de Alta Seguridad declaro el total aislamiento de los prisioneros que mantiene como rehén. La prohibición represiva con excusa de la cuarentena por el covid-19 incluía el fin de cualquier tipo de visita como también la eliminación de las encomiendas para lxs prisionerxs, cortando en la práctica cualquier contacto con el exterior como también dejándolos a a merced y dependencia de los carceleros y el Estado.
Rápidamente en medio de cuarentenas y restricciones para movilizarse por la ciudad se gestionaron distintas iniciativas para revertir las intenciones de sepultar a nuestrxs compañerxs. Desde adentro y afuera de los muros finalmente fue posible revertir parcialmente las medidas represivas y restrictivas del Estado carcelero.
(more…)
Tags: Chile, Coronavirus, Repression, Santiago
Posted in Prison Struggle
Tuesday, March 31st, 2020
by Keith 'Malik' Washington | Incarcerated Workers Organizing Committee
Today is Sunday, March 29th, 2020. This is a follow-up report to an Urgent Update that I released last Sunday, March 22nd, 2020. This specific report details recent events in regard to the Covid-19 Pandemic within Facilities Operated by the Federal Bureau of Prisons.
Please be advised that there has been a Deliberate Attempt by the Main-Stream Media and The White House to ignore the Deadly impact Covid-19 has been having on Amerika's World Leading Prison Population.
On the morning of March 29th, 2020 I interviewed a Registered Nurse who works for the Federal Bureau of Prisons. The Nurse requested that I not use their name. I will respect this employees request to remain Anonymous.
It was reported to me that there have been 8 Positive Cases of Covid-19 at Federal Correctional Institution Oakdale which is located in Oakdale, Louisiana. FCI Oakdale is the "Sister Facility" to USP Pollock. Of the 8 Cases at FCI Oakdale, 6 are prisoners and 2 are B.O.P. employees. There has been One Death at FCI Oakdale connected to the Covid-19 Virus! There are 6 Prisoners currently on ventilators at the facility. (more…)
Tags: Alexandria, Anti-Prisons, Coronavirus, FCI Oakdale, Keith Malik Washington, Letter, Louisiana, Oakdale, USP Pollock
Posted in Prison Struggle
Tuesday, March 31st, 2020
A first statement from comrades Valavani, Athanasopoulou and Michailidis
Difficult is the moment when freedom is lost. Especially when it had been won in adverse conditions. The situation gets worse if we consider that the blow we received on a material level has even stronger symbolic implications. Our cinematic arrest was followed by similar media propaganda, our graphic tour with bulletproof vests and the usual judicial management to find ourselves once again with an overblown set of charges, elements that form an extension of the handcuffs and weapons of the uniformed assassins.
A look at the wider social situation around us which is changing at a rapid pace so that we can slip away from our own microcosm a little.
From the magnitude of the workers' exploitation and abolishing of labour rights to the stranglehold of animals in meat production units. From the intensive repression against protests and the purchase of state-of-the-art equipment from anti-terrorist services around the world, to deforestation and the disappearance of wildlife. From the financial exclusion of a growing social segment to the violent marginalization of most of the earth's population. To the murders of the poor, the excluded, of all who are leftovers in the world of the mighty. From the provocative economic and business elite to the peoples being bombed, shot and uprooted. Where the interests of the powerful mean death, danger or a life drowned in submission. Nature, animals and humans mean nothing more than units generating profits and wealth. These and many others led us to choose the anarchist struggle, a choice that challenges the existing social order.
Our initial focus is on creating authentic and sincere relations, while at the same time there is the lasting need of our participation in the multiform struggle. After all, the anarchist struggle does not differentiate its means or support a hierarchy of forms of struggle. It is imperative and adjusts according to the conditions of each era, placing its bet on collectivization and diffusion on the social fabric.
(more…)
Tags: Athens, Dimitra Valavani, Giannis Michailidis, Giannis Mihailidis, Giannis Mixailidis, Greece, Konstantina Athanasopoulou, Letter, Vyronas
Posted in Prison Struggle
Tuesday, March 31st, 2020
These words of love and war go to Jhonny Cariqueo and his fireproof father.
I never met you in person Jhonny, I knew you were a compañero, an inhabitant of Pudahuel who like many young people went out at night to commemorate another year of the Day of the Young Combatant back there in 2008.
Minions can't bear the insolence to challenge them, not even with words nor with homemade weapons, and they throw themselves to the wild charge entrusted in them by the state. They take you after an act in a square in your commune. I imagine those moments, screams, weapons to the head, immobility, looks of hatred between both sides. You were transferred with other brave ones to the dungeons of the sadistic 26th Police Station, beaten and humiliated by those that are only courageous for abuse but not for combat. They beat you, your heart clenches, you communicate it to your captors, they in their cruelty just ignore you and mock you. My spirit burns with rage at imagining this. They release you. I imagine you coming to your house, with yours worries, tiredness, the desire to sleep, your father's love.
Spend the night and imagine that you felt bad, your chest clenches, without you wanting it, the dead woman's hand takes you on the shoulder. You pass away cause of the beating at the police station and the lack of attention where your great heart stopped working. Compañero, the police MURDERED you and that will walk with us for the rest of life.
I attended your funeral, hugs between compas, faces of anger and pain, We made a basket and bought a flower crown. A diagonal red-black flag of Anarchy was designed, like your scream, like your rap, like your ideas. (more…)
Tags: Chile, Day of the Young Combatant, Jhonny Cariqueo, Letter, Militant Youth, Santiago
Posted in Prison Struggle