'Prison Struggle' Archives
Thursday, December 8th, 2016
– 08/12/2016
According to RadioAzione and the Anarchist Black Cross in Italy, comrade Valentina Speziale had their request for house arrest rejected. Solidarity with the detained comrades.
– 05/12/2016
In his letter the anarchist comrade Daniele Cortelli informs us about the transfer of another comrade, Danilo Cremonese, to Ferrara prison, on November 23th. Furthermore, he updates us on his situation. Practically, for his case the investigations have been closed, and the date of cassation for re-examination has been set for February 9th, 2017.
Complicity and Solidarity with Danilo, Daniele, Anna, Valentina, Alfredo, Nicola, Marco and Sandrone!
RadioAzione
Updated addresses:
BISESTI MARCO: Casa Circondariale San Michele – Strada Casale, 50/A – 15121 Alessandria (AL)
MERCOGLIANO ALESSANDRO: Via Arginone, 327 – 44122 Ferrara
BENIAMINO ANNA: Via Aspromonte, 100 – 04100 – Latina LT
CREMONESE DANILO EMILIANO: Via Arginone, 327 – 44122 Ferrara
SPEZIALE VALENTINA: Via Aspromonte, 100 – 04100 – Latina LT
ALFREDO COSPITO: Via Arginone, 327 – 44122 Ferrara
NICOLA GAI: Via Arginone, 327 – 44122 Ferrara
CORTELLI DANIELE: Str. delle Campore, 32 – 05100 Terni TR
(Original version : radioazione.org)

via Traces of Fire.
Tags: Italy, Operation Scripta Manent, Repression
Posted in Prison Struggle
Thursday, December 8th, 2016
Freiheit für Musa Aşoğlu!
Kommt zur Kundgebung am Freitag, den 9. Dezember 2016 um 15.00 Uhr vor dem Justizministerium, Mohrenstraße 37, 10117 Berlin
Die Kriminalisierung und Verfolgung von RevolutionärInnen aus der Türkei und aus Kurdistan reißt nicht ab. Während in der BRD zahlreiche Terrorismusprozesse laufen, wurde nun Musa Aşoğlu von den deutschen Behörden festgenommen. (https://linksunten.indymedia.org/de/node/198323)
Am späten Abend des 02. Dezember wurde der 55 jährige Musa Aşoğlu gegen 22.30 Uhr gemeinsam mit einer weiteren Person vom Bundeskriminalamt im Hamburger Stadtteil St. Georg festgenommen. Die Festnahme erfolgte laut Angaben seines UnterstützerInnenkreises durch das MEK, die Wohnungstür aufgerammt und anschließend die Festnahme durchgeführt hätten. Die Festgenommenen seien danach in ein Hamburger Polizeirevier gebracht worden. Die mit Musa Aşoğlu gemeinsam festgenommene Person sei nach drei Stunden gegen 01.30 Uhr freigelassen worden. Über den Verbleib von Musa Aşoğlu gibt es bisher keine Informationen hieß es. (more…)
Tags: Berlin, DHKP-C (Democratic People's Liberation Party-Front), Germany, Musa Aşoğlu, Repression, Turkey
Posted in Prison Struggle
Tuesday, December 6th, 2016
Translation note:
This issue of "Tear down the Bastille, voices from inside the walls" was published in Greece in April 2016 and its theme was hunger strike as a means of struggle.
Translated to English and Contributions by some anarchist comrades and Act for freedom now!

via actforfree.
Tags: Antonis Stamboulos, Ferhat Erturk, Giannis Naxakis, Giorgos Karagiannidis, Greece, Hunger Strike, Irish Republican Army (IRA), Kostas Gournas, PDF, Red Army Faction (RAF), Tear Down the Bastille (Zine), Zine
Posted in Prison Struggle
Sunday, December 4th, 2016
Aachen: 1/12 update and announcement of date of the verdict
Today, 1/12 was the final day of trial for the presentation of the evidence for or against the comrade from Amsterdam accused by the prosecution of Aachen of a bank robbery that took place in July 2013 in the same city.
This means that on the next court date (5/12) both the defense and the prosecution will argument their pleas, marking the conclusion of this court case. Today the judge said that the verdict could already be on Monday 5th December, but he spoke about the possibility that the two judges and the two jurors could also take more time to deliberate and pronounce the verdict on Thursday 8th. Both court dates are scheduled to begin at 9:30, thus, for anyone wanting to be present, remember that the lines and extra controls could take up to 45 minutes to get through. (Be there latest at 8:45!!)
Since the last update an other carousel of experts and police officers have proudly fulfilled their dutiful collaboration to this repulsive judicial circus. (more…)
Tags: Aachen, Bank Robbery, Germany, Trial
Posted in Prison Struggle
Tuesday, November 29th, 2016
Alleged Japanese Red Army member Tsutomu Shirosaki has been found guilty in his trial over the May 1986 mortar attack on the Japanese embassy in Jakarta. The Tokyo District Court today handed down a 12-year sentence for the attack, in which two projectiles were launched from a hotel room but failed to cause injury or extensive damage.
Shirosaki was deported to Japan in February 2015, having serving 18 years in prison in America for an attack on the US embassy during the same incident. He was then arrested at Narita Airport and his trial for attempted murder began in September, concluding on November 1st.
Shirosaki was a veteran of Sekigun-ha (Red Army Faction), the far-left domestic group out of which the JRA partly emerged. He was arrested in 1971 for bank robbery (Sekigun-ha carried out a successful bank robbery campaign to raise funds) but freed in October 1977 when the JRA hijacked a plane, forced it to land in Dhaka and demanded the release of various prisoners in Japan. He was later re-arrested in Nepal in 1996 by local authorities in co-operation with the FBI. (more…)
Tags: Indonesia, Jakarta, Japan, Japanese Red Army, Repression, Trial, Tsutomu Shirosaki
Posted in Prison Struggle
Wednesday, November 23rd, 2016
During the almost three years that we have been confined by different prisons of the Spanish State, there is one aspect that particularly calls attention to its determinant importance in prison life; we refer to the dispersion.
The dispersion corresponds to a policy of Penitentiary Institutions implemented by the socialist government in the mid-1980s, which consists of transferring determined prisoners to distant prisons many kilometers from their place of residence. In many cases these transfers are incessant and see the prisoners forced to go through various prisons in a short period of time preventing them from establishing themselves and establishing lasting relationships with others. The purpose of this policy was to curb the riots and protests inside the prisons that had been occurring during those years by drastically removing prisoners considered hostile to the prison system. (more…)
Tags: Francisco Solar, Letter, Monica Caballero, Spain
Posted in Prison Struggle
Friday, November 18th, 2016
There are many times where the harsh awareness of our weakness to express ourselves like we would've wanted comes, with its dithyrambic countenance of a winner tightening our hearts. It always irritated us to limit our manifestation of desires, let alone to just trap them with just ink in a piece of paper, transforming them into words that are being repeated so often, that their power has begun to perish from the burden of this almost typical repeatability. But there are also some words, that no matter how much they get worn down by their repeated use, they keep radiating by the glimmer that camaraderie gives to them. Words that give you strength, that give smiles upon our faces, that break through the imprisoned solitude. Words like solidarity.
We would've of course preferred if these words were accompanied by the vital strength of an action, an attack, the intensity of a fire in the dark, the sound of an explosion, the twisting of a bullet in a barrel. (more…)
Tags: Athens, Conspiracy of Cells of Fire, Greece, Informal Anarchist Federation (FAI), International Revolutionary Front, Korydallos Prison, Operation Scripta Manent
Posted in Prison Struggle
Tuesday, November 15th, 2016
"Concrete and wires prevail everywhere.
Looking out from the window of my cell, behind the bar,
I see a piece of sky decorated with some barbed wire."
Tasos Theofilou
Join us on Friday 18th of November for our info night event in solidarity with the anarchist communist Tasos Theofilou who is currently in prison, after being sentenced on the basis of forged and non existent evidence. He was convicted just because he is an anarchist. He was convicted because he didn't lose his smile even when the court of first instance announced his sentence.
Projections, case updates, phone call interventions and presentation of Tasos' inspiring writings…
Bring your insurrectionary poetry for our open mic!
Starting at 18:00 sharp at L.A.R.C. (62 Fieldgate Street E1 1ES London)
18:30 Phone call intervention with comrades in Athens, Greece
20:00 Phone call intervention with imprisoned comrade Tasos Theofilou.
Live music will follow, starting at 21:00.
Bar will run throughout the evening. Entry on free donation.
Feel free to spread the word!!!
See you all there!
P.S. Please respect the fact that we do not wish this event to be republished on social media such as Facebook, Twitter etc.
Anarchists in Solidarity
Tags: Greece, London, Solidarity Event, Tasos Theofilou, UK
Posted in Prison Struggle
Friday, November 4th, 2016
The armed attack of Revolutionary Struggle against riot police in Exarchia was one of the most important actions of the organization. It was a legitimate political and social action in retaliation for the murder of 16 year-old Alexandros Grigoropoulos by the policemen Korkoneas and Saralioti, which took place on December 6, 2008. This murder was the result of the intensification of police violence in recent years, and was formed under conditions of intensive neoliberal reforms and the "war against terrorism" in the same period.
In particular, this development took on larger dimensions in the spring of 2007, when there were violent clashes and attacks in the center of Athens between students, youths and anarchists against squads of riot police, in the protests that were against the bill of the Ministry of Education to promote the privatization of education.
The then minister of Public Order, Byron Polidoras, when taking office truthfully addressed the police as "Praetorians", and when after these riots followed anarchist attacks on police stations in Exarchia and Papagos, he had stated that "the police have steady nerves" and can safely pull out their guns. Essentially, this more or less gave the green light to fire against unarmed demonstrators, youths and anarchists. At the same time there was a climate promoted by the state and the Ministry of Public Order, with declarations from this same minister and also the police union, promoting the cleaning of anarchists from Exarchia, speaking of the reclamation of Exarchia for the state. A similar debate and counter-debate exists now between Syriza government and the main opposition party of New Democracy. (more…)
Tags: Alexis Grigoropoulos, Athens, Economic Crisis, Greece, Nikos Maziotis, Revolutionary Struggle
Posted in Prison Struggle
Friday, November 4th, 2016
The Close Supervision Centre (CSC) system is the English version of American supermax prison conditions, indefinite solitary confinement within the most oppressive and brutal environment found in this country, which can appropriately be called torture camps. Psychological warfare is used upon its victims on a constant basis, with frequent physical attacks supplementing the arbitrary punishment. As only around 50 prisoners fall victim to the CSC at any one time its existence is largely unknown even amongst the general prison population, so it is not surprising that the wider public are so poorly informed that almost no-one protests that taxes are being spent to torment vulnerable captives who are also British citizens.
 
Her Majesty's Inspectorate of prisons (HMIP) is tasked with the role of reporting on all places of detention within the country, with a decreasing level of funding for the prison system whilst prisoner numbers continue to rise it is inevitable that more and more failings and inadequacies will be identified by them. Considering the CSC is the violation of international and European law, as well as being morally reprehensible for both its design and implementation, you would expect HMIP to dedicate its times exposing the secretive system with the goal of achieving its abolition but at least securing desperately needed reforms. When the entire prison system can be seen to be declining in the level of treatment it provides, it is obvious that those already at the harsh end will suffer the most. HMIP chooses to pretend that the CSC does not exist rather than tackle the deplorable, less attention is paid to the worst part of the prison system than any other which is simply inexcusable. (more…)
Tags: Close Supervision Centre CSC, Demo, Isolation, Kevan Thakrar, Repression, UK
Posted in Prison Struggle
Wednesday, November 2nd, 2016
Note: This text was written by Alfredo during his recent hunger-strike which began on October 3rd and ended on October 25th when prison authorities released him from isolation.
Prison of Ferrara – Italy
Letter of anarchist comrade Alfredo Cospito
Valentina, Danilo, Anna, Marco, Sandro, Daniele, Nicola friends, brothers, sisters, comrades were arrested and rearrested.
I should narrate the same old story about another fabrication. Instead, I want to talk about the reason why they were arrested. Brothers and sisters were arrested because they attacked, they were tired of waiting, they ignored the decisions of the majority and took action.
I remain optimistic and in high spirits because the logic of "1 + 1 = 2" tells me that the comrades who struck are still free, therefore they are able to strike again.
The power does not repress randomly. Today it wants to isolate and to annihilate part of anarchist movement, a "small" as it may be it was able to break the chains that tied it to the "old social anarchy".
A social anarchism that in suicidal and compulsive way looks for "consensus at any costs". Diluting continuously its aspirations.
This vision that "never goes beyond" is very convenient for power, on the contrary it fears those anarchists who refuse that "consensus" ties their hands, because they believe that only out of the action (not made of abstract theories or searching-pursuing of "people") can the strategy be born, the path to follow.
I don't want comment the "charges" and so-called "evidences". The only thing I would say is that the brothers and sisters of FAI-FRI have always claimed with head held high, in front of black-robed pigs, their own merits, their own actions, taking the responsibilities, spitting in the pigs' faces, as we did in Genoa.
My main priority is not to get out of prison at all costs, but to get out with head held high without having denied anything of what I was, and I am.
I will get out by hook or by crook, it will all depends on my strength, on my abilities, on the strength of my brothers and sisters outside, but definitely I will get out with head held high.
My ideal complicity goes to brothers and sisters of the "Cooperativa Artigiana Fuoco ed Affini"-FAI, to brothers and sisters of FAI-RAT(Rivolta Anonima Tremenda) and to brothers and sisters of Narodnaja Volja – FAI, whoever they are, wherever they are.
My ideal complicity goes to anarchism of praxis, which in new forms is rising in most of the world, after a long hibernation.
Forward, without fear.
The future is ours.
Thought and Dynamite
Alfredo Cospito

via CNA, Traces of Fire, InsurrectionNews
Tags: Alfredo Cospito, Informal Anarchist Federation (FAI), Italy, Letter, Operation Scripta Manent
Posted in Prison Struggle
Wednesday, November 2nd, 2016
Dear all,
In May of 2016, two of our comrades in Azerbaijan, Qiyas Ibrahimov and Bayram Mammadov, were arrested for spraypainting the monument of the former dictator Haydar Aliev. It was on the night before the so-called "Flower holiday", a day made up in conmemoration of Haydar, the father of the current President of Azerbaijan. Nonetheless, as the charges for spraypainting would not have been very high, more than 1 kilogram of heroin was planted in each of our comrades' homes.
They were processed on different trials. Qiyas has already been sentenced to 10 years of prison, his friend Bayram Mammadov is still on trial.
From Azerbaijani comrades we received the text of Qiyas' speech in front of the jury, him being interrupted regurlarly by the judge. In support of his case, we made an audio version of this speech and the judge's comments.
You'll find the audio (to listen online or download in different sizes) here.
Length: 11:30 min
You can find other English and Spanish language audios here.
Tags: Anarchistisches Radio Berlin, Azerbaijan, Bayram Mammadov, Qiyas Ibrahimov, Repression
Posted in Prison Struggle
Sunday, October 30th, 2016
NON SERVIAM – I WILL NOT SERVE YOU
"Worse than enslavement is getting used to it…"
Life in the modern civilized world comprises false representations, false patterns, and false formalities. Formalities that determine our upbringing within a family, our education, our professional career, our relationships, our emotions, our smiles or tears. Patterns that castrate the scope of our perception so that our thoughts are directed onto a moving walkway going only one direction. Representations that disguise the system's functions and pathogenies so that we see life unfold only on stage, and never wonder what's hidden backstage. So, the thousands of suicides of desperate debtors is just another statistic among the unpleasant consequences of the economic crisis, the impoverishment of the so-called third world is just an unfortunate fact, and its wounds will heal by charity organizations, the countless dead of modern crusades, the unfortunate victims of the absurdity of war, and the convict slaves in American prisons are simply antisocial elements that provide social services to Democracy.
Prison itself is exile from life; a non-place and non-time behind the screen of a decent society, to make the ugliness that bothers the eyes of reputable citizens unseeable. Prisons are a proof of the perverse intelligence of authoritarian minds. They're built onto walls echoing the screaming and weeping of thousands of people who've learned to sleep with anguish and despair. Prison is the country of captivity, the country where one learns to kneel before the "Forbidden", a landfill for the disposal of human waste, an industrial dump where the social machine's hazardous waste ends up. For most people, however, for all those who never learned to doubt, to question, to look beyond the obvious, prison is a security wall necessary to protect their peaceful and quiet life. (more…)
Tags: Athens, Attica (Prison Uprising), Conspiracy of Cells of Fire, Greece, Informal Anarchist Federation (FAI), International Revolutionary Front, International Solidarity, Korydallos Prison, Letter, Operation Scripta Manent, Prison Labour, Prison Labour Strike, Racism
Posted in Prison Struggle
Sunday, October 30th, 2016
Hello. My name is Lukáš Borl. I am 34 years old and recently I am held in custody prison in Czech republic – Europe. I am an anarchist and I express my solidarity with all oppressed and exploited people around the World regardless their origin, sexual orientation or gender. From this perspective I decided to send few words of solidarity to the prisoners in USA where, according to the information available to me, a general strike of working prisoners began on 9.9.2016. Regardless what they've done, regardless how the Criminal Procedure is categorizing it, I want to express my support to every striking person in prisons around USA.
Every person without exception has a right to respect and human dignity. All prisons trample this right in different ways. For example, a person whose dignity was taken away by prison is additionally exposed to exploitation by working there. As prisoners, you labor hard under hard conditions and often in danger to your own health. Time spent at work is managed by bosses, and the products of this work are taken by capitalists. On one side, there is the growing wealth of corporations, and on the other, you: the humiliated and exploited people who create the profit produced by their work. The implacable antagonism of these two worlds is obvious. If you decided to go on strike, then, it is a legitimate form of a struggle for ending exploitation. I understand this struggle and I support it. I want to let you know that your struggle is also mine. We share the same reality as human beings suffering under the control of the capital and state. (more…)
Tags: Czech Republic, Letter, Lukáš Borl, Prison Labour, Prison Labour Strike, Racism, USA
Posted in Prison Struggle
Sunday, October 30th, 2016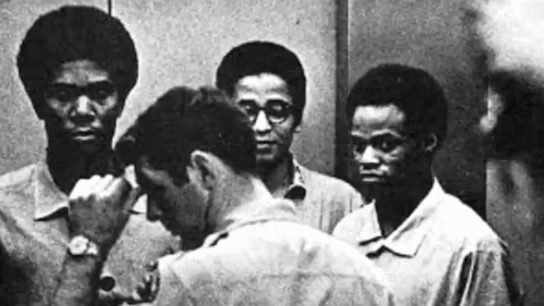 "Gentlemen, the Dragon Will Fly Out"
In Support of September 9th Mobilization in US Prisons
"Gentlemen, the dragon will fly out" is a saying attributed to prisoner George Jackson. On August 21st 1971, holding a pistol, he opened all the cells in an adjustment unit, taking jailers hostage. George Jackson was killed in his attempt to escape…
Since September 9th, prisoners in the United States have called for action against slavery.
A multitude of "invisible" slaves (there are about 2.5 million prisoners in the United States) are condemned to forced labor, or as jailers of their own selves (internal work in prisons, cleaning, repairs, technical operations), or as cheap meat in the service of corporate behemoths (Honda, McDonald's, Wendy's, Victoria's Secret, Starbucks, and many others). Besides, the 13th amendment to the US constitution clearly states: "neither slavery nor involuntary servitude, EXCEPT as a punishment for crime whereof the party shall have been duly convicted…" To put it simply, detainees are considered slaves as part of their punishment.
Prisons in America—and not just there–aren't only bars, walls, surveillance cameras or lockdowns. They're also an enormous lucrative business. Prisons are a dirty dealing for continuously supplied shackled labor force without name and without voice. They represent a modern slave trade, making billion-dollar profit, that not only supplies the companies-caretakers but also the industry of lawyers, judges, cops, corrections officers, private prisons. (more…)
Tags: Attica (Prison Uprising), Conspiracy of Cells of Fire, Fleeta Drumgo, George Jackson, Greece, Informal Anarchist Federation (FAI), International Revolutionary Front, International Solidarity, John Clutchette, Korydallos Prison, Letter, Michael Kimble, Prima Linea, Prison Industrial Complex, Prison Labour, Prison Labour Strike, Racism, Red Army Faction (RAF), USA, Weather Underground
Posted in Prison Struggle