'Prison Struggle' Archives
Monday, August 10th, 2020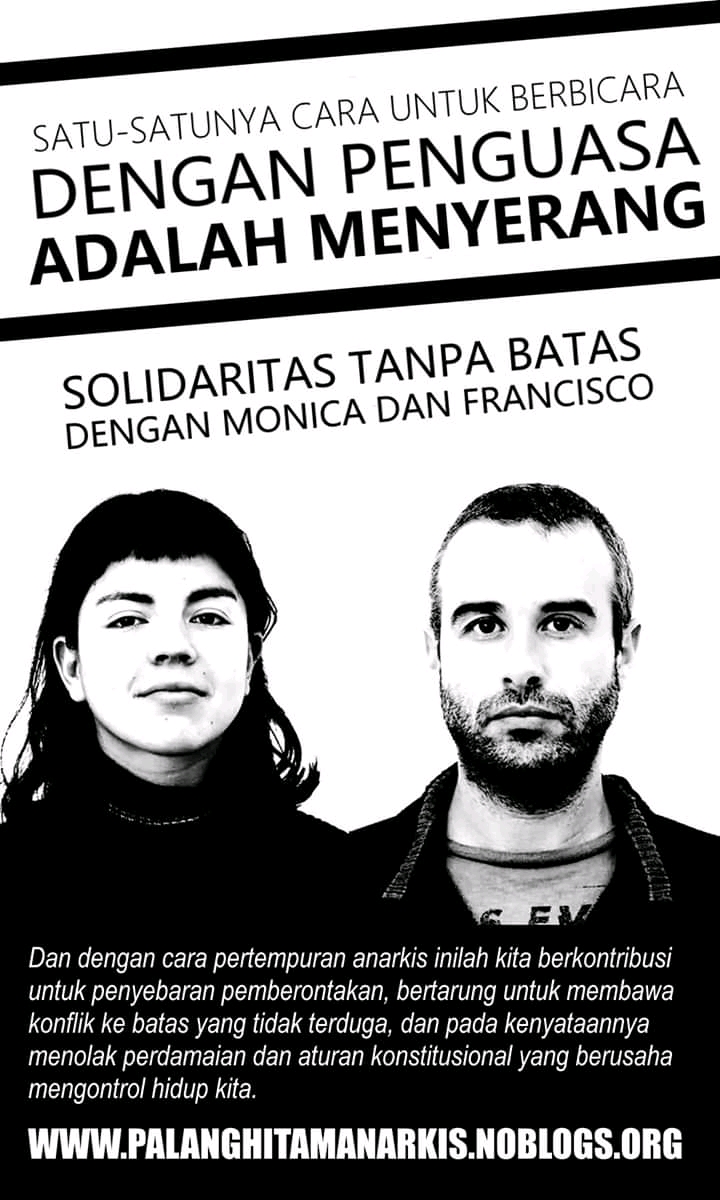 From Indonesia… To Chile…
Palang Hitam Indonesia / Anarchist Black Cross Indonesia menerbitkan poster solidatas untuk tahanan anarkis Mónica Caballero dan Francisco Solar dari Chile. Sebarkan solidaritas!!
Tautan unduhan:
• File PDF
• File JPG
Solidaritas kami akan lebih kuat dari tembok penjara mereka!! Free Monica and Francisco!
Tags: ABC Indonesia, Chile, Francisco Solar, Indonesia, International Solidarity, Monica Caballero
Posted in Prison Struggle
Monday, August 10th, 2020
Also read : Porto, Portugal – Words from Gabriel Pombo Da Silva (March-April 2020)
Here at Gabriel giugno in Italian you can download Gabriel's writings, below is the introductive note via: roundrobin.info
Translated to English by Act for freedom now!
–
Gabriel Pombo Da Silva communique
Gabriel has asked us to select some of his words from his more recent letters and compile a communique addressed to all those who would like to read it, as it is impossible for him to write one now that would get out of the prison where they are holding him kidnapped. The letters in question, which arrived after much delay, are dated from 11th April to 20th May when he wrote the only letter in the prison of Badajoz in Portogal, [he has since been transferred to the prison of Mansilla de las Mulas in León].
Gabriel sends strong hugs to all the comrades who are supporting him sincerely and to all the dignified individuals who continue to struggle for freedom in whatever part of the world they find themselves.
Freedom for Gabriel!
Freedom for all!
Long live Anarchy!
–
Words from Gabriel Pombo Da Silva, April – May 2020
"… what is happening has no logic or rules… it's like playing a game of chess where every now and again someone buts in and moves a piece on the board… how can you play or win a game like that? What are the 'rules' or the 'limits'? I can't even talk about 'Law' (regardless of what I think about it) or appeal to 'Rights' after all I have gone through… that's why I am wondering: given that I don't have any 'Rights', what are the 'rules' of this struggle? In the end the State's war against resilient individuals is always dirty, without any 'rules'…" (more…)
Tags: Badajoz, FIES, Gabriel Pombo da Silva, Letter, Oporto, Portugal, Spain
Posted in Prison Struggle
Sunday, August 9th, 2020
Jornada de agitación y propaganda con lxs presxs anarquistas.
14 DE AGOSTO DEL 2010
A diez años de la arremetida del poder en el Caso Bombas 1 y ante un nuevo golpe represivo en contra de nuestrxs compañerxs Mónica y Francisco, hacemos un llamado para este 14 de agosto a levantar por todos los rincones de este territorio gestos de propaganda y solidaridad. Dando rienda suelta a la creatividad desde el lugar que estemos y como podamos, haciendo una vez más que la solidaridad sea más que palabra escrita.
Ni culpables, ni inocentes, anarquistas simplemente.
Solidaridad activa y revolucionaria con Mónica y Francisco!
–
A day of agitation and propaganda for anarchist prisoners.
AUGUST 14TH, 2010
Ten years after the onslaught of power in the first "Bombs" case (Caso Bombas 1) and in the face of a new repressive coup against our comrades Monica and Francisco, we call for this August 14 to raise gestures of propaganda and solidarity in every corner of this territory. Giving free rein to creativity from wherever we are and however we can, making solidarity once again more than just a written word.
Neither guilty, nor innocent, simply anarchists.
Active and revolutionary solidarity with Monica and Francisco!
via Anarquia.info
Tags: 14/14, Flyposter, Francisco Solar, International Solidarity, Monica Caballero
Posted in Prison Struggle
Sunday, August 9th, 2020
One of the Tangerang anarchist prisoners who was previously sentenced to 4 months in prison, on August 8, 2020, has been released.
Of course his release does not make us forget the repressive actions he experienced during his arrest, interrogation and isolation for some time.
Congratulations for Comrade AA's freedom.
2 Tangerang anarchist prisoners and 1 Bekasi prisoner, will undergo trial Tuesday [11 August 2020].
#TillAllAreFree
Tags: Bekasi, Indonesia, International Solidarity, Tangerang
Posted in Prison Struggle
Wednesday, August 5th, 2020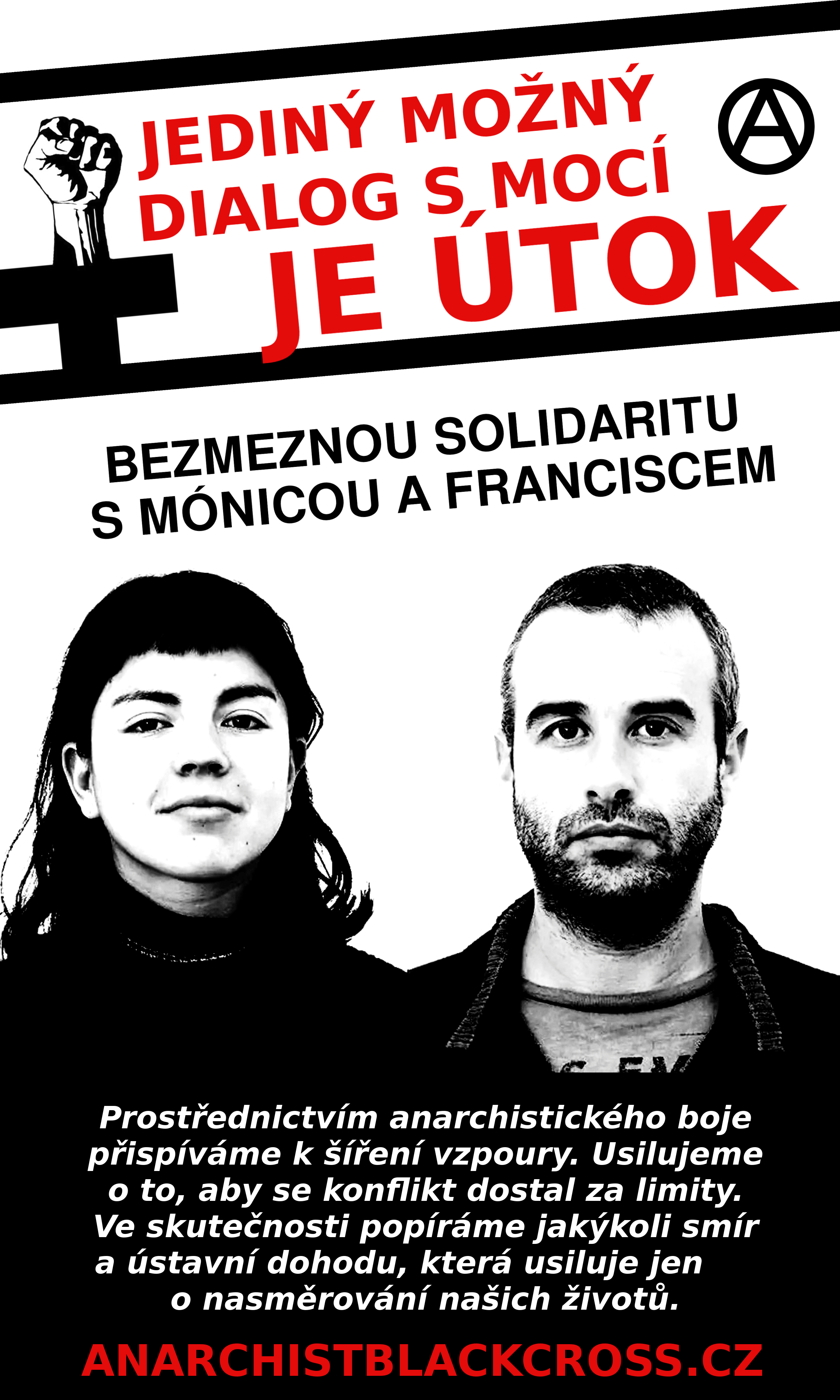 Anarchist Black Cross (Czech) created a new poster in solidarity with Mónica Caballero and Francisco Solar.
Our solidarity is stronger than their prisons!
Tags: ABC Czech Republic, Flyposter, Francisco Solar, International Solidarity, Monica Caballero
Posted in Prison Struggle
Monday, August 3rd, 2020
Tags: Anarquia.info, Chile, Flyposter, Francisco Solar, Monica Caballero
Posted in Prison Struggle
Friday, July 31st, 2020
Compañerxs, amigxs y familiares:
Nuevamente les escribo desde una celda. Me encuentro recluida en la cárcel de San Miguel, durante 14 días permaneceré aislada por protocolo de prevención de contagio al COVID-19, posteriormente me clasificarán y me llevarán a un módulo definitivo.
Ya son casi 10 años desde la primera vez que pisé la cárcel como imputada. Durante estos años mi vida de alguna u otra manera, siempre ha estado ligada a las prisiones, si bien los sistemas de control pueden cambiar, pero su estructura
esencialmente no, se sigue buscando el castigo y el arrepentimiento.
Hace casi 10 años atrás al entrar a la prisión, estaba plenamente convencida de que el conjunto de ideas y prácticas anti autoritarias son claves fundamentales para enfrentar a la dominación, en todo este tiempo no ha existido ni un solo día en el que piense lo contrario. Piso la prisión con la cabeza alta, orgullosa del camino recorrido.
Solidaridad con todas las luchas anticapitalistas
Newen Peñis, Presos políticos Mapuche
Presos subversivos y de la revuelta
A la calle!
Mónica Andrea Caballero Sepúlveda
Presa Anarquista.
Julio 2020.
–
Words of Mónica Caballero from the San Miguel prison
Comrades, friends and family:
Again I write to you from a cell. I am confined in the prison of San Miguel, for 14 days I will remain isolated due to the contagion prevention protocols of COVID-19, later they will classify me and take me to a specific module.
It is almost 10 years since the first time I stepped into prison as a defendant. During these years, my life in some way or another has always been linked to the prisons; although control systems may change, essentially their structure seeks punishment and repentance.
Almost 10 years ago when I entered the prison, I was fully convinced that the set of anti-authoritarian ideas and practices are fundamental keys to face domination, in all this time there has not been a single day to have thought otherwise. I walk the prison with my head high, proud of the way I travel.
Solidarity with all anti-capitalist struggles
Newen Peñis [Energy to Warriors], Mapuche political prisoners
Subversive and revolt prisoners
On the street!
Monica Andrea Caballero Sepúlveda
Imprisoned Anarchist
July 2020.
–
Parole di Mónica Caballero dal carcere di San Miguel (Cile)
Compagni, amici e familiari:
Ancora una volta vi scrivo da una cella. Sono confinata nella prigione di San Miguel, per 14 giorni rimarrò isolata a causa dei protocolli di prevenzione del contagio da Covis-19, più tardi mi classificheranno e mi porteranno in un modulo specifico.
Sono passati quasi dieci anni dalla prima volta in cui sono entrata in carcere come imputata. Durante questi anni, in un modo o nell'altro la mia vita è sempre stata legata alle carceri; anche se i sistemi di controllo possono cambiare, la loro struttura sostanzialmente resta la stessa, perseguendo sempre punizione e pentimento.
Quasi dieci anni fa, quando sono entrata in carcere, ero pienamente convinta che l'insieme delle idee e delle pratiche antiautoritarie fossero la chiave fondamentale per affrontare il dominio, in tutto questo tempo non c'è stato un solo giorno in cui ho pensato il contrario. Cammino per il carcere a testa alta, orgogliosa del cammino intrapreso.
Solidarietà con tutte le lotte anticapitaliste.
Newen Peñis [«energia ai guerrieri»], prigionieri politici mapuche,
sovversivi e rivoltosi imprigionati — nelle strade!
Mónica Andrea Caballero Sepúlveda
Anarchica imprigionata
Luglio 2020
Tags: Chile, Letter, Monica Caballero, San Miguel, San Miguel prison, Santiago
Posted in Prison Struggle
Saturday, July 25th, 2020
Received from comrades in Amerikkka, the correspondence address for anarchist comrade Xinachtli's current assigned unit in Texas, find previous posts concerning Xinachtli here.
To: Bro. "Xinachtli",
(s/n Alvaro Luna Hernandez),
TDCJ-CID#00255735,
James V. Allred Unit,
2101 F.M. 369 North,
Iowa Park, Texas 76367
From Comite Pro Defensa Xinachtli
Central Texas ABC
Tags: ABC Texas, International Solidarity, Texas, USA, Xinachtli
Posted in Prison Struggle
Sunday, July 19th, 2020
[16/07/2020]
Recordando al compañero Pablo Muñoz Moya. Su historia en Guerra (como la de todxs lxs combatientes muertxs en tiempos de Dictadura y Democracia) alimenta la Memoria Viva y la Acción Directa Violenta contra el Poder y sus sicarixs polícias y militares en el aquí y ahora en momentos de pandemia, explotación, hambre y miseria -pero también- de combate en los barrios y poblaciones en varias regiones a lo largo y ancho de $hile.
A 28 años exactos de la muerte en combate del Guerrillero Urbano Pablo Muñoz Moya. Él está presente en el kaos, en la revuelta y en la lucha callejera. Porque no hay olvido, no hay resignación, no hay perdón: SOLO LUCHA!!!
-Compartimos un afiche y un dibujo para la difusión.
* Para conocer más sobre Pablo Muñoz Moya -El Guatón Feña- difundimos el siguiente texto desde la prisión escrito por el kompañero Marcelo Villarroel Sepúlveda el 16/07/2019.
–
PABLO MUÑOZ MOYA PRESENTE!!!
Nuestrxs muertxs kaminan en la guerra social tan vivxs komo la inkonmensurable fuerza de nuestras konvixiones. (more…)
Tags: Chile, Letter, Marcelo Villarroel Sepúlveda, Pablo Munoz Moya, Santiago
Posted in Prison Struggle
Sunday, July 19th, 2020
All around the world people are getting locked up because of their political or social struggles. Those people in many cases are left alone inside of the prison system that tries to crash them with all the power it has. However writing letters to the prisoners might be one of those small straws that will be able to pull the person out of repressive apparatus of the state.
We urge you to write letters to prisoners to help them survive hardships of prison!
This video is a result of collaborative work between Anarchist Black Cross Dresden and Anarchist Black Cross Umeå groups. It was created as a mobilization for the 2020 Week of Solidarity with Anarchist Prisoners (23-30 August).
No rights reserved.
Tags: International Week for Anarchist Prisoners, Video
Posted in Prison Struggle
Sunday, July 19th, 2020
As anarchists we believe, direct action and insurrection is the soul of anarchism itself, while prison and humiliation are the consequences of every direct action we take.
If humiliation is the answer to every direct action, then pacifism is the answer right? Unfortunately not, giving up on pacifism means letting our necks stepped and getting stepped again!
Our comrades in Tangerang and Makassar have decided to fight back against state oppression and must now be locked up in prison, and this is our duty to ensure they are not alone! We did a little decoration in an unused building a few days ago as our solidarity, let's make and spread solidarity!
Our hugs and love for Makassar and Tangerang anarchist prisoners. Fire for prison! No anarchy without abolition of prisons and police!
Tulungagung Anarchist Individual Network
via Palang Hitam Indonesia / Anarchist Black Cross Indonesia
Free All Anarchist Prisoners
Tags: Graffiti, Indonesia, International Solidarity, Makassar, Makassar City, Solidarity Action, Tangerang, Tulungagung
Posted in Prison Struggle
Sunday, July 19th, 2020
July 4th, 2020
The following text is a letter from the anarchist Giuseppe Bruna, imprisoned since May 21st, 2019, for the «Prometeo» repressive operation, currently imprisoned in Pavia prison. To write to him: Giuseppe Bruna, C. C. di Pavia, via Vigentina 85, 27100 Pavia, Italy.
Dearly beloved,
I hope this one of mine finds you well!
I am writing to report a serious situation (yet another!) that I found myself facing between the afternoon of July 3rd and midnight of July 4th! As you will be aware, I have been locked up since about a year in a cell alone in the «protected» section [a section where are held ex-cops, infamous, pedophiles, rapists, ecc.] of Pavia's jail!, I have always refused such placement by putting in place various forms of struggle (hunger strike, air strike, etc.).
The [incomprehensible word, probably could be «direction»] health care of the Pavia jail, even though I was never underwent any medical examination (even if there was a specific request of the judge for the preliminary investigations, Basilone), stated that I am under treatment (with what?) for my thyroid lymph node (which has never been checked here) and that I had a serious form of bronchopneumonia and in case of need they would have provided to help me! (more…)
Tags: Giuseppe Bruna, Italy, Letter, Operation Prometeo
Posted in Prison Struggle
Sunday, July 5th, 2020
The imprisoned deported Sardinian anarchist comrade Davide Delogu informs us that in the Caltagirone prison (in Sicily), where he has just been transferred, he has once again been subject to regime 14 bis. Updates will follow.
Sardegna Anarchica
[Anarchist Sardinia]
Cassa di Sostegno per l'Anarchico Sardo Prigioniero Deportato Davide Delogu
[Support Fund for the Imprisoned Deported Sardinian Anarchist Davide Delogu]
Note: Article 14 bis of the Italian penitentiary law (not to be confused with 41bis) provides for special supervision of a prisoner.
The text in Italian was published in sardegnaanarchica.wordpress.com.
via Malacoda.
Tags: Davide Delogu, Italy, Prison Transfer, Sicily
Posted in Prison Struggle
Friday, July 3rd, 2020
EL | Απολογιστική-προτασιακή τοποθέτηση του συντρόφου Δημήτρη Χατζηβασιλειάδη προς τους συντρόφους
PDF: Debriefing and propositional statement
Historical background
On the 21st of October, around 11pm, together with one more person, I made an appropriation of a state casino shop in Cholargos (suburb of Athens). Before our departure from the shop the rifle that was used for our self defense passed from the other person's hand to mine. An automatic rifle, if available, is a convincing deterrent during any act that may come into confrontation with the murderous mercenaries of capitalism. Bastards like those who tortured to death George Floyd, the same bastards who gang killed Zak Kostopoulos, who was already wounded by the fascist shop-owners in a pedestrian road, in the middle of the day, in the city center, bastards who, shortly after, killed Embouka Mamasoubek inside a police station, and whose names are still kept secret, having enjoyed the full cover of the then leftist government and bourgeois justice, these bastards don't understand any other language than the one they have learned to implement.
The moment I took the weapon, it fired, due to my negligence. The bullet hit my leg. After leaving the place, I sought refuge at the nearby home of an old friend. Estimating that very soon the repression mechanisms and their minions, the regime's journalists, would publish my photo, I decided to evacuate a flat in which I was storing a number of tools for the resistance, with the aim to rescue them. So these tools ended up in the house where I had gone wounded, and from there into the warehouses of the militarist-statist rulers, about two weeks after my injury. (more…)
Tags: Analysis, Athens, Dimitris Chatzivasileiadis, Greece, Insurrection, Letter, Organization for Revolutionary Self-Defense, Repression
Posted in Prison Struggle
Friday, July 3rd, 2020
Our friend Andreas is dying… (July 2, 2020)
… and everyone is watching. What has been happening to Andreas in jail in Naples for at least a year is a result that both the German and the Italian state are responsible for. In spite of his poor health, Andreas is denied adequate medical care despite promises to the contrary by the hospital management. He is brought to a hospital every hour for questionable or senseless examinations and then back to prison.
Andreas was diagnosed with cancer at least a year ago, it spread all over his body and he had unspeakable pain. He can hardly walk anymore, just eat more baby food, he loses blood and is often unconscious for days. His Italian lawyer is fighting at all levels, but transfer to house arrest has now been refused.
Andreas is doing very badly, suicide seems to be the only way out for him in the current situation.
Both the Italian and the German state know Andreas' state of health. Nobody lifts a finger, fundamental human rights do not seem to apply to prisoners. What happens here is murder. And every suicide in jail is nothing else, because behind bars there are no free decisions.
We cannot stand by, although we are infinitely sad and angry and have no ideas what to do.
Confront the German and Italian authorities with their inactivity, call the Federal Foreign Office, Boschaft and the consulate.
Down with all prisons! Down with all states!
ABC Vienna, July 2nd, 2020
–

Notes:
The address to write to him:
Andreas Krebs
Sez.4 /Stz.5
Mediterraneo
Via Roma Verso Scampia 250
CAP 80144 Napoli (NA)
Italy
—
He has to pay for the urgently needed medication and reasonably usable food himself. If you want to donate money:
Receiver Krebs IBAN: DE 90 1005 0000 1067 1474 26
BIC: LOADED BEXXX
Purpose: Donation / Andreas Krebs
Tags: ABC Vienna, Andreas Krebs, Germany, Italy, Repression
Posted in Prison Struggle