'Prison Struggle' Archives
Wednesday, April 17th, 2019
The anarchist Sardinian comrade Davide Delogu was transferred from the Augusta prison (province of Syracuse, in Sicily) to that of Rossano Calabro (province of Cosenza, in Calabria). The address to which letters, telegrams, books, etc., can be sent is as follows:
Davide Delogu
c/o Casa di Reclusione di Rossano Calabro
Strada Statale 106 Jonica n. 32
87067 Corigliano-Rossano (Cosenza)
Italia (Italy)
From 11.03.2019 and during the month of March the comrade was on a hunger strike because the new director of the Augusta prison (Angela Lantieri) who had just arrived had immediately revoked the meeting permit that Davide makes with a Sardinian comrade (the only meeting he can currently do). He had also accompanied the strike with missed returns in the cell varying between 30 and 60 minutes and daily keystrokes in the cell.
Solidarity with anarchist Davide Delogu!
Tags: Davide Delogu, Italy, Prison Transfer
Posted in Prison Struggle
Thursday, April 4th, 2019
ES – REINO UNIDO: EL PRISIONERO ANARQUISTA JOHN BOWDEN SE LE NIEGA LA LIBERTAD CONDICIONAL Y SE LE MANTIENE COMO UN REHÉN POLÍTICO
On the 22nd January 2019 after almost forty years in prison the Parole Board considered the case for either my release or continued imprisonment. In the case of life sentence or indeterminately sentenced prisoners once such prisoners have been detained for the length of time originally recommended by the judiciary or Secretary of State, in my case 25 years, then the Parole Board has a statuary and legal obligation and responsibility to review the case for either the release or the continued detention of such prisoners. At three previous parole hearings my release had been denied by the Parole Board on the grounds that I was a "difficult and anti-authoritarian" prisoner, and insufficiently obedient to prison authority; my actual risk or danger to the public, the prime official criteria for denying the release of life sentence prisoners, was never cited as a reason for my continued imprisonment.
(more…)
Tags: John Bowden, Letter, Repression, UK
Posted in Prison Struggle
Wednesday, April 3rd, 2019
Our friend Radek, has been held in custody, in the Netherlands, for 5 months now. He was charged with attempted arson at the Polish embassy, which carries a sentence of up to 12 years in jail. Radek – just as many other workers on emigration – had dealt with exploitation by the employers, on a daily basis. Exploitation, unfair pay, unpaid overtime, atrocious living conditions – the realities of work in the West. Radek had tried to solve those problems in a less radical matter. He had given a shot by going public with it, informing the media, executing his rights. None of it helped. Eventually, he took a brave step forward. He went to the Polish embassy in The Hague, with a can full of gas and a lighter. He then informed, that he would burn the place and asked for people inside the building to be evacuated. In reality: springs from the lighter were taken out, so as to make sure, that starting a fire wouldn't be possible. (more…)
Tags: Demo, Den Haag, Netherlands, Poland, Radoslaw Bogacki (Radek), Solidarity Event, Trial, Warsaw
Posted in Prison Struggle
Tuesday, April 2nd, 2019
Queremos invitarles el próximo sábado 6 de abril desde las 10am en la ciudad de Bogotá a las primeras jornadas anticarcelarias. Con la temática: Mujer y encierro, las situaciones que viven las mujeres tras
las rejas. Familiares de casos en el territorio colombiano. Charla sobre la primera carcel de mujeres en Colombia. Red Trans, Cuerpos en prision, mentes en acción. Taller: La prisión interna. Actualización Presxs Anarquistas en el mundo. Conversas con el cono sur y actualización de compañeras en prisión.
Tags: Anarchist Gathering, Anti-Prison, Bogata, Colombia, International Solidarity, Solidarity Event
Posted in Prison Struggle
Monday, April 1st, 2019
June 11th: The international day of solidarity with Marius Mason and long-term anarchist prisoners. In the 15 years this tradition has been observed, June 11th has facilitated support and action inspired by imprisoned anarchists — from noise demonstrations outside of jails to letter-writing nights, from fundraisers to arson. Setting aside this day is one way of remembering anarchists who are serving long prison sentences, generating support for them, and inspiring solidarity actions.
Because social struggles phase in and out, this day is a way to make sure that our imprisoned comrades are not forgotten. Our lack of memory is partially a result of the techno-alienation of the larger culture we're fighting against. But it's also a product of the dynamics of the anarchist space. People become burnt out and the cycle of forgetting continues.
June 11th is a way of combating that amnesia, of trying to sustain a long-term memory in the anarchist space. Not only does this generate support for anarchists locked in the state's prisons, it forces us to look back at what came before. Considering what previous generations did can both inspire us with ideas we've forgotten, and help us understand how our current practices came to be. (more…)
Tags: Connor C. Stevens, Eric G. King, Freddy Fuentevilla Saa, International Solidarity, J20, Jeremy Hammond, Joaquín García Chanks, June 11, June 11th Solidarity, Lisa, Marius Mason, Michael Kimble, Operation Panic, Operation Renata, Operation Scintilla, Operation Scripta Manent, Repression, Sean Swain, USA
Posted in Prison Struggle
Thursday, March 28th, 2019
Two members of Secours Rouge International testified in defense of Revolutionary Struggle at the trial of anarchist prisoners Pola Roupa and Nikos Maziotis in Athens.
The following is a statement by Secours Rouge:
"It was with great joy that we again met Pola Roupa and Nikos Maziotis, the imprisoned fighters of the Revolutionary Struggle organization this morning in Athens. Two Secretaries of Secours Rouge International have testified at the trial to defend "Revolutionary Struggle," the legitimacy of its political-military strategic project, and the means that the organization has set itself to implement its objectives. Our delegates stressed that revolution is not merely a utopia since it is already a reality in Rojava. To the judge's question "When will the violence end?", our delegate returned the question "When will your class violence stop?""
Originally published here, English translation via Abolition Media Worldwide.
Tags: Athens, Counter-info, Greece, Nikos Maziotis, Pola Roupa, Revolutionary Struggle, Secours Rouge, Trial
Posted in Prison Struggle
Thursday, March 28th, 2019
[Note of roundrobin.info website]: We are posting, delayed due to a technical problem, this update received on 20/03:
The judges of the review ["giudici del riesame", in Italian] considered the accusations of terrorism to be non-existent. Therefore, the charge of 270bis ["subversive association for the purposes of terrorism"] is disputed. The alleged crime is now of 270 or rather "subversive association". In any case, the comrades remain in prison for now.
All free!
–
Operazione "Renata": Aggiornamento
Pubblichiamo, in ritardo per un disguido tecnico, questo aggiornamento
ricevuto il 20/03 :
I giudici del riesame hanno considerato insussistenti le accuse di terrorismo, quindi il 270bis e le aggravanti. Il reato ipotizzato ora è quello di 270 ossia associazione sovversiva. Ad ogni modo le compagne e i compagni rimangono per ora in carcere.
Tutti liberi, tutte libere!

[Tratto da roundrobin.info]
https://insuscettibilediravvedimento.noblogs.org/post/2019/03/28/operazione-renata-un-aggiornamento/
Tags: Italy, Operation Renata, Repression
Posted in Prison Struggle
Thursday, March 28th, 2019
Niccolò Blasi, anarchist arrested 7.02.2019 in the context of the repressive "Scintilla" operation – which involved the eviction of the Asilo Occupato in Turin and the arrest of six people (two of whom were subsequently released from prison following the fall of the "subversive association" accusation) -, was again transferred, this time from the prison of Ivrea to that of Cuneo. Below is the address:
Niccolò Blasi
Casa Circondariale di Cuneo
via Roncata 75
12100 Cuneo
Italia (Italy)
While the others arrested on 7.02.2019 still in detention are always in the prisons of Ferrara and Rome Rebibbia. Here are the addresses: (more…)
Tags: Asilo Occupato, Cuneo, Ferrara, Italy, Operation Scintilla, Prison Transfer, Repression, Rome
Posted in Prison Struggle
Tuesday, March 26th, 2019
Anahi Salcedo has been held in Ezeiza Prison since January 10th. She is on remand accused of the explosive attack against the tomb of the infamous, genocidal torturer, Commissioner Ramón Falcón, Chief of the Argentine Federal Police that took place on November 14th, 2018 – 109 years since Falcón was executed by Anarchist comrade Simón Radowitzky.
Anahi received serious injuries to her hand and face, allegedly following the premature detonation of a homemade explosive device at the tomb. At the time of her arrest, Anahi lost three fingers on one hand and suffered serious injuries to the rest of her body including a fracture of the clavicle on her other arm. (more…)
Tags: Anahi Salcedo, Argentina, Repression, Torture
Posted in Prison Struggle
Tuesday, March 26th, 2019
From AMW:
"Revolutionary change will not come as a singular event, nor an immediate exchange of power, but an ongoing struggle to free us all from the bonds of oppression and distribute power to communities of resistance. The illusion that a small group can seize state power and enact the will of the majority has dried up in the gulags, prisons, and killing fields of nation-states around the world. The Cantons of Rojava, a network of councils without the State, has introduced a new revolutionary paradigm… As we formulate our next steps, we harken to Rojava as a model. Just as it is grounded in the Kurdish liberation movement in Rojava, we here must ground ourselves in the black liberation movement against slavery."
–Burn Down the American Plantation (What We're Working Towards), pg 68-69, Revolutionary Abolitionist Movement
Revolutionary Greetings Comrades!
Did you really think for one moment that I was going to remain silent?
I began working with RAM because of Rojava. The Kurdish struggle struck home. Do you realize that these Sisters and Brothers in Northern Iraq and Syria helped fight and defeat ISIS? Yeah! That is right! These beautiful people, who Donald Trump wants to abandon, sacrificed their lives for the good of all. I was careful when I decided to speak out. Right around the time Trump made his announcement that the U.S. would pull out of Syria – George W. Bush had died. It wasn't really good for me to say what I needed to say but now I am going to say it!! (more…)
Tags: International Solidarity, Keith Malik Washington, Kurdish Struggle, Letter, Rojava, USA
Posted in Prison Struggle
Saturday, March 23rd, 2019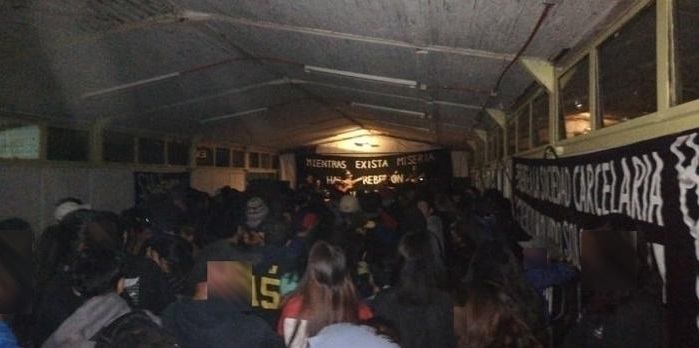 "Tokata Antikarcelaria" en solidaridad con Marcelo Villarroel Sepúlveda en Peñalolén el 15/03/2019.
A 11 años de los hechos en San Martín de los Andes, Argentina
Solidaridad activa, Marcelo Villarroel Sepúlveda a la calle
La expropiación al Banco Security en el centro de Santiago el 18 de Octubre de 2007, la persecución mediática, policial y estatal que se desató contra varios compañeros subversivos cuando ellos tomaron la opción de fugarse para salvaguardar sus vidas fueron golpes que calaron hondo en toda una estructura que se muestra fuerte, intocable e invulnerable.
La detención de los compañeros Marcelo y Freddy el día 15 de Marzo de 2008 en San Martín de los Andes (Argentina) pone fin a su clandestinidad, momento en el que se encontraban con David Cid Aedo, quien es detenido, puesto en libertad y expulsado a Chile con posterioridad. En esta ocasión Marcelo y Freddy son acusados de porte ilegal de armas de guerra, por lo que son condenados a 3 años y 6 meses de prisión. (more…)
Tags: Chile, International Solidarity, Juan Aliste Vega, Marcelo Villarroel Sepúlveda, Santiago
Posted in Prison Struggle
Saturday, March 23rd, 2019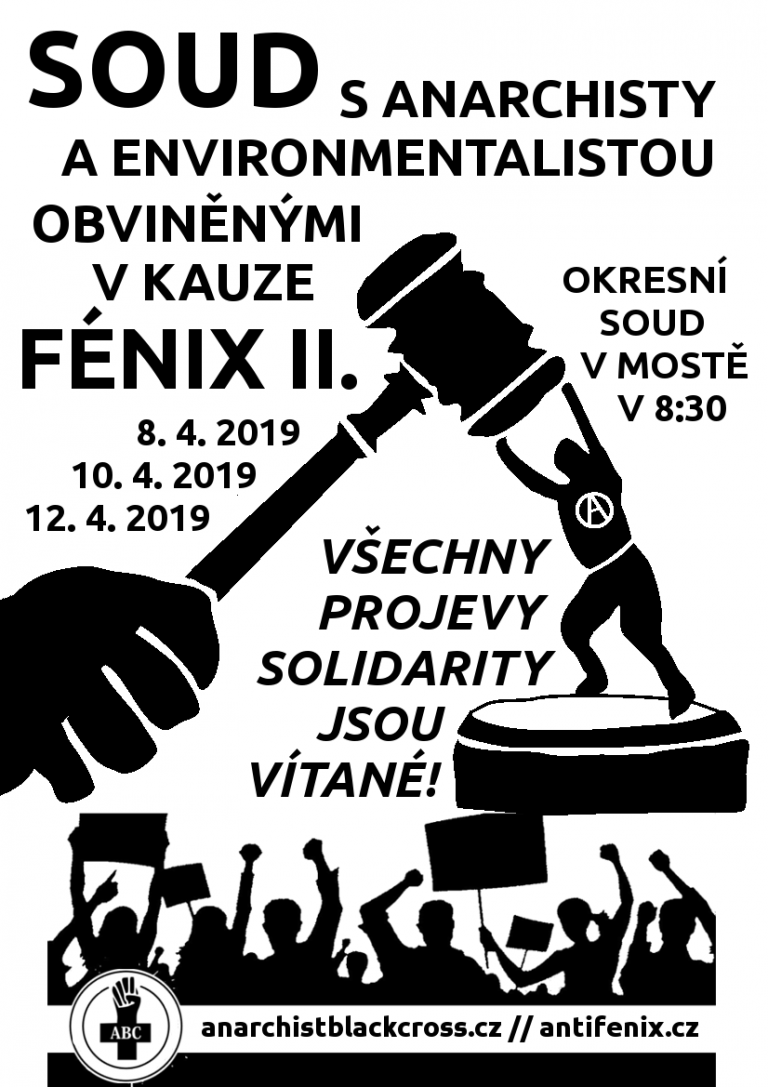 On April 8th, 10th and 12th, 2019, the trial with 4 anarchists and one environmentalist accused in operation Fenix 2 will be taking place at the district court of Most, every day at 8:30 a.m. Come to support them at the courthouse or by any solidarity action. Let them know you are not apathetic to their future as you are not towards the freedom of all of us. Any way of expressing support is welcomed!
–
Ve dnech 8., 10. a 12. dubna 2019 proběhne soudní líčení se čtyřmi anarchisty a jedním environmentalistou obviněnými v kauze Fénix 2. Podpořte obviněné přímo u soudu nebo jinou solidární akcí. Dejte najevo, že jejich budoucnost, stejně jako svoboda nás všech vám není lhostejná. Jakékoliv vyjádření podpory je vítáno! Soud bude probíhat každý den od 8:30 u okresního soudu v Mostě.
Tags: ABC Czech Republic, Czech Republic, Fenix 2, International Solidarity, Most, Trial
Posted in Prison Struggle
Wednesday, March 20th, 2019
Some comrades arrested on 19.02.2019 in Trentino as part of the repressive operation called "Renata" were transferred to other prisons (Ferrara, Rome Rebibbia and Tolmezzo, where Giulio and Stecco were already located). We remind that the main accusations against them are "attack with the purpose of terrorism" (article 280 of the penal code) and, not for all the comrades, to have constituted or participated in a "subversive association with the purpose of terrorism or subversion of democratic order" (article 270 bis of the penal code). Here the updated addresses:
Agnese Trentin
C. C. di Rebibbia femminile
via Bartolo Longo 92
00156 Roma
Italia (Italy) (more…)
Tags: Italy, Operation Renata, Operation Scintilla
Posted in Prison Struggle
Wednesday, March 20th, 2019
Wednesday, March 13, we received a call from the comrade that evening telling us that she had been transferred to Catalonia, specifically to Brians I. Her detention regime remains the same as in Soto del Real, second degree, with no intercepted communications, mail restrictions and not in isolation. We continue to encourage writing and live solidarity. New contact address:
Lisa Dorfer
C.P Brians I
Carretera de Martorell a Capellades, Km 23
08.635, Sant Esteve Sesrovires
Spain
–
Sans_Attendre
Translated by Act for freedom now!
Tags: Catalunya, Lisa, Prison Transfer, Spain
Posted in Prison Struggle
Thursday, March 14th, 2019
Berlin: Internationalistische Demonstration & Kundgebung zum Tag der politischen Gefangenen
Samstag 16.03.2019, 15 Uhr Hermannplatz Demo
Montag 18.03.2019 16 Uhr (Kundgebung), Justizministerium, Mohrenstr. 37 in Mitte
Solidarität mit allen politischen und revolutionären Gefangenen!
DEVRİMCİ TUTSAKLARA ÖZGÜRLÜK!, الحرية للثوار في السجون
Anlässlich des 18.März als "Tag der Pariser Commune" und "Tag der politischen Gefangenen" rufen wir zu Solidarität mit den politischen und revolutionären Gefangenen weltweit auf. Viele von ihnen sind seit Jahrzehnten in Haft. Sie befinden sich in Knästen, weil sie gegen Ausbeutung, Unterdrückung, Besatzung und imperialistische Kriege einen organisierten Kampf führen.
Aktivist*innen sind politischen Verfahren ausgesetzt und werden teilweise zu langjährigen Haftstrafen verurteilt, ins Exil oder zur Flucht getrieben, wo sie wiederum verfolgt, angeklagt und eingesperrt werden. Menschen, die in Europa und der BRD ankommen, werden mittels Anti-Terror-Gesetzen, in Deutschland beispielsweise nach §129b StGB, jahrelang eingesperrt. So befinden sich in der BRD dutzende Revolutionär*innen aus der Türkei und Kurdistan in Haft. Die Gefangenen unserer Bewegungen dürfen nicht vergessen werden. (more…)
Tags: Berlin, Demo, Germany, International Solidarity
Posted in Prison Struggle