'Prison Struggle' Archives
Sunday, September 1st, 2019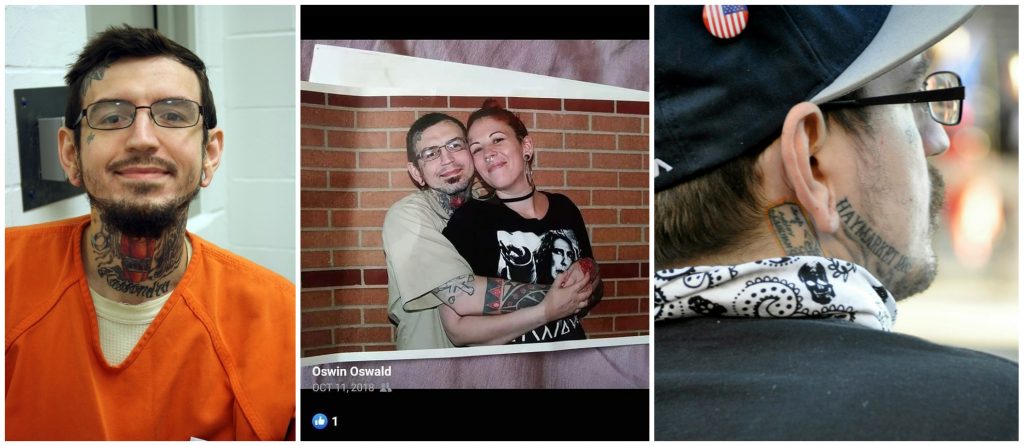 For folks who are unaware Eric is an anarchist and anti-fascist prisoner who was sentenced to 10 years for an attempted arson, an action in solidarity with the Ferguson uprising in Kansas city. Throwing two Molotov cocktails into a state representatives office at night time. He has since remained outspoken against the prison system. Exposing abuses and standing tall in the face of constant attacks and oppression.
In august of last year Eric was dragged into a broom closet and attacked by Lt Wilcox at FCI Florence. Attacked because he is an anarchist and anti-fascist. It was timed to line up with the surgery for his wifes cancer. He was subsequently tortured and abused and never checked out medically despite being kicked in the head for 5 plus minutes. And tied to a 4 point restraint for 8 hours, having to urinate himself resulting in nerve damage to his wrists. (more…)
Tags: Anti-Prison, Eric G. King, USA
Posted in Prison Struggle
Saturday, August 31st, 2019
(it-en-fr-es) Italia: Operazione Prometeo – Riferimenti per benefit e aggiornamenti
Italy: Prometeo Operation – References for benefits and updates

REPRESSIVE OPERATION 'PROMETEO'
Natascia, Robert and Beppe were arrested on May 21st 2019. They were accused of sending three explosive packages in 2017 to the PM (public prosecutor) Sparagna and Rinaudo, and to Santi Consolo, who was the director of the DAP (Department for the Penitentiary Administration) of Rome. More information is available here.

UPDATES ABOUT NATASCIA, ROBERT AND BEPPE
Natascia has been imprisoned in the jail of L'Aquila, in the AS2 (high security) section, which is actually a 41-bis section. Anna, another comrade, is also imprisoned in this section. She was arrested in 2016 following a repressive operation called SCRIPTA MANENT. Silvia is still being held in the jail of Turin (Torino) where she was transferred in order to be present for minor trials. Natascia began a hunger strike while she was in the jail of Rebibbia (in Rome), in solidarity with Anna and Silvia who began a hunger strike to demand the closing of the AS2 section in L'Aquila. All the three of them ended the hunger strike on June 28th (Anna and Silvia maintained the hunger strike for one month). Right after the end of the hunger strike, after almost 6 weeks of detention, Natascia received her first visit in jail. On July 11th, the re-examination hearing was held, which Nat was only allowed to attend by video conference. (more…)
Tags: Alfredo Cospito, Giuseppe Bruna, Informal Anarchist Federation (FAI), International Solidarity, Italy, Juan Antonio Sorroche Fernandez, Letter, Natascia Savio, Repression, Robert Firozpoor
Posted in Prison Struggle
Thursday, August 29th, 2019
Two writings by anarchist prisoner John Paul Wootton. The first writing is his thoughts on the injustice system and the use of prisons by the state which realistically culminates in a complete waste of time to what the claim of why prisons are used, i.e. to "rehabilitate" people that commit "crimes" to make them "better and functional members of society".
John Paul's second writing is a reflection on why he became vegan and why he will remain vegan. John Paul is still struggling in the prison system to gain full rights to living a more vegan life in prison.
John Paul has been imprisoned with his co-accused Brendan McConville for the last 10 years. Both men have been falsely convicted of the shooting dead of a cop in Craigavon, Ireland in 2009. Ever since the two have been fighting the injustice imposed on them by the British colonial system. (more…)
Tags: Craigavon 2, Ireland, John Paul Wootton, Letter, UK
Posted in Prison Struggle
Thursday, August 22nd, 2019
Kundgebung in Solidarität mit Grup Yorum!
Freitag, 23. August 2019, 18 Uhr
Kottbusser Tor – Kreuzberg
Grup Yorum im Hungerstreik. Am 25. August 2019 werden es 100 Tage sein.
Mitglieder der Musikband Grup Yorum begaben sich am 17. Mai 2019 in einen Hungerstreik. Ihre Hungerstreik-Erklärung enthielt diverse Forderungen, darunter die Freilassung der gefangenen Bandmitglieder und die Einstellung der Verfahren, die Beendigung der Polizeirepression gegen den Istanbuler Kulturverein İdil, die Streichung der Namen der Bandmitglieder von den "Terrorlisten" und die Aufhebung der Konzertverbote. (more…)
Tags: Berlin, Demo, Germany, Grup Yorum, Hunger Strike, International Solidarity, Turkey
Posted in Prison Struggle
Wednesday, August 21st, 2019
WEEK OF SOLIDARITY WITH ANARCHIST PRISONERS 23-30 AUGUST
To act in solidarity is completely up to the interpretation of an individual or collective. One could write a letter or visit a prisoner. Others could hold an event for prisoner awareness or a benefit gig. But then there are also the lone wolves who creep around in the darkness of night, lighting up the night sky with flames of rage and solidarity. No matter what act of solidarity is done, it's completely up to the expression of the rebel individual or collective. The point is to show the anarchist fighters encaged in the belly of the beast that they are not alone, we haven't forgotten them.

THE SOCIAL WAR AGAINST TECHNO-INDUSTRIAL CIVILIZATION CONTINUES
SOLIDARITY WITH ALL IMPRISONED ANARCHISTS
SOLIDARITY WITH ALL ANARCHIST FIGHTERS
Tags: Flyposter, Green Anarchy Ireland, International Solidarity, International Week for Anarchist Prisoners
Posted in Prison Struggle
Wednesday, August 21st, 2019
On Wednesday, 24.07, anarchist comrades Christos and Gerasimos Tsakalos, members of the Conspiracy of Cells of Fire were released. The comrades were originally convicted with sentences of over 70 years, which were reduced to 20. The comrades made use of the Paraskevopoulos law that was introduced by the previous SYRIZA-led government and were released after having served 8 years of their 20 year sentences.
Gerasimos Tsakalos was arrested with his friend and comrade Panagiotis Argyros on November 1, 2010. Their arrests took place after a parcel bomb was sent to a courier company in Pagrati. Five months later, Christos Tsakalos was arrested in a coordinated counter-terrorism operation.
After their arrests they claimed full responsibility for their actions and proclaimed themselves "proud members of the Conspiracy of Cells of Fire". During their imprisonment in Korydallos prison, the CCF claimed responsibility for Phoenix Project actions, including the bombing of the Prison Director's car as well as sending a parcel bomb to the former head of the anti-terrorism unit, Dimitris Chorianopoulos.
(information compiled from various Greek language sources)
via Anarchists Worldwide.
Tags: Athens, Christos Tsakalos, Conspiracy of Cells of Fire, Gerasimos Tsakalos, Greece, Informal Anarchist Federation (FAI), International Revolutionary Front
Posted in Prison Struggle
Wednesday, July 24th, 2019
IT: SOLIDARIETA' A DINOS GIAGTZOGLOU
SOLIDARITY WITH DINOS GIAGTZOGLOU
αλληλεγγύη
Anarchist Dinos Giagtzoglou was arrested in central Athens on 28 October 2017, one of Greece's national days, in an ambush by anti-terrorist police forces as he left a safe house-hideout rented by him under a false name, carrying weaponry.
Initially he got imprisoned in the prison of Larissa, a city 355 km from Athens, with the aim of isolating him from his comrades, family and friends, making the talks with the lawyer extremely difficult and preparing for his trial almost impossible since the case files contain thousands of pages in digital format.
On 21 February 2018, he was transferred back to Athens for a pending trial about an old arrest in clashes with the riot police in the context of a general strike against the Greek government's austerity economic measures in May 2011. After the postponement of this trial he began a hunger strike demanding to be typically transferred to Korydallos prison, close to his place of residence. (more…)
Tags: Athens, Greece, International Solidarity, Konstantinos Yagtzoglou, Korydallos Prison
Posted in Prison Struggle
Tuesday, July 23rd, 2019
Support an anarchist who was sentenced in so-called Germany. This person was captured by a civilian security guard in a shopping mall while nonviolently expropriating some goods. Without noticing he has a small pocket knife on him which he didn't want to use as weapon. Even though he was accused of: A theft with a weapon prepared to use.
The German court imposed punishment of 90 days in prison or paying 1000 Euro. That means if he doesn't pay those money he will have to spend three months in prison. The Czech ABC group decided to support him with organising a money collection. You can send your solidarity contribution to an account at: https://abcnews.noblogs.org/kontakt/ or put it in a box by the ABC stall at public events.
The expropriation is not a crime. Different forms of expropriation of capitalist and state sources is a legitimate way of a fight against dictatorship of a capital. We are supporting those who act in this way and are punished.
Solidarity is our weapon!
Tags: ABC Czech Republic, Germany, Repression
Posted in Prison Struggle
Saturday, July 13th, 2019
Nikos Romanos free he was released today 11/7/19, from Korydallos Prison, having served the sentences imposed on him.
The comrade was arrested in February 2013 along with three other comrades for a double armed robbery, at the Agricultural Bank and the Hellenic Postbank in Velvento, Kozani.
via Actforfree
Tags: Athens, Greece, Nikos Romanos
Posted in Prison Struggle
Saturday, July 13th, 2019
Querida Anna, somos un grupo anárquico informal integrado por mujeres que acciona en México, motivadas por las tesis insurreccionalistas y la ilegalidad anarquista. Nos hemos conformado así por una cuestión de afinidad y no porque creamos que no debemos trabajar con compañeros hombres, de hecho, en diferentes ocasiones nos hemos coordinado con otros grupos de compañeros para accionar de manera más potente. Algunas somos lesbianas, bisexuales, poliamorosas, queers y otras somos tan putas que construiríamos un barco si renacieramos mañana en la Isla de Lesbos por tal de no renunciar a tener sexo con hombres. Lo que esperamos que deje en claro que nuestra "afinidad" no se fundamenta en las preferencias sexuales sino en las ideas que nos impulsan y en la confianza que nos tenemos una a otra en el momento del ataque.
Después de esta aclaración, queremos expresar (pública y abiertamente) nuestra solidaridad contigo, no porque seas mujer ni porque te consideremos "víctima" al encontrarte presa de las garras del Estado sino por tu posicionamiento anárquico en guerra permanente contra el sistema de dominación. ¡Celebramos tu convicción ácrata y tu honesta valentía!
Tus palabras sencillas, reafirmando tu anarquismo sin acotamientos sectoriales y sin caer en la tan desprestigiada corrección política y sus convenciones lingüisticas ("gender-friendly"), nos han tocado en lo más hondo. Por eso no quisimos dejar pasar la oportunidad de darte respuesta pública, evitando que tus ideas y convicciones se pierdan en el mar de cartas, manifiestos y comunicados que circulan en nuestras redes. Esperamos que tu carta 1 y nuestra respuesta inviten a la reflexión a todas las compañeras que en busca de la anarquía han quedado atrapadas en un sucedáneo reformista al servicio de la dominación, inmovilizadas en la "degeneración", "entre el orgullo y el victimismo de género", como explicas en tu carta. (more…)
Tags: Anna Beniamino, F.B.I. (Féminas Brujas e Insurreccionalistas), International Solidarity, Italy, Letter, Mexico
Posted in Prison Struggle
Saturday, July 13th, 2019
On July 8th, 2019, we learn that the anarchist Giuseppe Bruna was transferred from the prison of Alessandria to that of Rossano Calabro. The comrade was arrested on May 21st along with Natascia and Robert for the repressive operation "Prometeo" ("Prometheus"). We remind that recently Robert was also transferred (from Terni to Bancali, in Sardinia), while Natascia remains imprisoned in L'Aquila. Then the addresses become the following:

Giuseppe Bruna
C. R. di Rossano Calabro
Contrada Ciminata, snc
87064 Corigliano-Rossano (CS)
Italia [Italy]
Natascia Savio
C. C. de L'Aquila
via Amiternina, n. 3
Località Costarelle di Preturo
67100 L'Aquila
Italia [Italy]

Robert Firozpoor
C. C. di Sassari – Bancali
strada provinciale 56, n. 4
Località Bancali
07100 Sassari
Italia [Italy]
Tags: Italy, Operation Prometeo, Prison Transfer, Repression
Posted in Prison Struggle
Saturday, July 13th, 2019
On July 6th, 2019, we learn of Robert's transfer from the prison of Terni to that of Bancali, in Sardinia. So the new address is the following:
Robert Firozpoor
C. C. di Sassari – Bancali
strada provinciale 56, n. 4
Località Bancali
07100 Sassari
Italia [Italy]
We remember that Natascia, Giuseppe and Robert were arrested on May 21st, 2019, during a repressive operation called "Prometeo" ("Prometheus"), carried out by the Carabinieri [Paramilitary police] of the ROS [Special Branch] and which involved some searches. The main accusation is of "attack with terrorist or subversive purposes", since they are considered responsible for sending three bomb packages arrived in June 2017 to the p. m. Rinaudo (prosecutor in several trials against the antagonist movement and the anarchists) and Sparagna (prosecutor in the trial for the "Scripta Manent" operation) and Santi Consolo, at the time director of the DAP ("Department of Prison Administration") in Rome. They are not accused of any "associative" crime (such as articles 270 or 270bis, c. p.).
Below are the addresses of Natascia and Giuseppe:
Natascia Savio
C. C. de L'Aquila
via Amiternina 3
Località Costarelle di Preturo
67100 L'Aquila
Italia [Italy]
Giuseppe Bruna
C. C. di Alessandria "San Michele"
strada statale per Casale 50/A
15121 Alessandria
Italia [Italy]
Tags: Italy, Operation Prometeo, Prison Transfer, Repression
Posted in Prison Struggle
Thursday, July 4th, 2019
Tags: Chile, Flyposter, International Solidarity
Posted in Prison Struggle
Wednesday, July 3rd, 2019
There is also an German and Italian version of this text!
– A Summary (Situation July 2019)
Our friend and companion Andreas is currently imprisoned in Naples (Italy). Since his imprisonment in Germany Andreas has been known as a rebellious prisoner. In April 2019 he was sentenced in Italy to 24 years in jail. In addition, Andreas has recently been diagnosed with kidney cancer. His health is deteriorating and we fear for his life. Actually, he should undergo surgery months ago, but the Italian authorities refuse to transfer him to a hospital.
Andreas was in the clutches of the German judicial machinery for years and he was in jail for a total of 16 years. He is a rebellious prisoner, participated in building the prisoners' union (GGBO) behind bars, he went on hunger strike several times against the prison conditions and also participated in a solidarity hunger strike for the prisoners in Greece. To date he repeatedly publishes texts against the prison society, in which he describes everyday life in captivity. (more…)
Tags: Andreas Krebs, International Solidarity, Italy
Posted in Prison Struggle
Monday, July 1st, 2019
(25/06/2019)
After the arrests of 21 May 2019 for the repressive operation "Prometeo" ("Prometheus"), Robert and Beppe were imprisoned in the Opera prison in Milan until June 21st, while Natascia was imprisoned in France.
In the maximum security prison of Opera, Robert and Beppe spent an entire month in isolation in section 41bis, as there is no AS2 section ["High Surveillance 2"], with only an hour a day of "socializing" by being able to see each other, and the rest of the day with the barrier closed. This "illegal" regime was reported to the judge, PM and guarantor of the detainees, especially since the isolation had not been requested by the judge, but nothing changed for a month. (more…)
Tags: Italy, Operation Prometeo, Repression
Posted in Prison Struggle