'Prison Struggle' Archives
Tuesday, September 4th, 2018
On Sunday, 2/9/18, banners from prisoners in Larissa were hung in A Wing. The banners were in solidarity with striking prisoners in the US, the banner reads "SOLIDARITY TO ALL US STRIKING PRISONERS – UNTIL THE DESTRUCTION OF ALL PRISONS"
Outside of the prison, 15 comrades were present, they called out slogans and had a little contact with the comrades who put the banner.
Tags: Banner drop, Greece, International Solidarity, Larissa, Prison Labour Strike, Solidarity Action, USA
Posted in Prison Struggle
Saturday, September 1st, 2018


Above: Banner of solidarity hung by Utopia AD, Greece, with the prison labour strike of the US prisoners and with the anarchist prisoners around the world.
Solidarity text to prisoners of "Lee Correctional Institution" prison of U.S.A.

In light of what happened at the "Lee Correctional Institution" prison in the state of South Carolina, U.S.A., and with the tragic death of 7 of our detained and 17 seriously injured and with the full responsibility of the service of the prison, the director and the chief guard, as they knew they were members of rival gangs and intentionally placed them in the same wing, being proud about their cowardly result. We, the prisoners of the A' wing based on solidarity with all South Carolina imprisoned fighters and all the prisons of America, declare our support in the general situation of this time, setting as a primary purpose the opposition to the dirty manipulations the director and the guards exercise in the prisons, having for result the death of our retained brothers. (more…)
Tags: Greece, International Solidarity, Prison Labour Strike, USA
Posted in Prison Struggle
Thursday, August 30th, 2018
Not Ideological Solidarity but Critical Revolutionary Solidarity: A Personal Reflection of Yogyakarta/Indonesia Anarchist Black Cross (Palang Hitam)

Knowledge chooses its project,
each project is new and chooses its moments,
each moment is new, but simultaneously emerges from
the memory of all the moments that existed before
The Interior of the Absolute
It is fair to say that the Black Cross were initiated after the May Day event in Yogyakarta 2018, a demonstration/blockades that ended up in a riot between the so-called "local people" and the demonstrators (many, even the so-called Student Organization involved in the organizing blamed the Black Clad anarchists for igniting the riot and provoked property destruction, and to their surprised the graffiti that call to "Kill the Sultan", until now there have been no one claimed this). Therefore, even Palang Hitam now are progressing their activities to other places and helping other revolutionaries who are facing the same legal consequences or just being in the grassroots conflict to provide medical aid, its "over-lapping" solidarity still meant that Palang Hitam were originated, initiated, and activated by the comrades who are "on the list" (of the powers that be) and those who are completely not on the list but decided to actively participated. So, in order to specified the location of these comrades, mainly central java, it is fair to say that Palang Hitam is Palang Hitam Yogyakarta or Central Java.
What being said in this short critical reflection are based on specific geographical and historical understanding of the anarchist movement or the revolutionary movement of individuals against state and capitalism in Indonesia. There's no need to say about the contrast between our geographical location and our comrades in the west and those who are also in the global south, especially considering prison solidarity in its historic sense. Indonesia, have plenty of oral history about prison rebellion and rebellious individuals, but these were almost never written, these were almost like mythopoesis among criminals for generation and some even become so legendary that it always inspired rebellion each time there's a prisoner get beaten very severely or until they die. It is obvious there's almost no official history of them because, who want to write about these violent, lawless, and cool individuals? Even the so-called radical academics tend to avoid this subject. (more…)
Tags: Analysis, Brian Valentino (Ucil), Indonesia, Mayday, Repression, Yogyakarta
Posted in Prison Struggle
Wednesday, August 29th, 2018
There is a new text, which came out from the cooperation of some people from couple of Anarchist Black Cross groups and Crimethinc. It is published in connection with both the ongoing prison strike in US and the global week of solidarity with anarchist prisoners. ABC Czech Republic asked us to share and spread the article:
Taking a Global View of Repression – The Prison Strike and the Week of Solidarity with Anarchist Prisoners
Tags: International Solidarity, International Week for Anarchist Prisoners
Posted in Prison Struggle
Monday, August 27th, 2018
ES – Irlanda del Norte – Llamado al apoyo y la solidaridad con los presos del caso 'Craigavon 2″
From Sacco and Vanzetti to the Craigavon 2
A Call Out for Support and Solidarity
The 23rd of August marks the 91st anniversary of Nicola Sacco and Bartolomeo Vanzetti. They were both executed in the US in 1927 for the robbery of a shoe factory and the killing of a guard and paymaster. During their trial the prosecution produced conflicting ballistic evidence and witness testimony. The defence had several witnesses testifying where the accused men were on the day of the robbery and killings. This should have proven Sacco and Vanzetti innocence but instead both were convicted and sentenced to death. They were killed for their beliefs, they were insurrectionary anarchists "that advocated relentless warfare against a violent and oppressive government."
Like Sacco and Vanzetti, the state scapegoated Brendan McConville and John Paul Wootton (their case is known as the Craigavon 2) , for revenge over killing of a cop and two British soldiers in 2009. The cops arrested and charged several republicans in connection with the killings. In all cases the only real evidence the state had was that all the accused were republicans. Two people, John Paul Wootton and Brendan McConville were charged and convicted of the killing of the cop. Two others, Colin Duffy and Brian Shivers, were charged with the killing of the soldiers. The latter were subsequently found not guilty of the killings of the soldiers, the state had no evidence on them. (more…)
Tags: Brendan McConville, Craigavon 2, Frame-up, Ireland, Irish Republican Prisoners, John Paul Wootton, Repression, UK
Posted in Prison Struggle
Saturday, August 25th, 2018
Why bother writing to politicians when all they deserve is our hatred? They will never listen to appeals from social reformers or the unwashed, nevermind the misguided anarchists. Why don't you write to locked-up anarchists instead, cheer them up and strike up a conversation? One of the most important and simple ways we have available to break the isolation imposed on our imprisoned comrades is to write to them and let them know that they are not forgotten but are present. Nothing stops when you enter prison and we can meet them there with our international solidarity which is taking place on many fronts.
Here is a good PDF guide to prisoner correspondence written by ABC Leeds some years ago but still relevant today, plus a list of anarchist prisoners compiled by the international groups of the Anarchist Black Cross for the week of solidarity taking place at the moment:
Writing to prisoners – Guide by ABC Leeds
Anarchist prisoners addresses list – August 2018
Tags: ABC Leeds, International Week for Anarchist Prisoners, PDF, Zine
Posted in Prison Struggle
Saturday, August 25th, 2018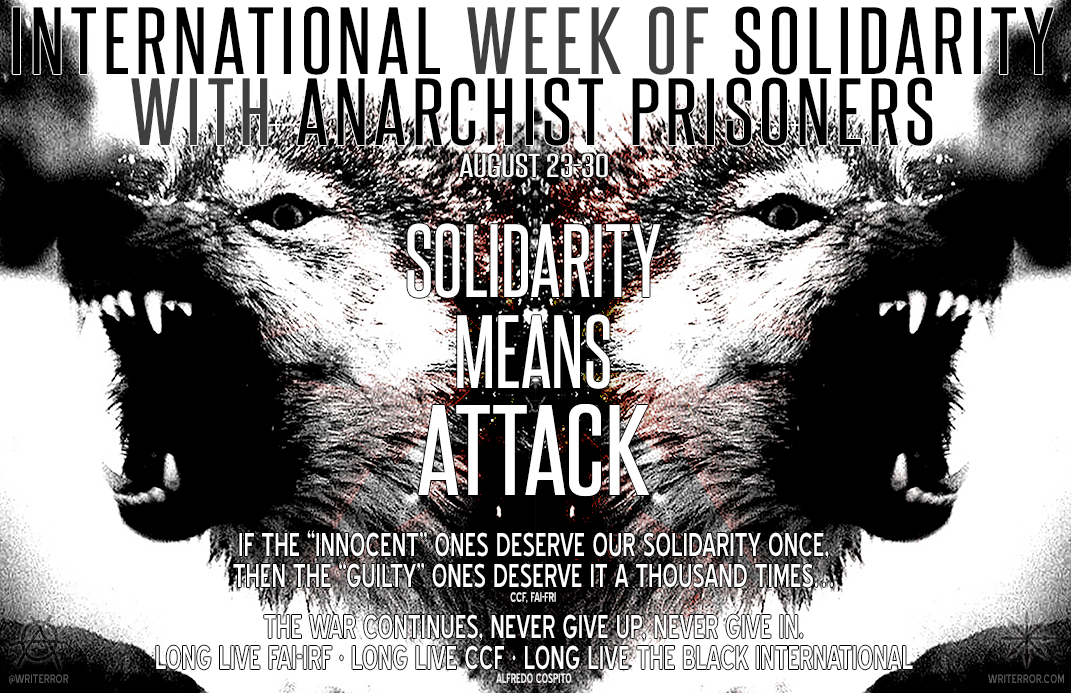 If the "innocent" ones deserve our solidarity once, then the "guilty" ones deserve it a thousand times… — Conspiracy of Cells of Fire, FAI-IRF / Imprisoned Members Cell

Solidarity will always be practiced as an indispensable feature of an anarchist way of life and action. The war continues, never give up, never give in. Long live FAI-FRI. Long live CCF. Long live the black international — Alfredo Cospito

Source
Tags: Flyposter, International Solidarity, International Week for Anarchist Prisoners
Posted in Prison Struggle
Thursday, August 23rd, 2018
Por la vida y salud de Juan Aliste Vega
Por el fin de las condenas de la justicia militar contra Marcelo Villarroel Sepúlveda
La "Red Solidaria Antikarcelaria con Juan y Marcelo" converge en los momentos en que nos llega la feliz noticia de que nuestro compañero Freddy Fuentevilla Saa logra pisar las calles nuevamente el 18/06/2018 tras 10 años y 3 meses de prisión ininterrumpida. Mientras por otro lado se encuentra la difícil situación de salud del compañero Juan y las duras condenas de la justicia militar que recaen sobre Marcelo. Por lo que como "Red Solidaria" nos empeñamos en agitar y difundir estas dos batallas que están dando los compañeros en prisión. Estas situaciones son delicadas y urgentes, es necesario visualizarlas, ponerlas sobre la mesa. Por lo que llamamos a todos/as las mentes concientes, a los/as autónomos/as, libertarios/as y subversivos/as a apoyar de forma real y concreta a Juan y Marcelo; ¡Aunemos!
– Sobre la situación de Juan
El compañero Juan fue un activo miembro de la guerrilla urbana del Mapu-Lautaro, organización que combatió durante años a la dictadura militar y su posterior transición a la democracia. Bajo la propuesta de la "Guerra Insurreccional de Masas" desarrollaron sabotajes, asaltos a bancos y armerías, atentados explosivos y armados, etcétera. (more…)
Tags: Chile, International Solidarity, Juan Aliste Vega, Marcelo Villarroel Sepúlveda, Santiago
Posted in Prison Struggle
Thursday, August 23rd, 2018


–What is a prison?
Prison is a material structure through which it is intended to inhibit the acts of any person who transgresses the conduct imposed by the State. Thus, punishment and the imposition of socially accepted discipline are the regime in which the captives have to live, by this seeking to annul their actions, ideas and beliefs. These acts may constitute crimes and like the ones that challenge order, be of revolutionary politics. It is with these that we again take a stand – either by supporting or having solidarity with those companions who presently are encarcerated for having carried out subversive actions for a political idea of liberation. The commitment of these companions makes us want to support them in real ways, concretely because we share goals. (more…)
Tags: Chile, International Solidarity, Juan Aliste Vega, Marcelo Villarroel Sepúlveda, Santiago
Posted in Prison Struggle
Monday, August 20th, 2018
The following two articles / PDF files are translations from the Danish anarchist newspaper Orkanen, January and March 2018. The critical texts are about informers, snitching, prisoner solidarity, repression's effects, etc and are not just of interest for the scene/movement in Copenhagen/Denmark, but also for our anarchist/ABC/Anti-repression/Anti-prison-network.
2. Another filtering of the muddy waters
Tags: Copenhagen, Denmark, Orkanen, PDF, Snitches / Informers
Posted in Prison Struggle
Monday, August 20th, 2018
ES – Grecia – "Hasta que todes seamos libres" (texto de compañeres de Grecia para la Semana Internacional de Solidaridad con los Presos Anarquistas)
Till all are free – International Week of Solidarity with Anarchist Prisoners
In 2013 the groups comprising the Anarchist Black Cross initiated the Week for Anarchist Prisoners, which takes place in the last week of August. The first day, chosen on purpose, is the anniversary of the execution of Nicola Sacco and Bartolomeo Vanzetti in 1927. It's important to emphasize the stories of our
comrades, since many of them will not be acknowledged as political prisoners.
Various state services of surveillance requested to speak with comrades as part of ongoing investigations, using the suspects' political orientation as the only criterion. This orientation is toward anarchism. Every investigation is based on the possibility of prosecuting comrades with the aid of an arsenal of laws aimed against a dangerous domestic enemy.
These prosecutions could involve anything, from texts until any sort of direct action, and this practice is nothing new since similar prosecutions in many
countries of the world have been witnessed in the past, especially those with a strong presence of anarchists who promote direct action and interventions. A tactic of the forces of repression is to prevent anarchist propaganda and the diffusion of our ideas and for that they won't hesitate to puncture the veneer of "democracy" which supposedly allows the free dissemination of ideas and information. Thus, any illusions people might like to have about democracy come to an end. Things have now become clear, the anarchist action or discourse will either become illegal or mean nothing"! This new form of repression that appeared now, is enforced against many of our captives, even under the guise of international "terrorism" which actually aims to target the domestic enemy that anarchy is. On one hand our captives have been prosecuted based on their political identity and on the other by having taken the political responsibility of their actions and their organizations. The strategy of preventive repression, of persecutions leading to convictions with the maximum possible sentences, of fast-track trials and of an effort to muzzle dissent, is already being enforced against anarchist centres and self-organized efforts that support and disseminate anarchist values. Simultaneously, the latest trial hearings constitute a final rehearsal of a new doctrine the state wants to enforce. (more…)
Tags: Greece, International Solidarity, International Week for Anarchist Prisoners, Type C prisons
Posted in Prison Struggle
Monday, August 20th, 2018
6 detainees will soon have finished their trial process, they are waiting to find out the results of the trial and how long their sentences will be. However there are 4 prisoners who still remain in Cebongan Prison (including Ucil) and 1 other prisoner who is still being held in Sleman Police Station, it is still unclear what is happening with their trial process.
On Tuesday, August 14th ,2018, the trial for comrades O and M began, while on Thursday, August 16th, 2018, the trials began for comrades MI, MEA, AMA, and ZW.
As for Brian Valentina (Ucil) , his trial will be held on Tuesday, August 21st, 2018.
Let's express our solidarity by attending the trial every Tuesday and Thursday at 10AM in the Sleman District Court or by visiting the comrades in Cebongan Prison and Sleman Police Station who do not have clear information yet about their trial process.
More information,
Instagram account: @palang__hitam
Website: palanghitam.noblogs.org
Email: civilrebellion@riseup.net
Tags: Brian Valentino (Ucil), Indonesia, Trial, Yogyakarta
Posted in Prison Struggle
Sunday, August 19th, 2018
Kevan Thakrar is an IWW member and miscarriage of justice who has served over a decade in prison. He was moved to the Close Supervision Centre at HMP Whitemoor in Cambridgeshire in July and is now being subjected to an even more repressive regime, as well as targeted harassment from prison officers.
Kevan repeatedly challenges his conditions and captivity with complaints and legal challenges, many often against prisoner officers and members of the Prison Officers Association. In retaliation, the Prison Officers Association have been actively encouraging officers to try to get Kevan moved to a different prison. Staff have been trying provoke an incident after Kevan's requests for them to wear body-worn cameras (for his own protection, following incidents of physical violence inflicted against Kevan in the past). (more…)
Tags: Close Supervision Centre CSC, HMP Whitemoor, Kevan Thakrar, UK
Posted in Prison Struggle
Wednesday, August 15th, 2018
From the prison of Fleury-Mérogis (Paris) Claudio Lavazza tells us he's doing well even if the detention regime (he's being held in a high security unit for prisoners awaiting trial) is much harsher than the prison conditions in Teixeiro (Galicia, Spain). Claudio would like to receive letters and so he asked for his details to be spread.
Claudio Lavazza
ecrou 445097 D5-2G-₵44
MAH de Fleury-Mérogis
7 Avenue des Peupliers
91700 Fleury-Mérogis
France
Against all prisons!

Cassa AntiRep delle Alpi occidentali
[Western Alps Anti-repression Fund]

Translated by act for freedom now!
roundrobin.info
Tags: Claudio Lavazza, France
Posted in Prison Struggle
Wednesday, August 15th, 2018
The solidarity groups of Germany's Incarcerated Workers' Union (GG/BO), with the support of the anarchist workers' union (FAU), are calling for a protest to take place in front of the US consulate of Leipzig on August 21st, which is the start date of a nationwide prison strike in the USA.
You can find the call on the blog of the GG/BO solidarity group of Jena and on the website of GG/BO.
Tags: Demo, Germany, Leipzig, Prison Labour Strike, USA
Posted in Prison Struggle