'Prison Struggle' Archives
Sunday, January 12th, 2020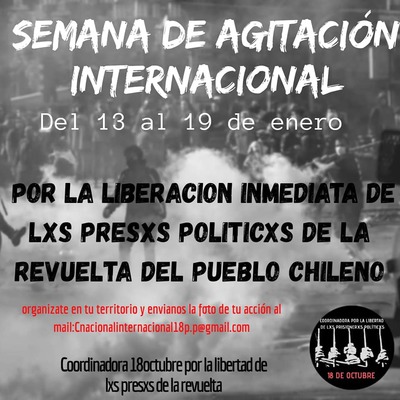 WEEK OF INTERNATIONAL AGITATION IN SUPPORT OF THE PRISONERS OF THE REVOLT IN CHILE. FROM JANUARY 13-19.
"THOSE WHO FORGET THE POLITICAL PRISONERS FORGET THE STRUGGLE"
More than 80 days after the social outbreak in Chile, the struggle and social organization persists in the unwavering conviction of confronting and breaking with the model of power and economy that has perpetuated inequalities, injustices and abuses for decades.
Undoubtedly the revolt that still breathes in Chile means this is a turning point with no return, it is within a long journey of struggle that has also brought with it a hard cost: hundreds and hundreds of prisoners of the revolt that are today in the different prisons in this territory. Each week this number increases and in an obvious phenomenon of mass incarceration the State seeks to intimidate and criminalize social protest. We speak of political prisoners of the revolt because of the fact of the mass imprisonment of social fighters after the outbreak of the 18th [October], responding to a political decision of the State and not to technical/legal criteria, understanding the complicity between the different powers of the State in order to perpetuate the existing model of control. That is why we make this call for international solidarity with the prisoners of the revolt in order to reveal the political condition of their imprisonment and demand their immediate freedom. We extend this call appealing to the multiple initiatives and solidarity actions that arise in each territory.
THOSE WHO FORGET THE POLITICAL PRISONERS FORGET THE STRUGGLE!
IMMEDIATE FREEDOM TO THE PRISONERS OF THE REVOLT!
CO-ORDINATION FOR THE FREEDOM OF THE OCTOBER 18th POLITICAL PRISONERS
— (more…)
Tags: Chile, International Solidarity, Riots, Santiago, Social Insurrection
Posted in Prison Struggle
Friday, January 10th, 2020
Note: Paska, as Giovanni and Ghespe, are actually at house arrest (since June 2019). Paska, Giovanni and Ghespe were arrested at August 3, 2017, in the context of a repressive operation against anarchists in Florence. In the sentence of July 22, 2019, in the trial for the "Panico" operation, Paska, Giovanni and Ghespe were convicted to 9 years and 10 months, 9 years, 10 months and 15 days, and 9 years respectively. "Panico" trial is the result of the union of several proceedings, including the one linked to the "Panico" repressive operation of January 31, 2017 (which involved three house arrest, some restrictions and searches with the main accusation of "criminal association") and the repressive operation of August 3, 2017, which involved eight arrests, searches and the eviction of La Riottosa occupation, in Florence, with accusations (for the eight anarchists arrested) of having carried out an explosive attack against "Il Bargello" bookstore (Florence, January 1, 2017) – a space linked to fascists and the fascist party "Casapound" -, an action during which a policeman was seriously injured and lost part of a hand and an eye, and an arson attack on a carabinieri station in the neighborhood of Rovezzano (Florence, April 21, 2016). Paska, Giovanni and Ghespe were sentenced mainly for accusations related to the attack against the fascist library. Nine anarchists were sentenced for "criminal association" and generally about twenty anarchists were condemned.
Not rotten apples
September 17, 2019, saw the start of the trial against our comrade Paska, accused of resistance and grievous bodily harm towards some of his jailers during a transfer.
A couple of pushes against a few of the escort screws was the least he could do after the treatment they had reserved for him on various occasions: the latest being the rally driving of the paddy wagon that caused him a strong blow to his head and ribs during the transfer of October 18, 2018.
On the other hand, since his arrival at La Spezia the prison management had decided to arbitrarily reserve even more restrictive measures for him such as delaying mail, bans on meeting others, isolation up to the 14bis isolation regime level as well as being forbidden to go to the yard with the other prisoners.
That doesn't surprise us. In the year 2018 – 2019 alone La Spezia prison boasts no less than 5 deaths out of about 230 prisoners, added to the acts of self-harm and beatings as a daily occurrence: the normality of a prison considered to be among the most progressive in Italy.
It is, therefore, within the normal execution of their functions that escort guards Luigi Viziello and Stefano Cenderelli covered our comrade in insults, kicks and punches. (more…)
Tags: Flyposter, International Solidarity, Italy, Operation Panic, Paska, Repression
Posted in Prison Struggle
Friday, January 10th, 2020
The Prisoner's Herbal is a herbal medicine book written by an ex-prisoner for people in prison who want to learn about the medicinal properties of plants commonly found in prison courtyards. It contains ten detailed plant profiles, as well as instructions on how to prepare plant medicines in prison. It also includes tips and tricks for making the most out of foods, spices and condiments available from the prison canteen. So far 99% of copies have got into prisons in the UK and the US without censorship.
Books are available for free to prisoners. Or if the group has the funds, ABC groups are welcome to purchase them for £1.20 a copy. Sales of the books to people on the outside have been fundraising to cover the costs of posting them to people on the inside.
Books can either be posted to prisoners directly or to groups to distribute among their networks.
You can learn more about the book here:
https://solidarityapothecary.org/prisonersherbal/
To request copies please email Nicole at info (at) solidarityapothecary (dot) org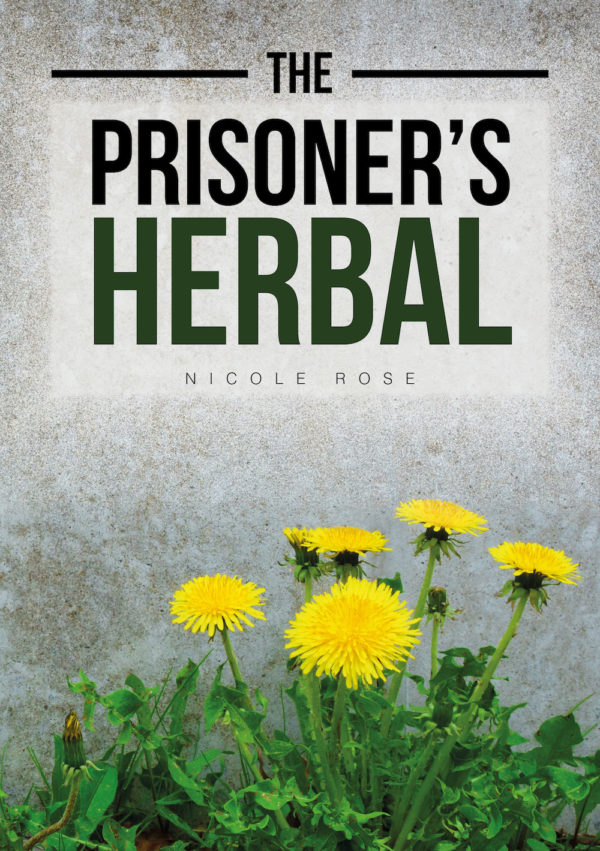 Tags: 'The Prisoner's Herbal', Herbalism, Zine
Posted in Prison Struggle
Thursday, January 9th, 2020
The new trial against Revolutionary Struggle [Επαναστατικού Αγώνα, 'Epanastatikòs Agonas'] will continue at the special court in Korydallos Prison (Athens) on Friday, January 10th, 2020, at 9:00AM. This ongoing legal proceeding against the organization and its members is part of the wider series of trials that continue to involve and be directed against the comrades, in particular Pola Roupa and Nikos Maziotis. The charges in this trial relate to a car bomb abandoned and discovered by the police in the summer of 2017, seven months after Pola Roupa's arrest on January the 5th of the same year. Nikos Maziotis, however, has been in prison since July 16th, 2014. In this trial the comrades are accused of "supplying, possessing and manufacturing explosives". [The date of the hearing for this new trial was announced on Athens Indymedia here].
Revolutionary Struggle is a revolutionary anarchist organization that – since the night of December 5th, 2003, with a double explosive attack against the 1st degree court in Athens – has carried out countless actions against the state and capital in Greece. The group's actions and analyses were directed against structures, apparatuses and institutional and repressive representatives of the Greek State (IE: 1st degree court, police stations, riot police, Korydallos prison, ministries of labour and economy, former Minister of Public Order G. Voulgarakis), international capital structures, representatives of Greek and international economic power, multinational companies and structures of other states (IE: Ministry of the Economy, Citibank, Royal Dutch Shell, Eurobank, Athens Stock Exchange, National Bank of Greece, Embassy of the United States of America).
On March 10th, 2010, Lambros Fountas, an anarchist and a member of the organization, was killed by police officers while expropriating a vehicle in Dafni (Athens). (more…)
Tags: Athens, Greece, Konstantina Athanasopoulou, Korydallos Prison, Kostas Gournas, Lambros Foundas, Nikos Maziotis, Pola Roupa, Revolutionary Struggle, Trial
Posted in Prison Struggle
Thursday, January 9th, 2020
Hi, we are organizing an anti-prison week during the first week of March in Bure & around (place of struggle against a project of center for burying nuclear waste). (Link) + (info about Bure : bureburebure.info)
You are welcome to come and we would be happy if you wanted to propose a discussion/radio listening/or other about your activities. Topics we are interested in for this days are; state repressions and anarchists counter-strategies, women and LGBTQ in prison, migrants imprisonment and theoretical discussion around idea of prison abolition (or demolition) and anarchist idea of justice. Of course would be nice to here from you about your approach to all this topics but it isn't our expectations. However we feel that topics around women, LGBTQ community and migrants are still enough to highlight in the anti-prison context, so if those topics are ones that you also consider in your daily ABCs work we would be happy to give you space to share it.
Below is a first draft of the program but it will change for sure cuz it's strongly depend from answers of others groups: (more…)
Tags: ABC Bure, Anti-Nuclear, Anti-Prison, Bure, France, Migrant Struggle, Repression, Solidarity Event
Posted in Prison Struggle
Saturday, January 4th, 2020
From Eric's soli-crew
We have been unable to share a lot lately because of ongoing issues with the prison. We hope to be able to share lot more within the week but have a brief update Eric would like to send out.
Eric is being held since arriving at FCI Englewood indefinitely in segregation since arriving in August. The prison has yet to provide a reason for this detention. There is no disciplinary sanctions being served nor reason to continue to hold him in segregation.
He can not receive books. Letters need to be on white or lined paper. He can now receive newspapers and magazines. There has been a ton of mail held back and lost. He doesn't have a lot of addresses anymore. If you haven't heard from him, please write again. He really could use word from folks right now. Articles are amazing. So are PDFs of books, poetry, zines, ect.
Please be mindful that there is a security officer assigned to Eric reading everything that you send in. Englewood has already used alleged (as in doesn't exist) mail to withhold visits. Please do not ask Eric about his case he cannot talk about it. Also know that he is being held in the same prison that an officer 2 years ago threatened his family (still employs). Tensions are high at the prison. Also anything sent also has the potential of ending up in his discovery as well, so please kept that in mind.
Eric King 27090045
FCI Englewood
9595 W Quincy Ave
Littleton, CO 80123
Tags: Eric G. King, International Solidarity, Prison Transfer, USA
Posted in Prison Struggle
Thursday, January 2nd, 2020
[Round Robin] We receive and spread:
This piece has finally arrived. Juan had mentioned it in his letters. We thought it had been censored. In fact it was confirmed that on 4th October 2019 an investigating judge seized it as he considered it "instigation to commit a crime" or some form of incitement to "anarchist activity" and seized it in order to protect the forces of order.
We agree with Juan's desire to have it spread and ask you to publish it.
"How do you prevent a drop of water from drying up? Let it go to the sea."
In this text I tell how my arrest on 22nd May 2019 went. I tell it as a matter of fact and not to denounce the illegality of police methods or as a victim's tale.
Above all I don't want the way my arrest went and what happened during the transfer to Brescia police headquarters to be something secret between myself and the Digos who arrested me. I sincerely don't want to have anything in common with them. I don't want to share anything with them, especially my anxieties or "what can't be said" for fear of a taboo, as an unwritten pact between "macho gentlemen" that might undermine my virility (?!).
And finally the words spoken in the police station by a Digos cop dressed as a rock biker (probably from Trento police station, given his knowledge of me…) who advises me in a "friendly" manner, like a brother or a father, to only write personal letters to friends and not communiques to be circulated publicly. This made me think that spreading what happened could be a good option.
Just before my arrest I was walking in the mountains and took a path where I encountered a big dog that started to get ugly with me. This is the path that I'd have taken on the way back. I have great respect for dogs and avoid them if I can, so on the way back I decided to take the main road towards Tavernola. (more…)
Tags: Italy, Juan Antonio Sorroche Fernandez, Letter, Repression
Posted in Prison Struggle
Sunday, December 29th, 2019
We learn that Stecco, an anarchist arrested on February 19th, 2019, in the context of the repressive operation "Renata" in Trentino, has been transferred from the AS2 ("High Surveillance 2") section of the Ferrara prison to that of Modena. On December 5th the Trento court issued a sentence against the seven anarchists arrested for operation "Renata": six were sentenced to sentences between 2 years and 6 months and 1 year and 9 months, while one was acquitted of all accusations. The accusations of "subversive association with the purpose of terrorism and subversion of the democratic order" (four defendants) and "attack for terrorism" (seven defendants) have fallen; the comrades were convicted of the crimes of "production of false documents", "damage" and "violation of the arms law". Stecco, due to a previous sentence that became definitive in between, is the only one to be imprisoned.
His address is below:
Luca Dolce
strada Sant'Anna 370
41122 Modena
Italia – Italy
Tags: Italy, Luca Dolce, Modena, Operation Renata, Prison Transfer
Posted in Prison Struggle
Tuesday, December 24th, 2019
Prisoner Solidarity Action Alert
This evening prisoner Kevan Thakrar called to inform IWOC that a known racist attempted to take his life this afternoon. Kevin McCarthy stabbed Kevan more than four times while Kevan was at the food servery. He used a wooden shank. Kevan has four puncture wounds on his back and bruises and scratches after also being hit on the head. Kevin walked past two prison officers neither of whom intervened to prevent or stop the attack until Kevan turned round to defend himself. The prison failed to take him to hospital but he was treated by two nurses on the wing.
This is the second attack Kevan has experienced in HMP Full Sutton in recent months. Kevan is shaken and in need of support to demand the prison move him to a safer location and take action to stop further racist attacks on his life. Feel free to use your own words as well as the sample scripts below.
Call script:

Hello, I am calling on behalf of Kevan Thakrar who is currently in the CSC at HMP Full Sutton. Kevan was stabbed four times yesterday by a known racist prisoner. Two prison officers were present and did not act to prevent or stop the attack until Kevan turned around to protect himself. This is the second attack Kevan has experienced in HMP Full Sutton in recent months and yet he is still held in the CSC.
I am really concerned about Kevan's safety in the CSC and I am calling to demand that he is moved out of the CSC and to a safer location immediately.
(more…)
Tags: ABC Bristol, Close Supervision Centre CSC, HMP Full Sutton, Kevan Thakrar, Racism, Repression, UK
Posted in Prison Struggle
Sunday, December 22nd, 2019
Further arrest warrant for Giuseppe, anarchist imprisoned for the "Prometeo" operation (17/12/2019)
We learn that on the morning of Tuesday December 17th, 2019, Giuseppe, already in prison for the "Prometeo" operation (arrests of May 21st, for which Natascia is also imprisoned, while Robert was released), has received another mandate of arrest as part of an operation conducted by the ROS ("Special Operational Grouping") of the Carabinieri under the direction of the Antiterrorism pool of the Turin Prosecutor's Office. He is accused of attempting to destroy a postamat (ATM) in Genoa with an incendiary device, an action dating back to June 2016. This action was included in the list of facts that corroborated the accusations of the "Scintilla" operation (arrests of February 7th and eviction of the Asilo Occupato in Turin).
To write to him:
Giuseppe Bruna
C. C. di Pavia
via Vigentina 85
27100 Pavia
Italia – Italy
–
Update about Peppe – The review court confirmed the precautionary measure in prison (December 13th, 2019)
The hearing for the review of Peppe's precautionary measures took place in Turin on December 13th, an anarchist arrested in Verona on November 26th and immediately transferred into Montorio prison, also in Verona. The review court unfortunately confirmed the precautionary measure in prison. (more…)
Tags: Giuseppe Bruna, Giuseppe Sciacca, Italy, Natascia Savio, Operation Prometeo, Operation Renata, Operation Scintilla, Repression, Robert Firozpoor, Trento, Trial, Turin, Verona
Posted in Prison Struggle
Thursday, December 12th, 2019
From ABC NYC:
This is a call for a raucous night of strong solidarity with those imprisoned by the state on one of the noisiest nights of the year. On New Year's Eve gather your crew, collective, community, organization, or just yourself and come together to raise a racket and remind those on the inside that they are not alone.
Internationally, noise demonstrations outside of prisons are a way to remember those who are held captive by the state and a way to show solidarity with imprisoned comrades and loved ones. We come together to break the loneliness and isolation. (more…)
Tags: Anti-Prison, Demo, International Solidarity, New Year, NYC ABC, Solidarity Event, USA
Posted in Prison Struggle
Thursday, December 12th, 2019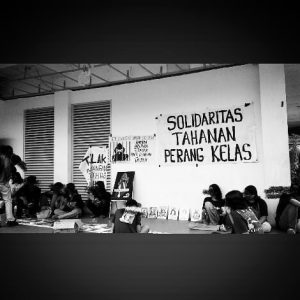 Surrendering to state domination is the death of living for humans, contempt in the face of this is freedom and independence.
Free choice to continue to survive and assemble all forms of power to keep burning and ready to burn all threats, to fight all forms of dictation of power, oppression and all forms of capitalism domination.
There is only one war, namely CLASS WAR !!!
CLASS WAR – FIGHTING SOLIDARITY

Solidarity is a Weapon
Palanghitam Anarkis / ABC Indonesia | More info: 1, 2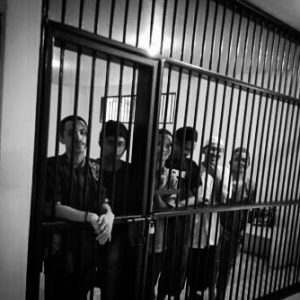 Tags: ABC Indonesia, Indonesia, International Solidarity, Makassar, Makassar City
Posted in Prison Struggle
Tuesday, December 10th, 2019
Well, as you know, I continue to be in the prison of Brians I, and I should not be surprised that the fascist torturers continue, those who like to insult, humiliate, harass and beat the prisoners, but in Module I of this prison, what is happening is beyond the unthinkable.
In this module we have a jailer named Pablo and as usual, the prisoners know him as Don Pablo. This individual has several complaints of mistreatment of prisoners, so it is strange that he continues to work in a prison and dealing with people, when he is at least a psychopath.
This jailer works normally on Monday, Tuesday double shift and Wednesday until noon. This past Monday, the 11th, he apparently had one of those psychotic outbreaks because already in the morning he began first with the barber of the module, in front of other prisoners, asking him "Are you dumb or what, what do you think, what is it? Do you want me to break your face?"
Then, near noon, to another prisoner, in this case a fate of the dining room, he said words shouting like the others: "You are shit, you are not worth anything, you are a cockroach, you are nothing and cease to exist". In the afternoon, and continuing with his vocabulary, there was a prisoner destined for the workshop that was talking on the phone with his family. This prisoner was calling out of the usual schedule because when he comes up from the workshops, at noon later than one o'clock and in the afternoon after seven o'clock, this schedule is agreed after hours with the director of this jail and with the captain of the Module, and I agreed with it myself because those at the workshops could not call during normal business hours. (more…)
Tags: Amadeu Casellas, Catalan Independence, Catalunya, Letter, Prison Labour, Spain
Posted in Prison Struggle
Wednesday, November 27th, 2019
21/11/2019
PUBLIC STATEMENT
Since Saturday 9th of November, following the police raid at a man's home, which has been his declared residence for many years, this man and one more, a persecuted fighter and political prisoner in the past, have been incarcerated in the cells of the Greek state, facing heavy charges. The regime's propaganda media, which take on the job of spreading the scenarios of the repression mechanisms, portray the two arrested as well as myself as members of the armed organization Revolutionary Self Defense, who have been preparing, according to the suspicions of the "counter"-terrorist agency, new attacks. Starting from these arrests and with the added excuse of the search for me, the state has unleashed a mass operation of terrorism against anarchists and the wider social movement. Such efforts, which are pillars of the timeless counter-revolutionary strategy of the rulers, have been dealt with several times by the movement, by its stamina, its broad solidarity and by continuing and intensifying the struggle. Being at the epicenter of this operation I ought to make a public statement about my political stance and the characteristics of the regime's current aggression that is directed against society and the movement.
In addition, the condition of the two imprisoned persons (who are now political prisoners since they are persecuted in the framework of such an operation), my personal responsibilities, and justice urge me to speak publicly about the real background of the facts.
By definition, an organization of armed resistance needs arms. However, the weapons by themselves do not constitute an organization. Even a weapon that has been identified as a tool of a specific organization and which, as such, carries a symbolic value on top of the practical capacity of every weapon, is not sufficient, by itself, to maintain an organization of political activity. Rather, what is necessary is a collective body that carries on the public presence of the organization through its deeds.
It is an objective fact that the organization Revolutionary Self Defense has been inactive for years. By reading its public texts and particularly its specific political goals, one comes to the undoubted conclusion that for a long period the particular organization has abandoned its field of struggle. For sure, there has not been a lack of occasions to act. The capitalist aggression has been ceaselessly intensified, by all governments. The subordinate classes are sucked dry for the sake of the banking system for over a decade. Killings continue at the hands of state murderers and bosses. Just like the police murders of Zak Kostopoulos and Ebuka Mamasubek, or the indirect killings of prisoners in the prisons and of migrants at the borders and in the concentration camps. Squats, which comprise the open bases of the anti-capitalist movement, spaces in which the world of solidarity, equality and freedom is built here and now, are receiving one attack after the next from the beginning of the SYRIZA government until today. Throughout the globe, the oppressed are revolting and fighting, having to face the murderous counter revolutionary state mechanisms. In Latin America, anarchists and indigenous peoples are abducted and executed by order of multinational companies. (more…)
Tags: Athens, Dimitris Chatzivasileiadis, Greece, Letter, Organization for Revolutionary Self-Defense, Raids, Repression
Posted in Prison Struggle
Wednesday, November 27th, 2019
The Moscow Anarchist Black Cross group is supporting the declaration released by the Rupression-campaign about Arman Sagynbaev, prisoner of the so-called Network case, and will stop supporting him. Arman has been removed from the list of political prisoners, supported by the ABC Moscow. From now on, no donations transferred via Anarchist Black Cross Moscow for the Network case prisoners, or political prisoners in general, will be used to support Arman Sagynbaev or passed to his lawyers.
Declaration by the Rupression-campaign
Several women have spoken up with their stories of violence and abuse perpetrated by Arman Sagynbayev – we have no reason not to believe them. Arman has always had a questionable reputation. As an example, long before the arrests, Victor Filinkov and Igor Shishkin stopped their communication with him; some of the other defendants were barely familiar with him. Many of us didn't know the details, because not all the stories, which are rather personal, were known more widely. We didn't expect him to continue to be dangerous for women while in jail and that's why we didn't give enough attention to the details. Now we recognize and understand, that it was a mistake. (more…)
Tags: "Network Case", Arman Sagynbaev, Russia
Posted in Prison Struggle