'Prison Struggle' Archives
Sunday, August 19th, 2018
Kevan Thakrar is an IWW member and miscarriage of justice who has served over a decade in prison. He was moved to the Close Supervision Centre at HMP Whitemoor in Cambridgeshire in July and is now being subjected to an even more repressive regime, as well as targeted harassment from prison officers.
Kevan repeatedly challenges his conditions and captivity with complaints and legal challenges, many often against prisoner officers and members of the Prison Officers Association. In retaliation, the Prison Officers Association have been actively encouraging officers to try to get Kevan moved to a different prison. Staff have been trying provoke an incident after Kevan's requests for them to wear body-worn cameras (for his own protection, following incidents of physical violence inflicted against Kevan in the past). (more…)
Tags: Close Supervision Centre CSC, HMP Whitemoor, Kevan Thakrar, UK
Posted in Prison Struggle
Wednesday, August 15th, 2018
From the prison of Fleury-Mérogis (Paris) Claudio Lavazza tells us he's doing well even if the detention regime (he's being held in a high security unit for prisoners awaiting trial) is much harsher than the prison conditions in Teixeiro (Galicia, Spain). Claudio would like to receive letters and so he asked for his details to be spread.
Claudio Lavazza
ecrou 445097 D5-2G-₵44
MAH de Fleury-Mérogis
7 Avenue des Peupliers
91700 Fleury-Mérogis
France
Against all prisons!

Cassa AntiRep delle Alpi occidentali
[Western Alps Anti-repression Fund]

Translated by act for freedom now!
roundrobin.info
Tags: Claudio Lavazza, France
Posted in Prison Struggle
Wednesday, August 15th, 2018
The solidarity groups of Germany's Incarcerated Workers' Union (GG/BO), with the support of the anarchist workers' union (FAU), are calling for a protest to take place in front of the US consulate of Leipzig on August 21st, which is the start date of a nationwide prison strike in the USA.
You can find the call on the blog of the GG/BO solidarity group of Jena and on the website of GG/BO.
Tags: Demo, Germany, Leipzig, Prison Labour Strike, USA
Posted in Prison Struggle
Sunday, August 12th, 2018
From Cruz Negra Anarquista do Rio de Janeiro:
"August 14th, international day of support for the 23 activists sentenced in Rio de Janeiro, in defense of the right to protest, for all who fight"
We call on all social movements, popular and revolutionary organizations, trade unions, student movements, human rights groups, progressive intellectuals and other sectors of civil society to organize simultaneous actions in this great day of solidarity and struggle against the criminalization of social movements and in defense of the right to protest. (more…)
Tags: ABC Rio de Janeiro, Brazil, International Solidarity, Rio de Janeiro
Posted in Prison Struggle
Friday, August 10th, 2018
Tags: Flyposter, Indonesia, International Solidarity
Posted in Prison Struggle
Wednesday, August 8th, 2018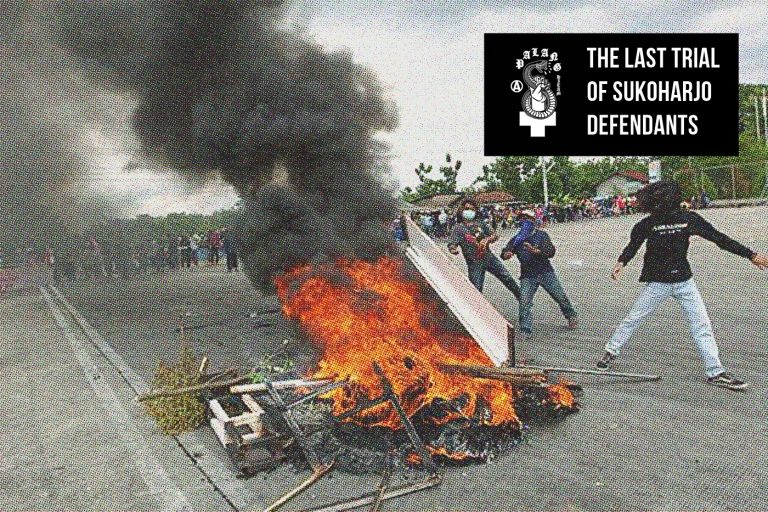 07.08.18: The 7 prisoners from Sukorharjo charged for involvement in the the riots outside the PT. RUM synthetic cotton factory faced their final hearing on Tuesday, August 6th. The riots followed on from the demonstration that took place in front of the factory due to it emitting a foul, toxic odor. The demonstration descended into a chaotic riot that led to the torching of security posts and clashes with the police and soldiers. The 7 prisoners have been detained since their arrests in February 2018. The trial was chaired by Chief Judge Sigit Hariyanto. The sentences of the 7 prisoners were as follows:
1. Muhamad Hisbun Payau (Iss), a member of left-wing student organization Pembebasan, sentenced to two years and three months imprisonment.
2. Sutarno, a resident of Karanganyar, sentenced to two years imprisonment.
3. Brilian, a resident of Nguter, sentenced to two years imprisonment.
4. Bambang, a resident of Bulakrejo, sentenced to three years imprisonment and fined 10 million Rupiah.
5. Kelvin, a resident of Plesan, sentenced to two years and three months imprisonment.
6. Sukemi, a resident of Celep, sentenced to two years and three months imprisonment.
7. Danang, a resident of Nguter, sentenced to two years imprisonment and fined 10 million Rupiah.
The first 3 defendants were convicted for violating Article 406, paragraph (1) of the Indonesian Criminal Code regarding "the destruction of property belonging to another person". The judge's sentencing was lighter than the demands of Prosecutor Rohmadi who was seeking 4 years and two months imprisonment for Iss and 4 years imprisonment for Sutarno and Brilian.
The last 4 defendants were charged and convicted for violating Article 187, paragraphs (1) and (2) along with Article 170, paragraph (1) of the Criminal Code.
The sentences for Danang and Bambang were lower than what the Prosecutor was seeking – the Prosecutor was seeking 4 years imprisonment and a fine of 50 million Rupiah for Danang and 5 years imprisonment along with a 50 million Rupiah fine for Bambang.
For more information:
Instagram account: @palang__hitam
Website: palanghitam.noblogs.org
Email: civilrebellion@riseup.net
Tags: Indonesia, Trial
Posted in Prison Struggle
Wednesday, August 8th, 2018
Tags: Flyposter, International Solidarity, International Week for Anarchist Prisoners
Posted in Prison Struggle
Saturday, July 28th, 2018
26.07.18: The trial has begun for the 4 anarchist prisoners of war who were transferred to Cebongan Prison for the Yogyakarta M1 (May Day) case.
The four imprisoned comrades are:
– Azhar M. Hasan (Azhar)
– Zikra Wahyudi (Zikra)
– Muhammad Ibrahim (Boim)
– Muhammad Edo Asrianur (Edo)
The state repression against the anarchist M1 actions is entering a new phase as the preliminary trial hearing begins. The 4 anarchist prisoners of war who took part in the demonstrations at the intersection outside UIN Yogyakarta (Sunan Kalijaga State Islamic University) faced a preliminary trial hearing at the Sleman District Court on July 26th.
The first preliminary trial hearing consisted of the prosecutor reading the indictment against the comrades. The prosecutor stated that this trial should take place separately from the criminal case and called for a split hearing. (more…)
Tags: Indonesia, Repression, Trial, Yogyakarta
Posted in Prison Struggle
Thursday, July 26th, 2018
The former Japanese Red Army activist Tsutomu Shirosaki has launched an appeal against his conviction for attempted murder.
He was found guilty in a trial at Tokyo District Court related to a May 1986 attack in Jakarta that saw a series of mortars hit the Japanese and United States embassies, though none caused injury or significant damage.
Now aged 70, Shirosaki was given a 12-year sentence in November 2016 at the conclusion of the trial, the first of a far-left activist in Japan for terrorism-related crimes for many years and the first to involve lay judges. Witnesses included the film director and former Japanese Red Army member Masao Adachi.
Notwithstanding the high-profile nature of the trial, the prosecution was undermined by its poor handling of Indonesian witness testimony. As reported in the media at the time, the court translation contained notable errors. These are a key part of Shirosaki's appeal, which had its hearing on July 18th. (more…)
Tags: Anti-Imperialist International Brigade (AIIB), Indonesia, Japan, Japanese Red Army, Popular Front for the Liberation of Palestine (PFLP), Tokyo, Trial, Tsutomu Shirosaki
Posted in Prison Struggle
Wednesday, July 25th, 2018
About a year since its inception, the Scripta Manent process will resume in September. The hearings were scheduled weekly until November 22. Given the pace of court appointments, legal fees are increasingly high and, therefore, we must renew the invitation to those who wish to contribute to make payments to the CNA account.
IBAN IT67T0760101600001015950221
Some anarchists.
Tags: CNA Italia, Italy, Operation Scripta Manent
Posted in Prison Struggle
Sunday, July 22nd, 2018
Soli-Plakat für die bevorstehende Woche der Solidarität für unsere GefährtInnen, die eingesperrt oder auf der Flucht sind.
Überall auf der Welt werden unsere inhaftierten GefährtInnen als Geiseln gehalten für deren Akte des Krieges gegen diese dekadente und verrottete Zivilisation, die alles zerstört und verkünstlicht. Sie haben für ihr Handeln jene Mittel benutzt, die zur Verfügung standen: Sprengkörper, Feuer, Waffen, Entschlossenheit, Mut und den Traum der Freiheit. Lasst sie niemals alleine, sondern lasst die Nächte und Tage mit unserem brennenden Zorn aufleuchten…
Alle unsere Plakate – außer ihr habt Zugang zu einem Pro Printer – werden am besten in hoher Auflösung über einen normalen Drucker in schwarz-weiss ausgedruckt und dann auf A3 vergrößert kopiert und mit Tapetenkleister auf der Straße plakatiert. Der Toner des Kopierers verschmiert nicht so schlimm wie Druckerfarbe, wenn darauf gekleistert wird. Auf die Straße…
Tags: Flyposter, International Solidarity, International Week for Anarchist Prisoners
Posted in Prison Struggle
Sunday, July 22nd, 2018
"Knast ist ein Meilenstein auf dem Pfad, den der Revolutionär in Richtung Freiheit geht. Es ist ein vorüber gehender Aufenthalt, aber nicht das Ende." Verschwörung der Feuerzellen (CCF)
Am 1. Mai 2018 wurden dutzende AnarchistInnen in Yogyakarta während eines wütenden Krawalls gegen den Sultan und das NYIA Mega-Flughafen Projekt, welches die Kulon Progo Coastal Community bedroht, verhaftet. 11 AnarchistInnen sind immer noch eingesperrt, weil sie gegen die Bullen und die Schläger das Sultans gekämpft haben. Dem Gefährten Ucil wird vorgeworfen Polizeimotorräder mit Molotov-Cocktails angegriffen zu haben. Der indonesische Staat hat diesen Moment benutzt, um die anarchistische Bewegung auf dem Archipel mit Repression zu überziehen, außerdem sind einige GefährtInnen im Untergrund oder es wird gegen sie ermittelt. Lasst uns den Funken der revolutionären Solidarität entzünden und die schwarze Internationale entfachen. Feuer den Unternehmen, den Investoren, dem Tourismus und den Banken, die in Indonesien tätig sind.
"Bedauerlicherweise ist der Traum, den wir in unseren Herzen tragen, zu bedeutend, als dass wir die Gefahr unterlaufen könnten, uns selbst an der monströsen Wand der Autorität wieder zu finden, die aufgebaut wurde, um Staat und Kapital zu verteidigen." – Nicola Gai
Tags: Flyposter, Germany, Indonesia, New Yogyakarta International Airport (NYIA), Repression
Posted in Prison Struggle
Sunday, July 22nd, 2018
The anarchist prisoner Claudio Lavazza (in prison in Spain since 1996) has been transferred several days ago to a maximum security prison in the Paris region. The transfer, which Claudio expected, is due to the conclusion of the definitive trial for actions for which he has been accused in France since the 1980s; Once the trial is over, he will return to Spain to finish serving his remaining sentence in that country.
When there are more updates, we will give you more news.
Against all prisons!
Tags: Claudio Lavazza, France, Prison Transfer, Spain, Trial
Posted in Prison Struggle
Saturday, July 21st, 2018
On Friday, July 20th at 10AM, in the Korydallos Prison Special Court, the Court of Appeal continues for the 250 explosive and incendiary attacks by the Conspiracy of Cells of Fire.
The accused are the 10 members of the organization who were sentenced from 21 to 28 years.
Comrades who are prisoners of the State are part of our struggle and part of us.
Solidarity with prisoners and persecuted comrades is inextricably linked to the struggle for revolution, for a society of equality and freedom, for anarchy.
IN-OUT
A network of counter-information and solidarity for political prisoners.

Source
Tags: Athens, Conspiracy of Cells of Fire, Greece, Korydallos Prison, Trial
Posted in Prison Struggle
Saturday, July 21st, 2018
On Monday, 23.07.18, in the Korydallos Prisons Special Court, another trial against the Revolutionary Struggle continues involving bank robberries attributed to the organization.
According to the indictment, there was a 'criminal organization' from 2006-2012 whom seven bank robberies are attributed to and whose members became members of the Revolutionary Struggle from 2012-2015 and committed bank robberies for the organization.
We, as members of the Revolutionary Struggle already publicy stated our position on this issue on October 23, 2017*, and recently the comrade Nikos Maziotis published a similar statement on 06.05.18**.
Nikos Maziotis – Pola Roupa

*Nikos Maziotis and Pola Roupa – 'The Revolutionary Struggle is a Revolutionary Organization and not an Organization for Robbing Banks' (Text in Greek language)
**Nikos Maziotis: The New Trial on 25.05.18 Against the Revolutionary Struggle for Bank Robberies (2012-15) Does Not Concern the Actions of the Revolutionary Struggle
(Text in Greek language)
Tags: Athens, Bank Robbery, Greece, Korydallos Prison, Revolutionary Struggle, Trial
Posted in Prison Struggle