'Prison Struggle' Archives
Sunday, August 7th, 2016
Tags: Flyposter, International Week for Anarchist Prisoners
Posted in Prison Struggle
Friday, July 22nd, 2016
Political statement of Panagiotis Argyrou for the trial for the escape attempt
Looking back…
"We're given our life only once, like a unique chance. It's never going to exist again, at least in this autonomous form. And what do we do with it instead of living it? What do we do? We drag it from place to place, killing it…" (Hronis Missios)
The courts have a unit of their own to count life and freedom by; a unit that uses types and algorithms of the legal language to say what's fair or unfair, right or wrong, normal or in decline. And in this process where lives and freedoms are being put in the balance of the law, you're sometimes given the chance to look back; you feel guilty or you don't. It's an important moment because whatever you say might pour some more cement around you, it might increase the amount of those moments where the door opens up and closes, perhaps it makes your ear get used even more to the sound of the key turning into the door's slot, enough to make you think you've always been hearing this sound, that there was no morning or evening you didn't hear this sound at a certain pre-arranged time.
So here we are… For five and a half years I've been hearing that key. Five and a half years that my eyes crash onto the walls. Five and a half years with two sentences (37 and 19 years) and another two coming. And now here in this trial one more. This will be the fifth trial in a row where I wait "to see what will happen to me" or for "my laughter to turn to crying". And it is again the moment to put a mirror in front of the past and my choices and look back. So I look…
Tags: Athens, CCF Escape case, Conspiracy of Cells of Fire, Greece, Informal Anarchist Federation (FAI), International Revolutionary Front, Korydallos Prison, Letter, Panagiotis Argyrou, Trial
Posted in Prison Struggle
Thursday, July 21st, 2016
Belarusian prison – Untouchables in the prison hierarchy
The topic of prison caste system is often raised in the media in recent times, it is often discussed in connection with the political prisoners. However, almost all who write on the subject, know about it at best from the stories of former inmates or use common social stereotypes. As a result, there are often a lot of blunders and false representation.
The aim of this article is to illuminate some aspects of this complex and multifaceted phenomenon the informal hierarchy in Belarus prisons.
27 years old, an activist of the anarchist movement. He was born in the town of Bragin, Gomel region. He graduated from the Belarusian State University College of Law, worked as a judicial custodian in the court of Tsentralny district of Minsk and legal adviser in a private company. In 2009 he entered the European Humanities University (Vilnius) specializing in Political Science and European Studies. On September 201, he was detained in Minsk on suspicion of the attack on the embassy of Russia. He was convicted of participation in a protest actions near the General Staff, the House of Trade Unions and the casino "Shangri-La" in the "case of anarchists", he received 4.5 years prison sentence. Three months before his release he was sentenced to another year of imprisonment under Art. 411 of the Criminal Code (willful disobedience to prison administration). Released on August 22, 2015 by presidential decree "On presidential pardon" (he did not write a petition for clemency, although it was repeatedly offered). Now he is a first year student at the European Humanities University, specializing in world politics and economics.
There are scientific works on this subject. And, of course, I do not aspire to consider the phenomenon in all its diversity in one article. The question will be mainly about one prison caste, the existence of which characterizes the system as a whole, and the knowledge of which is critically important for any falling prisoner in Belarus, especially for a political prisoner. The so-called "petukhi" ("roosters") ( also "downcast", "bugger", "cockscomb", etc.).
So, from this text, you will learn:
– How did the "downcast" appear in prison;
– How do people become one;
– What are conditions of these people in jail and prison;
– What functions are performed by these people in prison;
– Why is the existence of this caste vital for the administration of penitentiary facilities.
(more…)
Tags: Analysis, Belarus, Mikalay Dziadok, Repression
Posted in Prison Struggle
Tuesday, July 19th, 2016
As the conditions behind walls get better, existence of walls become blurred.
Courts,
Defences,
Choices,
Signatures…
Democracy's power that cause to forget, is the hush-money that it recognises.
There is no difference between democracy and coup, military and police, barracks and parliament, king and president. State can be dictator, king and sultan without losing the quality of being democracy.
In the day of 15th July, a group of soldiers started a struggle for power in some strategic points that is seen by some as coup, and by others as theatre. As always, people who face this struggle for power in its most bare state are the prisoners. In this struggle for power, all communication of prisoners with outside has been cut. It is informed that releases will not be made until a second order.
Whether there is a coup, who did this coup, who opposes this coup are not the questions that needed to be asked in our opinion. Coup is always implicit to state. Every state practice in daily life, especially a non-ending coup setting on political subjects that state see as opponents, is a state of emergency. Because what makes sovereignty is its ability to decide the state of exception.
(more…)
Tags: ABC Istanbul, Repression, Turkey
Posted in Prison Struggle
Monday, July 18th, 2016
Also see this update via Actforfree.

In Thessaloniki posters and flyers are spread with a call out for solidarity with the anarchist comrades accused of bank robbery in Germany. At Kamara there was a banner hung and stencils spayed arround the city with the text 'Solidarity with the anarchist comrades in jail accused of bank robbery in Germany'.
Here the text of the flyer that was spread in Greek and English:
Solidarity with the anarchist comrades in jail accused of bank robbery in Germany

A call out for active solidarity
On July 6th 2016, an anarchist comrade got arrested in Amsterdam, the Netherlands. She is accused of expropriation in Aachen, Germany and is now in jail awaiting extradition to Germany. The week before a comrade from Spain had already been extradited to Germany. We call out to anybody to make actions in solidarity with the imprisoned comrades! We are fucking angry, we want them free!
In the summer of 2015 she already spent 5 months in detention and was released, with all charges dropped and no conditions to her release. The very disappointed prosecution made recourse to the higher court, which granted a trial (date not set yet). In April 2016 a comrade from Barcelona was arrested with similar charges for an expropriation that took place in 2014, by the same prosecution office. She has now been extradited to Germany. (more…)
Tags: Aachen, Bank Robbery, Germany, Greece, Solidarity Action, Thessaloniki
Posted in Prison Struggle
Sunday, July 17th, 2016
UPDATE – Demo: Thursday 21st July 2016, between 12.30pm and 2.30pm – Prisons and Probation Ombudsman, Rose Court, Southwark Bridge, London SE1 9HS, UK
From a comrade of ABC Brighton:
25th May 2016
Having just read George Jackson's 'Soledad brothers. Two things have struck me, this book was written in 1960's America during the black rights movement detailed the racism found in their prisons then but could quite easily depict the current state of English prisons today. Cowardly white prisoners colluding with the prison officers in order to subject the minorities to a worse quality of life than they face, rather than seeing their fellow prisoner as an ally in attempting to improve life for all, is a growing problem in England although those with Islamic beliefs are the main targets rather than the Blacks. The expansion of Nazi gangs which is facilitated by prison service personnel at all levels, with random unprovoked attacks on minorities being the result is successfully dividing the prison population, causing a distraction from the serious deterioration in conditions within prisons which are creeping behind the racists.
The book covers much wider ground, looking at capitalism and imperialism as the route causes for the exploitation of humans by America but it is within prisons where these effects are magnified. The fact that this conservative government are oppressing the masses today, demonizing immigrants and Muslims whilst dropping bombs all over the middle east is no different to the American government in the 60's implementing Jim Crow, warring with Vietcong and misleading the public with propaganda. (more…)
Tags: Close Supervision Centre CSC, HMP Wakefield, Kevan Thakrar, Letter, UK
Posted in Prison Struggle
Saturday, July 9th, 2016
On July 8th 2016, the Koridallos prison court – presided over by special judge Asimina Yfanti – convicted all members of the anarchist revolutionary organisation Conspiracy of Cells of Fire, who were accused of placing an explosive device at Koridallos tax office; sending a parcel bomb to the police station in Itea (in retaliation for the murder of inmate Ilir Kareli by prison guards); sending a letter bomb to the home of Dimitris Mokkas (special appellate judge against terrorism); planning an armed escape from Koridallos prison (dubbed "Gorgopotamos project"); and possession of firearms, explosives and anti-tank RPGs with the purpose of "disrupting the country's social, economic and political life." Furthermore, in relation to these charges, they were convicted of "direction of a terrorist organisation" and incitement ("moral instigation") to four attempted homicides.
During the sentencing, there was a strong presence of comrades in solidarity with the anarchists and the dignified individuals co-accused in the CCF escape case trial. There was also heavy police presence (including an anti-riot squad).
CCF members:
The ten CCF anarchist prisoners Gerasimos Tsakalos, Christos Tsakalos, Giorgos Polidoros, Olga Ekonomidou, Theofilos Mavropoulos, Panagiotis Argirou, Giorgos Nikolopoulos, Michalis Nikolopoulos, Damiano Bolano, Haris Hadjimihelakis were sentenced to 115 years in prison each.
Comrade Angeliki Spyropoulou:
The anarchist prisoner Angeliki Spyropoulou was sentenced to 28 years in prison.
Relatives of CCF members:
Athena Tsakalou (the mother of CCF members Gerasimos Tsakalos and Christos Tsakalos) and Evi Statiri (the partner of Gerasimos Tsakalos) were found not guilty by a majority opinion (instead of a unanimous verdict).
However, Christos Polidoros (the brother of CCF member Giorgos Polidoros) was convicted of "membership in the terrorist organisation Conspiracy of Cells of Fire" and received a 6-year suspended sentence.
Other prison sentences & a couple of acquittals:
Christos Rodopoulos (nicknamed "Iasonas" by authorities), who has denied all charges, was sentenced to 75 years in prison.
Christodoulos Xiros (convicted 17N member) was sentenced to 65 years in prison.
Four other defendants were convicted of alleged membership in the organisation and sentenced to 27-28 years in prison each.
Fabio Dusko was sentenced to 8 years in prison.
Four other defendants were acquitted of membership in the organisation but received a 6-year suspended sentence.
Two other defendants were found guilty of misdemeanor offenses.
Two defendants were found not guilty.
– via contrainfo
Tags: Aggeliki Spyropoulou, Athena Tsakalou, Athens, CCF Escape case, Christodoulos Xiros, Christos Polydoros, Christos Rodopoulos, Conspiracy of Cells of Fire, Conspiracy of Cells of Fire : Imprisoned Members Cell, Evi Statiri, Greece, Informal Anarchist Federation (FAI), International Revolutionary Front, Korydallos Prison, Trial
Posted in Prison Struggle
Friday, July 8th, 2016
From contra-info:
This morning, 6 July, our anarchist comrade was arrested in Amsterdam by an arrestatieteam. This is in connection to an accusation by the Aachen (DE) prosecution in regards to a bank robbery in 2013. The call for solidarity stands. We are fucking angry.
For more information about this repressive story & updates in dutch, english and german: solidariteit.noblogs.org
Tags: Aachen, Amsterdam, Bank Robbery, Netherlands, Repression
Posted in Prison Struggle
Friday, July 8th, 2016
08.07.16: Breaking news from Greece: 10 Conspiracy of Cells of Fire defendants sentenced to 115 years each for the attempted prison escape. Relatives / loved ones of the CCF comrades – Evi Statiri, Athena Tsakalou and Christos Polydoros have all been released, while the other 15 defendants received shorter sentences. More news as it becomes available.
Solidarity with the CCF comrades and their families and loved ones!
For an insurrectionary response of international solidarity to the vengeful 'justice' of the Greek state!
– via InsurrectionNews
Tags: Athena Tsakalou, Athens, CCF Escape case, Christos Polydoros, Conspiracy of Cells of Fire, Evi Statiri, Greece, Korydallos Prison, Trial
Posted in Prison Struggle
Friday, July 8th, 2016
After Tel Aviv, Helsinki joined the solidarity campaign. A picket in the center of the city was organised. 1st of July, in the opposite side of the railway station, around 10 anarchists stood with a banner "Freedom to Crimean prisoners" (Vapaus Krimin vangeille) with pictures of Oleg Sentsov and Alexandr Kolchenko, and "Freedom for all political prisoners" (in English). Few hundred leaflets were spread. Goal of the action was to spread information about constant repressions in Russia against those in disagreement with Putin's politics, and against ongoing bloodshed in Ukraine. Leaflets had the following demands:
– Russia must withdraw its troops from Ukraine, and both sides of the conflict must fulfill the obligations of the Minsk II peace treaty
– Russia should release all Crimean tatars, anarchists, antifascists and other imprisoned anti-war activists. All illegally detained people in Donetsk and Lugansk areas should be released.

Photos
Tags: Finland, Helsinki, International Solidarity, Russia
Posted in Prison Struggle
Tuesday, July 5th, 2016
Two comrades, Jean Gutiérrez Zambrano and Andrés Aravena Sotelo, are being held on remand for 90 days for investigations. They were arrested following films and police controls relating to a students' demo organized by Confech (Confederación de Estudiantes de Chile) on 9th June in Santiago of Chile. Prosecutor Sebastián Gana accuses the comrades of having thrown molotov bottles at cop cars at various times during the demo.
–
More info: Publicacion Refractario
via: croceneranarchica.
Translated by act for freedom now!
Tags: Chile, Fuck the Police, Molotovs, Santiago
Posted in Prison Struggle
Tuesday, July 5th, 2016
Hearing of June 29th
On Wednesday the court heard the speech of the prosecutor I. Koutra. The speech went for almost the whole hearing which is approximately six hours. The bastard devoted himself to criticizing the approaches of anarchists and the actions of the Conspiracy of Cells of Fire, defending the existence of the state, laws, judges and police officers and proclaiming that a world without judges or prisons is something 'cute' but impossible.
Regarding the charges that he is seeking to convict the CCF comrades with, the prosecutor suggested to the judges that they convict them for 'directing' a terrorist organization, attempted murder, the possession and supply of weapons and explosives, explosions that 'risk human life', vehicle theft and attempted escape.
The prosecutor also suggested that the comrade Angeliki Spyropoulou be convicted of belonging to a terrorist organization and possession and supply of explosives.
For Athena Tsakalou and Evi Statiri he suggested that the charge of participation in a 'terrorist' organization be discarded, which rules out for them a sentence of 10-20 years. For Christos Polydoros he also suggested that same charge be discarded however he suggested that the comrade be convicted for the strange accusation of 'facilitating the membership of a terrorist organization' under the idea that the comrade would have helped Angeliki join the CCF. (more…)
Tags: Aggeliki Spyropoulou, Athena Tsakalou, Athens, CCF Escape case, Christos Tsakalos, Conspiracy of Cells of Fire, Conspiracy of Cells of Fire - Urban Guerilla Cell, Evi Statiri, Greece, Informal Anarchist Federation (FAI), International Revolutionary Front, Korydallos Prison, Trial
Posted in Prison Struggle
Tuesday, July 5th, 2016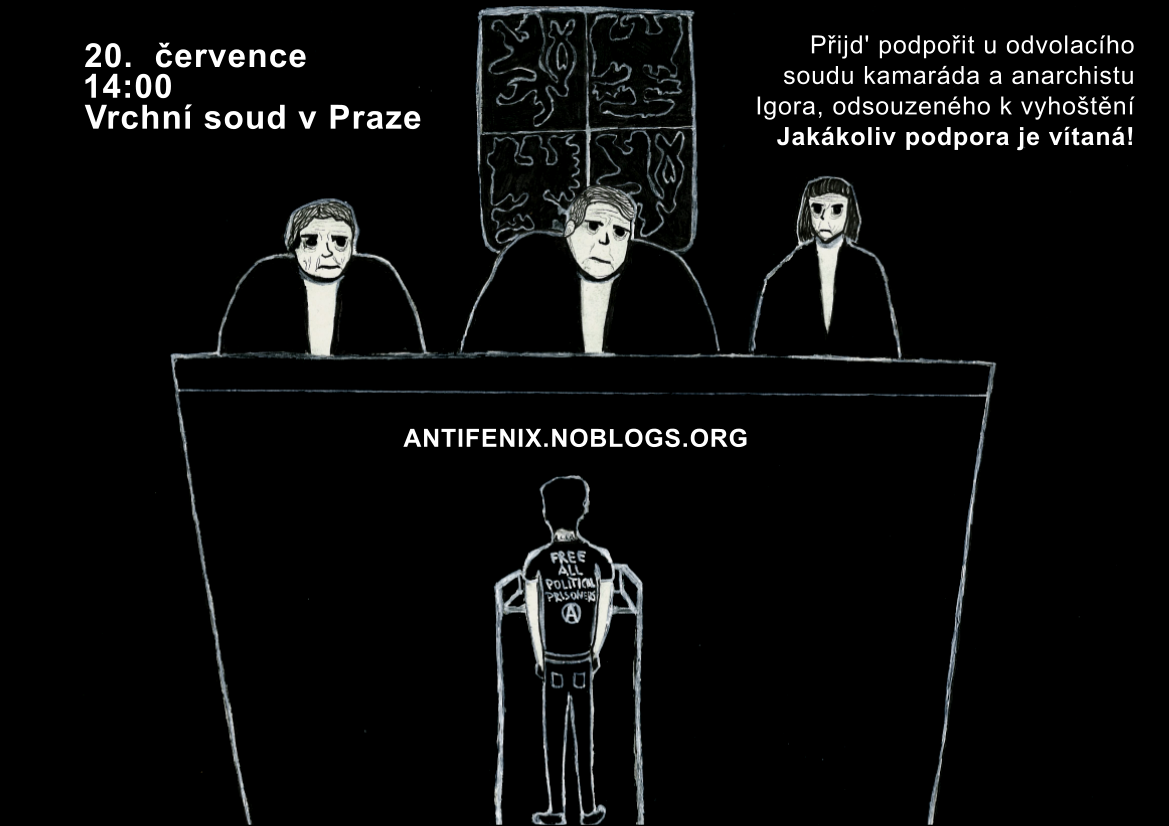 The poster above is hand made by comrade Igor.
The court of appeal of Igor Shevcov will take place on July 20th in High court of Prague. Support an anarchist sentenced to exile for two years because of video recording of spray painting. Share, come, be creative!
Tags: Czech Republic, Igor Shevcov, Prague, Trial
Posted in Prison Struggle
Tuesday, July 5th, 2016
Hello comrades abroad!,
We are getting in touch with you today to inform you about a historical day of action happening in the United States and to make a call for international solidarity actions, both inside and outside prisons across the world!
On September 9th, 2016, prisoners across the United States will be conducting work stoppages, hunger strikes and other forms of action in a call to end prison slavery. The call was originated by organizers from the Free Alabama Movement. A national coalition of community groups associated with the IWW's Incarcerated Workers Organizing Committee, Anarchist Black Cross chapters and others throughout the country have come together to build a national support network to push for a final end to prison slavery.
To achieve this goal, we need support from the international community.
We hope that prisoner support groups in the across the globe will hold solidarity demos and inform prisoners they are in contact with about the September 9th day of action. This spring and summer will be seasons of organizing, spreading the word, building networks of solidarity and showing that we're serious and what we're capable of. We ask that you organize some sort of solidarity action and help spread the word to prisoners in your area. We hope that the fires of prison rebellion spread from the United States to prisons across the globe! With one unified voice of rebellion we can send a strong message to captors across the globe that the iron bars of their cage cannot contain our thirst for freedom! (more…)
Tags: International Solidarity, Prison Labour, Prison Labour Strike, USA
Posted in Prison Struggle
Friday, July 1st, 2016
Three anarchists were arrested by police in Warsaw, Poland, 23rd May 2016. The accusations are: possession of explosives and intending to use them by setting police car on fire. They are called terrorists by police and media, despite the fact, that the arson didn't actually take place This accusations are quite serious- they face from 6 months to 8 years of jail. First hearings of the accused took place at District Prosecutor's Office on 24th may. Marks of tortures were visible on their bodies. On 25th may, during prosecution session at district court, prosecution decided to hold them in custody for three months (that might be automatically prolonged). Since then, each of the three is detained in isolation, denied the right to communicate with relatives, during the first week of detention none of them had access to a lawyer.
Mass media in the service of the state reproduce authorities propaganda. Witch-hunt begun, creating mass hysteria and the image of the country threaten by terrorism. By doing this, the authorities and their collaborators are trying to justify the implementation of the new Anti-Terror Law. Significantly, just before the entry into force of the Act on 10th May, 23rd May and 30th May in several Polish cities a series of false bomb alarms took place, leading to evacuation of sites such as the editorial office of the press and television, shopping centers, and banks. (more…)
Tags: Fuck the Police, Poland, Repression, Warsaw, Warsaw 3
Posted in Prison Struggle