'Prison Struggle' Archives
Tuesday, February 11th, 2020
ACERKA DE LA RESISTENCIA A LA PRISIÓN Y LA NECESIDAD DE EXTENDER LA LUCHA AUTÓNOMA ANTIKARCELARIA.
Una breve mirada a las experiencias de lucha desde el encierro, sus énfasis y los kontextos en ke se han desarrollado.
«Sin ningún Comité Central ni ninguna jerarquía que clasifique nuestrxs miembrxs, solo podemos conocer caras extrañas como amigxs a través de sus acciones. Lxs queremos, Ixs abrazamos, al igual que sabemos que otrxs lo harán. Otras células, secciones, grupos.»
Brigada de la Cólera
1970.-
En tiempos de agudización del konflikto social la kárcel es el principal instrumento de kontrol y kastigo para kienes no se someten y se rebelan.
Históricamente el dominio a través de todos sus dispositivos ke sostienen el poder, la autoridad, el mundo de las jerarkías, el patriarkado y el kapital a usado la sanción normalizadora para kombatir toda forma de Resistencia ke atake y amenace su paz social.
Sin ir más lejos no fue sino en la diktadura de Pinochet en donde esta dinámika afectó masiva y sistemátikamente a miles y miles de Rebeldes ke la kombatieron entregando los mejores días de sus vidas.
Se reformuló el marko jurídiko fundado en la doktrina de seguridad nazional ke veía un enemigo interno al ke había ke aplastar bajo la exkusa de «kombatir el káncer marxista» según la voz de los genocidas de la époka.
Operaba la pútrida «justicia militar»:
Miles de muertxs, desaparecidxs, exiliadxs, perseguidxs, violentadxs, torturadxs son el rekuerdo imborrable y el triste legado de la refundación kapitalista neoliberal del imperio yanky a través de la insurrexión militar burguesa del genocida ejército chileno. (more…)
Tags: 14/14, Anti-Prison, Chile, Dictatorship, General Pinochet, International Solidarity, Isolation, Letter, Mapuche, Marcelo Villarroel Sepúlveda, Repression, Torture
Posted in Prison Struggle
Tuesday, February 11th, 2020
Note from the Russian Reader: This verdict doesn't leave me at a loss for words. I'm just convinced there is no point in using them when everyone who could listen has made a point of tuning out people like me. If someone invited me to appear on their aptly named alternative radio program or their globe-spanning Qatar-based international TV network (as nearly happened in the past), I could talk for hours about the Network Case. But that's not going to happen. Although if I were a betting man, I would wager that our tiresome planet's obnoxious pillars of liberal truth—the New York Times, the Guardian, the Washington Post, and Al Jazeera, among others—will suddenly weigh in on the case after blithely ignoring it for two years, as will many if not all of the crypto-Putinist "Russia watchers" in our midst, eerily silent until now. Barring a sudden revolution, don't imagine this is the last such case in Russia, a country that has worried so many people around the world for the last several years that they're determined not to know anything particular about it except "Putin" and "troll factories." And don't imagine that a show trial just as juicy and unjust won't be coming to a theater near you. Please don't reprint, repost or otherwise reference this article without prefacing it with my remarks. I'd like to preempt "spontaneous" shows of "solidarity" by people who couldn't be bothered to do anything when it would have made a difference. Despite the well-known saying, it IS a popularity contest, and seven innocent young men in Penza have lost it.
Bumaga
February 10, 2020
The Volga District Military Court, [sitting in Penza], has [convicted and] sentenced seven defendants in the Network Case.
Dmitry Pchelintsev was sentenced to 18 years in a maximum-security penal colony. Ilya Shakursky was sentenced to 16 years in a penal colony and fined 50,000 rubles. Investigators claimed they were organizers of a "terrorist community." Both men alleged that FSB officers had electrocuted them in order to obtain confessions.
Maxim Ivankin was given 13 years in a maximum-security penal colony, while Andrei Chernov was sentenced to 14 years, and Mikhail Kulkov, to 10 years. They were found guilty of involvement in a "terrorist community" and attempting to sell drugs.
Vasily Kuksov was sentenced to 9 years in a penal colony. He was accused of involvement in a "terrorist community" and illegal possession of a weapon. Another defendant, Arman Sagynbayev, received 6 years in prison.
The verdict handed down by the court in Penza suggests that the acquittal of the Petersburg defendants in the case is less likely, Viktor Cherkasov, the lawyer for Viktor Filinkov, a defendant in the Network Case, told Bumaga.
"It sends a message," said Cherkasov. "It is difficult to hope [for a positive outcome], but we are still determined to protect Filinkov's interests."
Cherkasov said that he planned in court to point to the faked evidence in the case. He also that he would take the case to the European Court of Human Rights if Filinkov were found guilty. The next hearing in the Network Case in Petersburg should take place between February 25 and February 28.
[In October 2017 and January 2018], antifascists and anarchists were detained in Penza and Petersburg. They were accused of organizing a "terrorist community," allegedly called "the Network." Its alleged purpose was to "sway the popular masses for further destabilization of the political situation" in Russia.
The defendants in the case said investigators had tortured them as a way of forcing them to confess and weapons had been planted on their persons and property to further implicate them. [Some of] the arrested men had played airsoft together: this, investigators, said was proof they were planning terrorist attacks.
Investigators claim that the Petersburg defendants in the case, Filinkov and Yuli Boyarshinkov, acted as the group's sapper and signalman, respectively. Their trial is scheduled to resume in late February.
Translated by the Russian Reader
Tags: "Network Case", Andrei Chernov, Arman Sagynbayev, Dmitry Pchelintsev, Ilya Shakursky, International Solidarity, Maxim Ivankin, Mikhail Kulkov, Penza, Repression, Russia, St. Petersburg, Torture, Trial, Vasily Kuksov, Viktor Filinkov, Yuli Boyarshinkov
Posted in Prison Struggle
Sunday, February 9th, 2020
Information on the arrests of anarchists K. Athanassopoulou, D. Valavani and G. Michailidis by telephone communication, 6.2.20
As is already known, the 3 comrades were arrested at 9.30am on Wednesday 29/1.
From the time of arrest until 19.00 pm they were not allowed to contact anyone. The following day, the genetic material was violently taken from the two comrades, after Mihailidis' DNA was already in their possession. Particularly Dimitra Valavani was hit despite their having been informed of a previous head injury. Her constant demand to call her doctor has been repeatedly denied. Instead, she was taken to hospital after 3 hours, where she was given irrelevant examinations.
All three held a negative attitude during the interrogation. The next day they were taken to an investigator and prosecutor, where they declared their anarchist political identity.
It is worth noting that in addition to the standard investigations in their homes, the counter-terrorism twice entered Dimitra's grandfather's house, where he was subsequently sampled for DNA.
The three comrades are strong psychologically and will send more extensive information when they manage to send a communique text.
STRENGTH TO D. VALAVANI, G. MICHAILIDIS AND K. ATHANASOPOULOU.
Translated by Act for freedom now!
Tags: Athens, Dimitra Valavani, Giannis Mihailidis, Greece, Konstantina Athanasopoulou, Repression
Posted in Prison Struggle
Sunday, February 9th, 2020
Update on the situation of comrade Gabriel Pombo Da Silva
To write to comrade Gabriel Pombo Da Silva
Although we have no [new] news, we are pleased to announce that it is possible to write to our dear Gabriel Pombo Da Silva with the following address:
Gabriel Pombo da Silva
EPPJ Porto
Rua Assis Vaz, 109
4200-096 Porto
Portugal
For now, he will continue to be detained in Portugal until mid-February.
We will keep you informed with more updates about his case.
Free Gabriel!
Free Everyone!
Long live Anarchy!
–
Actualización de la situación del compa Gabriel Pombo Da Silva
Para escribirle al compañero Gabriel Pombo Da Silva
A pesar de que no tenemos novedades, nos es grato anunciar que es posible escribirle a nuestro querido Gabriel Pombo Da Silva a la siguiente dirección:
Gabriel Pombo da Silva
EPPJ Porto
Rua Assis Vaz, 109
4200-096 Porto
Portugal
De momento, continuará detenido en Portugal hasta la mitad de febrero.
Mantendremos informando con más actualizaciones de su caso.
Gabriel libre!
Todxs libres!
Qué viva la Anarquía!
Tags: Gabriel Pombo da Silva, International Solidarity, Portugal, Spain
Posted in Prison Struggle
Saturday, February 1st, 2020
Friday, January 24, the trial of anarchist Dinos Giagtzoglou ended in the special courtroom of Korydallos Prisons.
With a concurrent prosecution proposal, the Second Three-Member Athens Appeals Court cleared Dino of being a member of and participating in a terrorist organization (C.C.F.), the manufacture of explosives and financing of a terrorist organization but guilty of supply-possession explosive (defective) and illegal possession of pistols, ammunition (felony).
The court found him guilty by a majority (2-1) after one member considered that the charge was defective.
Anarchist comrade Dinos Giagtzoglou was sentenced to a total of 11 years and 2 months' prison without parole.
Source: Athens IMC & Actforfree.
Tags: Athens, Conspiracy of Cells of Fire, Greece, Konstantinos Yagtzoglou, Korydallos Prison, Repression, Trial
Posted in Prison Struggle
Thursday, January 30th, 2020
Anastasia Pchelintseva and Anna Shalunkina after their weddings to Dmitry Pchelintsev and Maxim Ivankin. Photo courtesy of 7×7 and Novaya Gazeta
via The Russian Reader:
Two Defendants in Network Case Married in Prison
Novaya Gazeta
January 29, 2020
Dmitry Pchelintsev and Maxim Ivankin, two defendants in the Penza trial of the so-called Network (a terrorist organization banned in Russia)* have been married in remand prison, reports 7×7.
Registry Office workers registered Dmitry Pchelintsev's marriage to his girlfriend, Anastasia Tymchuk, in the room on the premises of Penza Correctional Facility No. 4 where the defendants are currently held. Journalists, relatives, and friends of the couple were not allowed to attend the ceremony. Tymchuk reported that the groom made her a windcatcher as a wedding gift. (more…)
Tags: "Network Case", Dmitry Pchelintsev, International Solidarity, Maxim Ivankin, Repression, Russia, Torture
Posted in Prison Struggle
Thursday, January 30th, 2020
International solidarity in the fight with Eric G. King, imprisoned anarchist comrade in the United States prison system. Eric is imprisoned for the courageous act of putting a molotov to a government building. The comrade took responsibility for his actions and declared himself anarchist until the end, and the State now takes revenge on him and his loved ones. Fire to the State – Free Eric G. King!
News via Eric's soli-blog:
This is going to be very long a lot more personal than we usually post. For the first time Eric's partner feels like they need to speak out and share what has been happening to their family.
"There has been radio silence on our end for a bit, and for that I apologize. So much has been happening with Eric, but we have felt incredibly anxious and afraid to publicize. It's been so terrible that even right now… I feel extremely overwhelmed and panicked to write this all out. We have sat on a draft of this for a month now. But its pretty real that FCI Englewood has terrorized our family since Eric's arrival in late August, starting from the VERY FIRST ENCOUNTER WITH THE PRISON. And it is finally time to talk about it.
After Eric arrived at FCI Englewood I attempted to visit the next day. Policy is a spouse can visit in the first week prior to visiting approval. However when he was placed in Englewood in 2016 we ran into major issues attempting that first visit so I did expect to encounter some bullshit… we were not disappointed. After an hour of talking to guards, lieutenants and pushing hard for the visit, I was finally brought back to the visiting room. Because of all of the time it took… we only had 20 minutes to visit. During those 20 minutes, they came to us no less than 4 times claiming there was a kid in my car. They attempted to make me leave the visit to show them there was no child. I refused and told them to go in my locker, get my car keys, and go *in* my car to see there was no child. Desperate for every second that was being wasted. After shutting the situation down we were finally allowed 5 uninterrupted minutes, but it was difficult to relax and connect. (more…)
Tags: Antifa, Bradley Greilick, Eric G. King, FCI Englewood, International Solidarity, Letter, Repression, USA
Posted in Prison Struggle
Wednesday, January 22nd, 2020
When analyzing any edge of the prison, one must first establish or rather, make its history and its purpose visible. We are the ones in the dump of this society, another instrument of oppression through the law to perpetuate the privilege of the class society, made by power in its image and likeness, the jail is like all the bad things in the tight system between cement walls.
The very existence of the jail is political, a gear that makes the machinery of death of the State roll, social control, intimidation, isolation, directed against whoever it is is necessary to exalt the triumphant values of the bourgeoisie: competition, submission, exploitation, harassment, bourgeois individualism, violence; all this reflects its worst face in this place.
Here the children of violence, poverty and ignorance are raised, a school of fear that maintains the lucrative prison business, being a product of domination will never have a reforming end, which proclaims with the voice of a prisoner sick with rage. Nothing good can be taken out of confinement and uniformity; therefore, the mere existence of the prison reflects the type of system that governs us, has the color it has, is adorned as it is adorned; the existence of the jail has a political aim; therefore, for whatever reason, all prisoners are political prisoners, because it transcends the filter of the law, which is the preferred son of power.
What to do with social cannibalism if there were no prisons? It is the question to dream… (more…)
Tags: Chile, Letter, Santiago, Santiago 1, Social Insurrection
Posted in Prison Struggle
Wednesday, January 22nd, 2020
"Open letter from the La Spezia prison
My dear comrades and companions on 10 December 2019 I had the hearing of review in the court of Assisi of Lucca where I filed my reasons on acts committed on February 1, 2018, both against the political seat of "Casa Pound" and the fire at the "ENI" petrol station. On this occasion I also wanted to affirm that violence that took place in Viterbo by group people belonging to the Casa Pound group against a woman to make him understand both the public prosecutor and the court, that these fascists are not as much lambs as they want make believe. I also wanted to specify what were the reasons for the incendiary attack on the fascists. The reason was because in 2016⁄2017 in Piazza S. Michele in Lucca a boy was attacked because he was a militant of the PD and I also wanted to clarify that I have no sympathy for the PD, nor for other parties.
My action was spontaneous / premeditated in that I proclaimed myself a militant of the extreme anti-fascist left. In my trial, besides being present the anti-terrorist cops and the director Dr. Leone Leonardo also came to testify the councilor of the city council, as well as Casa Pound leader, who while taking me away we met in the classroom, where he gave me a look as a challenge and so there was a bit of offense my part, warning him that I am from Lucca and both the cops and the fascists must be careful and above all watch their backs a lot. They don't have to break or challenge me because I have nothing to lose and I'm able to do even worse. I don't care if his militant rabbits were inside their meeting that evening. As I claimed in the courtroom, when there is a need for direct action, it must be carried out without many theories. Certainly in some things it is true that it also takes theories, but it is also true that it takes practicality, that is, that certain responses against the beams are immediate. (more…)
Tags: Casa Pound, ENI, Italy, Letter, Lucca, Mauro Rossetti Busa, Trial
Posted in Prison Struggle
Monday, January 20th, 2020
Italy: Updates about some anarchist prisoners (January 2020)
We briefly summarize the latest updates on the situation of some anarchist prisoners in Italy.
On November 29, 2019 a search took place in the cell of the Sardinian anarchist Davide Delogu, imprisoned in the Rossano Calabro prison. At the same time, he was notified of the opening of an investigation for "association with the purpose of terrorism or subversion of the democratic order" (art. 270bis of Italian criminal code). Subsequently, he was returned some previously seized manuscripts. A week later, the guards informed him that a telephone had been found in the sewers of the prison and that they intended to charge him with its possession; Davide refused to be x-rayed and undressed.
We remind you that a solidarity fund has been opened for Davide Delogu, the coordinates are: Owner: Laura Gargiulo. Iban: IT27E0306967684510327514549.
This is the address of the comrade: Davide Delogu, C. R. di Rossano Calabro, Contrada Ciminata snc, 87067 Corigliano-Rossano (Cs), Italy.
For the repressive operation "Prometeo" (arrests of May 21, 2019) Natascia and Beppe remains in the prisons of Piacenza and Pavia respectively. On December 2, 2019, Robert, accused in the same operation, was released from Bancali prison, in Sardinia, without any precautionary measures. The release came following the decision of the court of review after the cassation, in October, had annulled the order of pre-trial detention for lack of "serious indications of guilt". The appeal in cassation had been requested for Robert and Beppe, but for the latter it was rejected. Recently, the public prosecutor in turn lodged an appeal in cassation opposing Robert's release; the hearing has been set for February 4, 2020. The "Prometeo" investigation is still open. The censorship in the correspondence of Natascia has been removed. (more…)
Tags: Davide Delogu, Giuseppe Sciacca, Italy, Natascia Savio, Operation Prometeo, Operation Scintilla, Prison Transfer, Repression, Turin, Verona
Posted in Prison Struggle
Thursday, January 16th, 2020
Tags: Anti-Prison, Chile, International Solidarity, Juan Aliste Vega, Marcelo Villarroel Sepúlveda, Santiago, Solidarity Event
Posted in Prison Struggle
Sunday, January 12th, 2020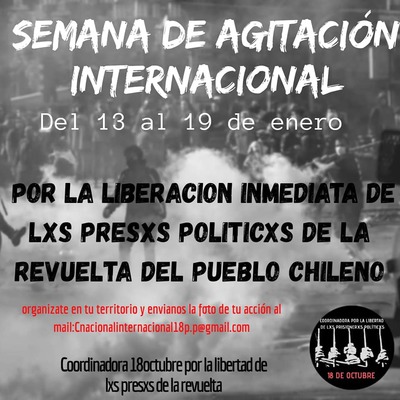 WEEK OF INTERNATIONAL AGITATION IN SUPPORT OF THE PRISONERS OF THE REVOLT IN CHILE. FROM JANUARY 13-19.
"THOSE WHO FORGET THE POLITICAL PRISONERS FORGET THE STRUGGLE"
More than 80 days after the social outbreak in Chile, the struggle and social organization persists in the unwavering conviction of confronting and breaking with the model of power and economy that has perpetuated inequalities, injustices and abuses for decades.
Undoubtedly the revolt that still breathes in Chile means this is a turning point with no return, it is within a long journey of struggle that has also brought with it a hard cost: hundreds and hundreds of prisoners of the revolt that are today in the different prisons in this territory. Each week this number increases and in an obvious phenomenon of mass incarceration the State seeks to intimidate and criminalize social protest. We speak of political prisoners of the revolt because of the fact of the mass imprisonment of social fighters after the outbreak of the 18th [October], responding to a political decision of the State and not to technical/legal criteria, understanding the complicity between the different powers of the State in order to perpetuate the existing model of control. That is why we make this call for international solidarity with the prisoners of the revolt in order to reveal the political condition of their imprisonment and demand their immediate freedom. We extend this call appealing to the multiple initiatives and solidarity actions that arise in each territory.
THOSE WHO FORGET THE POLITICAL PRISONERS FORGET THE STRUGGLE!
IMMEDIATE FREEDOM TO THE PRISONERS OF THE REVOLT!
CO-ORDINATION FOR THE FREEDOM OF THE OCTOBER 18th POLITICAL PRISONERS
— (more…)
Tags: Chile, International Solidarity, Riots, Santiago, Social Insurrection
Posted in Prison Struggle
Friday, January 10th, 2020
Note: Paska, as Giovanni and Ghespe, are actually at house arrest (since June 2019). Paska, Giovanni and Ghespe were arrested at August 3, 2017, in the context of a repressive operation against anarchists in Florence. In the sentence of July 22, 2019, in the trial for the "Panico" operation, Paska, Giovanni and Ghespe were convicted to 9 years and 10 months, 9 years, 10 months and 15 days, and 9 years respectively. "Panico" trial is the result of the union of several proceedings, including the one linked to the "Panico" repressive operation of January 31, 2017 (which involved three house arrest, some restrictions and searches with the main accusation of "criminal association") and the repressive operation of August 3, 2017, which involved eight arrests, searches and the eviction of La Riottosa occupation, in Florence, with accusations (for the eight anarchists arrested) of having carried out an explosive attack against "Il Bargello" bookstore (Florence, January 1, 2017) – a space linked to fascists and the fascist party "Casapound" -, an action during which a policeman was seriously injured and lost part of a hand and an eye, and an arson attack on a carabinieri station in the neighborhood of Rovezzano (Florence, April 21, 2016). Paska, Giovanni and Ghespe were sentenced mainly for accusations related to the attack against the fascist library. Nine anarchists were sentenced for "criminal association" and generally about twenty anarchists were condemned.
Not rotten apples
September 17, 2019, saw the start of the trial against our comrade Paska, accused of resistance and grievous bodily harm towards some of his jailers during a transfer.
A couple of pushes against a few of the escort screws was the least he could do after the treatment they had reserved for him on various occasions: the latest being the rally driving of the paddy wagon that caused him a strong blow to his head and ribs during the transfer of October 18, 2018.
On the other hand, since his arrival at La Spezia the prison management had decided to arbitrarily reserve even more restrictive measures for him such as delaying mail, bans on meeting others, isolation up to the 14bis isolation regime level as well as being forbidden to go to the yard with the other prisoners.
That doesn't surprise us. In the year 2018 – 2019 alone La Spezia prison boasts no less than 5 deaths out of about 230 prisoners, added to the acts of self-harm and beatings as a daily occurrence: the normality of a prison considered to be among the most progressive in Italy.
It is, therefore, within the normal execution of their functions that escort guards Luigi Viziello and Stefano Cenderelli covered our comrade in insults, kicks and punches. (more…)
Tags: Flyposter, International Solidarity, Italy, Operation Panic, Paska, Repression
Posted in Prison Struggle
Friday, January 10th, 2020
The Prisoner's Herbal is a herbal medicine book written by an ex-prisoner for people in prison who want to learn about the medicinal properties of plants commonly found in prison courtyards. It contains ten detailed plant profiles, as well as instructions on how to prepare plant medicines in prison. It also includes tips and tricks for making the most out of foods, spices and condiments available from the prison canteen. So far 99% of copies have got into prisons in the UK and the US without censorship.
Books are available for free to prisoners. Or if the group has the funds, ABC groups are welcome to purchase them for £1.20 a copy. Sales of the books to people on the outside have been fundraising to cover the costs of posting them to people on the inside.
Books can either be posted to prisoners directly or to groups to distribute among their networks.
You can learn more about the book here:
https://solidarityapothecary.org/prisonersherbal/
To request copies please email Nicole at info (at) solidarityapothecary (dot) org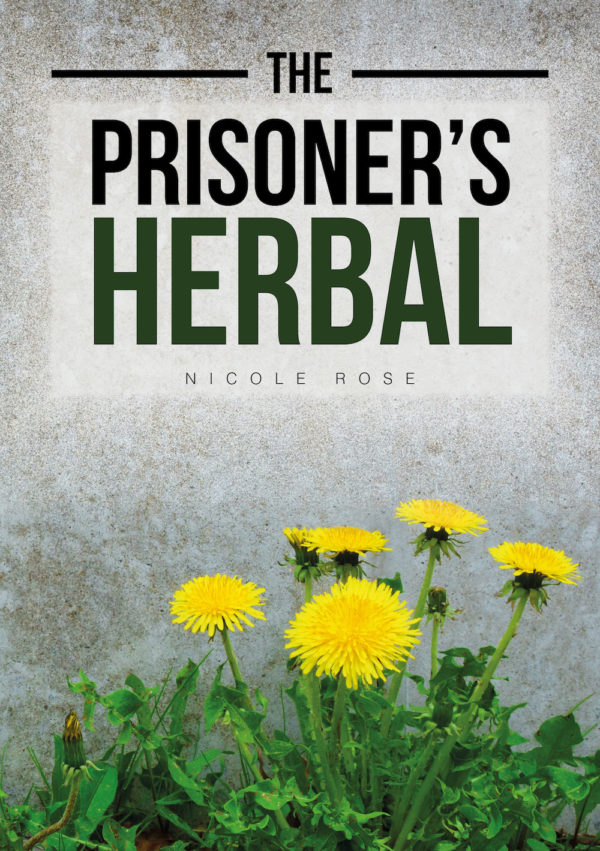 Tags: 'The Prisoner's Herbal', Herbalism, Zine
Posted in Prison Struggle
Thursday, January 9th, 2020
The new trial against Revolutionary Struggle [Επαναστατικού Αγώνα, 'Epanastatikòs Agonas'] will continue at the special court in Korydallos Prison (Athens) on Friday, January 10th, 2020, at 9:00AM. This ongoing legal proceeding against the organization and its members is part of the wider series of trials that continue to involve and be directed against the comrades, in particular Pola Roupa and Nikos Maziotis. The charges in this trial relate to a car bomb abandoned and discovered by the police in the summer of 2017, seven months after Pola Roupa's arrest on January the 5th of the same year. Nikos Maziotis, however, has been in prison since July 16th, 2014. In this trial the comrades are accused of "supplying, possessing and manufacturing explosives". [The date of the hearing for this new trial was announced on Athens Indymedia here].
Revolutionary Struggle is a revolutionary anarchist organization that – since the night of December 5th, 2003, with a double explosive attack against the 1st degree court in Athens – has carried out countless actions against the state and capital in Greece. The group's actions and analyses were directed against structures, apparatuses and institutional and repressive representatives of the Greek State (IE: 1st degree court, police stations, riot police, Korydallos prison, ministries of labour and economy, former Minister of Public Order G. Voulgarakis), international capital structures, representatives of Greek and international economic power, multinational companies and structures of other states (IE: Ministry of the Economy, Citibank, Royal Dutch Shell, Eurobank, Athens Stock Exchange, National Bank of Greece, Embassy of the United States of America).
On March 10th, 2010, Lambros Fountas, an anarchist and a member of the organization, was killed by police officers while expropriating a vehicle in Dafni (Athens). (more…)
Tags: Athens, Greece, Konstantina Athanasopoulou, Korydallos Prison, Kostas Gournas, Lambros Foundas, Nikos Maziotis, Pola Roupa, Revolutionary Struggle, Trial
Posted in Prison Struggle