'Prison Struggle' Archives
Saturday, April 15th, 2017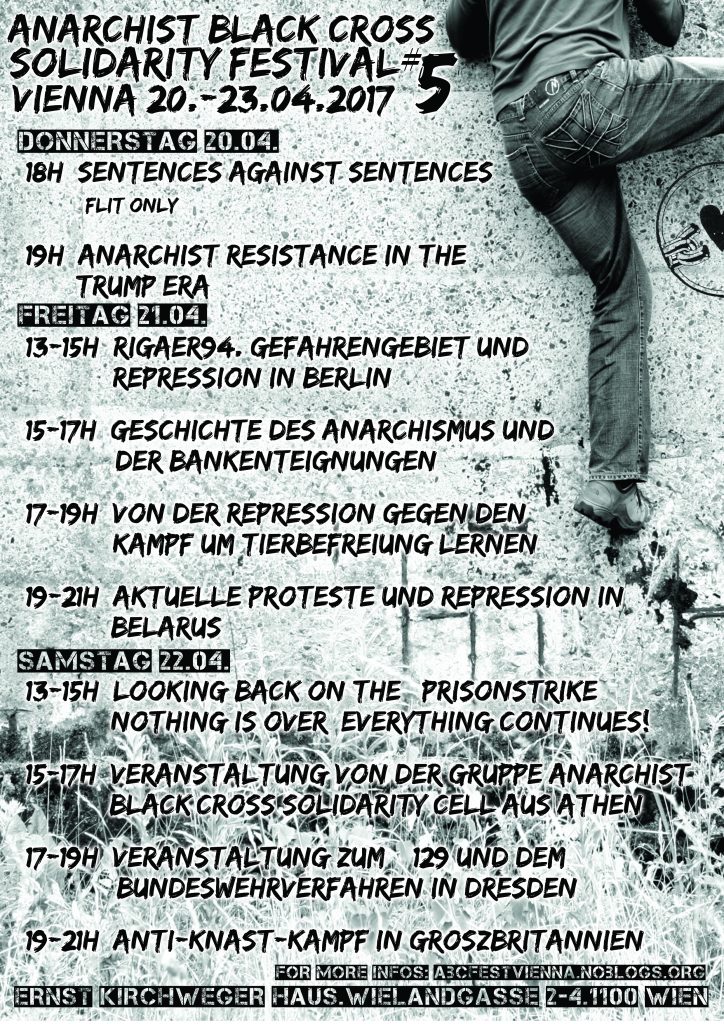 [Vienna] Solidarity event of "Anarchist Black Cross – Solidarity Cell" with imprisoned comrades of Koridallos prison (Athens) @ ABC FESTIVAL VIENNA (20. – 23. April 2017)

"As anarchists, we perceive the need of a multiform anarchist struggle, posing the issue of attack against state and vassalage that is imposed, with every means possible, here and now." (from the self presentation text of the ABC Group)
In this event the comrades from "ABC – Solidarity Cell" will talk about the importance of solidarity with anarchist prisoners and the connection of struggles inside and outside the walls.
Further, the talk will contain a deconstruction of the meaning of the 'anarchist movement' and the myth of the district of Exarchia.
"(…) we do not consider that the action of our anarchist comrades is finished after imprisonment or repression." (from the self presentation text of the ABC Group)
During the event there will be the presence of three anarchist prisoners, via Live-Connection, from Koridallos prison:

– Nikos Romanos
– Panagiotis Argyrou – CCF-Metropolitan Violence Cell/FAI-IRF
– Olga Oikonomidou – CCF-Urban Guerrilla Cell/FAI-IRF
They will talk about the following topics:
– The conditions in prisons and the situation of anarchist prisoners in Greece.
– The importance of solidarity assemblies for the anarchist prisoners and the connection of struggles inside and outside the walls.
– The choice and the importance of the armed struggle, the claim of responsibility for direct actions and the particulars of participation in armed organisations, and the importance and consignment of those choices.
– The choice of jail-breaking.
– The position of women in the armed struggle.
It will be also possible to raise questions to the comrades in prison, so the communication will be in both directions.
Some words from anarchist prisoner Panagiotis Argyrou dedicated to the ABC Festival:
There are times when you feel a certain kind of strength inside you.
This may be happening for different reasons each time but undoubtedly it is always a very positive feeling. Such a kind of strength a prisoner may feel when he/she discovers that there are other individuals wanting a touch, a contact, a communication, a conversation with him/her. It is a very strong feeling, a unique one, the feeling of a great strength filling you all over and this is something priceless. This feeling that you are not alone, that there are other comrades wanting to share moments, experiences or whatever, with you, is something so valuable that only freedom itself can compare with it. So let me thank you very much for the opportunity you offer me to have some contact even if it is for so little. I wish that the future brings us more opportunities so that one day we can have the chance to have a live talk outside the walls. A big warm hug,
Panagiotis Argyrou, member of CCF-FAI
Contacts:
ABC Solidarity Cell Website: https://abcsolidaritycell.espivblogs.net
E-Mail: abcsolidaritycell@riseup.net
Nikos Romanos State prison of Korydallos – Mens prison-ward A', P.C.
18110, Korydallos, Athens
Panagiotis Argyrou State prison of Korydallos – Mens prison-ward A',
P.C. 18110, Korydallos, Athens

Olga Oikonomidou State prison of Korydallos – Womens prison, P.C. 18110,
Korydallos, Athens
Other events @ the ABC Festival Vienna you can find here.
Location:

ERNST KIRCHWEGER HAUS
Wielandgasse 2-4
1100 Wien
Tags: ABC - Anarchist Solidarity Cell, ABC Wien, Anarchist Gatherings, Austria, Conspiracy of Cells of Fire, Exarhia, Greece, International Solidarity, Nikos Romanos, Olga Economidou, Panagiotis Argirou, Vienna
Posted in Prison Struggle
Thursday, April 13th, 2017
Lukáš Borl, an anarchist imprisoned on remand since September 2016 was released on bail today. That means that he will wait for the court outside of the prison walls. It is the first time since the beginning of the Operation Fenix when no anarchist in so called Czech Republic is held in prison.
Tags: Czech Republic, Lukáš Borl
Posted in Prison Struggle
Monday, April 10th, 2017
The trial against Davide, due on 9th March in the court of Cagliari, was postponed to 17th May. Davide is accused of attempted escape from the prison of Buoncamminno.
Sempri Ainnantis!

«… dreams are to be made true here in the present time and not in a hypothetical future, given that the future has always been sold by the priests of all religions and ideologies so that they could steal from us with impunity. We want a present time that is worth living and not simply sacrificed to a messianic wait for the future Eden. For this reason we wanted to talk concretely about anarchy to be realized now, not tomorrow. The "everything now" is a bet, a game we play and whose stake is our life, everyone's life, our death, everyone's death…» Pierleone Mario Porcu
We know people… quiet and loquacious, shy and bold, humble and arrogant people…
People who live obedient like sheet, and others who don't hide themselves in betrayal, they look into your eyes and stay always side by side no matter what. We know people who dream without imagination and live without dreaming, people whose eyes are used to stare below and whose ears are used to take orders such as "wake up", "work", "pay", "buy", "believe" , "respect"…
We know many people alone in the crowd, patiently waiting for an answer to their prayers till the end of their lives, for an eternal tomorrow, for better days, for a bright future.
But those who wait for a better life tomorrow are already dead today.
We know many individuals but only few of them are our comrades. Indomitable and unrepentant anarchists are shouting "a slow death or else the anarchist struggle here and now!"
And we are shouting with them, this is the only path of struggle we think worth the joy to take.
We've chosen to be there, to be on their side. We know our words don't speak to the many, but we'd like them to cut like blades today, and to burn the bridges with the past in the concreteness required by action. (more…)
Tags: Davide Delogu, Italy, Trial
Posted in Prison Struggle
Saturday, March 25th, 2017
Tags: Chile, Enrique Guzmán, Flyposters, International Solidarity, Juan Flores Riquelme, Nataly Casanova
Posted in Prison Struggle
Thursday, March 16th, 2017
March 10th, 2017 — We learn from the Red Aid that — finally — Marco Camenisch has completed the process of "gradual release".
The comrade Marco Camenisch is free!

anarhija.info
Tags: Marco Camenisch, Switzerland
Posted in Prison Struggle
Friday, March 10th, 2017
It has been five months since I returned to inhabit the cells of the Maximum Security Section of the High Security Prison and I think it is necessary to refer to both the personal and the prison scenario. The reasons for not writing before are obviously personal; but more than anything it is due to the belief – despite being convinced that sharing experiences generates inexhaustible links – that the virtual platforms and their set of communications is far removed from the real and approaches an abstract idea of the day to day life of jail and that of the individual. Irreducible? Yes, whether or not there is a swing of emotions, neither conviction nor mind falters, but that disgusting idea of the steel martyr behind the bars must fall. By the suicide of the image and the fetish, by the real destructive complicity. (more…)
Tags: Celula Revolucionaria Paulino Scarfo - FAI/FRI, Chile, Eco-Extremism, Individualists Tending Toward the Wild (ITS), Joaquín García Chanks, Santiago
Posted in Prison Struggle
Thursday, March 9th, 2017
Here we publish a letter from our anarchist comrade who is locked up in a German prison, in Köln, since several months. She is accused of carrying out a bank robbery in Aachen and is already facing the trial. She wrote this letter in the context of the 8th of March, International Day of Women's Struggle.
Down with patriarchy: On the social, racist & patriarchal problems faced by women in prison
It is generally well known that German society is rife with inequality. The upper classes are secure and cared for, they have no existential concerns and, despite all the wider problems of the world, they are able to offer their children a promising future which is not available to the under classes. Whilst a small minority of people are able to get richer, the majority are left to exist on the bare minimum, working for a shitty low wage and constantly being pushed towards pointless consumption so that the profit driven system that we live in can continue to function. (more…)
Tags: Aachen, Bank Robbery, Germany, Letter
Posted in Prison Struggle
Thursday, March 9th, 2017
Read the communique from Monica and Francisco on contra-info.
SANTIAGO – Chilean Anarchists, Monica Caballero and Francisco Solar, arrived this morning at Santiago's International Airport, after having been expulsed from Spanish custody and deported back to their home country.
Monica and Francisco had been charged under Spanish Anti-terrorism legislation for the alleged bombing of the Basilica del Pilar Church in Zaragoza, on Oct 2nd, 2013, and were arrested a month after the incident. Spanish prosecution initially sought a 44 year sentence for the accused, but instead received a 12 year sentence in 2014. The Defense took Monica and Francisco's case to the Spanish Supreme Court, where the sentence was further reduced to 4 and a half years this past December, having dropped one of the initial charges. (more…)
Tags: 14/14, Chile, Francisco Solar, Monica Caballero, Santiago
Posted in Prison Struggle
Tuesday, March 7th, 2017
Turin, 15th February 2017
The appeal trial against Silvia, Billy and Costa took place this morning.
In the grounds for the first-grade sentence the inadmissibility to carry on the proceedings owing to a fault in the jurisdiction had been pointed out, which can be only appealed through the court of Cassation. The appeal submitted by the prosecutors was therefore rejected and forwarded to the Cassation for a final decision.
The Cassation will have to deliberate on the validity of the appeal; if it is not considered valid everything will end there, otherwise there will be an appeal trial.

informa-azione.info
Translated by act for freedom now!
Tags: Costantino Ragusa, Italy, Luca Bernasconi, Silvia Guerin, Switzerland Earth Liberation Front, Trial
Posted in Prison Struggle
Thursday, February 23rd, 2017
Meet outside the main gates of HMP Berwyn, Wrexham on Monday the 27th of Febuary at 12pm

On February 27th 2017 the second biggest prison in Europe will open in Wrexham, North Wales. Local people lobbied for five years against this prison and campaigners blockaded the construction site and disrupted recruitment for the prison multiple times.
It is with a heavy heart that we see the opening of a cage of this industrial scale. We will be there the day it opens showing our opposition to all mega prisons being built and the continuing growth of the prison-industrial complex.
How many families will be ripped apart by HMP Berwyn? How many communities will lose their young men to it? In this factory of misery people will die – be it from overdosing on drugs trying to escape from reality or by taking their own lives in despair. (more…)
Tags: Anti-Prison, Demo, HMP Berwyn, Prison demo, UK, Wales, Wrexham
Posted in Prison Struggle
Wednesday, February 22nd, 2017
Come to the Tattoo Circus 21-23.4 to support prisoners and get inked!
Oranssi, Kaasutehtaankatu 1 (building 11), Suvilahti, Helsinki
The Tattoo Circus is coming to Helsinki! The festival will feature tattoo artists ready to give you a tattoo in support of political prisoners – but that's not all – apart from tattoos there will also be piercing, stick-and-poke tattoo workshop, music, talks on different prisoners, distros, food, and much much more.
There will be an info-point open throughout the day, with the ability to send postcards and letters to prisoners.
Contact us: tattoocircushki[at]riseup.net
https://tattoocircushki.noblogs.org/
Tags: Finland, Helsinki, Solidarity Event, Tattoo Circus
Posted in Prison Struggle
Wednesday, February 22nd, 2017
From: Bordered by Silence
Source: Cette Semaine
These past months, in different cities, including during unpermitted demos or riots, many of us have been thrilled by the number of offensive actions in the street. From clashes with the guard dogs of the state and property to the broken windows of shops and even the pillaging of their contents; from attacks on journalist-cops to overcoming the pacifiers of the day: all of this has shaken the arrogance of the powerful. In all forms of struggle — which aren't limited to "social movements" — self-organization and direct action are indispensable if we are to break with the pacification world of commodities and with state terrorism. Because to claim that it's unimaginable for individuals to directly oppose the existing order is just a veiled way of saying that social revolt is simply impossible.
Repression is not just the moment when the flashball or baton comes to strike recalcitrant bodies, it's each moment of daily life under the domination of the State and Capital, through their thousands of omnipresent psychological and physical manifestations that coerce the poor into accepting a shitty life. It's the prisons that lock up ever more people for ever longer sentences, in order to punish, isolate, break, and store them, out of sight of the peaceful consciences of good citizens. It's also the outside prison, built from measures like electronic bracelets, house arrest, exclusion areas, bail conditions, and so on. (more…)
Tags: France, Kalimero, Paris, Repression
Posted in Prison Struggle
Thursday, February 16th, 2017
According to corporate media in Spain and Chile, the Audiencia Nacional (National Court) of Spain decided on January 30 to commute the rest of Mónica and Francisco's sentence to expulsion. The lawyers of the comrades are thought to have requested for article 89 of the Spanish Penal Code to be invoked which allows for foreign citizens serving more than one year's imprisonment to have their sentence replaced with expulsion from the Spanish state. The comrades had their original sentence of 12 years reduced on appeal to 4 years and 6 months last December which means they have now served more than a third of their sentence.
It is expected that following police bureaucratic processes that the comrades will be flown by Spanish police to Chile where they will be handed over to Chilean police and then released back onto the street.
More news as it becomes available.

via insurrectionnews
Tags: Chile, Francisco Solar, Monica Caballero, Spain
Posted in Prison Struggle
Thursday, February 16th, 2017
After years of initiating investigations and arrests for attacks on police stations and Santiago Metro infrastructure in 2014, the nauseating southern district prosecution office has decided to set a date to begin the trial under the anti-terrorism law.
The prosecution will have 186 witnesses, 87 experts, 231 documents and 648 pieces of evidence to be presented before the altars of the democratic inquisition on March 24, 2017 when the trial against the comrades will begin.
Like other mega-legal processes, the trial is expected to last for a couple of months.
There is an urgent need to build revolutionary solidarity to confront the judicial machinery that is trying to swallow the lives of Juan, Nataly and Enrique.

via Publicacion Refractario, translated by Insurrection News
Tags: Chile, Enrique Guzmán, Juan Flores Riquelme, Natalie Casanova Muñoz
Posted in Prison Struggle
Tuesday, February 14th, 2017
Ya han pasado cinco meses desde que volví a habitar las celdas de la Sección Máxima Seguridad del C.A.S y creo que es necesario referirme tanto a lo personal como al escenario carcelario. Las razones para no escribir antes son, obviamente, personales; pero más que nada son debido a la creencia -a pesar de ser un convencido de que el compartir experiencias genera lazos impagables- de que la plataforma virtual y su conjunto de comunicados se aleja mucho de lo real y se acerca a una idea abstracta del día a día carcelario e individual. ¿Irreductible? Sí, exista o no un vaivén emocional, ni la convicción ni la mente flaquean, pero esa asquerosa idea del mártir de acero tras los barrotes debe caer. Por el suicidio de la imagen y el fetiche, por la real complicidad destructora.
"El pesimismo es el opio de los intelectuales, el optimismo pertenece a los imbéciles. Un realismo fanático y soñador, la conciencia de que no cabemos en este mundo, los valores que defenderemos en cada momento, más el calor cómplice de los que queremos y estimamos".
Hace cinco meses, un poco de la detención:
El 7 de Septiembre, aproximadamente a las cinco de la tarde y a poco más de dos meses del quebrantamiento del arresto domiciliario total dictado por el aparato jurídico, me detuvieron al subir a un bus rural con dirección a algún lugar. (more…)
Tags: Analysis, Celula Revolucionaria Paulino Scarfo - FAI/FRI, Chile, Eco-Extremism, Individualists Tending Toward the Wild (ITS), Joaquín García Chanks, Letter
Posted in Prison Struggle