'Prison Struggle' Archives
Wednesday, November 23rd, 2016
During the almost three years that we have been confined by different prisons of the Spanish State, there is one aspect that particularly calls attention to its determinant importance in prison life; we refer to the dispersion.
The dispersion corresponds to a policy of Penitentiary Institutions implemented by the socialist government in the mid-1980s, which consists of transferring determined prisoners to distant prisons many kilometers from their place of residence. In many cases these transfers are incessant and see the prisoners forced to go through various prisons in a short period of time preventing them from establishing themselves and establishing lasting relationships with others. The purpose of this policy was to curb the riots and protests inside the prisons that had been occurring during those years by drastically removing prisoners considered hostile to the prison system. (more…)
Tags: Francisco Solar, Letter, Monica Caballero, Spain
Posted in Prison Struggle
Friday, November 18th, 2016
There are many times where the harsh awareness of our weakness to express ourselves like we would've wanted comes, with its dithyrambic countenance of a winner tightening our hearts. It always irritated us to limit our manifestation of desires, let alone to just trap them with just ink in a piece of paper, transforming them into words that are being repeated so often, that their power has begun to perish from the burden of this almost typical repeatability. But there are also some words, that no matter how much they get worn down by their repeated use, they keep radiating by the glimmer that camaraderie gives to them. Words that give you strength, that give smiles upon our faces, that break through the imprisoned solitude. Words like solidarity.
We would've of course preferred if these words were accompanied by the vital strength of an action, an attack, the intensity of a fire in the dark, the sound of an explosion, the twisting of a bullet in a barrel. (more…)
Tags: Athens, Conspiracy of Cells of Fire, Greece, Informal Anarchist Federation (FAI), International Revolutionary Front, Korydallos Prison, Operation Scripta Manent
Posted in Prison Struggle
Tuesday, November 15th, 2016
"Concrete and wires prevail everywhere.
Looking out from the window of my cell, behind the bar,
I see a piece of sky decorated with some barbed wire."
Tasos Theofilou
Join us on Friday 18th of November for our info night event in solidarity with the anarchist communist Tasos Theofilou who is currently in prison, after being sentenced on the basis of forged and non existent evidence. He was convicted just because he is an anarchist. He was convicted because he didn't lose his smile even when the court of first instance announced his sentence.
Projections, case updates, phone call interventions and presentation of Tasos' inspiring writings…
Bring your insurrectionary poetry for our open mic!
Starting at 18:00 sharp at L.A.R.C. (62 Fieldgate Street E1 1ES London)
18:30 Phone call intervention with comrades in Athens, Greece
20:00 Phone call intervention with imprisoned comrade Tasos Theofilou.
Live music will follow, starting at 21:00.
Bar will run throughout the evening. Entry on free donation.
Feel free to spread the word!!!
See you all there!
P.S. Please respect the fact that we do not wish this event to be republished on social media such as Facebook, Twitter etc.
Anarchists in Solidarity
Tags: Greece, London, Solidarity Event, Tasos Theofilou, UK
Posted in Prison Struggle
Friday, November 4th, 2016
The armed attack of Revolutionary Struggle against riot police in Exarchia was one of the most important actions of the organization. It was a legitimate political and social action in retaliation for the murder of 16 year-old Alexandros Grigoropoulos by the policemen Korkoneas and Saralioti, which took place on December 6, 2008. This murder was the result of the intensification of police violence in recent years, and was formed under conditions of intensive neoliberal reforms and the "war against terrorism" in the same period.
In particular, this development took on larger dimensions in the spring of 2007, when there were violent clashes and attacks in the center of Athens between students, youths and anarchists against squads of riot police, in the protests that were against the bill of the Ministry of Education to promote the privatization of education.
The then minister of Public Order, Byron Polidoras, when taking office truthfully addressed the police as "Praetorians", and when after these riots followed anarchist attacks on police stations in Exarchia and Papagos, he had stated that "the police have steady nerves" and can safely pull out their guns. Essentially, this more or less gave the green light to fire against unarmed demonstrators, youths and anarchists. At the same time there was a climate promoted by the state and the Ministry of Public Order, with declarations from this same minister and also the police union, promoting the cleaning of anarchists from Exarchia, speaking of the reclamation of Exarchia for the state. A similar debate and counter-debate exists now between Syriza government and the main opposition party of New Democracy. (more…)
Tags: Alexis Grigoropoulos, Athens, Economic Crisis, Greece, Nikos Maziotis, Revolutionary Struggle
Posted in Prison Struggle
Friday, November 4th, 2016
The Close Supervision Centre (CSC) system is the English version of American supermax prison conditions, indefinite solitary confinement within the most oppressive and brutal environment found in this country, which can appropriately be called torture camps. Psychological warfare is used upon its victims on a constant basis, with frequent physical attacks supplementing the arbitrary punishment. As only around 50 prisoners fall victim to the CSC at any one time its existence is largely unknown even amongst the general prison population, so it is not surprising that the wider public are so poorly informed that almost no-one protests that taxes are being spent to torment vulnerable captives who are also British citizens.
 
Her Majesty's Inspectorate of prisons (HMIP) is tasked with the role of reporting on all places of detention within the country, with a decreasing level of funding for the prison system whilst prisoner numbers continue to rise it is inevitable that more and more failings and inadequacies will be identified by them. Considering the CSC is the violation of international and European law, as well as being morally reprehensible for both its design and implementation, you would expect HMIP to dedicate its times exposing the secretive system with the goal of achieving its abolition but at least securing desperately needed reforms. When the entire prison system can be seen to be declining in the level of treatment it provides, it is obvious that those already at the harsh end will suffer the most. HMIP chooses to pretend that the CSC does not exist rather than tackle the deplorable, less attention is paid to the worst part of the prison system than any other which is simply inexcusable. (more…)
Tags: Close Supervision Centre CSC, Demo, Isolation, Kevan Thakrar, Repression, UK
Posted in Prison Struggle
Wednesday, November 2nd, 2016
Note: This text was written by Alfredo during his recent hunger-strike which began on October 3rd and ended on October 25th when prison authorities released him from isolation.
Prison of Ferrara – Italy
Letter of anarchist comrade Alfredo Cospito
Valentina, Danilo, Anna, Marco, Sandro, Daniele, Nicola friends, brothers, sisters, comrades were arrested and rearrested.
I should narrate the same old story about another fabrication. Instead, I want to talk about the reason why they were arrested. Brothers and sisters were arrested because they attacked, they were tired of waiting, they ignored the decisions of the majority and took action.
I remain optimistic and in high spirits because the logic of "1 + 1 = 2" tells me that the comrades who struck are still free, therefore they are able to strike again.
The power does not repress randomly. Today it wants to isolate and to annihilate part of anarchist movement, a "small" as it may be it was able to break the chains that tied it to the "old social anarchy".
A social anarchism that in suicidal and compulsive way looks for "consensus at any costs". Diluting continuously its aspirations.
This vision that "never goes beyond" is very convenient for power, on the contrary it fears those anarchists who refuse that "consensus" ties their hands, because they believe that only out of the action (not made of abstract theories or searching-pursuing of "people") can the strategy be born, the path to follow.
I don't want comment the "charges" and so-called "evidences". The only thing I would say is that the brothers and sisters of FAI-FRI have always claimed with head held high, in front of black-robed pigs, their own merits, their own actions, taking the responsibilities, spitting in the pigs' faces, as we did in Genoa.
My main priority is not to get out of prison at all costs, but to get out with head held high without having denied anything of what I was, and I am.
I will get out by hook or by crook, it will all depends on my strength, on my abilities, on the strength of my brothers and sisters outside, but definitely I will get out with head held high.
My ideal complicity goes to brothers and sisters of the "Cooperativa Artigiana Fuoco ed Affini"-FAI, to brothers and sisters of FAI-RAT(Rivolta Anonima Tremenda) and to brothers and sisters of Narodnaja Volja – FAI, whoever they are, wherever they are.
My ideal complicity goes to anarchism of praxis, which in new forms is rising in most of the world, after a long hibernation.
Forward, without fear.
The future is ours.
Thought and Dynamite
Alfredo Cospito

via CNA, Traces of Fire, InsurrectionNews
Tags: Alfredo Cospito, Informal Anarchist Federation (FAI), Italy, Letter, Operation Scripta Manent
Posted in Prison Struggle
Wednesday, November 2nd, 2016
Dear all,
In May of 2016, two of our comrades in Azerbaijan, Qiyas Ibrahimov and Bayram Mammadov, were arrested for spraypainting the monument of the former dictator Haydar Aliev. It was on the night before the so-called "Flower holiday", a day made up in conmemoration of Haydar, the father of the current President of Azerbaijan. Nonetheless, as the charges for spraypainting would not have been very high, more than 1 kilogram of heroin was planted in each of our comrades' homes.
They were processed on different trials. Qiyas has already been sentenced to 10 years of prison, his friend Bayram Mammadov is still on trial.
From Azerbaijani comrades we received the text of Qiyas' speech in front of the jury, him being interrupted regurlarly by the judge. In support of his case, we made an audio version of this speech and the judge's comments.
You'll find the audio (to listen online or download in different sizes) here.
Length: 11:30 min
You can find other English and Spanish language audios here.
Tags: Anarchistisches Radio Berlin, Azerbaijan, Bayram Mammadov, Qiyas Ibrahimov, Repression
Posted in Prison Struggle
Sunday, October 30th, 2016
NON SERVIAM – I WILL NOT SERVE YOU
"Worse than enslavement is getting used to it…"
Life in the modern civilized world comprises false representations, false patterns, and false formalities. Formalities that determine our upbringing within a family, our education, our professional career, our relationships, our emotions, our smiles or tears. Patterns that castrate the scope of our perception so that our thoughts are directed onto a moving walkway going only one direction. Representations that disguise the system's functions and pathogenies so that we see life unfold only on stage, and never wonder what's hidden backstage. So, the thousands of suicides of desperate debtors is just another statistic among the unpleasant consequences of the economic crisis, the impoverishment of the so-called third world is just an unfortunate fact, and its wounds will heal by charity organizations, the countless dead of modern crusades, the unfortunate victims of the absurdity of war, and the convict slaves in American prisons are simply antisocial elements that provide social services to Democracy.
Prison itself is exile from life; a non-place and non-time behind the screen of a decent society, to make the ugliness that bothers the eyes of reputable citizens unseeable. Prisons are a proof of the perverse intelligence of authoritarian minds. They're built onto walls echoing the screaming and weeping of thousands of people who've learned to sleep with anguish and despair. Prison is the country of captivity, the country where one learns to kneel before the "Forbidden", a landfill for the disposal of human waste, an industrial dump where the social machine's hazardous waste ends up. For most people, however, for all those who never learned to doubt, to question, to look beyond the obvious, prison is a security wall necessary to protect their peaceful and quiet life. (more…)
Tags: Athens, Attica (Prison Uprising), Conspiracy of Cells of Fire, Greece, Informal Anarchist Federation (FAI), International Revolutionary Front, International Solidarity, Korydallos Prison, Letter, Operation Scripta Manent, Prison Labour, Prison Labour Strike, Racism
Posted in Prison Struggle
Sunday, October 30th, 2016
Hello. My name is Lukáš Borl. I am 34 years old and recently I am held in custody prison in Czech republic – Europe. I am an anarchist and I express my solidarity with all oppressed and exploited people around the World regardless their origin, sexual orientation or gender. From this perspective I decided to send few words of solidarity to the prisoners in USA where, according to the information available to me, a general strike of working prisoners began on 9.9.2016. Regardless what they've done, regardless how the Criminal Procedure is categorizing it, I want to express my support to every striking person in prisons around USA.
Every person without exception has a right to respect and human dignity. All prisons trample this right in different ways. For example, a person whose dignity was taken away by prison is additionally exposed to exploitation by working there. As prisoners, you labor hard under hard conditions and often in danger to your own health. Time spent at work is managed by bosses, and the products of this work are taken by capitalists. On one side, there is the growing wealth of corporations, and on the other, you: the humiliated and exploited people who create the profit produced by their work. The implacable antagonism of these two worlds is obvious. If you decided to go on strike, then, it is a legitimate form of a struggle for ending exploitation. I understand this struggle and I support it. I want to let you know that your struggle is also mine. We share the same reality as human beings suffering under the control of the capital and state. (more…)
Tags: Czech Republic, Letter, Lukáš Borl, Prison Labour, Prison Labour Strike, Racism, USA
Posted in Prison Struggle
Sunday, October 30th, 2016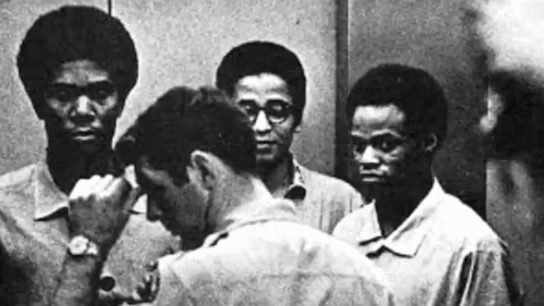 "Gentlemen, the Dragon Will Fly Out"
In Support of September 9th Mobilization in US Prisons
"Gentlemen, the dragon will fly out" is a saying attributed to prisoner George Jackson. On August 21st 1971, holding a pistol, he opened all the cells in an adjustment unit, taking jailers hostage. George Jackson was killed in his attempt to escape…
Since September 9th, prisoners in the United States have called for action against slavery.
A multitude of "invisible" slaves (there are about 2.5 million prisoners in the United States) are condemned to forced labor, or as jailers of their own selves (internal work in prisons, cleaning, repairs, technical operations), or as cheap meat in the service of corporate behemoths (Honda, McDonald's, Wendy's, Victoria's Secret, Starbucks, and many others). Besides, the 13th amendment to the US constitution clearly states: "neither slavery nor involuntary servitude, EXCEPT as a punishment for crime whereof the party shall have been duly convicted…" To put it simply, detainees are considered slaves as part of their punishment.
Prisons in America—and not just there–aren't only bars, walls, surveillance cameras or lockdowns. They're also an enormous lucrative business. Prisons are a dirty dealing for continuously supplied shackled labor force without name and without voice. They represent a modern slave trade, making billion-dollar profit, that not only supplies the companies-caretakers but also the industry of lawyers, judges, cops, corrections officers, private prisons. (more…)
Tags: Attica (Prison Uprising), Conspiracy of Cells of Fire, Fleeta Drumgo, George Jackson, Greece, Informal Anarchist Federation (FAI), International Revolutionary Front, International Solidarity, John Clutchette, Korydallos Prison, Letter, Michael Kimble, Prima Linea, Prison Industrial Complex, Prison Labour, Prison Labour Strike, Racism, Red Army Faction (RAF), USA, Weather Underground
Posted in Prison Struggle
Tuesday, October 25th, 2016
In Italy, comrade Alfredo Cospito since October 3rd and comrade Anna Beniamino since October 10th, are on a hunger strike against the isolation imposed on them and on the anarchists imprisoned for the attacks of FAI (Operation "Scripta Manent").
We know that the struggle against authority is unequal… Nevertheless we choose the war for freedom instead of the peace of fear.
Because we know that there are "free" people, who are more enslaved than prisoners, and living people that are more dead than most of our dead comrades who fell in the battle for freedom.
Because for every battle that we lose, a new one begins.

"Because if I don't get burnt, if you don't get burnt, how will the darkness turn to shining…"
For us solidarity is not simply a "touching" word, but a way of life, of becoming people with the dream as our measure.
We stand by our comrades Alfredo and Anna with all our hearts and minds, until our dreams meet…
STRENGTH AND SOLIDARITY TO THE COMRADE HUNGER STRIKERS
ALFREDO COSPITO AND ANNA BENIAMINO
NEVER REGRETFUL
NEVER DEFEATED
CCF / FAI – Urban Guerrilla Cell

George Polydoros
Olga Economidou
Gerasimos Tsakalos
Christos Tsakalos
Korydallos prison
–
CCF Per Alfredo ed Anna fino al incontro
In Italia dal 3 ottobre il compagno Alfredo Cospito e dal 10 ottobre la compagna Anna Beniamino sono in sciopero di fame contro il regime d'isolamento imposto a loro ed agli anarchici incarcerati per attachi di FAI (operazione scripta manent).
Conosciamo che la battaglia contro il potere è ineguale….però scegliamo la guerra per la libertà che la pace di paura. Perché sappiamo che ci siano "liberi" più schiavi che i carcerati e vivi più morti che i nostri compagni caduti in battaglia per la libertà. Perché per ogni battaglia che perdiamo, una nuova comincia. "Perché se non mi brucio io, se non ti bruci tu, come il buio diventerà splendore…"
Per noi la solidarietà non è una parola "emozionante" ma una maniera di vivere ad essere umani dove la nostra misura sarà il sogno.
Stiamo a lato dei compagni Alfredo ed Anna con tutta la nostra cuore e nostro mente fino al incontro del sogno…
FORZA E SOLIDARIETÀ AI COMPAGNI CHE FANO SCIOPERO DA FAME ALFREDO COSPITO ANNA BENIAMINO MAI PENTITI MAI PERDITI CCF/FAI-Cellula guerriglia urbana
Polidoros Giorgio Iconomidu Olga Tsacalos Gerasimos Tsacalos Christos Dalle prigioni di Coridalos

–
Italy – Anarchist comrades Alfredo Cospito and Anna Beniamino ended their hunger strike on 22nd October
On 22nd October, following the revocation of solitary confinement, Alfredo and Anna stopped their hunger strike, which they had begun on 3rd October and 10th October respectively.

via: Croceneranarchica, actforfree
Tags: Alfredo Cospito, Anna Beniamino, Athens, Christos Tsakalos, Conspiracy of Cells of Fire, Conspiracy of Cells of Fire - Urban Guerilla Cell, Gerasimos Tsakalos, Giorgos Polydoros, Greece, Hunger Strike, Informal Anarchist Federation (FAI), International Revolutionary Front, International Solidarity, Korydallos Prison, Letter, Olga Economidou, Operation Scripta Manent
Posted in Prison Struggle
Tuesday, October 25th, 2016
Dear all,
As Anarchist Radio Berlin, we recorded a presentation about the ongoing prison strike in the United States of America, its backgrounds as well as the methods of support and solidarity that are used in- and outside of prisons. The presentation was held in October 2016 in Berlin.
You'll find the audio (to listen online or download in different sizes) here.
Length: 57:47 min
You can find other English and Spanish language audios here:
http://aradio.blogsport.de/englishcastellano/.
Tags: Anarchistisches Radio Berlin, Berlin, Germany, International Solidarity, Prison Labour Strike, USA
Posted in Prison Struggle
Tuesday, October 25th, 2016
Warsaw Third Anti-Prison Days 27-28-30
Program:
Warm up:
Thursday 27.10
ROD (Bartycka 26) reclaimthefieldspl.noblogs.org
20:00 benefit concert for the warsaw 3 wawa3.noblogs.org
Love Cans (psych garage blues) from Switzerland.
Friday 28.10
Cafe Kryzys / Syrena / Wilcza 30
from 12:00 at Cafe Kryzys:
vegan food
Distro
Writing to prisoners
tattoos (more info soon)
"Jestem z Zewnątrz" (I'm from the outside) / Beata Sosnowska / works of
female prisoners from Grochów Prison in Warsaw, PL (more…)
Tags: Anti-Prison, Poland, Solidarity Event, Warsaw
Posted in Prison Struggle
Tuesday, October 25th, 2016
Statement to my arrest
On Sunday, September 4th, 2016, I was arrested by the police in Most and then taken to the remand prison in Litomerice. Unfortunately it happened what I did not want to, but knew all along that this may occur at any time. Fortunately, I have mentally prepared myself for such situation so it allows me to deal calmly with this kind of unpleasant reality, which I'm and apparently people close to me are exposed to now.
I was captured by those who defend the rule of capital over our lives. Nevertheless, that doesn't change anything on my will to continue along the path that I have chosen. I will continue to destroy and create. To fight and love. I remain an anarchist with everything that belongs to it. I decided for now to write a few paragraphs about my imprisonment. Surely I will soon express my opinion about other issues that I consider important.

Before the arrest
It's no secret that at a certain moment I decided to "disappear", in worry that the police was planning my arrest. I have expressed my reasons in the text "Disappearance of supervision of state power", which is published various sites of the anarchist movement. The choice I made, allowed me to live hidden and quite happily for months. I freely moved and ate a good food. Whole world became home for me, and I was able to find havens for cultural and social existence in it. (more…)
Tags: Czech Republic, Letter, Lukáš Borl, Most, Network Revolutionary Cells, Repression, Řízkárnu (restaurant)
Posted in Prison Struggle
Wednesday, October 5th, 2016
1st of October
A minimum response on the call-out for the day of Rage against the massacre at Aleppo.
Even if there are only ruins left at Aleppo, the bombings haven't stopped. Even now, after 5 years of bombs and sieges, people still live in this city. Some because they didn't manage to leave, some because they didn't see a better future at Mediterranean's seabed, some because they refused to abandon the revolution against the dictatorship of Assad, that started with the Arab Spring. At Aleppo's ruins a guerilla warfare is taking place, that until now, Assad with Hezbollah, Iran and Russian military machine haven't achieved to defeat.
If the things that happened with the repression of Spanish Revolution by Franco and the Nazis were the rehearsal of World War II, probably the war in Syria is an image of the post-industrial future on earth. A future, where the democratic excuses collapse and the absolute violence prevails. A world, that despite the gigantic military power of the tyrants, the most effective way to control the insurrection is still by division. A situation of despair, where people in order to defend themselves and survive, are organized in groups manipulated by generals, who only seek more power and who lead the revolting crowds away from the fight against the regime and into a fight for control of the war zones of their interests.
The result is a constant war, a profitable business for the capitalists, who sell weapons and armament to war zones, where trade and economy still exist.
The example of Syria's punishment is a clear warning to everyone in the world, who even thinks about revolting.
In this chaotic total war, the reference point for us, are the few guerilla groups, organized outside the control the "moderate Muslims" of Al Nusra, or the "cosmics" of the FSA, who are both manipulated from the dominant powers of imperialistic competition, like USA, and both have the same target, a big piece from the power reallocation.
In a situation where people are cruelly attacked from one imperialist, and seek safety from the actions of its rival, we are affected by some revolutionaries, like the Leon Sedov Brigade, who stand against any imperialist and propose the solidarity and unity among the repressed of this world. We are inspired from the attempts of organization from the Revolutionary Coordination Committees against the dividing of the uprising, from the manipulant organizations.
Those rebels who try to self-organize in a battlefield with bombs and chemical weapons, who are still fighting despite the heavy losses, who prefer to die rather than surrender to the murderer Assad, who define and defend their freedom at all costs, they spread the message that in every condition struggle is possible, if there is the will to fight.
They spread a message that the powerful military machines of Al Assad, Iran, Lebanon, Isis, Russia and USA haven't achieved to defeat them for more than 5 years.
That explains the cruelty of the attack to Aleppo, the capital of revolution. After smaller towns were besieged and lead to starvation, the same tactic was attempted at Aleppo. But there were dynamic demonstrations where banks were expropriated, actions outside the guidelines of the army parties, which control the masses. That's why Aleppo is now being totally destroyed.
A major factor for the ongoing slaughter in Syria is the absolute absence of social resistance to this war, from the people of the imperialistic countries that invaded Syria.
European people, not only they do not react to the war, but the majority consent to the closure of the borders for refugees, who, if they survive from the death in the sea, are the only fighting, like the great example of Syrian refugees in Paris who went on hunger strike, demand the termination of the war.
We don't have a clear picture of what happens in movements in the rest of the world, but we are going to talk for the Greek case. Because after all, the economic crisis and poverty here in Greece, except from radicalizing parts of the people, lead more to the pacification. On the one hand we have people who take care of the refugees, rescuing them with their boats, independently from political parties and non-governmental organizations, and on the other hand there were beatings, fascist attacks and actions against the refugees. No big anti-war demonstration though, as happened in the past, because now economy is the only concern. Using it's left mask, Syriza combining fear management and harsh repression, lead social resistances, in general, to surrender. And now Greek state is placing refugees to concentration camps, obeying the demands of the European Union. Sadly, the solidarity to the refugees is limited to charity, without any reference to the revolution, that lead to war.
For the lefts, the "anti-american" feelings and the belief that "the enemy of my enemy is my friend" doesn't allow them to stand against Assad, while the majority of the anarchists, lacking analysis, refer exclusively to Rojava.
At the same moment, refugees give their own fights like the uprising in Moria, where after destroying a large part of the infrastructure, they escaped, but rather than run, as usually happens, they gathered and demonstrated, resulting their arrest.
In our opinion, we seek the expansion of the solidarity to the refugees, in a more general context, that will regard the war in Syria as an example of an uprising and how capitalists dealt with it, in order to be able to exclude the proper conclusions from it.
It's obvious, that the unity of the rebels doesn't come from the big, centralized, hierarchical organizations, that end up fighting each other for the biggest share of power. The only hope is a horizontal organization, that doesn't allow to any ambitious leader to sell the fight. The decentralized network of collectives that fight with their one will to a common direction, coordinating when possible, exchanging information, know-hows, arms and political ideas.
The views that see hierarchical organization as a necessary condition to achieve victory in a revolutionary war, were tried in the past and were lead to defeat or to the reproduction of the same social systems that they hypothetically fought.
The example of Syria, where small guerrilla groups and no centralized armies stand against the Russian military machine and the alliance of local armies, proves that what is missing is not the proper leadership, but a new mindset of organization. And that applies to every field of organization of revolutionary action, whether it is guerilla warfare, or the spread of revolutionary ideas, that do not persuade anyone because they are signed by the biggest federation, but are spread through initiative, close human contact, and co-action.
The massacre in Syria won't stop, unless we do something to stop it.
Unless we face it as a part of the repression that we all have felt. If we don't feel the tenacity of the rebels who don't surrender. If we don't realize that the distance from suffocating because of tear gas in demonstrations to the endless gas chamber of Syria is short. As long as we abstain from the streets, we give our permission to this bloodshed.
When captivity and death become universal condition, we are called to make insurrection and solidarity a universal condition.
EVERY DAY, A DAY OF RAGE
WAR AGAINST AUTHORITY ON EVERY INCH OF EARTH
Anarchists from D' wing of Koridallos Prison (Greece)
Tags: Al-Nusra Front, Aleppo, Analysis, Athens, Brigade León Sedov, Hezbollah, International Solidarity, Iran, Islamic State in Iraq and Syria (ISIS), Korydallos Prison, Lebanon, Letter, Migrant Struggle, Rojava, Russia, Social Insurrection, Syria, USA, War
Posted in Prison Struggle