'Social Control' Archives
Friday, December 11th, 2020
IT | (Italy, December 2020)
It is nothing new that police operations, convictions and the most varied repressive measures fall on the heads of anarchists. In recent times the attack by the state has intensified throughout the peninsula, from the very heavy sentences of Scripta Manent trial [in Turin], to the accusation of massacre against Juan, to the countless anti-anarchist operations.
Even in Trentino, the number of confined comrades continues to increase. From those confined for having fought unreservedly in Valsusa against the high-speed train [TAV struggle], to those who are serving final sentences for having opposed the imposition of a TSO [Compulsory Health Treatment]. From those who have been put under special surveillance for showing solidarity with a comrade beaten up in prison by the guards, to those who still find themselves in the limbo of an obligation to stay in the municipality of residence that grows longer with each rejection by the courts. (more…)
Tags: Italy, Repression, Trentino
Posted in Social Control
Monday, November 16th, 2020
The information below comes from a recent article published by Reporterre, a left-wing environmentalist media. The article in question, whose "legalistic" approach disturbs us, can be read here: https://reporterre.net/Au-Carnet-des-cameras-cachees-et-illegales-pour-surveiller-des-ecologistes (in french).
In august 2020, four cameras were found near the "ZAD du Carnet", a place of struggle against the creation of an industrial area, in Loire-Atlantique, in the west of France. The cameras were found on August 31, and "appear to have been installed right before a « weekend of resistance »" organized there on August 29 and 30.
The four cameras, hidden near an access gate to the area, were "camouflaged in a fake tree log and fake stones". They "filmed continuously and were connected, via buried cables, to large batteries and modems, also concealed, allowing images to be sent directly to a remote station".
In addition, "the mention « Allwan », visible on some of the images found, as well as on a label on a camera, strongly suggests that the equipment was supplied by the company Allwan Security". The company Allwan Security is present in our list of companies.
Below, you will find a picture of the devices found, two pictures of the objects in which they were hidden, and a map showing the positioning of the cameras around the access gate.
Tags: Allwan Security, France, Loire-Atlantique, Repression, Surveillance, ZAD du Carnet
Posted in Social Control
Monday, November 16th, 2020
… war der sofortige Tenor der Regierungsklasse nach dem Terroranschlag in der Wiener Innenstadt am 2. November, der vier Menschen das Leben kostete und bei dem über 20 zum Teil schwer verletzt wurden. Natürlich wird genau das von diesen Politikern jetzt gemacht.
Von denen, die seit Jahren nichts anderes tun, als durch die konstante, weitere Verschärfung der Lebensbedingungen Hass und Gewalt zu kultivieren. Genau die sprechen sich jetzt öffentlich gegen Hass und Gewalt aus (z.B. Kurz & Nehammer). Einem rechten Innenminister ist es nicht zu blöd sich selbst als den starken Anführer sämtlicher Polizeieinheiten zu stilisieren, der keine Straftat unbeantwortet lassen will und "gegen jeden Extremismus mit eiserner Hand vorgehen wird" (Zitat Nehammer). Als hätte das jemals einen Anschlag verhindert. Dabei: war es nicht das Bundesamt für Verfassungsschutz und Terrorismusbekämpfung BVT (welches ja bekanntlich dem Innenminister unterstellt ist), das im Juli 2020 die Ermittlungen gegen den bereits amtsbekannten Attentäter vom 2. November eingestellt hatte und zwar exakt an dem Tag, als dieser nachweislich versucht hatte, in der Slowakei Sprengstoff und Munition zu erwerben? (more…)
Tags: Analysis, Austria, Islamic State in Iraq and Syria (ISIS), Islamism, Neo-Nazis, Racism, Repression, Vienna
Posted in Social Control
Saturday, November 14th, 2020
By Anarchist Black Cross Belarus
For over three months, people in Belarus have been fighting against the authoritarian regime.
In 26 years, dictator Lukashenko has built a system aimed at suppressing any political life. The coronavirus and a number of economic problems have greatly changed what is happening in the country. In a few months, Belarusians have learned to self-organize. The presidential elections provoked a wave of the largest protest in the country's history! But the tyrant does not want to give up his throne. At least 5 people were killed (some died under strange circumstances). Thousands of people were beaten and disabled by the violence of the police. More than 15 thousand have been detained and sentenced on administrative cases. More than 500 criminal cases have been initiated. At least 200 people are awaiting trial in the pre-trial detention center (including at least four
anarchists and four anti-fascists). (more…)
Tags: Belarus, Dictatorship, Repression, Social Insurrection
Posted in Social Control
Friday, November 13th, 2020
On Thursday, November 12th, the judge of the Appeals Court in Brussels made its decision public concerning the case against anarchists accused of criminal association and various crimes;
2 persons got 10 months of probation (during 5 years)
1 person got 8 months of probation (during 5 years)
1 person got 6 months of probation (during 3 years)
5 persons got a suspension of sentencing (during 3 years)
1 person got acquitted
(2 persons got acquitted in first instance and were not part of the appeal)
People also got sentenced to paying fines and a part of the investigative and juridical costs, but the state will have to pay the bill for the phone taps (by far the biggest amount).
(A suspension of sentencing means the judge finds you guilty and doesn't set a sentence, but leaves this up to the next judge if you get caught in a certain period of time for a similar crime – not very different from probation).
– (more…)
Tags: Belgium, Brussels, Repression, Trial
Posted in Social Control
Wednesday, November 11th, 2020
PDF: Poster A3
EINE EINZIGE GEWISSENHEIT
Zwei Wochen Mobilität zur Unterstützung von angeklagten Anarchisten und Anarchistinnen
Heute erleben wir eine Verschärfung der Repression, die durch den Gesundheitsnotstand COVID-19 erleichtert wurde, und folglich eines Angriffs gegen alle Formen von Konflikten, einschließlich der anarchistischen Bewegung. In Italien werden bald Hunderte von Genossen und Genossinnen wegen verschiedener repressiver Operationen der Staatsanwaltschaft vor Gericht gestellt: "Op. Scripta Manent", "Op. Panico", "Op. Ritrovo", "Op. Bialystok", "Op. Lince", "Op.Renata", "Op. Scintilla", "Op. Prometeo", der Brenner-Prozess, der Prozess wegen des Angriffs auf den Sitz der "Lega Nord" in Treviso.
Industrie- und Finanzlobbys und Repressionsapparate scheinen zu regieren, und der Staat konzentriert sich darauf, die Praktik des direkten Handelns und sogar subversives Denken abzuschaffen. Und so wird die Verbindung von Epidemien mit der kapitalistischen Ausplünderung des Planeten zu einer Prämisse des "Terrorismus", so wie jede Form der Mobilisierung zu einem "assoziativen Verbrechen" werden kann.
Als der Konflikt die Stärke der Revolte annahm – wie im März in den Gefängnissen – lautete die Antwort des Staates: bewaffnete Überfälle durch Schließer und Carabinieri, systematische Schlägereien und ein Massaker mit dem Tod von 15 Gefangenen.
Die Strafvollzugsverwaltung verbreitet und isoliert revolutionäre und Rebellen in den verschiedenen Kreisen des Gefängnissystems, sie verhindert jeglichen Kontakt zur Außenwelt und die physische Anwesenheit der Angeklagten in den Prozessen mit dem Einsatz von Videokonferenzen. Sie dehnt auf alle Gefangenen einige Inhaftierungspraktiken aus, die das "41 bis" Regime kennzeichnen, einschließlich die Reduzierung der Besuche (und nur mit Plexiglastrennwänden), Zensur der Korrespondenz, Zellensperrung.
Die Staatsanwälte zugleich rekonstruieren die Geschichte der anarchistischen Bewegung, indem sie revolutionäre Praktiken in "akzeptable" und "terroristisch" trennen.
Ein System, das nur soziale, wirtschaftliche und ökologische Katastrophen hervorruft, ist auf Angst gegründet und benutzt jeden Tag mehr und mehr die Sprache des Krieges.
Wir fordern daher eine zweiwöchige Mobilisierung vom 9. bis 24. November.
IN SOLIDARITÄT MIT DEN GENOSSEN, DIE IN ITALIEN VOR GERICHT STEHEN,
GEGEN DIFFERENZIERUNG UND ISOLATION IN DEN KNÄSTEN,
UM DER TOTEN IN DEN GEFÄNGNISSEN ZU GEDENKEN.
UM AUF DIE NEUEN HAFTBEDINGUNGEN UND AUSGANGSSPERREN ZU REAGIEREN.
Damit die Fackel der Revolte niemals erlischt und immer neue Hände bereit sind, sie zu ergreifen.
In einer unsicheren Zeit, für uns, aber auch für die Herren, ist die einzige Gewissheit, dass Widerstand und Gegenangriff richtig sind.
GEGEN KNAST UND FÜR DIE BEFREIUNG ALLER GEFANGENEN.
Tags: Flyposter, Germany, International Solidarity, Italy, Repression
Posted in Social Control
Sunday, November 8th, 2020
A4 PDF to download and print out, photocopy and flypost, leave in places, hand out etc.
PDF: Against the Technology of Control
PDF: Contre la technologie du contrôle
Against the Technology of Control
Face the Fear – Fight the Future
The COVID-19 pandemic is part of the techno-prison world known as the Fourth Industrial Revolution. The lockdowns and the quarantine laws are designed to intimidate people into obeying, Let's break the rules, riot in the streets and attack the Technocratic State that will use 5G to build this matrix.
Fascism as a political project has always looked like this:
'State of Emergency' laws suspending any granted 'rights'
Control of the media and censorship
Personal relationships recorded and controlled
Protests banned
Local and international movement restricted
Snitching encouraged
Police control of everyday life
Necessities dictated and controlled
Behaviour modification on mass scale
Sudden, arbitrary and ambiguous legislation to wear down population
Using the fear of endangering others to control individuals (collective punishment)
Party members immune from rule of law
Technological innovation

Our enslavement relies on our compliance.
ORGANISE / RESISTANCE
INSURRECTION
–
Contre la technologie du contrôle
Affronter la peur – combattre le futur
La pandémie de COVID-19 fait partie du monde/prison technologique connu sous le nom de Quatrième révolution industrielle. Les confinements et les lois instituant la quarantaine sont conçues pour intimider les gens et les pousser à l'obéissance.
Brisons les règles, révoltons nous dans les rues et attaquons l'État technocratique qui utilisera la 5G pour construire cette matrice.
Le fascisme en tant que projet politique a toujours ressemblé à ça :
Des « lois d'état d'urgence » qui suspendent tous les « droits » octroyés.
Le contrôle des médias et la censure.
L'enregistrement et le contrôle des relations personnelles
L'interdiction des protestations.
Les restriction de déplacement, au niveau national et international.
L'encouragement à la délation.
Le contrôle policier de la vie de tous les jours.
Des besoins dictés et contrôlés.
La modification du comportement à une échelle de masse.
Une législation soudaine, arbitraire et ambiguë, pour épuiser la population.
L'utilisation de la peur de mettre les autres en danger pour contrôler les individus (punition collective).
Les membres d'un parti sont à l'abri des lois.
L'innovation technologique.
Notre asservissement repose sur notre respect des règles.
ORGANISER LA RÉSISTANCE
INSURRECTION
via Attaque.
Tags: Anti-technology, Coronavirus, Flyposter, Fourth Industrial Revolution
Posted in Social Control
Saturday, November 7th, 2020
As mentioned in the article "Some concrete elements on the searches of Berlin and Athens for a criminal association case" (https://kontrapolis.info/586, in german), a GPS tracker and a listening device were found in a vehicle shortly before the searches.
Unfortunately, the cops prevented a quick publication, and this must now be made up for.
These devices were obviously installed by the federal criminal police (BKA) in order to retrieve information on the persons accused in the present "criminal association" proceedings. In general, it is very important not to keep such things to oneself, but to reveal these occult methods.
According to what is currently known, the GPS tracker was installed in august 2019 and the listening device intended for "internal surveillance of a vehicle" during or after september 2019.
The two devices were installed separately, each in one of the front seat headrests.
The headrests were opened and glued back together after the bugs were installed. (more…)
Tags: Berlin, Germany, Repression, Surveillance
Posted in Social Control
Wednesday, November 4th, 2020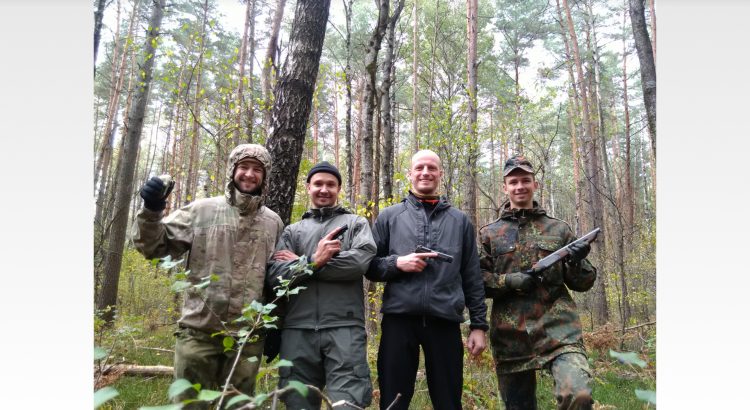 What's happened?
On October 22 in Soligorsk (Belarus) administrative building of State committee of forensic examination was attacked and cars were set on fire at the parking lot of Soligorsk district prosecutor's office. On the night of October 28 the building of traffic police department of Mozyr district police department was set on fire. Soon a group of anarchists-revolutionaries: Ihar Alinevich, Dmitry Dubovsky, Dmitry Rezanovich and Sergey Romanov were detained by a mobile group of Mozyr border detachment near the Ukrainian border in Zabozye village of Yelsky raion (Belarus). The detainees are currently held in a KGB remand prison in Minsk. They were charged under part 3 of article 289 of the Criminal Code (act of terrorism committed by an organized group).

Anarchist Revolutionaries
Each of the detainees had been an opponent of the fascist state for many years and had regularly experienced its repressions. (more…)
Tags: Belarus, Dzmitry Dubouski, Dzmitry Rezanovich, Ihar Alinevich, Ihar Alinievich, International Solidarity, Repression, Sergei Romanov, Sergey Romanov, Siarhei Ramanau, Social Insurrection, Soligorsk
Posted in Social Control
Friday, October 30th, 2020
(Berlin, October 9, 2020 – and the nights before.)
Tags: Arson, Demo, Eviction, Germany, International Solidarity, Liebig34, Liebig34/XB, Repression, Sabotage, Video
Posted in Social Control
Friday, October 30th, 2020
PDF: Manifesto A3 solidarieta a Natascia
Manifesto da stampare in A3 in solidarieta' a Natascia in sciopero della fame contro la censura, in attesa di processo per l'operazione Prometeo. Fuoco alle galere
Tags: Flyposter, Hunger Strike, International Solidarity, Italy, Natascia Savio, Repression
Posted in Social Control
Friday, October 30th, 2020
The general crisis – health, economic, institutional–continues to tighten its grip. We are just at the start. And the stench of the spectre of semi-lockdown, which will be worse than the first, is starting to be felt ».
WHY A HALF LOCKDOWN IS WORSE THAN A WHOLE ONE
The newspapers are now saying it for certain: maximum 7-10 days. It should be noted that every prediction, in recent weeks, has been "revised" in advance of the facts. But what will semi-lockdown be? It will still be the old mass quarantine, like last spring, with the difference that we will keep going to work.
In this permanent dystopia reality will continue to surpass the most perverse fantasy of science fiction writers: not just a virus that reduces humanity to house arrest, we are now facing a society in which people only leave their domestic cells to go to be exploited. As written in the latest issue of "Vetriolo", just out, "the energies of the exploited in our time are frozen, in many senses, only to be thawed at the moment of production" (Cf. "Vetriolo", n. 5 , Stato di pandemia [Pandemic state]). A post-consumerist capitalism, in which the old produce-consume-drop-dead, has been reduced to the binary process: produce-drop-dead. In this system women and men of flesh and blood are only useful if they are able to work.
Will the exploited allow themselves to be locked in the freezer? (more…)
Tags: Analysis, Coronavirus, Italy, Napoli, Repression, Riots
Posted in Social Control
Friday, October 30th, 2020
Osman Aslan has been in extradition custody in Slovenia since June this year. He was arrested by police officers because of a Red Notice entry at Interpol. The Turkish regime uses this controversial instrument to be able to harass opposition members who have fled Turkey, even after decades.
Aslan is 50 years old and lives with his family in Bergkamen (NRW, Germany). The 50 year old Kurd has an unlimited residence permit. The permit threatens to expire because he has been in Slovenian detention for over six months now. Since his court hearing on July 30th, he has had to wait for a Slovenian court to examine the documents so he can finally return to Germany.
This is not the first case in which the Slovenian authorities have delayed such a process for months. Last year, Ismet Kilic from Duisburg was arrested and detained at the border. After 80 days and massive protests in Germany and Slovenia the persecuted unionist got released from extradition.
Anja Sommerfeld, member of the federal executive board of Rote Hilfe e.V.=:
Hardly a day goes by without reports of repression against opposition members and refugees from Turkey, even across the European Union. Once again we are dealing with a procedure in which the regime in Ankara exploits the means of Interpol searches to pursue and arrest those who think differently. Mr. Aslan has lived in Germany as a political refugee since 1994 and has a regular residence. The responsible authorities in both countries must deal with the matter immediately. The deportation of Mr Aslan to Turkey must be prevented, as he is threatened with political persecution and imprisonment there. He must be released from prison and be allowed to return to Germany.
Tags: Germany, International Solidarity, Osman Aslan, Repression, Rote Hilfe, Solvenia, Turkey
Posted in Social Control
Monday, October 12th, 2020
9 October 2020
It feels incredible to type these words into the keys: The Liebig34 is cleared.
At 7:00 a.m. Robocops started sawing and flexing fences, doors, windows and barricades and at 11:00 a.m. the last inhabitants* of the Liebig34 were dragged out of the rooms.
We are sad. We are crying. We are exhausted. WE ARE ANGRY.
They can't imagine the determination they have awakened in us. This act of violence will explode in an act of counter-violence and self-defense. Already so much solidarity has happened in the last nights, months, years and has shown what we are capable of doing. This eviction is a moment of radicalization. We can use it and together we can express our hatred for this shit.
Even if the press, politicians, cops and Nazis are now taking pleasure in our loss, we are turning powerlessness into anger. So many borders have been crossed. We shout NO in your spiteful eats. You can have our house, you will never get our passion. We are so much more than this house – we are anarchists, feminists, queers and antifascists who will now channel their anger and attack capitalist patriarchy to the last.
We call for the demo from 21:00 in Monbijoupark. We call for decentralized actions. Let us experience a wild and chaotic October together!
34 million property damage – we are already well on the way.
Liebig34 lives. Liebig34 fights.
Tags: Berlin, Eviction, Germany, Liebig34, Liebig34/XB, Repression
Posted in Social Control
Sunday, September 20th, 2020
§129a Investigation in Frankfurt/Main, Germany
17.06.2020, 6.00 a.m., windows break. The residents of the shared flat jump out of the bed because they think Nazis are smashing the windows, but the loud shouts, and hooded people with flashlights leave no room for discussion until all residents of the living community are already in pain on the floor. It takes a while for the excitement to subside and they realize that there are more than twenty Federal Police BFE cops in the little apartment. Others are waiting in the entrance and have positioned themselves around the house. It takes even longer until a search warrant is finally handed out and the lead management is handed over to the investigating BKA. They try to act formally legally correct, their goal is to work legally clean. These are the different sides of the repression, the hooded thugs are supposed to intimidate, the jovial BKA cops collect everything they can get and organize the whole thing.
The accused's room and common rooms are officially searched, and the rooms of the other residents are filmed.
The search warrant is issued by the Federal Court of Justice (BGH) on January 20th, 2020. They are investigating against the person concerned and at least two other unknown perpetrators for being part of an alleged "terrorist organization". On New Year's Eve 2018/2019, they and many others allegedly attacked the BGH branch in Leipzig. DNA finds on clothing and camera recordings are brought forward. The police are looking for certain clothing, communication media, other references to this alleged association. 3 laptops, a USB stick, papers and small items such as a balaclava were confiscated. (more…)
Tags: Frankfurt, Germany, Raids, Repression
Posted in Social Control