'Social Control' Archives
Tuesday, July 23rd, 2019
Firenze, Italia: Verso la fine del processo "Panico"
Florence, Italy: Towards the end of the "Panico" trial
https://insuscettibilediravvedimento.noblogs.org/post/2019/07/18/it-en-firenze-italia-verso-la-fine-del-processo-panico/
Italia: Sequestro e tentata deportazione dell'anarchico Divine Umoru + Sabato 20 luglio: Presidio al CPR di Bari
Italy: Kidnapping and attempted deportation of anarchist Divine Umoru + Saturday, July 20th: Protest at the CPR of Bari
https://insuscettibilediravvedimento.noblogs.org/post/2019/07/19/it-en-italia-sequestro-e-tentata-deportazione-dellanarchico-divine-umoru-sabato-20-luglio-presidio-al-cpr-di-bari/
Italia: Richieste di condanna al processo per l'operazione "Panico"
Italy: Sentencing requests at the trial for the "Panico" operation
https://insuscettibilediravvedimento.noblogs.org/post/2019/07/18/it-en-italia-richieste-di-condanna-al-processo-per-loperazione-panico/
Tags: Bari, Florence, Italy, Operation Panic, Repression, Trial
Posted in Social Control
Tuesday, July 23rd, 2019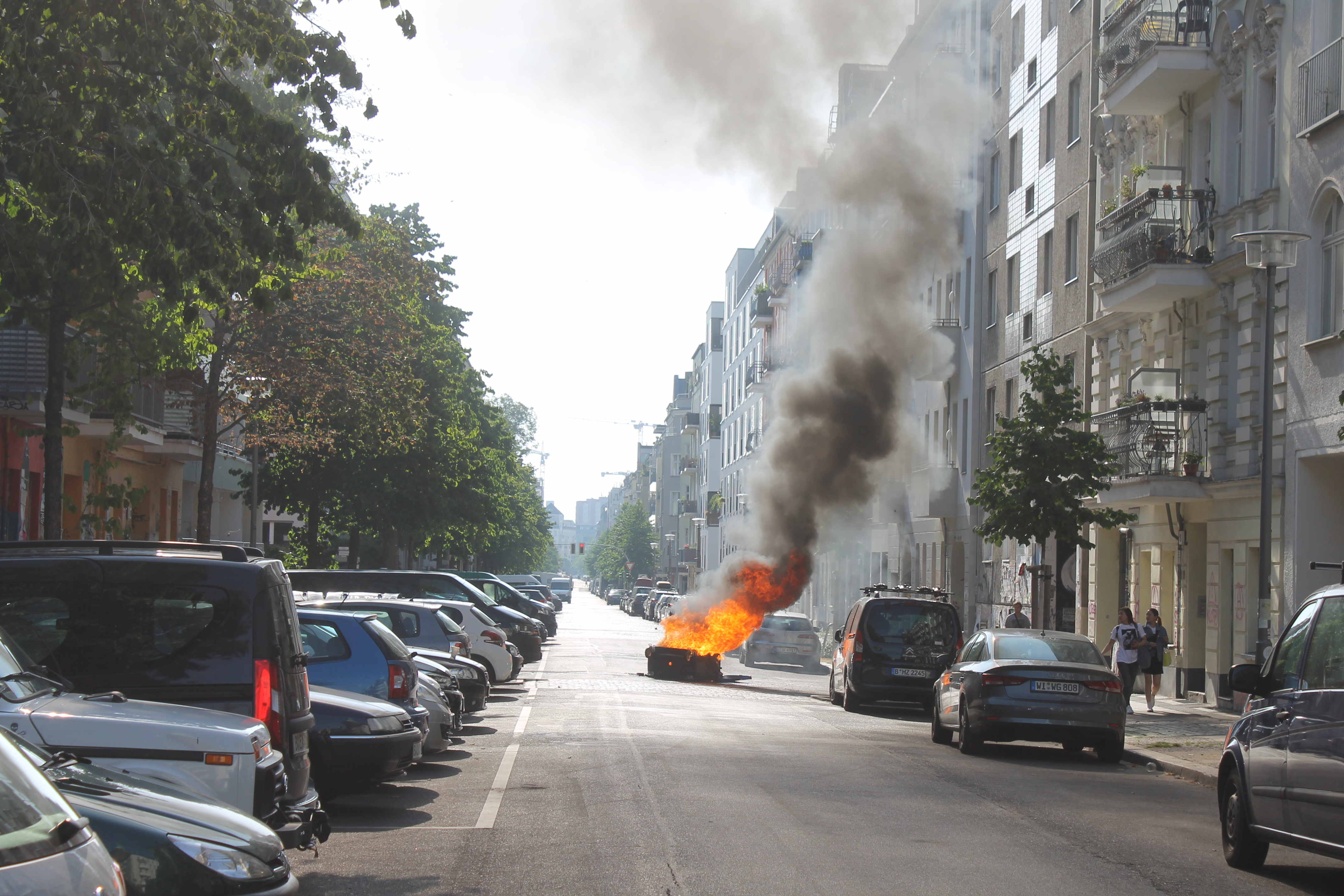 This morning [20/7], the cops of the LKA 5.21 unit under the command of Kranich raided Liebig34. Unusual was the saturday, unusual the mix of units from different departments. New were a few civil cop faces, not new: the repression.
The reason for this raid was probably stones thrown from the house during the last few weeks. After the cops collected stones from the Dorfplatz around 2:30 this morning, they obtained a court order and search warrant to search part of our house and returned around 6:30 a.m.. They came through the backyard and the front door, sawed the doors and barris, picked them up and thus forcibly gained access to our project. A lawyer was quickly on the scene and was able to observe and testify. Altogether the cops were about three hours in the house, having searched officially and intensively three connected rooms and the attic. They also snooped around in unlocked private rooms, tore posters from the walls, knocked over furniture, cut internet cables and destroyed windows. (more…)
Tags: Berlin, Germany, Liebig34/XB, Raids, Repression, Rigaerstrasse
Posted in Social Control
Monday, July 22nd, 2019
Received Saturday 20 July
This morning 6:30, the police broke into Liebig34 to search evidence and DNA in one room. The reason is an attack with stones against repression forces on Friday night. Soon after many riot police vans and a helicopter arrived, a barricade was burning in Rigaer Street. After some hours police left, no one was arrested. There is a call for resistance tonight and solidarity actions. More info as it comes.
https://twitter.com/Liebig34Liebig
https://twitter.com/rigaer94
Tags: Berlin, Eviction, Germany, Liebig34/XB, Raids, Rigaerstrasse
Posted in Social Control
Sunday, July 14th, 2019
via https://de.indymedia.org/node/34562:

Solidarity with the Three from the park bench
During the night of 8 July 2019, three of our friends and comrades were arrested and after that several apartments were searched. After the prison examination two of them are now in custody, the third person got released on parole. According to the press, they are accused of preparing an arson attack in connection with the anniversary of the riots against the G20 summit in Hamburg in 2017.
Show solidarity and show them that they are not alone!
If you want to write to them you can send letters:
Libertäres Zentrum
Karolinenstraße 42 (Hinterhaus)
20357 Hamburg
[Germany]
Keyword "Die Drei von der Parkbank"
We are furious!
Whether guilty or not, solidarity with all those affected by repression!
Freedom for all prisoners!
Burning hearts cannot be locked up!
Tags: G20, Germany, Hamburg, Repression
Posted in Social Control
Sunday, July 14th, 2019
Tags: Flyposter, Italy, Operation Panic, Repression
Posted in Social Control
Saturday, July 13th, 2019
The hearings from 15 to 18 July, 2019, are confirmed, but due to the absence of one of the judges the sentence (scheduled for July 22nd) could slip, by a maximum of one week, apparently.
For Giova, Paska and Ghespe under house arrest, was asked the transport by their own means for the hearings, therefore without an escort. For Paska has also been asked to temporarily move house arrest to a house near Florence.
As regards presences in the courtroom, Paska should therefore be present at all hearings. Giova and Ghespe will certainly not come to the hearing on the 15th, but for the following ones they still haven't decided.
We remember that the hearings will be:
15 July – Deposition of the digos ["political police"] on the last part of the environmental interceptions [surveillance transcripts].
16 July – Public prosecutor indictment and civil parties.
17 and 18 July – Defensive harangues.
22 (?) July – Reading of the device (sentence).
All will start at 9.00 am, in room 28 (basement) at the courthouse in Novoli (Florence).
Note: During the course of the month of June 2019 the three imprisoned anarchists, Paska, Giovanni and Salvatore (Ghespe), were transferred from the prisons of Viterbo and Sollicciano (Florence) to house arrest.
Tags: Florence, Italy, Operation Panic, Repression, Trial
Posted in Social Control
Monday, July 1st, 2019
On July 1th and 3th, 2019, the trial with 4 anarchists and one environmentalist accused in operation Fenix 2 will be taking place at the district court of Most, every day at 8:30 a.m. Come to support them at the courthouse or by any solidarity action. Let them know you are not
apathetic to their future as you are not towards the freedom of all of us. Any way of expressing support is welcomed!
Tags: Czech Republic, Fenix 2, Repression, Trial
Posted in Social Control
Friday, June 14th, 2019
On Wednesday 12th of June, three of our anarchist comrades were arrested in Thessaloniki, during expropriating a guarded money transport that was about to refill an ATM at the university hospital AHEPA. They were caught from cops of the counter-terrorism unit just when they were getting in their car to leave from the spot.
The two comrades are Giannis Dimitrakis and Kostas Sakkas, that had already paid the price of their political choice to stand against the authorities of this world, being targeted and serving time in prison.
The third comrade, Dimitra, is accused for cooperation in the expropriation.
There have been searches in their houses and many personal thing have been taken. Media create a wave of terror. Also, in the morning of 13th of June, the comrades were took to the prosecutor. Since now, there are no more details about this case.
We stand by our comrades
Dimitra, Giannis, Kostas, be strong
Solidarity is our weapon
Tags: Giannis Dimitrakis, Greece, Kostas Sakkas, Thessaloniki
Posted in Social Control
Saturday, June 1st, 2019
On May 22, Anarchist comrades Juan Antonio Sorroche Fernandez and Manuel Oxoli were arrested in Brescia, Italy for their alleged involvement in the bombing of the headquarters of the far-right wing Lega party in Villorba, Treviso on August 16, 2018.
The Lega is the ruling party of Italy, led by Matteo Salvini, who has aligned himself with fascist and far-right figures around the world, including Trump and Bolsonaro, and supports a racist anti-immigrant policy.
From Croce Nera Anarchica:
"The lawyer was able to meet his companions and found them strong and determined.
Further updates coming soon.
To write to Juan: Juan Antonio Sorroche Fernandez, c.c. Canton Mombello via Spalto S. Marco 20, 25100 (BS), ITALIA"
Via: https://www.autistici.org/cna/cassa-croce-nera-anarchica/ & https://secoursrouge.org/Italie-Arrestation-de-deux-anarchistes-en-Venitie
AMW
Tags: Brescia, Italy, Juan Antonio Sorroche Fernandez, Manuel Oxoli, Repression
Posted in Social Control
Wednesday, May 29th, 2019
Update from Turin
Operazione Scintilla
Beppe and Antonio free, Boba arrested.
Freely translated from the Turin blog "Macerie", 23 May 2019
–
Antonio and Beppe released.
Antonio and Beppe were released on the 6th of May 2019. They must report to the police every day.
Silvia remains in prison because she is charged with an additional crime.
More about Silvia: Article on barrikade.info (in German) (more…)
Tags: Italy, Operation Scintilla, Repression, Turin
Posted in Social Control
Thursday, May 23rd, 2019
Update here.
We learn of the arrest of anarchists comrades Natascia, Beppe and Robert, which took place on 21 May, 2019, and was carried out by the ROS of carabinieri as part of a repressive operation called "Prometeo" ("Prometheus"). Some searches have also been carried out. The regime's media report that the main accusation is of "attack with the purpose of terrorism or subversion", as they are considered responsible for sending three bomb packages arrived in June 2017 to the p. m. Rinaudo and Sparagna (the latter is the public prosecutor in the trial for the "Scripta manent" operation) and to Santi Consolo, at the time director of the DAP ("Department of Penitentiary Administration") in Rome.
Waiting for more information we report the only address we know of:
Robert Firozpoor
Casa di Reclusione di Opera
via Camporgnago 40
20090 Opera (Mi)
Italia [Italy]
Tags: Italy, Operation Prometeo, Raid, Robert Firozpoor
Posted in Social Control
Wednesday, May 15th, 2019
Since the end of November, as the Gilet Jaune's movement develops, cops and banks are being regularly attacked. In such a context, the 1st of May could have been a radical break in this world made of borders and wars. It could have been the continuation of the 16th of March's riots and, to put it in perspective, an attack against the life-breaker industry called authority.
Nationalists and Regionalists flags are all over the place, all over our grounds, and at the same time the courts are filling up the prisons as the french state announced that it'll be able to imprison 10,000 more people in the next 10 years, not to mention the Administrative Detention Center and psychiatric wards, and as the capitalistic speech tells us to smile as we die more and more in the inside. Work is just another way of saying « Kill me ». (more…)
Tags: 1st May, France, Mayday, Paris, Repression
Posted in Social Control
Tuesday, May 14th, 2019
On the morning of May 13, a new antiterrorist operation against anarchism struck in Tetuán (Madrid).
The anarchist space 'The Ambush' [La Emboscada] and another squatter home were searched by members of the brigada de información [political police/special branch] and a squad of the anti-riot division. The operation ended with two people arrested.
In our minds are the operations of Pandora, Piñata, Ice and the operation that still keeps Lisa behind bars. More recently the European police operations in response to the revolt in Hamburg against the G20, or the arrests of last October 29, 2018 in Madrid…
In short: the blows of the State against the struggle. Faced with this, affection, solidarity, networks of affinity and the desire to never give up are weapons against fear and repression.
Stay tuned for more information and calls.

Neither innocent nor guilty!
Solidarity and struggle!
Tags: Madrid, Raid, Repression, Spain
Posted in Social Control
Saturday, May 11th, 2019
On May 9, five anarchist prisoners from February 19, 2019 following "Renata" repressive operation were transferred under house arrest. They are Agnese Trentin (who had recently been transferred to the AS2 prison section of L'Aquila), Giulio Berdusco, Roberto Bottamedi (who were detained in Tolmezzo), Andrea Parolari and Nicola Briganti (who were detained in Ferrara). Comrade Luca Dolce (known as "Stecco") remains in prison because of other final sentences. While another comrade, Sasha, who was also arrested on 19 February and immediately placed under house arrest, had this last "precautionary measure" transformed into an obligation to stay and return home from 9.00 pm to 7.00 am, with the obligation to stay in the municipality of residence. The comrades were initially accused of "subversive association with the purpose of terrorism and subversion of the democratic order" (art. 270bis c. p., in four persons) and of "terrorist attack" (art. 280 c. p., all), plus other related crimes ("interruption of public service", "damage", "sabotage of telematic devices", "fire" and "transport of explosive material"), because they are considered responsible for some direct actions taken in Trentino in the last two years. Subsequently the aggravating circumstance of terrorism fell, therefore the main accusation became of "subversive association" (art. 270 c. p.).
Here is the address of Stecco:
Luca Dolce
Casa Circondariale di Tolmezzo
via Paluzza 77
33028 Tolmezzo (Ud)
Italia [Italy]
Tags: Italy, Operation Renata, Repression
Posted in Social Control
Saturday, May 4th, 2019
Palang Hitam / Anarchist Black Cross Indonesia has temporarily ceased activity due to problems with a former member who misused international donations. At present there is no anarchist organization supporting those facing repression, so support is being provided spontaneously and individually. Here is an update about the situation in several cities.
In Bandung, there was a peaceful action by a group of anarchists almost 1000 strong. It even consisted of mothers, children and teenage girls. Police attacked them and broke the bloc into two groups. They were then chased, beaten and arrested. The pretext for this was 'vandalism', some spray-painted graffiti. Many of those who were arrested were stripped and had their heads shaved. Some were spray-painted on their faces and bodies as well. Many were forced to crawl along the road in their underwear. In total 619 anarchists were arrested, of these, 3 still remain in custody for destruction of property. (more…)
Tags: 1st May, Bandung, Demo, Indonesia, International Solidarity, Jakarta, Repression, Riots
Posted in Social Control