'Social Control' Archives
Thursday, October 29th, 2020
On October 8th, 9th and 16th the appeal case took place against anarchists accused of criminal organization and a plethora of specific crimes. Only one accused was present and refused to answer the questions of the judge.
The prosecutor Malagnini recommended "tougher" (sic) sentences than in the first instance; ranging from 3 to 6 years effective prison.
The verdict will be made public on November 12th at 14h.
More info:
Announcement for the appeal: 1
Background of the case: 1 & 2
Tags: Belgium, Brussels, Repression, Trial
Posted in Social Control
Monday, October 12th, 2020
9 October 2020
It feels incredible to type these words into the keys: The Liebig34 is cleared.
At 7:00 a.m. Robocops started sawing and flexing fences, doors, windows and barricades and at 11:00 a.m. the last inhabitants* of the Liebig34 were dragged out of the rooms.
We are sad. We are crying. We are exhausted. WE ARE ANGRY.
They can't imagine the determination they have awakened in us. This act of violence will explode in an act of counter-violence and self-defense. Already so much solidarity has happened in the last nights, months, years and has shown what we are capable of doing. This eviction is a moment of radicalization. We can use it and together we can express our hatred for this shit.
Even if the press, politicians, cops and Nazis are now taking pleasure in our loss, we are turning powerlessness into anger. So many borders have been crossed. We shout NO in your spiteful eats. You can have our house, you will never get our passion. We are so much more than this house – we are anarchists, feminists, queers and antifascists who will now channel their anger and attack capitalist patriarchy to the last.
We call for the demo from 21:00 in Monbijoupark. We call for decentralized actions. Let us experience a wild and chaotic October together!
34 million property damage – we are already well on the way.
Liebig34 lives. Liebig34 fights.
Tags: Berlin, Eviction, Germany, Liebig34, Liebig34/XB, Repression
Posted in Social Control
Saturday, October 3rd, 2020
While the cultural sector is still debating social distancing restrictions with whatever politician appears to be in charge, one venue keeps on hosting its spectacles in spite of everyone. So we are disgusted to announce to you the upcoming theatrical performance taking place on the 8th and 9th of October 2020 in the Palais de Justice in Brussels (that Moloch built on top of the proletarian Marolles and adored by many authoritarians for its oppressive bombast).
Since it concerns an appeal case there will be no original content, alas! But be prepared for the rerun of unbelievable acts by the magician and prosecutor Malagnini. Watch as he just needs to add one person to another to create the illusion of an organization, while putting one accusation he just came up with on the table to suddenly find yourself faced with a criminal organization. (His previous act where he would demonstrate the existence of a terrorist organization got cancelled after even the managers of the venue thought of it as too far fetched.) Stand in amazement how fireworks in solidarity with locked-up immigrants gets twisted to fit the incredible story of an arson attack against those same people. Be blown off your feet by how the simple fact that there is no proof is, in fact, … the proof. (Of course, since the modus operandi of the accused is that they remain unidentifiable. A proven hypothesis because we could not identify them. Aha!) Wait with anguish for the appearance on stage of the magician's assistant and investigative magistrate Panou. See how she is able (is she though?) to explain that an investigation going out on a fishing expedition to find accusations against persons is not at all proactive (gathering intelligence in view of deeds that didn't happen yet or are unknown) but indeed reactive (starting from specific acts to identify their authors). (Yes, your honour, a proactive investigation would have been illegal under the circumstances. But! Somewhere, at some moment, something happened. So! It is a reactive investigation, in hindsight …)
This is only a small and bitter taste of the infamous show that is already going on in Belgium since 2009 in the police departments and since 2016 in the juridical corridors. A show that distorts years of struggles and combative bounds against deportations, prisons, borders and other institutions of this oppressive society. We know that our individual lives and collective experiences will never fit their narrative, even if the collaborators in the rewriting of this clueless plot are eager to unveil their culprits to the audience.
So we invite you to do as you please on the 8th and 9th of October (the accused will do the same).
We'll speak,
Anarchists concerned (more or less) by current events in Brussels, but not exclusively.
P.S. A verdict will be expected in the month following the pitiful event.
P.S.2 More information on the trial: 1 & 2
Tags: Belgium, Brussels, Repression, Trial
Posted in Social Control
Sunday, September 20th, 2020
§129a Investigation in Frankfurt/Main, Germany
17.06.2020, 6.00 a.m., windows break. The residents of the shared flat jump out of the bed because they think Nazis are smashing the windows, but the loud shouts, and hooded people with flashlights leave no room for discussion until all residents of the living community are already in pain on the floor. It takes a while for the excitement to subside and they realize that there are more than twenty Federal Police BFE cops in the little apartment. Others are waiting in the entrance and have positioned themselves around the house. It takes even longer until a search warrant is finally handed out and the lead management is handed over to the investigating BKA. They try to act formally legally correct, their goal is to work legally clean. These are the different sides of the repression, the hooded thugs are supposed to intimidate, the jovial BKA cops collect everything they can get and organize the whole thing.
The accused's room and common rooms are officially searched, and the rooms of the other residents are filmed.
The search warrant is issued by the Federal Court of Justice (BGH) on January 20th, 2020. They are investigating against the person concerned and at least two other unknown perpetrators for being part of an alleged "terrorist organization". On New Year's Eve 2018/2019, they and many others allegedly attacked the BGH branch in Leipzig. DNA finds on clothing and camera recordings are brought forward. The police are looking for certain clothing, communication media, other references to this alleged association. 3 laptops, a USB stick, papers and small items such as a balaclava were confiscated. (more…)
Tags: Frankfurt, Germany, Raids, Repression
Posted in Social Control
Saturday, September 19th, 2020
On Friday, September 25, 2020, from 8:30 a.m., another hearing will take place at the District Court in Most in the Fénix 2 case. So far, witnesses have been invited for questioning at the instigation of public prosecutor Václav Richter, who drafted the indictment. More precisely, witnesses who did not testify to anything to confirm the allegations. This time, witnesses nominated by the defendants themselves in their defense will finally be present.
Recall that four anarchists and one environmentalist are charged with offenses punishable by 3 to 10 years in prison. Support the accused directly in court or by another solidarity action.
Tags: ABC Czech Republic, Czech Republic, Fenix 2, Repression, Trial
Posted in Social Control
Monday, September 14th, 2020
«From 2019 to today the Italian State has carried out many repressive operations and inflicted a series of restrictive measures on anarchist comrades, limiting their freedom of movement and forcing them to remain within the limits of their city or to move away from the city or region where they reside.
As recipients of these kind of minor measures, together we want to relaunch our solidarity with the more than 200 comrades involved in the various trials in Italy that are starting this September and that shall continue throughout the autumn.
In particular, the appeal trial of the Scripta Manent Operation will resume at the beginning of September: this trial involves 5 comrades who have been in prison for 4 years (two of them for 8 years) and which has resulted in 20+ years of sentence in the first grade. (more…)
Tags: Flyposter, Operation Bialystok, Operation Panic, Operation Prometeo, Operation Scripta Manent, Repression, Trial
Posted in Social Control
Monday, September 7th, 2020
Genoa, Piazza San Lorenzo
Saturday 26th September, 4pm 2020

Gathering against repression in solidarity with the anarchists arrested following operation Scripta Manent.

ANARCHY CAN'T BE LOCKED UP BEHIND BARS
The «Scripta Manent» appeal trial in Turin is coming to an end. It was on 6th September 2016 that eight anarchists were arrested and accused of having formed or participated in a «subversive association with aims of terrorism and subversion of the democratic order», a charge that about twenty anarchists are accused of in the trial. In particular the accusations are of carrying out, from 2005, several direct and armed actions against the police (police chiefs, carabinieri barracks, carabinieri training centres and RIS), men of State (mayors, the minister of the interior), journalists, companies involved in the restructuring of CIEs and the director of a detention centre for migrants, actions that were claimed FAI and FAI-FRI (Informal Anarchist Federation-International Revolutionary Front). In addition that of having written and edited anarchist publications including a historic publication of the movement, "Croce Nera Anarchica" [Anarchist Black Cross].
In April 2019, with the first-grade trial sentence, the comrades Alessandro, Alfredo, Anna, Marco and Nicola were given sentences ranging from 5 to 20 years of imprisonment, whereas another 18 were acquitted and two were released. In Alfredo and Nicola's case, years of imprisonment were added to a previous sentence for the kneecapping of the managing director of Ansaldo Nucleare, Roberto Adinolfi. This action was carried out on 7th May 2012 in Genoa and proudly claimed by the two comrades in court during the trial following their arrest in September of the same year. (more…)
Tags: CNA Italia, Informal Anarchist Federation (FAI), International Revolutionary Front, Italy, Operation Scripta Manent, Repression, Trial
Posted in Social Control
Friday, September 4th, 2020
Am 31. August 2020 gab es in Hamburg und anderen Orten 28 Hausdurchsuchungen gegen linke Aktivist*innen. Den 22 Beschuldigten wird vorgeworfen, Mitglieder der linken Gruppe Roter Aufbau Hamburg zu sein und eine kriminelle Vereinigung nach Paragraf 129 gebildet zu haben. Diese Razzien stellen einen der größten Angriffe der letzten Jahre auf organisierte linke Strukturen dar. Die Kriminalisierung einer ganzen Gruppe, ist eine neue Qualität der Repression gegen die bundesdeutsche Linke. Unter dem Motto "Unsere Solidarität gegen ihre Repression" findet am Samstag, dem 5. September um 16 Uhr eine Kundgebung auf dem Heinrichplatz statt.
Bitte teilen und hinkommen!
Hier der Aufruf:
Unsere Solidarität gegen ihre Repression
Am 31. August 2020 gab es in Hamburg und anderen Orten 28 Hausdurchsuchungen gegen linke Aktivist*innen. Auch der linke Stadtteilladen "Lüttje Lüüd" in Hamburg war betroffen. Den 22 Beschuldigten wird vorgeworfen, Mitglieder der linken Gruppe Roter Aufbau Hamburg zu sein und eine kriminelle Vereinigung nach Paragraf 129 gebildet zu haben. Gegen weitere unbekannte Personen wird noch ermittelt. Diese Razzien stellen einen der größten Angriffe der letzten Jahre auf organisierte linke Strukturen dar. Die Kriminalisierung einer ganzen Gruppe, ist eine neue Qualität der Repression gegen die bundesdeutsche Linke.
Das Ermittlungsverfahren der Generalstaatsanwaltschaft Hamburg läuft bereits seit 2019. Im richterlichen Beschluss ist sogar die Rede von der Bildung einer terroristischen Vereinigung, also einem Paragraf-129a-Verfahren. Vorgeworfen werden den Betroffenen Straftaten wie Landfriedensbruch und Sachbeschädigung, sowie die Aufforderung zu Straftaten. Mit dem Vorwand einer 129a-Ermittlung lässt sich nahezu jede Überwachungs- und Bespitzelungsmaßnahme begründen. Der Paragraph ist ein Werkzeug für die Repressionsorgane, um linke Strukturen auszuspionieren und Aktivist*innen zu kriminalisieren. (more…)
Tags: Berlin, Demo, Germany, Hamburg, Raids, Repression
Posted in Social Control
Sunday, August 23rd, 2020
The PSNI (Police of Northern Ireland) and the Gardaí (Police of the Republic of Ireland) this week conducted a cross-border operation officially to combat the activities of the New IRA. PSNI officers made nine arrests in the North on 18 August under the Terrorism Act. The arrestees were seven men and two women, aged 26 to 50, including eight members of the Irish Socialist Republican Revolutionary Party, Saoradh. In the Republic of Ireland, the Garda also carried out a number of searches in support of the operation. These searches were carried out in Dublin, Laois, Cork and Kerry. Detectives from the PSNI Terrorism Investigation Unit obtained from the court an additional 72 hours of detention from 5 a.m. on Thursday, 20 August to interview those arrested and detained at the Musgrave Serious Crime Suite. A new operation finally took place on Friday 21 August: the PSNI searched four Saoradh premises in Belfast, Dungannon, Newry and Derry.
Note: Another man was arrested 22 August at Heathrow Airport in London in relationship to this case. The New Irish Republican Army is considered by the British security services to be the most dangerous armed Republican group and is thought to be responsible for numerous attempted attacks against police officers.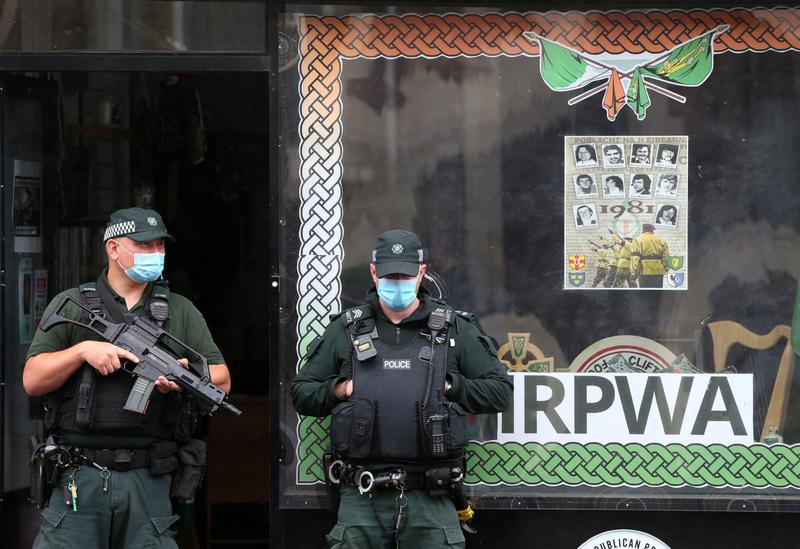 Search of Saoradh's premises in Belfast
via Secours Rouge.
Tags: Ireland, New IRA (New Irish Republican Army), Northern Ireland, Raids, Repression, Saoradh (Irish Socialist Republican Revolutionary Party), UK
Posted in Social Control
Wednesday, August 19th, 2020
PDF: Domestic Extremist Criminal Damage Events: Behaving Like Criminals or Terrorists?
Analysing relationships between the professional careerists, universities, security industry, policing and repression, we can get an overview on how the authorities intend to implement repression, by which means, and the individuals responsible for certain decisions and strategizing. The recent document which came to our attention "Domestic Extremist Criminal Damage Events: Behaving Like Criminals or Terrorists?" by Paul Gill and co, of the 'Department of Security and Crime Science', University College London, tries to comprehend the many acts of property damage and arson done in Bristol by a wide range of groups and, presumably, individuals. A mere look at the title gave us an appreciation of the mindset behind this paper of those who equate anarchist/activist vandalism and sabotage to terrorism.
This document is for sale in certain places on the internet but is being circulated here so comrades can see how through analysis of the documents of the enemy, -as they try to put us under the microscope-, that we can also do the same. To collect information, to view their prejudices, weaknesses and mental limits, and to see their conclusions and what kinds of thinking and methodology end up influencing their investigations (which never seem to be going particularly well… even if some comrades end up in jail, many more remain free, and the current growth of new anarchy remains as prevalent and needed as ever). (more…)
Tags: Analysis, Arlene Robinson (Security Reseacher), Bristol, Paul Gill (Security Researcher), Repression, Sabotage, UK, University College London (UCL), Vandalism, Zoe Marchment (Security Researcher)
Posted in Social Control
Wednesday, August 19th, 2020
ES | Juan Aliste Vega, sobre la detención de Monica y Francisco, Chile
A little less than a month after the arrest of our comrades Monica and Francisco at the hands of the state police apparatus, guardians of power and custodians of the interests of the political bourgeois caste of this territory.
Monica and Francisco in prison and hostages of this capitalist state that judges and sentences them from the first moment in which the fascist administration mediatically installs its servile legal machinery in their consequent lives.
They are comrades who hold a position of walking freely and have fertile convictions.
I embrace them with unconditional strength and tenderness with a heart full of complicity.
As an enemy of this state I raise the writing for the beautiful way of recognizing ourselves in the word transformed into acts and thinking into subversive action.
United in the embrace of war that transcends walls and frontiers, a tireless heartbeat that flows for the elimination of all forms of submission. (more…)
Tags: Chile, Francisco Solar, Juan Aliste Vega, Letter, Monica Caballero, Santiago
Posted in Social Control
Sunday, August 16th, 2020
From AWW:
Repressions against anarchists in Belarus!
WE NEED SOLIDARITY! PLEASE DISSEMINATE THIS INFORMATION!
On August 12, anarchists Alexander Frantskevich and Akihiro Khanada were detained in Belarus. Frantskevich is a former political prisoner, in 2010-2013 he was imprisoned on charges of attacks on government facilities. The police call him "the leader of the most radical group of anarchists, "Revolutionary Action."" At the moment, Alexander is accused of organizing mass riots (sanctions – from 5 to 15 years in prison). It is currently unknown what the second detainee, Akihiro Hanada, is accused of.
Anarchists have been the most radical and one of the organized forces opposing the regime of Alexander Lukashenko for a long time. They actively participate in all mass protests of Belarusians against the dictatorship, and have long been the object of persecution by the authorities.
Now, with the start of unprecedented protests for Belarus, the authorities are concerned about the popularity of anarchists, and they are beginning another round of repressions. State TV channels directly accuse Russian and Belarusian anarchists of "coordinating the riots," and Frantskevich and Akihiro, apparently are suitable candidates for the role of "organizers of protests." Now our comrades are facing long imprisonment for fighting against the dictatorship, and we call on everyone don't be indifferent. Conduct actions of solidarity, demand the release of Frantskevich, Akihiro and all the detainees, translate and disseminate this appeal in all languages ​​of the world. Belarus is a country very sensitive to global pressure. By drawing as much attention as possible to the case against the anarchists, we can influence its positive outcome.
We also remind you, that anarchist Nikita Yemelyanov is still imprisoned in Belarus, sentenced to four years in prison for symbolic attacks on court buildings and an isolation ward in Minsk.
You can send reports on the conducted actions to our Belarusian comrades from "Revolutionary Action" to revolutionaruaction(AT)riseup(DOT)net
Or you can send us news about the conducted actions
Mail media_ns(AT)riseup(DOT)net
Telegram bot: @Anarchotheory_bot
Tags: Akihiro Khanada, Aliaksandar Frantskievich, Belarus, Dictatorship, International Solidarity, Nikita Yemelyanov, Repression
Posted in Social Control
Sunday, August 16th, 2020
From AWW:
15.08.2020: Police have announced that they are investigating 6 anarchists or anarchist affiliated protesters – however, 7 people were put on display at the cop press conference. This follows national protests against Jokowi's neoliberal Omnibus Law (see video) and is occurring in the context of a government crackdown on anarchists. Updates to follow when more information is known.
Tags: Anti-Omnibus Law, Demo, Indonesia, Repression, West Java
Posted in Social Control
Sunday, August 2nd, 2020
This is what the investigators looking into the unexpected blaze at the Parsec 3.26 on April 27, on the outskirts of Lecce in full lockdown, have had. And since Finimondo published a text which did not condemn what happened and were not outraged by it, quite the contrary, and as the animators of Finimondo live not far from the headquarters of that company whose social and economic reason for being is to embody Big Brother, you want to bet that 1 + 1 +
So today, Monday July 27th, we were dragged out of bed early in the morning. No, it wasn't the alarm clock, it was the Digos [political police]. They came to carry out a search and to give one of us a notice of investigation. They suspect he was the one who left "a pot containing petrol and two camping gas canisters" near the techno-cop company in Salento. The search, particularly attentive to computer equipment (which allows "understanding of the actual purposes of the act") and clothing (being strangely attracted to multicolour, black must have gone out of fashion), had a positive outcome. No, but what are we saying, positive is too little, we would go as far as to say very positive. In fact, it seems they have discovered that there are traces of Finimondo's text on the computer used by the suspect who has fired the Prosecutor's imagination so much (you don't say?). Moreover two camping gas canisters were seized (oh really?). Finally – you will never believe it! – they even found pots in his kitchen (seriously?). They didn't seize them, only photographed them, for everlasting evidence. As we anticipated, 1 + 1 + …
Who knows if all this will be enough for the brainstorming of the public prosecutor's office of Lecce, in the guise of prosecutors Guglielmo Cataldi e Giovanna Cannarile, to pass to action. With the times being as they are, that would be nothing surprising. Only the near future will tell. And then, this Parsec 3.26… with all its means and technique… at least a nice clear image of the skull, or the cheekbones, or the scrotum of the well-meaning arsonist… all their algorithms, for what? to have some Digos agents sent out to photograph a couple of pots? Crazy.
Well, we'll think about that tomorrow. We're going back to sleep…
[27/7/20]
Finimondo

Translated by Act for freedom now!
Tags: Arson, Facial Recognition, Finimondo, Italy, Lecce, Parsec 3.26 (Company), Raids, Repression, Sabotage
Posted in Social Control
Monday, July 27th, 2020
FRENTE A LA RECIENTE DETENCIÓN DE LOS/AS COMPAÑEROS/AS MÓNICA CABALLERO Y FRANCISCO SOLAR.
El día de hoy, viernes 24 de julio, se ha llevado a cabo una razzia contra las/os compañeras/os anarquistas Mónica Caballero y Francisco Solar, quienes han sido acusadas/os por distintos ataques explosivos ocurridos en la capital de Santiago de Chile.
La irrupción por parte del GOPE y demases polícias se dio en los domicilios de los/as compañeros/as por la mañana, incluyendo un operativo por artefactos sospechosos en el domicilio de Mónica en Santiago Centro. Hasta la tarde del día de hoy se han confirmado allanamientos contra otras personas, desconocemos los motivos y/o vinculaciones. (more…)
Tags: Chile, Francisco Solar, International Solidarity, Monica Caballero, Repression, Santiago
Posted in Social Control