'Social Control' Archives
Wednesday, February 19th, 2020
On January 31st we found microphones* in the Garage Anarchico in Pisa, as well as in the house of a comrade, in Follonica. The devices were connected to the electrical systems of both buildings and were used to listen to discussions over a period of several months. It should be noted that the spies entered the premises with a technological device that does a kind of ultrasound scan of the inside of the locks.
The cops began their investigations following an arson attack on a vivisection laboratory in Pisa, which was never reported in the press.
* The company that supplied the devices is Lutech Spa, based in Roncello (MB).
[Translation taken from earsandeyes.noblogs.org].
Tags: Follonica, Garage Anarchico, Italy, Lutech Spa, Pisa, Repression, Surveillance
Posted in Social Control
Wednesday, February 19th, 2020
We must not forget the anarchists and anti-fascists suffering repression in Russia! We are calling for people to take action of all forms to express support for these prisoners, to protest the prison system, and to spread information about the use of torture as an instrument of repression in Russia.
Why now? On 10th February, 630 kilometers from Moscow, the court in Penza passed sentence on seven people accused of organizing the so-called "anarchist terrorist community 'Network'". This entire case is based on confessions the defendants were forced to agree to via intense torture as well as weapons planted by police and an extremely tenuous accusation that they were "planning to plan terrorist actions to overthrow the government of Russia". For a "crime" without victims involving no real action and no real plan, the sentences decreed by the court are shockingly high. Dmitry Pchelintsev and Ilya Shakursky, the supposed organizers of this fabricated "Network," were sentenced to 18 years and 16 years in prison, respectively. The others have been sentenced as follows: Arman Sagynbaev 6 years, Andrei Chernov 14 years, Vasily Kuksov 9 years, Mikhail Kulkov 10 years, and Maxim Ivankin 13 years of imprisonment.
Scientists, journalists, human rights defenders, and other groups in Russia have protested and demanded that the sentence be repealed.
International solidarity is especially important at this moment because the "Network case" is not over. In St.-Petersburg, two more people, Viktor Filinkov and Julian Boyarshinov, await trial on related charges. The next court hearings are planned for February 25-28. This is why we ask that solidarity actions take place the last week of February.
Many other anarchists and anti-fascists in Russia are experiencing repression and torture, including Azat Miftahov, Ilia Romanov, Egor Lesnyh, Evgeny Karakashev and Kirill Kuzminkin. They also deserve our attention.
If you have a Russian consulate or embassy in your city, consider organizing an action in front of it!
Email action reports to rupression@protonmail.com or via Telegram to @RUPRESSION_bot or Rupression social networks.
We will inform the prisoners about any actions that take place.
For more information about the Network case, details of financial support and prisoners addresses: rupression.com
YOUR TORTURE WILL NOT KILL OUR IDEAS!
–
Russia – Un appello ad Azioni di Solidarietà – 22-29 febbraio
Non dimentichiamo le persone anarchiche e le antifasciste che subiscono la repressione in Russia!Chiediamo a tutt* di agire in qualsiasi modo per esprimere sostegno a questi prigionieri, per manifestare contro il sistema carcerario, e per
sensibilizzare sull'uso della tortura come strumento di repressione in Russia.
Perché ora? Perché il 10 febbraio, a 630 kilometri da Mosca, la corte di Penza ha giudicato sette persone accusate di organizzare la presunta «community anarchica terrorista di nome "Network" [NdT: Сеть, pronuncia "set'"]». L'intero caso è montato su confessioni estorte agli imputati sia con pesanti torture, sia su armi portate dalla polizia [NdT: come le molotov del G8 alla Diaz], e con l'accusa per niente fondata che stessero «pianificando azioni terroriste per sovvertire il governo della Russia». Per un "crimine" senza vittime che non implica né azioni e né piani reali, le sentenze decretate dalla corte sono drammaticamente alte. Dmitrij Pčelincev e Il'â Šakurskij, i supposti organizzatori di questo sedicente "Network", sono stati condannati rispettivamente a 18 e 16 anni di prigione. Gli altri sono stati condannati ai seguenti anni in prigione: 6 anni a Arman Sagynbaev, 14 anni a Andrej Černov, 9 anni a Vasilij Kuksov, 10 anni a Mihail Kul'kov e 13 anni a Maksim Ivankin.
Scienziati, giornalisti, difensori dei diritti umani e altri gruppi in Russia protestano e richiedono che la sentenza sia revocata [NdT: "repealed" in originale inglese].
La solidarietà internazionale è particolrmente importante in questo momento perché il "caso Network" non è finito. Altre due persone a San Pietroburgo, Viktor Filinkov e Ûlian Boâršinov, attendono un processo per accuse simili. La prossima udienza è fissata per il 25-28 febbraio. È per questo che vi chiediamo di tenere azioni di solidarietà l'ultima settimana di febbraio.
Molti altri anarchici e antifascisti in Russia stanno subendo repressioni e torture, fra cui Azat Miftahov, Il'â Romanov, Egor Lesnyh, Evgenij Karakašev e Kirill Kuz'minkin. Meritano la nostra attenzione.
Se avete un consolato o un'ambasciata russa nella vostra città, valutate di organizzare un'azione lì davanti!
Mandate resoconti delle azioni a rupression@protonmail.com o via Telegram a @RUPRESSION_bot o ai canali social di Rupression.
Informeremo i prigionieri delle azioni che avranno luogo.
Per altre informazioni riguardo il caso Network, dettagli per il supporto finanziario e gli indirizzi dei prigionieri: rupression.com
LE VOSTRE TORTURE NON UCCIDERANNO LE NOSTRE IDEE!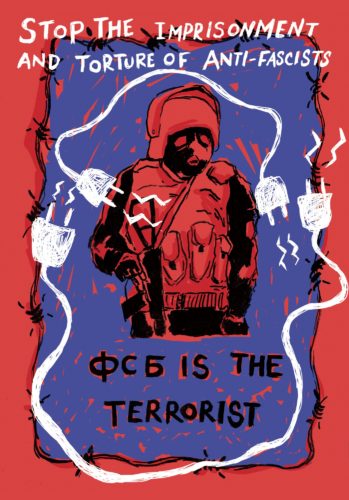 Tags: "Network Case", International Solidarity, Repression, Russia
Posted in Social Control
Thursday, February 13th, 2020
via ContraMadriz:
We are at war
29th of May and 19th of October of 2018: Police raids in Madrid and Palencia related to the repression against the riots of Hamburg against the G20 summit in July 2017 take place. This police operation was coordinated at an European level, with a lot of cooperation between different states. Attacks in response to these police raids happen all around Europe, and they are still happening.
29th of October of 2018: Two anarchists are arrested in Madrid accused of burning a Bankia ATM the 11th of april of that same year. This action was done in solidarity with Lisa, an anarchist who is actually in prison for robbing a bank in Germany. A lot of banks receive the solidarity of the anarchists.
25th of April of 2019: An anarchist is arrested accused of attacking VOX headquarters in Madrid with a hammer. Several political headquarters are attacked during the election campaign.
13th of May of 2019: Antiterrorist operation against the anarchist movement in Tetuán (Madrid). Two anarchists are arrested under the charge of terrorism. Police break into a house and the Espacio Okupado Anarquista La Emboscada. Different attacks in solidarity happen all around the State.
During all 2019: There is an increase of evictions of squatted spaces all around the state. Dozens of people are arrested and are waiting for trial. Attacks and riots in defence of those squatted spaces.
Solidarity-Complicity- Attack.
No rest for the Exploiters.
No rest for the Power.
No peace for the State.
Tags: Flyposter, International Solidarity, La Emboscada, Lisa, Madrid, Palencia, Raids, Repression, Sabotage, Spain, Tetuan
Posted in Social Control
Tuesday, February 11th, 2020
THEY DON'T INTIMIDATE US, THEY INFURIATE US!
Last night at Notara26 Refugee/Migrant Housing squat we were attacked for the third time in the past six months by the state uniformed bullies.
Around 4:30 am – only a few minutes after one more attempt by undercover police to intimidate one of our comrades who was on her way to our squat- a riot squad, totally unprovoked, surrounded our squat twice.
The first time they were flashing their torches and laser pointers into our lobby persistently trying to see our faces and how many we were. They then withdrew for about ten minutes but came back reinforced. Τhis time apart from torches and laser pointers, they tried to force our squat's door open.
These practices of the uniformed state terrorists DO NOT SCARE US! We are here, we continue our everyday struggle against fascism, racism and repression. We form strong solidarity and comradeship ties.
The only result this kind of bullying can have is to bring us even more together and our ranks closer!!!
There is only one thing to say…
WE SHALL MEET AT THE BARRICADES
Assembly of Notara 26, 10/2/2020
via Enough 14.
Tags: Athens, Eviction, Exarchia, Greece, Migrant Struggle, Notara26, Racism, Repression, Squatting
Posted in Social Control
Friday, February 7th, 2020
Yesterday, January 29th, the sentence of first instance was issued for a trial in which four comrades from Pinerolo were accused. The proceedings, on charges of robbery and injury, involved a clash with a plainclothes carabiniere [a Carabinieri officer, one of the Italian law enforcement forces] during an anti-fascist protest in Pinerolo, in 2018: the charges relating to the carabiniere's injuries were dropped and the "robbery" was reclassified as "attempted robbery", leading to the sentencing of all four defendants to 18 months' imprisonment and payment of court costs. Since he was wronged with the physical damage, the cop has filed a claim for compensation for moral damages… 500 euros…
Certainly, even these heavy sentences confirm the criminalisation and repression that resistance movements and individuals in revolt are facing these days.
In the meantime, probably between 26 and 27 January, one of the 4 comrades on trial, Leonardo (Leo) – who was in prison in Lucca prison to serve a final sentence for another crime dating back to 2007 [it is a conviction for robbery in the trial for "Ardesia" repressive operation] – was transferred to the prison of Vibo Valentia for reasons that we do not know at the moment.
Solidarity to the comrades convicted for the facts of Pinerolo! Always enemies of cops and fascists!
Against dispersion and isolation: always at Leo's side and those who resist in the streets and in the galleys!
To write to Leo:
Leonardo Landi
C. C., nuovo complesso
Contrada Cocari
89900 Vibo Valentia
Italia
Anti-repression Fund of the Western Alps
["Cassa Anti-Repressione delle Alpi occidentali"]
Tags: Italy, Leonardo Landi, Pinerolo, Prison Transfer, Repression, Trial
Posted in Social Control
Wednesday, February 5th, 2020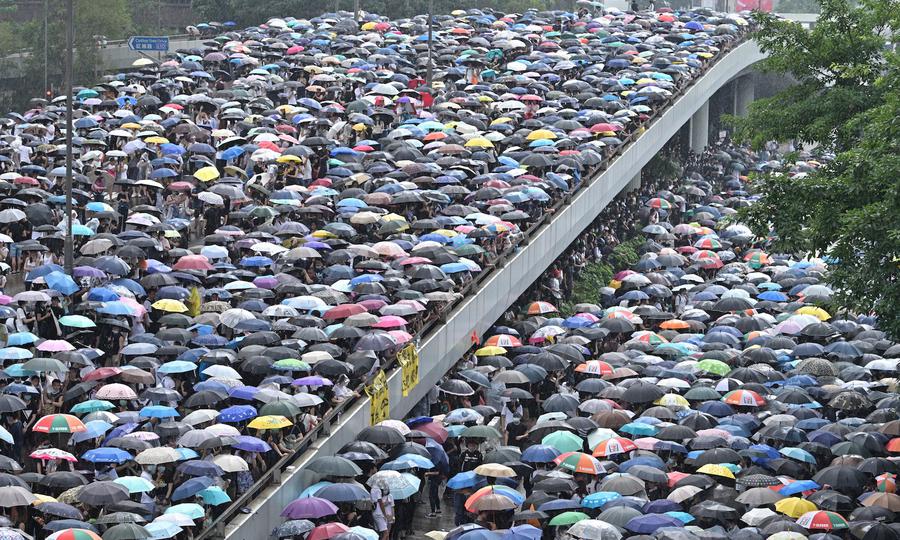 "On Wednesday 12th June, when someone shouted out that drones had started flying above them, everyone opened up their umbrellas almost simultaneously."
Four texts from Dialectical Delinquents:
1. Coronavirus – an exercise in intensified social control.
2. Hong Kong – its relevance to the rest of us… …its resistance to the science & technology of social control.
4. China: A-Z of some moments of international opposition.
Tags: Anti-technology, CCTV, China, Coronavirus, Dictatorship, Facial Recognition, Hong Kong, Repression, Riots, Social Insurrection, Surveillance
Posted in Social Control
Saturday, February 1st, 2020
On January 8, 2020, the Court of Genoa applied the measure of "special surveillance" to four of the 14 anarchists who demonstrated at La Spezia prison on January 5, 2019, in solidarity with Paska, after the beating inflicted on him by the guards in the prison of this city (Paska is an anarchist imprisoned for the "Panico" repressive operation). The "supervised" are Amma, Ciccio (from Florence), Greg and Carlo. They are affected by prevention or security measures, being forbidden to attend demonstrations and meetings, subject to a prohibition on carrying weapons and have to pay court costs.
For Amma, Ciccio and Carlo the measure also includes the obligation to stay in the area of residence (not in the city) and the obligation to communicate their movements to the cops. Since Amma is currently under house arrest, the measure will begin for him once his detention is over.
There is the possibility to appeal within 10 days and indicatively the court will reply within 30 days. This appeal is not definitive. Updates will follow.
via insuscettibilediravvedimento.
Tags: Genoa, Italy, Operation Panic, Paska, Repression
Posted in Social Control
Saturday, February 1st, 2020
On Friday 24.01 around 4.00 a.m, the cops of the police station 51 (Wedekindwache), raided the flat of Maria P. on Grünberger Straße 46, after her flatmate's phone call, and shot her dead. Police reports and its careful reproduction through mass media profile Maria as a mentally ill person attacking the cops with a knife. At the same time the state, police and the mass media are targeting persons with mental health issues, suggesting that this 'diagnosis' is enough for their potential execution.
The day after the murder, people gathered in solidarity and started a spontaneous demo in Maria's neighbourhood. This demo was attacked by the cops, completing in this way the image of zero tolerance while actively defending the provocative statements of the police union (GdP) and the public prosecutor's office which said that they are currently assuming that their colleagues have behaved correctly.
Berlin is a city based on the alternative tourism industry and a facade of diversity tolerance, promoting a progressive city image, which offers as products, ideas such as antiracism, antisexism and veganism/vegetarianism without hesitating to rely on the 'friendly' police forces (da für dich) to ensure citizen's peace and security when needed. (more…)
Tags: Anti-Psychiatry, Berlin, Demo, Germany, Maria P., Police Brutality, Repression
Posted in Social Control
Friday, January 31st, 2020
+ Update – 3/2/20 – Prison transfer details..
+ Update and new solidarity call to the 3 Anarchist comrades.
31.01.20202: According to information posted on Athens Indymedia and in the Greek corporate media, anarchist comrades Giannis Michailidis, Konstantina Athanasopoulou and an unnamed woman were captured in an allegedly stolen car in the Athens suburb of Agia Paraskevi on Wednesday.
Anti-terrorism police are claiming they found a Kalashnikov rifle, a submachine gun, a handgun, stolen license plates and other items inside the vehicle.
The comrades have so far been charged with four felonies and six misdemeanors including membership of a criminal organization and illegal possession of weapons.
Comrade Giannis Michailidis escaped from the Tyrintha agricultural prison in June 2019. He was originally arrested in February 2013 for the double armed robbery that took place in Velventos along with anarchist comrades Nikos Romanos, Dimitris Polis and Andreas-Dimitris Bourzokis. He was also serving time for an attack against police in Pefki in May 2011. Giannis is also known as "the archer of Syntagma" since, in February 2011, in the clashes during a general strike, he was arrested for hitting the riot police that protected the Greek parliament in Syntagma Square (Athens) with a bow and arrow.
Comrade Konstantina Athanasopoulou had been on the run after being released on bail for activities related to the revolutionary organization Revolutionary Struggle. She was sentenced in absentia in 2019 to 35 years and 6 months.
International Anarchist Solidarity to the Arrested Comrades!
via Anarchists Worldwide.
Tags: Athens, Giannis Michailidis, Greece, Konstantina Athanasopoulou, Repression, Revolutionary Struggle
Posted in Social Control
Thursday, January 30th, 2020
On Monday, January 27, 2020, the trial against our comrade began on Portuguese soil, the first stage during which the following emerged in summary.
– Portugal has so far accepted the paralysis of extradition to the Spanish state and the defence has about 20 days to add documentation that further supports the importance of non-extradition.
– The defence has immediately challenged the calculation of the residual penalty that the Spanish State claims to apply to our comrade, namely 16 years! Without going into too much legal detail, it can be seen from the documentation justifying this count, that it is a "legal revenge" (but what state revenge is not?).
– For the moment, Gabriel remains detained at the Oporto Judicial Police, waiting to appear before the judge more or less in mid-February. He can receive visits every other day from anyone. He is well and he is strong, combative, determined and ironic as always!
On the same morning of Monday, January 27, the houses of Elisa Di Bernardo's mother, father, sister and brother-in-law were searched with the aim of seizing computer equipment. The public prosecutor's office of Brescia issued yet another 270bis [subversive association with purpose of terrorism or subversion of the democratic order] for Elisa and Gabriel accusing them of belonging to a subversive cell with international base and support (the earth shakes, it shakes!). This new (but old, crushed and retracted) repressive wave obviously does not facilitate Gabriel's legal situation and the regime press of the three countries has already done its duty by exalting the close investigative collaboration between Italy, Spain and Portugal.
To journalists, our historical enemies' puppets, their duty… to us our revolutionary duty (and let each one call it what he wants, je je).
Updates will follow.
Freedom for Gabriel!
Freedom for all!
Long live anarchy!
–
Actualización de la situación del compañero Gabriel Pombo Da Silva y novedades represivas en Italia
Lunes 27 de Enero, comenzó en tierras portuguesas el juicio contra nuestro compañero, durante la primera audiencia se pudo vislumbrar el siguiente escenario:
-Portugal, de momento, ha aceptado detener la extradición al Estado español y le ha dado a la defensa un plazo de 20 días para agregar pruebas y documentación que acrediten, aún mas, la importancia de que Gabriel no sea extraditado.
-La defensa impugnó inmediatamente el argumento de "pena residual" que el Estado español pretende imponer a Gabriel, o sea, 16 años más de condena! Sin entrar en muchos detalles jurídicos, con solo leer someramente los documentos que pretenden amplíar su sentencia, es evidente que se trata de una "venganza legal" (¿Qué venganza de Estado no lo es?) contra nuestro compañero.
-Por ahora, Gabriel continúa detenido en las celdas de la Policía Judicial de Oporto en espera de volver a comparecer frente al juez. Según la información proporcionada se espera que la próxima audiencia se realice más o menos a mediados de febrero.
-Actualmente puede recibir visitas un día si y uno no por parte de cualquier persona que solicite visitarlo. Se encuentra bien de salud y está fuerte, combativo, determinado e irónico como siempre.
En la misma mañana del lunes 27, fueron registradas las casas de la madre, del padre, de la hermana y del cuñado de Elisa Di Bernardo con el objetivo de decomisar material informático. La fiscalía de Brescia ha emitido, de hecho, la enésima orden 270bis (por asociación ilícita y terrorismo) contra Elisa y Gabriel, acusándoles de pertenecer a una célula subversiva con base y apoyo internacional (tiembla Tierra, tiembla!). Por supuesto esta "nueva" ola represiva no ayuda en nada la situación jurídica de Gabriel y, la prensa al servicio de la dominación en los tres países ya hizo su deber exaltando la estrecha colaboración entre los gobiernos de Italia, España y Portugal. Lxs cagatinta, títeres de nuestrxs enemigxs históricos, cumplirán su deber… nosotrxs cumpliremos con nuestro deber revolucionario (cada unx lo llame como quiera, je je).
Continuaran las actualizaciones.
GABRIEL LIBRE!
TODXS LIBRES!
VIVA LA ANARQUÍA!
Tags: Elisa Di Bernardo, Gabriel Pombo da Silva, Italy, Portugal, Repression, Spain
Posted in Social Control
Tuesday, January 28th, 2020
23.01.2020: The prosecution's proposal for the charges of membership of and participation in Revolutionary Struggle to be dismissed was accepted at today's hearing of the 4th Revolutionary Struggle trial focusing on bank robberies from 2012 to 2015 and the attempted kidnapping of ship owner Martinos.
In her proposal, the public prosecutor accepted, on the basis of non-existent evidence and the assertion of Comrade Nikos Maziotis that bank robberies from 2012-2015 had nothing to do with Revolutionary Struggle or its funding, and by extension, that those accused of this have nothing to do with the organization. She also proposed to waive the charge of criminal organization, which according to the indictment existed between 2006 and 2012. She also proposed an exemption for the PROBANK robbery cases from 2006 and for the attempted kidnapping of Martinos in 2013.
For the bank robberies and some of the other charges (homicide, possession of weapons and explosives, kidnapping, forgery etc), the prosecution's proposal as to whether or not the defendants were guilty or not did not differ much other than a few exceptions to the original bill of indictment.
The next hearing was scheduled for February 6th, 2020.
Assembly in Solidarity with the Members of Revolutionary Struggle
via Athens Indymedia, translated into English by Anarchists Worldwide
Tags: Athens, Bank Robbery, Greece, Nikos Maziotis, Revolutionary Struggle, Trial
Posted in Social Control
Tuesday, January 28th, 2020
The clandestinity of anarchist comrade Gabriel Pombo da Silva has ended
After about a year and a half in hiding, this morning, January 25, 2020, Gabriel Pombo Da Silva was arrested in Portuguese territory. With an international arrest warrant for a residual theoretical sentence of over ten years (a personal vendetta converted into a "legal detail"), Gabriel continued to contribute to the anarchist struggle with his writings.
He is currently locked up in a cell of the judicial police in Porto waiting to appear on Monday in the courtroom where the possible extradition to Spain will be discussed.
Gabriel is well and quite calm in spite of everything.
Updates will follow.
Freedom for Gabriel Pombo da Silva!
Long live anarchy!
—
E` TERMINATA LA CLANDESTINITA` DEL COMPAGNO ANARCHICO GABRIEL POMBO DA SILVA
Dopo circa un anno e mezzo di clandestinità, questa mattina sabato 25 gennaio, è stato arrestato in territorio portoghese Gabriel Pombo Da Silva.
Con un mandato di cattura internazionale per un teorico residuo di pena di oltre dieci anni (una vendetta personale convertita in "dettaglio" giuridico), Gabriel ha continuato a dare il proprio contributo alla lotta anarchica con i suoi scritti.
Attualmente si trova rinchiuso in una cella della polizia giudiziaria di Porto in attesa di comparire lunedì nell`aula di tribunale dove si discuterà della possibilità di estradizione in Spagna.
Gabriel sta bene ed è abbastanza tranquillo nonostante tutto.
Seguiranno aggiornamenti.
GABRIEL POMBO DA SILVA LIBERO!!!
TUTTX LIBERX!!!
VIVA L`ANARCHIA!!!
—
HA TERMINATO LA CLANDESTINIDAD DEL COMPAÑERO ANARQUISTA GABRIEL POMBO DA SILVA
Después de año y medio en clandestinidad, esta mañana sábado 25 de Enero, han detenido en territorio portugués al compañero Gabriel Pombo Da Silva.
Con orden de búsqueda y captura internacional por supuesto pendiente de pena de más de diez años (una venganza personal convertida con "detalles" jurídicos), Gabriel continuaba dando batalla y aportando su propia contribución a la lucha anárquica con sus textos.
Actualmente se encuentra encerrado en una celda de la policía judicial de Oporto en espera de comparecer este lunes en el juzgado donde se debatirá su posible extradición al Estado español.
Gabriel se encuentra bien y esta bastante tranquilo pese a todo.
Continuaremos con las actualizaciones.
GABRIEL POMBO DA SILVA LIBRE!!!
QUE VIVA LA ANARQUIA!!!
Tags: Gabriel Pombo da Silva, Portugal, Repression, Spain
Posted in Social Control
Sunday, December 29th, 2019
OVD Info
December 26, 2019
The state prosecutor has asked the Volga District Military Court to sentence the five defendants in the Penza portion of the Network Case to between six and eighteen years in prison, according to a member of the campaign to support the defendants who was present in the courtroom.
The prosecution asked the court to hand down the longest sentence to Dmitry Pchelintsev: 18 years in a maximum-security penal colony. It asked the court to sentence Ilya Shakursky to 16 years, Andrei Chernov to 14 years, Maxim Ivankin to 13 years, Mikhail Kulkov to 10, Vasily Kuksov to 9 years, and Arman Sagynbayev to 6 years. It asked that all the defendants except Kuksok and Sagynbayev be sent to maximum-security penal colonies.
The prosecutor told the court that the defendants' accounts that they were tortured into testifying had not been corroborated.
All the defendants are accused of involvement in a "terrorist community," punishable under Article 205.4.4 of the Russian Criminal Code. Pchelinsky and Shakursky are accused of organizing a "terrorist community," punishable under Article 205.4. In addition, some of the defendants are accused of illegal possession of firearms (Article 222.1), illegal possession of explosives (Article 222.1.1), attempted arson or bombing with mischievous intent (Article 167.2 in combination with Article 30.3), and large-scale attempted drug trafficking (Article 228.1.4.g in combination with Article 30.3).
The criminal case against the Network "terrorist community" was launched in October 2017. According to the FSB, eleven young men in Penza and Petersburg organized the Network and were planning to overthrow the government. The defendants in the case claimed the FSB subjected them to psychological pressure, tortured them with electric shocks, beat them, and planted weapons on them. Some of the defendants recanted the confessions they made in the days following their arrests. OVD Info has reported on each of the defendants in the case in detail.
via The Russian Reader.
Tags: "Network Case", Frame-up, International Solidarity, Repression, Russia, Torture, Trial
Posted in Social Control
Tuesday, December 24th, 2019
Precautionary eviction of La Emboscada
Thursday, December 19th.
Hello comrades!
We write this statement from La Emboscada (Tetuán, Madrid), to inform that the last December 17th a judge ordered our precautionary eviction from a denunciation made by one of the owners of our Anarchist Squatted Space La Emboscada.
According to this notification, the eviction could be very close, in less than twenty natural days. Considering this information, we decide to fight with all our capacities to stop this eviction. So we call to the eviction day for a concentration in the afternoon, at 20h and we count with your support. The place of the concentration wont be public until the last moment, so we encourage you to be aware.
We decided not to remain silent while we see tens and tens of eviction processes both to living spaces and social centers. We decide not to give up neither deal with those people that want to defend their private property over everything, because we know that private property only looks for the individual profit of some, and we know that the State defends and supports this old class enemies that are already known.
We know that this case is not an isolated one (we count with all the previous facts happened in the last year) but it responds to a functioning and normal capitalist structure. We know that the owner is not the devil who escapes the norm or the common sense accepted by most citizens. So we have decided to approach it as a conflict more to face and with all the motivation and mutual aid that we could get all together with those who understand and show solidarity with the struggle against Capitalism, the law and the State.
We decide to defend squats as a tool to attack private property. This attack that every time becomes more difficult, but we only think in creating new formulas to get that they don't bury our will to continue fighting and squatting. We know that we can't do this without you. We know that solidarity and direct action against speculation are our better weapons.
So we encourage you to be aware to the next callings, to come to the space and the possible events that we could organize, defending the squats.
Against the reinforcement of laws to our dis-articulation and criminalization, now more than ever: Squat! Against gentrification and speculation: Squat and resist!
Tags: Eviction, La Emboscada, Madrid, Raids, Spain, Squatting
Posted in Social Control
Thursday, December 19th, 2019
"I believe that within the next generation the masters of the world will discover that childhood conditioning and narco-hypnosis are more efficient tools for governing than batons and prisons, and that their lust for power can be completely satisfied by inspiring people to love their slavery, instead of crushing them and reducing them to obedience".
Aldous Huxley, letter to George Orwell of October 21, 1949
Half a century ago, Piazza Fontana. The start of the so-called strategy of tension. A bomb exploded inside a crowded bank, just a few steps from the Cathedral of Milan. Over one hundred victims are dead and wounded, a massacre of blood-letting perpetrated in order to spread fear, terror and anguish throughout the country, to trigger the conditioned reflexes of Order. To sow a panic such as to justify, if not to invoke, the intervention of the State (also through its armed wing of police, also by suspending some liberties taken for granted).
Half a century after Piazza Fontana, we are in a full strategy of relaxation. After the bombs, the smartphone. After the blood, the ringtones. Millions of hyper-connected people, a massacre of neurons carried out in order to spread the entertainment, amusement and satisfaction that's necessary to neutralize the unconditional reflection of revolt. To sow a distraction such as to legitimise, if not naturalise, the presence of the State (even of its armed wing of the law, even of the suspension of some liberties taken for granted).
(more…)
Tags: Analysis, Anti-Authoritarian, Anti-technology, Dictatorship, Italy, Milan, Repression, Smartphones, Surveillance
Posted in Social Control