'Social Control' Archives
Saturday, April 21st, 2012
On the night of Friday, April 20, 2012, four people were arrested by police [in Malang] when comrades are doing acts of vandalism as a form of solidarity against a variety of asymmetric struggle against the state, capital and society and solidarity to the imprisoned revolutionary combatants (Billy & Eat, Tukijo and Hidayat). The four comrades were detained and underwent a long interrogation for 17 hours without stopping before then released while still in the surveillance and investigation of the police.
During interrogation, the police force four comrades to mention Facebook address each of the accused as a "communication tool" of internal "group of troublemakers and bullies the social order". (more…)
Tags: Billy, Eat, Hidayat, Indonesia, Malang, Malang 4, Memori Senja, Repression, Solidarity Action, Tukijo
Posted in Social Control
Wednesday, April 18th, 2012
From vivalaanarquia, 4/16/2012, transl waronsociety:
Ivan Silva and Carla Verdugo were arrested transporting an explosive device in the Granja neighborhood today at 3:30 AM.
They were taken to the 13th Precinct where one of the prosecutors of the Bombs Case, Christian Toledo came. Ivan and Carla were carrying a backpack which according to the press had a fire extinguisher full of black powder with two butane gas canisters and a fuse as well as a change of clothing.
It was also reported in the press that Carla had romantic ties with the compa Juan Aliste Vega.
According to police sources, Carla and Ivan wanted to plant the explosive device during the night because today the trial preparation hearing of Juan Aliste Vega was happening.

We know that the state and its representatives will try by all means to dole out an exemplary punishment, therefore we call all individuals and affinity groups to show once again the solidarity and support that unite us in this struggle against the system of domination.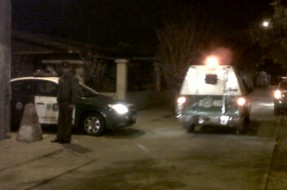 Tags: Carla Verdugo, Chile, Ivan Silva, Juan Aliste Vega, Repression, Santiago
Posted in Social Control
Sunday, April 15th, 2012
325 express our solidarity and complicity with the comrades of the counter-information websites Culmine and Parole Armate, who have been subject to investigation and raids in Italy.
It has been seen, from time immemorial, the force that strikes the individuals who speak out against the reigning dominant order. Those who want to live by their own will in the events of their life, those who talk openly of freedom, and of what it might take to get it, are targets for repression. Those who participate in counter-information structures and networks, those who publically express narratives and forbidden information that run counter to the aggressive positions of dominion will be especially suppressed. Those who act on it, well, they are the damned ones, and a special place in hell is allegedly reserved for them.

"Perhaps you, my judges, pronounce this sentence against me with greater fear than I receive it."

War against Heaven – for the black light of chaos.
Tags: Culmine, International Solidarity, Italy, Parole Armate, Repression
Posted in Social Control
Thursday, April 12th, 2012
From contra-info:
Thursday, March 29th, during the night, by order of the general prosecutor's office of Perugia and the pubblico ministero (public prosecutor) Manuela Comodi, diverse house searches were carried out against four anarchists in various cities (Pisa, Ravenna, Genoa, etc.); different divisions of the carabiniers [Italian paramilitary police] were mobilized, including the Anti-Crime Section from Bologna and the Anti-Subversion and Technical Investigations units of the Special Operations Group (Raggruppamento Operativo Speciale, ROS) from Rome.
At 4.05, I found myself with six carabiniers that plunged into the house (2 local, 2 ROS and 2 of the aforementioned Anti-Crime Section) in search of documentary material, useful material for assembly of explosive parcels, and so forth. All this happened because of my affinity relationships with the comrades of Culmine and my comrade who is involved along with me in the project ParoleArmate. (more…)
Tags: Conspiracy of Cells of Fire, Culmine, Edizioni Cerbero, Italy, Letter, Parole Armate, Repression, Tomo
Posted in Social Control
Saturday, April 7th, 2012
German language article about a meeting of the Europol, which is a conference against "Euro-Anarchists", called at the request of the Italian authorities. The topics for the repressive meeting include Val Susa Struggle in Italy, the Informal Anarchist Federation (FAI), ELF/ALF & Militant Ecological Struggle, No Border Camps, Counter-Summits etc.
Written by Matthias Monroy 22.03.2012 >> Click for original with links-reference
Mit immer mehr Maßnahmen verfolgen EU-Institutionen grenzüberschreitende linke Bewegungen. Dem BKA haben es angebliche "Euro-Anarchisten" besonders angetan

Seit 2002 ist die EU-Polizeiagentur für die Verfolgung von Umwelt- und Tierrechtsaktivismus bekannt. Jetzt bekommt die Kriminalisierung internationaler politischer Kampagnen eine neue Facette: Eine Konferenz von Europol nimmt unter anderem verkehrspolitische und antirassistische Aktivisten aufs Korn. Um die Kompetenzen der Behörden zu erweitern, werden die Ausgeforschten mit Absendern von Briefbomben gleichgesetzt. Auch der EU-Geheimdienst ist mit von der Partie.
Europol organisiert eine Konferenz zu anarchistischen Bewegungen in der Europäischen Union. Dies berichtete ein Sprecher der EU-Polizeiagentur letzte Woche in der Ratsarbeitsgruppe "Terrorismus". Demnach soll die Veranstaltung am 25. April stattfinden. Über den Ort wurden keine Angaben gemacht. Gewöhnlich finden derartige Zusammenkünfte aber am Sitz der Agentur in Den Haag statt. (more…)
Tags: ALF, ELF, Europol, Informal Anarchist Federation (FAI), No Borders, Repression, Val Susa
Posted in Social Control
Saturday, April 7th, 2012
WOS note: Beyond this initial announcement from Bengalas' comrades which appears below, there are several more texts and updates about the comrade which we will translate soon. At the moment, we are too busy to present all of it. The additional texts and updates may appear as edits to this post, or separately. We send an embrace full of fire and health to Bengalas.

from vla, transl waronsociety:
Yesterday, March 30, in the afternoon, our brother was in a cyber cafe updating our page [Solidaridad Anarquista] and on finishing up, he left the cyber cafe and to someone appeared to steal an older woman's wallet and the police came in pursuit; since these uniforms are such sacks of shit that they're tired after running only 15 seconds, they chose to use their service weapon and a shot struck; it so happened that this bullet hit the Anarchist brother Bengalas' chest, at only 9 meters away, the bullet entered through the chest, exiting through his back; our brother did not have time to react and fell to his knees leaving a large pool of blood around him; thanks to some anonymous persons who were in the area, they stopped the hemorrhaging and applied first aid, calling an ambulance and stopping the uniforms from approaching the brother's body so that they could not take any evidence nor change anything in the area; the compañero was taken to the Viña del Mar Hospital and at this time has still not regained consciousness. (more…)
Tags: Bengalas, Chile, Police Brutality, Repression, Viña del Mar
Posted in Social Control
Friday, April 6th, 2012
Translated by Act for freedom now! / boubourAs:
For a few days now has begun one more oppressive operation against anarchist comrades in Italy. Some comrades were arrested, interrogated, some got conditional discharges and others, house arrest.
The cops raided houses in the areas of Pisa, Chieti, Genoa, Catania, Ravena and elsewhere. The operation included the Carabinieri of Perugia, the Antiterrorist and the team of Technical Investigations of Rome. Amongst the arrestees, were also 4 anarchist comrades who were persecuted for "criminal organization of a subversive nature". From the confiscated objects from the houses of the comrades, this time the cops showed special interest to their email communication with Gabriel Pombo da Silva, Marco Camenisch and the members of the Conspiracy of Cells of Fire. During the investigation the email account of Culmine and Parole Armate was broken into and copied. By the cops.

Don't say that its over…
Through these few words we send a comradely signal to all those who participate in Culmine and Parole Armate helping in the translations and the spreading of communiques, texts and letters from prison for the spreading of insurrectional anarchy.
Right now the Black International of the anarchists of action is a fact. Nothing would be the same without them. Especially this last year an international anarchist galaxy is created by individuals and autonomous groups who, whether support the FAI/IRF, or not, the attack the existing, communicate with their concerns, exchange thoughts.
They are the comrades with no name, the friends without a face, they are all of us who wore a hood and became bombers of authority symbols, bank robbers, saboteurs of their normality, and arsonists of social peace. Through Culmine and Parole Armate we share experiences and close relations with these unknown comrades from around the world.
This sharing is a moment of the continuous attack against the dogmatic thought, the mass culture, the society of useless information. Through Culmine and Parole Armate blossoms the real polymorphic dialogue of the anarchist insurrectional internationalism, not just in the words, but in practice. Because words fill the pages just like bullets slide into the chamber of a gun.
Ready and armed to give their own battle. Words that hit the normality of daily life, words that escape from the prison cells, words that are whispered conspiratorially before the moment of the attack, words that turn into actions, words that don't beat around the bush, words clean like our look and conscience.
This wind of thousands of untameable words and anarchist actions visits numerous times the crossroad of Culmine and Parole Armate, for a moment, so it can explode and create again thousands of new moments of chaos and anarchy.
Culmine and Parole Armate is the secret harbour of chaos where words mixed up with actions and thoughts disguised into gestures go back-and-forth continuously in indeterminate and informal formations of attack. By stealing and rephrasing the words of the comrades Parole Armate we can say that the project of Culmine and Parole Armate is a result of the will of some anarchist individuals who deny the meaning of the official syntactic team and instead of that invite all those are interested in the spreading of insurrectional anarchist texts, to create relations and situations which liberate and are ready to be materialized outside the virtual frame of the internet.
For us the anarchist undertakings of Culmine and Parole Armate were created from the thought and desire of some comrades who discussed, managed from some hands which liberated meanings and disputes and belong to whoever considers them a piece of the individual and collective struggle for anarchy and chaos.
No matter what happens because of the attack of the Italian police, Culmine and Parole Armate will remain for ever a meeting point of comrades and friends, an unmade map of the Black International of Anarchists of Action.

Until we meet again
Solidarity to the comrades who are persecuted by the Italian state FOR EVER IN BATTLE FOR THE REALIZATION OF THE BLACK INTERNATIONAL OF THE ANARCHISTS OF ACTION

Imprisoned Members Cell of the Conspiracy of Cells of Fire – FAI/IRF
Tags: Black International of Anarchists of Praxis, Conspiracy of Cells of Fire, Conspiracy of Cells of Fire : Imprisoned Members Cell, Culmine, Fuck the Law, Gabriel Pombo da Silva, Greece, Informal Anarchist Federation (FAI), International Revolutionary Front, International Solidarity, Italy, Letter, Marco Camenisch, Parole Armate, Repression
Posted in Social Control
Wednesday, April 4th, 2012
Translated from informa-azione.info
We usually don't give reports on everything we do but after the latest events we think it is important to inform the comrades on the situation in Florence, the problems we have to face and the potentialities we have to develop. To start with, the expulsion orders don't seem to have intimidated anyone and they will be deliberately ignored. Released late in the morning on Saturday, three dear comrades are now forced to remain in their respective towns as they are subjected to mandatory residence: Sandro and Filomena in Pontassieve, and Nicola in Pistoia. As these places are not far from Florence we will be able to see them every day and surely they won't be abandoned. (more…)
Tags: Florence, Italy, Repression
Posted in Social Control
Sunday, April 1st, 2012
Translated from informa-azione.info
We receive from the Pistoia anarchist comrades:
Last Thursday [29 March] the bloody Florence cops assaulted and arrested three comrades, Nicola, Filomena and Sandro and accused them of a series of bullshit such as resistance and causing bodily harm. This morning [Saturday 30th March] the judge decided to make a favour to the Florence Digos [Italian political police]: as he obviously couldn't keep the comrades imprisoned, he opted for house arrest in the comrades' towns, two in Pontassieve and one in Pistoia. It is clear how this operation aims at eliminating all 'elements of disturbance', that is to say those who are active in the city. As power can't (for the moment) do whatever they like with Anarchists, they try their best to silence them, in this case through house arrest. On the contrary they did do whatever they liked with some immigrants, who were beaten to death in the police headquarters of Florence [the comrades were arrested while distributing leaflets on this event].

Solidarity with the comrades hit by repression, fire to all prisons and death to the authorities!
Tags: Florence, Italy, Police Brutality, Racism, Repression
Posted in Social Control
Saturday, March 31st, 2012
Posted on March 30, 2012 by Culmine – Translation act for freedom now/B.pb :
On 29th March the power of attorney of Perugia, following an investigation led by public prosecutor Comodi, has unleashed a repressive operation against 4 anarchist comrades. House searches were carried out in Pisa, Chieti, Brescia, Genoa, Catania, Ravenna and other cities. We don't have a complete picture yet but we know that 2 comrades were forcibly taken to the ROS [Special Operations Unit of the Carabinieri] barracks in Perugia after being house searched, where they were supposed to be questioned by the public prosecutor. The comrades gave no comment interviews and were released in the night after 22 hours of kidnapping. The charges are: 270bis and 280, the latter concerning 'a subversive nature of crime organization'. (more…)
Tags: Conspiracy of Cells of Fire : Imprisoned Members Cell, Culmine, Gabriel Pombo da Silva, Italy, Marco Camenisch, Perugia, Repression, Rome
Posted in Social Control
Saturday, March 31st, 2012
Message from counter-info website Culmine via Contra-Info:
Culmine is informing you that in the context of an investigation against anarchist comrades from Italy, our mail has been violated and copied. So, we notify that we will no longer use culmine(at)distruzione(dot)org and that in the next days we are going to decide if and how we're going to continue operating the blog culmine.noblogs.org (more…)
Tags: Culmine, Fuck the Law, Italy, Repression, Rome, teh internets
Posted in Social Control
Friday, March 30th, 2012
Anarchist comrades' houses searched following articles 270bis and 280
Translated from informa-azione.info
We receive and transmit:
Yesterday morning, 29/03/2012, the ROS units [Special Operations Unit of the Italian Carabinieri paramilitary police] of Rome and Perugia searched four houses of comrades looking for evidence concerning the usual charge of conspiracy. And as usual, the watchdogs of the authority were particularly interested in electronic equipment, mobile phones and paper. Wastepaper, searches and warnings: we've seen more of the same many times but every time it just makes us sick. (more…)
Tags: Carabinieri, Florence, Italy, Repression
Posted in Social Control
Friday, March 30th, 2012
325 receives and transmits : Click for PDF version
NO MILITARY ON OUR STREETS
In the last couple of years, the 'Help for Heroes' army PR campaign has tried to make us love Britain's military forces. We have been told they are 'our boys', 'our troops'. We have been encouraged to think of them as our friends, and our comrades. They are not. An army needs an enemy to be an army. They are an occupying force fighting the enemies of the bankers, the politicians, and the new social order. The people are this enemy. And so 'our boys' are our enemy. War abroad, repression at home. This summer, and already, a military state will be rolled out on the streets of Britain for the security of the Olympic games, as the Tories and Security Services continue their unrelenting demolition of people's freedom and means of survival. The Army is being trained to quell future riots and widespread social unrest which is inevitable as we struggle to live in intolerable conditions. The people have been at the receiving end of intense propaganda via the 'Help for Heroes' campaign for years now, in order to make us accept the occupation which is coming and the role of the Army in breaking the back of any industrial action or strike which has the possibility to create any rupture of the 'Queen's Peace'. (more…)
Tags: Anti-Militarism, Fuel Prices, Olympics, PDF, Riots, UK
Posted in Social Control
Friday, March 30th, 2012
325 receives and transmits:
Comrades,
Saluton from Osaka, an western part of Japanese islands.
By the way, right now, I am a dayworker having gotten low incomes. Some of about 3 million low-income Japanese workers like me are facing the fuckin' evil invitation from the scums of the "Tokyo electric power ltd." and also Japanese government now! THEY always pick us into the hell. Still now, Japanese capitalists and their subjects urge the nuke-power plants in Japanese islands to generate fuckin' "clean & economic electric power" again. (especially the "Kansai electric power ltd." strongly urge their nuke-power plants to generate electoric power again.). (more…)
Tags: East-Asia Anti-Japan Armed Front, Japan, Nuclear Disaster, Osaka, Repression
Posted in Social Control
Tuesday, January 31st, 2012
From informa-azione:
NB: The TAV is the destructive European High-Speed Railway mega-project of capitalist development which is fought across many territories. You can find the addresses of the prisoners below.
26/01/2012 – At 6:30 this morning, Thursday, January 26, 2012, a vast police operation ordered by the Public prosecutor of Turin has struck many friends, comrades, and No TAV resisters throughout Italy with arrests and cautionary measures. The practices of resistance that set off this massive operation concern conflictual episodes starting from the eviction of the Libera Repubblica della Maddalena [Free Republic of the Magdalene], passing through the siege of July 3 and the long Susa Valley summer. Of the more than 40 measures, 25 are remands in prison, 15 measures of mandatory residence, 1 detention under house arrest and 1 prohibition of residence in the province of Turin. (more…)
Tags: Bologna, Italy, Raids, Repression, TAV, Turin, Val Susa
Posted in Social Control