'Social Control' Archives
Tuesday, September 24th, 2019
On Friday, September 20, 2019, the notorious executioners of the Turin police headquarters went back to work directing their puppets in various cities to carry out three arrests, order 11 proibitions of abode and overturn several houses.
The charges are specific to this damn system. Having expressed anger and dissent over the arrests of comrades in Turin and against the eviction of Asilo Occupato [operation "Scintilla", February 7, 2019] translates into the allegations of resistance, injury and damage [for the demonstration on February 9, in Turin].
The three comrades arrested are currently in the "Le Vallette" prison, where solidarity has already been heard with a roaring greeting.
The addresses to make us feel again are:

Ammanuel Francesco Rezzonico
Federico Daneluzzo
Patrick Bernardone
C. C. "Lorusso e Cotugno"
via Adelaide Aglietta 35
10149 Torino
Italia [Italy]
Updates will follow and in the meantime… let initiatives abound!
Some comrades
Tags: Italy, Milan, Raids, Repression, Turin
Posted in Social Control
Saturday, September 21st, 2019
While waiting for more updates, we learn from the regime's press that this morning (September 20th, 2019) a police operation led by the Digos ("political police" force of the State police) of Turin led to 14 precautionary measures throughout Italy. The alleged crimes (according to what reported by the regime's media: "aggravated injuries", "resistance to a public official", "damage" and "dirtying") are related to the demonstration of February 9th, 2019, in Turin following the eviction of Asilo Occupato, on February 7th in the context of the "Scintilla" repressive operation (for which, at present, only one comrade, Silvia, remains in prison).
On February 9th a march in response to the repressive operation moved through the streets of Turin, also trying to get closer to Asilo (completely surrounded by police and carabinieri, and meanwhile devastated by the police and the workers assigned to the closure of the building), to then turn in conflict against the city and against what daily frames the existence of the oppressed. During the demonstration, some people were arrested and later detained at the "Le Vallette" prison, and then released a few days later.
Tags: Asilo Occupato, Demo, Italy, Repression, Turin
Posted in Social Control
Sunday, September 15th, 2019
Mexico City: Update on the situation of compa Mario Tripa
2019-09-05
We located the comrade Mario Tripa, on Monday September 2, he had been taken to the Reclusorio Norte [north prison] of Mexico City.
To this day the comrade remains incommunicado and isolated.
He is accused of attacks against the public peace and damage, these crimes are the ones that the State has been using to repress us and lock us up in the country's capital since 2012.
This imputation is new and different from legal proceedings for which the comrade was in the situation of being on the run. (more…)
Tags: Flyposters, Mario 'Tripa' Lopez, Mexico, Mexico City, Repression
Posted in Social Control
Sunday, September 15th, 2019
Solidarity poster for fugitive Anarchist comrade and human rights lawyer Veronica Koman who is facing up to 6 years imprisonment and fines of $US70,000 for 'incitement' and 'spreading fake news' for her important coverage on social media of the racist attacks against West Papuan students in Indonesia and the ongoing peoples' uprising in West Papua.
Veronica was also an important source of information regarding the repression against anarchists in Indonesia that took place during and after the 2019 May Day demonstrations. Text of poster reads: "Stop the criminalization of human rights defenders and anti-racism activists"

via anarchistsworldwide.
Tags: Flyposters, Indonesia, Repression, Veronica Koman, West Papua Independence
Posted in Social Control
Thursday, August 29th, 2019
(IT) Atene, Grecia: Lo Stato greco ha iniziato gli sgomberi di edifici occupati da anarchici e persone migranti nel quartiere di Exarcheia
The first major repressive attack against Exarcheia by the far-right wing New Democracy Party began on the morning of August 26, as police arrested 143 people from four different anarchist and refugee squats.
The following are English translations of statements by the German-language website The Hydra World and Devrimci Anarşist Faaliyet (Revolutionary Anarchist Action), an anarchist group, based in Turkey.
The Attack Has Begun – First Evictions of Squats in Exarcheia
The first wave of attack against autonomous life in Exarcheia is part of a massive plan to transform the area into the Montmartre of Athens… an operation that is scheduled to take five years. At the end of the tunnel is the successful construction of the Exarcheia Metro Station. Intermediate stations along the way to this are the eviction of squats, the expulsion of refugees and the enforcement of full police control over Exarcheia. To support the police actions, an intervention force was formed from various parts of the city administration – from cleanliness to environment to city infrastructure. Graffiti is to be removed, smart lanterns installed and the dismantling of "Anarchy in Exarcheia" organized. (more…)
Tags: Athens, Eviction, Exarchia, Greece, Migrant Struggle, Raids, Repression, Squatting
Posted in Social Control
Tuesday, July 23rd, 2019
Firenze, Italia: Verso la fine del processo "Panico"
Florence, Italy: Towards the end of the "Panico" trial
https://insuscettibilediravvedimento.noblogs.org/post/2019/07/18/it-en-firenze-italia-verso-la-fine-del-processo-panico/
Italia: Sequestro e tentata deportazione dell'anarchico Divine Umoru + Sabato 20 luglio: Presidio al CPR di Bari
Italy: Kidnapping and attempted deportation of anarchist Divine Umoru + Saturday, July 20th: Protest at the CPR of Bari
https://insuscettibilediravvedimento.noblogs.org/post/2019/07/19/it-en-italia-sequestro-e-tentata-deportazione-dellanarchico-divine-umoru-sabato-20-luglio-presidio-al-cpr-di-bari/
Italia: Richieste di condanna al processo per l'operazione "Panico"
Italy: Sentencing requests at the trial for the "Panico" operation
https://insuscettibilediravvedimento.noblogs.org/post/2019/07/18/it-en-italia-richieste-di-condanna-al-processo-per-loperazione-panico/
Tags: Bari, Florence, Italy, Operation Panic, Repression, Trial
Posted in Social Control
Tuesday, July 23rd, 2019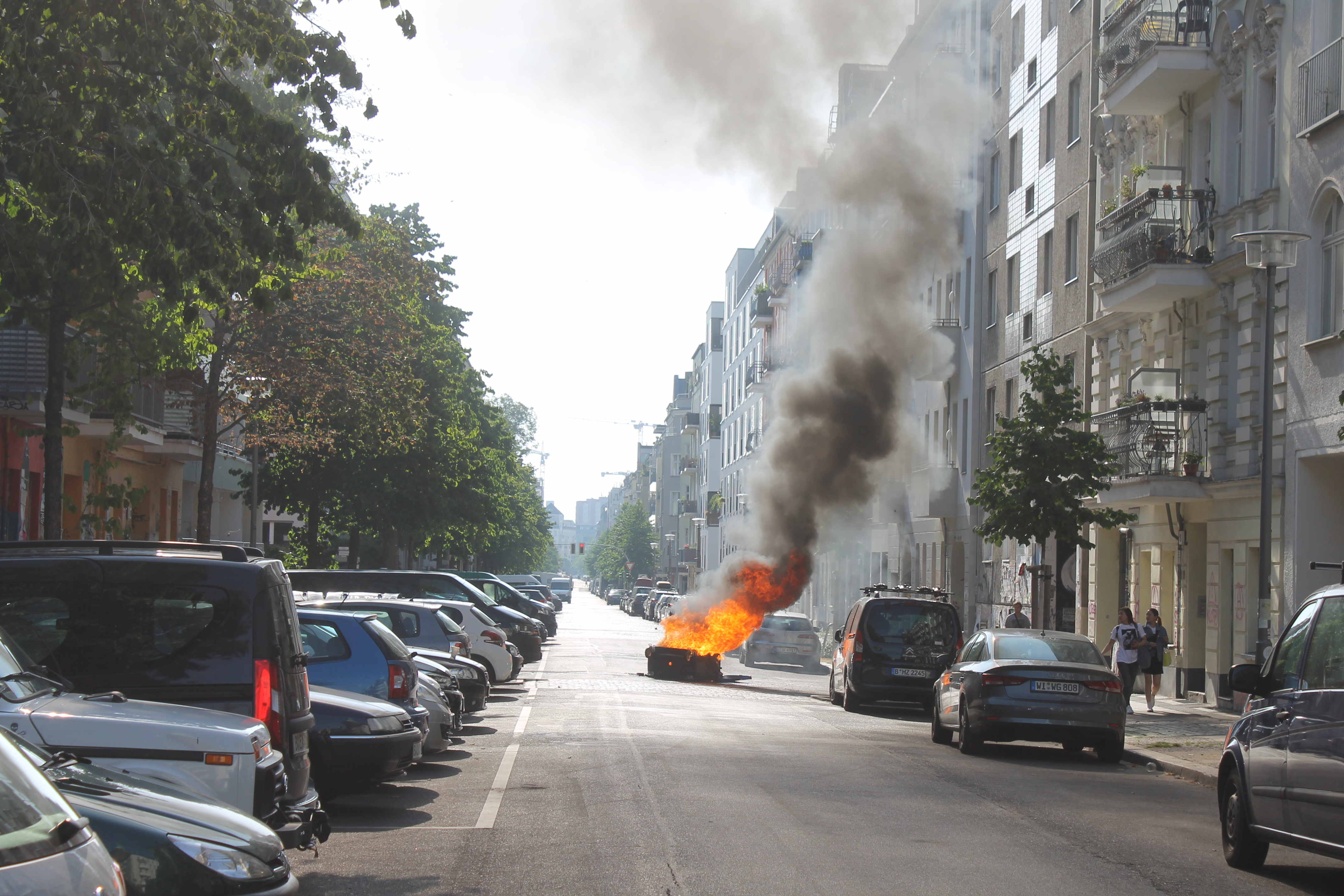 This morning [20/7], the cops of the LKA 5.21 unit under the command of Kranich raided Liebig34. Unusual was the saturday, unusual the mix of units from different departments. New were a few civil cop faces, not new: the repression.
The reason for this raid was probably stones thrown from the house during the last few weeks. After the cops collected stones from the Dorfplatz around 2:30 this morning, they obtained a court order and search warrant to search part of our house and returned around 6:30 a.m.. They came through the backyard and the front door, sawed the doors and barris, picked them up and thus forcibly gained access to our project. A lawyer was quickly on the scene and was able to observe and testify. Altogether the cops were about three hours in the house, having searched officially and intensively three connected rooms and the attic. They also snooped around in unlocked private rooms, tore posters from the walls, knocked over furniture, cut internet cables and destroyed windows. (more…)
Tags: Berlin, Germany, Liebig34/XB, Raids, Repression, Rigaerstrasse
Posted in Social Control
Monday, July 22nd, 2019
Received Saturday 20 July
This morning 6:30, the police broke into Liebig34 to search evidence and DNA in one room. The reason is an attack with stones against repression forces on Friday night. Soon after many riot police vans and a helicopter arrived, a barricade was burning in Rigaer Street. After some hours police left, no one was arrested. There is a call for resistance tonight and solidarity actions. More info as it comes.
https://twitter.com/Liebig34Liebig
https://twitter.com/rigaer94
Tags: Berlin, Eviction, Germany, Liebig34/XB, Raids, Rigaerstrasse
Posted in Social Control
Sunday, July 14th, 2019
via https://de.indymedia.org/node/34562:

Solidarity with the Three from the park bench
During the night of 8 July 2019, three of our friends and comrades were arrested and after that several apartments were searched. After the prison examination two of them are now in custody, the third person got released on parole. According to the press, they are accused of preparing an arson attack in connection with the anniversary of the riots against the G20 summit in Hamburg in 2017.
Show solidarity and show them that they are not alone!
If you want to write to them you can send letters:
Libertäres Zentrum
Karolinenstraße 42 (Hinterhaus)
20357 Hamburg
[Germany]
Keyword "Die Drei von der Parkbank"
We are furious!
Whether guilty or not, solidarity with all those affected by repression!
Freedom for all prisoners!
Burning hearts cannot be locked up!
Tags: G20, Germany, Hamburg, Repression
Posted in Social Control
Sunday, July 14th, 2019
Tags: Flyposter, Italy, Operation Panic, Repression
Posted in Social Control
Saturday, July 13th, 2019
The hearings from 15 to 18 July, 2019, are confirmed, but due to the absence of one of the judges the sentence (scheduled for July 22nd) could slip, by a maximum of one week, apparently.
For Giova, Paska and Ghespe under house arrest, was asked the transport by their own means for the hearings, therefore without an escort. For Paska has also been asked to temporarily move house arrest to a house near Florence.
As regards presences in the courtroom, Paska should therefore be present at all hearings. Giova and Ghespe will certainly not come to the hearing on the 15th, but for the following ones they still haven't decided.
We remember that the hearings will be:
15 July – Deposition of the digos ["political police"] on the last part of the environmental interceptions [surveillance transcripts].
16 July – Public prosecutor indictment and civil parties.
17 and 18 July – Defensive harangues.
22 (?) July – Reading of the device (sentence).
All will start at 9.00 am, in room 28 (basement) at the courthouse in Novoli (Florence).
Note: During the course of the month of June 2019 the three imprisoned anarchists, Paska, Giovanni and Salvatore (Ghespe), were transferred from the prisons of Viterbo and Sollicciano (Florence) to house arrest.
Tags: Florence, Italy, Operation Panic, Repression, Trial
Posted in Social Control
Monday, July 1st, 2019
On July 1th and 3th, 2019, the trial with 4 anarchists and one environmentalist accused in operation Fenix 2 will be taking place at the district court of Most, every day at 8:30 a.m. Come to support them at the courthouse or by any solidarity action. Let them know you are not
apathetic to their future as you are not towards the freedom of all of us. Any way of expressing support is welcomed!
Tags: Czech Republic, Fenix 2, Repression, Trial
Posted in Social Control
Friday, June 14th, 2019
On Wednesday 12th of June, three of our anarchist comrades were arrested in Thessaloniki, during expropriating a guarded money transport that was about to refill an ATM at the university hospital AHEPA. They were caught from cops of the counter-terrorism unit just when they were getting in their car to leave from the spot.
The two comrades are Giannis Dimitrakis and Kostas Sakkas, that had already paid the price of their political choice to stand against the authorities of this world, being targeted and serving time in prison.
The third comrade, Dimitra, is accused for cooperation in the expropriation.
There have been searches in their houses and many personal thing have been taken. Media create a wave of terror. Also, in the morning of 13th of June, the comrades were took to the prosecutor. Since now, there are no more details about this case.
We stand by our comrades
Dimitra, Giannis, Kostas, be strong
Solidarity is our weapon
Tags: Giannis Dimitrakis, Greece, Kostas Sakkas, Thessaloniki
Posted in Social Control
Saturday, June 1st, 2019
On May 22, Anarchist comrades Juan Antonio Sorroche Fernandez and Manuel Oxoli were arrested in Brescia, Italy for their alleged involvement in the bombing of the headquarters of the far-right wing Lega party in Villorba, Treviso on August 16, 2018.
The Lega is the ruling party of Italy, led by Matteo Salvini, who has aligned himself with fascist and far-right figures around the world, including Trump and Bolsonaro, and supports a racist anti-immigrant policy.
From Croce Nera Anarchica:
"The lawyer was able to meet his companions and found them strong and determined.
Further updates coming soon.
To write to Juan: Juan Antonio Sorroche Fernandez, c.c. Canton Mombello via Spalto S. Marco 20, 25100 (BS), ITALIA"
Via: https://www.autistici.org/cna/cassa-croce-nera-anarchica/ & https://secoursrouge.org/Italie-Arrestation-de-deux-anarchistes-en-Venitie
AMW
Tags: Brescia, Italy, Juan Antonio Sorroche Fernandez, Manuel Oxoli, Repression
Posted in Social Control
Wednesday, May 29th, 2019
Update from Turin
Operazione Scintilla
Beppe and Antonio free, Boba arrested.
Freely translated from the Turin blog "Macerie", 23 May 2019
–
Antonio and Beppe released.
Antonio and Beppe were released on the 6th of May 2019. They must report to the police every day.
Silvia remains in prison because she is charged with an additional crime.
More about Silvia: Article on barrikade.info (in German) (more…)
Tags: Italy, Operation Scintilla, Repression, Turin
Posted in Social Control