'Social Control' Archives
Saturday, November 21st, 2015
Silhan Özçelik, an 18 year-old Kurdish woman from London, has been convicted of trying to go abroad join the PKK. Silhan has been held on remand in Holloway prison since January charged with 'engaging in conduct in preparation to for giving an effect to an intention to commit acts of terrorism' under section 5 (10)(a) of the Terrorism Act 2006. It's apparently the first time a British person has been convicted for trying to join the PKK.
Silhan was sentenced to 21 months in prison. If her prison details come through, we'll post them here.

via rabbleLDN.
Tags: Kurdistan, PKK (Kurdish People's Party), Repression, Shilan Ozcelik, UK, War
Posted in Social Control
Tuesday, November 17th, 2015
Siamo anarchici e siam molti
E la vostra inane legge
Non ci doma né corregge
Né ci desta alcun terror
Guerra, guerra e guerra sia!
L' ideal per cui pugnamo
No, non teme i vostri orror
Siam ribelli, e forti siamo,
il terror degli oppressor!
I potenti della terra
Anarchist chant
"Anyone with some common sense, who has even a distant notion of what the nature of the No Tav movement is and of the ethical framework within which this struggle expresses its 20-year-long resistance, can see that I was not there with the intent to pursue terror or worse". Mattia
"On the other hand, those who struggle have learned, with intelligence, to channel even those strong and impetuous passions that are born of the many hits we took, like when a friend lost an eye from a tear gas grenade or when another came close to death". Niccolò

"Military and paramilitary attacks, indiscriminate violence and weapons of war belong to states and those who emulate them". Chiara
"We are accused of having acted to strike people or at least of having no regard for their presence, as if we had no regard for the lives of others…In relation to the accusation of terrorism I have no intention of defending myself. The solidarity we were shown from the moment of our arrest up until the present day has gone far to dismantle this daring incrimination". Claudio

"Your words, as well as sounding proud, sound just, in the sense that they are both ethically upstanding and attuned". Open letter to Chiara, Niccolò, Mattia and Claudio
"The prosecution wanted to create dissociations, namely, to push the movement to distance itself from its own power… We can say, quite plainly, that the movement held out by fully grasping what was at stake… The demands made by the prosecution are what in lawyers' jargon is called 'fence-sitting'. Go ahead and give them the minimum sentence, but convict them of terrorism". Open letter to Chiara, Niccolò, Mattia and Claudio
We can quite plainly say that the 'movement' has secured yet another victory. Not only has it managed to market a watered-down, inoffensive and whiny version of sabotage, but simultaneously, it has used its superior "ethical code" to blacklist all violent direct action that goes beyond striking a compressor with a Molotov. The courts have also won, by managing to impose boundaries that good kids shouldn't cross, if they want to avoid anything more than a sounding spanking.
For that matter, the victory for the courts has been sweeping, because through the terroristic prospect of years and years of prison, they made sure that comrades themselves – with their own statements – were the ones to draw up the boundaries that could not be crossed. (more…)
Tags: Alfredo Cospito, Italy, Letter, Nucleo Olga FAI/FRI, Roberto Adinolfi, Sabotage, TAV
Posted in Social Control
Friday, November 13th, 2015
Via Insurrection News.
12.11.15: Police in Italy and Greece launched a repressive operation at dawn this morning against activists who participated in the #NoExpo May Day 2015 mobilizations in Milan.
10 comrades have been detained – 5 in Italy (all in Milan) and 5 in Greece on charges of 'destruction and looting', aggravated resisting of the police and misrepresentation.
5 other comrades who are still at large are under investigation for the same charges – 3 in Milan, one in Como and one in Greece.
The detained comrades all had DNA samples taken from them.
More news as it comes.
UPDATE: One woman activist who was arrested in Milan has been released pending further investigation.
(via Radio Onda D'urto)
Tags: 1st May, EXPO Milan 2015, Greece, Italy, Milan, Raids, Repression, Riots
Posted in Social Control
Friday, November 13th, 2015
Sobre la situación represiva en la región controlada por el estado Argentino.
El Estado policial, de vigilancia, castigo, sometimiento y muerte no se detendrá sea que vivamos en dictadura o democracia. Prueba de ello son los más de 4.600 casos de personas torturadas, desaparecidas y asesinadas desde el año 1983 (fin de la dictadura en esta región) a manos de carceleros, policías y diversas fuerzas armadas.
Hoy, mientras continua el circo electoral para ver que amo dominara a los esclavos voluntarios los próximos años, los candidatos presidenciales Daniel Scioli y Mauricio Macri amenazan con más mano dura y encarcelamiento para los marginales, los que se rebelen o los que ataquen la propiedad de los ricos, con continuar inundando de cámaras de vigilancia cada esquina y perfeccionando los sistemas de identificación biométrica, usando el presupuesto acumulado tras años de saqueo para la inversión en tecnología militar de ultima generación, amenazan los miserables con sacar a la calle al mismísimo ejercito, prometen tolerancia cero… prometen y cumplen. (more…)
Tags: Argentina, Buenos Aires, Repression
Posted in Social Control
Tuesday, November 10th, 2015
Manifestación en la Embajada de España en Londres en solidaridad con los anarquistas perseguidos a raíz de la Operación Pandora en Barcelona en los últimos meses.
Demonstration at the Spanish Embassy in London in solidarity with anarchists persecuted following Operation Pandora in Barcelona in the last months.
Saturday, November 14
6:00pm
Spanish Embassy
SW1X 8SB, London, UK
Solidarity to all the prisoners of the Spanish State – Destroy the Prisons.
https://www.facebook.com/events/926372350792952/
Tags: Demo, International Solidarity, London, Operation Pandora, Solidarity Action, Spain, UK
Posted in Social Control
Monday, November 9th, 2015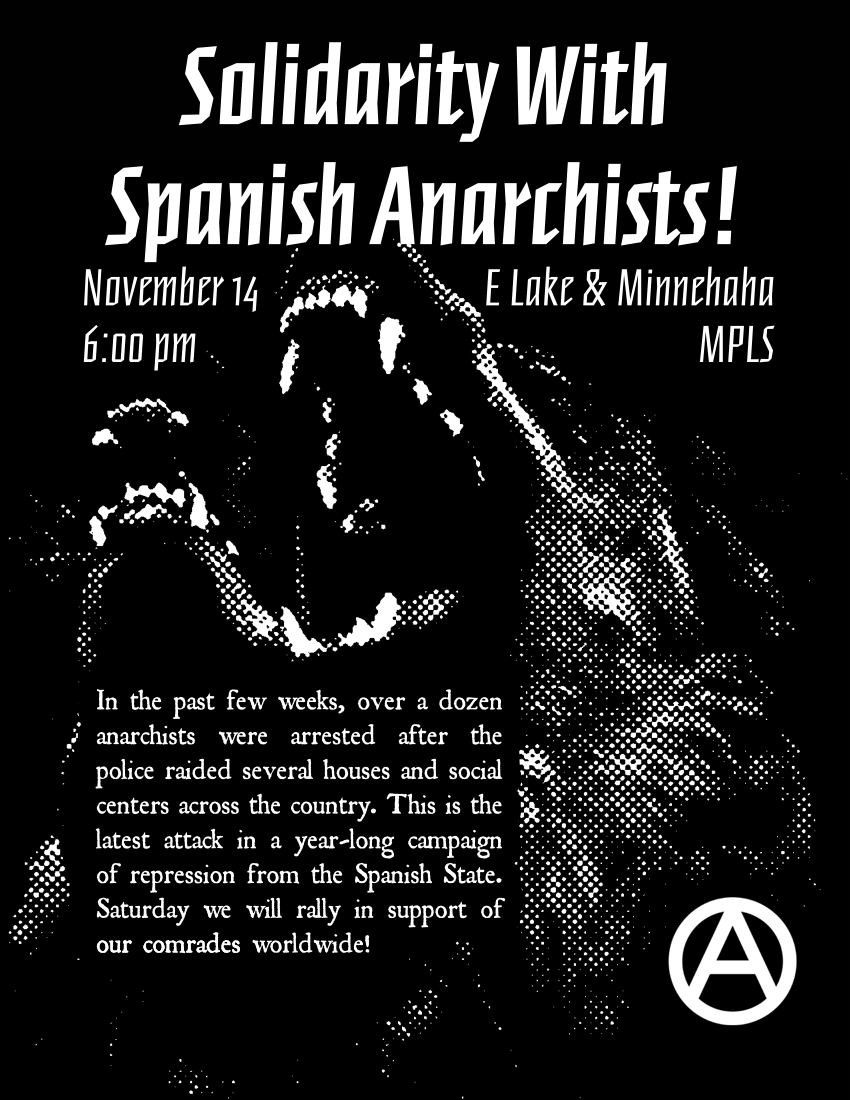 Updated: Here's the reportback.
Almost a year ago, the Spanish State began a campaign of repression against anarchists, arresting dozens, including nine in late October, and five more in November of this year. Their imprisonment is justified with the invention of a fictional terrorist group, the GAC-FAI-IRF. No attack has ever been claimed with this set of acronyms, and the GAC (Coordinated Anarchist Groups) are only the authors of a recent book, Contra la Democracia (eerily similar to the Tarnac Affair and The Coming Insurrection in France, 2008).
On Saturday we will rally in solidarity with those arrested, at 6:00pm at the corner of E Lake St & Minnehaha Ave in Minneapolis.
More info here: Efecto Pandora & Conflict MN.
Tags: Catalunya, Demo, GAC (coordinated anarchist groups), International Solidarity, Minneapolis, Spain, USA
Posted in Social Control
Thursday, November 5th, 2015
If last week we awoke to 9 comrades arrested in Barcelona and Manresa, of which one has to stay in prison [Enrique Costoya Allegue] and the rest have been released pending trial in an extension of Operation Pandora, and the extension of preventive prison to Mónica and Francisco, yesterday, November 4, we awoke to a new beat. In this case, Operation Ice in which they have been arrested 5 companions of the collective Straight Edge Madrid. Again the state hits.
The allegations, belonging to a criminal organization with terrorist aims, damages and apology of terrorism.
The henchmen of the Information Brigade of the National Police say they have found material for making explosives, gunpowder and bomb-making manuals.
It alleges them responsible for the attack with incendiary devices against four bank branches in Madrid as well as other actions in Barcelona. In addition, as has become customary, they are accused of relations with GAC (Grupos Anarquistas Coordinados) – coordinated anarchist groups.
In this case, they have seized documents and propaganda concerning Anarchist groups, for them a confirmation of their coordinated relationship with them, referring specifically to the comrades arrested last March 30 in Operation Piñata.
So it goes in the Spanish state, operation after operation still beating us.
But whatever they do they will not get us to stop fighting.

Freedom for anarchist prisoners!
Solidarity with the repressed!
Innocent or guilty, just anarchists!
Death to the state and long live anarchy!!!!!
via ContraMadriz.
Write to Enrique:
Enrique Costoya Allegue
CP Madrid V Soto del Real
Ctra M-609, km3,5 Módulo 15
28791 Soto del Real (Madrid)
Spain
Tags: Enrique Costoya Allegue, GAC (coordinated anarchist groups), Madrid, Operation Ice, Operation Pandora, Operation Piñata, Repression, Spain, Straight Edge Madrid, Straight-Edge
Posted in Social Control
Wednesday, November 4th, 2015
Some anarchist individuals take the initiative to get these posters out in solidarity with our arrested comrades in the latest blow, Pandora II, and Monica and Francis, whom the Spanish government has extended the detention for another two years. The idea was to get them out in different languages so that solidarity will spread across borders. The posters are ready to download and print. Let's cover your walls with our solidarity!
If they search for us door to door, we will resist them shoulder to shoulder!

Neither innocent nor guilty, just anarchists!
http://contramadriz.espiv.net/index.php/component/k2/item/804-carteles-en-solidaridad-con-los-represalidos-en-la-operacion-pandora-ii-y-con-monica-y-francisco
Tags: Catalunya, Flyposters, Francisco Solar, Monica Caballero, Operation Pandora, Repression, Spain
Posted in Social Control
Wednesday, November 4th, 2015
via Publicacion Refractario & Insurrection News:

On Wednesday October 28 nine of us were arrested in connection with a new anti-terrorist operation orchestrated by the Catalan Regional Police in collusion with court number 3 of the Spanish National Court. After the ransacking and looting of our homes and the Libertarian Ateneo de Sants (an anarchist social center in Sants) we were taken to different police stations on the outskirts of Barcelona. The next day we were delivered to the Civil Guard and transferred to Madrid. On Friday at noon we were brought before Judge Juan Pablo Gonzalez. The judge ordered two of us to be released with charges, 6 of us to be bailed upon payment of a bail surety and unconditional imprisonment for our comrade who is currently locked up in Soto del Real prison.

We the detainees who at present are back on the street wish to make a series of reflections and political positions:
The generic accusation against all 9 of us is "belonging to a criminal organization with terrorist aims." Specifically we are charged with being part of 'GAC-FAI-IRF,' which as we all know is a concept that has been constructed by the police. A set of acronyms which they have quite calculatedly mixed together – the coordination of anarchist collectives (GAC) along with the 'signature' used internationally by some groups to claim acts of sabotage (FAI–IRF).
The construction of this organizational framework gives the police all of the repressive
resources that the anti-terrorism laws provide: closed courts, greater legal uncertainty, much tougher sentences for comrades convicted of carrying out certain actions, isolation, special prison regimes, the criminalization of personal friendships / partners and relatives, amplified media coverage and social stigmatization etc. It is enough to say that during the whole process of our detention – from the moment we saw our homes being invaded and looted right up until we were brought before the judge – we did not even know what we were being accused of. (more…)
Tags: Catalunya, Enrique Costoya Allegue, GAC (coordinated anarchist groups), Informal Anarchist Federation (FAI), International Revolutionary Front, Mossos d'Escuadra, Operation Pandora, Repression, Spain
Posted in Social Control
Thursday, October 29th, 2015
Update: 8 released on bail.
10 comrades arrested in Barcelona and Manreza (Cataluña, Spain) accused of membership of GAC (anarchist coordinated groups). At the moment the information comes from state media.
[Urgente] Compañeros detenidos en Barcelona y Manresa con acusaciones de terrorismo.
Desde las seis de la mañana los Gossos* d'Esquadra (policía autonómica
catalana), bajo órdenes de la Audiencia Nacional, registran locales y
viviendas de compañeros/as anarquistas en Barcelona (barrios de Gracia,
Sant Andreu y Sants) y en Manresa. Según los medios de intoxicación de
masas, los arrestos son la continuación de la "operación pandora" contra
lo que la policía y los jueces creen que son los GAC (Grupos anarquistas
Coordinados), a quienes acusan de ser los responsables de los ataques
reivindicados por grupos anarquistas durante los años 2012 y 2013
(habría que recordar que según la Fiscalía General del Estado desde el
año pasado el anarcoterrorismo ya no tiene capacidad para atentar).
Según la prensa del patrón, hay ya 9 o 10 detenidos/as, y otros tantos
registros, entre ellos, el del Ateneo Libertario de Sants.
Seguiremos informando.
¡El Estado es el único terrorista!
¡Libertad anarquistas detenidos!
* Juego de palabras: Gosso en catalán es perro. El cuerpo policial se
llama Mossos d'Esquadra.
Tags: Catalunya, GAC (coordinated anarchist groups), Raids, Repression
Posted in Social Control
Monday, October 19th, 2015
There´s an anarchist place (infoshop,library,event space etc..) in Istanbul called "infiAl". Islamist fascist Vahdet newspaper mobilized the police by publishing a report with the title "Anarchist are preparing themselves for civil war" and police raided infiAl. When they came the first time (with guns, armored police cars etc) people in the place managed to keep them away but in the following days they came more prepared with a search warrant. They also arrested the lawyer who had the right to be there. 3 comrades (including the lawyer) were taken to the anti-terror department of the police station. They are charging the anarchists to be a member of an armed terrorist group' with the charge of insults and threats against President Erdogan and other parliamentarians as well.
The law says that the statements can be taken from the lawyer only by the Prosecutor. The other 2 comrades used the right to remain silent, that's why also their statement must be taken by the prosecutor, which should be tomorrow. But they got released around 3am in the morning without the statements. On future dates they will be called to give their statements.
This is the information so far. For more information you can read the article:
Fascist newspaper wrote, police raided and arrested anarchists
We are familiar with Turkish state repression on every opposition. Once again they proved that they can do whatever they want, creating evidence, charges, arresting lawyers etc..
We will also continue updating about the forthcoming situations.

ABC Istanbul
Tags: ABC Istanbul, Istanbul, Repression, Turkey, Vahdet
Posted in Social Control
Wednesday, October 14th, 2015
Via ContraInfo:
On July 17th 2015, the preliminary hearing against Silvia Guerini, Costantino 'Costa' Ragusa and Luca 'Billy' Bernasconi took place in Turin, Italy. The three have been previously arrested and jailed for several years in Switzerland, accused of having organised an act of sabotage against a nanotechnology research centre of IBM, under construction at the time. On April 15th 2010, they were stopped and arrested by Swiss police who searched their car and found explosives, as well as leaflets claiming the imminent action under the name 'Earth Liberation Front Switzerland'.
They have now been indicted according to the article 110 of the Italian penal code, which is used to punish offenses of criminal association. Particularly they're accused of having conspired together to plan the action in Italy, of having illegally obtained the materials needed to assemble and prepare explosive devices, and of having smuggled such devices between the Italian and Swiss border. All charges include the aggravating circumstance of the 'purpose of terrorism', historically used in political trials in Italy to obtain long pretrial detention, and longer prison sentence if found guilty.
The judge at the preliminary hearing accepted the thesis proposed by the deputy prosecutor Enrico Arnaldi Di Balme and found irrelevant that Billy, Costa and Silvia have already been tried and convicted in the Swiss Confederation.
The trial will commence on January 13th 2016 in Turin. Let's use it as an occasion to relaunch the struggle against environmental destruction.
In view of the trial, the three comrades are facing a hard time and need to cover several legal expenses, so they've shared a call for support. Any help is much appreciated.
Donations can be made to: conto corrente postale intestato a (postal current account payable to) Marta Cattaneo, IBAN: IT11A0760111100001022596116, BIC: BPPIITRRXXX.
Please specify donation reason: solidarietà a Silvia Billy Costa (solidarity with Silvia Billy Costa).
More info on the case and updates (in Italian):
silviabillycostaliberi.noblogs.org
Tags: Costantino Ragusa, IBM, Italy, Luca Bernasconi, Nanotechnology, Repression, Silvia Guerini, Switzerland Earth Liberation Front, Turin
Posted in Social Control
Saturday, October 10th, 2015
via RabbleLDN:
Today, bombs placed at a rally in the Turkish town of Ankara killed at least 86 people. This comes in the context of the bomb attacks in Amed in June, against an election rally; the attack on Kobanê from Turkey's borders in June and the attack in July in Suruç against a delegation bringing aid to Kobanê. Many comrades in Turkey and Kurdistan blame these attacks on the Turkish state.
This statement has been released by Revolutionary Anarchist Action (DAF):
CAN'T BE FORGOTTEN, CAN'T BE FORGIVEN
"Today, on the 10th of October, the "Labor, Democracy and Peace Meeting" that was organized by various unions, associations and organizations has been attacked. Like in Amed on June and in Suruc in July, the bombs exploding in Ankara today has killed tens of people.
Thousands of people came together from many different cities of the geography against the politics of war, against war profiteering of different power groups.
Today, the bombs that exploded, murdered the people who wanted peace, life and freedom against war.
This explosion, in which more than 30 people have lost their lives until now, is a reflection of the blood thirsty greed of the powers. The ones who murdered in Amed, in Pirsus, in Cizir, are now trying to intimidate the peoples, frustrate with war politics and discourage from the struggle for freedom, by murdering tens of people in Ankara.
The powers should know that by any means, be it arrests or murder with bombs, we will not be afraid of the powers or submit to their war politics.
For a new world, a life of freedom, the murderers in Amed, in Pirsus, Cizir and Ankara, murdered ones CAN'T BE FORGOTTEN, the murderers CAN'T BE FORGIVEN."
Revolutionary Anarchist Action (DAF)
Tags: Ankara, Devrimci Anarşist Faaliyet - DAF - Revolutionary Anarchist Action, Islamic State in Iraq and Syria (ISIS), Rojava, Turkey
Posted in Social Control
Wednesday, September 2nd, 2015
On 28th August (Friday), over a dozen police with automatic weapons and K-9 unit attacked Rumah Api (social center/house project in Kuala Lumpur) during a concert on that night. The police raided the house project and raid everybody during the concert and also trashed the living space of people who live there without any warrant or solid reason for the raid.
We all believe the raid were conducted due to the connection of Bersih 4 Rally which happen on the next days (29 and 30th) which is totally insane since the organizer of the concert, participants, and Rumah Api have little interest to join or even support the rally, due to our political stance on the issue of election and voting system.
The state use Rumah Api as the scapegoat of recent event of attack on banks and multinational corporations in KL for the past 2 years. So far, they found nothing to link us with that events. The police seize all the musical equipment at the concert hall, seize 2 computers of people who live there, one smart phone, artwork, and books belonging to people who live there. The police said they search the building for any weapons or explosives that can link us to terrorism. (more…)
Tags: Kuala Lumpur, Malaysia, Police Bastards, Repression, Rumah Api (social center/house project)
Posted in Social Control
Friday, August 28th, 2015
The Spanish Interior Minister of State fears an anarchist attack against prison officials this week.
From contramadriz via freeonline; in the context of the official report, the anarchist comrades F.Solar and M.Caballero were also referenced.
Spain: A digital media site of disinformation has "uncovered" a Prisons Circular recently distributed to its workers demanding extreme measures to protect themselves against possible suspicious packages received between 23 and August 30th. The reason for this is the "discovery" by the Information Service of the paramilitary Civil Guard of the international call for solidarity with anarchist prisoners from 23 to 30 August.
According to these coppers, the poster is "much more aggressive than the last year's" In fact, you can read the legend "fire to the prisons and jailers", which leads them to conclude that the "main objective of the anarchist movement" at the moment are Prison Officers "or any persons related to the facilities of the General Secretariat of Penitentiary Institutions". All because someone added "and the Jailors" to the traditional "Fire to The Prisons" slogan. (more…)
Tags: Francisco Solar, GAC (coordinated anarchist groups), International Week for Anarchist Prisoners, Letter Bomb, Monica Caballero, Repression, Spain
Posted in Social Control