'Social Control' Archives
Thursday, April 28th, 2016
– We need help immediately!
Today 28.4. around 3 pm, riot cops and a police patrol with dogs started to approach the camp. We communicated clearly to the police with a megaphone that they are not welcome, and we don't want to engage in conflict with them. The police didn't say anything or answer any questions.
The police started to shoot people with a projectile / rubber bullet gun and the people at the camp defended themselves by throwing rocks. The police were clearly aiming for the activists heads, backs of heads and upper bodies with the gun. People got hit several times on the area of their upper bodies. As far as we know, not to their heads though… The police got hit several times with the rocks, and there was one police car burning up in flames at the area.
After a long struggle with delay tactics, the police managed to move ahead to the camp when the people who were defending the camp disappeared to the forest. In the camp the police shot projectiles towards the kitchen-collective people. The police evacuated all the people from the camp, and took some people into custody.
The police have also threatened to evict another camp location which is still in our use.
We don't accept giving into repression and police violence, and the struggle against Fennovoima will continue. Now we'll need everyone to help build up the camp again, and to continue the fight and actions against Fennovoima. We invite comrades to this fight wherever you are – let's aim our actions towards the companies which are working with/for Fennovoima, the embassies of Finland, or the local police.
Tags: 'Stop Fennovoima camp', Anti-Nuclear, Fennovoima, Finland, Pyhäjoki, Repression
Posted in Social Control
Wednesday, April 27th, 2016
Last Sunday night (April 24th) one person was arrested in The Hague (Netherlands) on suspicion of pasting the Anarchist Wallpaper. He is being charged with instigation against authority, inciting violence and pasting of a poster. On Thursday the person who got arrested will be brought in front of the examining judge, who will decide whether to release him or transfer him to preventive detention.
Last week anarchists spread hundreds of Wallpapers in the neighbourhoods Transvaal and Schilderswijk and other places in the city. The first issue of the Wallpaper is about the uprising last year in the area of the Schilderswijk, where thousands of people rebelled for days against the police and the state after the murder on Mitch Henriquez, who was strangled to death by the police. Henriquez was yet another victim of violence by the racist police force of The Hague. Many months after the uprising the police were still hunting the rebels of last summer.
Now that someone is locked up again and it seems that the prosecution is very eager to keep him as long as possible on the suspicion of spreading a poster, expressing our solidarity is the only thing we can do. Solidarity through action. Below you can download the Anarchist Wallpaper. Print and spread, or express your solidarity in whatever other way.
Download the Anarchist Wallpaper here.
Stop the repression! Solidarity with the prisoners!
Down with the police and the state! Long live anarchy!

Below the main article of the Anarchist Wallpaper:
Down with the cops and the State! Long live the revolt!
On the Schilderswijk revolt
In the summer of 2015 a revolt shook up the Schilderswijk in the Hague. A revolt against the daily repression and racism of the cops. Against the suffocating reality of exploitation and unemployment. A revolt of those who decided to break with the normality of State repression. The tables were turned and the cops were chased off the streets. The murder of Mitch Henriquez, another racist murder by the police, was what sparked the revolt. Let's not forget, let's not forgive!
The politicians, media, mosques and all kinds of neighbourhood initiatives depicted the revolt as an everyday riot, as a criminal act of which the perpetrators had to be punished severely. Don't believe them; those organisations that live off state subsidies, those who want to push forward their own agenda at the costs of the oppressed, those that sell out the oppressed in order to be able to join those in power. That people are oppressed in neighbourhoods like the Schilderswijk is obvious. Not being employed because of your name, or exploited at a meager salary while the bosses, big companies, politicians and banks are only becoming richer.
The scapegoat politics that is integrated in the State is blames people of colour for poverty, housing problems and austerity measures, only to make people distrust each other. But refugees, Moroccan and Surinamese people are not the cause of these problems. The real problem is the State and its politicians that only care for the bosses and big companies, and the police that murders, who wants to protect this at all costs.
The revolt in the summer of 2015 was not an everyday riot. It was a legitimate revolt against everything that oppresses us. It was a revolt against the police that terrorises us on the streets. Against the incessant control of CCTV, ID-checks and the so-called "zero tolerance" policy that we only see in poor neighbourhoods. It was a revolt by a community that refuses to be divided by political games any longer. For years we have been asking for change but no one wanted to listen; the only option left then is to revolt. For our dignity, for our existence.
Those who revolted and refused to bow down to repression are those who have not lost their dignity. It is precisely these people that offer hope for a different, better future. That this summer may be a hot one!
Down with the cops and the State! Long live the revolt! Long live anarchy!
Tags: Den Haag, Flyposters, Mitch Henriquez, Netherlands, Police Brutality, Repression
Posted in Social Control
Thursday, April 21st, 2016
In July 2015 our friend and comrade got arrested at a passport control at the Greek-Bulgarian border. The Europe-wide arrest warrant against her had been issued by the prosecution office of Aachen, Germany, on the 24th of June 2015. In Germany she got locked up under the 'U-haft' (Untersuchungshaft) regime in Cologne because of a presumed involvement in an armed bank robbery that had taken place two years earlier (2013). On the 2nd December 2015, after months of investigation the prosecution formally charged her with bank robbery, hostage taking and weapon possession. On the 16th of December, the court called the prison instructing them to release our comrade because all charges were to be dropped, since the "evidence" that months of investigation produced was not sufficient for this case to be brought to court.
When we were writing the above statement concerning the imprisonment and release of our friend, we hoped it would be the last. Unfortunately the German cops did not agree, and decided to appeal against the decision of her release. This resulted in, after first being rejected by the normal court, the higher court's decision to reopen the case. Concretely this means that, after having spent nearly six months in preventive prison, our friend and comrade is now outside awaiting trial. It is still unclear when the court case will take place. Despite several desperate attempts from the prosecutor's office to also get a new warrant for her arrest – at the moment we are awaiting the high court's decision of yet another appeal – she is still outside with us. (more…)
Tags: Aachen, Bank Robbery, Germany, Repression, Spain
Posted in Social Control
Monday, April 18th, 2016
The centre of Free Women's Congress (KJA) Association was raided anomalously by police on April 10, 2016, around 05:00 am. The Association was raided without any prior notification and in an unusual hour that none of the administrators were there. 16 politicians, including 6 women who are members, administrators and activists of KJA, were detained in the same time with similar illegal methods. Our 4 women members, Çimen Işık, Pero Dündar, Olcay Kanlıbaş and Zozan Toprak are imprisoned after they were judged in the court on April, 11.
The police raid is totally anomalous and targets to destroy generally the democratic organization as an essential element of democracy, and specifically the organization of women. While all of our computers were stolen in the raid, our archive was also taken by the police. This crime is tried to be covered up with a "confidentiality order". Seizing all the computers means the cessation of the Association's actions even it is possible to backup all of the documents and keep on our investigations. (more…)
Tags: Diyarbakır, KJA - Congress of Free Women, Kurdish Struggle, Raids, Repression, Turkey
Posted in Social Control
Monday, April 18th, 2016
On Wednesday April 13 at 5am an operation of the Mossos d'Esquadra [Catalan Police] began in which two private homes and a squat in the neighbourhood of La Salut, the "Blokes Fantasma" were raided and the twenty or so people living in the building were detained for twelve hours.
In addition to the looting and destruction that accompanies any police search, the operation resulted in the arrest of a comrade who had already been imprisoned within the framework of the Pandora Operation, and for whom since 11 April there was a European arrest warrant on charges of participation in bank expropriations in Germany.
After her transfer to the Spanish National Court, judge Eloy Velasco ordered preventive detention for our comrade, who has been transferred to the prison of Soto del Real.
As she is also charged in the Pandora trial (currently under instruction) and that she herself has expressed her desire not be extradited, our defence has called for a "conditioning" of the European extradition order, claiming that she be held in custody in the Spanish State until the trial pending here is held. Within a maximum period of 2 months (extendable for another month), the High Court would have to decide whether the handing over of our comrade to the German authorities can be temporarily suspended or not. From the German press we learned that she has been linked to an expropriation that occurred two years ago in the town of Aachen, during which, again according to the press, the assailant group took a significant amount of money from the bank without causing any injuries or personal damage. (more…)
Tags: Bank Robbery, Barcelona, Catalunya, Operation Pandora, Repression, Soto del Real, Spain
Posted in Social Control
Sunday, April 3rd, 2016
'If fighting for freedom is a crime, innocence is really the worst of all'
In late 2008, a midst diffuse hostilities triggered by the revolt in Greece following the assassination of Alexis by police, the Belgian Federal Prosecutor launches an investigation of anarchists and anti-authoritarians. In 2010, on the basis of a list of actions that the police attribute to the "anarchist movement" and while the struggle against the construction of a new detention centre in Steenokkerzeel is underway, magistrate Isabelle Panou is assigned to the investigation, now under the anti-terrorism. In May, then in September 2013, a dozen searches took place within this investigation, the searches targeting different homes as well as the anarchist library Acrata in Brussels. It is on this occasion that the existence of an antiterrorist investigation first emerges. This investigation is led by the anti-terrorist branch of the Federal Judicial Police backed by the State Security and the General Intelligence and Security Agency of the army as well as various anti-terrorist branches of other European countries.
The investigation is closed in 2014, culminating in the referral of twelve anarchists and anti-authoritarians to the Court Chambers. (more…)
Tags: Acrata library, Belgium, Brussels, Repression
Posted in Social Control
Tuesday, March 29th, 2016
'O gentlemen, the time of life is short;…
An if we live, we live to tread on kings;'
Bodies covered with tarpaulins, sheets, littering the terraces of various cafés… The horror of the slaughter that took place in that hall. It's surreal.
Unable to do anything in that situation. In the name of their religion these god-crazed fanatics put a bullet indiscriminately in all the living unfortunate enough to cross their path. Super-trained suicide bombers that self-appointed religious leaders have promised will go to heaven, taking with them the greatest number of people possible in their killing spree. And the sole purpose of all this is to impose terror. To make those who live in a peaceful society, far from the battles that the army conducts against a nation they have not chosen, smell the smell of blood. To punish a population because a State has decided to conduct a war, hold people responsible who had no say in these decisions. Revenge of a State, in the most cowardly and easy way, not touching those concerned, but breaking eggs to make a show of force by making a bloody omelette. (more…)
Tags: France, Lucioles, Paris, The Misery of Islam
Posted in Social Control
Thursday, March 24th, 2016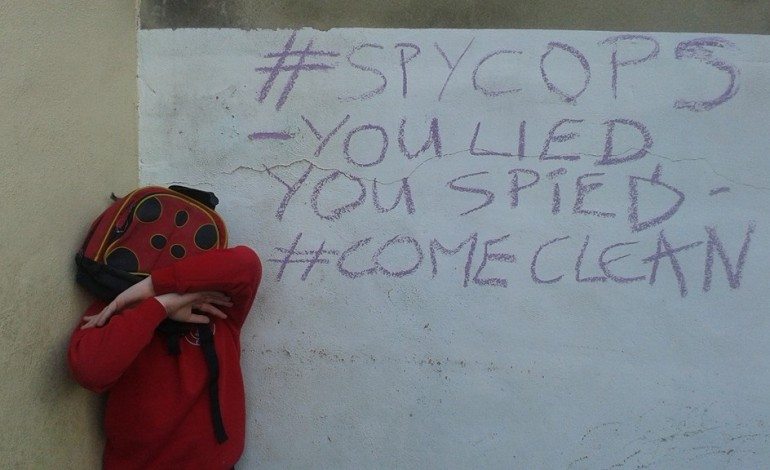 From The Canary:
The Undercover Policing Inquiry, chaired by Lord Justice Pitchford, resumed this week with legal arguments being made by the police which, if implemented, would essentially mean most of the inquiry being held in secret. Central to their position is a continuation of the policy of neither confirming nor denying (NCND) whether a person was an undercover officer.
However, whilst the lawyers for the police have been arguing that revealing the identities of officers would infringe their Article 8 right to privacy and family life, The Canary can reveal that police officers have been recording details of activists' young children.
Mae Benedict put in a Subject Access Request to find out what information the domestic extremist units held on her. She believed she might have a file as she had been arrested in the past for environmental activism. She had also been close to the only known female undercover officer, Lynn Watson. However, she was shocked to discover her file left out details of "several arrests and a conviction" but contained details of her young child:
It made me furious that my kid is on a police file already, and mostly it was really intrusive. Instead of details of when I HAD been found guilty of a crime, the focus instead was on me as a parent, and, by default, my child as a child of mine. (more…)
Tags: #Spycops, Bob Lambert, Fuck the Law, Fuck the Police, Lynn Watson (Undercover Cop), Repression, UK, Undercover Police
Posted in Social Control
Thursday, March 24th, 2016
Libcom & Aufheben – Snitches, collaborators and enemies…
Three years ago a small scandal took place when the Greek group TGTP published in an open letter that the co-founder of Aufheben, John Drury, lead workshops for the police and military and is known as a "provider of ideas" in these circles. These workshops took part within the framework of his academic career researching Crowd Control, mass panics and rescue operations. Together with his closest colleagues Stott and Reicher he has developed the Elaborated Social Identity Model (ESIM). The social psychologist Stott is renowned to be one of the globally leading experts for protests and violent uprisings. ESIM claims that a 'mob' acts according to certain patterns: people in a crowd have individual thoughts and emotions, so when the crowd is attacked indifferently by the police, people act in solidarity with each other and resist together. Therefore ESIM advices that the police should proceed in a multi-levelled approach and extract 'individual perpetrators' from the crowd. Using such kind of methods, Stott coordinated security preparations for the European football cup in Poland and Ukraine in 2012. (for more details see both open letters by TPTG)[1]
Aufheben is a group from Brighton, which publishes one of the few collectively produced magazines of the radical left in England. The magazine consists of mainly long articles tackling fundamental questions (what was the Soviet Union, decadence theory, "Green New Capitalism" etc.). They often deal with similar subjects as us (theory of the oil rent, criticism of Negri's autonomist marxism, debate about Beverly Silver's book). We have translated some of their articles (21st century Intifada, criticism of the commons thesis by Massimo de Angelis, Dole Autonomy) and have criticised them at certain points (e.g. in wildcat 89, "The oil rent, Ricardians amongst themselves"). We share similar positions when it comes to the issues of working-time reductions and guaranteed income. During the end of the 90s we initiated a closer collaboration with Aufheben and other collectives in Europe, which ultimately failed.
Therefore the revelation about John Drury came as quite a shock – which in itself would not have been a reason to write in Wildcat about it. But the way the debate about this case was lead within the left-communist scene in Europe has initially left us speechless. Most of the people shook it off ("let's move on") or attacked those who had made these scandalous facts public. (more…)
Tags: Aufheben, Clifford Stott, John Drury, Libcom, Repression, UK, Wildcat (Germany)
Posted in Social Control
Monday, March 21st, 2016
Stop the Cover-Up of Secret Police Abuses
Demo – Tuesday 22 March
9 – 10am Royal Courts of Justice
The Strand
London
Spycops inquiry: 'If it's in secret, it's dead in the water'
Following the exposure of police spy Mark Kennedy in 2010, activists and journalists slowly began to lift the lid on political policing in Britain. Their investigations found that the state had used undercover officers to infiltrate hundreds of political groups to surveil their activity and attempt to undermine dissent.
We now know that officers commonly used intimate relationships with targets as a tactic, stole the identities of dead children, spied upon families fighting for justice following the death of loved ones in police custody, and lied in court to secure convictions against activists. Disturbingly, internal investigations by state agencies over the same period revealed little.
In 2012, Mark Ellison QC conducted an independent review into police corruption during the Stephen Lawrence murder investigation. The findings were damning. Following increased public pressure, the Home Secretary announced an independent public inquiry into undercover police operations. Lord Justice Pitchford was appointed to lead the Inquiry. (more…)
Tags: Fuck the Law, Mark Kennedy (Undercover Cop), Repression, UK
Posted in Social Control
Friday, March 11th, 2016
On several profiles, blogs and web pages we saw that our comrade – 100% trusted person and friend LUKAS BORL is accused of being a collaborator with Nazis and giving information to cops. Also someone started FAKE Facebook profile under Lukas' name. All of this is a COMPLETE LIE! These fake messages are probably spread by cops or entrepreneur Vladimir Krulec. Krulec is for longer time in conflict with local anarchist movement because he and his company is not paying the wages to workers and he's been angry because of sabotages which have been done on his property. Lukas Borl has been living in underground for several months because he is officially wanted. The website of Czech police says that he is dangerous and armed.
However he never harmed anyone this shows how much police wants to discredit him and make his life as hard as possible. This false messages about Lukas Borl being an informer were probably written in order to make already difficult living situation of our comrade even harder and or to monitor how anarchist network communicates. (more…)
Tags: ABC Czech Republic, Czech Republic, Lukáš Borl, Repression
Posted in Social Control
Thursday, March 10th, 2016
The Federal Public Ministry could not prove their claim that the comrade is drug dealer, so the judge had to change the charge of crimes against health in selling arrangement to simple possession of narcotics, crime considered not serious so a bail was set.
This morning the bail required for release of comrade Yorch was paid. Now it's about time to leave the maximum security prison of Hermosillo. The process continuous, although now he will face it outside the prison.
Surely this shows clearly the gross farce that the State intends to create by arresting Yorch and although it seems that they failed to build it they continue in their efforts hand to hand with the mass media: today newspapers announced that the PGR will appeal this decision and maybe our comrade will not be released
We are not surprised. We know that the campaign against the anarchist movement will continue and we know that one of the goals of this campaign is to evict the Okupa Che squat.
In response we can only continue to extend the solidarity!
Anarchist Black Cross Mexico
Tags: Che Okupa Squat, Mexico, Mexico City, Repression, Yorsh
Posted in Social Control
Thursday, March 3rd, 2016
From ABC Mexico:
On the night of Wednesday, February 24, Jorge Emilio Muñoz Esquivel, George or "Yorsh" was arrested outside the university campus in Mexico City. Then he was accused of drug dealing by the Attorney General of the Republic (PGR). The official version was repeated ad nauseam by all government media (starting with La Jornada and ending the UNAM's own dean's office). When Jorge briefly left university campus that night to accompany some friends who were leaving, he was not carrying anything: no backpack, probably no sweater or jacket, because he planned to return quickly. The so-called "load" of drugs the PGR charged him with, either never existed or was planted on him on the way to their offices after being kidnapped.
Jorge is not a university student. He is neither an academic nor administrative employee of the UNAM. He has no "account number", receives no scholarship or paycheck every payday.
He does not belong to any professors' association nor is he an enrolled researcher with any level of the National System of Researchers (SNI). He does not got to any classroom, cubicle or institute. He doesn't check a timecard, nor does he have a union. He does not pay any fees to the Office of University Heritage or to the Board of Trustees for the use of a vending stand. He is not the beneficiary of any university, local or federal government program, nor is he backed by any official NGOs. (more…)
Tags: ABC Mexico, Che Okupa Squat, Mexico, Mexico City, Repression, Yorsh
Posted in Social Control
Sunday, February 14th, 2016
PDF: We are on the Side of Life, not Death
"You may remember our international call for support and solidarity for this
campaign in mid-January, when we asked women's and LGBTI groups and
individuals across the world to sign onto our petition in the midst of an
intensifying war in Turkey. As we stated back then, the resolution process
that was started in 2012 for a political solution to the Kurdish issue in
Turkey has come to a halt. For the past seven months, we have turned back
to war – with an ever-increasing level of violence. As of the 16th of
January, 2016, 20 districts of seven different provinces have suffered 57
curfews altogether, remaining under curfew for a total of 376 days.
Currently the sieges on Cizre and Silopi have reached 59 days, while the
Sur neighbourhood of Diyarbakır has been under siege for 71 days already.
In these seven months hundreds of people – civilians, guerilla fighters,
soldiers, police forces – have been killed or wounded.
In areas where clashes are intense and curfews have been declared due to
military operations, tens of thousands of people have been forced or left
no choice but to leave their homes, becoming migrants, i.e. internally
displaced persons. Those who have been unable to leave, or who have chosen
to remain in their homes, in their neighbourhoods despite intense attacks
by security forces have been declared 'illegal'. Their lives are under dire
threat, and all their possessions suffer serious damage. Dozens of families
have been forced to take refuge in crowded basements due to military
bombings, with nothing to eat but a loaf of dry bread which they share.
Pregnant women have either given birth early or miscarried. Many people
have lost their lives, unable to reach hospitals due to sniper fire. The
bodies of those who are killed remain in the streets for days, as people
are not allowed by the state to claim their dead. Families are not given
the right to bury their loved ones. Only this week, the naked bodies of
women who have been killed in Cizre by state security forces have been
displayed. Only this week, more than 60 people have been massacred in three
separate basements in Cizre. Those wounded in one of these basements have
been there for weeks, calling for an ambulance…."
Tags: Cizre, Diyarbakır, KJA - Congress of Free Women, Kurdistan, PDF, Repression, Silopi, Turkey, War
Posted in Social Control
Sunday, February 14th, 2016
PDF: We are on the Side of Life, not Death
"You may remember our international call for support and solidarity for this
campaign in mid-January, when we asked women's and LGBTI groups and
individuals across the world to sign onto our petition in the midst of an
intensifying war in Turkey. As we stated back then, the resolution process
that was started in 2012 for a political solution to the Kurdish issue in
Turkey has come to a halt. For the past seven months, we have turned back
to war – with an ever-increasing level of violence. As of the 16th of
January, 2016, 20 districts of seven different provinces have suffered 57
curfews altogether, remaining under curfew for a total of 376 days.
Currently the sieges on Cizre and Silopi have reached 59 days, while the
Sur neighbourhood of Diyarbakır has been under siege for 71 days already.
In these seven months hundreds of people – civilians, guerilla fighters,
soldiers, police forces – have been killed or wounded.
In areas where clashes are intense and curfews have been declared due to
military operations, tens of thousands of people have been forced or left
no choice but to leave their homes, becoming migrants, i.e. internally
displaced persons. Those who have been unable to leave, or who have chosen
to remain in their homes, in their neighbourhoods despite intense attacks
by security forces have been declared 'illegal'. Their lives are under dire
threat, and all their possessions suffer serious damage. Dozens of families
have been forced to take refuge in crowded basements due to military
bombings, with nothing to eat but a loaf of dry bread which they share.
Pregnant women have either given birth early or miscarried. Many people
have lost their lives, unable to reach hospitals due to sniper fire. The
bodies of those who are killed remain in the streets for days, as people
are not allowed by the state to claim their dead. Families are not given
the right to bury their loved ones. Only this week, the naked bodies of
women who have been killed in Cizre by state security forces have been
displayed. Only this week, more than 60 people have been massacred in three
separate basements in Cizre. Those wounded in one of these basements have
been there for weeks, calling for an ambulance…."
Tags: Cizre, Diyarbakır, KJA - Congress of Free Women, Kurdistan, PDF, Repression, Silopi, Turkey, War
Posted in Social Control