'Social Control' Archives
Friday, January 22nd, 2016
via throwoutyourbooks:
On January 18th, police raided a small apartment in Kita ward in Tokyo, where they uncovered hints on the whereabouts of Masaaki Ōsaka. Now aged 66, Ōsaka was an activist in the far-left radical group Chūkaku-ha and is named as a suspect in the death of a police officer during a riot in Shibuya 45 years ago.
Police announced that the apartment was a Chūkaku-ha ajito, or secret base, and that they believe Ōsaka is had been living there until a few years ago. This is the first known raid on a place where he is suspected to have resided. Ōsaka has been on the lam the longest among the most-wanted fugitives in Japan. His image remains a common sight on wanted posters at police substations, especially in Tokyo.
Police perennially make announcements about Ōsaka as they find the crumbs left behind on his fugitive trail. In 2012, an ajito was exposed in Tachikawa City, west Tokyo, and items seized from it revealed possibilities that Ōsaka was hiding out somewhere in Kita ward. (more…)
Tags: Chūkaku-ha, Fumiaki Hoshino, Japan, Masaaki Ōsaka, Raids, Repression, Shibuya, Tokyo
Posted in Social Control
Tuesday, January 12th, 2016
February 15th: Trial date for the Conspiracy of Cells of Fire escape plan – Prosecution against relatives of political prisoners
The trial concerning the plan of Conspiracy of Cells of Fire comrades to escape from Koridallos prisons has been set for February 15th. A total of 28 people are accused in this trial. Conspiracy of Cells of Fire comrades have taken responsibility for the escape plan from the outset, defending their choice as a means to continue anarchist struggle.
However, this time the judicial mafia has experimented on our comrades by applying an insidious and vengeful blackmail against them.
In addition to making the heaviest possible indictment against several of the accused, whose relation with Conspiracy of Cells of Fire members was solely limited to friendly contacts, they've prepared new guillotines.
The inquisitor Eftichis Nikopoulos (special appellate judge against terrorism) and the judicial councils that followed, have also put forward for trial relatives of political prisoners: Athena Tsakalou (the mother of CCF members Gerasimos Tsakalos and Christos Tsakalos), Evi Statiri (the partner of Gerasimos), and Christos Polidoros (the brother of CCF member Giorgos Polidoros), on charges of "membership in the terrorist organisation Conspiracy of Cells of Fire"!!!
Athena Tsakalou and Evi Statiri were originally remanded in March 2015, and then broke out of captivity.
Athena was released a month after her arrest, following the hunger strike of Conspiracy of Cells of Fire members and anarchist comrade Angeliki Spyropoulou. Six months later, Evi was also released from prison, following the hunger strike undertaken by her and her partner Gerasimos Tsakalos.
During the two hunger strikes, a multifaceted movement developed against the judicial coup, expressing solidarity by means of gatherings, banner drops, occupation of buildings, acts of sabotage and incendiary attacks…
Nevertheless, after the release of Athena and Evi, the solidarity movement gained half a victory.
Judge-executioners "granted" them a crippled freedom. Athena was exiled to Salamis Island, and Evi is restricted to one kilometer from her home by a "freedom distance-meter".
At the same time, they have been prohibited from any communication with their relatives, thus isolating them behind invisible grids.
We see this strategy of Power of isolating political prisoners being broadened, as is the case with the recent visitation ban against Revolutionary Struggle member Nikos Maziotis [whose friend and comrade was recently prohibited from visiting him in prison].
Similarly, the judicial mafia continues its sorcery against relatives of political prisoners, having remanded Maria Theofilou [the partner of Giorgos Petrakakos].
On February 15th, Power will once again try to erect its guillotines against relatives of political prisoners.
They've made their intentions crystal clear by now. According to the accusatory dossier, which is over 10,000 pages, they've chosen to call only 20 witnesses to the stand (half of whom are anti-terrorist police officers), with the purpose of fast-tracking proceedings; it seems convictions have already been issued…
February 15th marks the beginning of a new wager for people in struggle, negators of Power, people in solidarity… Our wager is to nullify the Power's vindictive plans, stand side by side with the comrades, and continue what we've started… To subvert the judicial coup and stand against the prosecution of political prisoners' relatives.
Because this trial prefigures future persecutions. What is being tested today against relatives of political prisoners, tomorrow will be tested against friends, people in solidarity, people in struggle…
For this reason and all the reasons in this world, once again we are preparing to venture into new battles against the laws of cops, judges and the Power's priesthood.
Our quiver contains many arrows, such as the recent memory of gestures against the fascist persecutions of political prisoners' relatives, but also the fresh traces of actions for Black December, that have strayed from the silent paths of social peace.
In the face of challenges posed by the State and judicial mafia, we respond with the challenge of insurrectionist action. With the trial on February 15th as a point of encounter, to oppose the persecution of relatives, let's make this New Year beginning our own restart – with international call-outs, assemblies, counter-information, demonstrations, occupations, acts of sabotage, attacks – for the complete overthrow of the existent. With not even a single moment wasted.
"Stone, iron, wood can be broken… but it is impossible to break a determined human being with a conscience."
Solidarity with Conspiracy of Cells of Fire comrades and anarchist Angeliki Spyropoulou
Against the prosecution of political prisoners' relatives
(Christos Polidoros, Athena Tsakalou, Evi Statiri)
in Greek
–

via contrainfo
Tags: Aggeliki Spyropoulou, Athena Tsakalou, Athens, Black December, CCF Escape case, Christos Polydoros, Conspiracy of Cells of Fire, Conspiracy of Cells of Fire : Imprisoned Members Cell, Evi Statiri, Greece, Informal Anarchist Federation (FAI), International Revolutionary Front, Korydallos Prison, Trial
Posted in Social Control
Tuesday, January 12th, 2016
via RabbleLDN, also see – "Schedule 7″ – Important Advice for Anarchists Travelling To/From the UK.

Bristol Anarchist Chases Away Counter-Terror Police
Today at Stansted Airport, plainclothes police officers pulled aside a travelling anarchist (Tim from Bristol) and seemingly sought to coerce him into becoming an informant with a combination of intimidation, veiled threats, and offers of free alcohol. But when he started recording the officers on his mp3 player they quickly terminated the exchange and made a sharp exit.
He believes he was targeted by counter terror police because of his Anarchism, stating: "Anarchism is about ordinary people standing up to the rich and powerful – exactly what the police are there to prevent. These people claim to be protecting us, but they spend most of their time blacklisting trade unionists, spying on activists and harassing ethnic minorities."
Here's his full account of what happened today:
"As I was leaving the EU e-passport gate about 1pm today, I was approached by a man who came out from behind the desk to the left. He was a similar height to me, with short light brown hair/beard, and a light northern English accent. He said "Hi Tim, I'd like to have a word with you. I think you know what this is about". I got my phone out and called a friend as soon as he started speaking. I told him I had a phone call which I needed to take. A man who had approached in the mean-time from the right, wearing a grey suit-jacket, asked me to turn my phone off. I repeated that I had to take the call. When my friend picked up I asked them to call my solicitor. (more…)
Tags: Bristol, Fuck the Police, Police Bastards, Repression, Schedule 7, UK
Posted in Social Control
Wednesday, December 23rd, 2015
via ANF News:
ŞIRNAK – ANF – Wednesday, December 23, 2015 4:40 PM

A civilian in Silopi told that some persons introducing themselves as DAESH and Esedullah Team tortured and threatened them in a basement for two days.
As the state of siege has left 10 days behind in Şırnak's Silopi district, state forces have yet not managed to enter the areas of self-rule despite the ongoing and intensified attacks across the town. In other neighborhoods, a gang group called DAESH and Esedullah Team has been mobilized.
Civilian Veysel B. from Nuh neighborhood told that masked teams have demolished walls of their houses with a sledge hammer. The man said these people who introduced themselves as DAESH and Esedullah Team tortured him and his neighborhoods two days long.
'WE ARE DAESH, ESEDULLAH TEAM'
Veysel B. said these masked people broke into their houses, locked him and his neighborhoods up in a basement and tortured them for hours. "They were chanting pro-ISIS slogans, saying 'We are DAESH and Esedullah teams, we will eradicate you all'. After the torture, they forced us to go up to the roof and make us a target for snipers. When we insisted on not doing so, they continued torturing us."
'GANGS TERRORIZE PEOPLE IN SİLOPİ'
The man told the followings as to the current situation in the town; "These gangs are terrorizing the people in Silopi. They kind of see red. They are doing anything possible to evacuate the houses. They have battered hundreds of people and forcibly taken them to nearby villages. Someone must hear our scream now. We have no security of life at all. Silopi is occupied by gangs and hired murderers. Silopi faces a genocide."
Tags: Islamic State in Iraq and Syria (ISIS), Kurdistan, Repression, Silopi, Turkey, War
Posted in Social Control
Tuesday, November 24th, 2015
The Karma of Terror
By William T. Hathaway
Terrible terrorists are killing our soldiers in their countries and killing us here at home. How can we stop them?
The answer is simple: Stop terrorizing them. We started this war. What we do to others comes back on us.
In addition to centuries of crusades and imperial conquest, the past 100 years show a clear pattern of Western aggression in the region. During World War One the British persuaded the Arabs to fight on their side by promising them independence. Thousands of them died in battle for the Brits because of this promise of freedom. But after the victory Britain refused to leave; it maintained control by installing puppet kings — Faisal in Iraq and Ibn Saud in Saudi Arabia — to rule in its interest.
After World War Two the USA and Britain pressured the United Nations into confiscating Arab land to form the state of Israel, making the Arabs pay for the crimes of the Germans. They wanted Israel as a forward base for dominating the resources of the Middle East. (more…)
Tags: Al-Qaeda, Iraq, Islamic State in Iraq and Syria (ISIS), Syria, The Karma of Terror, War, William T. Hathaway
Posted in Social Control
Saturday, November 21st, 2015
Silhan Özçelik, an 18 year-old Kurdish woman from London, has been convicted of trying to go abroad join the PKK. Silhan has been held on remand in Holloway prison since January charged with 'engaging in conduct in preparation to for giving an effect to an intention to commit acts of terrorism' under section 5 (10)(a) of the Terrorism Act 2006. It's apparently the first time a British person has been convicted for trying to join the PKK.
Silhan was sentenced to 21 months in prison. If her prison details come through, we'll post them here.

via rabbleLDN.
Tags: Kurdistan, PKK (Kurdish People's Party), Repression, Shilan Ozcelik, UK, War
Posted in Social Control
Tuesday, November 17th, 2015
Siamo anarchici e siam molti
E la vostra inane legge
Non ci doma né corregge
Né ci desta alcun terror
Guerra, guerra e guerra sia!
L' ideal per cui pugnamo
No, non teme i vostri orror
Siam ribelli, e forti siamo,
il terror degli oppressor!
I potenti della terra
Anarchist chant
"Anyone with some common sense, who has even a distant notion of what the nature of the No Tav movement is and of the ethical framework within which this struggle expresses its 20-year-long resistance, can see that I was not there with the intent to pursue terror or worse". Mattia
"On the other hand, those who struggle have learned, with intelligence, to channel even those strong and impetuous passions that are born of the many hits we took, like when a friend lost an eye from a tear gas grenade or when another came close to death". Niccolò

"Military and paramilitary attacks, indiscriminate violence and weapons of war belong to states and those who emulate them". Chiara
"We are accused of having acted to strike people or at least of having no regard for their presence, as if we had no regard for the lives of others…In relation to the accusation of terrorism I have no intention of defending myself. The solidarity we were shown from the moment of our arrest up until the present day has gone far to dismantle this daring incrimination". Claudio

"Your words, as well as sounding proud, sound just, in the sense that they are both ethically upstanding and attuned". Open letter to Chiara, Niccolò, Mattia and Claudio
"The prosecution wanted to create dissociations, namely, to push the movement to distance itself from its own power… We can say, quite plainly, that the movement held out by fully grasping what was at stake… The demands made by the prosecution are what in lawyers' jargon is called 'fence-sitting'. Go ahead and give them the minimum sentence, but convict them of terrorism". Open letter to Chiara, Niccolò, Mattia and Claudio
We can quite plainly say that the 'movement' has secured yet another victory. Not only has it managed to market a watered-down, inoffensive and whiny version of sabotage, but simultaneously, it has used its superior "ethical code" to blacklist all violent direct action that goes beyond striking a compressor with a Molotov. The courts have also won, by managing to impose boundaries that good kids shouldn't cross, if they want to avoid anything more than a sounding spanking.
For that matter, the victory for the courts has been sweeping, because through the terroristic prospect of years and years of prison, they made sure that comrades themselves – with their own statements – were the ones to draw up the boundaries that could not be crossed. (more…)
Tags: Alfredo Cospito, Italy, Letter, Nucleo Olga FAI/FRI, Roberto Adinolfi, Sabotage, TAV
Posted in Social Control
Friday, November 13th, 2015
Via Insurrection News.
12.11.15: Police in Italy and Greece launched a repressive operation at dawn this morning against activists who participated in the #NoExpo May Day 2015 mobilizations in Milan.
10 comrades have been detained – 5 in Italy (all in Milan) and 5 in Greece on charges of 'destruction and looting', aggravated resisting of the police and misrepresentation.
5 other comrades who are still at large are under investigation for the same charges – 3 in Milan, one in Como and one in Greece.
The detained comrades all had DNA samples taken from them.
More news as it comes.
UPDATE: One woman activist who was arrested in Milan has been released pending further investigation.
(via Radio Onda D'urto)
Tags: 1st May, EXPO Milan 2015, Greece, Italy, Milan, Raids, Repression, Riots
Posted in Social Control
Friday, November 13th, 2015
Sobre la situación represiva en la región controlada por el estado Argentino.
El Estado policial, de vigilancia, castigo, sometimiento y muerte no se detendrá sea que vivamos en dictadura o democracia. Prueba de ello son los más de 4.600 casos de personas torturadas, desaparecidas y asesinadas desde el año 1983 (fin de la dictadura en esta región) a manos de carceleros, policías y diversas fuerzas armadas.
Hoy, mientras continua el circo electoral para ver que amo dominara a los esclavos voluntarios los próximos años, los candidatos presidenciales Daniel Scioli y Mauricio Macri amenazan con más mano dura y encarcelamiento para los marginales, los que se rebelen o los que ataquen la propiedad de los ricos, con continuar inundando de cámaras de vigilancia cada esquina y perfeccionando los sistemas de identificación biométrica, usando el presupuesto acumulado tras años de saqueo para la inversión en tecnología militar de ultima generación, amenazan los miserables con sacar a la calle al mismísimo ejercito, prometen tolerancia cero… prometen y cumplen. (more…)
Tags: Argentina, Buenos Aires, Repression
Posted in Social Control
Tuesday, November 10th, 2015
Manifestación en la Embajada de España en Londres en solidaridad con los anarquistas perseguidos a raíz de la Operación Pandora en Barcelona en los últimos meses.
Demonstration at the Spanish Embassy in London in solidarity with anarchists persecuted following Operation Pandora in Barcelona in the last months.
Saturday, November 14
6:00pm
Spanish Embassy
SW1X 8SB, London, UK
Solidarity to all the prisoners of the Spanish State – Destroy the Prisons.
https://www.facebook.com/events/926372350792952/
Tags: Demo, International Solidarity, London, Operation Pandora, Solidarity Action, Spain, UK
Posted in Social Control
Monday, November 9th, 2015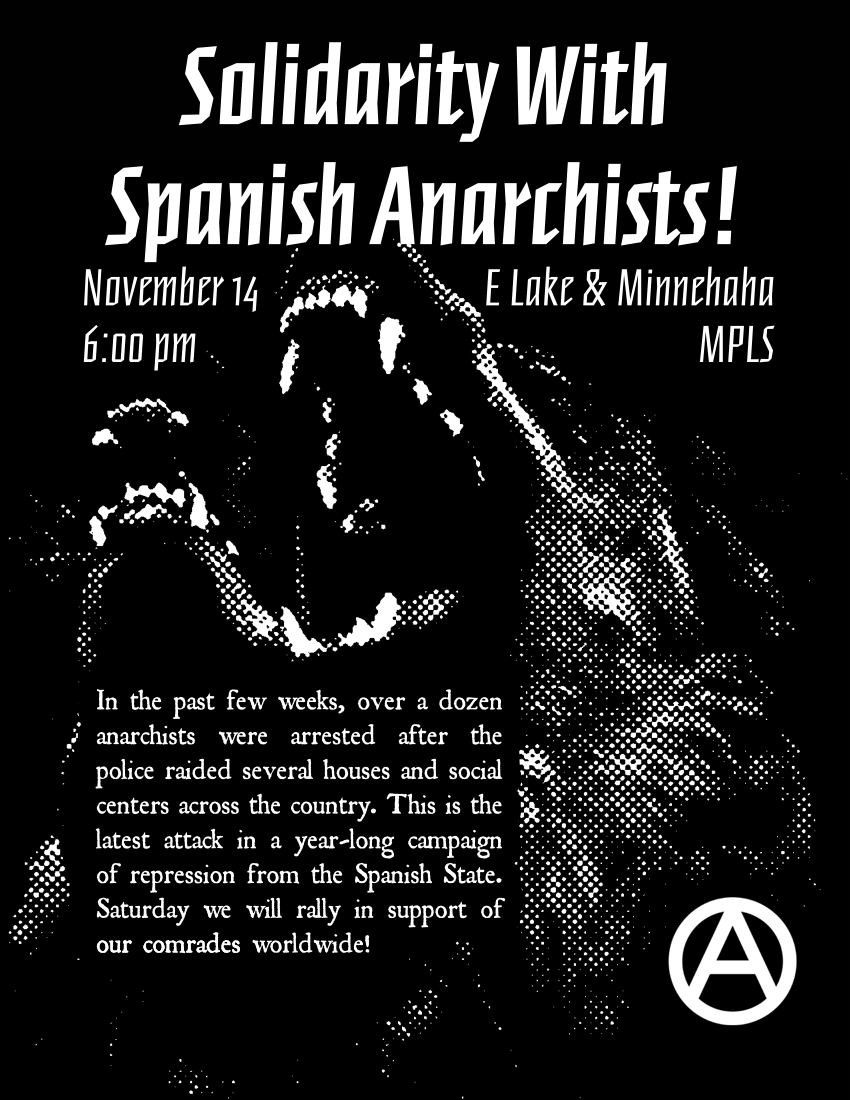 Updated: Here's the reportback.
Almost a year ago, the Spanish State began a campaign of repression against anarchists, arresting dozens, including nine in late October, and five more in November of this year. Their imprisonment is justified with the invention of a fictional terrorist group, the GAC-FAI-IRF. No attack has ever been claimed with this set of acronyms, and the GAC (Coordinated Anarchist Groups) are only the authors of a recent book, Contra la Democracia (eerily similar to the Tarnac Affair and The Coming Insurrection in France, 2008).
On Saturday we will rally in solidarity with those arrested, at 6:00pm at the corner of E Lake St & Minnehaha Ave in Minneapolis.
More info here: Efecto Pandora & Conflict MN.
Tags: Catalunya, Demo, GAC (coordinated anarchist groups), International Solidarity, Minneapolis, Spain, USA
Posted in Social Control
Thursday, November 5th, 2015
If last week we awoke to 9 comrades arrested in Barcelona and Manresa, of which one has to stay in prison [Enrique Costoya Allegue] and the rest have been released pending trial in an extension of Operation Pandora, and the extension of preventive prison to Mónica and Francisco, yesterday, November 4, we awoke to a new beat. In this case, Operation Ice in which they have been arrested 5 companions of the collective Straight Edge Madrid. Again the state hits.
The allegations, belonging to a criminal organization with terrorist aims, damages and apology of terrorism.
The henchmen of the Information Brigade of the National Police say they have found material for making explosives, gunpowder and bomb-making manuals.
It alleges them responsible for the attack with incendiary devices against four bank branches in Madrid as well as other actions in Barcelona. In addition, as has become customary, they are accused of relations with GAC (Grupos Anarquistas Coordinados) – coordinated anarchist groups.
In this case, they have seized documents and propaganda concerning Anarchist groups, for them a confirmation of their coordinated relationship with them, referring specifically to the comrades arrested last March 30 in Operation Piñata.
So it goes in the Spanish state, operation after operation still beating us.
But whatever they do they will not get us to stop fighting.

Freedom for anarchist prisoners!
Solidarity with the repressed!
Innocent or guilty, just anarchists!
Death to the state and long live anarchy!!!!!
via ContraMadriz.
Write to Enrique:
Enrique Costoya Allegue
CP Madrid V Soto del Real
Ctra M-609, km3,5 Módulo 15
28791 Soto del Real (Madrid)
Spain
Tags: Enrique Costoya Allegue, GAC (coordinated anarchist groups), Madrid, Operation Ice, Operation Pandora, Operation Piñata, Repression, Spain, Straight Edge Madrid, Straight-Edge
Posted in Social Control
Wednesday, November 4th, 2015
Some anarchist individuals take the initiative to get these posters out in solidarity with our arrested comrades in the latest blow, Pandora II, and Monica and Francis, whom the Spanish government has extended the detention for another two years. The idea was to get them out in different languages so that solidarity will spread across borders. The posters are ready to download and print. Let's cover your walls with our solidarity!
If they search for us door to door, we will resist them shoulder to shoulder!

Neither innocent nor guilty, just anarchists!
http://contramadriz.espiv.net/index.php/component/k2/item/804-carteles-en-solidaridad-con-los-represalidos-en-la-operacion-pandora-ii-y-con-monica-y-francisco
Tags: Catalunya, Flyposters, Francisco Solar, Monica Caballero, Operation Pandora, Repression, Spain
Posted in Social Control
Wednesday, November 4th, 2015
via Publicacion Refractario & Insurrection News:

On Wednesday October 28 nine of us were arrested in connection with a new anti-terrorist operation orchestrated by the Catalan Regional Police in collusion with court number 3 of the Spanish National Court. After the ransacking and looting of our homes and the Libertarian Ateneo de Sants (an anarchist social center in Sants) we were taken to different police stations on the outskirts of Barcelona. The next day we were delivered to the Civil Guard and transferred to Madrid. On Friday at noon we were brought before Judge Juan Pablo Gonzalez. The judge ordered two of us to be released with charges, 6 of us to be bailed upon payment of a bail surety and unconditional imprisonment for our comrade who is currently locked up in Soto del Real prison.

We the detainees who at present are back on the street wish to make a series of reflections and political positions:
The generic accusation against all 9 of us is "belonging to a criminal organization with terrorist aims." Specifically we are charged with being part of 'GAC-FAI-IRF,' which as we all know is a concept that has been constructed by the police. A set of acronyms which they have quite calculatedly mixed together – the coordination of anarchist collectives (GAC) along with the 'signature' used internationally by some groups to claim acts of sabotage (FAI–IRF).
The construction of this organizational framework gives the police all of the repressive
resources that the anti-terrorism laws provide: closed courts, greater legal uncertainty, much tougher sentences for comrades convicted of carrying out certain actions, isolation, special prison regimes, the criminalization of personal friendships / partners and relatives, amplified media coverage and social stigmatization etc. It is enough to say that during the whole process of our detention – from the moment we saw our homes being invaded and looted right up until we were brought before the judge – we did not even know what we were being accused of. (more…)
Tags: Catalunya, Enrique Costoya Allegue, GAC (coordinated anarchist groups), Informal Anarchist Federation (FAI), International Revolutionary Front, Mossos d'Escuadra, Operation Pandora, Repression, Spain
Posted in Social Control
Thursday, October 29th, 2015
Update: 8 released on bail.
10 comrades arrested in Barcelona and Manreza (Cataluña, Spain) accused of membership of GAC (anarchist coordinated groups). At the moment the information comes from state media.
[Urgente] Compañeros detenidos en Barcelona y Manresa con acusaciones de terrorismo.
Desde las seis de la mañana los Gossos* d'Esquadra (policía autonómica
catalana), bajo órdenes de la Audiencia Nacional, registran locales y
viviendas de compañeros/as anarquistas en Barcelona (barrios de Gracia,
Sant Andreu y Sants) y en Manresa. Según los medios de intoxicación de
masas, los arrestos son la continuación de la "operación pandora" contra
lo que la policía y los jueces creen que son los GAC (Grupos anarquistas
Coordinados), a quienes acusan de ser los responsables de los ataques
reivindicados por grupos anarquistas durante los años 2012 y 2013
(habría que recordar que según la Fiscalía General del Estado desde el
año pasado el anarcoterrorismo ya no tiene capacidad para atentar).
Según la prensa del patrón, hay ya 9 o 10 detenidos/as, y otros tantos
registros, entre ellos, el del Ateneo Libertario de Sants.
Seguiremos informando.
¡El Estado es el único terrorista!
¡Libertad anarquistas detenidos!
* Juego de palabras: Gosso en catalán es perro. El cuerpo policial se
llama Mossos d'Esquadra.
Tags: Catalunya, GAC (coordinated anarchist groups), Raids, Repression
Posted in Social Control