'Uncategorised' Archives
Tuesday, September 22nd, 2020
by Bandido
September 2020
I first knew Pong way back in 2004. I saw them in a punk gig with a full battle gear street punk look alongside his friends Tonton and other Makati punks. I visited them in their hang out place in Makati, and then I knew that Pong lived in a jeepney and sometimes he stayed in university rooms or friend's house in Makati. When his family moved into the relocation site in Cavite, Pong and his older brother still stayed in Makati. Pong was literally a nomad, moving from place to place. When I was working as a tricycle driver, Pong and others would visit me in our terminal hang out and eat together after I finished my work. If we wanted to visit the anarchist space in Cubao, we would go together and sleep outside on the streets at nighttime.
Pong did not finish his graphic design study and instead lived as a street punk and artist. He was actively the one who was making posters, flyers for gigs and events, doing banners for any political activities like demonstrations, banner-hanging actions, etc. His forte was a black and white drawing using a ball pen. The images of his artwork related to anti-war (Food Not Bombs), anti-civilization, counter-culture punks and anarchism. He was inspired by the Black Bloc, anarchist personalities and Zapatistas. You would see that in his sketch book, zines or recycled bond paper. Pong stayed updated with socio-political events happening globally, and you noticed it with his drawings. I can say that he was an internationalist because of his concern with the situation around world. (more…)
Tags: Alexis Grigoropoulos, Carlo Giuliani, Exarchia, Kulon Progo, Lumad, Santiago Maldonado, Tukijo
Posted in Uncategorised
Thursday, September 17th, 2020
ES | Palabras del compañero Juan Aliste Vega ante la partida de Pedro Villarroel
See also: In Memory of Pedro Villarroel
We're love at war. These words for our mothers and fathers go with a touch of football, with tango rhythm and the strength of the sea.
Pedro is one of our fathers present in this continuous subversive and autonomous struggle. Pedro, has never been a member of a political party, he has never been a leader, but he has always been a father, one of those to whom we owe not only our lives. He is a father who has helped many daughters and sons in their struggle, and has been consistent in his tenderness, always breaking down the distances, the walls and the rottenness that surrounds the prison world.
(more…)
Tags: Chile, Juan Aliste Vega, Pedro Villarroel, Santiago
Posted in Uncategorised
Tuesday, September 8th, 2020
Anti-fascist revolutionary Michael Reinoehl was assassinated by pigs near Lacey, Washington on September 3 in retaliation for the shooting of a member of the fascist group Patriot Prayer.
Reinoehl claimed responsibility for the shooting as an act of self-defense against the fascist who threatened Reinoehl and a friend with mace and a knife. Reinoehl went to downtown Portland on Saturday night to provide security for revolutionaries who were threatened by a caravan of fascist Trump supporters who paraded through the city center.
"Had I stepped forward, he would have Maced or stabbed me," Reinoehl said in an interview. "I was confident that I did not hit anyone innocent and I made my exit… I feel it's important that the world at least gets a little bit of what's really going on. I had no choice. I mean, I, I had a choice. I could have sat there and watched them kill a friend of mine of color. But I wasn't going to do that." (more…)
Tags: #BlackLivesMatter, Anti-Fascism, Anti-Fascist, Antifa, Fuck the Police, Lacey, Michael Reinoehl, Neo-Nazis, Patriot Prayer (Fascist Group), Police Brutality, Portland, Racism, Repression, Riots, Social Insurrection, USA, Washington
Posted in Uncategorised
Thursday, September 3rd, 2020
Our comrade Alexey has passed away
On the morning of September 1st, 34-year-old anarchist Alexey "Socrates" Sutuga died, due to severe head injuries, in the intensive care unit of the Sklifosovsky Institute. For more than a week, doctors fought for his life, but the injuries were too serious.
Alexey died after a fight near a grocery store on August 23 near the Baumanskaya metro station in the center of Moscow. The circumstances surrounding the incident remain unclear. Four people, who apparently took part in the beating of Alexey, have been detained. In the criminal case, the Sutuga family is represented by a famous lawyer, and we hope that thanks to her, we will find out all the details of that night. So far, there is no reason to believe that there was any political motivation behind the attack.
Alexey Sutuga took part in creating Autonomous Action since the early 2000s. At first in the local group in Irkutsk, and later in Moscow, where he was also an active member. He took part in many different anarchist initiatives. It is impossible to list all of them here. (more…)
Tags: Alexei Sutuga, Alexey Sutuga, Antifa, Autonomous Action, Irkutsk, Moscow, Russia
Posted in Uncategorised
Thursday, September 3rd, 2020
Pedro fallece hoy en un hospital de Santiago de Chile en medio de una Pandemia. Don pedro ingresó en el recinto hospitalario por otros motivos, en dicha situación se contagió de COVID-19 y su cuerpo -como el de muchos hombres y mujeres que se han perdido en esta pandemia de mierda-, sucumbió al virus.
Don Pedro tiene también una historia de lucha, de una lucha quizás menos visible como lo es aquella lucha de las familias, de los entornos más cercanos a los compañeros represaliados. Don Pedro estuvo junto a su hijo –Marcelo Villarroel Sepúlveda– cuando por primera vez fue detenido en noviembre de 1987, Marcelo tenía por esos días 14 años de edad y conoció las cárceles de la dictadura. También estuvo en 1992 luego de que su hijo fuera herido y apresado, por los siguientes 12 años, y estuvo, más tarde, el 2008, cuando en amplios operativos internacionales, su hijo fue expuesto y confinado en cárceles del territorio controlado por el Estado argentino, y luego, como rehén, trasladado a las mazmorras de las cárceles chilenas. (more…)
Tags: Chile, Coronavirus, Marcelo Villarroel Sepúlveda, Pedro Villarroel, Radio Primero de Mayo, Santiago
Posted in Uncategorised
Sunday, August 23rd, 2020
ES | Stuart Christie, el compañero, el amigo
The news of the death of Stuart Christie was communicated to me by telephone, the day before yesterday in the afternoon, by my comrade René after asking me if I was aware of the new bad news and after answering him abruptly: who has died? Well, from the tone of his voice, I immediately sensed that it must be the death of someone close to me.
His answer left me stunned, because although Stuart had confirmed to me a week earlier that he was still suffering from cancer and that the results of the medical examinations were not very encouraging, at no time had I thought of such a quick end for him. Close to me are several comrades -more or less my age- who are not in very good health, and the "normal" thing, at my age (soon ninety-three years old), is to think that it is you that time is counting down on.
So, in Stuart's case, how can I think about it when he's eighteen years younger? Besides, we were both in common projects and determined to continue participating in the fight against the world of power and exploitation.
For me, his death is not only the loss of a comrade, of a friend; it is the end of a collaboration of many years in common actions and initiatives to denounce the injustices of the world in which we live and to fight for a more just and free world. A world that is possible and for everyone, which we have not ceased to long for and to try to build through the consistent practice of active revolutionary and internationalist solidarity. (more…)
Tags: International Solidarity, Letter, Octavio Alberola, Perpignan, Stuart Christie
Posted in Uncategorised
Sunday, August 16th, 2020
Stuart Christie, founder of the Anarchist Black Cross and Cienfuegos Press and co-author of The floodgates of anarchy has died peacefully after a battle with lung cancer.
Born in Glasgow and brought up in Blantyre, Christie credited his grandmother for shaping his political outlook, giving him a clear moral map and ethical code. His determination to follow his conscience led him to anarchism: "Without freedom there would be no equality and without equality no freedom, and without struggle there would be neither." It also led him from the campaign against nuclear weapons to joining the struggle against the Spanish fascist dictator Francisco Franco (1892-1975).
He moved to London and got in touch with the clandestine Spanish anarchist organisation Defensa Interior (Interior Defence). He was arrested in Madrid in 1964 carrying explosives to be used in an assassination attempt on Franco. To cover the fact that there was an informer inside the group, the police proclaimed they had agents operating in Britain – and (falsely) that Christie had drawn attention to himself by wearing a kilt.
The threat of the garotte and his twenty year sentence drew international attention to the resistance to the Franco regime. In prison Christie formed lasting friendships with anarchist militants of his and earlier generations. He returned from Spain in 1967, older and wiser, but equally determined to continue the struggle and use his notoriety to aid the comrades he left behind. (more…)
Tags: Cienfuegos Press, Stuart Christie, UK
Posted in Uncategorised
Sunday, July 19th, 2020
From Enough 14.
Social rebel, counterfeiter, bandit, modern Robin Hood – the list of titles with which our anarchist comrade Lucio Urtubia was honoured is long. His life, which sounds like an adventure novel, is a mirror of the revolutionary movements in Europe in the second half of the 20th century. Lucio Urtuba passed away today. Rest In Power Lucio!
Lucio Urtubia was born in 1931 in a small village in Navarre and grew up in poor conditions. When he was called up for military service, he deserted to France shortly afterwards, where he worked as a bricklayer from then on. He came into contact with anarchist groups and met his political foster father: the legendary Sabaté, who organized the armed resistance against the Franco dictatorship from France. Forging documents, hiding underground fighters and illegal fundraising activities play a major role in his life from then on. Numerous resistance organisations, which have a base of operations in France or are looking for a place to retreat, benefit from his skills: Black Panthers, Tupamaros, European guerrillas. Lucio's solidarity is with every act of revolt aimed at a more just social order. (more…)
Tags: Bank Robbery, Citibank, Counterfeit, Lucio Urtubia, Spain, Video
Posted in Uncategorised
Tuesday, June 2nd, 2020
Letras desde la kárcel por Daniel Viedma.
"Nos preparamos siempre para la muerte y siempre nos sorprende.
No falla, en su sabiduría nos da una vida de ventajas y nos golpea.
Nos empuja en el hastío a vivirla con pesar.
Nos convoca en guerra a vivirla con pasión.
Unxs desaparecen sin legado.
Otrxs se multiplican por todos lados".
-Anónimx insurrectx!!
En un nuevo día de encierro karcelario la rutina especial de este nueva normalidad en tiempos de pandemia me trajo la dolorosa noticia de tu partida. Una bofetada en el mediodía de ayer viernes 29; un inevitable nuevo momento de dolor ke me asalta directo en lo más íntimo del sentir.
Se ha ido un amigo, un kompañero, un hermano; kon 39 años de edad a partido el Anarkista Daniel Vielma, cerka de la medianoche del jueves 28 de mayo en su kasa junto a su manada en La Balza Las Perlas, provincia de Río Negro, producto de un káncer linfátiko fulminante ke se manifestó kon virulencia hace meses y ke hoy lo tiene desde algún lugar akompañándonos junto a todxs lxs kombatientes por la liberación total ke han dejado su fecundo legado de lucha, Resistencia, Memoria y Subversión. (more…)
Tags: Chile, Daniel Vielma, Letter, Marcelo Villarroel Sepúlveda, Santiago
Posted in Uncategorised
Saturday, May 30th, 2020
A través de la Red Solidaria Anticarkelaria con Juan y Marcelo esta vez ampliada en una sola voz desde diferentes lugares de Latinoamérica y Europa queremos:
Despedir con profunda emoción a Daniel Vielma, compañero y hermano de origen argentino con el que compartimos un camino de múltiples iniciativas de lucha y solidaridad por la destrucción de las prisiones que cerca de la medianoche de ayer jueves 28 de mayo nos dejara físicamente producto de un cáncer fulminante en su casa en el sector de la Balza Las Perlas en la provincia de Río Negro junto a su compañera de vida Mai y sus hijos Bako, Juan y Diego.
Daniel formó parte de la Red de Solidaridad con Freddy y Marcelo en Neuquén cuando nuestros compañeros fueron detenidos en marzo del 2008 en la Patagonia Argentina y vivieron el encierro carcelario hasta diciembre del 2009 cuando fueron expulsados para ser recién juzgados y condenados por el Estado Chileno el año 2014.
Su entrega y convicción en la búsqueda de posibilidades legales e ilegales para que nuestros compañeros dejaran la prisión y alcanzaran la calle lejos del  Estado Chileno en aquel momento nos mostraron a una persona comprometida profunda y verdaderamente con la lucha contra el poder y su sociedad carcelaria.
En aquel tiempo intenso de múltiples y sucesivas batallas Daniel supo tejer Solidaridad Ofensiva y el recuerdo intacto de su actuar aún perduran en múltiples compañeras/os quienes hoy y desde distintos lugares del mundo unimos nuestros pensamientos para despedir físicamente a este gran guerrero de 39 años que hoy vuelve junto a su madre también fallecida a la localidad Rionegrina de Catriel.
Sabemos de su grandeza valórica, de su entrega incansable, de su permanente caminar para tejer complicidades en lucha constante contra el poder en un aquí y ahora que lo hace quedarse para siempre entre compañeras/os de diferentes latitudes que van hilvanando Resistencias en estos  tiempos álgidos que vive la comunidad humana mundial.
Por todas las presas y presos de la guerra social, revolucionarios, subversivos, anárkikos.
Por las y los presos sociales.
Por un mundo sin prisiones!!
SALUD Y LARGA VIDA AL COMPAÑERO DANIEL VIELMA!!
POR EL Y POR TODAS Y TODOS LOS CAÍDOS: NI UN MINUTO DE SILENCIO, TODA UNA VIDA DE COMBATE!!
ABRE LOS OJOS: ES TIEMPO DE LUCHAR!!
MIENTRAS EXISTA MISERIA, HABRÁ REBELIÓN!!
Para su manada, todo nuestro compañerismo y amor en guerra!!
Red Solidaria Antikarcelaria con Juan y Marcelo.
Viernes 29 de mayo de 2020
Diferentes lugares de Latinoamérica y Europa
Tags: Chile, Daniel Vielma, International Solidarity, Juan Aliste Vega, Marcelo Villarroel Sepúlveda
Posted in Uncategorised
Sunday, May 24th, 2020
It's been 11 years since your last ride… 11 years… and we were all surprised when it was the first anniversary of your death, Mauri. The years go by, but something always remains, right?
For those of us who knew you and for those of us who knew you after your death, it has been 11 years of having you around, 11 years of continuing to propagate, breaking in, bothering, laughing loudly or in whispers, stubbornly propagating the Black Death.
How much has happened in these years, there is no rational measure that can quantify it. There are those who will say that we have lost, others that we have gained a lot, what is really important is that we continue… and that anarchy, as a concrete practice against any form of domination, as a permanent exercise, continues unrestrained. And that is why our dead people enjoy excellent health and continue to laugh, today already in other laughs.
How much you would have enjoyed the streets in these months, we smile when we imagine the answer, but you were, Mauri, in memorable days, in the chaos and its sweet deliriums. You were there, because there are those who insist on going out with you to the chaos. (more…)
Tags: Chile, Germany, International Solidarity, Mauricio Morales
Posted in Uncategorised
Thursday, March 14th, 2019
March 10, 2019
On March 10th, 2010, Revolutionary Struggle was first struck:
Comrade Lambros Foundas fell dead from a cop's bullet during the expropriation of a vehicle. He fell dead during a time of preparation for Revolutionary Struggle, which constituted the continuation of the organization's action against the crisis, against capitalism and the state itself, against the policies of the system, which were formed by the European Commission, the European Central Bank and the IMF on the same days. It was an act of opposition to the burdens of borrowing contracts (memoranda) which, two months after his death, were imposed by the supranational economic and political power. It was an action-response to the fascist extortion imposed by the Greek political and economic power: "Memoranda or Destruction." It was an answer to the dilemma of "salvation of the system or salvation of the social majority." (more…)
Tags: Athens, Greece, Lambros Foundas, Nikos Maziotis, Pola Roupa, Revolutionary Struggle
Posted in Uncategorised
Thursday, February 28th, 2019
On February 8, 2019, the anti-authoritarian, vegan, environmentalist and independent media photographer decided to leave this world by throwing himself into the Santiago subway at the Universidad Católica station. The fact caused the arrival of police bastards and firefighters after a chemical emergency since Carlos kept on him a bottle of cyanide so the subway had to be evacuated, several stations were closed and there was a collapse in services for several hours during that afternoon-night in the disgusting city.
The 27-year-old comrade was an active participant in instances of dissemination, activities, demonstrations and direct actions in the field of Animal, Human and Earth Liberation. (more…)
Tags: Carlos Fuentes, Chile, Santiago
Posted in Uncategorised
Friday, December 7th, 2018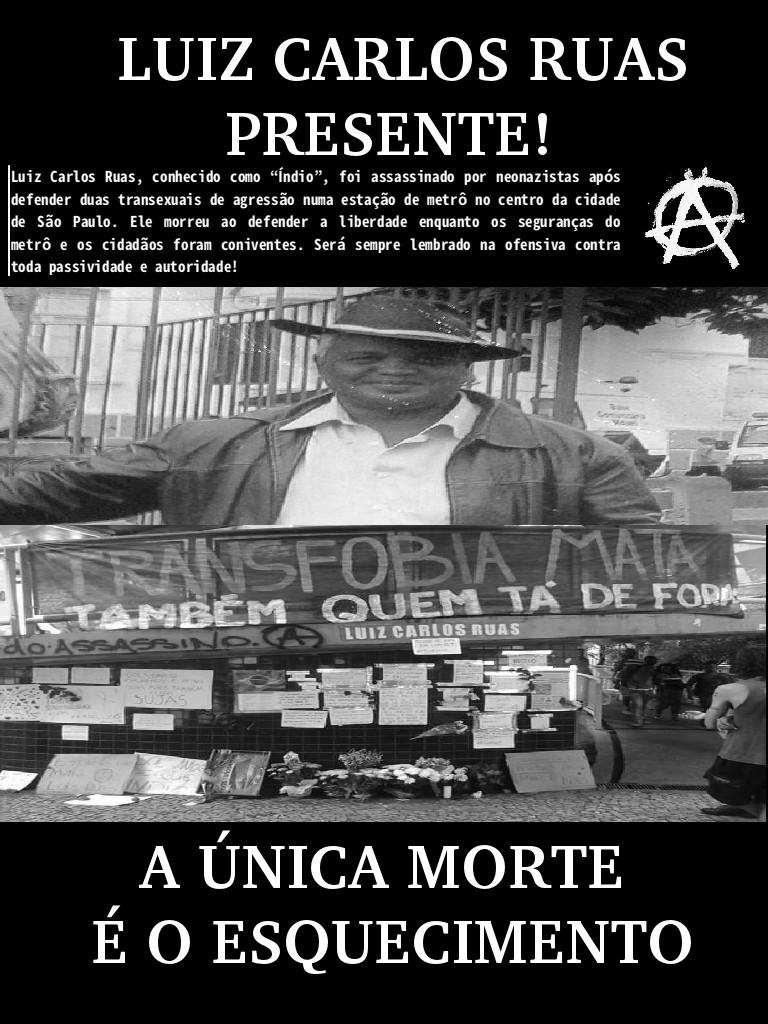 Luiz Carlos Ruas presente, the only death is oblivion.

Luiz Carlos Ruas, aka Indio, was murdered by neonazis after defending two trans people from aggression in a central subway station in São Paulo city. He died after defending freedom meanwhile security guards and citizens were conniving. He will always be remembered in the offensive against all passivity and authority!"
How's that, "who killed him"? If the murderers' names and faces are already known… It did not take so long until the butchery media turned this event into spectacle. There was an exposure not only of who assaulted him until his last breath but also of his family, of the trans people he defended, his life history and a lot of information applied just to create a huge smokescreen. Up this disgusting situation, two years after his death, it becomes indispensable to tell this event from beneath the claws of domination. (more…)
Tags: Black December, Brazil, Luiz Carlos Ruas aka Indio, Repression
Posted in Uncategorised
Monday, August 13th, 2018
Peace is unmemory and oblivion – To memory of Mauricio Morales Duarte
"The cult of the dead is nothing more than contempt for true pain. […] The latter must also disappear, faced with the fatality of death the people must react firmly. We must fight against suffering instead of displaying it, of promenading it in grotesque processions and false commemorations […] Pyramids, graves, tombs must be thrown down; we must drive the plow through the walls of cemiteries to rid humanity of what we call respect for the dead, which is the worship of corpses".
Albert Libertad
This is the third text I write in his memory, through these nine years of absence; however, the pain doesn`t go away. It couldn`t vanish in spite of time gone by, as I couldn`t dissipate the pain for the physical disappearance of my dear Urubu, of my esteemed Rafa (Daniel Barret), of my brother Canek and so many others who left but who live in our black memory. It is not that I want to show pain or recreate it in celebrations of mourning: we anarchists don`t worship corpses. I am simply unable to overcome it. And I couldn`t – nor want to – overcome this feeling because I`ve always transformed it into anger. I don`t intend to do the tiniest effort to forget them because memory, comrades, is our most potent weapon. (more…)
Tags: Black International of Anarchists of Praxis, Gustavo Rodriguez, Mauricio Morales, Zoé Aveilla
Posted in Uncategorised