'Uncategorised' Archives
Sunday, May 24th, 2020
It's been 11 years since your last ride… 11 years… and we were all surprised when it was the first anniversary of your death, Mauri. The years go by, but something always remains, right?
For those of us who knew you and for those of us who knew you after your death, it has been 11 years of having you around, 11 years of continuing to propagate, breaking in, bothering, laughing loudly or in whispers, stubbornly propagating the Black Death.
How much has happened in these years, there is no rational measure that can quantify it. There are those who will say that we have lost, others that we have gained a lot, what is really important is that we continue… and that anarchy, as a concrete practice against any form of domination, as a permanent exercise, continues unrestrained. And that is why our dead people enjoy excellent health and continue to laugh, today already in other laughs.
How much you would have enjoyed the streets in these months, we smile when we imagine the answer, but you were, Mauri, in memorable days, in the chaos and its sweet deliriums. You were there, because there are those who insist on going out with you to the chaos. (more…)
Tags: Chile, Germany, International Solidarity, Mauricio Morales
Posted in Uncategorised
Thursday, March 14th, 2019
March 10, 2019
On March 10th, 2010, Revolutionary Struggle was first struck:
Comrade Lambros Foundas fell dead from a cop's bullet during the expropriation of a vehicle. He fell dead during a time of preparation for Revolutionary Struggle, which constituted the continuation of the organization's action against the crisis, against capitalism and the state itself, against the policies of the system, which were formed by the European Commission, the European Central Bank and the IMF on the same days. It was an act of opposition to the burdens of borrowing contracts (memoranda) which, two months after his death, were imposed by the supranational economic and political power. It was an action-response to the fascist extortion imposed by the Greek political and economic power: "Memoranda or Destruction." It was an answer to the dilemma of "salvation of the system or salvation of the social majority." (more…)
Tags: Athens, Greece, Lambros Foundas, Nikos Maziotis, Pola Roupa, Revolutionary Struggle
Posted in Uncategorised
Thursday, February 28th, 2019
On February 8, 2019, the anti-authoritarian, vegan, environmentalist and independent media photographer decided to leave this world by throwing himself into the Santiago subway at the Universidad Católica station. The fact caused the arrival of police bastards and firefighters after a chemical emergency since Carlos kept on him a bottle of cyanide so the subway had to be evacuated, several stations were closed and there was a collapse in services for several hours during that afternoon-night in the disgusting city.
The 27-year-old comrade was an active participant in instances of dissemination, activities, demonstrations and direct actions in the field of Animal, Human and Earth Liberation. (more…)
Tags: Carlos Fuentes, Chile, Santiago
Posted in Uncategorised
Friday, December 7th, 2018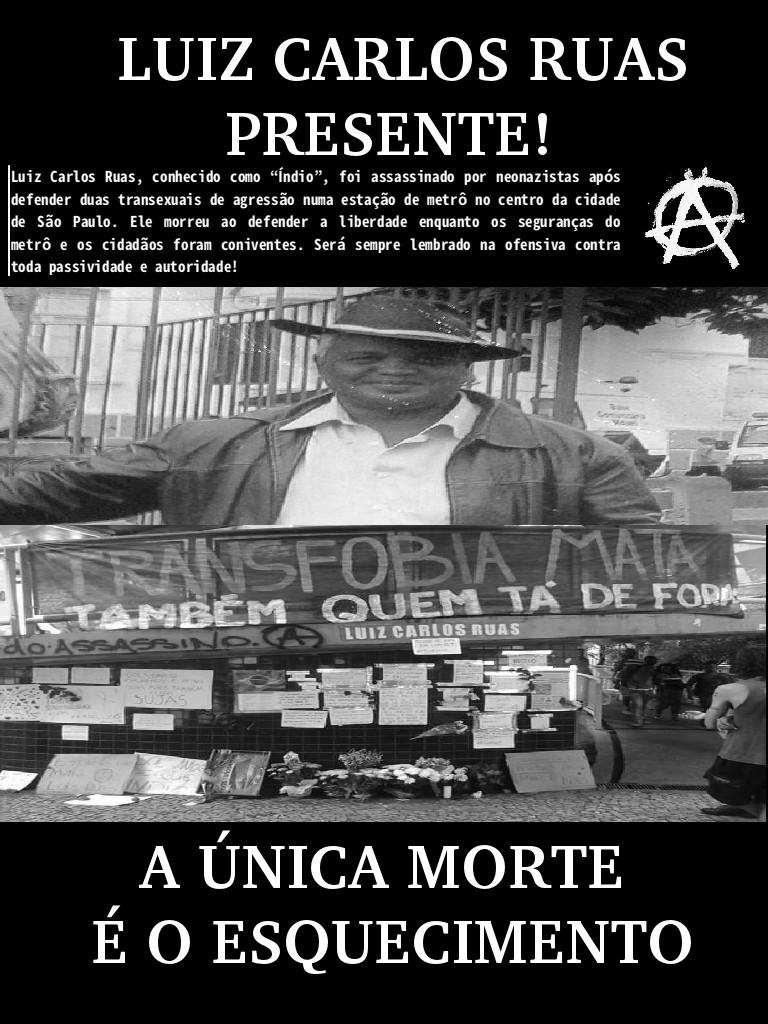 Luiz Carlos Ruas presente, the only death is oblivion.

Luiz Carlos Ruas, aka Indio, was murdered by neonazis after defending two trans people from aggression in a central subway station in São Paulo city. He died after defending freedom meanwhile security guards and citizens were conniving. He will always be remembered in the offensive against all passivity and authority!"
How's that, "who killed him"? If the murderers' names and faces are already known… It did not take so long until the butchery media turned this event into spectacle. There was an exposure not only of who assaulted him until his last breath but also of his family, of the trans people he defended, his life history and a lot of information applied just to create a huge smokescreen. Up this disgusting situation, two years after his death, it becomes indispensable to tell this event from beneath the claws of domination. (more…)
Tags: Black December, Brazil, Luiz Carlos Ruas aka Indio, Repression
Posted in Uncategorised
Monday, August 13th, 2018
Peace is unmemory and oblivion – To memory of Mauricio Morales Duarte
"The cult of the dead is nothing more than contempt for true pain. […] The latter must also disappear, faced with the fatality of death the people must react firmly. We must fight against suffering instead of displaying it, of promenading it in grotesque processions and false commemorations […] Pyramids, graves, tombs must be thrown down; we must drive the plow through the walls of cemiteries to rid humanity of what we call respect for the dead, which is the worship of corpses".
Albert Libertad
This is the third text I write in his memory, through these nine years of absence; however, the pain doesn`t go away. It couldn`t vanish in spite of time gone by, as I couldn`t dissipate the pain for the physical disappearance of my dear Urubu, of my esteemed Rafa (Daniel Barret), of my brother Canek and so many others who left but who live in our black memory. It is not that I want to show pain or recreate it in celebrations of mourning: we anarchists don`t worship corpses. I am simply unable to overcome it. And I couldn`t – nor want to – overcome this feeling because I`ve always transformed it into anger. I don`t intend to do the tiniest effort to forget them because memory, comrades, is our most potent weapon. (more…)
Tags: Black International of Anarchists of Praxis, Gustavo Rodriguez, Mauricio Morales, Zoé Aveilla
Posted in Uncategorised
Monday, November 13th, 2017
From Plain Words:
Louis Lingg was born on September 9, 1864 in Mannheim, Germany. Early in his life, he began working as a carpenter, eventually involving himself in revolutionary struggles. His politicization compelled him to evade military service, so he fled Germany for Switzerland, only to be expelled in 1885. That summer, Lingg immigrated to the United States, settling in Chicago, one of the epicenters of the vibrant German-American anarchist movement.
On May 3, 1886, police attacked a strike at the McCormick Harvesting Machine Company plant, killing two workers. The following day, during a rally against this brutal repression, police attacked demonstrators. In the melee that followed, an unidentified person threw a bomb into the crowd of police, killing seven of them and injuring many others. At least four other people were killed in the ensuing firefight between police and demonstrators. (more…)
Tags: Louis Lingg, USA
Posted in Uncategorised
Tuesday, October 24th, 2017
The murder of Santiago Maldonado has triggered a series of actions in Argentina. Santiago disappeared on August 1st, kidnapped by the gendarmerie, and on October 20th, it was confirmed that a dead body found in the Chubut river belonged to our compañero Santiago Maldonado. We hope that the guilty will suffer the worst possible vengeance.
Death to the murderous state, Santiago presente!
Today like last night we continue in the streets – SANTIAGO PRESENTE!
NOW YOU ARE PART OF THE EARTH THAT YOU LOVED SO MUCH
Sad are the hours that we are living. On October 20th, Sergio Maldonado (brother of Santiago) confirmed what we were all so afraid of. The body planted by the gendarmerie in the Chubut river is the compañero Santiago Maldonado.
The gendarmerie are responsible. The State is responsible. Because it was them who took him from the rebel territory of Cushamen on the first of August. (more…)
Tags: Argentina, Mapuche, Repression, Santiago Maldonado
Posted in Uncategorised
Wednesday, February 15th, 2017
Over the last couple of days the strangest thought has plagued me. Two simple ugly words have kept emerging, only for me to lock them out and ridicule them as bizarre. Simon's dead. Just to write it down feels like treachery. Part of me looks forward to seeing him, to sharing a drink and dispelling this nonsense. He'd say something wry, and witty and that would be that. He was good like that. Was. Sometimes the shittiest word to ever have to use about a friend.
As part of a (temporary, and self-imposed) exile from all politics, I didn't know his health had deteriorated so much. We weren't the kind of friends who lived out of each other's pockets. There are many who were closer to him than me and I wish them all my love. But for almost 15 years he was always there. At crap protests and good ones, festivals and parties, we'd find each other and we'd usually end up drinking together. We shared a love of getting proper twatted and so we did that a lot.
(more…)
Tags: Frame-up, Simon Chapman, Thessaloniki, Thessaloniki 4, UK
Posted in Uncategorised
Tuesday, December 6th, 2016
**UPDATE** via Kurdish Question
People's Protection Units (YPG) volunteers, American Michael Israel (27) from Colorado and German Anton Neshek (Zana Ciwan), were killed by Turkish warplanes on 29 November according to another international volunteer fighting alongside the pair against the Islamic State group (IS/ISIS/ISIL), north of Raqqa. [updated].
On his Facebook page, the international volunteer, who was amongst the group killed by Turkish warplanes wrote:
"We were taking a small village when we got hit by Turkish jets in the night. Two of my friends, Anton and Michael were killed among many others. I'm staying to finish out my six months. Fuck Erdogan and Fuck Turkey."
The YPG have informed both men's families. (more…)
Tags: Islamic State in Iraq and Syria (ISIS), Kurdistan, Lions of Rojava, People's Defence Units (Y.P.G.), Raqqa, Rojava, Syria, Turkey, War, Women's Defense Units (YPJ)
Posted in Uncategorised
Monday, May 30th, 2016
May 29th 2015: The day was fiery, everything darkened…
We woke up to a cloudy sky and in mid-day while the sun was shining
everything darkened…
It was around 4 when the EKAM (special forces) and anti-terrorist force called for us to surrender!
I thought it was lie, I thought I was hearing things…
But on the contrary, the EKAM had surrounded the house, the helicopter
flew over us and we tried to see what we can do in two-three minutes.
My thoughts wandered to the hellholes I would go back to.
The hallways I would wander pointlessly.
My people who I would leave behind!
Suddenly Spiros, our little Spiros, the kid that knew not of diplomacy, who was distinguished by courage, integrity and passion for the freedom he fought for so much to acquire, grabs the Kalashnikov when hearing the EKAM and puts it under his throat ending his life!!!
Everything was erased! The room filed with smoke. He fell over and was
smiling!
He was happy with his decision and you could see it his little face.
It was his choice, which is why his face glowed!
I was startled, my heart was pounding so hard, I thought what I was
seeing was a lie.
But no, our beloved Spirakos (little spiros) was dead.
He had the courage and boldness, he had the soul to do what he did while I did not!
His decision was courageous while mine was not!
He was tired of wandering in the hallways of prison and spending the years with no meaning!
Spirakos I am sorry if sometimes we disagreed and sorry I did not make
it to stop you!
I am sorry little brother if sometimes I upset you!
You are and will always be in my life.
I will reminisce the moments we laughed, when you made me feel like a
child!
You are our Spirakos, the kid who gave it all with no reward.
I love you and you will always have a place in my heart and when we meet again you will play your special pranks played!!
Honour to Spiro Dravila who will always live in my heart!…

Spiros Christodoulou
Translated by Act for freedom now!
Tags: Greece, Letter, Spiros Christodoulou, Spiros Dravilas
Posted in Uncategorised
Thursday, May 26th, 2016
A poem for our insurrectionary comrade Mauri:
by Tsakalaki
for Punky Mauri
…in continuation
Mauricio I don't profess to know you
either your moment of pain
in Santiago that night
amongst stillness
just before the storm returns
in the eye of the conflict
we are both blown within
your poems exposed the wound
once more
opening the emotions covered for too long
realising the eternal burning sun inside
the melting of glaciers from the heart
somewhere, somewhere
amongst another burning barricade
I embraced existence
once again along with you
not in memory
in continuation
Tags: Chile, Mauricio Morales, Santiago
Posted in Uncategorised