'Uncategorized' Archives
Monday, March 25th, 2013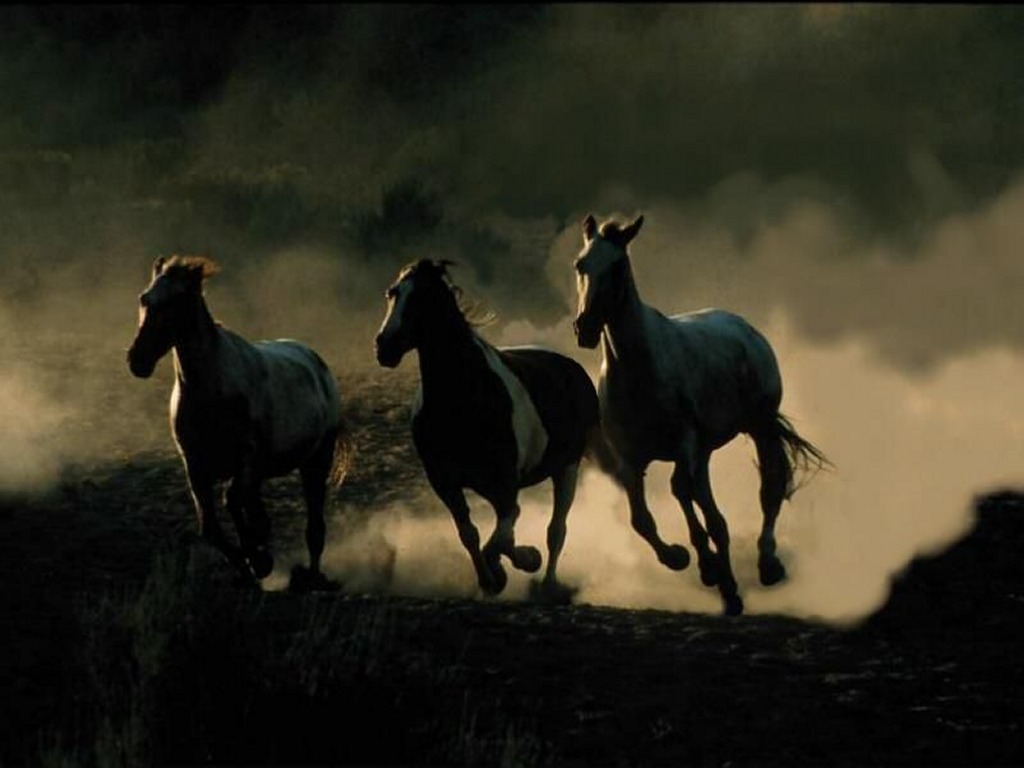 Your children are not your children.
They are the sons and daughters of Life's longing for itself.
They come through you but not from you,
And though they are with you yet they belong not to you.
You give them your love but not your thoughts,
For they have their own thoughts.
You may house their bodies but not their souls,
For their souls dwell in the house of tomorrow,
which you cannot visit, not even in your dreams.
You may strive to be like them, but seek not to make them like you.
For life goes not backward nor tarries with yesterday.
You are the bows from which your children as living arrows are sent forth.
Kahlil Gibran
Dedicated to the memory of a true rebel and a dear friend.
Posted in Uncategorized
Wednesday, March 6th, 2013
Neither mourning nor celebrating: time for social struggles to become autonomous!

When an illness becomes serious, when medical attention becomes a vehicle for myopic, politically motivated decisions and when a patient becomes drunk with power, it can only end this way. The strongman has died, and in so doing, he has initiated a substantial shift in the Venezuelan political landscape.
What used to be the regime's greatest strength has suddenly turned into its defining weakness: it was all Chávez, and, without him, the only solution is to fabricate an absolute commitment to his memory and his plans for succession. The government's true fragility can now be seen, a government which tried to demonstrate its "popular, socialist" character via a grotesque personality cult, a practice that has now been reduced to the empty invocation of spirits. The deceased himself is to blame for this outcome as the secrecy around his illness was propelled by the same motivations as the extreme centralisation of power around him, while the lack of ideological coherence amongst his followers has left them scrapping for crumbs. The high-level "rojo-rojito" [chavista red] bureaucrats and the upper echelons of the military are best placed to benefit, as they negotiate impunity for their various misdemeanours and corruptions. (more…)
Tags: El Libertario, Hugo Chavez, Venezuela
Posted in Uncategorized
Tuesday, February 12th, 2013
(This statement was read out two days ago while a meeting was held, this is a final statement from ex-members/comrades of Negasi and affinities, after a long and tired debate among the solidarians in last two months about the case of Ryo.)
Good evening,
For all who always rise their hand and never bow their head in front of injustice, society and all the enemies. Respect for those who showed their direct solidarity as a language of resistance.
First, we want to confirm our position in the middle of this gathering and among people who self-proclaimed as also involved in bringing 'justice' to Ryo's family. Our confirmation is based on our values, as a friends, as comrades who lost a brother and comrade. We are beyond the normality and outside of values of morality. We speak as individuals and not a group or collective or any terms of organization.
Some of us were 'blessed' to have a brother and friend: Ryo. A brave one and a comrade for us. That's why we never want to deny his contribution in our history as individuals and as a group. By claiming his participation, we show our respect. To remember his dignity and hard work to keep learning and always questioning all normality and social peace. We want to show how his life was a journey to find out that all the social peace and normal life is just a big lie! (more…)
Tags: Counter-info, Indonesia, Negasi, Ryo
Posted in Uncategorized
Friday, February 8th, 2013
More info here.
Tags: Counter-info, Indonesia, Manado, Negasi, Ryo
Posted in Uncategorized
Friday, February 8th, 2013
Riyano Tanjung Pahlevi, an anarchist from Borneo, died this year of industrial cancer. Riyano and Eat co-founded Katalis journal in 2008. Love, respect and solidarity. The translation is by waronsociety via ultraegoist.
Obituary For Riyano
Ino, my friend, in a time when the air was still giving you life,
we both believed that one day we would see
with our own eyes a new world.
A world in which people are no longer wolves to each other,
a world in which we are all lovers and family.
But tonight a star of darkness has snatched you out of this dark world.
Ino, the new world that we "dreamed" of is still too far away.
And yet, the good days
we once spent together
will not be forgotten. Days and nights
when dreams and passions hotter than a supernova burst
into laughter, fire, and anger. And the days when the "new world"
was still too far away for the "awaiting."
I didn't mind. Not at all.
Because I know this: you have to live your life
as fully as you desire. We lived best
and were the happiest people in those days.
Farewell my friend, You have sailed someplace
where power no longer applies. And you will never die
for me. Because everything tossed into the decaying earth is a living organism
continuing the cycle of life. You are the air that I breathe.
And Ino, I am sure you are loving to read these last words.
One more reason to welcome the fire of Prometheus!
Au revoir, mon ami!
Eat
Tags: Eat, Indonesia, Obituary For Riyano, Riyano Tanjung Pahlevi
Posted in Uncategorized
Tuesday, February 5th, 2013
Update: The wife of Ryo is now home from the hospital. She sends hugs and love to all
comrades for the solidarity fund and solidarity letters. Honour to Ryo and his family.
Here follows a letter from the ex-members of Negasi, about the murder of our comrade Ryo. They are making public a situation that has hit them. War against the existent.

To all comrades,
On 25th November 2012, we lost our comrade named Ryo. He was killed by a coward in the morning when trying to go back to his place after looking for breakfast. Ryo is a member of the first generation of NEGASI and was active in counter-info projects, translation and publication to support the anti-authoritarian movement in Manado.
Ryo also involved in local autonomous struggles in North Sulawesi. He took a position as a campaigner and published infos related to the struggles. Stubborn but humble and always being the first one who would care about his comrades problems. Ryo left a wife and a four years old son.
Right now, we need solidarity from comrades abroad for his wife and son. For us, wife and child of our comrade is also our comrades. And as a form of direct solidarity, we stand next to her. Right now, his wife faces serious health condition and has been some days in hospital. The social pressures, mostly from the local press related to the case are one reason why our comrade passes the nights in the hospital.
On the other side, the trial against the killer is still running in the court. But, as we are anti-judicial, we are and will not respect and depend on the court to bring justice to our comrade. Our comrades life can't be substituted by sending someone into jail because we against all the forms of prison. We always believe that justice can't be given by the state where we are an enemy of it. We believe that the only justice is direct solidarity and collapse of the enemies.
For solidarity letters and solidarity fund or further infos, you can send email to: negasi [at] riseup [dot] net
Direct solidarity !!!
Against justice belonging to the State !!!
No prison !!! Only burn it !!!
Ex-members of NEGASI


Ryo (1986-2012) – Active member of NEGASI
Our comrades in Indonesia continue the fight. A new formation of Negasi, called 'Asimetris' has started the blog asimetris.noblogs.org
"anarchy: love and war"
Tags: Counter-info, Indonesia, Negasi, Repression, Ryo
Posted in Uncategorized
Tuesday, October 23rd, 2012
From Suie & Cendres:
BRUSSELS – Sunday night a top executive of the petro-chemical company ExxonMobil was shot dead in the street in Neder-over-Heembeek, near Brussels. Nicholas Mockford was shot in the head twice, when he and his wife were leaving an Italian restaurant around 22h. Witnesses saw two men running away carrying a motorcycle helmet.
The man died on the way to the hospital. His wife Mary was beaten and covered in blood. Police and DA's office are saying that at this point they aren't excluding any possibilities, from a hit to a carjacking gone wrong. Although the violence used appears to be disproportionate for a carjacking, especially knowing that the killers left the Lexus ATV behind.
Investigators are doing everything they can to locate the perpetrators. They are going through his work at his firm in the hope of finding a clue. ExxonMobil is the company that owns Esso, Mobil and Exxon gas stations.
15/10/2012
Translation of newspaper article by http://cryptogon.com/?p=31822
Tags: Belgium, Brussels, ExxonMobil, Nicholas Mockford
Posted in Uncategorized
Wednesday, July 25th, 2012
Tuesday, July 24th, 2012
For Lambros-Viktoras Maziotis Roupas' birthday
Born behind prison bars, the visible ones, that hide the heavens
The human guards, the cops and crows, the patrons of quiet sleep were the midwife of yours
You celebrated your first birthday with the shadows cast by steel barriers…
Bourgeois democracy is so merciful…
Now it's your second birthday, the starlight you'd never seen until now
With the horizon ahead of you extending to infinity
With dogs barking from afar
We wish you ardent years, seas resounding in your ears, thunders singing lullabies to you
The tide coming in and erasing your footsteps, on the sand…
With respect and love to those who did not regret what they ever dared to do
Honour and remembrance forever for Lambros Foundas
This goes out to Nikos, Pola and very young Lambros-Viktoras

The prison inmates of the 2nd wing of Larissa
–
Happy Birthday and life's freedom to Lambros-Viktoras Maziotis Roupas from 325. Strength, warmth and respect to Nikos and Pola. Honour to the memory of Lambros Foundas, member of Revolutionary Struggle. Solidarity to those accused and on trial for the same case.
REVOLUTION FIRST AND ALWAYS
Tags: Happy Birthday Lambros-Viktoras Maziotis Roupas, Inmates from the 2nd wing of Larissa men's prisons, Lambros Foundas, Larissa, Nikos Maziotis, Poem, Pola Roupa, Revolutionary Struggle
Posted in Uncategorized
Wednesday, June 27th, 2012
Update: See also vivalaanarquia via waronsociety.
325 has received news of an injured companero, Mario Antonio Lopez Fernández, 27, who has been hurt whilst reportedly carrying an incendiary device in southern Mexico City, during the night of 26-27 June. We will print more news as we get it, but for now, these details are being reported in the mainstream press:
Last night, Tuesday 26 June at 11:37 pm, an explosion occured at an automatic payment office of the Federal Electricity Commission in Tlalpan. No one was injured or arrested. Roughly an hour later, at 00:40 am, Wednesday, at the corner of Londres and Vicente Guerrero, Coyoacán, Mario was reportedly injured after a loud explosion in the street happened. The scene was attended by paramedics that took him to hospital, under the guard of police who regard him as being responsible for both explosions. It is reported that Mario has injuries to his right leg, right arm and body. Another explosive device was found in a backpack at the scene of the blast. This was taken and deactivated by the police as evidence in their investigation which begins.
Strength to Mario and his close ones
Will and determination for all in the struggle
Tags: Mario Antonio Lopez Fernández, Mexico, Mexico City
Posted in Uncategorized
Saturday, June 23rd, 2012
From Sketchy Thoughts:
The first time Christa Eckes made the news was back in 1970, when as a teenager growing up in the West German city of Hamburg she was expelled from high school for starting a political action group. The "Basisgruppe LS-Schülerinnen" (LS Students Grassroots Group) was said to have distributed leaflets, organized resistance to the school board, the school administration and the parents' advisory board, organized a questionnaire about sexual problems without informing the school administration and also to have disrupted a Christmas party.
Her mother hired Kurt Groenewold, a renowned left-wing lawyer, to oblige the school to readmit her daughter – an effort which proved successful. The decision to hire Groenewold was perhaps a fateful one; within a few years he would be known throughout West Germany as one of the attorneys for prisoners from the Red Army Faction, an anti-imperialist guerilla organization. By this time Eckes would be working as his legal assistant, and as such would be part of the defense team for Margrit Schiller, a prisoner from the RAF held in Hamburg. (more…)
Tags: Christa Eckes, Germany, Red Army Faction (RAF)
Posted in Uncategorized
Wednesday, April 18th, 2012
325 receives and transmits
On Tuesday 16th April we visited the offices of The Evening Post in Bristol to wish a happy birthday to our Comrade Huw 'Badger' Norfolk who is currently on the run due to crimes relating to the building. We held a banner which read: "BRISTOL ABC: Every Prisoner Is A Political Prisoner" and wore badger masks to show our solidarity with him.
Happy Birthday Badger! Wherever you are!
Tags: ABC Bristol, Bristol, Fuck the Law, Huw 'Badger' Norfolk, UK
Posted in Uncategorized
Sunday, April 15th, 2012
Black Iris Press are a small, DIY publishing collective who produce a zine series called Affinity, conceived as a space for critical discussion and personal reflection on different strategies for resisting and struggling against the dominant culture. We are looking for submissions for our next two issues, which will cover the topics of work and prison. We are interested in hearing people's personal stories and experiences of these two oppressive institutions, what it's like to live through them and to struggle against them. (more…)
Tags: Black Iris Press, Zine
Posted in Uncategorized
Wednesday, March 14th, 2012


From the multi-language anti-info project based in Athens – Contra Info:
Two years after the murder of the anarchist comrade Lambros Foundas, a march of remembrance and struggle took place on Saturday, March 10th, 2012 [here 1, 2 are some photos from the demo on March 2010].
By 12.00 the PA's gathering began in Monastiraki Square, which lasted approximately an hour, before nearly 1,000 people started to march through central streets of Athens (Athinas Street, Omonia Square, Stadiou Street, Syntagma, Amalias Avenue, Othonos Street, Panepistimiou Street, Propylaea), often attracting the interest of passersby. Numerous police units were present during the entire demo route, while organizers of the demo provided for its essential "safeguarding".
Brochures with the political declarations of the comrades who stand trial for the Revolutionary Struggle case were distributed, while flyers, graffiti and stencils covered the streets and the walls downtown. At the head of the demo there were two banners reading "Solidarity with all those prosecuted for the Revolutionary Struggle case" and "Lambros is alive within our struggles for Social Revolution".
Many slogans — new and older ones — were chanted such as "Revolutionary Struggle against the Capital and capitalism", "Lambros is alive within the heart of every revolutionary", "Terrorism is to look for a job; no peace with the bosses", "Honour forever to Lambros Foundas", "Freedom for all prisoners", "Neither criminal nor political prisoners; set fire to all prisons", "The State and the Capital are the only terrorists; solidarity with the armed guerrillas", "People, take up arms; now or never", "People, you're starving; why do you kneel down in front of them? People, you're starving, why don't you hang them?" (outside the central market Varvakios Agora), "Let Kaminis' house turn into ashes" (outside the city hall), "The February 12th was only the beginning; forward for a worldwide uprising", "The February 12th was not enough; next time the parliament must fall", "Freedom for the members of Revolutionary Struggle; ax and fire for the state guard dogs", "Cops, KKE [Greek "Communist" Party], neo-Nazis, all scum work hand in hand", "Praying won't change the world; let's expropriate all churches", "Freedom to Stella Antoniou". Also, a slogan was chanted in Italian, "Anarchia, Destabilizzazione, Azione Diretta, Inzurrezione" (anarchy, destabilization, direct action, insurrection). At around 15.00 the anarchist demo ended at Propylaea, while many protesters continued to march to Exarchia.
Video from the gathering on March 20th, 2010, in Dafni, in honour of Lambros Foundas and all fighters who died from the hands of the State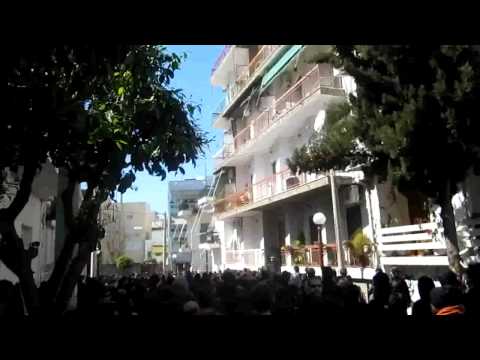 We'll meet again one day
You left with your head held high, the same way as you came,
the same way I met you, as always.
I envy you.
– What is death?
– It's like total darkness, with time you're getting used to
and it does not bother you anymore-.
And you left us behind,
with our remorse and our guilt
and our misery and our doubts,
to find excuses so that we get by,
another day,
and another day
and another day.
I envy you.
Cause you are ok, you're always ok.
I need you.
To show me what dignity means,
to show me not to fear,
to show me not to compromise.
I need you next to me in the streets and in my way.
And to talk, to talk to me.
And to listen, to hear me.
So I can steal a bit of power from your truth,
a bit of courage from your freedom
a bit of faith from your values.
They say you are a terrorist.
It is true. You are terrorizing our fear, our comfort, our false appearance, our apathy, our empty gaze, our diminished libido, us getting used to the ugliness, our muzzle, our blinders, our handcuffs, the chains that prevent us from becoming dangerous.
There's something we need to discuss.
Some say they choose not to act because they fear for their petty life. They say they love their life.
Others choose to act for exactly the same reason.
The say they love their life and cannot tolerate their life being wasted.
Tell me, can they both be right?
They can't.
VENCEREMOS

To the comrade and friend that walked away from this life with his head held high on this day, exactly two years ago.
Anarchist Lambros Foundas, member of the urban guerrilla group Revolutionary Struggle, was murdered by the Greek police on March 10th, 2010.
Tags: Athens, Demo, Greece, Lambros Foundas, Revolutionary Struggle
Posted in Uncategorized
Saturday, March 3rd, 2012
SATURDAY, MARCH 10TH 2012.
12.00AM, MONASTIRAKI SQUARE
2 years since the murder of anarchist comrade Lambros Foundas, member of the organization Revolutionary Struggle, who fell in battle with cops during a preparatory action of the organization.
Our debt to the memory of our comrade is to continue the subversive struggle for freedom, equality, anarchy.
Against the junta of the Troika and the modern totalitarianism, against State and Capital, for the subversion of the regime and the social revolution.
Solidarity to the members of the Revolutionary Struggle and to those who are being prosecuted for the same case.
Tags: Athens, Demo, Greece, Lambros Foundas, Revolutionary Struggle
Posted in Uncategorized
Friday, March 2nd, 2012
Received from anarchist comrade in Osaka:
On the evening of 28 Feb 2012, an old leftist-commandante telefoned me about old comrade 'A'… He shortly told me about his situation:
A friend of comrade 'A' visited him on the afternoon of 28 Feb 2012, however, he did not reply at all. Then the visitor tried to say "wake up" to him again and again, but comrade 'A' did not wake up forever… On the morning of 28 Feb, temperature of Osaka was -3C degrees. Ja, it was so cold morning. By that morning, I worked on a roadside at the foot of Ikoma mountain…
So, I really know about it.
(more…)
Tags: Comrade 'A', Japan, Osaka
Posted in Uncategorized