Posts Tagged '14/14'
Saturday, August 22nd, 2020
EN | Text by anarchist comrade Dinos Giagtzoglou: For the day of agitation and propaganda in solidarity with Monica Caballero and Francisco Solar
Texto anarquista de Dinos Giagtzoglou – Para el día de la agitación y la propaganda en solidaridad con Mónica Caballero y Francisco Solar (14 de agosto 2020)
Justo como hoy, hace 10 años, el Estado Chileno llevó a cabo una amplia operación represiva en contra de compañeros y anarquistas en respuesta a las decenas de atentados en contra de los símbolos y de las instituciones del Estado y el Capital. Esta operación condujo a la detención de diez de los anarquistas y llegó a ser conocido como el "Caso Bombas", terminó en un fiasco, los cinco compañeros que fueron finalmente procesados quedaron completamente absueltos, y esto fue descrito por la prensa como la derrota más grande de la fiscalía en la historia. Hoy, dos de nuestros compañeros, Mónica y Francisco, quienes estaban entre los detenidos en ese tiempo, son de nuevo encarcelado en un Estado que hace un par de meses estaba siendo sacrificado por una enorme revuelta social que nos sorprendió a todxs nosotrxs.
La detención y la prisión no son nada nuevo para nuestrxs hermanxs, ya que en 2013 fueron llevados a las celdas por el Estado español acusados de un ataque a una catedral en Zaragoza revindicada por el Comando Insurreccional Mateo Morral. Los compañeros son una vez más acusado de una serie de atentados en contra de los representantes de los ricos, los poderosos y sus defensores en el territorio Chileno. Los ataques incluyen el envío de dos bombas explosivas, uno de los cuales explotó, en una estación de policía dejando a ocho policías heridos (3 de ellos de gravedad) en Santiago, y el otro se encuentra antes de llegar a su destino en la filial de las oficinas de uno de los mayores consorcios de empresas en Chile (propiedad del cuarto más rico de la familia en América latina), teniendo como destinatario el jefe del departamento legal, quien se había desempeñado como Ministro de Defensa y del Interior durante la represión de los anarquistas, conocido como el "Caso Bombas".
Después de tantos años de persecución y encarcelamiento, luchas implacables dentro y fuera de las cárceles, se mantienen firmes y convencidxs del derecho a la lucha por la liberación. Son estos ejemplos de combatientes los que también me han motivado a tomar iniciativas subversivas y elegir la resistencia a la dominación y la explotación. En tales caminos de lucha queremos y debemos caminar constantemente con amor por la vida y la libertad y sin miedo a la muerte o la cárcel.
Con el recuerdo intacto de Mauricio Morales,
Con pasión y determinación,
Con terquedad y compromiso,
Con la cabeza en alto
Desde el fondo de mi corazón les envío una señal rebelde y un abrazo fuerte a Mónica Caballero y Francisco Solar.
PRIMERO Y SIEMPRE LA REBELIÓN
-Dinos Giagtzoglou-
Subterraneos de la prisión de Korydallos
Tags: 14/14, Athens, Chile, Francisco Solar, Greece, International Solidarity, Konstantinos Yagtzoglou, Letter, Monica Caballero
Posted in Prison Struggle
Sunday, August 16th, 2020
ES | Texto anarquista de Dinos Giagtzoglou – Para el día de la agitación y la propaganda en solidaridad con Mónica Caballero y Francisco Solar
Just like today, 10 years ago, the Chilean State carried out an extensive repressive operation against comrades and anarchist operations in response to the dozens of bombings against symbols and institutions of the State and Capital. This operation, which led to the arrest of ten anarchists and became known as the "Bombs Case", ended in a fiasco, as the five who were eventually prosecuted were completely acquitted, and were described by the press as the biggest defeat of law enforcement authorities in court history. Today, two of our comrades, Monica and Francisco, who were among those arrested at the time, are again imprisoned in a State that a few months ago slaughtered a massive social uprising that shocked us all.
Arrest and imprisonment are nothing new for our siblings, since in 2013 they were found in the cells of the Spanish State accused of an attack on a cathedral in Zaragoza by the Insurrectional Commando Mateo Morral. The comrades are once again accused of a series of bombings against representatives of the rich, powerful and their defenders in Chilean territory. The attacks included the shipment of two booby-trapped parcels, one of which exploded, leaving eight cops injured (3 of them seriously) at a Santiago police station and the other being located before hitting its target at the subsidiary offices of one of the largest business consortia in Chile (owned by the fourth richest family in Latin America) having as a recipient the head of the legal department, who had served as Minister of Defense and Interior during the crackdown on anarchists known as the "Bombs Case".
After so many years of persecution and imprisonment, relentless struggles inside and outside prisons, they remain steadfast and convinced of the right of the liberation struggle. It is such examples of combatants that have motivated me too to take subversive initiatives and make choices of resistance to domination and exploitation. In such paths of struggle we want to and must walk constantly with love for life and freedom and without fear for death or prison.
With the undimmed memory of Mauricio Morales,
With passion and determination,
With stubbornness and commitment,
With my heads high,
From the bottom of my heart I send a rebellious signal and a big hug to Monica Caballero and Francisco Solar.
REBELLION FIRST AND ALWAYS
Dinos
Special underground section of Koridallos prison
14/08/2020
Tags: 14/14, Athens, Chile, Francisco Solar, Greece, International Solidarity, Konstantinos Yagtzoglou, Letter, Monica Caballero
Posted in Prison Struggle
Friday, August 14th, 2020
14 DE AGOSTO 2020: 10 AÑOS DESDE CASO BOMBAS 1
23-30 AGOSTO 2020: SEMANA INTERNACIONAL DE SOLIDARIDAD CON LXS ANARQUISTAS ENCARCELEDXS
SOLIDARIDAD INSURRECTA CON MÓNICA, FRANCISCO Y TODXS LXS PRESXS ANARQUISTAS, SUBVERSIVXS, MAPUCHE Y DE LA REVUELTA EN CHILE Y EL MUNDO.
SEGUIMOS ESTANDO EN TODAS PARTES (A)
Tags: 14/14, Chile, Flyposter, Francisco Solar, International Solidarity, International Week for Anarchist Prisoners, Mapuche, Monica Caballero
Posted in Library
Sunday, August 9th, 2020
Jornada de agitación y propaganda con lxs presxs anarquistas.
14 DE AGOSTO DEL 2010
A diez años de la arremetida del poder en el Caso Bombas 1 y ante un nuevo golpe represivo en contra de nuestrxs compañerxs Mónica y Francisco, hacemos un llamado para este 14 de agosto a levantar por todos los rincones de este territorio gestos de propaganda y solidaridad. Dando rienda suelta a la creatividad desde el lugar que estemos y como podamos, haciendo una vez más que la solidaridad sea más que palabra escrita.
Ni culpables, ni inocentes, anarquistas simplemente.
Solidaridad activa y revolucionaria con Mónica y Francisco!
–
A day of agitation and propaganda for anarchist prisoners.
AUGUST 14TH, 2010
Ten years after the onslaught of power in the first "Bombs" case (Caso Bombas 1) and in the face of a new repressive coup against our comrades Monica and Francisco, we call for this August 14 to raise gestures of propaganda and solidarity in every corner of this territory. Giving free rein to creativity from wherever we are and however we can, making solidarity once again more than just a written word.
Neither guilty, nor innocent, simply anarchists.
Active and revolutionary solidarity with Monica and Francisco!
via Anarquia.info
Tags: 14/14, Flyposter, Francisco Solar, International Solidarity, Monica Caballero
Posted in Prison Struggle
Tuesday, February 11th, 2020
ACERKA DE LA RESISTENCIA A LA PRISIÓN Y LA NECESIDAD DE EXTENDER LA LUCHA AUTÓNOMA ANTIKARCELARIA.
Una breve mirada a las experiencias de lucha desde el encierro, sus énfasis y los kontextos en ke se han desarrollado.
«Sin ningún Comité Central ni ninguna jerarquía que clasifique nuestrxs miembrxs, solo podemos conocer caras extrañas como amigxs a través de sus acciones. Lxs queremos, Ixs abrazamos, al igual que sabemos que otrxs lo harán. Otras células, secciones, grupos.»
Brigada de la Cólera
1970.-
En tiempos de agudización del konflikto social la kárcel es el principal instrumento de kontrol y kastigo para kienes no se someten y se rebelan.
Históricamente el dominio a través de todos sus dispositivos ke sostienen el poder, la autoridad, el mundo de las jerarkías, el patriarkado y el kapital a usado la sanción normalizadora para kombatir toda forma de Resistencia ke atake y amenace su paz social.
Sin ir más lejos no fue sino en la diktadura de Pinochet en donde esta dinámika afectó masiva y sistemátikamente a miles y miles de Rebeldes ke la kombatieron entregando los mejores días de sus vidas.
Se reformuló el marko jurídiko fundado en la doktrina de seguridad nazional ke veía un enemigo interno al ke había ke aplastar bajo la exkusa de «kombatir el káncer marxista» según la voz de los genocidas de la époka.
Operaba la pútrida «justicia militar»:
Miles de muertxs, desaparecidxs, exiliadxs, perseguidxs, violentadxs, torturadxs son el rekuerdo imborrable y el triste legado de la refundación kapitalista neoliberal del imperio yanky a través de la insurrexión militar burguesa del genocida ejército chileno. (more…)
Tags: 14/14, Anti-Prison, Chile, Dictatorship, General Pinochet, International Solidarity, Isolation, Letter, Mapuche, Marcelo Villarroel Sepúlveda, Repression, Torture
Posted in Prison Struggle
Thursday, March 9th, 2017
Read the communique from Monica and Francisco on contra-info.
SANTIAGO – Chilean Anarchists, Monica Caballero and Francisco Solar, arrived this morning at Santiago's International Airport, after having been expulsed from Spanish custody and deported back to their home country.
Monica and Francisco had been charged under Spanish Anti-terrorism legislation for the alleged bombing of the Basilica del Pilar Church in Zaragoza, on Oct 2nd, 2013, and were arrested a month after the incident. Spanish prosecution initially sought a 44 year sentence for the accused, but instead received a 12 year sentence in 2014. The Defense took Monica and Francisco's case to the Spanish Supreme Court, where the sentence was further reduced to 4 and a half years this past December, having dropped one of the initial charges. (more…)
Tags: 14/14, Chile, Francisco Solar, Monica Caballero, Santiago
Posted in Prison Struggle
Thursday, December 24th, 2015
Prosecutor Teresa Sandoval, of the Audiencia Nacional, has submitted the prosecution's demand to the 6th tribunal of the Audiencia Nacional, a demand that reflects the investigators' thesis on comrades Monica and Francisco's lives.
In their thesis the powerful falsely maintain that GAC (Grupos Anarquistas Coordinados) are an action group responsible for several explosive and incendiary attacks, which the group allegedly claimed. The inquisitor in charge is trying to take advantage of the antiterrorist hysteria caused by the attacks perpetrated by ISIS religious fascists in Europe, remarking that 'the insurrectional affinity groups, like the jihadist cells, are perfectly clear about their generic enemy and therefore need no superior command in order to set an attack in motion.'
The prosecutor acknowledges that before the attack on the Basilica del Pilar a warning telephone call was made to a nearby beauty centre so that the authorities were alerted. As the receivers believed it was a joke they didn't alert the authorities and the device detonated while people were inside the building; as a result a person suffered ear damage.
Following this rambling on terrorism, the sentence demanded against the comrades is 44 years each, comprising:
Belonging to a terrorist organization: 9 years
Ear damage caused to a victim: 12 years
Terrorist attack (the explosion at the Basilica del Pilar): 18 years
Conspiracy to commit similar attacks (alleged reconnaissance of the Basilica de Montserrant in Barcelona): 5 years
The threat of stratospheric sentences is nothing new to the comrades: at the trial for the 'Caso Bombas' in Chile the prosecutors' request was 20 years for Monica and 25 for Francisco. It won't be the threat of years in prison made by the Spanish State that will stop insurrection or the will to struggle.
International and insurrectional solidarity for the destruction of all sentences!
Eternal love in revolt for the comrades… Always ready for action, not a step back!
–

via actforfree
Tags: 14/14, Chile, Francisco Solar, GAC (coordinated anarchist groups), Monica Caballero, Repression, Spain, Trial
Posted in Prison Struggle
Monday, December 7th, 2015
Dear Friends,
I want to salute the event organized in solidarity with the African
American political prisoner Mumia Abu-Jamal, who is imprisoned at the
State Correctional Institution at Mahanoy a medium security prison in
Pennsylvania. For 30 years, Mumia was a resident of death row until he
was sentenced to life imprisonment without possibility of parole.
I had the opportunity to read the book «From Death Row» and remember the
fortitude and temperance to face prison. Mumia belonged to a generation
of militants for black liberation and self-reliance of African American
communities against repressive onslaught of State and US capitalism,
repression comeback today as seen in the systematic executions of young
blacks, as like Laquan McDonald, who was killed at age 17. (more…)
Tags: 14/14, Black Liberation Army, Black Panther Party, Chile, Hans Niemeyer, Letter, Mumia Abu-Jamal
Posted in Prison Struggle
Saturday, February 7th, 2015
Vegan food, liberated price
For the address: blancarde2015@riseup.net
*The film is in Spanish but the subtitles are in English
International solidarity with those implicated in Operation Pandora

"For those who struggle, the sense of solidarity intends to dismantle
the loneliness of incarceration, waging a battle against forgetting our
comrades abducted by states, bringing to light the logic of domination
that seeks to condemn them to surrender."
– anarchists of Pandora
A year after the end of the "Caso Bombas" farce, the Spanish and Chilean
ministries, judges and cops are working together on a new case, this
time on this side of the ocean. Mónica Caballero and Francisco Solar,
both ex-suspects in the "Caso Bombas" case, are arrested in Barcelona,
suspected of placing an explosive at the Basílica del Pilar in Zaragoza,
planning a similar action and belonging to an alleged terrorist
organisation. (more…)
Tags: 14/14, Chile, France, International Solidarity, Marseille, Operation Pandora
Posted in Social Control
Saturday, November 16th, 2013
Distributed by: The Women's Coordinating Committee for a Free Wallmapu (Toronto)
Also read this article on multi-language anarchist website Contra-info.
On November 13th, our comrades Monica and Francisco were arrested by the repressive forces of the Spanish State, accused of the explosive bomb attack on the Pillar Basilica in Spain. A hurricane of grandiloquent statements have been unleashed unto this situation between representatives of both [Chilean and Spanish] governments; congratulations of resurrected prosecutors and recycled Interior Ministers as well. Monica and Francisco were arrested in August 2010 in the so-called Chilean Bombs Case. Both confronted the trial against them with dignity and rebellion; more than 9 months in medium and maximum pre-trial prison, rejected the prosecutor's blackmail, carried out a 65 day hunger strike and confronted one of the longest trials [in Chilean history], and had all their charges dropped by the Court with their convictions in tact. (more…)
Tags: 14/14, Barcelona, Catalunya, Chile, Francisco Solar, Monica Caballero, Spain, Zaragoza
Posted in Social Control
Thursday, November 22nd, 2012
from vivalaanarquia – updated from liberacion total:

Gabriela is free without charges and not compelled to sign with the authorities. Welcome back to the streets!
In the morning hours of November 19, the comrade Gabriela Curilem has reappeared on the street, ending his period of hiding for two years and three months. Recall that Gabriela is wanted following the "Bombs Case", specifically from August 14, 2010- the day the arrests were made, the case was closed on 1 June this year, the day that 5 comrades were absolved. In this case, Gabriela was charged as the alleged financier of an illicit association that is supposed to have manufactured and installed bombs. That same August 14, Gabriela was not in the CSO Sacco and Vanzetti (self-organised centre which was raided by anti-terrorist units), where other co-accused lived. During the morning of Nov 19, Gabriela appeared before the Chilean justice system and was compelled to sign with the authorities (we do not know whether weekly or monthly) and is now back on the street.
Tags: 14/14, Chile, Gabriela Curilem
Posted in Social Control
Sunday, June 3rd, 2012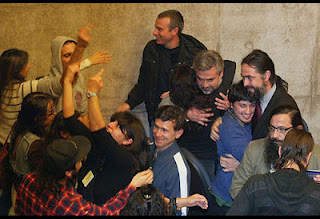 After a long process during which the $hilean state and the plaintiff institutions tried by all means to condemn the compas at any cost, they were absolved of all the charges, in the final hearing today June 1st, 2012.
All the charges such as placement of explosive device and terrorist financing were dismissed; also they raised all the cautionary measures against the 5 compas.
Tags: 14/14, Chile, Repression
Posted in Social Control
Friday, March 30th, 2012


Dark Nights is an anarchist & anti-prison PDF freesheet to download and print out on the fly.
12 pages A4 – PDF Download free.
This issue features an as always incomplete round-up of direct action and sabotage reports from the month of March, coverage of the trial of the Revolutionary Organisation – Conspiracy of Cells of Fire, international repression reports and news about Thessaloniki 5 prison sentences, No Tav- letter from injured comrade Luca Abba, letter about Luciano Tortuga's prison conditions, letter of comrade Kostas Katsenos, imprisoned anarchist accused of membership of the armed group – Revolutionary Struggle in Greece, report on the radical struggle in Russia & Ukraine over the past 2 months, trial updates about the Chilean frame-up "Bombs Case" against anarchists over there, "No Military on Our Streets" anti-Olympic/anti-Austerity text from UK, plus "Maybe they follow my account on Facebook" text from Anti-Authoritarians of Kalamata Messinias.
Fire to the Prisons

http://325.nostate.net/library/dark-nights-17.pdf
Anti-Copyright Network 2012
Tags: 14/14, Chile, Conspiracy of Cells of Fire, Dark Nights, Greece, Informal Anarchist Federation (FAI), Italy, Kostas Katsenos, Luca Abba, PDF, Revolutionary Struggle, TAV, UK, Zine
Posted in Library
Monday, February 27th, 2012
From solidaridadporlxspresxs, translated by war on society:
The political trial continues and begins to advance slowly chapter after chapter with the particular accusation against each comrade, bringing different police officers, experts or simply "at the scene" witnesses. This time the trial was suspended due to the extensive and continuous months of daily hearings, setting aside 5 days of "rest" to then return on February 13. (more…)
Tags: 14/14, Chile, Mauricio Morales, Repression, Trial
Posted in Prison Struggle
Tuesday, January 17th, 2012
Dark Nights is an anarchist & anti-prison PDF freesheet to download and print out on the fly.
FREEDOM WILL BLOSSOM FROM THE ASHES OF THE PRISONS
Click here: 16 pages A4 PDF + Click here: 4 pages A4 supplement
Longer format issue of Dark Nights; the frontpage carries the new open letter from Luciano 'Tortuga', anarchist in Chile hurt in a bomb attack against Santander Bank in Santiago. A major section of this issue is given over to a New Year Anti-Prison Actions Round-Up, which couldn't begin to cover the vast nature of the second international call-out for anti-prison demos on the New Years Eve, but is nevertheless a contribution to be spread and distributed.
The remaining full articles include the cases of the revolutionary anarchist group Revolutionary Struggle, the Conspiracy of Cells of Fire, Stella Antoniou, Sonja Suder & Christian Gauger of the Revolutionary Cells (RZ).
Special separate supplement covers the latest sabotages and attacks in Italy; Update on the "Bombs Case" in Chile; Joint declaration of subversive and revolutionary prisoners in support of the comrade Luciano Tortuga (Chile); Sabotage and attacks against automated car tolls and social control (Portugal); Update on the Two Imprisoned Combatants in Yogyakarta (Indonesia).
Dark Nights will continue a more frequent publishing schedule generated from the international network of translation and counter-information for the present time as a new editorial and design collective take over the freesheet.
Anti-Copyright Network 2012
Tags: 14/14, Billy, Conspiracy of Cells of Fire, Dark Nights, Eat, Luciano Pitronello Schuffeneger, PDF, Revolutionary Cells (RZ), Revolutionary Struggle, Stella Antoniou, Zine
Posted in Library