Posts Tagged 'ABC Belarus'
Wednesday, August 12th, 2020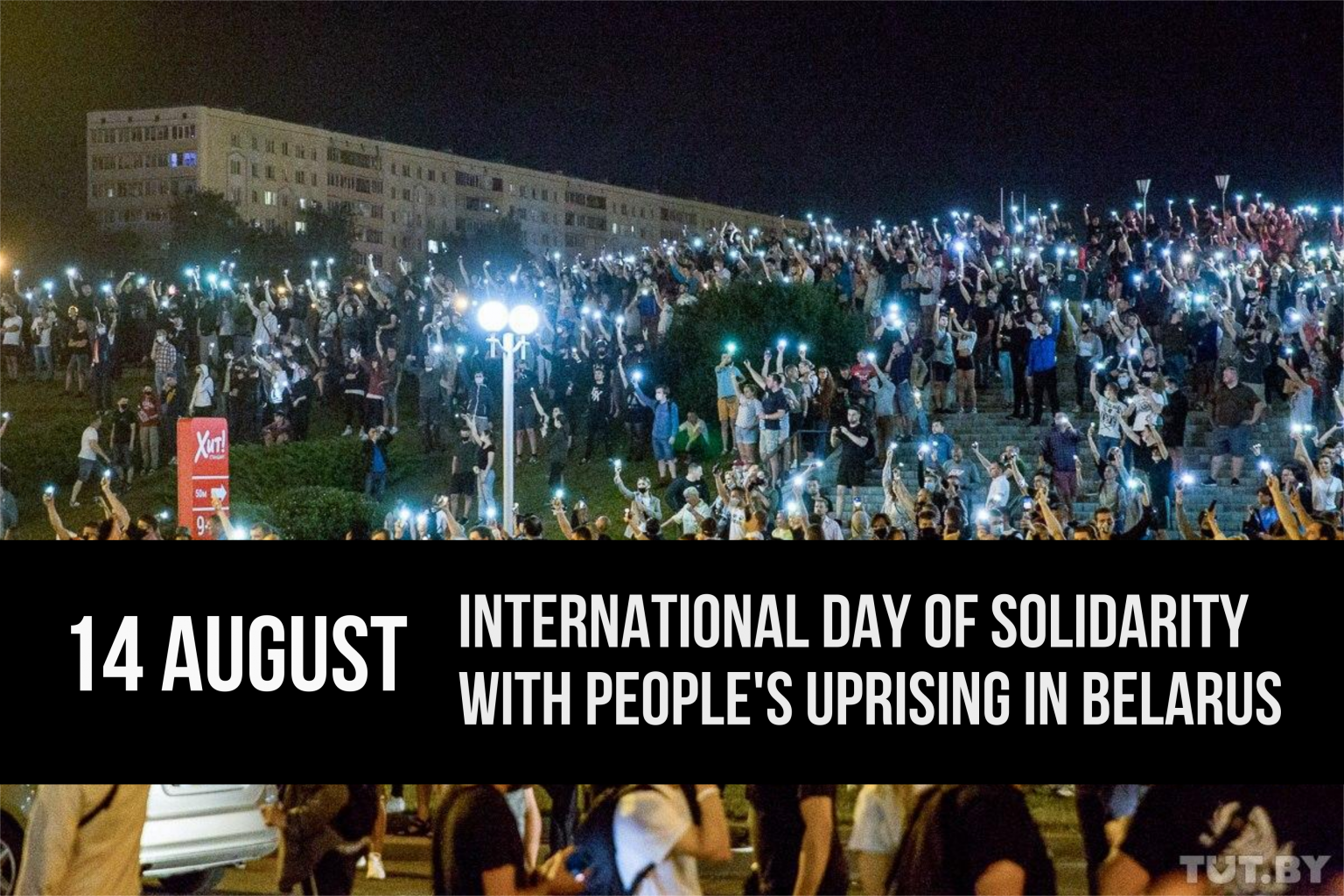 For the first time in the history of Belarus, people across the country rebelled against the dictatorship. Many thousands of demonstrations are held not only in the capital, but also in small towns. People take to the streets and not only peacefully protest against the authorities, but also fight against the state apparatus – they help friends and comrades and clash with punishers.
August 10, barricades appeared in the streets of Minsk for the first time, while protesters began using molotov cocktails. Some enterprises and firms went on strike.
In recent days, standing shoulder to shoulder, we have felt what the energy of the people means. We have realized that together we can overthrow a tyrant!
The blockage of the Internet could not stop the news flow. People all over the world have learned that the Belarusian dictatorship is ready to drown the population in blood just to stay in power. In three days, police and internal troops detained more than 5000 people, hundreds suffered from cop violence. At least one person has been killed.
Now more than ever, international solidarity is important in the fight against Lukashenko. Therefore, we call you all to join the international day of actions in solidarity with Belarusian people! In what format can you express your solidarity? You can hold rallies and demonstrations at Belarusian embassies and other institutions of Belarusian power in your country. Take collective photos. Take part in direct actions. Any, even the smallest solidarity can support the fire of rebellion that will tear down the dictatorship in our country!
Send your reports to belarus_abc@riseup.net or post on social networks with the #Belarus hashtag.
Tags: ABC Belarus, Belarus, Dictatorship, International Solidarity, Repression, Riots, Social Insurrection
Posted in Autonomy
Saturday, February 22nd, 2020
On February 12, 2020, Mikita Yemelyanau and Ivan Komar were found guilty of intentional destruction of property on several accounts.
Activists were detained on October 20, 2019, just after an attack with a Molotov cocktail on the pre-trial detention facility in Minsk made in solidarity with another anarchist Dzmitry Paliyenka (who was kept there at the time) and other political prisoners in Belarus. From day one, Ivan Komar made a statement of Mikita Yemelyanau being guilty in it. He also talked about two other attacks – one similar attempt to attack the same pre-trial facility when Molotov didn't start burning and an attack with light bulbs on the Minsk City Court as a protest against the judge who decided to hold a closed court hearing of Paliyenka's case.
Mikita Emelyanau refused to make any statement, but some time later he talked to cops informally and confirmed his involvement in the attacks.
Although Mikita said in court he planned the attacks alone and Ivan Komar didn't know about them and was just asked to film his action, they were considered as a group and both were sentenced to 7 years of prison.
The total damage made to both buildings amounts at 70 euros.
Belarusian human rights defenders issued a statement demanding reconsideration of sentences and called them political prisoners.
Independent journalists and photographers initiated an open letter in support of the activists.
ABC-Belarus refused to support Ivan Komar for his collaboration with the police. You can support Mikita Yemelyanau here.
via ABC Belarus.
Tags: ABC Belarus, Belarus, Dzmitry Palijenka, International Solidarity, Ivan Komar (Snitch), Mikita Yemelyanau, Minsk, Molotov, Nikita Emelyanov, Repression, Trial
Posted in Social Control
Tuesday, November 12th, 2019
In the night from 19 to 20 October unknown people have thrown Molotov cocktail on territory of the prison. The same night two anarchists Nikita Yemelyanov and Ivan Komar were detained on the streets for this attack. In the rucksack of Nikita police found clothes containing traces of Molotov mixture and GoPro camera. Several days later both are charged with property damage and vandalism with sentenced going from 3 to 10 years.
During the first interrogation Ivan Komarov cooperates with police and gives all the information about the attack claiming that it was done in solidarity with another anarchist. The responsibility is put on the shoulders of Nikita. During the same time Nikita doesn't admit any guilt for the attack.
Right now both are under arrest before the trial. Charges are mostly based on testimonies from Ivan Komar. Taking in account his cooperation Anarchist Black Cross Belarus have decided to support only Nikita Yemelyanov in this case.
We are calling for solidarity actions and donations to support the anarchist struggle in our country! Send your reports of solidarity actions to belarus_abc@riseup.net. To figure out the way to transfer money you can check our page on donation (we accept paypal, bitcoin, credit cards) – https://abc-belarus.org/?page_id=8661&lang=en. If you would like to do direct bank transaction – write us an email and we will give you the details.
Anarchist Black Cross Belarus
Tags: ABC Belarus, Belarus, Molotov, Nikita Yemelyanov, Repression
Posted in Prison Struggle
Saturday, February 23rd, 2019
At the beginning of the year everybody were shocked by "Network case" in Russia where anarchists were tortured and detained. According to the FSB, a chapter of the "Network" also operated in Belarus. The KGB hasn't publicly reacted to this statement, however, we noticed increased efforts to recruit youth associated with the anarchist movement in different parts of Belarus.
Winter
At the beginning of February 2018, the KGB started investigating a regional educational organisation Critical Thinking. One of the volunteers was summoned to an informal chat via phone – previously he had been detained together with Russian anarchist Piotr Ryabov and sentenced to a fine for "public display of Nazi symbols"[1] and the confiscation of his hard drive. At the same time, his mother was called for an informal conversation. Several friends of this volunteer were picked up by the police, questioned and later released. The police was interested in the activity of Critical Thinking, as well as attempted to force people to sign cooperation papers[2].
On February 8, the anti-extremist police in Mogilev visited parents of an activist. They were asking about their child's activity, her political interests and so on. The flat was searched with a warrant issued under a criminal case initiated in 2017, when red paint was spilt on Lenin's statue in the city. The raid happened in one more flat of parents of another activist. This activist was considered a witness on the same criminal case [3]. (more…)
Tags: ABC Belarus, Anti-Fascist, Belarus, Raids, Repression, Russia
Posted in Social Control
Monday, July 2nd, 2018
Several people were charged with illegal usage of forest resources and distribution of extremist materials after political police with support of task forces attacked an informal anarchist encounter. Around 20 participants were at the camping site at that point.
On Saturday 30 June special task force of police attacked the camp shooting into the air. After a few minutes all the activists were forced on the ground by a crowd of people armed with machine guns and shotguns. They were accompanied by chiefs in plain clothes but wearing masks. When anarchists started asking about the reasons for this circus one of the cops said that they had a report that somebody was illegally cutting trees in the area and shooting in the forest. Other cops were answering, "you are not stupid, you understand yourself why you are here".
Tents were searched for illegal materials. Merchandise from several groups was confiscated under the pretext of distribution of extremist materials. All activists were put on their knees and filmed by the cops. (more…)
Tags: ABC Belarus, Anarchist Gathering, Belarus, Raids, Repression
Posted in Social Control
Monday, October 9th, 2017
We were covering the situation in Belarus in March this year during the big protests that were happening here against the policy of the state that was forcing people to pay a fine for being unemployed for longer than six months in a year. For now the protests are over, however pressure from the government on those who were participating in the events of last spring didn't stop.
We met activists from the Belarusian anarchist and ecological movement that had to move twice in the last 6 months due to constant pressure from the police on the owners of the house. The scenario repeats itself every time. In spring, police were raiding flats and houses of the activists that were already in prison and confiscating things that nobody had a track of. Later most of the belongings were returned, but some activists had to move out of the rented flats and houses – owners of property didn't want to have trouble with the police and KGB. (more…)
Tags: ABC Belarus, Belarus, Raids, Repression
Posted in Social Control
Thursday, March 16th, 2017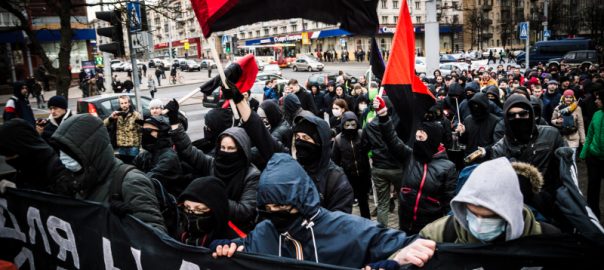 Biggest protests in Belarus in the last 10 years
In Belarus last weeks people took to the streets to fight the law against social parasitism – law that was signed by dictator Lukashenko in 2015, but started troubling population only at the beginning of the 2017. Thousands took to the streets in Minsk, Brest, Gomel and many other smaller cities all around the country, to show their discontent with the law and the current regime. The protests seems to have little influence from "official" opposition- instead of that people previously not involved in the politics are organizing together. In several places anarchist played quite a big role in the protests. Last week belarusian government started repressions against those on the streets – up until now over 48 people were detained and prosecuted for different violations. (more…)
Tags: ABC Belarus, ABC Dresden, Belarus, Brest, Repression
Posted in Autonomy
Thursday, June 23rd, 2016
Groups that combine anti-authoritarian and nationalist ideas are nothing new. Though they are new for Belarus, where anarchists have always been anti-nationalist and viewed themselves as part of a global movement for freedom. These groups would not deserve your attention if they weren't trying to disguise themselves as anarchists and make connections to the left-wing and anarchist movement in the West in order to get access to different resources: financial, informational etc.
What follows is a list of facts proving that one cannot be an anarchist believing that patriotism is a vital feature in the anti-state struggle. This text is an attempt to warn our comrades from possible contacts with these groups and give information about what they really are.
For now there are two groups in Belarus that call themselves ethnic anarchists – Poshug ("Flash") and Khaurus ("Fellowship, Cahoot"). Judging by their pages in social networks (http://vk.com/psh_soc, http://vk.com/union8x9) both groups appeared in 2013.
Looks like Poshug's adherents have their roots in a patriotic (sic!) wing of antifascist football hooligans of 'Partyzan', former MTZ-RIPO (http://vk.com/nasasprava). The background determined what they were fighting for – veganism, straight edge, animal liberation, ecology, anti-imperialism. (more…)
Tags: ABC Belarus, Analysis, Autonomous Nationalism, Belarus
Posted in Anti-Fascist
Wednesday, June 1st, 2016
Dzmitry Zvan'ko sentenced to 5 years for a fight with neonazis in Brest was released on parole yesterday. All in all he has spent 3 years in jail.
There are two more convicts in this case – Roman Bogdan and Dzmitry Stsyashenka. Don't forget them, show your solidarity!

Roman Bogdan
213010 Shklov
p. Molodezhnyj, IK-17, otryad 12
Mogilevskaya obl.

Dzmitry Stsyashenka
213800 Bobruisk,
ul. Sikorskogo 1a, IK-2, otryad 14
Mogilevskaya obl.
Tags: ABC Belarus, Belarus, Brest, Dzmitry Stsyashenka, Dzmitry Zvan'ko, Neo-Nazis, Roman Bogdan
Posted in Anti-Fascist
Saturday, December 19th, 2015
On December 15 a regional appellate court have commuted the sentence of
two Brest antifascists, convicted on charges of participating in a mass
fight with neonazis that took place on May 8, 2013. The new sentence of
Dzmitry Stsyashenka is 3 years and of Roman Bogdan – 6 years of penal
colony. The sentence was commuted by two years for each prisoner, most
probably because they had paid the damage to the injured noenazi (all in
all about 3500 euros). Almost half of it was paid by their relatives.
If you still want to support the families and make a financial
contribution, do so using paypal belarus_abc[at]riseup[dot]net or ask for the
bank account privately.
Tags: ABC Belarus, Belarus, Brest, Dzmitry Stsyashenka, Neo-Nazis, Roman Bogdan
Posted in Anti-Fascist
Monday, September 7th, 2015
On August 22, the Belarusian president Lukashenko signed papers to release all official political prisoners in the country. This includes the three anarchists that were still imprisoned. As Anarchist Radio Berlin, we talked with Anarchist Black Cross Belarus about their release and the upcoming elections among other things.
For security reasons, this interview has been re-recorded using our own voices.
You'll find the audio (to listen online or download in different sizes) here.
Length: 5:18 min
You can find other English and Spanish language audios here:
http://aradio.blogsport.de/englishcastellano/.
Tags: ABC Belarus, Anarchistisches Radio Berlin, Belarus, Germany
Posted in Prison Struggle
Tuesday, August 25th, 2015
22 August 2015 – Today Alexander Lukashenko has signed papers to release all official political prisoners in the country. This includes anarchists Ihar Alinevich, Mikalai Dziadok and Artsiom Prakapenko.
We would like to congratulate our comrades and thank everyone for the solidarity with them!
Tags: ABC Belarus, Artsiom Prakapenka, Belarus, Ihar Alinevich, Mikalai Dziadok
Posted in Prison Struggle
Friday, February 27th, 2015
On February 26 the criminal case of the political prisoner Mikalai Dzyadok was tried in Mahilyou prison. He was charged with violation of the rules of serving the sentence under Article 411 of the Criminal Code of Belarus.
Dzydok was charged with 16 violations of prison rules, such as wearing sportswear suit instead of prison uniform, sleeping after "Wakey" signal, not sleeping after lockdown, talking to prisoners from other cells.
The prosecutor asked the court to punish Mikalai Dzyadok by 1 year in a maximum security penal colony. It is a maximum term under this article. The defence noted that such cases are extremely rare and can never be started because of such minor violations. The lawyer asked the court to justify Mikalai. As a result, Judge Ihar Shvedau sentenced the political prisoner to one more year in prison. Besides, he is to serve four days out of his four-and-a-half-year term. (more…)
Tags: ABC Belarus, Belarus, Mikalai Dziadok, Repression
Posted in Prison Struggle
Monday, February 9th, 2015
The forth presidential term of Alexander Lukashenko will expire in 2015. In 21 years Lukashenko has managed to suppress almost all social struggles in the country, kill several political opponents in the 90s, and eradicate nearly all of the official opposition. Lukashenko didn't allow Belarusian society to transcend the limits of Soviet mentality. Any complaint or criticism of the government are met with repression from the police or the KGB. Any attempts of organizing face with prosecution and hysteria from the state. The policy of the government can be described simply as follows: "Everything that cannot be controlled must be destroyed". At this moment Belarusian state is slowly but steadily getting to the extermination of any dissent or independent thinking.
With the elections planned for November this year the pressure on social movements is increasing. Authorities are afraid of the Ukrainian scenario occurring in Belarus and do everything to fight "extremists": all the people who are calling for the change of the current regime. (more…)
Tags: ABC Belarus, Belarus, Ihar Alinevich, Mikalai Dziadok, Minsk, Repression
Posted in Social Control
Thursday, January 22nd, 2015
On January 20-21 four activists were arrested in Minsk after solidarity
actions with people previously arrested at New Year Punk Party in Minsk.
One person was captured by the police at the prison gates, when people
came to meet their comrades, who were supposed to be released after 10
days of arrest they were sentenced to after the concert. (more…)
Tags: ABC Belarus, Belarus, Minsk, Punx, Repression
Posted in Social Control