Posts Tagged 'ABC Berlin'
Thursday, July 5th, 2018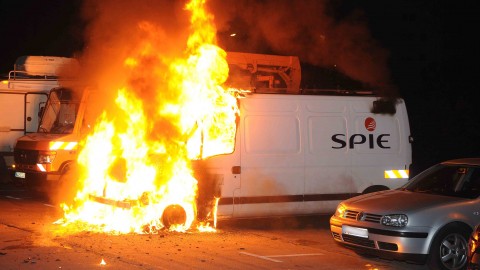 05.07.18: The wave of exuberant hatred for the arbitrariness of uniformed individuals spills once more across the borders of France to us. For the last two nights in Nantes, hundreds of teenagers have destroyed shops, set fire to cars and attacked the CRS (Compagnies Républicaines de Sécurité / general reserve of the French National Police) with Molotovs.
Aboubakar was executed on Tuesday night in a suburb of Nantes in his car by a police officer after he was placed under arrest during a vehicle inspection…
The police spread their version that they were in danger and it was in self-defense. It is obvious that the 'legitimacy' of the murder that they make public is found only in the self-created legitimacy of the police apparatus. Since we refuse to recognize that law, there can never be legitimacy for execution by a cop. (more…)
Tags: ABC Berlin, Arson, Germany, Nantes, Solidarity Action, SPIE (Prison Industry)
Posted in Direct Action
Tuesday, January 10th, 2012
The night of the new year's eve has seen again a lot of different type of protests taking place in Germany against prisons and all forms of detention, as well as against some of those, who daily enforce their existence.
The traditional demonstrations at local prisons saw an increase in their numbers and more cities decided that this was a good way to salute the upcoming year.
In Berlin, the month of December hosted several events under the motto "Behind different windows… but the chains remain the same ones! New year's eve to the prisons – question, demount and destroy the machine of prison!", events ranged from discussion about ongoing trials against comrades, the building of a new detention center at the new Berlin's airport, to a demonstration against the local detention center for immigrants. (more…)
Tags: ABC Berlin, All Cops Are Bastards - Team Kreuzberg 36, Berlin, Bremen, Christian Gauger, Cologne, Dennis J., Dortmund, Dresden, Frankfurt, Freiburg, Friedrichshain, Fuck the Law, Germany, Hamburg, Kreuzberg, Moabit, New Year, Prison demo, Revolutionary Cells (RZ), Sonja Suder, Stammheim, Stuttgart
Posted in Prison Struggle