Posts Tagged 'ABC Brighton'
Thursday, March 26th, 2020
On the 20th February, the Parole Board finally agreed to my release after forty years of my imprisonment and four previous parole hearings when my release was denied not because I represented a risk or danger to the public but because I was labelled an "anti-authoritarian" prisoner with links to anarchist and communist groups on the outside, specifically Anarchist Black Cross and the Revolutionary Communist Group.
Following a parole knockback of my release last year, I instigated a Judicial Review of the decision. Which although it did not succeed fired a judicial shot across the bows of the Parole Board and Ministry of Justice. And persuade them that future decisions on my release or not would have to be based on proper legal criteria. Specifically, whether my continued imprisonment could be justified in the Interests of public protection and-not just because I was labelled a "difficult prisoner" by the – prison authorities.
So, the parole panel considering my case in February of this year had to admit there was no real lawful justification for my continued imprisonment and so reluctantly agreed to my release. However, in its written decision, the Parole Board claimed that my "current risk factors" included "anti-authority views" and "attitudes supportive of the use of violence." It also wrote: "During your sentence, you have evidenced that you have a mistrust of those in authority and professionals have previously reported that if you felt unfairly treated or discriminated against, coupled with any engagement with anti-social peers, then this could increase your risk of violence. Your attitude towards authority and your personality characteristics have also been considered by professionals to present a potential challenge in your future risk management." (more…)
Tags: ABC Brighton, Anti-Prison, John Bowden, Letter, Repression, UK
Posted in Prison Struggle
Tuesday, October 24th, 2017
Patryk is a Polish antifascist recently deported to Poland from UK to serve his sentence from 11 years ago for allegedly assaulting some fash. He would appreciate your letters of support and literature, he understands Polish and English well. We are also still collecting money to support his son that stayed in UK and is living with his brother. Address can be published as well.
ABC Brighton

Patryk Cichoń
"Syn Józefa"
Zakład Karny
ul. Załęska 76
35-322 RZESZÓW, Poland
Tags: ABC Brighton, Anti-Fascism, Anti-Fascist, Antifa, Deportation, Neo-Nazis, Patryk Cichoń, UK
Posted in Anti-Fascist
Tuesday, September 26th, 2017
At the beginning of May 2016 our comrade Patryk Cichoń from Poland was arrested by British police under an European Arrest Warrant. Patryk is a well known anti-fascist militant notorious among neo-Nazi-boneheads in his city for his uncompromising stance against them in the past. The boneheads managed to convince a few of their friends to testify against Patryk and his friend for an alleged assault and robbery. As later transpired, his friend had a very good alibi and had the charges against him dropped (despite being allegedly recognised by the "victim" and his friends), so Patryk ended up being sentenced on his own. The whole trial was an absolute travesty and Patryk, as a poor, young working class person, was not able to afford a proper defence. He spent two months on remand in 2004 and was sentenced to three years in prison.
It is clear that this whole case was politically motivated and had only one purpose, which was to get rid of the core of the anti-fascist resistance in Patryk's home town. (more…)
Tags: ABC Brighton, Antifa, Brighton, Deportation, Patryk Cichoń, Poland, UK
Posted in Prison Struggle
Sunday, November 15th, 2015
From a comrade of ABC Brighton
Antifascist prisoner Jock Palfreeman is currently a target for far-right smear campaign after he had been nominated to a "Human of the Year 2015" award by the human rights NGO Bulgarian Helsinki Committee. His nomination said as follows:
"In his work as Chairman of the Bulgarian Prisoners Rehabilitation Association (BPRA) Jock Palfreeman directly defends the human rights of prisoners in Bulgaria. Though consequential work to reform the criminal justice system of Bulgaria, the human rights of all Bulgarian citizens are enhanced. (more…)
Tags: ABC Brighton, Bulgaria, Bulgarian Helsinki Committee, Bulgarian Prisoners' Rehabilitation Association, Jock Palfreeman
Posted in Anti-Fascist
Tuesday, October 20th, 2015
Copies of the latest edition of Brighton ABC's Bottled Wasp Diary are now available to prisoner support groups at cost price (plus postage and packing) so they can fundraise for their groups.
Cover price is £5/EUR7 and batches of 10 can be had for £15/EUR21. You can contact ABC Brighton (via group emails) for further details at brightonabc[at]riseup.net or at: thebottledwasp[at]riseup.net
This time around the Wasp takes on the history of political insurrection, revolt and revolution across the centuries, with special features on events as far afield as Argentina (Patagonia Rebelde) and China (Wuhan Incident ) or The Year of European Revolutions – 1848 – and the 1975 Portuguese Golpe de 25 de Novembro, taking in along the way the appearance of the first Red Flag as a revolutionary symbol (the Merthyr Rising in 1831), the Peasant's Revolt of 1381, the Walloon Jacquerie, the various French Communes, the Mexican Revolution, the Russian Revolutions of 1905 and 1917, and the 1944 Dekemvriana in Greece, via visits to Macedonia, Korea, Chile, China and Australia.
For further info and a quick peak inside, see: http://www.brightonabc.org.uk/bottledwasp.html
A flier can also be downloaded at: http://www.brightonabc.org.uk/images/wasp/2016/2016_flier.pdf
Tags: ABC Brighton, The Bottled Wasp
Posted in Prison Struggle
Wednesday, September 23rd, 2015
From a comrade of ABC Brighton:
Either as a political issue or personal experience prison repression isn't something the radical left in Britain is particularly familiar with or much inclined to mobilise against. Prison remains largely a working class experience targeted against the poorest and most marginalised of that class. However in a society increasingly polarised and divided between rich and poor in a political climate of growing repression and authoritarianism prisons are being refashioned more and more into instruments of political as well as social control. This will eventually find reflection in the nature and composition of the prisoner population as political activists increasingly supplement the imprisoned poor.
What should characterise the behaviour and attitude of imprisoned political activists towards the prison system? How should those imprisoned for political offences against the system in the "free world" behave and respond once incarcerated in the Belly of the Beast, the steel and concrete innards of the state? (more…)
Tags: ABC Brighton, HMP Barlinnie, Irish Republican Prisoners, John Bowden, UK
Posted in Prison Struggle
Saturday, April 11th, 2015
**NB: There is a demonstration organised for Brighton at the Clock-Tower on Sunday 12th at 6pm**
Last Monday (April 30th) there was a new repressive strike against the anarchist movement in Spain. Thirty-eight people were arrested in a police operation under the name 'Operación Piñata'. Fifteen of them are facing charges of terrorism and five are in preventive imprisonment. The raids were carried out on private homes, social centres and squatted spaces in Madrid, Barcelona, Palencia and Granada.
These police raids were carried out in a very open way, trying to create the maximum social alarm. The media have published the names of the people arrested and the groups they are involved in, presenting the fake police accusations as fact. They talk about 'anarchist terrorism' and organisations with leaders, hierarchical infrastructures and various 'capitation' methods the arrested allegedly use to 'fund' their 'illegal' activities.
These raids are a continuation of police operation 'Operación Pandora', which took place last December within the context of the increasingly repressive politics employed by the Spanish government. (more…)
Tags: ABC Brighton, Brighton, Catalunya, Demo, International Solidarity, Operation Pandora, Operation Piñata, Spain, UK
Posted in Direct Action
Tuesday, February 17th, 2015
Above: A speaker from FRFI (Fight Racism! Fight Imperialism!) at the protest at HM Prison Service HQ against continued solitary confinement of Kevin Thakrar since he was acquitted of attacking prison officers in 2010.
Prolonged isolation of Kevan Thakrar in UK prisons is torture protest
The demo took place 16 February at HM Prison Service HQ in London, and it was attended by over a dozen people, different individuals and groups who were there to support Kevan and show solidarity about his case. Brighton Anarchist Black Cross, Jengba, Fight Racism! Fight Imperialism!, Payday Men's Network and others. (more…)
Tags: ABC Brighton, Close Supervision Centre CSC, Demo, Fight Racism! Fight Imperialism! (FRFI), Isolation, Kevan Thakrar, Repression, Solidarity Action, UK
Posted in Prison Struggle
Sunday, August 3rd, 2014
ABC Brighton have put together a list of anarchist prisoners from around the world, if you notice any errors or prisoners missing, contact them: brightonabc@riseup.net
http://brightonabc.org.uk/texts/aug_2014_prisoner_list.pdf
Get your pens out and send a letter or a postcard to a prisoner today. Here's a great writing guide from ABC Leeds. Can't jail the spirit – keep fighting – keep writing!
Tags: ABC Brighton, International Solidarity, UK
Posted in Prison Struggle
Friday, July 11th, 2014
via a comrade of Anarchist Black Cross Brighton:

In 2007 my association with the Anarchist Black Cross was considered a compelling enough reason by the prison authorities to prevent my release, despite the subsequent exposure of the lies manufactured by a prison administration regarding the nature and activities of ABC.
In the summer of 2007 following my transfer to an open jail, Castle Huntley near Dundee, after almost three decades of imprisonment, a prison-hired social worker at the jail, Matthew Stillman, submitted a report to the Parole Board in which he claimed I was linked to what he described as a "terrorist group", specifically naming ABC, and had received visits from "terrorists" also linked to ABC. As a consequence of Stillman's allegation I was transferred back to a maximum-security prison. (more…)
Tags: ABC Brighton, HMP Shotts, Jim Kerr, John Bowden, Matthew Stillman, Repression, Scotland, UK
Posted in Prison Struggle
Monday, August 26th, 2013
Latest letter from Kevan Thakrar, via a comrade of ABC Brighton:
Unable to break my resolve and provoke me into any violent reaction after three and a half years at HMP Woodhill's notorious Close Supervision Centre (CSC), I was transferred to the Specialist Intervention Unit (SIU) at HMP Manchester on 13 June 2013. Initially, people would be forgiven for thinking that finally getting off the CSC was a good thing, but when it is discovered that the move was due to Woodhill staff 'needing respite', having burned themselves out with their daily actions of brutality, the move is immediately seen in a different light. (more…)
Tags: ABC Brighton, HMP Manchester, Kevan Thakrar, Letter, Specialist Intervention Unit (SIU), UK
Posted in Prison Struggle
Tuesday, August 20th, 2013
Here is the latest letter from John Bowden, via a comrade of the ABC Brighton.
As modern monuments to naked and undisguised state power prisons, it would be reasonable to assume, are institutions where those confined are so completely disempowered and stripped of social distinctions that a kind of elemental human
solidarity must surely prevail amongst them. Surely power in such places would be concentrated solely in the hands of the guards or those who employ them, while the prisoners exist as a powerless uniform mass, voiceless and compliant and denied even bodily integrity and self-autonomy? "Ghosts of the civil dead" is probably the most apt description of the imprisoned.
In fact, as in any society or human group, power within prisons is a very dynamic phenomenon that shifts and changes and sometimes alters the balance and nature of control. It also manifests itself in crude hierarchies of power amongst
prisoners themselves, class systems almost that create another layer of oppression in prison. (more…)
Tags: ABC Brighton, HMP Shotts, John Bowden, UK
Posted in Prison Struggle
Tuesday, August 6th, 2013
From a comrade of the Anarchist Black Cross Brighton:
There's a call out now for people to start writing letters of complaint about Kevan Thakrar. Here's a couple of messages I got from his Mum yesterday:
Kev has been fighting against everything wrong in prisons and the way prisoners are treated. He is being tortured in an attempt to shut him up. The POA [Prison Officers Association] have a vendetta against him after being found not guilty of assaulting prison officers at HMP Frankland. Please show your support by writing, calling, emailing your complaints to HMP Manchester, Tel: 0161 817 5600. FAX: 0161 817 5601. Acting Governor Hannah Lane
chris.grayling.mp@parliament.uk graylingc@parliament.uk
and
Kevan is being tortured at HMP Manchester. He has been starved for 3 days and only allowed out of his cell after the phones have been shut off. He is being subjected to strip searches 3 or 4 times a day usually from the same officer. He has been given 3 IEP's in the past week and has been put on closed visits which means he is only entitled to 30 minute visits. The director of high security prisons Richard Vince visited him and told him that the move to Manchester is a permanent one so he had better stop making complaints. (more…)
Tags: ABC Brighton, HMP Manchester, Kevan Thakrar, Racism, Repression, Richard Vince, UK
Posted in Prison Struggle
Tuesday, April 2nd, 2013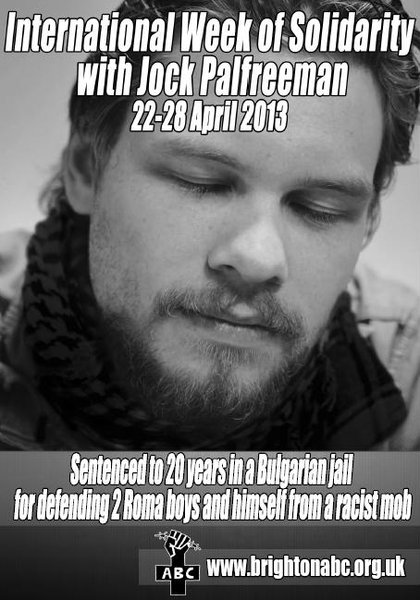 More details via ABC Brighton.
Tags: ABC Brighton, Ant-Facism, Bulgaria, International Solidarity, Jock Palfreeman, Racism
Posted in Prison Struggle
Friday, March 22nd, 2013
Since October 1996 I've been kept in the dungeons of the German state. I was sentenced to eleven and a half years in prison for one bank-robbery to fundraise money for left-wing projects. Later I was sentenced to a further five years and three months for "insulting" prosecutors, judges and politicians.
I have been a Red and Anarchist Skinhead (RASH) for many years, and the government kept me in isolation (solitary confinement) from 1996 until May 2007. I have been in the general prison population for the past six years and will finish my sentences in July 2013. (more…)
Tags: ABC Brighton, Germany, RASH, Repression, Thomas Meyer Falk
Posted in Prison Struggle