Posts Tagged 'ABC Dresden'
Wednesday, March 22nd, 2017
This interview with an activist from Belarus was recorded on the 19th of March. She gives us the context for the ongoing protest, pictures its development and tells us about the aims of the protest. She also explains who is attending the protest, what this means and what is to expect from it in the future.

Click link for audio:
https://abcdd.org/en/2017/03/20/interview-mit-einer-aktivistin-aus-belarus/
ABC Dresden
Tags: ABC Dresden, Belarus, Repression
Posted in Interviews
Thursday, March 16th, 2017
PDF: Repression in Spain
Report from ABC Dresden.
Tags: ABC Dresden, PDF, Repression, Spain
Posted in Social Control
Thursday, March 16th, 2017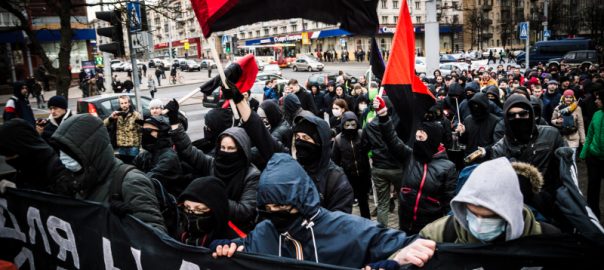 Biggest protests in Belarus in the last 10 years
In Belarus last weeks people took to the streets to fight the law against social parasitism – law that was signed by dictator Lukashenko in 2015, but started troubling population only at the beginning of the 2017. Thousands took to the streets in Minsk, Brest, Gomel and many other smaller cities all around the country, to show their discontent with the law and the current regime. The protests seems to have little influence from "official" opposition- instead of that people previously not involved in the politics are organizing together. In several places anarchist played quite a big role in the protests. Last week belarusian government started repressions against those on the streets – up until now over 48 people were detained and prosecuted for different violations. (more…)
Tags: ABC Belarus, ABC Dresden, Belarus, Brest, Repression
Posted in Autonomy
Friday, October 28th, 2016
Check out the new guide here:
https://abcdd.org/en/english-security-guide/
This guide aims to be a concise overview on information security for anyone in emancipatory struggles against structures of power. It represents assembled knowledge and best practices from personal experience, conversations with hackers and fellow activists, hacker conferences, and university courses on computer security and cryptography. Nonetheless, the best security is sharing skills with trusted people.
If you have any corrections, questions or additions, please contact us.
abcdd(A)riseup.net
Tags: ABC Dresden, Counter-info, Germany, Hacking, Repression, teh internets
Posted in Library