Posts Tagged 'ABC Indonesia'
Monday, August 10th, 2020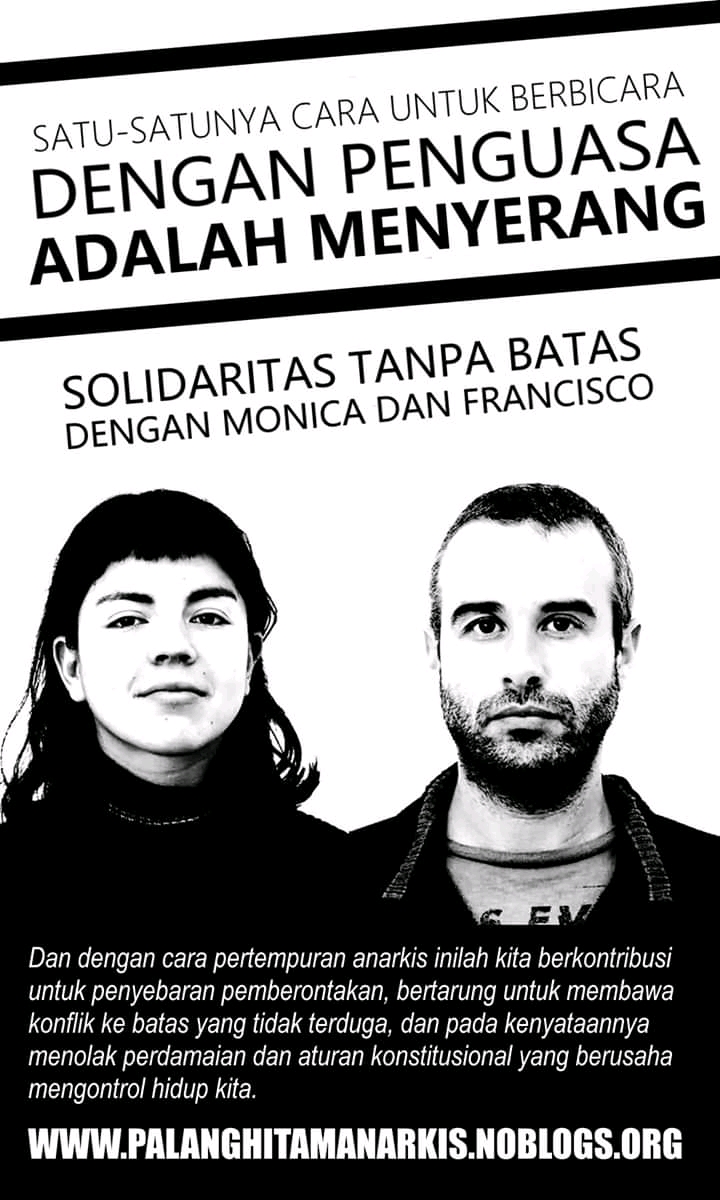 From Indonesia… To Chile…
Palang Hitam Indonesia / Anarchist Black Cross Indonesia menerbitkan poster solidatas untuk tahanan anarkis Mónica Caballero dan Francisco Solar dari Chile. Sebarkan solidaritas!!
Tautan unduhan:
• File PDF
• File JPG
Solidaritas kami akan lebih kuat dari tembok penjara mereka!! Free Monica and Francisco!
Tags: ABC Indonesia, Chile, Francisco Solar, Indonesia, International Solidarity, Monica Caballero
Posted in Prison Struggle
Thursday, December 12th, 2019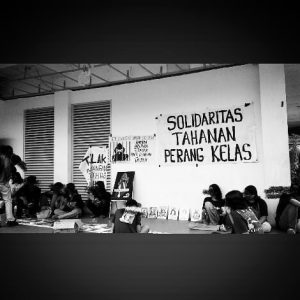 Surrendering to state domination is the death of living for humans, contempt in the face of this is freedom and independence.
Free choice to continue to survive and assemble all forms of power to keep burning and ready to burn all threats, to fight all forms of dictation of power, oppression and all forms of capitalism domination.
There is only one war, namely CLASS WAR !!!
CLASS WAR – FIGHTING SOLIDARITY

Solidarity is a Weapon
Palanghitam Anarkis / ABC Indonesia | More info: 1, 2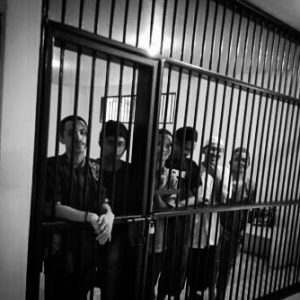 Tags: ABC Indonesia, Indonesia, International Solidarity, Makassar, Makassar City
Posted in Prison Struggle
Wednesday, December 12th, 2018
Ucil, the last of the imprisoned anarchists of the Mayday 2018 mutiny in Yogyakarta, Indonesia, has been free since December 7, 2018 at 10:00 a.m. Congratulations, comrade and congratulations to the Palang Hitam crew for all their hard work as well as all the comrades who showed solidarity from so-called Australia.
Tags: ABC Indonesia, Brian Valentino (Ucil), Indonesia, Yogyakarta
Posted in Prison Struggle
Monday, December 3rd, 2018
TRADUCCIÓN: Voz Como Arma:
A continuación sigue una traducción que hemos hecho del texto "Seek and Destroy Eco-Extremism Everywhere: A Joint Statement of Individualist Network and Indonesian Anarchist Black Cross (Indonesia)" (Busca y Destruye el Eco-Extremismo En Todas Partes: Una Declaración Conjunta de la Red Individualista y de la Cruz Negra Anarquista de Indonesia), publicado en 325 y que viene a aportar otra reflexión contra el eco-extremismo y su influencia en algunos entornos del amplio "movimiento" anarquista.
–
"El que pelea con monstruos debería tener cuidado de no convertirse él mismo en un monstruo. Y si miras al abismo demasiado, el abismo también te mira a ti"
Más Allá del Bien y el Mal
Trasfondo
Sabemos que no hay una tendencia eco-extremista en Indonesia, aunque declaraciones anteriores de las células de la Federación Anarquista Informal tendieron a tener algún mérito en relación con la hostilidad general contra las moralidades anarquistas sociales y de izquierda en relación con la violencia, la destrucción y el fetiche de la organización. Para ser sinceres, nosotres no tenemos ilusiones cuando hablamos, escribimos o actuamos contra nuestro enemigo usando cualquier medio posible. Atacar al Estado y al Capitalismo es esencial para anarquistas de todas las tendencias (vamos a ignorar a la tendencia pacifista ya que necesita un contexto de discusión diferente), aunque esto es una declaración conjunta que implica a una amplia gama de tendencias anarquistas, la mayoría de nosotres no tenemos este punto de vista liberal sin sentido hacia la violencia contra el sistema y las personas que lo defienden, mantienen y materializan en la vida cotidiana. Algunas individualidades en nuestra red mantienen su postura anticivilización y postizquierdista mientras que otres encontraron algunos aspectos del anarquismo social como necesarios para organizar la interrupción de la máquina. (more…)
Tags: ABC Indonesia, Aragorn!, Eco-Extremism, Individualist Network - Indonesia, Individualists Tending Toward the Wild (ITS), Indonesia, Little Black Cart, Yogyakarta
Posted in Anti-Fascist
Saturday, November 24th, 2018
Note: Updated edited version.
"He who fights with monsters should look to it that he himself does not become a monster. And if you gaze long into an abyss, the abyss also gazes into you."
– Beyond Good and Evil
Background
We know that there is no eco-extremist tendency in Indonesia, although past statements from FAI cells tended to have some merit concerning the general hostility against the social and leftist anarchist moralities concerning violence, destruction, and the fetish of organization. To be honest, we don't have illusions when we talk, write, or act against our enemy using any means possible. Attacking the state and capitalism is essential for anarchists of all tendencies (we're going to ignore the pacifist tendency as it needs a different context of discussion), although this is a joint statement involving a wide range of tendencies of anarchists, most of us don't have this nonsense liberal point of view toward violence against the system and the people who defend, maintain, and materalise it in everyday life. Some individuals in our network maintain their anti-civ and post-leftist stance while others found some aspects of social anarchism are necessary in organizing the disruption of the machine.
Our intention of this statement is to join the front against the eco-extremist tendency that has been given platform by the self-labeled 'nihilist-anarchists' in the US and Europe, from our sources we know that most of these individuals who endorse EE and keep continuing in giving them platform are using absurd reasoning and it's post-modernist at best- we will discuss about this more below. It is funny though that most of the individuals in our network evolved from anti-civ and post-leftist discourses, even some of us have translated the writings of authors in AJODA: A Journal of Desire Armed (yes, including that boyfriend of ITS, Aragorn!). The critiques of the leftist movement have been useful in identifying the decadence of leftist populism in our territory, their dead-end strugglism and their social democratic tendency which aims to make "a more humanist capitalism," therefore we find it obscure when the recent eco-extremists were using the terms "humanism", "morality", and even "sectarianism" in their absolutist communiques as if the corpse of Nechaev Jesuitism was resurfacing again. (more…)
Tags: ABC Indonesia, Aragorn!, Eco-Extremism, Individualist Network - Indonesia, Individualists Tending Toward the Wild (ITS), Indonesia, Little Black Cart, Yogyakarta
Posted in Autonomy