Posts Tagged 'ALF'
Saturday, August 31st, 2019
Anonymous report, from Stop the cull (click here for video from the action [warning – Facebook]):
During the night of 19th August we visited a partridge shoot of the outskirts of Gloucester and liberated what we believe to be around 5,000 partridges, destined to be shot imminently. After weeks of surveillance of the rearing sheds, we waited until two weeks before the start of the killing season to release them. This was both to ensure that the birds were old enough to survive and to cause maximum economic damage. Our aim is to close this shoot down for good.
Due to the proximity of the farm buildings and the gamekeeper's house, we built a barricade on the track so if the keeper came out in his vehicle we'd have time to escape should the noise of the fleeing birds wake anyone. We then opened each pen in turn by cutting the zip ties that held the fence panels together and the plastic netted roof before herding the thousands of captives into the surrounding maize and wheat fields.
We will dismantle this industry pen by pen, shoot by shoot.
Until all birds fly free.
Animal Liberation Front
via Bite Back.
Tags: ALF, Animal Liberation, Animal Liberation Front, Gloucester, UK
Posted in Direct Action
Saturday, June 22nd, 2019


via Biteback:
"Guinea Fowl liberated from Plumpton College, Game Management Facility, in the early hours of Sunday 2nd June 2019.
These birds have been taken to a safe place far away from the oppressors wishing to profit from selling a chance to shoot these birds in the name of 'sport' or 'conservation'.
Fuck the hunters. Fuck Capitalism and Fuck Vegan Campout!
This liberation is dedicated to all Sabs, past, present and future who in our humble opinion are the cornerstone of the Animal Rights Movement.
We are disgusted that Vegan Campout has banned the Sabs and the organisers of vegan campout are sucking up to the CUNTryside Alliance[*], when they have been offered a free site to hold the campout in Wales since the start! What the actual FUCK?!
UNTIL ALL ARE FUCKING FREE, WE WILL NOT REST!
We urge you all to make a stand!
Stay Safe, Fuck Shit Up and make it personal!
Love n Rage Xx"
–
* Countryside Alliance is a hunters and land-owners organisation of the traditionalist right wing in UK.
Tags: ALF, Animal Liberation, East Sussex, Plumpton College, UK
Posted in Eco Struggle
Monday, March 25th, 2019
From Unoffensiveanimal:
After seeing a few reports appear about game birds released from breeding farms, a map has been made public containing some of the breeding farms within the U.K.
The shooting industry in the U.K. breeds mostly pheasants, partridges and ducks in factory farm conditions, and then they have a whole system of introduction into the wild during the summer to get the birds in place for the shooting season that starts in September.
It isn't new to see reports of game farms being visited by the ALF with thousands of animals released, and it is no surprise. As a tactic, game farms are at its weakest point right now, when mating season is happening and they need to collect the eggs to incubate them in huge hatcheries . When breeding birds are released into the wild, there is not only a loss of "stock" but also they are unable to breed the birds they need to then distribute them in shoots. Although it is a liberation action, it carries the weight of economic sabotage and finds a solution to the burden of caring for thousands upon thousands of animals in safe homes, as game birds can be simply released into the wild. There is no doubt that many of them will die, but let's remember that all of them plus their offspring would die during the next shooting season. (more…)
Tags: ALF, Animal Liberation, Sabotage, UK
Posted in Eco Struggle
Thursday, February 28th, 2019
COMMUNIQUÉ FROM MEMBERS OF ALF ARGENTINA, BUENOS AIRES
In the first week of this month; February, members of the ALF have entered a poultry farm and rescued more than 20 chickens, which now enjoy a life in freedom.
We will continue to rescue animals and sabotage centers of torture and death until the end of speciesism.

ANIMAL LIBERATION – EARTH LIBERATION
LONG LIVE DIRECT ACTION
Tags: ALF, Animal Liberation, Argentina, Buenos Aires
Posted in Eco Struggle
Sunday, February 17th, 2019
Unoffensive Animal was born out of the necessity to inspire activists. After complaining about how the radical left has an incline to disregard veganism and qualify it as classist and colonialist, and after feeling completely disheartened by animal rights activists disregarding human issues, we decided to create a media outlet able to bring both sides and to help radicalise activists.
Unoffensive Animal is an anarchist collective. We are non-profit and strongly anti capitalist. We are queer and/or queer allies. We are antifascists. We are vegan, animal liberationists and we have even been called forest "jihadis". We stand against animal exploitation and against human exploitation. We oppose racism, bigotry and nationalism. We believe in direct action, but we also believe in diversity of tactics. We know that human liberation is animal liberation and that animal liberation will never happen under capitalism. (more…)
Tags: ALF, Animal Liberation, Earth Liberation Front, Unoffensive Animal
Posted in Eco Struggle
Friday, November 23rd, 2018
PDF: Animals Thirsting for Freedom – Booklet
This is a text about antispeciesism from an anarchist point of view. This text was written mostly because of the reactions from reformist organizations following a series of acts of sabotage.
Tags: ALF, Animal Liberation, PDF, Zine
Posted in Eco Struggle
Thursday, November 8th, 2018
We sat in the hedge waiting until the house by the farm turned all lights off. The padlocked gates gave way easily under the bolt cutters and the sheds were accessible through the windows, giving us plenty of room to carry on the operation. We had not taken into consideration something important. The quick growth of the turkeys had turned them from easy-to-carry, chicken sized birds into huge animals since our last scouting. They were now almost ready to be slaughtered. We decided that thirty was as many as we could take and one by one we carried them to the transport. In less than fifteen minutes the birds were loaded and on their way to a safe new home. As the tractor was close by we decided to use a window punch to cost a little more money to the animal abuser. It is incredibly satisfying to see the glass shattering, thinking of the bills that the farmer will have to pay. We see this action not as an act of heroism but as a means to an end tool. Decentralised actions throughout the UK to destabilise the animal abuse system aren't just a token of solidarity towards our non-human comrades, but a completely necessary behaviour that should be repeated across the board and combined with resilient overground campaigns that seek something else than the spread of veganism. We shouldn't be discussing the ethics of sabotage and their impact on the general public, we should be attacking with all our rage towards what hurts them the most; their money.
Let this be your call to action. From butcher shops to slaughterhouses, from calves to fish, it is time to act. It is time to cause them enough money that their insurance companies decide to not cover them any longer. It is time to rescue as many animal victims as we possibly can.
It is time to act. We hope that our words transmit our sense of urgency.
The world, the animals and the environment around us cannot afford to wait a little longer. Every animal slaughtered, every tree cut and every person dead after being trapped by this system will accelerate exponentially the destruction of the planet. With this action we also want to remember Barry Horne.
Barry lives in those who act.
Who, if not you?
When, if not now?

Animal Liberation Front
Tags: ALF, Animal Liberation, Barry Horne, Sabotage, UK
Posted in Eco Struggle
Sunday, September 16th, 2018
Anitra Guillory
418 Westwood Dr.
Mandeville, LA 70471
Telephone: (831) 637-0339
Continuing our exposure of the nihilist-right and eco-fascist group, Church of ITS Mexico, we briefly look at the wife of Arturo Vasquez (Abe Cabrera), editor of "Eco-Extremist Mafia" publication Atassa. We inform the facts that his wife, in the course of her studies into fields of 'scientific research', Biomedical Engineering and Neurobiology, has performed horrific experiments on animals.
A little bit of research can confirm that she has committed vivisection; useless and torturous cruelties done on living beings for no other reason than to progress with her own paltry and worthless career papers, just to throw away those little animals like they were nothing. So, this is the life-partner of the editor of the supposedly 'iconoclastic' 'eco-extremist' journal Atassa, and this is the family environment Vasquez is in with his kids. (more…)
Tags: ALF, Animal Liberation, Anitra Guillory, Arturo Vasquez 'Art Cabrera' (Eco-Fascist), Atassa, Eco-Extremism, Individualists Tending Toward the Wild (ITS), USA
Posted in Eco Struggle
Monday, August 13th, 2018
UPDATE 12:20 PM 8/11/2018: Joseph's contact info has been added to the bottom of this post.
Joseph Mahmoud Dibee, an alleged member of the Earth Liberation Front group "The Family," has been arrested in Cuba and is now being held in Oregon. Cuban authorities, with assistance from the FBI and other US government agencies, detained Dibee in Cuba shortly before he was set to board a plane to Russia. He has been held in the Multnomah County Detention Center in Portland since Thursday afternoon.
He appeared in federal court in Oregon yesterday afternoon. He pleaded not guilty to three counts of arson and conspiracy charges. He told the judge he understood his rights and said nothing else.
He will now face federal criminal charges in Oregon, California, and Washington. (more…)
Tags: ALF, Animal Liberation, Earth Liberation Front, Joseph Dibee, Repression, USA
Posted in Eco Struggle
Thursday, November 16th, 2017
Statement from Walter Bond recorded by the North American Animal Liberation Press Office on 11/15/17
(Audio Message)
https://soundcloud.com/rufrebelradio/urgent-message-special-announcement-from-walter-bond-the-alf-lone-wolf
"Since my arrival in Greenville two-and-a-half years ago, my
communications with the world have been made incredibly difficult and at
times impossible. I have been repeatedly denied books, magazines,
letters and pictures. It's standard operating procedure that my mail –
be it my email or snail mail — is habitually days, weeks and even
months late. It is not at all uncommon for my mail, both incoming and
outgoing, to simply never arrive." (more…)
Tags: ALF, Animal Liberation, Hunger Strike, Lone Wolf, USA, Walter Bond
Posted in Prison Struggle
Tuesday, November 14th, 2017
14.11.17
We wanted to dedicate this action to all our kidnapped friends, or those who have been kidnapped once, by setting fire to 4 trucks from one of the biggest milk companys in finland named valio. The action took place in a city named tampere in the early morning hours of this tuesday. Many of our cell have wanted to target this company for a long time. We think that it is not necessary to explain too much the reason of our selection: the milk industry has a long history of destruction, cruelty and torture on this planet, its ecosystem and their habitants. Like our friends the cows and the forests. Who are cruelly abused and murdered or destroyed by the production of milk."
via biteback.
Tags: ALF, Arson, Finland, Sabotage, Tampere, Valio
Posted in Direct Action
Tuesday, November 14th, 2017
Animal Liberation Front comrades in UK are getting active again despite years of repression and clampdowns by the state. Here's a quick list of actions that happened over the last month. Reports from Bite Back:
–
Anonymous report:
8 November 2017
"Several turkeys liberated from concentration camps (aka farms) in the UK last night."
– (more…)
Tags: ALF, Animal Liberation, Badger Cull, Barry Horne, Sabotage, UK, Vandalism
Posted in Eco Struggle
Tuesday, October 24th, 2017
During the first week of October, 2017, persons unknown were able to enter the University of Chile's science faculty at the Juan Gomez Milla Campus on Macul and Grecia avenues.
After having previously identified a laboratory for animal experimentation, the unknown persons entered it, released the animals imprisoned there (mainly rodents) and destroyed the infrastructure of the lab along with all the 'research' documents that were inside it. The unknown persons managed to escape without being detected or identified.
During the days that followed, it was confirmed that 120 laboratory rodents were released, they were being experimented on to test the physiological effects of climate change. The 'Institutional Committee for the Care and Use of Animals' (CICUA) – the name of the organization responsible for approving, supervising and certifying the use of animals for experimentation – stated that the animals were not being abused, and also noted that "most of the released rodents suffer from afflictions and will not survive for long since they require the assistance of humans for their well-being and survival". (more…)
Tags: ALF, Animal Liberation, Chile, Santiago
Posted in Direct Action
Friday, November 11th, 2016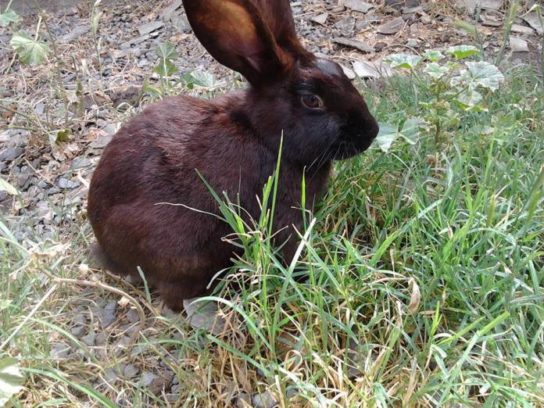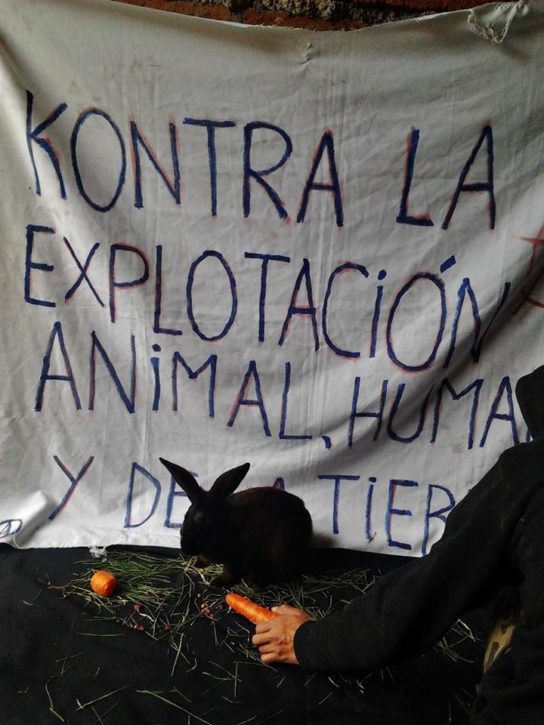 The rabbit was released from a tiny cage and given a new loving home in memory of Animal Liberation Front warrior Barry Horne, who died on hunger strike until death in defense of all life 15 years ago. For the animals.
Tags: ALF, Animal Liberation, Barry Horne, Chile, Santiago, UK
Posted in Eco Struggle
Saturday, September 24th, 2016
Yesim Nurova is a journalist affiliated with R9 Media. She is an animal rights activist known throughout Turkey and Europe. She has organized and led some of the largest animal liberation and animal rights demonstrations and protests, many with a Direct Action component, in Asia. Also, she is the Founder of the Spanish language A.L.F Frente de Liberación Animal Liberation/Animal Rights Community, an animal liberation and animal rights online resource for Spanish speaking activists around the world.
Q-Where are you from?
I live in Turkey.
Q-What organization(s) are you involved with?
The North American Animal Liberation Press Office where I'm an Advisor and Liaison for Europe. Also, I'm a Journalist affiliated with New York City based R9 Media.
Q-Why are you an activist? How did you get involved in the fight for
animal liberation?
I'm an Animal Liberation Activist because animals are the most oppressed beings on the planet. They suffer and endure so much pain at the hands of and service towards humanity. Worldwide there are factory farms, fur farms, leather factories, slaughterhouses, circuses and zoos. All of which imprison them and subject them to violence and exploit them for goods, resources and entertainment. They are slaughtered for food, clothing, accessories, cosmetics, medical testing and medical products. This is unacceptable in the twenty-first century. Animals have the right to live free of suffering and exploitation at the hands of humans. Fighting for the freedom of animals is my fight. I, and in fact all people, have an ethical responsibility towards animals. They cannot fight for their own freedom so the responsibility falls to Activists. They must be liberated from their slavery and I'm in solidarity with them. I'm fighting for their freedom. (more…)
Tags: ALF, Animal Liberation, North American Animal Liberation Press Office, R9 Media, Supreme Vegan Power, Turkey, USA, Yesim Nurova
Posted in Interviews