Posts Tagged 'ALF'
Friday, December 2nd, 2011
325 receives and transmits:
On 30/11/2011 we set out to spike forest roads in a hunting resort of Naro-fominsk district (Moscow region).
We can't find words to describe our happiness at discovering a forest service vehicle parked on a remote trail. It was a mystery for us if they were there on an ambush (they were sort of hard to spot initially), or simply taking a rest away from their bosses (as Russian enforcement agents are prone to do). So we spiked about 2 kms of the road in both directions from the vehicle. We wish them a cold and lonely night in the dark forest.
We felt emotions akin to those every anarchist with molotov in a back pack must have felt when she suddenly came upon an empty police car.
Forest service officers do not protect forests or wildlife, they are there to make it possible for hunters kill animals (for a bribe or due to dubious legislation), they rob tourists during tourist seasons, they turn a blind eye towards tree-cutters.
We salute young men and women from ALF-Moscow for their courageous acts. The struggle continues until total liberation!
ALF-Moscow region
Tags: ALF, Fuck the Law, Moscow, Naro-fominsk, Russia, Sabotage
Posted in Direct Action, Eco Struggle
Thursday, November 3rd, 2011
Hello, my name is Walter Bond. I am currently serving a prison sentence in the United States for 3 A.L.F. arsons totaling nearly 2 million dollars' worth of damage. Recently, I read a statement in solidarity with the Conspiracy Cells of Fire attempting to create a real voice for all of us political prisoners and prisoners of war, those of us that have fought and still fight from our prison cells against all civilization. I was happy to see that solidarity was signed with me in that article as well. As a small token of my support please accept the enclosed brief letter of solidarity that I have written for the Informal Anarchist Federation. Animal Liberation, Whatever It May Take! (more…)
Tags: ALF, Animal Liberation, Conspiracy of Cells of Fire, Conspiracy of Cells of Fire : Imprisoned Members Cell, Earth Liberation Front, ELF, Informal Anarchist Federation (FAI), International Words of Solidarity with the Conspiracy of Cells of Fire pamphlet, USA, Walter Bond
Posted in Eco Struggle, Prison Struggle
Sunday, October 2nd, 2011
27 September 2011
"In the early hours of Tuesday morning (27/09/11) McDonalds drive thru in Bedminster was visited and thoroughly smashed, with all it's windows attacked.
Fuck Mcdonalds and the death culture they perpetuate and symbolise globally, which means:
abuse and mass slaughter for millions of animals caged all their miserable lives, poisonous food, sickness and cancer for humans, mind numbing drudgery and workplace control and discipline for workers treated like slaves, destruction for the environment and of course massive profit for capitalists.
If you thought smashing up Mcdonalds had gone out of anticapitalist fashion, think again. We don't forget or forgive.
For earth, animal and human liberation."
ALF / ELF
Tags: ALF, Attack, Bedminster, ELF, Fuck McDonalds, UK
Posted in Direct Action
Monday, June 27th, 2011
Walter Bond was arrested on July 23, 2010 and has plead guilty to the arson of the Sheepskin Factory in Colorado and openly admits that he is the ALF (Animal Liberation Front) "Lone Wolf". Bond has plead not guilty to federal charges. He has also been indicted in Utah for the arsons of the Tandy Leather Factory and Tiburon (foie gras restaurant).
Resist to Exist
I am an anarchist.
I'm not the politically-correct hipster anarchist.
I am not the rhetorical anarchist either.
Reading dry accounts of the various factions of anarchism has never held much interest for me. I am an insurgent, an opposser. Why? Because I was born that way. When I was in kindergarten my teacher, Ms. Whirly, had a parent/teacher conference with my mom. I remember her saying something about me being a very bright young man but that I had serious problems with authority and one day it would get me in a lot of trouble. I do, and it did.
I came to find out that school doesn't want you to be a 'bright young man'. Serious questioning is the enemy of primary and secondary schools' indoctrination of youth. While my grade school teachers prattled on and all the kids answered in unison, I sat at the back of the class reading about dinosaurs, mythology, and astronomy. It made me feel hopeful that places or times existed that were far from here. far from Iowa's Aryan education. times and places where humans weren't the center of the entire universe. (more…)
Tags: ALF, Letter, Lone Wolf, USA, Walter Bond
Posted in Prison Struggle
Monday, February 28th, 2011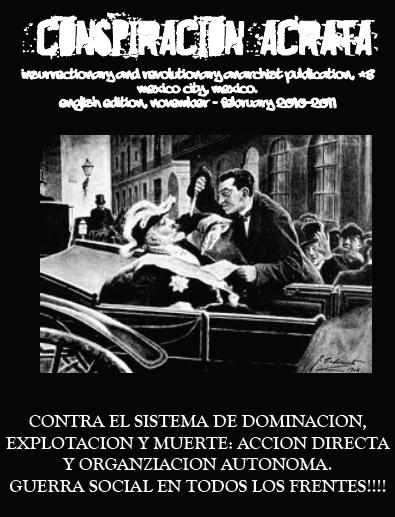 Insurrectionary and revolutionary anarchist publication
Mexico city – Mexico
English edition – February 2010-2011
"Salud! This here is one more number of the insurrectionary and revolutionary anarchist publication that we call CONSPIRACION ACRATA. This project was born during the month of March of 2009 as a medium for the diffusion of the insurrectional anarchist struggle. During this time we have completed 8 editions, with this being the most recent. This edition, completely in English (except the addition of the editorial) was made with the aim of spreading the social war that is being fought in Mexico to English speaking countries, this special edition is a compilation of texts, news, critiques, communiqués from anarchist and eco-anarchist cells in Mexico as well as various texts that were edited for past editions. This publication was also formed from the importance of the diffusion of revolutionary anarchist ideas that are often strongly criticized by individuals who feel they have the role of the judge of the revolution, and instead of putting forth objective critiques, only assert prejudiced and condemnatory critiques which aim to isolate the anarchist compañer@s of action from the entire movement."
Tags: ALF, Autonomous Cells of the Immediate Revolution – Praxedis G. Guerrerro, Conspiracion Acrata, ELF, Mexico, PDF
Posted in Library
Sunday, February 13th, 2011
11 February 2011
From Biteback:
"Two farms supplying chickens to be used in laboratory experiments were raided in one night. 25 chickens were freed from these disgusting business. We will return to free the rest!
AE Binning in Besselsleigh, Oxfordshire and Ross Poultry Farms, Martin Hussingtree, Worcester were the targets.
The fall of the animal supply network will be brought about and with this comes victory and closure of the laboratories.
Action, not words!"
Animal Liberation Front
–
This action was dedicated to Walter Bond given 5 years inside in the USA for burning down a sheepskin factory.
Tags: AE Binning, ALF, Animal Liberation, Chickens, International Solidarity, Oxfordshire, Ross Poultry Farms, UK, Walter Bond, Worcester
Posted in Eco Struggle