Posts Tagged 'Analysis'
Tuesday, February 2nd, 2016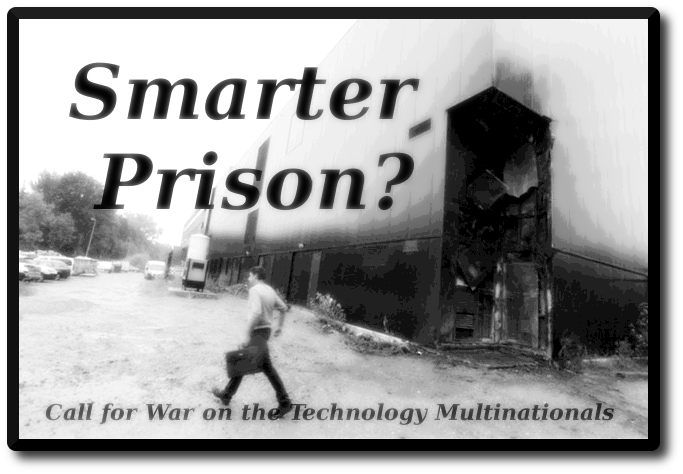 Submitted to Return Fire in the last month of 2015, as part of the challenge to create diverse Black December activities. Return Fire take full responsibility for delaying publication while we awaited corrections, which we now amended into the text and formatted for release. Big love from our trench to the comrades standing proud in the Turin courts around this very time. Shouts to the fighters who carry on beyond the Black December timeframe and harry the dominators in all corners of our lives. Freedom. R.F.
– solidarity with Silvia, Costa & Billy
Note from Return Fire: We transcribed the following essay, submitted by 'Radical Interference', which unfortunately cannot fit into our upcoming Volume 3 (Winter 2015-2016). We are happy to see that the invitation from the Greek dungeons for a Black December campaign (to re-intensify our insurrectionary fervour while not forgetting to "exchange experiences and rationales around various topics of struggle") was taken up in this form, so as to broaden and develop the offensive against modern domination. Solidarity and strength to Silvia, 'Costa', 'Billy', Marco, Adrián, Nicola and Alfredo, and to the rest of the comrades in our struggle. In the spirit of 'Avalon'; always present in our memories and active hands. Let's extend the energy of Black December beyond the New Year, through the trial that starts in January and the proposed week of mobilisation, and onwards on the path of total liberation. Winter Solstice, 2015
INTRODUCTION AND DEDICATION IN ANTICIPATION OF THE TRIAL ON 13th JANUARY 2016
At this time, as the wheels of this monstrous society continue to grind on, and the scattered insurgents make to throw what they can beneath the tracks to slow it down in whatever way, we are left with some questions. These are questions that, in our opinion, deserve more thought and provocation than they usually assume in the circles of anarchists, rebels and land-defenders. Namely; it is clear that mobilisations (independent of any timeframe), such as those for our imprisoned or fallen, are a practical necessity in order to constitute diverse forces that are ready to face and understand the consequences of any struggle that materially contests the ruling order; in other words, so that repression lessens in its power to stop us in our own tracks. (more…)
Tags: Analysis, Black December, Costantino Ragusa, Luca Bernasconi, Radical Interference, Return Fire, Silvia Guerini, UK
Posted in Library
Friday, January 29th, 2016
As the viciousness of capitalism engulfs ever more of us, our yearnings for change are approaching desperation. The system's current leader, Barack Obama, has shown us that the only change we can believe in is what we ourselves create.
To do that, we need to know what is possible in our times and what isn't. The bitter probability is that none of us will see a society in which we'd actually want to live. Even the youngest of us will most likely have to endure an increasingly unpleasant form of capitalism. Despite its recurring crises, this system is still too strong, too adaptable, and has too many supporters in all classes for it to be overthrown any time soon. We're probably not going to be the ones to create a new society.
But we can now lay the groundwork for that, first by exposing the hoax that liberal reforms will lead to basic changes. People need to see that the purpose of liberalism is to defuse discontent with promises of the future and thus prevent mass opposition from coalescing. It diverts potentially revolutionary energy into superficial dead ends. Bernie Sanders' "long game" campaign is really only a game similar to that of his reformist predecessor, Dennis Kucinich, designed to keep us in the "big tent" of the Democratic Party. Capitalism, although resilient, is willing to change only in ways that shore it up, so before anything truly different can be built, we have to bring it down. (more…)
Tags: Analysis, USA, William T. Hathaway
Posted in Autonomy
Thursday, December 24th, 2015
Life has deserted the soulless labyrinth of man's daily doings. So seemingly ecumenical, so apparently volatile, she is not so cheap. Attempts to encounter her by the slaves of democracy remain just that. The apparent choices in the shop windows of capital come down to one: you can inhabit the swamp with the frogs, wallow in the global quagmire of participation and help spread the mud till even your dreams become grey. Or you can go. Take flight with the vagabonds of the spirit, let the glow of freedom ignite your passions, kindle your spirit, illuminate your mind. Throw away all the prostheses and venture into the abyss of a world without limits.
Here rebellion ceases to be an abstract choice, it becomes necessity.
Once roles and identities are discarded and the confines of patience and hope deserted, humiliation gives way to anger. No longer mere outsiders in this world of swindles and conjuring tricks, we become its sworn enemies. We burn all the maps. Freedom becomes our only compass and there is no turning back.
The struggle becomes reality, and this reality is not the same for all. It is conditioned by concrete structures, the various forms that the enemy gives itself to exploit and extract profit and submission. The apparent freedom enjoyed in the 'comfort zones' of capital contrast sharply with peripheral areas in old-fashioned material poverty.
There is no blueprint for struggle, and rebels and freedom fighters make their own decisions, working things out as they go along.
The vast treasure of anarchist ideas and action past and present belongs to us all and is there for the taking – critically, of course.
The guard dogs of the State do not look on passively. By arresting, sending to trial, torturing and imprisoning, they try to break the revolutionary's activity as a whole, not just their physical person. This it does this by keeping them away from this activity for as long as possible. To defend one's freedom with every means, with the coherence and correctness that the revolutionary him/herself must decide is therefore not a choice but a necessity towards one's project, the other comrades involved in it, and the exploited and oppressed who from this project might (or might not) find their own freedom.
And when the enemy succeeds in taking the rebels hostage, locking them up, framing them as terrorists and enemies of the people, there are comrades everywhere for whom solidarity is a fundamental, inextricable part of the totality of the struggle.

J. W.
–

via actforfree
Tags: Analysis, International Solidarity
Posted in Cognitive Liberty
Saturday, August 15th, 2015
Como ya es sabido, en los últimos meses ha existido una serie
detenciones de jóvenes acusadxs de participar en disturbios y
enfrentamientos con las fuerzas represivas, acciones llevadas a cabo por
encapuchadxs en universidades. Algunxs de ellxs hoy permanecen en
diversos regímenes de encierro, desde arrestos domiciliarios hasta
prisiones preventivas.
Algunxs compañerxs ya han reflexionado sobre el rol de la represión
selectiva del Estado y de cómo l@s poderos@s intentan ir quitando
terreno a las diversas expresiones de conflictividad contra el orden
establecido. (http://www.hommodolars.org/web/spip.php?article5359)
(more…)
Tags: Analysis, Chile, Santiago
Posted in Social Control
Thursday, July 2nd, 2015
FR: Texte de Nikos Maziotis, membre de Lutte Révolutionnaire, au sujet du défaut de paiement de la Grèce et de la sortie de l'Union Monétaire et Economique Européenne. 
The SYRIZA-led government is collapsing. The Greek default and exit from the Eurozone, as choice of the lenders, is a process that started in 2010 and currently marks the beginning of the end of the SYRIZA government. The implementation of the memoranda from 2010 was one phase in the process of orderly default that the supranational economic elite had chosen, in order to ensure the sustainability of the Euro and to cut off one member that due to the debt crisis is considered gangrened and has to be expelled. Essentially, Greece's default has always been regarded by the supranational economic elite as a prerequisite for its salvation, without even breaking the country's obligations to the lenders, something that was ensured by the inclusion of the country into the power of the IMF, the ECB and the European Commission.
Since 2009, Greece was already a bankrupt country and this was something known by both the then government of Georgios Papandreou and the European Union. The supranational economic elite, from 2010 onwards, followed an orderly default tactic so as to safeguard the lenders, the then holders of Greek bonds, the French, German, British and American banks.
The first aim of the memorandum was that it prohibited unilateral suspension of debt payments on the part of the debtor. On that basis, all of the Greek state-owned assets were frozen to ensure the repayment of the debt.
(more…)
Tags: Analysis, Anti-cuts, Athens, Economic Crisis, Greece, Korydallos Prison, Nikos Maziotis, Revolutionary Struggle, SY.RIZ.A.
Posted in Autonomy
Thursday, May 7th, 2015
Updated version of this article here.
This article collection is against the doctrines which state "We cannot change the system" or "There is no better system than the current one"!
1) 2 pages document about the implementation of Real Democracy (Direct Democracy) today:
http://www.viewdocsonline.com/document/2i4yr2
(or https://docs.google.com/file/d/0B1Z5YU3ass1-T1pJS2Z4cVJRcm8/ )
2) 1 page document about the continuance of an indicative operating framework which aims to unanimity and respects fundamental human rights of individuals and minorities:
http://www.viewdocsonline.com/document/ef5o26
(or https://docs.google.com/file/d/0B1Z5YU3ass1-U2VIc1REeWQ3UFk/ )
Pericles Network (is a way of implementing Direct Democracy which was developed many years ago in "National Technical University of Athens"):
1) https://docs.google.com/document/d/1QqHCzMYn0eWbJ-Up9_P6Vtxm6uCMqwdh4bS7sJMj3j0/
2) http://www.ntua.gr/periklesnet/page3/page3.html
VIO.ME. (a self-management factory in Thessaloniki, Greece):
1) http://roarmag.org/2013/06/vio-me-greece-factory-documentary/
2) http://www.viome.org/
Initiative 136 (a self-management initiative to stop water privatization in Thessaloniki, Greece):
1) http://www.enetenglish.gr/?i=news.en.economy&id=838
2) http://www.136.gr/article/citizens-bid-control-thessalonikis-water
The paradigm of frequent referendums by people's initiative in Switzerland for validating laws made by citizens or for cancelling laws made by their government:
1) http://direct-democracy.geschichte-schweiz.ch/
2) http://direct-democracy.geschichte-schweiz.ch/switzerlands-system-referendums.html
View and download all the above in one PDF file:
http://www.viewdocsonline.com/document/f3rqli
(or https://docs.google.com/file/d/0B1Z5YU3ass1-Qld5T0pKZ1N2Tms/ )
I wish Freedom to all of you!
Tags: Analysis, Direct Democracy, Fuck the Elections, Greece, Switzerland
Posted in Autonomy
Monday, April 20th, 2015
This is a translation of a brochure written by 2 anti-authoritarian communist groups, Vida (Rivet) and Proletconnect about the anti-fascist struggle in Ukraine after the Maidan events. Events unfold on very high speed and although this brochure discusses the Ukrainian reality until June 2014, to the opinion of the translator it offers insight on the background of the conflict and the international geopolitical significance of these events. It offers a different interpretation compared to western media and even parts of the western left.
In USSR times…
"…Its (Kiev's) buildings are famous all over Russia. It was a center of religion. And now it is a semi-ruin. Here the Germans showed what they could do. Every public building, every library, every theater, even the permanent circus, destroyed, not with gunfire, not through fighting, but with fire and dynamite. Its university is burned and tumbled, its schools in ruins. This was not fighting, this was the crazy destruction of every cultural facility the city had, and nearly every beautiful building that had been put up during a thousand years. Here German civilization did its work, and one of the few justices in the world is that German prisoners are helping clean up the mess that they made.
Tags: Analysis, Insurrection, Kiev, Maidan, Proletconnect, Russia, Ukraine, Vida (Rivet), War
Posted in Anti-Fascist
Thursday, March 19th, 2015
Tags: Analysis, Conspiracion Acrata, Gustavo Rodriguez, Mexico, PDF, Zine
Posted in Library
Saturday, March 14th, 2015
A message for ecologists and anarchists about the current situation:
To be vegan will not liberate animals, nature and humans. Spaces for socialization will not destroy the system. But organized and armed struggle against capitalism has changed and will change a lot. The problems are social, this is not a question about the individual liberation. Freedom will not occur until all of us are free. Only the armed struggle can stop the murderers of nature.
Those who theorize the cowardice of reconciliation are at the service of capitalism. Those who are undisciplined, devoid of revolutionary ethics, who refuse the armed struggle are the agents of fascism in our eyes.
The only way to defeat fascism is the armed struggle. Capitalism can only be destroyed through armed struggle and the armed struggle can only be fought and won by an organization which possesses theoretical unity and strong will.
Our prisoners cannot be liberated by graffiti, rallies or actions without severity, but only by organizing operations of liberation into the jails – and that is only possible via armed struggle.
Our call is to organize for armed struggle.
Get organized! Get armed! Revolt!
Sosyal İsyan / Social Rebellion
13.03.2015
Tags: Analysis, Kurdistan, Letter, Sosyal Isyan (Social Rebellion)
Posted in Autonomy
Saturday, February 28th, 2015
Inter Arma received and translated:
In the ongoing reality, the global economic crisis, having eroded the political and economic stability of states, reshapes the political map, where new correletions are created, in an effort to find the policies to address and manage the crisis and to restore stability. In Greece, the change of the political correlations were reflected with the election of SY.RIZ.A. in the government office. This political fluidity and mobility fits into the general European level, where countries most affected by the crisis, such as the European south, are in the process of changing governments. In response to the general frustration of the masses, as they have lost their privileges because of the harsh neo-liberal policies, social-democrats promise to restore these privileges through an interventionist policy in support of the people. This obviously is not possible within the European context, especially when the financial liquidity of the economy of a state depends on funding programs whose terms and conditions are determined by third capitalist institutions. In this case, there are no more than two options: The continuation of the previous policy, with some ostensible relief measures in order for the government to maintain its profile as long as it can or a potential bankruptcy. (more…)
Tags: Analysis, Anarchist Group "Chaos Symphony", Economic Crisis, Greece, SY.RIZ.A., Type C prisons
Posted in Social Control
Saturday, December 20th, 2014
(Septiembre 2014 #1)
Sin duda que uno de los grandes peligros que acecha a la anarquía en todo tiempo es la posibilidad de transformarse en un conjunto de prácticas vacías de todo contenido de ofensiva contra el poder.
Esta situación es fomentada, por un lado, por el mismo enemigo a través de sus valores aglutinantes en torno al dominio democrático como la "diversidad", la "tolerancia", el "pluralismo" y también la integración económica por medio de la mercantilización de la rebeldía y el consumo "alternativo".
Por otro lado, existe también toda una gama de individuxs y grupos "contestatarios" e incluso algunxs "anarquistas" que de manera inconciente o deliberada se desmarcan del antagonismo y la conflictividad permanente hacia el dominio, ya sea silenciando la necesidad de la destrucción y del ataque directo contra la autoridad o, en el peor de los casos, realizando burdas campañas de limpieza de imagen del anarquismo, presentándose a sí mismos como patéticos defensores de una ideología ajena a la confrontación con el poder. (more…)
Tags: Analysis, Contra toda autoridad
Posted in Autonomy
Thursday, May 8th, 2014
On Friday, the 2nd of May, the House of Trade Unions in Odessa caught on fire. Altogether at least 42 people lost their lives during the clashes in the city, most of them in the fire and the others in streetfights. There is an excellent Russian language, eyewitness account of the events available here.
Events began to unfold when armed pro-Russian AntiMaidan fighters attacked a demonstration organised by football hooligans with nationalist sympathies. This attack resulted in lethalities, but soon the pro-Russians were overpowered. They escaped back to their protest camp in the Kulikovo field, but pro-Kiev demonstrators followed and lit the protest camp on fire. The pro-Russians then escaped to the House of the Trade Unions, which soon caught on fire. The fire spreading, is visible in this video. At the 2 minute mark, you can see a flame behind a closed window, making it plausible that some of the fires were started from the inside. For example, due to accidents with Molotov cocktails which were used by both sides during the fight. However, you can also see pro-Ukrainian nationalists throwing Molotov cocktails, making them at least partially responsible for the fire. (more…)
Tags: Analysis, Civil War, Insurrection, Maidan, Ukraine
Posted in Anti-Fascist
Friday, April 25th, 2014
Interference, n:
1. preventing (a process or activity) from continuing or being carried out properly.
2. the combination of two or more electromagnetic waveforms to form a resultant wave in which the displacement is either reinforced or cancelled.
Interference is a gathering of people, perspectives, theories, and actions that share a critical approach to society and technology. It will take place at the Binnenpret in Amsterdam, NL from 15th to the 17th of August 2014. It will be a space where we can meet, debate, share, learn, and find our affinities and oppositions. The event comes as a response to the lack of a common ground for confrontation and discussion over themes like hacking, technology, art and politics that could break out of the existing containers and roles for such concepts and practices.
Interference is not a hacker conference. From a threat to the so-called national security, hacking has become an instrument for reinforcing the status quo. Fed up with yet another recuperation, the aim is to re/contextualize hacking as a conflictual praxis and release it from its technofetishist boundaries. Bypassing the cultural filters, Interference wants to take the technical expertise of the hacking scene out of its isolation to place it within the broader perspective of the societal structures it shapes and is part of. (more…)
Tags: Analysis, Anarchist Gathering, Anti-technology, Binnenpret, Hacking, Interference, Netherlands
Posted in Autonomy
Sunday, May 1st, 2011
Translated from www.finimondo.org

Text of a leaflet distributed in Brussels (Belgium) in April 2011.
–
In a time when words seem to lose their meaning, when the language of power tries to penetrate all our conversations, we think it is even more indispensable to make an effort in order to speak clearly. Let's stop parroting what the newspapers say, television shows and the powerful want us to believe. The point is neither to agree at all costs nor to convert everything, but it is to try to speak with our mouth, our words, our pains and our hopes.

War… or revolution
The beginning of NATO bombardments against the forces loyal to Gaddafi in Libya marked a fatal step. At the beginning, what was undoubtedly an armed insurrection of a significant part of the population against the regime, is slowly transforming into a military war. Apart from some self-organized forms of resistance, which all kinds of authority define as 'irregular', the insurrection in Libya seems to have degenerated in a conflict between opposing armies. And it is not by chance that the 'irregulars' down there have always been very suspicious towards the 'official opposition', which has copied the hierarchies, grades and structures of command of the Gaddafi's army. (more…)
Tags: Analysis, Anarchism, Belgium, Brussels, Egypt, Italy, Japan, Libya, Nuclear Disaster, Tunisia
Posted in Autonomy
Monday, January 3rd, 2011
LETS MAKE THE BEGINNING IN GREECE OF A WORLDWIDE SOCIAL REVOLUTION
"If someone today wants to open a profitable business, they should make guillotines".
With the above phrase an American journalist describes the size of social rage in the USA. It is the first time historically, where the total of the developed capitalist world boils in rage and desperation for the rulers, for those that are to blame for this crisis, which not only are not punished but continue enjoying their privileges and increasing their profits. It stems from the rage at the poverty that expands, for the marginalization of wider and wider parts of society, for the injustice, since the rulers require that the people are sacrificed in order to face the crisis. (more…)
Tags: Analysis, Greece, Kostas Gournas, Nikos Maziotis, Pola Roupa, Revolutionary Struggle
Posted in Prison Struggle