Posts Tagged 'Anarchist Gatherings'
Thursday, May 16th, 2019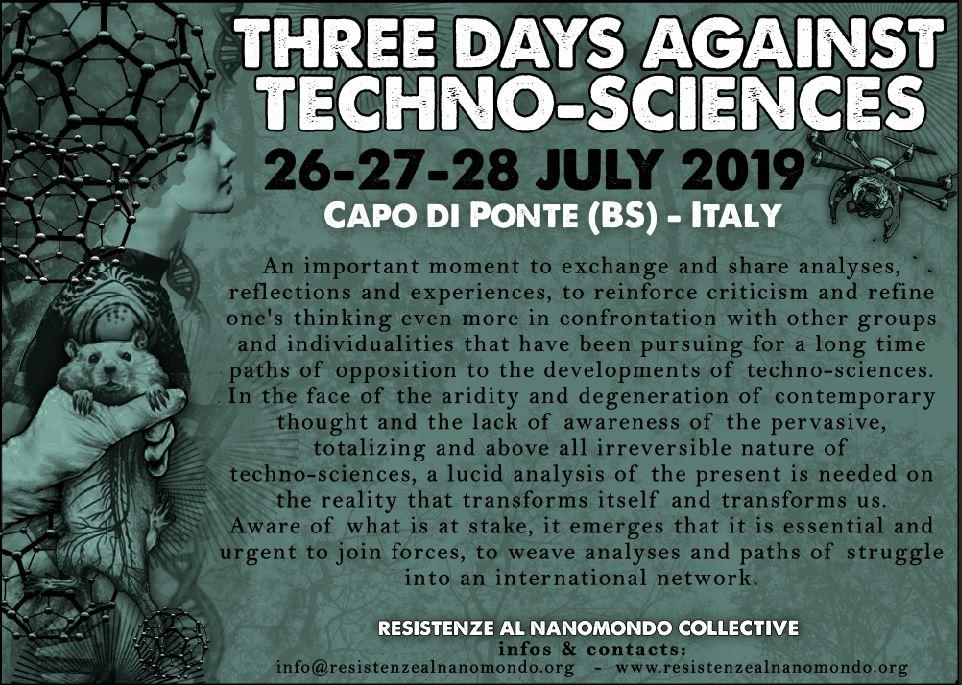 "Capo di Ponte Theme Park" in Prada – Capo di Ponte (BS)
FRIDAY 26TH
13.00 lunch
14.30 Presentation of the meeting
15.00 In the temple of Janus. About the relationship between technology, exploitation and racism
For the Italics Janus had two faces: a bearded one depicting the sun and a beardless one depicting the moon. For the Romans, the sun and the moon soon became peace and war. The temple of Janus, in the Roman Forum, was closed in time of peace and open in time of war. Today the door of that temple is always closed because of the war and the unnamed of the present time. Embodied in the technological apparatus and its silent injunctions, war is the planetary movement of digital democracy. Racism is its "moment of truth", in that it explicitly affirms what its machines have never stopped doing to the colonial peoples. The algorithm command prepares the chief's orders. The abstraction from the body, from the earth, from nature produces the comfortable bulwark of national belonging and the desire to lynch the different as a backlash. What was experienced in the colonies goes back.
Some of the editors of the anarchist magazine "I Giorni e le Notti" (Days and Nights) (Italy)
(more…)
Tags: Anarchist Gatherings, Anti-technology, Artificial Intelligence (AI), Biotechnology, Italy, Nanotechnology, Technological Singularity
Posted in Eco Struggle
Friday, July 21st, 2017
We will go camping against prisons and punishment from the 26th to 30th of July at the Faetzig-Camp, near Görlitz. The "Faetzig-Camp" is a mixture of a Summer camp with political focus and a festival.
Why oppose prisons?
We live in a society of punishment. All of us have experienced the principle of punishment, whether in our families, at school, at work, at the job centre or other agencies, in hospital or in psychiatric institutions.
Punishment is part of a top-down system of power and powerlessness. It lets the strongest win, because they write and are able to enforce the rules. Punishment directs how we act and think. Punishment creates fear and makes us adapt. Fear of punishment is what creates the cop in our heads who forces us to help carry the violence known as normality. Fear of punishment stops us from taking action against injustices and wrongs.
Growing up in a world filled with punishment leads to a system of punishment living inside of us. It leads to us accepting and using punishment as a means of solving problems ourselves. (more…)
Tags: Anarchist Gatherings, Germany, Görlitz, Solidarity Event
Posted in Prison Struggle
Saturday, April 15th, 2017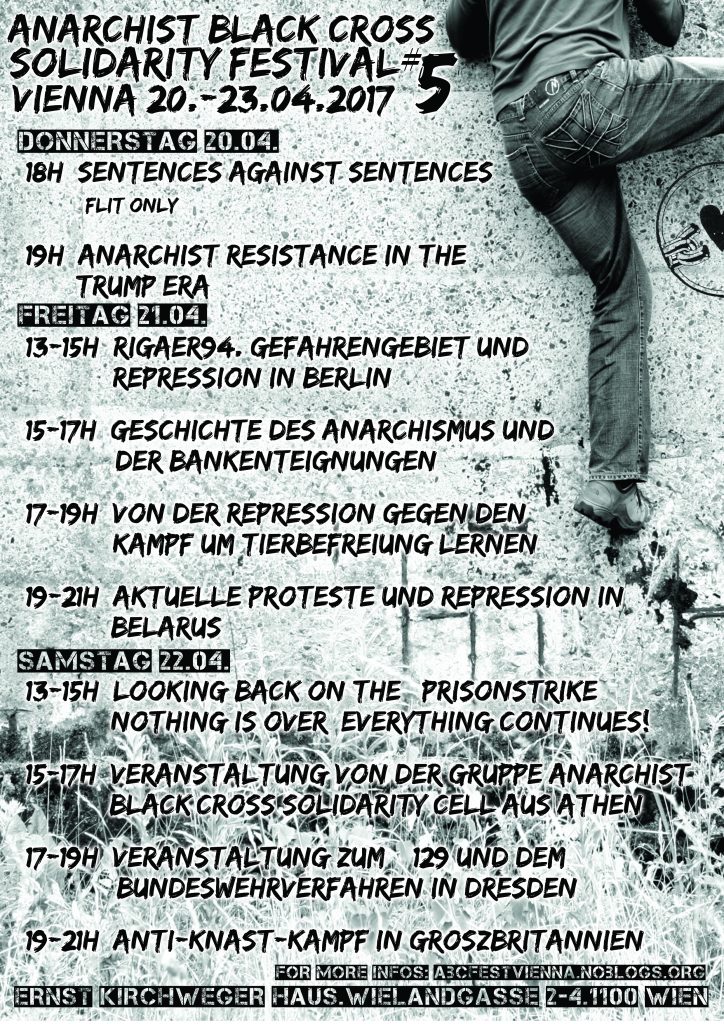 [Vienna] Solidarity event of "Anarchist Black Cross – Solidarity Cell" with imprisoned comrades of Koridallos prison (Athens) @ ABC FESTIVAL VIENNA (20. – 23. April 2017)

"As anarchists, we perceive the need of a multiform anarchist struggle, posing the issue of attack against state and vassalage that is imposed, with every means possible, here and now." (from the self presentation text of the ABC Group)
In this event the comrades from "ABC – Solidarity Cell" will talk about the importance of solidarity with anarchist prisoners and the connection of struggles inside and outside the walls.
Further, the talk will contain a deconstruction of the meaning of the 'anarchist movement' and the myth of the district of Exarchia.
"(…) we do not consider that the action of our anarchist comrades is finished after imprisonment or repression." (from the self presentation text of the ABC Group)
During the event there will be the presence of three anarchist prisoners, via Live-Connection, from Koridallos prison:

– Nikos Romanos
– Panagiotis Argyrou – CCF-Metropolitan Violence Cell/FAI-IRF
– Olga Oikonomidou – CCF-Urban Guerrilla Cell/FAI-IRF
They will talk about the following topics:
– The conditions in prisons and the situation of anarchist prisoners in Greece.
– The importance of solidarity assemblies for the anarchist prisoners and the connection of struggles inside and outside the walls.
– The choice and the importance of the armed struggle, the claim of responsibility for direct actions and the particulars of participation in armed organisations, and the importance and consignment of those choices.
– The choice of jail-breaking.
– The position of women in the armed struggle.
It will be also possible to raise questions to the comrades in prison, so the communication will be in both directions.
Some words from anarchist prisoner Panagiotis Argyrou dedicated to the ABC Festival:
There are times when you feel a certain kind of strength inside you.
This may be happening for different reasons each time but undoubtedly it is always a very positive feeling. Such a kind of strength a prisoner may feel when he/she discovers that there are other individuals wanting a touch, a contact, a communication, a conversation with him/her. It is a very strong feeling, a unique one, the feeling of a great strength filling you all over and this is something priceless. This feeling that you are not alone, that there are other comrades wanting to share moments, experiences or whatever, with you, is something so valuable that only freedom itself can compare with it. So let me thank you very much for the opportunity you offer me to have some contact even if it is for so little. I wish that the future brings us more opportunities so that one day we can have the chance to have a live talk outside the walls. A big warm hug,
Panagiotis Argyrou, member of CCF-FAI
Contacts:
ABC Solidarity Cell Website: https://abcsolidaritycell.espivblogs.net
E-Mail: abcsolidaritycell@riseup.net
Nikos Romanos State prison of Korydallos – Mens prison-ward A', P.C.
18110, Korydallos, Athens
Panagiotis Argyrou State prison of Korydallos – Mens prison-ward A',
P.C. 18110, Korydallos, Athens

Olga Oikonomidou State prison of Korydallos – Womens prison, P.C. 18110,
Korydallos, Athens
Other events @ the ABC Festival Vienna you can find here.
Location:

ERNST KIRCHWEGER HAUS
Wielandgasse 2-4
1100 Wien
Tags: ABC - Anarchist Solidarity Cell, ABC Wien, Anarchist Gatherings, Austria, Conspiracy of Cells of Fire, Exarhia, Greece, International Solidarity, Nikos Romanos, Olga Economidou, Panagiotis Argirou, Vienna
Posted in Prison Struggle
Thursday, April 13th, 2017
From the 29th April to the 2nd of May we invite you to Bure, where we organise a diy music/workshop festival in solidarity with one of the processes going on in the fight against CIGEO and its world, a local farmer, and our friend Jean-pierre is suspected of helping the realisation of the occupation of Bois le Juc, his tractor and trailer are still held confiscated since more than half a year now. The festival ends with a manifestation in front of the court in Bar-le-Duc on the 2nd of May. During the festival several concerts will take place with agricultural workshops, discussion and presentation of the struggle against CIGEO.
Tags: Anarchist Gatherings, Anti-Nuclear, Bure, CIGEO, Demo, France
Posted in Eco Struggle
Saturday, March 25th, 2017
On the 7th and 8th of July 2017 the G20 summit is supposed to take place in Hamburg. The heads of the governments of the 19 richest and most powerful states of the world, accompanied by 6.000 delegation members, surrounded and permanently photographed by 3.000 journalists and of course cordoned off and protected by an army of at least 10.000 police and secret service operatives.
All this is supposed to take place in the middle of Hamburg: in the exhibition halls, in the town hall, in the Elbphilharmonie. Large-scale and multilevel barriers, ID controls, evacuated appartments – the main victims will be the people in the Karoviertel and the surrounding neighborhoods. Especially those, that are already more exposed to frequent controls and harrassments because of the color of their skin, their legal status, their precarious social situation or other reasons.
The residents are supposed to give way for an orchestration of power, a living city is turned into a dead scenery. The main performance is the illusion that the political elites of global capitalism have everything well under control, that they are somehow capable of providing security, peace, livelihood and a real future perspective to the people of the world. (more…)
Tags: Anarchist Gatherings, Arson, Autonome Aktion Europe, Black Bloc, Demo, Fuck the Law, Fuck the Police, Germany, Hamburg, International Solidarity, Riots, Sabotage
Posted in Autonomy
Thursday, March 2nd, 2017


29-30.04 KONGRESONO
3rd Anarchist Congress
1.05 DEMONSTRATION
Working People's Day
Discussions | Meetings | Lectures | Books | Art | Gigs + more
Join us in Wrocław [PL] for the 3rd Anarchist Congress and May Day celebrations!
Kongresono is a grassroots initiative – together we try to create space for meetings and discussions, encourage dialogue within the anarchist movement and strengthen contacts between its members. We strive for integration of anarchist circles and – through the exchange of experiences and mutual education – wish to introduce and promote anarchist thought and social practice in all their various shapes and forms, reaching a wide-ranging audience.
During the two-day conference we will have a chance to examine a broad spectrum of current issues and reflect on the perspective of our future activities, their goals and possibilities for action.
On 1st May we are taking to the streets to put the theory into practice through action! By returning to the original meaning and ideals that this date represents, we refer to the long tradition of workers' movements. Although it has been over 100 years since the beginning of the struggle for such fundamental rights as 8-hour workday, they are still being breached. On that day we shall manifest workers' pride and call for self-organisation and solidarity.
Details about the programme and venue coming soon!
For more information and updates visit us at kongresono.bzzz.net.
E-mail: kongresono2017@riseup.net
* The conference will be held in Polish. For non-Polish speakers we can provide whispered interpreting (Polish → English).
Tags: 1st May, Anarchist Gatherings, Demo, Poland, Wrocław
Posted in Autonomy
Wednesday, February 15th, 2017
The eleventh Balkan Anarchist Bookfair will take place in Zagreb from April 7th to April 9th, 2017. The bookfair will take place in AKC Medika, Pierottijeva 11 (MAP).
Balkan Anarchist Bookfair (BAB) is an annual anarchist event organised each year in a different place on the Balkans. First BAB took place in Ljubljana in 2003. Since then, it has been taking place almost every year in different cities across the Balkans. After Ljubljana in 2003, it was organised in Zagreb (2005), Sofia (2008), Thessaloniki (2009), Zrenjanin (2010), Skopje (2011), Ljubljana (2013), Mostar (2014), Zadar (2015) and in Ioannina (2016). More informations on past bookfairs can be found here.
Participation at the bookfair is open for all anti-authoritarian/anarchist groups, publishers, initiatives, places etc. (not just from the Balkans) so feel free to come and set up your stall or just visit the bookfair to participate in discussions. (more…)
Tags: Anarchist bookfair, Anarchist Gatherings, Croatia, Zagreb
Posted in Autonomy
Wednesday, February 1st, 2017
Tags: Anarchist Gatherings, Arms Fair, Spain
Posted in Autonomy
Wednesday, January 25th, 2017
4th ABC solidarity festival from 20th- 23rd of April in Vienna at the Ernst-Kirchweger-Haus (EKH).
First bands announced:
KACKSCHLACHT
GLOOM SLEEPER
OTIUM ADAI
VEHEMENCE
https://abcfestvienna.noblogs.org/
Tags: ABC Wien, Anarchist Gatherings, Austria, International Solidarity
Posted in Autonomy
Monday, March 28th, 2016
We just collectively organized recently a one week event called "Equality Fest" March 6, 2016- March 13, 2016. This event was our solidarity activities in celebration of women's month. There was a book launched/discussion and presentation about Anarcha-Feminists in the Philippines, there were also art exhibition, film screening, skill-sharing/workshops, free market and Food Not Bombs, interpretative dance and gig.
The Anarcha-Feminists in the Philippines Book was made by three entities, Mobile Anarchist School Project who conceptualize the book making project, Die Media who made the research studies, Etniko Bandido Infoshop who print and publish the book in English. (more…)
Tags: Anarcha-Feminists, Anarchist Gatherings, Food Not Bombs, Philippines, Zine
Posted in Autonomy
Wednesday, January 20th, 2016
The booking for the ABC FESTIVAL 2016 started and the date is set 28.04.-01.05.2016! We will keep you updated about the Lineup!
http://abcfestvienna.noblogs.org/
This year again it will be a cooperation with the diy fest in Nijmegen!
http://diyfestnijmegen.wordpress.com/

Spread the word!
Tags: ABC Wien, Anarchist Gatherings, Austria, DIY Fest Nijmegen, Holland, Nijmegen, Vienna
Posted in Prison Struggle
Sunday, September 27th, 2015
No Prison – No State!
Anti-Authoritarian days against the prison society in Hamburg
8th-11th October, 2015
Whilst we are working, consuming, functioning… they hold the cage we`re
living in!
Life under democratic regimes are dominated by a continuous process of
adaption to the problems and developments of the system.
The state permanently reflects and improves itself, trying to keep up a
civic discourse through offering so-called alternatives and reforms.
This is supposed to destroy the basis for unrest and resistance and to
many it legitimates strong repressive answers to such rebellious
behavior.
This phenomenon can be found in almost every aspect of modern life. The
illusion of participation is one of their strongest weapons, and
together with the ongoing expansion of so called rights, democracy is
developing towards a system, in which the ruled are actively
participating in their own oppression.
(more…)
Tags: Anarchist Gatherings, Anti-Prison, Germany, Hamburg, Prison Society
Posted in Prison Struggle
Wednesday, August 19th, 2015
CONVOCATORIA A MITIN – 28 DE AGOSTO – VALPARAISO
En el marco de la semana de Agitación por lxs presxs anarquistas, del 22 al 31 de Agosto, es que hacemos el llamado a mitin para el día viernes 28 de Agosto, a las 18:00 Hrs en la Plaza Victoria, Valparaiso.
Si bien el llamado es a agitar por lxs presisionerxs anarquistas, como espacio consideramos necesario agitar por la libertad de lxs presxs en su conjunto, sean anarquistas o no, ya que hoy nos encontramos con una lamentable cantidad de compañeras secuestradas por el Estado $hileno y no podemos quedar indiferentes a esta realidad.
¡ LIBERTAD A TODXS LOS PRISIONERXS DE LA GUERRA SOCIAL !
¡ LIBERTAD A LXS PRESXS DEL MIEDO !
¡ SOLIDARIDAD Y ACCIÓN POR LA LIBERACIÓN !
Tags: Anarchist Gatherings, Chile, International Week for Anarchist Prisoners, Valparaiso
Posted in Prison Struggle
Thursday, August 13th, 2015
Mi Memoria un Puñal
Una experiencia inolvidable para recordar a Sante Geronimo Caserio
Compañerxs, les invitamos a una jornada colectiva de recreación y memoria iconoclasta. Será una instancia de distensión para compartir y acercar realidades lejanas en tiempos, pero afines en ideas, potenciando los lazos de compañerismo y las multiples experiencias de ofensiva contra el Poder.
Sábado 15 de Agosto
17:00 Hrs.
Habrá:
– Música en vivo
– Pizza italiana (Vegan)
– Intervenciones
Entrada: Alimento no perecible.
E.S.A. & Biblioteca Autónoma Sante Geronimo Caserio
Av. Los Mares #7377, Pudahuel. Metro: Laguna Sur
Tags: Anarchist Gatherings, Biblioteca Autónoma Sante Geronimo Caserio, Chile, Sante Geronimo Caserio, Santiago
Posted in Autonomy
Thursday, August 13th, 2015
International Solidarity 23 30 Agost 2015
Tags: Anarchist Gatherings, Biblioteca Kaos, Brazil, International Solidarity, International Week for Anarchist Prisoners, Porto Alegre
Posted in Prison Struggle