Posts Tagged 'Anti-Nuclear'
Thursday, October 8th, 2020
IT | PDF: "Andare all radice" – Marco Camenisch & John Zerzan
"Andare alla radice"
È uscito l´opuscolo "Andare alla radice" contenente un intervista di John Zerzan a Marco Camenisch.
PREFAZIONE
In una soleggiata cucina del sudest della Svizzera ho preso parte a questa magnifica conversazione con uno dei miei eroi, Marco Camenisch, e un caro amico che gli aveva più volte fatto visita durante i molti anni passati in prigione. Quest'incontro aveva per me un valore importantissimo, soprattutto perché, a differenza di Matteo, avevo conosciuto Marco solo la notte prima. Scriversi è una cosa, per quanto molto preziosa, ma di certo nulla può sostituire la possibilità di sedere faccia a faccia, l'uno di fronte all'altro. La nostra causa comune, per come la vedo io, è quella di eliminare la civilizzazione, la sua marcia funebre, e sostituirla con comunità di rapporti diretti, faccia a faccia. La società di massa ha soppresso la comunità. Ogni volta che ci s'incontra, come nel nostro caso, ci si prepara al suo ritorno. La nostra esplorazione ha ravvivato in ciascuno di noi l'anelito profondo per un nuovo mondo. È presente in ognuno, per quanto soffocato o deformato, nonostante le mastodontiche e onnipresenti forze contrarie. Le ore passate in così buona compagnia mi hanno rigenerato, stando assieme a guerrieri che non si arrendono. Prima di tornare in Italia con Matteo, ho salutato Marco che stava pulendo il pavimento della cucina della casa dove alcuni compagni ci avevano ospitato. Sorrideva e canticchiava, e questo mi ha reso ancor più felice!
John Zerzan
Eugene, Oregon, febbraio 2020
–
"Andare alla radice"
The booklet "Going to the root" has been published with an interview by John Zerzan with Marco Camenisch.
PREFACE
In a sunny southeastern Swiss kitchen I took part in this wonderful conversation with one of my heroes, Marco Camenisch, and a dear friend who had visited him several times during his many years in prison. This meeting had a very important value for me, especially because, unlike Matteo, I had met Marco only the night before. Writing is one thing, though very precious, but certainly nothing can stop you from sitting face to face, one in front of the other. Our common cause, as I see it, is to eliminate civilization, its funeral march, and replace it with a community of direct, face-to-face relationships. Mass society has suppressed the community. Every time we meet, as in our case, we prepare for its return. Our exploration has enlivened in each of us the deep yearning for a new world. It is present in each one of us, no matter how stifled or deformed, despite the mastodontic and omnipresent opposing forces. The hours spent in such good company have regenerated me, being together with warriors who do not give up. Before returning to Italy with Matteo, I said goodbye to Marco who was cleaning the kitchen of the house where some of our comrades had hosted us. He was smiling and humming, and that made me even happier!
John Zerzan,
Eugene, Oregon, February 2020
https://istrixistrix.noblogs.org/
Tags: Analysis, Anti-Nuclear, Anti-technology, Ecological Destruction, Interview, Italy, John Zerzan, Marco Camenisch, PDF, Repression, Switzerland, TAV, Zine
Posted in Library
Thursday, December 12th, 2019
PDF Flyer EN, + ES, IT
"On the altar of technological development we are sacrificing
every breath of our individual freedom and the possibility
to live a life that is really worth it."
NICOLA GAI.
"Anarchy rejects that life becomes an ideology,
shit or a little more, at best,
an impotent exit for frustrated men and women."
ALFREDO COSPITO.
It is a fact that the Italian war industry represents one of the "excellencies" of the national economy, as it is one of the few sectors that knows no crisis, it is certainly not a novelty, this field of investment that produces such high profits that are considered indispensable for the economy of any government, of any colour, with the due respect of all those who enjoy, for example, the hypocritical condemnation of the aggression carried out by Turkey towards the inhabitants and rebels of Rojava and who call for the formal blockade of the export of weapons produced in Italy to Turkey announced by the current government.
And if it is true that "the war begins here", which is where the weapons are produced, this is even more true because here, in Genoa, is one of the offices of Leonardo (formerly Finmeccanica), a state-controlled company, which is a world leader in the research and production of advanced technological systems for the military industries and for social control: Helicopters, fighter jets, drones, radars, attack systems, military land and sea vehicles, ammunition, electronic warfare systems and tele-operated, coastal and border protection systems, electronic social control systems to be applied in cities, ports and airports, and much more; Their catalogue is very wide. (more…)
Tags: Alfredo Cospito, Ansaldo Nucleare, Anti-Nuclear, Ecological Destruction, Finmeccanica, International Solidarity, Nicola Gai, Nucleo Olga FAI/FRI, PDF, Roberto Adinolfi
Posted in Eco Struggle
Wednesday, October 2nd, 2019
[Claim appeared on Monday, September 30, on the website nantes.indymedia.org].
On Friday, September 27th [2019], the Nancy-Maxeville prison was attacked to denounce the repression of the nuclear State.
In the pre-evening of the demo against the nuclear waste-dump – project CIGEO « Vent de Bure » at Nancy – we attacked (symbolically) the prison of Nancy-Maxeville, to send greetings to our comrades who are imprisoned and those who are charged by repression. Also to set a sign for a society without prisons in general.
We marked the walls with the paint, smash the windows of some administration buildings, launch smoke bombs and flares in the yard of the prison and greet the prisoners with pyrotechnics in the surrounding area. The action was protected by crowsfeets [metal devices to puncture car tyres] and burning barricades on the access roads. (more…)
Tags: Anti-Nuclear, Anti-Prison, Bure, CIGEO, France, Nancy-Maxeville, Paint attack, Paint bombs, Sabotage
Posted in Direct Action
Thursday, August 9th, 2018
"an independently produced film bringing the voices of the contemporary Adnyamathanha, Gurindji, Tanganekald, Yankunytjatjara Anangu, Mirning, Narunnga Aboriginal Australian people forward who are united in their stand AGAINST the present and planned uranium mining and nuclear dump activities in South Australia. Bruce Hammond, an Aboriginal Tanganekald man with ties to the coast in the lower South East of South Australia and the central desert regions of Finke and Alice Springs in conjunction with Alexander Hayes & Magali McDuffie from Ngikalikarra Media brought the 'Protecting Country' documentary film on a screening road trip across Australia."
Tags: Anti-Nuclear, Australia, Indigenous Struggle, Mining, Protecting Country (Film), Video
Posted in Eco Struggle
Saturday, September 30th, 2017
Action in support of the comrades raided in Bure.
In response to the searches in Bure, EDF (French nuclear electric power company, largely owned by the French state) was heated up. An EDF car was set on fire during the night of Friday, September 22 outside the EDF center near the DGSI (General Directorate for Internal Security) and the Chamber of Agriculture.
At the scene one could read: STOP THE SEARCHES IN BURE! Solidarity with the struggle in Bure, and the comrades who are undergoing repression. HANDS OFF BURE!
To be continued…

via Attaque, translated by Insurrection News
Tags: Anti-Nuclear, Arson, Bure, EDF Energy, Solidarity Action
Posted in Direct Action
Thursday, April 13th, 2017
From the 29th April to the 2nd of May we invite you to Bure, where we organise a diy music/workshop festival in solidarity with one of the processes going on in the fight against CIGEO and its world, a local farmer, and our friend Jean-pierre is suspected of helping the realisation of the occupation of Bois le Juc, his tractor and trailer are still held confiscated since more than half a year now. The festival ends with a manifestation in front of the court in Bar-le-Duc on the 2nd of May. During the festival several concerts will take place with agricultural workshops, discussion and presentation of the struggle against CIGEO.
Tags: Anarchist Gatherings, Anti-Nuclear, Bure, CIGEO, Demo, France
Posted in Eco Struggle
Wednesday, January 25th, 2017
UPDATE: 07.45 AM
The two remaining anti-nuclear activists have now been removed from the road leading to the south gate of HMNB Clyde and arrested by the MoD police. As far as we know, all three arrested activists are being taken to Clydebank and expected to be released later.
–
This morning at 06.45 AM, four anti-nuclear activists blocked the ongoing morning traffic at the south gate of HMBB Clyde in Faslane. Action was recorded by activists from the nearby Faslane Peace Camp, a protest site dedicated to campaigning against nuclear weapons since 1982. The protesters interrupted the morning routines by walking into the line of traffic and pulling a banderol over the road.
Three activists formed a sit-in blockade, shutting the entry and soon causing a traffic jam of estimated 300 cars. The undercover MoD police car and a regular police vehicle arrived to the scene soon. The protesters are being cleared from the road. Three arrests are to be expected. (more…)
Tags: Anti-Nuclear, Faslane, Scotland, UK
Posted in Eco Struggle
Saturday, November 26th, 2016
Emergency call-out from the forest occupation in Bure, France: the nuclear monster is coming in for a kill
You know how these occupations often go: bad people start destroying the environment, good people intervene, and in the end the bad people get the papers to favour them and start the bulldozers once more. This is exactly what just happened in the woods of Lejuc, near the village of Bure in France. And that's why we need you. To come. Here. And resist. Big time.
«Some people re-occupied this forest two months ago. To support them I decided to put myself on the line and officially squat the place. I changed my home address here, there's a mailbox and everything now, and I'm an official resident. Hopefully I'll makes destroying all this a bit more difficult for Andra bastards!» says Sven Lindstrom, the first official squatter of the Lejuc forest. For obvious reasons he's entitled to have his say in this call-out. (more…)
Tags: Anti-Nuclear, Bure, CIGEO, Forest, Forest Struggle, France, Lejuc, Squatting
Posted in Eco Struggle
Sunday, May 15th, 2016
Reclaim the Cape -action week took place in Pyhäjoki 22.4.-1.5.2016 and dozens of people where detained by the police. 11 activists were arrested. Five of them were released in few days after the detention. After this, still six activists were kept in remand prison. One activist still remain in prison.
We have sent money, clean clothes, toothbrushes and toothpaste, cigarettes, books etc. to the prisoners as much as we've been able. However, the prisoners haven't received all packages from their parents or other senders. They also haven't been able to send or receive letters or postcards.
During the imprisonment of the activists the police hasn't offered legal facilities for the prisoners. Police says that there hasn't been resources for example for cleaning cells and in the first few days of imprisonment the prisoners didn't have possibility to wash up and they didn't have toilet paper or proper food. Also the prisoners didn't get outside as much as the legal rights would allow. (more…)
Tags: Anti-Nuclear, Finland, Pyhäjoki, Repression
Posted in Social Control
Sunday, May 1st, 2016
Repression against those who oppose Fennovoima-Rosatom nuclear power plant project continues: and it's getting worse and worse. On Friday 29.4. two protest camp sites got evicted at Pyhäjoki, Finland. Police operations were, on Finnish scale, massive.
Not big. Massive. Present were roughly 20 police vans, officers in riot gear, border patrol's helicopter, sections from both national SWAT teams, dog units and specially equipped riot vans. Police declared the eviction of both camp sites by presenting a legally vague, written police order without even specified locations of the camp sites or other information. Just an order to leave and a declaration that police will arrest everyone "under the police law" it considers to "be connected to the locations" or "able to disrupt public order".
The majority of the protest campers and Reclaim the Cape-action week participants grouped up and vanished into the forests without negotiating with the police.
As we speak, both sites are being emptied of infrastructure and belongings. Comrades are being searched and picked from the woods. Those been detained are being helped and awaited outside the cells. New campsite is under construction, but not public. (more…)
Tags: 'Stop Fennovoima camp', Anti-Nuclear, Ecological Destruction, Eviction, Fennovoima, Finland, Fuck the Mainstream Media, Fuck the Police, International Solidarity, Pyhäjoki, Repression
Posted in Eco Struggle
Thursday, April 28th, 2016
– We need help immediately!
Today 28.4. around 3 pm, riot cops and a police patrol with dogs started to approach the camp. We communicated clearly to the police with a megaphone that they are not welcome, and we don't want to engage in conflict with them. The police didn't say anything or answer any questions.
The police started to shoot people with a projectile / rubber bullet gun and the people at the camp defended themselves by throwing rocks. The police were clearly aiming for the activists heads, backs of heads and upper bodies with the gun. People got hit several times on the area of their upper bodies. As far as we know, not to their heads though… The police got hit several times with the rocks, and there was one police car burning up in flames at the area.
After a long struggle with delay tactics, the police managed to move ahead to the camp when the people who were defending the camp disappeared to the forest. In the camp the police shot projectiles towards the kitchen-collective people. The police evacuated all the people from the camp, and took some people into custody.
The police have also threatened to evict another camp location which is still in our use.
We don't accept giving into repression and police violence, and the struggle against Fennovoima will continue. Now we'll need everyone to help build up the camp again, and to continue the fight and actions against Fennovoima. We invite comrades to this fight wherever you are – let's aim our actions towards the companies which are working with/for Fennovoima, the embassies of Finland, or the local police.
Tags: 'Stop Fennovoima camp', Anti-Nuclear, Fennovoima, Finland, Pyhäjoki, Repression
Posted in Social Control
Monday, April 18th, 2016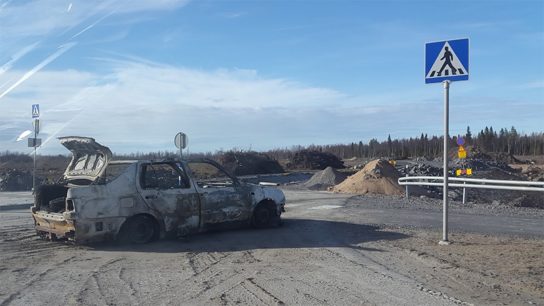 Fennovoima-Rosatom tries to build a new nuclear power plant in Pyhäjoki, Finland. Nuclear energy is by every standard outdated technology, financially unprofitable, it increases the centralization of energy production and produces hazardous nuclear waste for generations to come.
On top of it all, Fennovoima-Rosatom is destroying unique nature as we speak and messing up the Bay of Bothnia. The chosen location is a crappy one for a nuclear power plant by any means. Close to sea, close to groundwater. For example, the builders need to lift the ground level with meters to even get to start the constructions.
On Tuesday 12/04 at 6 in the morning we blocked the traffic of the only road leading to the construction site, and the landfills from continuing, by burning a crappy car filled with car tires etc. In the middle of that Fennovoima road.
The paintjob on the car said "Dialog Devil". That's our dialogue and that's what we have to say to everyone demanding dialogue with Fennovoima-Rosatom.
We also want to send our solidarity to Hambach forest occupation where comrades are battling against the climate killing energy giant RWE despite heavy repression against them. One struggle!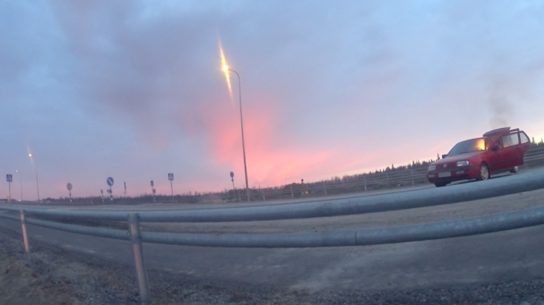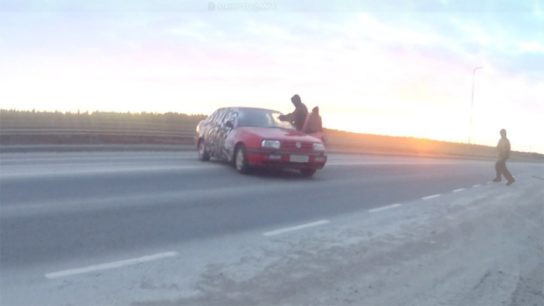 Tags: Anti-Nuclear, Arson, Barricades, Blockade, Burning Barricades, Ecological Destruction, Fennovoima, Finland, Hambach Forest, Pyhäjoki
Posted in Eco Struggle
Friday, January 29th, 2016
So. There's an anti-nuclear protest site at the west coast of Finland. And it's
holding an action week between 22th of April – 1th of May, 2016, while celebrating
its first anniversary of existence. What's all this about? To put it all in a simple
nutshell:
Fennovoima is a Finnish nuclear power company established in 2007 by a consortium of
Finnish power and industrial companies thinking it's a mighty good idea to put up a
nuke plant at Pyhäjoki, a small municipality at the west coast of Finland – by any
means necessary. Fennovoima's project nearly faced its much wished-for doom when
German energy giant E.ON, the main investor of the project at that time, decided
nuclear power is bad business and withdrew its money in 2012. (more…)
Tags: Anti-Nuclear, Demo, Fennovoima, Finland
Posted in Eco Struggle
Tuesday, January 19th, 2016
Here is a quick overview of some armed attacks and social turbulence in Japan over the past few years. There must be many things missing, but for the sake that this news below doesn't make it through the translation and information void, and to spread black anarchy, the following could be interesting reading…

14 January 2016, Okinawa – 380 demonstrators blockade police outside the site of a proposed new U.S. military base. The United States aims to relocate Futenma U.S. base in Okinawa to Henoko Bay, Nago, which is bitterly contested by locals and environmentalists. 50,000 U.S. service personnel and their families are based in Japan. The United States have never ended their occupation since the horrific atomic bombings of Hiroshima and Nagasaki and subsequent invasion at the end of World War 2. Many people in Japan and especially Okinawa, where the bulk of U.S. troops are based, resent their presence and want them to leave. Many people in Japan are against the expansion of Japan's Self-Defence forces and increasingly militarist and security-orientated policies. (more…)
Tags: Anti-Militarist, Anti-Nuclear, Fukushima, Japan, Kurōkyō (Revolutionary Workers), Okinawa, Osaka, Revolutionary Army (Japan), Rocket attack, Tokyo
Posted in Autonomy
Sunday, November 22nd, 2015
Translated by actforfree from silviacostabillyliberi:
The appeal hearing due on 5th October 2015 was postponed to 19th October because an expert appointed by the prosecution and a DIGOS officer [political police] from Pisa in charge of the investigation were absent.
The comrades' communiqués:
Silvia and Costa:
A high voltage pylon run by Terna [electricity company] on the La Spezia-Acciaiolo railway track was sabotaged in 2005 with two dynamite charges. The action seriously damaged the pylon but did not cause it to fall down.
In the days that followed an anonymous letter sent to press agencies and the Pisa editorial group of the radical eco paper Terra Selvaggia explained that the action had been carried out against renewed plans to reinstate nuclear power. These plans had never been really dismissed after the referendum following Chernobyl, but they continued to be pursued in numerous research centres, such as the Faculty of Nuclear Engineering of the University of Pisa, considered an institute of excellence on a national level. In the same area, at the S. Rossore natural park, another structure stands out: the CISAM, site of an experimental nuclear reactor and a military research centre. This plant recently caused controversy because of the dumping of radioactive water in the Navicelli canal linking the city of Pisa to the sea. Toxic water, which has been declared safe by the usual local servants of ARPAT [state agency dealing with environmental matters] and ASL [state health agency]. On the contrary this poisonous water reminds us that there's no way out of nuclear power: what has been produced or left as waste is the legacy of a world where energy production and military control come before anything else, even if all they give is a landfill-like world. (more…)
Tags: Anti-Nuclear, Costantino Ragusa, Ecological Destruction, Fukushima, Italy, Marco Camenisch, Nuclear Disaster, Pisa, Sabotage, Silvia Guerin, Terna, Terra Selvaggia, Trial
Posted in Eco Struggle