Posts Tagged 'Anti-Prison'
Saturday, October 12th, 2019
There is a group of prisoners who although imprisoned for non-political offences subsequently become politicised or radicalised whilst in jail, and in both the USA and Britain this is a phenomenon that has become increasingly widespread.
In the USA during the 1960s and 70s the radicalisation of ordinary black prisoners, in particular, was fostered by the centrality of imprisonment in the experience of black activists and revolutionaries like Malcolm X (who described prisons as "universities of revolution"), Eldridge Cleaver, George Jackson, H Rap Brown, Angela Davis and others. George Jackson described his own politicisation succinctly: "I met Marx, Lenin, Trotsky, Engels, and Mao when I entered prison and they redeemed me".
Thus those whom W.E.B. Dubois described as an "army of the wronged" increasingly defined themselves as political prisoners who were the products of an oppressive political-economic order. This belief underpinned the praxis of radical groups such as the Black Panthers and Symbionese Liberation Army, and prisons were seen as the epicentre of a broader social and political revolution. The call for recognition of radicalised prisoners claim to political status underpinned prisoners' demands in a series of protests that punctuated the 1970s in U.S. Prisons such as Folsom, Soledad, San Quentin and, later, Attica. (more…)
Tags: Anti-Prison, Black Panther Party, Irish Republican Prisoners, John Bowden, Letter, Prison, Prison Abolition, Prison Industrial Complex, Racism, UK
Posted in Prison Struggle
Wednesday, October 2nd, 2019
[Claim appeared on Monday, September 30, on the website nantes.indymedia.org].
On Friday, September 27th [2019], the Nancy-Maxeville prison was attacked to denounce the repression of the nuclear State.
In the pre-evening of the demo against the nuclear waste-dump – project CIGEO « Vent de Bure » at Nancy – we attacked (symbolically) the prison of Nancy-Maxeville, to send greetings to our comrades who are imprisoned and those who are charged by repression. Also to set a sign for a society without prisons in general.
We marked the walls with the paint, smash the windows of some administration buildings, launch smoke bombs and flares in the yard of the prison and greet the prisoners with pyrotechnics in the surrounding area. The action was protected by crowsfeets [metal devices to puncture car tyres] and burning barricades on the access roads. (more…)
Tags: Anti-Nuclear, Anti-Prison, Bure, CIGEO, France, Nancy-Maxeville, Paint attack, Paint bombs, Sabotage
Posted in Direct Action
Monday, September 2nd, 2019
Comrade Malik Speaks! This Also Means That I Am an AntiFascist! Expect Us!
Revolutionary Greetings Comrades!
By now the word has gotten out that I've left the New Afrikan Black Panther Party-prison chapter and embraced Anarchism. This is a tough time but as J. Cole raps in his song "Middle Child," he says: "Everything Grows, its destined to change!" I have changed!
I am still holding on to my belief in Eco-Socialism. Plain and simple, climate change is real and not a hoax. Think many of ya'll who have felt these unusually hot temps recently can attest that something is most certainly going on and I can guarantee you that these imperialist multi-national corporations that deal in fossil fuels have no interest in saving our beautiful planet or ensuring that the humyn species is able to survive– they just don't care so we have to make them care! But that is not why I am communicating with you today! (more…)
Tags: Anti-Prison, Antifa, Keith Malik Washington, Letter, New Afrikan Black Panther Party – Prison Chapter, Racism, USA
Posted in Prison Struggle
Sunday, September 1st, 2019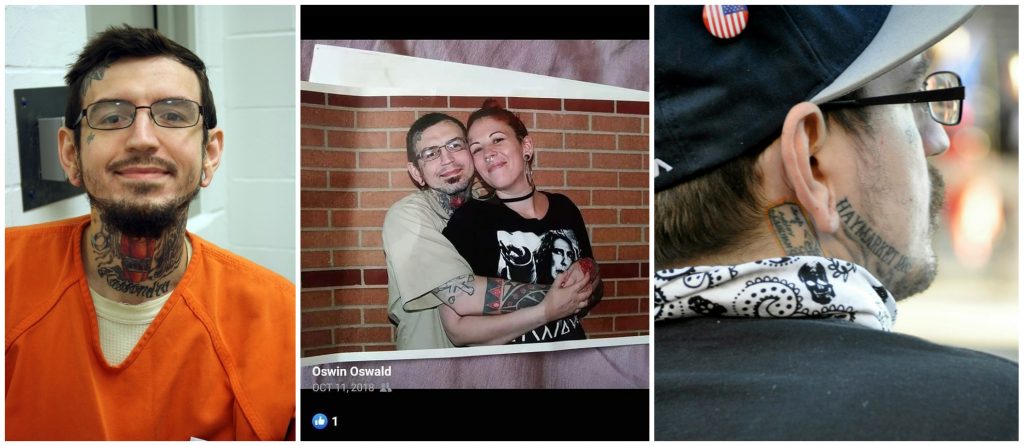 For folks who are unaware Eric is an anarchist and anti-fascist prisoner who was sentenced to 10 years for an attempted arson, an action in solidarity with the Ferguson uprising in Kansas city. Throwing two Molotov cocktails into a state representatives office at night time. He has since remained outspoken against the prison system. Exposing abuses and standing tall in the face of constant attacks and oppression.
In august of last year Eric was dragged into a broom closet and attacked by Lt Wilcox at FCI Florence. Attacked because he is an anarchist and anti-fascist. It was timed to line up with the surgery for his wifes cancer. He was subsequently tortured and abused and never checked out medically despite being kicked in the head for 5 plus minutes. And tied to a 4 point restraint for 8 hours, having to urinate himself resulting in nerve damage to his wrists. (more…)
Tags: Anti-Prison, Eric G. King, USA
Posted in Prison Struggle
Thursday, August 22nd, 2019
21.08.19: On Monday night, we set fire to several construction vehicles on the grounds of the Zwickau Marienthal Prison construction site. An excavator was burned out completely, the other four excavators and a front end loader were damaged by our fire and made partially unusable. We would like to dedicate this action especially to Loic, the Park Bench 3 and the Basel 18. They are missing from our side.
In Zwickau-Marienthal, construction work on a joint new prison complex for the states of Saxony and Thuringia began recently. At the beginning of 2020, a 6 meter high wall will surround the 10ha area. The concrete complex, which is to be completed by 2024, will then hold 820 people within its walls. In its workshops more than two-thirds of the prisoners will be forced to work. (more…)
Tags: Anti-Prison, Arson, Germany, International Week for Anarchist Prisoners, Prison Industrial Complex, Prison Labour, Sabotage, Saxony, Thomas Meyer Falk
Posted in Direct Action
Tuesday, April 2nd, 2019
Queremos invitarles el próximo sábado 6 de abril desde las 10am en la ciudad de Bogotá a las primeras jornadas anticarcelarias. Con la temática: Mujer y encierro, las situaciones que viven las mujeres tras
las rejas. Familiares de casos en el territorio colombiano. Charla sobre la primera carcel de mujeres en Colombia. Red Trans, Cuerpos en prision, mentes en acción. Taller: La prisión interna. Actualización Presxs Anarquistas en el mundo. Conversas con el cono sur y actualización de compañeras en prisión.
Tags: Anarchist Gathering, Anti-Prison, Bogata, Colombia, International Solidarity, Solidarity Event
Posted in Prison Struggle
Thursday, January 31st, 2019
1: 2019 – Year of Action against Prison Expansion
2: March 2019 – Month of Action against Prisons and the State – For Anna
3: 13 March – Global day of solidarity with Kevan Thakrar & Against Solitary Confinement
Tags: Anti-Prison, Close Supervision Centre CSC, International Solidarity, Kevan Thakrar, Prison Labour, Racism, UK
Posted in Prison Struggle
Monday, December 3rd, 2018
Spanish and Bahasa Indonesian translations follow English text below.
This is a call for a raucous night of strong solidarity with those imprisoned by the state on one of the noisiest nights of the year. On New Year's Eve gather your crew, collective, community, organization, or just yourself and come together to raise a racket and remind those on the inside that they are not alone.
Internationally, noise demonstrations outside of prisons are a way to remember those who are held captive by the state and a way to show solidarity with imprisoned comrades and loved ones. We come together to break the loneliness and isolation.
We know that prison is beyond reform and must be completely abolished. It is a mechanism of repression used by the state to maintain a social order rooted in white supremacy, patriarchy, and heteronormativity. To come together outside of the sites of repression is to also stand in defiance of what they represent.
The logic of the state and capital—of punishment and imprisonment, must be replaced by a rejection of oppression and exploitation. This call is one step in that direction.
Wherever you are, meet on New Year's Eve at the prisons, jails, and detention centers, be loud in solidarity with those imprisoned and to push forward the idea of a world free from domination.
We send this call in solidarity with those defying state repression of large scale dissent: from the Yogyakarta prisoners in Indonesia to those in Russia facing repression as anarchist anti-state organizers, to all of those in the spaces between.
We want a world without walls and borders.

We will fight together until everyone is free! (more…)
Tags: Anti-Prison, Demo, International Solidarity, New Year
Posted in Prison Struggle
Monday, December 3rd, 2018


Fotografía: Lienzo en el Encuentro del Libro y la Propaganda Anarquista en la población La Victoria el 13/10/2018.
La resistencia que hoy mantienen los/as compañeros/as en prisión es real, día a día tienen que convivir con lógicas tan podridas que a veces no se logra imaginar, desde la represión del carcelero, la autoridad penitenciaria, los nefastos códigos entre presos/as y la violencia que está totalmente a la orden del día y que puede culminar con la muerte, como lo fue el pasado 2 de Noviembre de 2018 cuando fue asesinado el compañero Kevin Garrido Fernández.
Esta pérdida es irrecuperable para sus familiares, amores, compañeros/as, para la lucha anticarcelaria y para quienes desde una perspectiva amplia practican la ofensiva contra el Capital y el Estado. A un compañero que actuó en consecuencia de sus ideas se le ha ido la vida a causa de una operación cómplice entre carceleros y presos al servicio de estos, lo que provoca un dolor y rabia inconmensurable, por lo que la indiferencia no es una opción. (more…)
Tags: Anti-Prison, Chile, Juan Aliste Vega, Kevin Garrido, Marcelo Villarroel Sepúlveda, USA
Posted in Prison Struggle
Wednesday, October 10th, 2018
08.10.18: Tonight, we set fire to a dozen Eiffage vehicles and construction machines because this company plays a fundamental role in our prison society.
Eiffage is involved in the producing spaces of constraint and control. They put their claws on most devices within the large invisible cage we live in. Schools, workplaces, housing, courts, hospitals (psychiatric and other), retirement homes, barracks, stadiums and public spaces are all bars that keep us in capitivity.
But if Eiffage is the object or our hatred and vengeful action, it is also, and above all, because they provide the material structure necessary for the punishment industry: prisons, detention centers and juvenile correctional facilities.
The government's new 'prison plan' will soon add 7000 more places to the hell of penitentiary survival.
Proud to appear as a specialist, Eiffage will still make some profitable business. Furiously opposed to all prisons, last night we let them know that we have declared war.
We welcome all the attacks against the mechanics of confinement.
We admire the insubordination that bursts from inside the jails: refusals to return from exercise, hunger strikes, cell destruction, attacks against guards and escapes.
We salute the revolts on the 'outside' such as the recent arson attacks against the vehicles of prison guards and the SPIP (French Prison Services).
Also located in this relative exterior- but for how much longer? -We try to remain on the offensive against all who plan, produce and administer prisons.
To all the mutineers,
Rage and courage to destroy our cages!

Foxes
Tags: Anti-Prison, Arson, Eiffage, France, Isère, Sabotage, Saint-Martin-d'Hères
Posted in Direct Action
Monday, October 9th, 2017
Dear Friends,
on 27th-29th of October ABC Warsaw invites you to join 4th edition of Antiprison Days in Warsaw. The main topic of this year is "Support your local ABC".
Here in Poland, we see the need of discussion about the big role of anti-rep structures in our struggles so we would like to invite different people and groups to share their experience with repressions and how it was possible to deal with them. There will be also space to talk about difficulties in being support group and why and how anti-rep and anti-prison campaign is part of every social/land/climate/world struggle.
Of course we will not be able to talk about everything what is important because the event will be open for everybody – but the aim is to start some process in people's mind. There will be also space to present your activities and/or your groups. (more…)
Tags: ABC - Anarchist Solidarity Cell, ABC Warsaw, Anti-Prison, Poland, Warsaw
Posted in Prison Struggle
Saturday, September 30th, 2017
BANG UP AND SMASH: WOMEN'S PRISONS, PROBATION AND BAIL HOSTELS
Bang-up and Smash is an overview of women's prisons in the UK, and a political analysis of their physical and ideological construction.
From the moment of arrest, to coming home, Bang-up and Smash uses first hand experiences to critically engage with the procedures, concepts and apparatus the state relies on, and the economics behind the expansion of the prison industrial complex.
Bang-up and Smash is a practical guide to women's prisons in the UK, and a rallying call to attack. Solidarity is a weapon, and abolition is not enough…
See Active Distribution for free pdf download or order print version
http://www.activedistributionshop.org/shop/books/4325-bang-up-and-smash-by-asbo.html
Also download pdf from Empty Cages website http://www.prisonabolition.org/wp-content/uploads/2017/09/bang-up-and-smash.pdf
For more information email asbo.hmp@riseup.net
Copy left. Share, discuss, dismiss…. comments welcome. Please circulate.
Tags: Anti-Prison, Bang-up and Smash (Zine), PDF, Prison, Prison Abolition, Prison Industrial Complex, Prison Labour, Prison Struggle, UK, Zine
Posted in Library
Thursday, February 23rd, 2017
Meet outside the main gates of HMP Berwyn, Wrexham on Monday the 27th of Febuary at 12pm

On February 27th 2017 the second biggest prison in Europe will open in Wrexham, North Wales. Local people lobbied for five years against this prison and campaigners blockaded the construction site and disrupted recruitment for the prison multiple times.
It is with a heavy heart that we see the opening of a cage of this industrial scale. We will be there the day it opens showing our opposition to all mega prisons being built and the continuing growth of the prison-industrial complex.
How many families will be ripped apart by HMP Berwyn? How many communities will lose their young men to it? In this factory of misery people will die – be it from overdosing on drugs trying to escape from reality or by taking their own lives in despair. (more…)
Tags: Anti-Prison, Demo, HMP Berwyn, Prison demo, UK, Wales, Wrexham
Posted in Prison Struggle
Monday, February 20th, 2017
Anarchwaethus: Difrod i fega-garchar HMP Berwyn, Wrecsam
It is important to announce one week before the opening of HMP Berwyn that two of the houseblocks in the prison are structurally unsound due to sabotage in 2015.
After our action in May 2015 where machinery was sabotaged, we knew that to regularly attempt to attack the prison would be impossible due to the prison walls being built around the site. After intensive research, it soon became apparent that we could have a dramatic effect with little effort.
In July 2015, a strong acidic powder was poured into the excavations of the groundfloor slabs of two of the prisons's houseblocks. This has made two of these buildings structurally unsound – their foundations will eventually crumble and the buildings could collapse over time.
Given that the strength of these slabs has been greatly reduced, intrusive investigations and a full re-build of these houseblocks would be necessary before attempting to cage people in these buildings.
This action is dedicated to every human being that has died in the prison system at the hands of the State.
Tags: Anti-Prison, HMP Berwyn, Lend Lease, Sabotage, UK, Wales, Wrexham
Posted in Direct Action
Tuesday, October 25th, 2016
Warsaw Third Anti-Prison Days 27-28-30
Program:
Warm up:
Thursday 27.10
ROD (Bartycka 26) reclaimthefieldspl.noblogs.org
20:00 benefit concert for the warsaw 3 wawa3.noblogs.org
Love Cans (psych garage blues) from Switzerland.
Friday 28.10
Cafe Kryzys / Syrena / Wilcza 30
from 12:00 at Cafe Kryzys:
vegan food
Distro
Writing to prisoners
tattoos (more info soon)
"Jestem z Zewnątrz" (I'm from the outside) / Beata Sosnowska / works of
female prisoners from Grochów Prison in Warsaw, PL (more…)
Tags: Anti-Prison, Poland, Solidarity Event, Warsaw
Posted in Prison Struggle