Posts Tagged 'Anti-Prison'
Wednesday, October 14th, 2020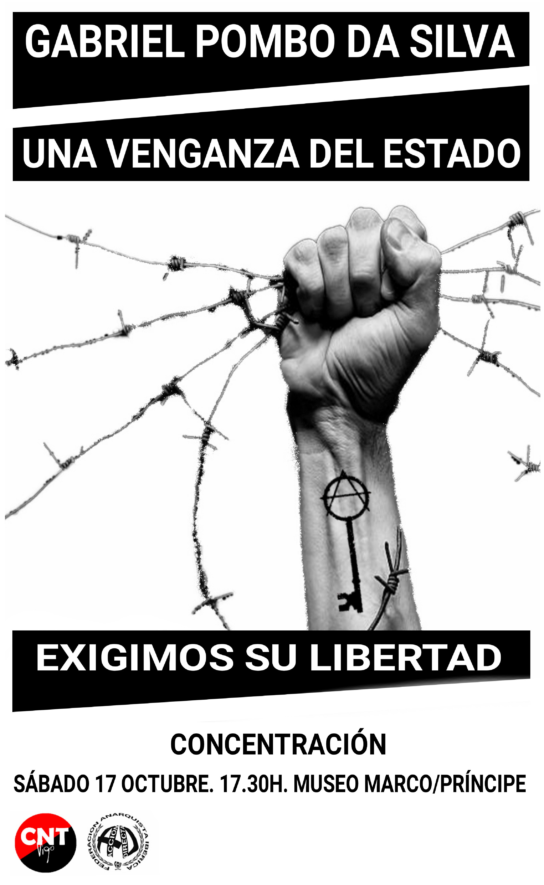 El compañero Gabriel Pombo Da Silva fue arrestado en Portugal, el 25 de enero pasado, en virtud de una ODE, Euroorden, emitida por el Juzgado de lo Penal nº 2 de Girona, del que es magistrada juez Mercedes Alcázar Navarro, la cual, en mayo del 2016, ordenó al entonces director de la cárcel de Dueñas (Palencia) ocultar la orden de liberación inmediata de Gabriel quien, tras tres semanas de "secuestro", fue finalmente liberado el 16 de junio, por lo que se iniciaron los trámites para denunciarla por prevaricación. A cada cual la conclusión de la obcecación de esa magistrada juez en proceder mediante una ODE a la persecución europea del compañero, pese a que Gabriel fuera puesto en libertad en España, dicho 16 de junio de 2016, al haber cumplido la totalidad de su condena. Se aclara que con posterioridad a esa fecha, el compañero no ha sido incriminado por delito alguno, por lo que no existe ninguna sentencia de condena posterior. (more…)
Tags: Anti-Prison, Badajoz, Demo, FIES, Gabriel Pombo da Silva, Girona, International Solidarity, Repression, Spain
Posted in Prison Struggle
Tuesday, October 6th, 2020
Tags: Anti-Prison, Chile, Coronavirus, Santiago
Posted in Prison Struggle
Wednesday, September 30th, 2020
Tags: Anti-Prison, Demo, Madrid, Repression, Solidarity Event, Spain
Posted in Prison Struggle
Thursday, September 24th, 2020
ES | PDF: 325 #12 – 'Contra la Cuarta y Quinta Revolución Industrial'
EN | PDF: 325 #12 – 'Against the Fourth and Fifth Industrial Revolutions'
Descargue la portada de alta resolución aquí.
Presentando 56 páginas de anarquía anti-organización, insurrección y anti-civilización del siglo XXI. Una colección de textos y cartas críticas desde el punto de vista anarquista que examinan los nuevos cambios en la producción y el control social provocados por las nuevas tecnologías que están marcando el comienzo de un mundo carcelario totalizante y el avance de máquinas más inteligentes que las humanas.
CONTENIDO : 325#12
3. Editorial
4. Automatización, robótica y mano de obra en la 4ta y 5ta revoluciones industriales
8. Desde la revuelta a la insurrección – Extracto
9. Una pequeña crítica a la ciencia y su mundo
10. Mundo COVID-19: Las epidemias en la era del capitalismo
12. Las fracturas del Dominio
13. Ataques incendiarios coordinados contra antenas de retransmisión en Grenoble, Francia
14. La cuarta y quinta revoluciones industriales
17. La reproducción artificial de lo humano: El camino del transhumanismo
24. Psicología de la máquina: una ley de desaparición
26. Mirada oblicua
30. Teléfonos inteligentes, tonos, Capital
31. Sociedades sin dinero en efectivo y criptomonedas: fin de la era tradicional de la banca y las finanzas
34. Contribución a la reunión internacional contra las tecnociencias del anarquista encarcelado Dino Giagtzoglou
40. La sociedad cibernética y su mundo
52. Contra starlink
54. Espacio : parte 1
55. Pronto, cerca de tu casa
57: Cronología de acción directa
RED ANTI-COPYRIGHT 2020
Tags: 325 Magazine, Analysis, Anti-Prison, Anti-technology, Artificial Intelligence (AI), Artificial Reproduction, Biotechnology, Coronavirus, Crypto-Currencies, Cybernetics, Fifth Industrial Revolution, Fourth Industrial Revolution, Insurrection, International Solidarity, Konstantinos Yagtzoglou, Nanotechnology, PDF, Prison Society, Robotics, Sabotage, Starlink, Technological Singularity, Transhumanism, Zine
Posted in Library
Monday, September 14th, 2020
Demo – The annual United Families and Friends Campaign rally will take place in London on Saturday 31 October 2020.
via Inquest.
Tags: #BlackLivesMatter, Anti-Prison, Fuck the Police, Kano, London, Police Brutality, Racism, Repression, UK, Video
Posted in Anti-Fascist
Friday, September 11th, 2020
From AMW:
Hiya pals,
We are midway through Black August and I've been doing lots of thinking, fasting, and trying to grow as a person and as a radical anarchist. Lots of fitness, reading, mentally taking stock.
This is my third Black August in SHU. I was thrown into segregation two years ago on August 17th and was kept within for a year pending prosecution; then, after they brought these new charges, we've done another year pretrial. It's been a rough two years filled with restrictions, violence, abuse, but also love strength and friendship. Resistance is strong.
Last year's Black August was spent partially at USP Lee, where I met Thomas Smith (aka Mad Dog) a blood leader and revolutionary who was also participating. He had been in SHU at that point for 18 months pending an ADX transfer. We fasted together, had long conversations on resistant strength and what it means to be a revolutionary today. I still think of Mad Dog often and encourage everyone to write and send reading material into him. (more…)
Tags: Anti-Prison, Black August, Eric G. King, Letter, Racism, Repression, USA
Posted in Prison Struggle
Thursday, July 30th, 2020
EN | PDF: 325 #12 – 'Against the Fourth and Fifth Industrial Revolutions'
ES | PDF: 325 #12 – 'Contra la Cuarta y Quinta Revolución Industrial'
Presenting 56 pages of anti-organisational, insurrectional, anti-civilisation anarchy of the 21st Century. A collection of critical texts and letters from anarchist points of view examining the new changes in production and social control brought about by new technologies which are ushering in a totalising prison-world and the advance of smarter-than-human machines. This issue of 325 builds on the considerations and content of the last issue which took as it's focus the subject of the Technological Singularity. Six years later, the mechanisms, ideologies and impacts of this global dystopian project are nearer and clearer and the texts you will read in this new issue deal with the emerging realities of these technological revolutions.
For the first time, 325 is coming out in 3 languages: First in English, with Spanish and Italian to follow. Printed copies are available, but we also encourage people to print out their own copies and distribute them in their area.
CONTENTS : 325#12
3. Editorial
4. Automation, Robotics & Labour in the 4th & 5th Industrial Revolutions
8. From Riot to Insurrection – Excerpt
9. A Small Criticism of Science and its World
10. Covid-19 World: Epidemics in the era of Capitalism
12. The Fractures of Dominion
13. Coordinated Incendiary Attacks Against Relay Antennas in Grenoble, France
14. The 4th and 5th Industrial Revolutions
17. The Artificial Reproduction of the Human: The Road of Transhumanism
23. Machine Psychology: A Disappearing Act
25. Oblique Look
28. Smartphones, Ringtones, Capital
29. Cashless Societies and Crypto-Currencies: End of the Traditional Era of Banking and Finance
32. Contribution to the 1st International Meeting Against Techno-Sciences by imprisoned anarchist Dino Giagtzoglou
38. Cybernetic Society and its World
48. Against Starlink
50. Space : Part 1
51. To Be Released
53. Direct Action Chronology
ANTI-COPYRIGHT NETWORK 2020
Tags: 325 Magazine, Analysis, Anti-Prison, Anti-technology, Artificial Intelligence (AI), Artificial Reproduction, Biotechnology, Coronavirus, Crypto-Currencies, Cybernetics, Fifth Industrial Revolution, Fourth Industrial Revolution, Insurrection, International Solidarity, Konstantinos Yagtzoglou, Nanotechnology, PDF, Prison Society, Robotics, Sabotage, Starlink, Technological Singularity, Transhumanism, Zine
Posted in Library
Sunday, June 28th, 2020
Con la pandemia en aumento en el territorio chileno, diferentes movilizaciones y acciones se han registrado en las cárceles por parte de los prisioneros para intentar prevenir el virus y levantar sus reivindicaciones.
Una de ella fue en la cárcel de alta de seguridad en Santiago, ya que desde fines de abril los módulos 2 y 3 h norte se mantuvieron participando de una huelga hambrienta (no confundir con huelga de hambre) donde se les exigió a los carceleros las raciones de alimento que corresponden, mientras los presos que habitualmente la reparten no lo hicieron, a modo de protesta. A esto se le sumó un golpeteo generalizado de barrotes y puertas. La huelga hambrienta duró aproximadamente unos 40 días, mientras los "barrotazos" 50 días*. A principios de junio finalizó la movilización de forma espontanea.
Hoy, a mediados de junio con la pandemia desatada en Chile, era cuestión de tiempo para que se extendiera rapidamente en las cárceles por el nivel de hacinamiento en que se encuentran. (more…)
Tags: Anti-Prison, Chile, Marcelo Villarroel Sepúlveda, Santiago
Posted in Prison Struggle
Friday, June 19th, 2020
Welcome to the 35th edition of Bad News. This is our Angry Voices From Around The World for June, 2020. A report from the international network of anarchist and anti-authoritarian radios.
If you'd like to get involved in the network or want to hear more – send an email to a-radio-network@riseup.net.
Check out all the shows look for the a-radio-network collection on archive.org or at our website, a-radio-network.org.
Contents:
1. The Final Straw Radio:
• Interview about the liberation of a former Sheraton Hotel in Minneapolis.
2. A-Radio Berlin:
• Interview about a new feminist campaign in Germany to raise awareness to the abortion topic.
3. Radio Fragmata:
• Updates on the general situation, the movement and the struggles in Greek territory.
4. Invisible Radio:
• Voices of people from Moria camp
5. R.O.S.E. (Athens):
• News from Greece.
Tags: Anarchist Radio, Anarchistisches Radio Berlin, Anti-Prison, Athens, Berlin, Final Straw Radio, George Floyd, Germany, Greece, International Solidarity, Invisible Radio, Migrant Struggle, Minneapolis, Moria, R.O.S.E (Athens), Racism, Radio, Radio Fragmata, Repression, USA
Posted in Autonomy
Wednesday, June 10th, 2020
'Censorship & Blocking Access to Courts by Federal Bureau of Prisons' By Keith 'Malik' Washington
Incarcerated Workers Organizing Committee (IWOC)
Revolutionary greetings fellow workers! Today is June 2nd, 2020. The US Department of Justice has ordered the Federal Bureau of Prisons to place their facilities on a nationwide lockdown.
The Inmate Bulletin issued to the prison population said that the nationwide lockdown was a precautionary measure in light of the recent rioting and civil unrest throughout AmeriKa.
My experience as a federal prisoner has taught me that the oppressors who run these prisons subscribe to and embrace a Reactionary Ideology. This Reactionary behavior has been on full display here at USP Pollock.
One reactionary policy which has gone unreported is the recent censorship of prisoner communications as well as the blocking of our access to courts.
Since March 13th, 2020, prisoners here at USP Pollock in Pollock, Louisiana have had no access to Law Library Materials which includes the Education Legal Law Library Computer.
It is virtually impossible for prisoners to litigate pending civil or criminal actions without access to the Law Library Computer. What is remarkable is that mostly all federal facilities within the BOP allow prisoners access to the Law Library database on our housing unit. (more…)
Tags: Anti-Prison, Coronavirus, FCI Oakdale, Keith Malik Washington, Letter, Racism, USA, USP Pollock
Posted in Prison Struggle
Tuesday, May 26th, 2020
Revolutionary Greetings Comrades! It is hard to craft a message of Solidarity during this time without acknowledging the suffering and loss of life of so many beautiful humyn beings.
By the time June 11th arrives we will reach over One Hundred Thousand Deaths related to the Corona Virus here in Amerika.
Much of my recent journalism and activism has been centered around Covid-19.
Specifically, I've been calling for the release of our Elders. I started this year off with a message of Solidarity. I collaborated with my Soul Mate and Future Wife Nube Brown. We'd Love to see the state of California grant Parole to New Afrikan Freedom Fighter and Principled leader–Sitawa Nantambu Jamaa.
As far as Anarchist prisoners are concerned, I must call your attention to the struggle of our Comrade Xinachtli in the State of Texas. Xinachtli whose Sir name is Alvaro Luna Hernandez will be eligible for Parole very soon.
Inorder to facilitate Xinachtli's release we must ensure that he has enough Financial Support so that we can retain a Parole Attorney that will zealously advocate for Xinachtli's Release.
Xinachtli has been subjected to Decades of Racism, Bigotry, and Oppression at the hands of Prison and State Officials in Texas. Xinachtli is a Principled Thinker and Anarchist comrade who has Earned my Respect and Support. This June 11th lets focus on BEING NUMEROUS in order to Free Xinachtli. (more…)
Tags: Anti-Prison, Coronavirus, June 11th Solidarity, Keith Malik Washington, Letter, Marius Mason, Texas, USA, Xinachtli
Posted in Prison Struggle
Tuesday, May 19th, 2020
Statement by Amadeu Casellas, after his release
Salud compañerxs,
Yesterday, May 14, I received provisional freedom, awaiting an acquittal or conviction. As you already know, justice in this state is not impartial, depending on whether the prosecutor has been military, fascist or ecclesiastical, that is already a problem for the working class. The same is the case with presidents, magistrates or judges, who depending on their ideology, can also be condemnatory or acquittal. I no longer want to talk about the state hitmen, also called Mossos d'Esquadra [police force in Catalonia], who are manipulative, corrupt and pathetic.
In any case, as you can imagine, I am very happy with my freedom, after the two years I have been unjustly locked up in prison.
But this is not over yet, because I have to go and collect the conviction or acquittal, and as you can imagine, if it is condemnatory I will have to appeal it. Among other things, because the state's hired killers, the Mossos d'Esquadra, manipulated evidence, which was demonstrated in the trial that took place on the 5th and 6th, as well as other evidence that was manipulated by themselves.
I want to thank all the Grup de Suport for all the help they have given me during these two years, which has been a lot, and I hope that the next few days we can all stay together and celebrate my freedom.
And to be able to start, for those who want to participate in new struggles against the many abuses that are inside the prisons, the fact that I have come out does not mean that this has ended.
The struggle continues, because there are many Amadeus in prisons and many fascists that watch over them, torture and humiliate them. For those who want to continue organizing the struggles of the prisons in the Catalan and Spanish death centers, we will be in contact.
Thanks to everyone for your support.
Salud and Anarchy
Amadeu Casellas
Tags: Amadeu Casellas, Anti-Prison, Catalonia, International Solidarity, Letter, Spain
Posted in Prison Struggle
Tuesday, May 19th, 2020
EL | ΑΛΛΗΛΕΓΓΥΗ ΜΕ ΤΟΥΣ ΑΠΑΝΤΑΧΟΥ ΦΥΛΑΚΙΣΜΕΝΟΥΣ-ΚΑΛΕΣΜΑ ΣΕ ΔΙΕΘΝΕΣ ΤΡΙΗΜΕΡΟ ΔΡΑΣΗΣ, 29-30-31 Μαϊου 2020
SOLIDARITY WITH PRISONERS ALL OVER THE WORLD
CALL FOR INTERNATIONAL DAYS OF ACTION
The existing health crisis and its management from governments until now, globally, has unmasked the real character of authority, which was hiding itself behind the democratic mask. This oppressive system imposed an ultimate control of life, forbidding everything. Now, all civil liberties have become senseless words. This extreme condition that we live in, reveals that the prison-model is the true capitalistic model of society.
Prison is the most extreme form of bio-politics and extermination. Prisoners are under constant surveillance and control, something that, nowadays is happening to the whole society.
In this period of time, prisoners in Greek prisons are dying, one after another, from minor causes such as rotten teeth etc. Selim Zerolari and Azizel Demiroglou were two prisoners that we were informed about their deaths, this month. Mass media, of course, managed to conceal or distort these news. Furthermore, the state has grabbed the opportunity, due to the curfew, to move the most active prisoners, anarchists and others, into other prisons. Silence in the streets gives more power to the state to repress the voices of the imprisoned people.
Incarceration has always been, and remains, a form of torture and a tool of submission for authority. If we don't resist to this modern totalitarianism, we will live in this prison-society, which states systematically impose.
Throughout the planet, in the face of the corona virus threat, prisoners stacked in prisons and migrant concentration camps are shouting: We are prisoners, not death row convicts!
Korinthos migrant concentration camp, Greece: 1,200 migrants go on hunger strike, March '20
Italy, March '20: 27 prisons in revolt due to the corona virus, many prisoners killed in the clashes
Argentina, April '20: Revolt in Concordia prison, guards respond with shootings
Palmasola, Bolivia, May '20: 2 prisoners left to die from the corona virus, prisoners revolt
Chile: Strike mobilization at high security prison in Santiago, May '20
Thebes prison, Greece: Prisoners revolt after prisoner dies because she was not taken to hospital, April '20
MEET ALL PRISONERS DEMANDS
FREEDOM TO ALL WHO ARE IN THE CELLS
PUBLIC HEALTH CARE FOR ALL – PRISONERS AND MIGRANTS
OPEN ALL CONCENTRATION CAMPS FOR MIGRANTS
AS LONG AS BORDERS AND PRISONS EXIST NOBODY IS FREE
CALL TO INTERNATIONAL DAYS OF ACTION IN SOLIDARITY WITH PRISONERS
29-30-31 MAY 2020

Comrades, Solidarians with prisoners' struggles
Tags: Anti-Prison, Coronavirus, Greece, International Solidarity, Isolation, Migrant Struggle, Repression
Posted in Prison Struggle
Saturday, May 16th, 2020
Davide has sent us the following communiqué which we are pleased to publish, the following has been written together with a companion of his from the isolation section of the Pagliarelli prison in Palermo.
Unconditionally we will continue to stand by our comrade's side!
LIBERTADE PRO SU KUMPANZU DAVIDE DELOGU!
DAVIDE DELOGU IN TERRA SARDA!
Sardegna Anarchica
Cassa di sostegno per l'anarchico sardo prigioniero deportato Davide Delogu
——————————–
From the South isolation section of the Pagliarelli prison in Palermo
We are two prisoners who have been thrown into the isolation section "South" of the Pagliarelli prison (in Palermo) without any judicial measure to justify it. We are Carmine Lanzetta (AS3 [detained in "High Surveillance 3" circuit]) from January in total continuous isolation started with the disciplinary isolation for 10 days that still continues, and Davide Delogu, Sardinian anarchist, from February in continuous isolation for reasons of order and security for which we should not do more than 15 days, held hostage with the revenge of total isolation.
Both of us do not bow to the annihilation in which our torturers would have us and fight against the hellish misery of this infamous section to be closed, with the consequent transfer. In half of the section there are the two of us in cells with nothing inside, far from each other. In the other half they put the prisoners in precautionary quarantine and we all use the same shower and the same phone. So we became their guinea pigs. Someone even before us tried to make a complaint to the prosecutor and complain to the magistrate, but these instances are blocked or made to disappear. There is no response to our lawyers' complaint send via PEC e-mail either; prison administration taking advantage of the emergency of Covid-19 so the lawyers can't enter the prison to visit us. We are in a section of isolation that had been abolished since 2000 because of the inhumanity embodied there and which is still being put in place. The cells have nothing inside, are deprived of everything: TV, radio, bathroom door, window, rags, brooms and cleaning sticks, hot water with a mini sink always plugged, a walking space that is a cubicle without a bathroom, but there's no shortage of excrement of any kind, something we don't dwell on. They inflict all kinds of abuse without being able to subjugate us, however, does not change the antiphon. Those who hold power in this prison are dangerous people, starting with commander Rizzo who feels omnipotent and all the hierarchs who continue with their harassment, like the deputy director who inflicts disciplinary isolation with natural ease, even though he knows in what non-human conditions he leads people. And the director Francesca Vezzana is co-responsible for all this. All this must end and we demand the closure of this section of isolation "South" and our transfer to another prison.
Therefore, from today, May 14th, 2020, we begin the food strike, refusing to go to the cubicles and unworthy walking spaces, trying to beat the bars every day for 20-30 minutes.
Let's start the strike permanently, for now let's avoid the hunger and thirst strike in order to keep us strong for when we will lead more incisive forms of struggle, since by limiting ourselves to these we won't go very far, so that we can face the squadrette [groups of guards specialized in beating and massacre prisoners] that abound here, to get what we want until the end.
Updates will follow.
Prisoners of isolation section "South", Pagliarelli prison, Palermo
Carmine Lanzetta
Davide Delogu
Tags: Anti-Prison, Carmine Lanzetta, Coronavirus, Davide Delogu, Italy, Pagliarelli prison, Palermo, Repression, Sardinia
Posted in Prison Struggle
Thursday, May 14th, 2020
We are Humyn Beings!!!
Revolutionary Greetings Fellow Workers and comrades all over the World!!
"Nothing Lasts.
Relationships end.
Friends die.
Even Capitalism will be history someday.
It's what we do to re-awaken each other that matters.
Breathing life into self organization, the working actuality of freedom.
That's the victory, the revolution,
The Truth of Power: That we know how to create lives worth living.
Knowing that such moments, too, won't last.
—–CINDY MILSTEIN an excerpt from:
CODA: WAKING TO REVOLUTION
More and more people are becoming aware and supporting our Solidarity Actions which seek to support the Prisoner Humyn Rights Struggle. The Momentum is building and what happened on May 7th is only a preview for things to come.
May 7th was the First Action that will usher in our 2020 Prisoner Humyn Rights Movement and Actions—Black August is approaching fast. (more…)
Tags: Anti-Prison, Coronavirus, Keith Malik Washington, Letter, USA
Posted in Prison Struggle