Posts Tagged 'Anti-Prisons'
Friday, June 26th, 2020
On June 18th Eric was taken into the showers while shackled and attacked. The guard took the metal detection wand and swung at each of his ankles and then when he would lift his leg this officer would swing at the other. The guard then picked Eric up and dropped him on his head onto the concrete in the shower. He woke up after loosing consciousness for 10 seconds thinking they were pouring water on his face. But it was his own blood.
Eric was transported to Swedish Medical Center and was given 6 stitches and was diagnosed with a moderate to severe concussion. They hospital would not give him the results of the scan or release it to his family or lawyer because they told him "he is government property".
The reality is folks have been fighting for over a month to be able to get an expert in to assess Eric. We believe he is suffering from a traumatic brain injury after officers at FCI Florence kicked him in the head for 5 minutes in August of 2018. We were so hopeful that we were going to be able to get help for him and see where he is at with the mixture of trauma and brain injury he has been struggling with. His memory has been affected as well as many other aspects of his life. Officers at FCI Englewood know this. They knew that we were trying to get a medical expert in because of a head injury concern… and then they dropped him on a concrete fucking floor on his head in the bathroom while Shackled up. (more…)
Tags: Anti-Prisons, Eric G. King, FCI Englewood, International Solidarity, Repression, USA
Posted in Prison Struggle
Sunday, June 14th, 2020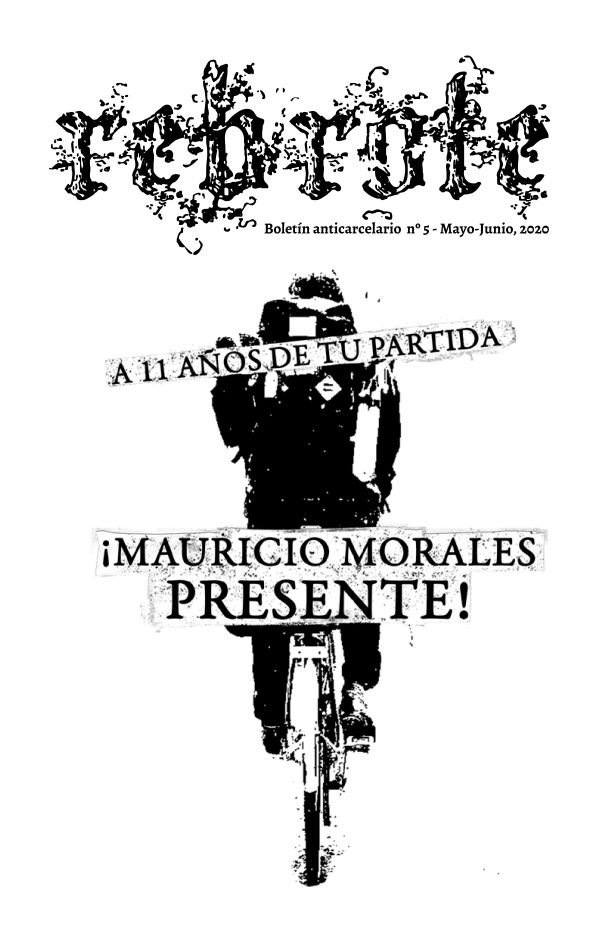 Palabras previas
Compañerxs, tenemos el gusto de compartir con ustedes la publicación de un nuevo número del boletín anticarcelario Rebrote.
Anhelamos profundamente que los gestos de solidaridad hacia lxs presxs se sigan proliferando a pesar de este complicado contexto de crisis y control social, en donde las expresiones del apoyo mutuo entre marginadxs se diversifican con la finalidad de sobrevivir mientras el aumento de la militarización de las calles pareciera volverse algo ya cotidiano. (more…)
Tags: Anti-Prisons, Chile, Mauricio Morales, PDF, Rebrote, Santiago, Zine
Posted in Library
Tuesday, March 31st, 2020
by Keith 'Malik' Washington | Incarcerated Workers Organizing Committee
Today is Sunday, March 29th, 2020. This is a follow-up report to an Urgent Update that I released last Sunday, March 22nd, 2020. This specific report details recent events in regard to the Covid-19 Pandemic within Facilities Operated by the Federal Bureau of Prisons.
Please be advised that there has been a Deliberate Attempt by the Main-Stream Media and The White House to ignore the Deadly impact Covid-19 has been having on Amerika's World Leading Prison Population.
On the morning of March 29th, 2020 I interviewed a Registered Nurse who works for the Federal Bureau of Prisons. The Nurse requested that I not use their name. I will respect this employees request to remain Anonymous.
It was reported to me that there have been 8 Positive Cases of Covid-19 at Federal Correctional Institution Oakdale which is located in Oakdale, Louisiana. FCI Oakdale is the "Sister Facility" to USP Pollock. Of the 8 Cases at FCI Oakdale, 6 are prisoners and 2 are B.O.P. employees. There has been One Death at FCI Oakdale connected to the Covid-19 Virus! There are 6 Prisoners currently on ventilators at the facility. (more…)
Tags: Alexandria, Anti-Prisons, Coronavirus, FCI Oakdale, Keith Malik Washington, Letter, Louisiana, Oakdale, USP Pollock
Posted in Prison Struggle