Posts Tagged 'Anti-technology'
Wednesday, April 8th, 2020
+ FR | Royaume-Uni : Un bilan des attaques incendiaires de pylônes de télécommunication
According to corporate media another four Vodafone cell phone towers were torched in the 24 hours after the recent arson attacks targeting 5G infrastructure took place on April 2nd & 3rd. 3G and 4G towers were also part of those destroyed, although it's unclear if they were unintentionally sabotaged or not. Information about the attacks themselves has been hard to ascertain due to limited information being issued by the mass media and rapid censorship of corporate social media.
Since the first attacks last week, at least 20 attacks are reported to have taken place across the country and there are reports of engineers also being questioned, harassed and attacked by people worried about 5G. It is clear that whilst everywhere is in lockdown the continued expansion and roll-out of 5G has remained a priority. The UK State regime and communications corporations were forced to issue a statement describing the risks that 5G poses to human health to be "baseless" and blamed the harassment and attacks on "conspiracy theories". Social media corporation Facebook took down several pages dedicated to recording and apparently inciting the anti-5G attacks and also had their messaging app company WhatsApp limit the forwarding ability of messages. This is part of a cross-platform corporate attempt with Twitter, Google, Youtube etc to co-ordinate efforts together with the State to censor and track what they are describing as "misinformation" about the origins of Covid-19. (more…)
Tags: 5G, Analysis, Anti-technology, Arson, Coronavirus, Internet of Things, Repression, Sabotage, Smart Cities, Technological Singularity, UK, Vodafone
Posted in Autonomy
Friday, April 3rd, 2020
PDF: PUBLICACIÓN MUNDO COVID-19.1
MUNDO COVID-19, Nº 1
LAS EPIDEMIAS EN LA ERA DEL CAPITALISMO
– Recopilación de textos de análisis internacionales durante el estado
de alarma.
https://contratodanocividad.espivblogs.net/
contratodanocividad@riseup.net
Tags: Analysis, Anti-technology, Contra toda Nocividad (Zine), Coronavirus, International Solidarity, PDF, Repression, Spain, Technological Singularity, Zine
Posted in Library
Friday, April 3rd, 2020
È ragionevole descrivere
una sorta di imprigionamento per mezzo di un'altro
quanto descrivere qualsiasi cosa
che esiste
realmente
per mezzo di un'altra che non esiste affatto
Daniel Defoe
Perché dovremmo sopportare una dieta di veleni non del tutto nocivi, una casa in sobborghi non del tutto squallidi, una cerchia di conoscenze non del tutto ostili, il frastuono di motori non così eccessivo da renderci pazzi?
Chi dunque vorrebbe vivere in un mondo non del tutto mortale?
Rachel Carson, Primavera silenziosa
Negli anni '60 Rachel Carson, biologa e ambientalista americana simbolo del movimento ambientalista internazionale, con il libro Primavera silenziosa lanciava una forte denuncia e un grido di allarme nei confronti dell'avvelenamento del pianeta causato dall'uso dei pesticidi e in particolare del DDT, al tempo prodotto e usato su vasta scala.
Una nocività di larghissimo uso come il DDT, usato ancora oggi anche se in forme più subdole, aveva portato a silenziare le campagne dai canti primaverili degli uccelli. Oggi, in tempi di Coronavirus, le nocività, oltre ovviamente i pesticidi, non solo sono aumentate, ma si sono trasformate in un intero sistema malato che quotidianamente quando non mette a rischio la sopravvivenza degli organismi viventi li condanna a vivere in un'esistenza tossica e sempre più sterile di biodiversità. La verità è molto semplice: noi stiamo soltanto cominciando a subire massicciamente l'effetto ritardato dell'avvelenamento chimico-nucleare-biologico-elettromagnetico cumulativo del pianeta, avvelenamento che accresce qualitativamente e quantitativamente ogni anno. La degradazione della natura e di noi stessi che ne siamo parte non può che portare a questo. In una situazione in cui le nocività si ri-combinano la questione non è se poteva succedere o no un qualche disastro climatico, chimico o di altra natura, ma quando questo sarebbe avvenuto. O, meglio, forse la domanda dovrebbe essere se non sta già avvenendo. (more…)
Tags: 5G, Analysis, Anti-technology, Coronavirus, Ecological Destruction, Gene Drive, Italy, Repression, Resistenze Al Nanomondo, Seveso, Technological Singularity, World Heath Organisation (WHO)
Posted in Eco Struggle
Monday, March 16th, 2020
About COVID-19, authoritarian delusions and the shitty world we live in…
The macabre death toll increases day by day, and in the imagination of each person takes place the sensation, at first vague then always a little stronger, of being more and more threatened by the Great Grim Reaper. For hundreds of millions of human beings, this imagining is certainly not new, that of death that can strike anyone, at any time. Just think of the damned of the earth sacrificed daily on the altar of power and profit: those who survive under State bombs, in the midst of endless wars over oil or mineral resources, those who coexist with invisible radioactivity caused by accidents or nuclear waste, those who cross the Sahel or the Mediterranean and are locked up in concentration camps for migrants, those who are reduced to pieces of flesh and bone by the misery and devastation caused by agro-industry and the extraction of raw materials…And even in the lands that we inhabit, in times not very long ago, we have known the terror of butcheries on an industrial scale, bombings, extermination camps… always created by the thirst for power and wealth of States and bosses, always faithfully set up by armies and police.
But no, today we are not talking about those desperate faces that we constantly try to keep away from our eyes and minds, nor about a history that is now past. Terror is beginning to spread in the cradle of the kingdom of commodities and social peace, and it is caused by a virus that can attack anyone – although of course, not everyone will have the same opportunities to cure themselves. And in a world where people are used to lying, where the use of figures and statistics are one of the main means of media manipulation, in a world where truth is constantly hidden, mutilated and transformed by the media, we can only try to put the pieces together, to formulate hypotheses, try to resist this mobilization of minds and ask the question: where are we going? (more…)
Tags: Anti-technology, China, Coronavirus, Flyposter, France, Italy, Repression
Posted in Social Control
Friday, March 13th, 2020
Much is said about the Covid-19 coronavirus, and yet very little. There are fundamental aspects that remain in the shadows. I want to name some of these, different but complementary.
The first refers to the perverse mechanisms of capitalism to hide the true causes of the problem so as not to do anything about them, because it affects their interests, but it does deal with the apparent cure for the symptoms. Meanwhile, the State spends enormous public resources on prevention, containment and treatment measures, which do not act on the causes either, so this way of facing problems becomes a captive business for transnational companies, for example, with vaccines and medicines.
The dominant reference to viruses and bacteria is as if they were exclusively harmful organisms that must be eliminated. A war-like approach prevails, as in so many other aspects of capitalism's relationship with nature. However, due to the ability of viruses to jump between species, viruses and bacteria are a fundamental part of the coevolution and adaptation of living beings, as well as their balance with the environment and their health, including humans.
Covid-19, which now makes global headlines, is a strain of the coronavirus family, which causes generally mild respiratory diseases but can be serious for a very small percentage of those affected due to their vulnerability. Other coronavirus strains caused Severe Acute Respiratory Syndrome (SARS), considered an epidemic in Asia in 2003 but since disappeared in 2004, and Middle East Acute Respiratory Syndrome (MERS), which has also virtually disappeared. Like Covid-19, they are viruses that can be present in animals and humans, and as with all viruses, affected organisms tend to develop resistance, which in turn causes the virus to mutate again. (more…)
Tags: Animal Liberation, Anti-technology, Coronavirus, Repression
Posted in Eco Struggle
Monday, March 9th, 2020
In this episode we have a discussion with West Northwest, a philosopher of technology with a specific focus on the existential dangers of 21st century technologies to the freedom and autonomy of human beings and to the entirety of the natural world, and on the need to resist those technologies and the system that is bringing them into existence. West Northwest brings deep wisdom and analysis to the technological tyranny threatening us all. We are grateful for this clear and concise voice in critiquing technology.
To complement the discussion with West Northwest, we have a reading of Feral Magick by Jason Rodgers.
We opened the episode with Foster's Mill, a traditional song penned anonymously which triumphs the tactics of the Luddites. The song refers to a mill owned by a Mr. Foster. The mill was stormed, set fire and machinery smashed by an armed crowd of 300 on April 9, 1812. Although Luddites struggled against a very different technological reality than we do today, the Luddites fundamentally rejected the same logic which we stand face to face with now. For the forever smashing of looms, this is Oak, enjoy the episode
https://soundcloud.com/oakjournal/be-friction-in-the-gears
Tags: Anti-technology, Oak Journal, USA, West Northwest
Posted in Cognitive Liberty
Friday, March 6th, 2020
The following text is entirely drawn from articles published by the media of the regime.
France3, Sunday 23rd February 2020
Fire has destroyed a building housing a research laboratory in the university area of Gières (Isère), a Grenoble suburb. Firefighters fought the flames during the night and are still in action this morning Sunday 23rd February 2020. A crisis unit was set up between 3 and 4am, as disaster struck in the 1,300-square metres building in rue de la Piscine.
«The fire is most likely to be of criminal origin because a door of the building seems to have been forced and the fire started in several points», announced Eric Vaillant, a public prosecutor from Grenoble.
The flames devastated 700 square metres of the first floor. The damage amounts to several hundred thousand euros, a great deal of research material has been destroyed but there were no casualties. According to the laboratory director «about 10 years' work» has gone up in smoke. At the height of the intervention 43 firefighters and five firefighting hoses were mobilized. (more…)
Tags: 3SR Lab, Anti-technology, Arson, France, Gières, Grenoble, Sabotage
Posted in Direct Action
Friday, March 6th, 2020
From Anarchists Worldwide: The following interview with self-described primal anarchist advocate, writer, editor, independent researcher, publisher, musician and rewilding human, Kevin Tucker, originally appeared in the first issue of the new Indonesian anarchist journal, Jurnal Anarki. Jurnal Anarki is written entirely in Bahasa Indonesian, and this is the first time content from it has been republished in English. We'd like to thank comrade Eat for making this possible!
1. Looking at the Anarcho-Primitivist Primer by John Moore, he explains that Anarcho-Primitivism has nothing to do with romanticizing the primitivist way of life, or as many people love to accuse Zerzan of, suggesting that we go back to the stone age. What do you think about John Moore's interpretation of Anprim? Do you have a different interpretation, or perhaps even a critique of the Primer?
I don't know if I would call it a critique of John Moore's primer, but the 'Anarcho-Primitivist Primer' was admittedly a quick and personal take on anarcho-primitivism (AP). It was really only a few pages long, the kind of thing you hand out to contextualize other pamphlets, zines, and books you might have at the same time. It wasn't meant to be definitive, even though, I would say, at the time it was still effective.
That said, I have a lot of appreciation for John, but his work was still limited by the time and when he died in 2002 there was a lot that had been kind of left unaddressed, to the point where a pamphlet like his earlier 'Lovebite' was dated pretty quickly.
A part of that is the terminology and framing. Personally, I've been moving towards a framing of "primal anarchy" over the term "anarcho-primitivist" for the last fifteen years now. "Primitive," as a term, just doesn't really cut it anymore, but it also reinforces this idea that "primitive" refers to a point in time or place. Like it's something that has gone or remains in a few places. I think primal is a lot more fitting, which is the direction that Paul Shepard had been leaning in for some time. (more…)
Tags: Analysis, Anti-technology, Climate Chaos, Earth Liberation Front, Eat, Eco-Extremism, Ecological Destruction, Indigenous Struggle, Indonesia, Informal Anarchist Federation (FAI), Interview, John Zerzan, Jurnal Anarki, Kevin Tucker, Primal Anarchy, Sabotage, USA
Posted in Interviews
Monday, March 2nd, 2020
PDF: Second international meeting
This year too, we are proposing an informal, convivial and international opportunity for discussion and reflection among individuals and organisations engaged in building an analysis and a critique of what we may call the technoworld. A world which is going through an epoch-making paradigm shift, where all bodies and our very experience have become one of the most important new raw materials. Engineering of the living and digital control are increasingly replacing a large part of the previous market of commodities, which are becoming obsolete. On a planet which has been plundered well beyond its biological limits, the re-designing through synthetic biology and artificial reproduction in a eugenic key of human beings and their management represents the new path forward. This of course for those who will be included in the new power arrangement, for the others no plans have emerged, or perhaps the fact that they have not been presented is already an answer in itself, they will certainly not be satisfied with merely marginalising a part of the world.
For those who ask where the current system, based on systematic exploitation of the planet, can find a way to reorganise itself, incorporating into its discourse the farce of sustainability, the answer lies in taking over human beings themselves: managed, influenced and addressed in their behaviour so that they themselves produce processes which can turn them into commodities. This is the true essence of green and sustainable policies to save the planet from so many catastrophes, of which climate catastrophe is only a part. Human beings who will soon be genetically edited in a process of ongoing perfectibility, where the body will be seen as a limit to be overcome, where what is human will be considered an error, and must therefore continuously adapt to a machine world. A techno-scientific adaptability which will become the only possibility. We can now seem how the cybernetic paradigm, according to which "the environment we live in has always been so radically modified that today we are forced to modify ourselves", takes a material and dramatic shape. (more…)
Tags: 5G, Anarchist Gathering, Anti-technology, Artificial Intelligence (AI), Artificial Reproduction, Biotechnology, Coronavirus, Genetic Manipulation, Italy, Nanotechnology, Resistenze Al Nanomondo, Smart Cities, Technological Singularity, Transhumanism
Posted in Eco Struggle
Thursday, February 13th, 2020
FR: Une carte des incendies d'antennes-relais – Solidarité avec Badger
PDF: International solidarity with Badger
Bristol Mast Fire
Fourteen arson attacks against telecommunications and mobile phone masts in the Bristol and Bath area took place over the last decade.
This imaginal map is an attempt to show a rough sketch of how these attacks were spread over a large area.
The Earth is being rapidly destroyed by a matrix of greed, consumerism, technology and industrial exploitation which has poisoned the air, rivers and land, harmed all living beings and made millions of species extinct.
These attacks caused substantial losses for the capitalist companies and shows that the system can be sabotaged through organisation and direct action. One way to hit the system is by economic and strategic sabotage in all fronts.
The cost of the damage can never equate to the profits the system loots from our lives everyday and the damage that it has done to the Earth.
Despite years of police repression against the anarchist movement no one has been charged with the fires but the cops have accused a fugitive anarchist comrade 'Badger' for involvement in one incendiary strike in 2013 that took out police radio, Vodafone services and TV and digital coverage to 80,000 homes and businesses.
The action was claimed by the FAI/ELF – Horizons of Burning Rage.
Police also accuse Badger of trashing the windows of right-wing rag 'Bristol Post' in the riots of 2011. Innocent or guilty is irrelevant to our solidarity.
Stay free Badger – Long live anarchy!
International solidarity to Badger
Freedom for ALL – Destroy Civilisation
Tags: Anti-technology, Flyposter, Huw 'Badger' Norfolk, International Solidarity, New Horizons of Burning Rage FAI / ELF, PDF, Sabotage
Posted in Library
Thursday, February 13th, 2020
FR: Tract : Comment détruire des antennes-relais
PDF: How to destroy cell phone towers
How to Destroy Cell Phone Towers
Recipe: Standard size cell phone tower, used by two or three cell carriers.
Usually on the front of the installation there will be a sign noting the companies.
Ingredients:
2-3 comrades
Entry tools (Boltcroppers, Wiresnips, etc)
Gloves, Mask, Clean Clothes, Hat, Cap or Hood (for DNA traces)
Fuel (500ml, White Spirit or Kerosene preferred instead of Benzine/Petrol)
Fuel (100ml of Benzine/Petrol)
Firelighters, Several Lighters, Long Pole or Stick (up to 15ft)
Thick Rags/Towelling (to absorb the fuel)
Small Tyre which is easy to fit in a rucksack (from Wheelbarrow, Quad Bike, Moto etc)
Stage 1. Recon the target. Locate the weak point in the installation, which is where the network cables depart from the mast vertical and enter horizontally or similar into the electrical source, which is usually either a small reinforced building or box. The exposed cables may be located at ground level or up to 15ft up the mast for example. Note estimated timings, entry and exit points, security cameras, motion sensors, lighting etc. Aim to execute the action within 15 mins.
Stage 2. Check and enter the site, climb the mast if needed, cut the cable ties that bunch the wires together at the weak point you located earlier. Wedge the tyre in between the cables securely and stuff the tyre with rags and wrap some rags around the cables climbing up the mast from that point. Soak the rags inside the tyre and up the mast with fuel. Take care not to cover yourself with fuel traces, prevent unneeded forensic evidence and do not set yourself on fire. If you are using a pre-made timed incendiary device place it inside the tyre and set it. Climb down.
Stage 3. If using a timed device, leave the site immediately. If not, check the site and your exit points quickly. This second check is to prevent any detection, unnecessary injuries or death due to the extended nature of the action.
Stage 4. Light the fire using a pole or stick wrapped with fuel-soaked rags, Benzine is better here as the wind can get very strong where these mast are located usually. Light the rags inside the tyre from a distance, getting as far back as possible. If the tyre is small, then the fire is smaller, and detection is lessened. Practice operating in windy environments to get used to using fire at altitude and in difficult circumstances. Leave immediately.
Security: Dispose of all materials used in the sabotage action and do not return to the site. Police scientific teams will extensively search the target's area, entry and exit points, and routes to and from, for any trace of material they can use as evidence.
This recipe is open to be adapted and developed for use wherever it is needed, larger and more complex targets and systems need more developed plans of attack. Trial and error are the guide.
Against 5G & the world which needs it
Tags: 5G, Anti-technology, Black International of Anarchists of Praxis, How to destroy cell phone towers, Manuals, PDF, Sabotage
Posted in Library
Wednesday, February 5th, 2020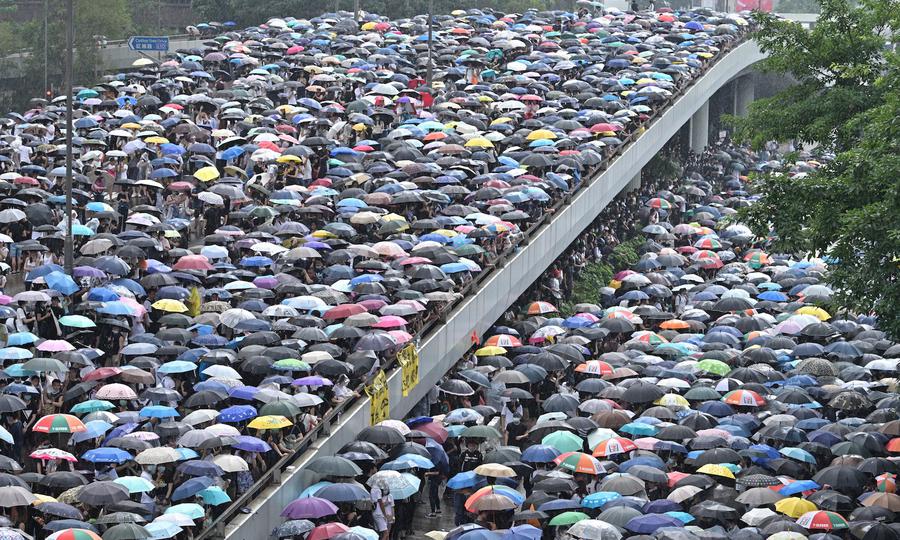 "On Wednesday 12th June, when someone shouted out that drones had started flying above them, everyone opened up their umbrellas almost simultaneously."
Four texts from Dialectical Delinquents:
1. Coronavirus – an exercise in intensified social control.
2. Hong Kong – its relevance to the rest of us… …its resistance to the science & technology of social control.
4. China: A-Z of some moments of international opposition.
Tags: Anti-technology, CCTV, China, Coronavirus, Dictatorship, Facial Recognition, Hong Kong, Repression, Riots, Social Insurrection, Surveillance
Posted in Social Control
Wednesday, February 5th, 2020
PDF: Against Eugenics and Anthropocide
"A crime against humanity is taking place before our eyes.
This crime, born in the brains of biologists and committed through the means of medicine and genetics, presents itself outwardly as a good deed and an emancipation for mankind.
A good deed for victims of sterility (organic or due to the chemical and industrial poisoning of the environment), for single women and couples of the same sex who are naturally infertile.
Emancipation from the living – spontaneous, autonomous and unpredictable – from the constraints of nature from which derives birth with all its uncertainties.
This crime is eugenics (at first called viriculture or aristogenics), the artificial selection of the human species, renamed this way in 1883 by Galton, a cousin of Darwin and also co-inventor of biometrics together with Karl Pearson (1857-1936). Or again race hygiene (Rassenhgyiene) in 1904, by Alfred Ploetz and Ernst Rüdin, two Nazi doctors. …"
Les Amis de Bartleby (Bordeaux), les Chimpanzés gascons (Gascogne), Hors-Sol (Lille), Lieux communs (Paris), Pièces et main d'œuvre (Grenoble), Resistenze al Nanomondo (Italy)
October 2019
Tags: Anti-technology, Artificial Reproduction, Biotechnology, Eugenics, Nanotechnology, PDF, Technological Singularity, Transhumanism
Posted in Eco Struggle
Thursday, January 30th, 2020
From: Elephant Editions | Drafts.
Notes: Original title I giovani in una società post-industriale Anarchismo, 1988, pp. 1-11; Opuscoli provvisori n. 19
Class modifications
Loss of meaning of the old repartitions
Excluded and included
The logic of things
For a class analysis
Far from objective security
Life
Precariousness as a choice of life
Adaptation
The weak part
The new ghetto
The function of affectivity
Lack of identity
And being devoid of identity, he goes into the fray
Unpredictability
Levels of tension
Dominion's project
Going beyond the old class struggle projects
Revolutionary presence
The conditions surrounding what remains of the human being are far more bewildering for the young, those still looking towards the future not having on their back the abyss waiting to open and swallow up an old man.
I am well aware that the following considerations might move some to laughter, and I'd like to see young readers do such. What to do with an old man's words? What can they mean to those looking wide-eyed at the wonders that await them far from cataloguing a life that has seen everything?
After all, youthful hopes and strength are precisely there, almost made to be deliberately squandered when confronted with others' advice and experience.
That is the way of the world, and as I am now playing the role of talking gibberish, I might as well go the whole hog.
The text I am proposing here is an attempt to clarify the conditions I mentioned earlier, post-industrial society and its foolish servants on the one hand, young people with their still unexpressed potential on the other.
Yet it is not a given that everything will go as it is threatening to do. There is still an area of shadow, a chaotic amalgam that could always bring forth the unexpected. This unexpected thing should always be about to spring forth, especially in the heart of a young person not atrophied before their time. I deceive myself that they are not, I dream that their pulsations are strong and sure, able to accelerate in the face of humiliation and abuse and the rules that society imposes on us, with which it seeks to shape and coerce our lives. (more…)
Tags: Alfredo M. Bonanno, Analysis, Anti-technology, Italy, Militant Youth, Sabotage, Social Insurrection, Young People
Posted in Autonomy
Monday, January 20th, 2020
Issue 10 of "Fenrir" has been published, an ecological anarchist publication, 80 pages, A4 format. Italian language.
In this number:
Editorial
If not now, when?
The black sun of the future (Autopsy of the revolution, part II)
The rise of the new populist right: an analysis of the current situation
5G, the network of domination
Resuming our black path, by Gustavo Rodriguez
Marginal contributions to an ongoing debate, by Gabriel Pombo da Silva
News from the necro-world
Updates on Prisoners and State Repression
Letters from prison
The cost is 4 euros per copy, or 3 euros for orders of 5 or more copies. The cost of shipping with ordinary "book folding" is € 1.30.
To receive one or more copies write to us: fenrir at riseup.net
Help us distribute "Fenrir", if you have a distro or want some copies, contact us!
–
Italia: È uscito il n. 10 di "Fenrir", pubblicazione anarchica ecologista (gennaio 2020)
È uscito il n.10 di "Fenrir", pubblicazione anarchica ecologista, 80 pagine, formato A4.
In questo numero:
Editoriale
Se non ora, quando?
Il sole nero dell'avvenire (Autopsia della rivoluzione, parte II)
L'ascesa delle nuove destre populiste: un'analisi della situazione in corso
5G, la rete del dominio
Riprendendo il nostro nero cammino, di Gustavo Rodriguez
Contributi marginali a un dibattito in corso, di Gabriel Pombo da Silva
Notizie dal necromondo
Aggiornamenti sui/lle prigionierx e sulla repressione di Stato
Lettere dal carcere
Il costo è di 4 euro a copia, oppure di 3 euro per ordini di 5 o più copie. Il costo della spedizione con "piego di libri" ordinario è di 1,30 euro.
Per ricevere una o più copie scrivici: fenrir at riseup.net
Aiutaci a distribuire "Fenrir", se hai una distro o vuoi un po' di copie, contattaci!
via insuscettibilediravvedimento.
Tags: 5G, Analysis, Anti-technology, Ecological Destruction, Fenrir, Gabriel Pombo da Silva, Gustavo Rodriguez, Italy, Zine
Posted in Library