Posts Tagged 'Anti-technology'
Friday, March 8th, 2019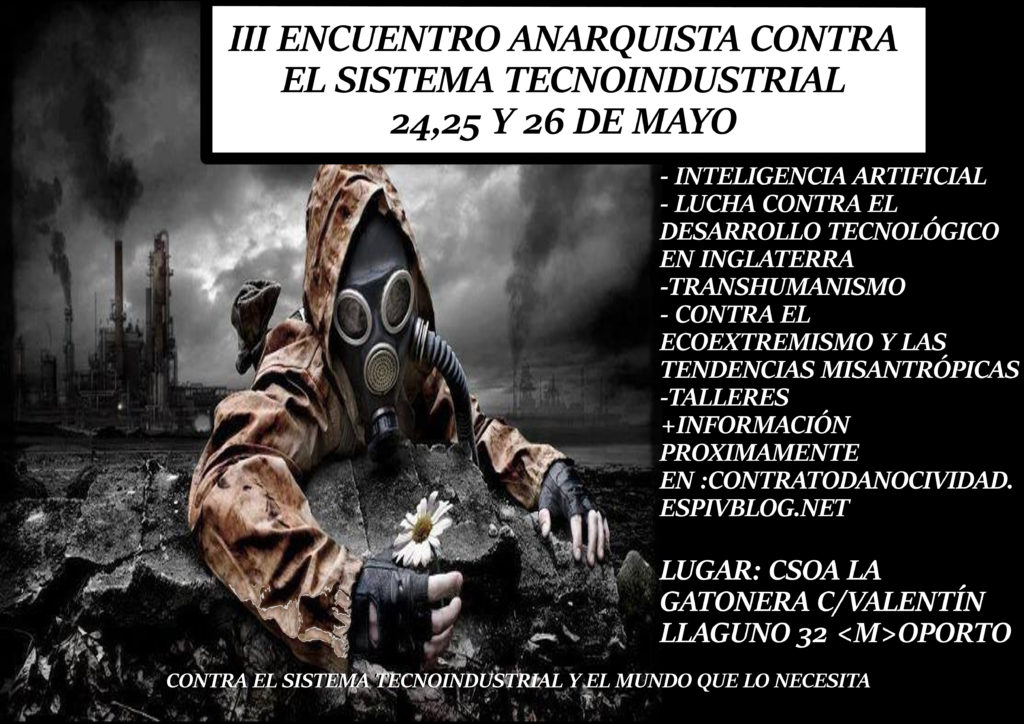 III ENCUENTRO ANARQUISTA CONTRA EL SISTEMA TECNOINDUSTRIAL Y SU MUNDO
Por tercer año consecutivo tendrá lugar en el CSOA La Gatonera (C/ Valentín Llaguno, 32) el Encuentro contra el sistema tecnoindustrial.
Este encuentro surge debido a la necesidad de generar un discurso contra el sistema de dominación en el que nos hayamos, dicho sistema impregna el mundo que nos rodea bajo una lógica tecnocientifica donde todo es medible, cuantificable y por tanto, está sujeto a un control. Dicho desarrollo se basa en la sustitución de los procesos naturales por procesos técnicos sometiendo así a los individuos, animales y el ecosistema a la mega máquina.
Cómo anarquistas consideramos que la lucha debe integrar la necesidad de proteger nuestro medio y recuperar la autonomía que este sistema nos ha arrebatado.
Durante el encuentro se realizarán charlas sobre:
– Inteligencia artificial
– Lucha contra el desarrollo tecnológico en Inglaterra
– Transhumanismo
– Contra el ecoextremismo y las tendencias misantrópicas
Y mucho más…
+ Información próximamente en:
contratodanocividad.espivblogs.net
– Para contactar: contratodanocividad@riseup.net
ACUDE Y DIFUNDE
¡POR LA LIBERACIÓN TOTAL!
Tags: Anti-technology, Madrid, Spain
Posted in Eco Struggle
Wednesday, December 26th, 2018
IT – Italia: Attaccato Istituto Italiano di Tecnologia
(12/24/2018)
In the early hours of December 24th we attacked the Italian Institute of Technology (IIT).
H24 [security company] surveillance at the receptions and private security in the car were not a good deterrent; we were determined to attack you and we did it! The IIT is the flagship of the Italian state and is a foundation for technological development and national policies in favor of science and technology. It works to strengthen the markets and policies of looting and devastation every day committed by capital and government.
It carries out neuroscience studies, "brain technologies" and genetic research for the manipulation of living things. Active in nanotechnology, conducting research on nanomaterials and their use, as well as on the development of materials for converting and storing energy, which today's production system needs in huge quantities to maintain the speed of the mad rush of progress.
In addition to iCub, in the field of robotics and artificial intelligence, they perfect robots for industrial production.
In the service of capital and the police state that assures it, they are engaged in the creation of systems of "computer vision" for systems useful for identification and social control. (more…)
Tags: Anti-technology, Artificial Intelligence (AI), Genoa, Informal Anarchist Federation (FAI), International Revolutionary Front, Italy, Nanotechnology, Sabotage
Posted in Direct Action
Sunday, November 11th, 2018
THE FUTURE IS ALREADY HERE
TWO DAYS OF RESISTANCE TO SINGULARITY
Artificial intelligence, databases, augmented reality, high security cameras, digital ecosystems, drones, smartphones with smart advertisements and smart houses that steal our thoughts and turn them into merchandise, spectacle, suppression.
Surveillance. Order and security.
The laboratory escapes the four walls- the laboratory is the whole planet.
All this is what the yuppie entrepreneurs, academics, CEOs and scientists are shouting timidly but yet outrageously from Silicon Valley to Athens. On the 19th of November at the SingularityU Summit the enthusiasts of the technological dystopia will gather at Megaro Mousikis. Therefore, dystopia is here, dystopia is now. Singularity Summit is a gathering that will teach to the aspiring leaders and future entrepreneurs how they will thrive in an environment of competition and high technology. The foundation for all of this are the biggest multinational database companies in the world that govern the whole planet and reign in Silicon Valley, such as Google, Yahoo and Apple. Their dream is being presented worldwide by various arrogant scientists, such as Peter Diamantis, and is being spread to the elites of the international scene. Last year in Milan, now in Athens. The sponsors of this year's summit here are Kathimerini and SKAI- we've always disliked them and they never miss out on reminding us- and the research center Demokritos, that test on non-human animals.
The future is already here, but us, our thoughts, our fears, our resistances are also here. Nothing is over – the future is still unwritten.
EVENT-PRESENTATION about the SingularityU Summit and the nanoworld
by the group Resistenze al nanomondo (Italy)
SUNDAY 18/11 (location soon) at 19:00
DEMONSTRATION against the SingularityU Summit
MONDAY 19/11 Parko Eleutherias (Vassilisis Sofias, by Megaro Mousikis) at 11:30
cooperation against the future
initiative from damala fera
traces of fire
Notes from Act for free:
Italy : NOT JUST A MEETING. 2-3 October 2018. Singularity University Summit
[September 27, 2017 Rho-Milan] Not just any meeting – Italy
Tags: Anti-technology, Artificial Intelligence (AI), Athens, Biotechnology, Demo, Greece, Intelligent Surveillance, Nanotechnology, SingularityU Summit, Technological Singularity
Posted in Eco Struggle
Thursday, November 8th, 2018
Corporate media article detailing new research and development by the scientists of social control in the service of power:
An EU-funded project is developing an 'intelligent control system' to test third-country nationals who reach the EU's external borders, including a sophisticated analysis of their facial gestures.
The Intelligent Portable Border Control System, iBorderCtrl, is a series of multiple protocols and computer procedures which are meant to scan faces and flag 'suspicious' reactions of travellers who lie about their reasons for entering the Schengen area.
The AI-based screening system will check up to 38 facial micro-gestures of travellers – like eye direction, pupil dilation, minimal voice changes and micro-expressions undetectable to human guards – which were collected during a series of questions asked by the border agents at the checkpoints. (more…)
Tags: Anti-technology, Artificial Intelligence (AI), Biometrics, CCTV, EU, iBorderCtrl, Intelligent Surveillance, Migrant Struggle, Racism, Repression
Posted in No Borders
Wednesday, October 10th, 2018
As requested, here is the 'Against Surveillance State UK' CCTV article as an A4 PDF to be enlarged to A3 and flyposted as a spread, or printed out on to double-sided A4 and handed out.
PDF: A4 – Against Facial Recognition CCTV
Tags: Analysis, Anti-technology, CCTV, Flyposter, Intelligent Surveillance, PDF, UK
Posted in Social Control
Sunday, October 7th, 2018
PDF: Dark Nights #47 – EN
PDF: Dark Nights #47 – ES
'Against Surveillance State UK – Against Facial Recognition CCTV'
'Contra la Vigilancia del Estado de Reino Unido – Contra el CCTV de Reconocimiento Facial'
International anarchist newsletter in English and Spanish versions. Latest issue of Dark Nights returns after more than two years. Download, copy and distribute.
Boletín anarquista internacional en versiones en inglés y español. El último número de Dark Nights regresa después de más de dos años. Descargar, copiar y distribuir.
Anti-Copyright Network

+ Facial Recognition CCTV article as A4 PDF to be enlarged to A3 and flyposted.
Tags: Analysis, Anti-technology, CCTV, Dark Nights, Insurrection, Intelligent Surveillance, Novichok Case, PDF, Repression, Sabotage, Social War, Zine
Posted in Library
Thursday, September 20th, 2018
EN: Against Surveillance State UK – Against Facial Recognition CCTV
CONTRA LA VIGILANCIA DEL ESTADO DE REINO UNIDO – CONTRA EL CCTV DE RECONOCIMIENTO FACIAL
Gran Bretaña es un Estado autoritario de vigilancia, que ha sido pionero en el aspecto de muchas de las sociedades modernas; que están completamente cubiertos por cámaras de seguridad en casi cada punto urbano, plaza, camino, esquina, tienda, autobús, tren, etc. Parcialmente en un estado de perpetua decadencia y deterioro, aquí han construido una vida como si fuera una gran prisión, y es como se ve su mundo. Sociedad carcelaria un sinfín de monótonos centros comerciales, urbanizaciones, bloques de pisos, áreas industriales y recreativas, las cuales son capaces de encerrarlos en un corto plazo. Simulacros de respuesta antiterrorista de múltiples agencias a gran escala practicados regularmente para posibles ataques terroristas o disturbios en el centro de la ciudad. Los medios de control mental emiten mentiras, medias verdades, distracciones, deseos imposibles de consumismo, mañana, tarde y noche. Cada evento masivo potencialmente perturbador, crisis social y ambiental, es promocionado por los medios como una amenaza de un final tan abrupto a la normalidad que al menos todos los recursos de la policía serán tan escasos que los militares tendrán que involucrarse para restaurar el orden bajo la ley marcial. Austeridad, inundaciones, Brexit, inmigración, islamismo. Los discursos e ideologías reaccionarias, racistas, nacionalistas están en todas partes; grupos neonazis, religiosos y de extrema derecha se están reagrupando. La idea anarquista y de la eco-acción se les llaman "extremismo" o "terrorismo", en el doble discurso del estado policial. Nunca habrá ninguna posibilidad de cambio individual, social y ambiental sin la recreación de la vida diaria en una existencia que refleje nuestros deseos, pasiones y alegrías, en lugar de ser un engranaje en su sistema de miedo. Asimismo, no hay posibilidad de ningún cambio social sin una insurrección, una guerra social. (more…)
Tags: Analysis, Anti-technology, CCTV, Intelligent Surveillance, Repression, UK
Posted in Social Control
Wednesday, September 19th, 2018
This article is also available as an A4 PDF to be enlarged to A3 and flyposted as a spread, or double-sided A4 to hand out.
Against Surveillance State UK – Against Facial Recognition CCTV
Britain is an authoritarian surveillance State, which has pioneered how many modern societies look; entirely covered by security cameras at almost every urban point, place, square, road, corner, shop, bus, train, etc. Partially perpetually in a state of decay and disrepair, here they have built a life almost as in a vast prison, and it is what their world looks like. Prison society; endless drab shopping centres, housing estates, tower blocks, industrial and recreational areas capable of being on lock-down at short notice. Regularly practised large-scale multi-agency counter-terror response drills to terrorist attacks, inner-city riots. Mind-control media beams out lies, half-truths, distractions, impossible consumer desires, morning, noon and night. Every potentially disruptive mass event, social and environmental crisis, is hyped by the media as threatening such an abrupt end to normality that at least all the police's resources will be stretched so thin that the military will have to be involved to restore order under martial law. Austerity, flooding, Brexit, immigration, Islamism. Reactionary, racist, nationalist discourses and ideologies are everywhere; religious and far-right neo-nazi groups are regrouping. Anarchist and eco-action is called "extremism" or "terrorism", in the double-speak of the police-state. There will never be any chance of individual, social and environmental change without the recreation of daily life into an existence that reflects our desires, passions and joys, rather than a cog in their system of fear. Likewise there is zero possibility of any social change without an insurrection, a social war. (more…)
Tags: Analysis, Anti-technology, CCTV, Intelligent Surveillance, Repression, UK
Posted in Social Control
Thursday, July 5th, 2018
The European Union has founded a commitment to an update of the Eurodac* file, which records the fingerprints of immigrants arriving in Europe. The minimum age of 14 years should be reduced to 6 years "to better seek missing children".
The members of the European Parliament and the Council of the European Union (EU) have reached an agreement to strengthen Eurodac, the migrants' database, which includes reducing the age to take the fingerprints of children under 6 years of age. The minimum age was 14 years. The goal is "to help identify and search for missing children, as well as identify family ties."
The "Eurodac" system was created to facilitate the application of the Dublin Regulation, which determines the Member State responsible for examining an asylum application. Clearly, to launch an asylum application in the European Union, a fingerprint is mandatory. These fingerprints are scanned and transferred to a European database called Eurodac. Once registered with Eurodac, an asylum seeker can no longer apply for asylum in another country. (more…)
Tags: Anti-technology, Biometrics, EU
Posted in No Borders
Wednesday, July 4th, 2018
Issue 9 of FENRIR, an anarchist eco publication in support of prisoners and direct action, with updates and analyses on the anarchist and animal, human and earth liberation struggle all over the world, is available.
80 pages A4
In this issue:
– Editorial
– If not now, when?
– Big data and techno-capitalist society
– The insurgents' autism, a piece of writing by Alfredo Cospito
– Autopsy of the revolution
– Ideology of science
– Notes on de-realization
– Conversations between anarchists
– Interview with Gabriel Pombo da Silva
– A suggestion
– Nisan Farber and the anarchists in Bialystok
– News from the necro-world
– Updates on prisoners and state repression
– Letters from the prison
– Suggested reading
The price is 3 euros per copy or 2 euros for orders of 5 and more copies.
Postal fees are 1.50 euros.
To receive one or more copies write to: fenrir@riseup.net
Help us distribute Fenrir; if you have a distribution or want some copies, get in touch!
Tags: Alfredo Cospito, Anti-technology, Fenrir, Gabriel Pombo da Silva, Italy, Zine
Posted in Library
Thursday, September 21st, 2017
[September 27, Rho-Milan]
via actforfreedom:
Not just any meeting
27-28 September 2017
SingularityU Italy Summit – RHO
Singularity is a metaphor taken from physics by Ray Kurzweil, founder of Singularity University, to describe the technological process that will come to merge the human with technology. Therefore, the University of Singularity aims to prepare leaders to apply exponential technologies to respond adequately to the anthropological, social, ecological changes that the technologized world requires.
This is an objective that it is carrying out well of course, given that world leading transhumanist executives and researchers come out of it, and that some of them then join the MIT (Massachusetts Institute of Technology), one of the most important research universities in the world; the DARPA, a government agency of the US Department of Defence for the development of new military technology; Google; Microsoft, to name but a few…
Surely the fact that it is in Silicon Valley, on a piece of land of the NASA, and being partly financed by Google, is a further confirmation of how much the idea of the world it is proposing is shared with those who create and cause the conditions of the ecological and social disaster we find ourselves in. To this disaster then one would like to find a "solution", putting something into it.
But there's nothing to worry about! The thing seems to have been found and is an artificial and robotized thing. In fact through the use of technology is thought to be able to deal with what in this conference they call "the great challenges of humanity": we are assured of the possibility of a radiant future. A future in response to the fear of death and the desire for immortality, promises of cures for diseases, the absorption of pollutants from the environment, the defeat of poverty and famine.
This fabulous prospect must, however, be bartered and the complete acceptance of this technologized world is being asked in exchange. (more…)
Tags: Anti-technology, Demo, Ecological Destruction, Italy, Milan, Nanotechnology, Technological Singularity, Transhumanism
Posted in Eco Struggle
Thursday, June 9th, 2016
"We're creating an environment where in a year or two, not five, the whole world will look at Bristol for the future of smart cities."
– Dimitra Simeonidou, High Performance Networks Lab, Bristol University
The city of Bristol, south west U.K., has begun a multi-million pound experiment to create the 'smart-city' of the future, which would cement Bristol as a global leader in the telecommunications world. The wider area of Avon (mainly the 'post-industrial' estates of Bristol and Bath) already hosts the largest digital technology sector in the British Isles outside of London, and receives funding from the government as such.
City authorities and allied technological entrepreneurs are working to kit out Bristol with a city-wide 'digital fabric' of the very latest in sensor and connectivity technology, to make it the world's first open 'programmable city'. A high-speed fibre-optic network (making use of disused cable ducting owned by the council) is being combined with a new 'city operating system' that will power an experimental network. In the coming spring of 2016, 1,500 sensor-equipped lampposts are being launched around the city; the vast majority of Bristol will be covered in a Radio Frequency (RF) mesh. This is predicted to revolutionise the way that emergency response, traffic management and other municipal services are handled, and track certain vehicle locations, with eventual alleged trickle-down 'benefits' such as informing residents of parking spaces and air pollution (ahem, from those parking spaces) in an increasingly mechanised and technified environment. (more…)
Tags: Analysis, Anti-technology, Bristol, Bristol Is Open, Bristol University, CityOS, Dimitra Simeonidou, High Performance Networks Lab, IBM, Internet of Things, NEC, Paul Wilson (MD Bristol Is Open), Return Fire, Smart Cities, Technological Singularity, Toshiba, UK
Posted in Social Control
Saturday, April 9th, 2016
The Human Brain Project (HBP) began in 2013; it is a research project with an ultimate goal to be achieved within the next 8 years: to create IT simulation of the functioning of the human brain. A massive project made possible only by the billion euros financing granted by the European Commission in the context of the programme 'FET- Future and Emerging Technologies'.
Techno-sciences as an investment
The programme represents a sort of 'New Deal' for the new millennium: to advance scientific convergence in futuristic, therefore risky from an economic point of view, fields in order to come out with even more technological applications that can produce profits in both a social (that is to say control over society) and economic context.
The projects competing for this massive financing were six, one more fearsome than the other. They all had in common a techno-scientific convergence intended to develop new 'revolutionary' technological applications in the dystopia in which we are living. For example, the objective of one of the competing projects was to reconstruct all the biological processes of the human body virtually, so as to create a universally standardized model of a patient, which could be personalized by simply changing its anatomic, physiological and genetic characteristics1. (more…)
Tags: Anti-technology, Biotechnology, BlueGene/Q Lemanicus, Brain Mind Institute, Cineca, Henry Markram, Human Brain Project, Italy, Letter, Luca Bernasconi, Switzerland
Posted in Eco Struggle
Wednesday, March 9th, 2016
From Winter Oak:
If there is one present-day current of thought that stands out as even more repugnant than all the other repugnance of industrial capitalism, it is transhumanism.
For those who have not come across it before, this is a warped ideology that wants to physically merge humans and industrial technology, with the "dream" of abolishing mortality and creating a super-race of cyborgs or Daleks.
Whether or not this is ever likely to come true is pretty much beyond the point – the transhumanists are dangerous simply in that they are promoting a way of thinking, a way of envisaging the future, that is completely bound up with the extension of industrial capitalism and, of course, completely against any idea of caring about the living planet.
The transhumanists form part of an ultramodern neoliberal cult – also worryingly infecting supposedly "radical" circles – which regards the very idea of "nature" as out of date and builds its cold worldview on a fetish for all that is false, artificial, inhuman. (more…)
Tags: Acorn, Anti-technology, Didier Coeurnelle, France, Lyons, Technological Singularity, Transhumanism, UK
Posted in Eco Struggle
Friday, April 25th, 2014
Interference, n:
1. preventing (a process or activity) from continuing or being carried out properly.
2. the combination of two or more electromagnetic waveforms to form a resultant wave in which the displacement is either reinforced or cancelled.
Interference is a gathering of people, perspectives, theories, and actions that share a critical approach to society and technology. It will take place at the Binnenpret in Amsterdam, NL from 15th to the 17th of August 2014. It will be a space where we can meet, debate, share, learn, and find our affinities and oppositions. The event comes as a response to the lack of a common ground for confrontation and discussion over themes like hacking, technology, art and politics that could break out of the existing containers and roles for such concepts and practices.
Interference is not a hacker conference. From a threat to the so-called national security, hacking has become an instrument for reinforcing the status quo. Fed up with yet another recuperation, the aim is to re/contextualize hacking as a conflictual praxis and release it from its technofetishist boundaries. Bypassing the cultural filters, Interference wants to take the technical expertise of the hacking scene out of its isolation to place it within the broader perspective of the societal structures it shapes and is part of. (more…)
Tags: Analysis, Anarchist Gathering, Anti-technology, Binnenpret, Hacking, Interference, Netherlands
Posted in Autonomy