Posts Tagged 'Argentina'
Sunday, June 21st, 2015
Intentando siempre hacer aportes a la lucha anarquista, es que buscamos
rescatar y al mismo tiempo mantener intacta nuestra negra memoria, la
que nos habla de compañerxs, grupos, acciones, que de un modo u otro
determinan nuestro presente, pues nos consideramos continuidad
historica, con nuestras innovaciones y nuestro contexto actual, de una
lucha que no olvida ni traiciona.
En esta ocasión, y aunque la idea inicial era publicar este escrito el 6
de junio (fecha de la caida en combate del compañero), gustamos de
compartir un escrito recordando a Sergio Urubu Terensi, anarquista que
actuo en la región argentina. (more…)
Tags: Argentina, Police Brutality, Repression, Sergio Urubu Terensi, Video
Posted in Autonomy
Thursday, May 7th, 2015
El día 6 de Mayo se realizaron dos amenazas de bomba en forma simultanea, contra el vuelo de Aerolineas Argentinas Num. 1360 con destino Bogotá, y contra la Embajada Colombiana.
Por otra parte también se saboteo un cajero automático del banco Santander, inutilizandolo con sencillos medios, en pleno centro porteño y a plena luz del día.
Con estos pequeños gestos, respondemos el llamado para recordar al compañero Nicolas Neira, asesinado hace ya 10 años por la policía colombiana, y enviamos nuestra complicidad al compañero anarquista/nihilista Spyros Mandylas, encarcelado en Grecia y actualmente en una huelga de hambre por su libertad que lo tiene al borde de la muerte. (more…)
Tags: Argentina, Buenos Aires, International Solidarity, Sabotage
Posted in Direct Action
Friday, April 3rd, 2015
Compañerxs, con agrado lxs invitamos a visitar este nuevo blog de
contrainformación anarquista y antiautoritaria que impulsamos algunas
individualidades refractarias que habitamos en la región dominada por el
estado argentino.
La idea es compartir analisís sobre las luchas en curso, sobre maniobras
represivas del enemigo, traducir noticias en otro idioma (aclarando de
antemano que no somos grandes conocedores de otras lenguas) y criticas
al mismo ambito anarquico.
Por otra parte difundir información de nuestrxs compañerxs presxs que se
mantienen con dignidad y conviccion batallando en las prisiones de la
democracia, al igual que diversos materiales de interés que tienen que
ver tanto con nuestro presente, como con nuestra negra historia.
Mas la idea primordial es dar lugar a la confrontación anarquista en su
expresión mas directa y muchas veces mas censurada. Hablamos de las
acciones que llevan adelante diversos grupos e individualidades
alrededor del planeta.
Sin más que agregar por el momento, segurxs de contribuir con nuestro
aporte a la multiplicidad de la ofensiva iconoclasta, esperamos de lxs
compañerxs sus comentarios, críticas, comunicados, materiales de
propaganda, etc, los cuales pueden enviar a nuestro correo:
porlaanarquia@riseup.net
enlace Blog:
http://porlaanarquia.espivblogs.net/
Tags: Argentina, Counter-info, Por la Anarquista
Posted in Autonomy
Saturday, March 28th, 2015
Todo en las ciudades esta diseñado para promover y perpetuar el constante flujo de mercancía, humana y de la otra. Millones de pesos se invierten en remodelaciones de estaciones de trenes e inauguraciones de otras, en construcción y mantenimiento de rutas, en mecanismos tecnológicos de control y represión, en recursos para lxs sirvientes armadxs al servicio del poder. Pensando en esto es que el día de hoy
buscamos sabotear aunque sea por un instante el normal funcionamiento de los engranajes que sostienen la estructura de dominación, atacando el tramo que une las vías de Floresta con Villa Luro mediante un artefacto incendiario/explosivo.
No entraremos en el juego de que con estas acciones perjudicamos solo a lxs trabajadorxs. Hoy lo importante fue romper la normalidad asfixiante aprobada por la inmensa mayoría de la sociedad policial.
¡En directa solidaridad y complicidad con nuestrxs hermanxs de la Conspiración de las Células del Fuego que se encuentran en huelga de hambre en las prisiones griegas desde el 2 de marzo pasado, exigiendo la inmediata liberación de su entorno mas próximo! Se hace urgente accionar pues el estado de nuestrxs compañerxs es grave, prueba suficiente es que 6 de ellxs se encuentran en el hospital. ¡Solidaridad con Angeliki y con lxs demás huelguistas!
¡Fuerza a lxs compañerxs de Chile en este nuevo aniversario del Día del Joven Combatiente. Extendamos los disturbios por todas partes!
Concretemos las venganzas de lxs muertxs, presxs y torturadxs por luchar contra el putrefacto estado Argentino…
Circulo del Fuego
Tags: Aggeliki Spyropoulou, Argentina, Buenos Aires, Conspiracy of Cells of Fire, International Solidarity, Sabotage, Solidarity Action
Posted in Direct Action
Tuesday, February 3rd, 2015
Inter Arma received from Sin Banderas Ni Fronteras:
After one year of detention in San Miguel prison, anarchist comrade Tamara Sol started to face the trial in which power aims to annihilate her. Tamara is accused of shooting a bank guard in January 2014, just days after a bank guard killed comrade Sebastian Oversluij in an attempted bank robbery, in a different bank branch.
In November 2014, a brief preparation for trial against Tamara was performed, which finally started on this January 23. Tamara is facing a democratic inquisition that wants to sentence her to several years in prison, with charges of attempted murder and accomplished simple theft. (more…)
Tags: Argentina, Banner drop, Buenos Aires, Chile, Sebastián Oversluij Seguel, Sol F. Vergara, Solidarity Action, Tamara Sol, Trial
Posted in Prison Struggle
Tuesday, January 13th, 2015
received anonymously (translation); click here for video from the action:
"Progress and science have been declared enemies of nature and freedom, managed for those who possess power and want to keep it on their side no matter what it takes. A fundamental part of its development is the separation of humans from the rest of nature, and one of the practices to generate its development is the incarceration and use of animals. We decided to start a fierce campaign against animal testing in particular at the National University of La Plata, where they experiment with cats, guinea pigs and other animals. (more…)
Tags: Animal Liberation, Argentina, Arson, National University of La Plata
Posted in Eco Struggle
Thursday, October 23rd, 2014
Sept 24, 2014, Buenos Aires, Argentina.
In connection to the 2nd Congress II of the International Federation of Sudamerican Societies of Animal Laboratory sciences (FESSACAL)
Explosives were put in place successfully in the bathrooms of the building, and a 'Manifesto' that says: 'POR CADA BIOTERIO UNA BOMBA – POR CADA CONGRESO UN ATENTADO – ANIMALES LIBRES' / 'FOR EACH LAB ANIMAL CENTER A BOMB – FOR EACH CONGRESS AN ATTACK – FREE ANIMALS!'
–
Source: Bite Back
Tags: Animal Liberation, Argentina, Buenos Aires, Congress II of the International Federation of Sudamerican Societies of Animal Laboratory sciences
Posted in Direct Action
Wednesday, October 2nd, 2013
from vivalaanarquia, transl waronsociety:
Trying to be at our best and to continue maintaining the dignity deserved by human lives that rebel against the authority that provokes all kinds of oppression over the face of the earth in which we live, we again go on the offensive in the war declared by the lovers of freedom and their enemies.
We remember that in the prisons of the territory dominated by the Argentine State the prisoners who are there continue to be murdered and tortured. And in the streets the misery goes on increasing, the alienation of work and consumption obscures the consciences of the people who constantly go around tensioned by the contradictions of a system that is proclaimed consolidated by a government that speculates with the economic sciences, trying to hide their tyrannical condition at all costs.
Sit down, victims, because nothing you have yet suffered compares with the humiliation that all of us feel, we who are threatened with the death and radical confinement which nourishes the theory of those who have the power and will to profit off of the authoritarian methods and practices of civilized society.
Our proposal is the direct attack on those responsible for the misery of this reality, now the prison guards are in the sights of all the insurgent compañerxs — or is it necessary to keep saying what points we have in common? Actions say much more than words, but it is also necessary sometimes to mention what the media constantly try to hide.
The cars that we burned at 3000 Amenabar street were parked right outside one of the properties of Sergio Berni (secretary of the Ministry of Security), under 24 hour surveillance by the Federal Police.
The little bomb we set off in the Prison Guards' Mutual (Argentine Borders Building), located at 2264 Bartolome Mitre street, on Thursday September 19, 2013 at 1:40 am, unfortunately only caused material damages; we would have liked to find out that a servant of law and order had at least been injured.
We salute the compañerxs of the Conspiracy for Revenge and all those who, without lots of questioning, go on the offensive against authority all across the world.
Long Live Anarchy!
Friends of the Earth
Informal Anarchist Federation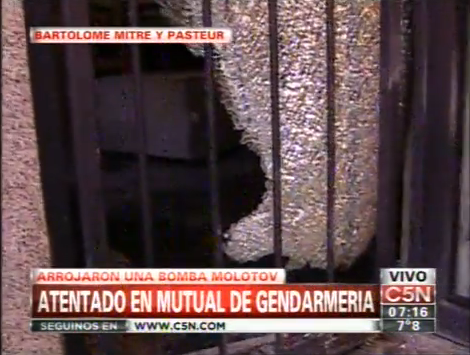 Tags: Argentina, Buenos Aires, Friends of the Earth / FAI, Informal Anarchist Federation (FAI), International Conspiracy for Revenge, Sabotage
Posted in Direct Action
Sunday, September 29th, 2013
Dark Nights is an international anarchist & anti-prison publication of resistance reports and repression news ready to print out and distribute on the fly.
1. Athens, Greece: Letter of anarchist Andreas Tsavdaridis from Koridallos prison.
2. Letter by International Conspiracy of Revenge Indonesian sector Informal Anarchist Federation – International Revolutionary Front.
3. Barcelona, Catalonia: Basic contributions to the discussion about actions and revolutionary struggle.
4. Castelli Romani, Italy: Communiqué on the arrest of comrades Adriano and Gianluca.
5. Buenos Aires, Argentina: Communiqué for the attack on the Academy of Justice.
6. ABC Bristol, UK: Thoughts on the Anarchist Witch Hunt Following Attacks in Bristol.
7. Direct Action Reports.
https://server.nostate.net/325-new/html/wp-content/uploads/2013/09/dark-nights-37.pdf
Tags: ABC Bristol, Andreas Tsavdaridis, Argentina, Barcelona, Bristol, Buenos Aires, Castelli Romani, Catalunya, Dark Nights, Indonesia, Informal Anarchist Federation (FAI), International Conspiracy for Revenge, International Revolutionary Front, Italy, PDF, Repression, RO-FAI (Indonesia Section), Sabotage, UK, Zine
Posted in Library
Thursday, July 25th, 2013
El pasado jueves 18 atacamos a pedradas el Banco ITAU situado en las calles Bolivar y Moreno, en pleno centro porteño. A su vez, dejamos pintado en sus vidrieras "Solidaridad con la Revuelta en Brasil". Un gesto mínimo que queríamos comunicar en momentos donde el papa Francisco I (Jorge Bergoglio) se pasea por las calles del país vecino, antes una masa imbécil que lo vitorea, mientras miles mueren de hambre o bajo balas del ejercito, mientras otrxs tantos revientan hacinados en las favelas o bajo el martillo del narcotráfico y las drogas.
Ni la ostentación de la riqueza del vaticano, ni el espectáculo millonario del próximo mundial de fútbol, pueden tapar tanta miseria.
Contra toda Autoridad!
PROPAGANDA Y ACCIÓN
–
On Thursday 18 we attacked the ITAU Bank with stones located in streets Bolivar & Moreno, in downtown Buenos Aires. In turn, we painted on their windows "Solidarity with the revolt in Brazil." A small gesture that we wanted to communicate in the moments where Pope Francis I (Jorge Bergoglio) wanders the streets of the neighboring country before a mass cheering circle-jerk, while thousands starve or are under army bullets and while many others are in bursting overcrowded favelas or under the hammer of drug trafficking and drugs.
Neither the ostentation of wealth of the Vatican, or the millionaire show of the next World Cup, can cover so much misery.

Against all Authority!
PROPAGANDA AND ACTION
Tags: Argentina, Bank Smashed, Buenos Aires, Sabotage, Solidarity Action
Posted in Direct Action
Monday, May 6th, 2013
Abrazando el Caos & Conspiracion Acrata

English translation
Viendo en el fortalecimiento del debate real y sincero, así como en el mutuo conocimiento de las particularidades de cada región en donde actúan grupos o individuxs refractarios al orden mundial, una excelente oportunidad para afianzar nuestra lucha, damos lugar a este numero compartido entre Conspiración Ácrata y Abrazando el Caos.
Habiendo comprendido que detrás de algunos aspectos que nos diferencian, como compañerxs que llevan adelante sus respectivas publicaciones, nos une algo mucho mas sustancial, que va en el sentir anárquico de la búsqueda por destruir la autoridad y a quienes la encarnan.
Con lxs compañerxs, en medio del dialogo sincero, la critica y el compartir de ideas, supimos reconocernos mas cercanxs a pesar de las etiquetas (nihilista, insurreccionalista, individualista, etc.), superando el estancamiento de los ismos o meras clasificaciones. Así, no nos hemos privado de compartir nuestras experiencias a fin de con ellas enriquecer el debate y la acción, compartiendo a su vez temas y pareceres propios del contexto regional, hallando por momentos un cierto paralelismo en procesos históricos que repercuten en los tiempos actuales, así como el mismo coraje y la misma convicción a la hora de enfrentar a nuestros enemigos. (more…)
Tags: Abrazando El Caos, Argentina, Conspiracion Acrata, Insurrection, Mexico, PDF, Ryo, Zine
Posted in Library
Thursday, January 17th, 2013
Compartimos el segundo número del periódico Anarquista "Exquisita Rebeldia". Aprovechamos el enlace para mandar un calido saludo a los compañeros, Mario Lopez, Eat y Billy, los 3 nuevamente en las calles.
(Mario con libertad provisional). Alegrandonos con esta grata noticia.
Para ver el periodico:
http://www.mediafire.com/view/?wpl3jmfxxc3v0py
Para descargar:
http://www.mediafire.com/?wpl3jmfxxc3v0py
Contenido N°2
19 y 20 de 2001 (Argentina)
IIRSA
CNA Colombia, Desde Adentro
Amor, Género y Jerarquía
Marco Camenish
Poemas
Recomendados
Carla Verdugo e Ivan Silva
Caso Security
Actualización Mundial
…"Ya lo sé, la verdad hace sufrir; ver acaso sea morir. Pero no importa, ojo mío, !Mira!"

Fragmento de la Editorial
Destruir los estados y sus sostenedorxs, sin importar los tipos de gobierno, sean de derecha, izquierda o centro siendo estos los gestores de tanta miseria y devastación en el mundo. Argentina como ejemplo claro de un sistema de gobierno democrático nos muestra que es igual de usurpador y demoledor a todos los otros tipos de gobierno; encontramos que por más que la sociedad se empecine en escalar hacía la tan "anhelada" democracia, la miseria y los problemas son los mismos que en cualquier otro sistema, esto lo podemos evidenciar con tan solo dar una mirada en la calle, en el tren, situaciones de pobreza, miseria, violencia, descontento; y nos vamos matando entre todxs ,mientras los poderosxs se encuentran aisladxs de esta realidad opresiva en la cual se sobrevive día a día y como siempre existirán sus lacayxs guardianes para p r o t e g e r l x s d e l a t a n t e m i d a inseguridad. (more…)
Tags: Argentina, Buenos Aires, Exquisita Rebeldia, Zine
Posted in Library
Tuesday, September 4th, 2012
From vivalaanarquia:
On Wednesday 28th August, we hung a banner on the building of the Metro where the Swiss Embassy resides. While we were removed, we scattered flyers around the place. With this simple action, we express our solidarity with our anarchist comrade Marco Camenisch, a prisoner of Switzerland, currently on hunger strike. To him we send our love. To him and to all our comrades that meet behind the walls, but are never defeated, and never repent.
All our hate to the State and the prisons. They will never stop us because our solidarity is stronger than their repressive blows and organisations.
Revolutionary solidarity to all the indomitable prisoners all over the world.
Comradely greetings to all those who, day by day, struggle against this system of exploitation.
Death to the State!
Long Live Anarchy!

Individualist Anarchists
Tags: Argentina, Buenos Aires, Hungerstrike, Marco Camenisch, Switzerland
Posted in Direct Action
Thursday, August 16th, 2012
EN SOLIDARIDAD CON LOS COMPAS TRIPA Y FELICITY
Con este pequeño gesto en la embajada de Mexico y en el centro de la ciudad, saludamos y acompañamos fuertemente al compa Tripa, preso en Mexico, esperamos tu completa recuperación fisica tras el estallido que sufriste, y mandamos buenos ánimos y fuerzas para enfrentar a quien se te ponga delante en este encierro que estas viviendo, sabemos que es una consecuencia más que lleva el romper con la pasividad establecida y hacer tu propio camino en este mundo, donde los actos de liberación están siempre fuera de la ley y la moral social.
Felicity, nos alegra que sigas burlando a la justicia del Estado y a sus lacayos, contra ellos en todas sus formas!
La vida sometida que el sistema impone no nos es válida.
La autodefens(A) nunca podrá ser exterminada, y la solidaridad jamás será ajena!
Cariños compas!

NINGUN PRESX ANARQUISTA ESTA SOLX
LIBERTAD A MARIO EN MEXICO
¡SOMOS SU PESADILLA!

Buenos Aires, 2012
–

IN SOLIDARITY WITH THE COMRADES TRIPA AND FELICITY
With this small gesture at the Embassy of Mexico and in the center of the city, greet and accompany strongly Tripa, imprisoned in Mexico, we expect your full physical recovery after the outbreak that happened to you, and send good spirits and strength to face forward in this prison you are living, we know that is a consequence rather than leads the break with the established passivity and make your own way in this world where acts of liberation are always outside of the law and social morality.
Felicity, we're glad you keep mocking the justice of the State and its lackeys, against them in all their forms!
Life under the system we impose is valid.
The autodefens(A) can never be exterminated, and the solidarity will never be outside!
Cariños compas!

NO ANARCHIST PRISONER IS ALONE
FREEDOM TO MARIO IN MEXICO
WE ARE YOUR NIGHTMARE!

Buenos Aires, 2012
Tags: Argentina, Buenos Aires, Mario Antonio Lopez Fernández, Mexico, Solidarity Action
Posted in Direct Action
Tuesday, May 22nd, 2012
From vivalaanarquia, transl waronsociety:

21 May 2012
Today, Monday May 21st at around 1 AM, we attacked the Santander Bank located on Parana street between Tucuman and Viamonte. For this we made use of 2 liters of flammable liquid plus 4 butane gas canisters and an ignition mechanism. The fire completely destroyed the front part of the bank, leaving the 4 ATMs that were there unusable, as well as busting out several windows. We mark this action as an action remembrance of the warrior Mauricio Morales, fallen 3 years ago from the explosion of his own bomb destined to the prison guard school in Chile. And with care for Luciano "Tortuga" Pitronello, wounded after the attack on a Santander Bank last year, now imprisoned. This is how we understand solidarity, stopping here where a comrade "fell," in order to radicalize and deepen our practices.
The society in which we live intends to condemn us to misery, to alienation, to stupid consumption and docility. We as combatant individuals deny all of this, we reject and attack its symbols and its capitalist, policial, patriarchal, religious and ideological values. We go on the offensive with conviction as our primary weapon. We do not illusion ourselves with "hope" of some change in the people, the people that does not react even when a loved one of theirs is locked up in the prisons or asylums of the Argentine State, the people that do not react even when they are evicted from their homes and have to sleep in the street with their children, the people who have lost all dignity before the dream of a bourgeois life that the mass media of communication offer them. We do not waste our time on raising the consciousness of the masses nor discourses like that, we choose for ourselves the rebel, illegal, delinquent life. And we have imprisoned comrades in this war who we want to name. Eat and Billy, brothers of the FAI, recently sentenced to 1 year 8 months for the attack on a bank; all the comrades of the Conspiracy of Cells of Fire, who maintain with pride their anarchist values in spite of the constant attempts to diminish their morale such as the recent transfer and punishment of the comrade Olga; Freddy, Marcelo and Juan, dignified prisoners in the Chilean prisons, after being expelled by the wretched Argentine government; the recently arrested Carla and Ivan; and so many others who we carry within ourselves, day after day, night after night, who give us strength and another reason to keep fighting.
An autonomous subversion, in the form of anarchist guerrilla, is expanding through the most remote places of the earth, from Bolivia to England, from Italy to Chile, from Indonesia to Mexico… with weapons, with explosives, with fire, but above all with values and dignified conscience. And that is what they will never be able to stop.
International Conspiracy for Revenge
Informal Anarchist Federation
Tags: Argentina, Billy, Carla Verdugo, Chile, Conspiracy of Cells of Fire, Conspiracy of Cells of Fire : Imprisoned Members Cell, Eat, Freddy Fuentevilla Saa, Indonesia, Informal Anarchist Federation (FAI), International Conspiracy for Revenge, International Solidarity, Ivan Silva, Juan Aliste Vega, Long Live Luciano Tortuga Cell - International Revolutionary Front - FAI, Marcelo Villarroel Sepúlveda, Mauricio Morales, Santander Bank
Posted in Direct Action