Posts Tagged 'Argentina'
Sunday, April 8th, 2012
From vivalaanarquia, transl waronsociety:

25 & 29 March 2012
Cities condition us to an awful life of commerce and submission.
We extend critique and combat through the subversive extension as a form of life, our goal (among others) is to make daily the generalized revolt of the oppressed and rebels.
On the nights of March 25 and 29, we set fire to a Renault Picasso car at the intersection of Fitz Roy and Paraguay, and we left another incendiary device at the intersections of Guemes and Gallo. Continuing the work that other comrades started.
Everything continues…
FOR THE SPREAD OF SABOTAGE AGAINST SOCIAL PEACE!
WAR ON THE STATE-CAPITAL!

Núcleo de la Cólera / Informal Anarchist Federation
Tags: Argentina, Arson, Buenos Aires, Informal Anarchist Federation (FAI), Núcleo de la Cólera / FAI
Posted in Direct Action
Sunday, March 4th, 2012
From culmine:
1 March 2012
Ours is the conviction
Gendarmería, Local, and Buenos Aires Federal police, civilian brigades, anti-terrorist laws, biometric identification systems, thousands of cameras throughout the city, vigilant citizens ready to betray, overcrowded jails, torture, murder … this is the scenario where our struggle, in a context similar to many other cities, attacking comrades, individually or collectively, without any social consensus and without the approval of any leader, alone and with their principles and values, ​​burn like a fire.
For our part, we report that on Thursday March 1st at 2:30 in the morning, we attacked with an explosive / incendiary, the Criminal Court in Calle Paraguay 1536, in the city center, causing visible damage to the facade and their windows.
We're thinking of the comrades Freddy Fuentevilla Saa, Marcelo Villarroel Sepulveda and Juan Aliste Vega, who were on hunger strike in prison in Santiago on February 17, within days of international turmoil (19 to 29 February).
Compañeros: The subversion is awake and will not disappear! While there is poverty there will be rebellion!!
The brothers of the Conspiracy of Cells of Fire, that even within the prison continue war unabated. We are brothers with their words, their gestures and their actions and with the project of the Informal Anarchist Federation, to which we contribute and strengthen.
With love and complicity for the companion Luciano Pitronello (Turtle), wounded and kidnapped by the Chilean state. Gabriel Pombo da Silva, prisoner in Germany – anarquista integro; Marco Camenisch, fighter for the liberation of the earth; and comrade-prisoners in Mexico, Spain, Italy, Indonesia…
With Mauricio Morales and Lambros Foundas always present in the combative memory.
War without truce to the whole system of domination
Indomitable Nucleus for the Spread of the Fire / FAI
Tags: Argentina, Billy, Buenos Aires, Chile, Conspiracy of Cells of Fire, Eat, Freddy Fuentevilla Saa, Gabriel Pombo da Silva, Germany, Indomitable nucleus for the spread of the fire / FAI, Indonesia, Informal Anarchist Federation (FAI), International Revolutionary Front, International Solidarity, Italy, Juan Aliste Vega, Lambros Foundas, Luciano Pitronello Schuffeneger, Marcelo Villarroel Sepúlveda, Marco Camenisch, Mauricio Morales, Mexico, Spain, Switzerland
Posted in Direct Action
Monday, February 27th, 2012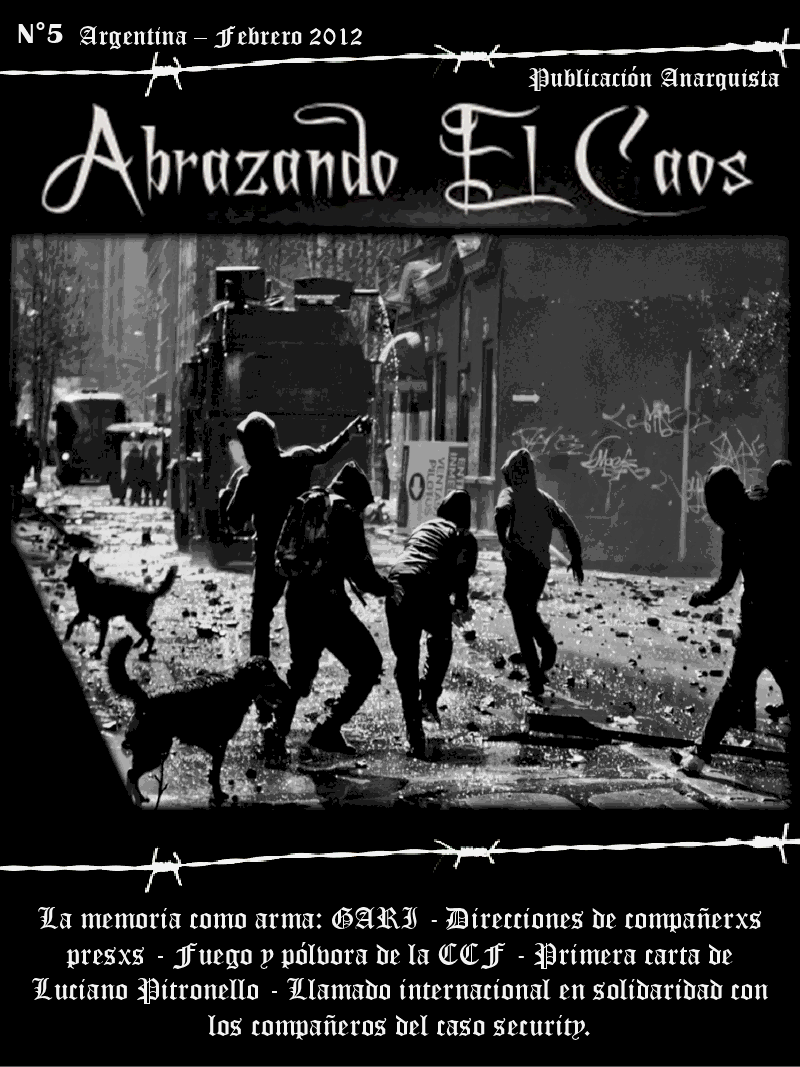 Para descargar desde mediafire.
Editorial: Abrazando el Caos desde su idea primaria, cuando no era más que un proyecto, un embrión en manos de un puñado de compañerxs, se planteo ser una publicación de anarquistas para anarquistas, atendiendo a las diferentes expresiones anti-autoritarias, rebeldes, subversivas, liberacionistas, etc. Con el tiempo nos fuimos afianzando, equivocándonos, creciendo, encontrándonos, desencontrándonos y afianzándonos nuevamente. Objetivo que creemos estamos cumpliendo y por el cual pretendemos seguir, sigue siendo el objetivo primario. Somos de los que creemos que lxs anarquistas partimos de la negación, pero nos realizamos en la afirmación. (more…)
Tags: Abrazando El Caos, Argentina, Zine
Posted in Library
Friday, January 6th, 2012
From liberaciontotal, translated by war on society:
Communique:
By means of this communique we claim responsibility for the deliberate arson of two luxury vans last morning–the first at the intersection of Rawson and Diaz Velez in the Almagro neighborhood, totally destroying the vehicle, and the second at the intersection of Senillosa and Rondeau, Boedo, burning the van with partial damages.
This action is framed within gestures of international solidarity for with the prisoners of the Conspiracy of Cells of Fire, who have shown courage and consistency in their recent escape attempt, in solidarity with Eat and Billy, anarchist guerrillas belonging to the FAI captured in Indonesia, and in clear support of all the prisoners in war against authority, especially Freddy, Marcelo and Juan, Gabriel Pombo da Silva, Marco Camenisch… likewise in complicit wink to the comrades who beat up the enemy in the streets.
We take this occasion to reiterate that on December 20, approximately at 2:30 am, we left an incendiary/explosive device at the front door of the 3rd Precinct located at 1560 Tucuman, in vengeance for the fallen during the revolt of 2001 and in clear destructive feeling toward the servants of order. We released a communique to this effect at the time, to various mass media (which obviously censored it), but also to an internet page of the anarchist space, which it did not include for reasons we do not know of. [As LT explain in posting this release, the 12/20 communique must have been lost due to technical email problems since they do not censor these kinds of communication – transl.] From now on, we will send copies of our communiques to various anarchist sites, and another communique when the situation requires it to the mass media..
We reproduce below the [12/20] communique released at that time.
To continue the offensive with what we have at hand…
Against the anti-terrorist law, the biometric identification law,
and against all the laws, fire and gunpowder!!!
Death the gendarmeria, prefectura and every kind of police!!!
To not await any social consensus, to attack now and immediately what intends to destroy us, to position ourselves, to wage war!!!
Antagonist Cell for Complete Freedom / FAI – IRF
–
Communique from 12/20:
Last night, hours after the beginning of the new anniversary of December 20, we have deposited our rage embodied this time in a liter of gasoline and a good amount of black border at the door of the 3rd Precinct located at 1560 Tucuman st, under the very noses of the torturers. We carried out this action in vengeance for the fallen during the revolt of December 2001, but also in memory of Dario Santallan and Maximiliano Kostecky, later murdered during the command of the narco-trafficker Eduardo Duhalde, and in memory of all those murdered by the police in times of progressive democracy and applauded by the vast majority of the society. We, for ourselves, are not going to remain passive observing how they murder fighters in cold blood, however ideas may separate us, the practices of direct confrontation bring us close, as well as the sincerity in the struggle. To all those who in one way or another confronted and confront authority, this gesture is directed to them, DEATH TO ALL THE POLITICAL PARTIES WHO IN A FEW HOURS WILL COME TO THE PLAZA DE MAYO WITH THEIR SHIT PACIFYING DISCOURSE, SHITTING ON THE MEMORY OF THE DEAD!! LONG LIVE LOOTING, DIRECT ACTION, ROBBERY, LONG LIVE ANARCHY!!! FOR PRECISION AND DEADLINESS IN OUR BLOWS!!!
With love for comrade Luciano Pitronello and the comrades of the Conspiracy of Cells of Fire…
Antagonist Cell for Complete Freedom / FAI – IRF
Tags: Antagonist Cell for Complete Freedom / FAI – IRF, Argentina, Arson, Billy, Buenos Aires, Conspiracy of Cells of Fire, Conspiracy of Cells of Fire : Imprisoned Members Cell, Dario Santallan, Eat, Freddy Fuentevilla Saa, Gabriel Pombo da Silva, Informal Anarchist Federation (FAI), International Revolutionary Front, International Solidarity, Juan Aliste Vega, Luciano Pitronello Schuffeneger, Marcelo Villarroel Sepúlveda, Marco Camenisch, Maximiliano Kostecky
Posted in Direct Action
Thursday, December 22nd, 2011
Here is an English translation of an article from the journal Conspiracion Acrata from Mexico referring to the idea of "Antiguiridismo Anarchico". We hope you like it.
"Antigiuridismo Anarchico" which translates to "Anti-Judicial Anarchism" is a concept which has been used throughout anarchist history to define the attitude of a radical and total rejection of the concept and practice of the "justice" of the State, or as otherwise said – the judicial methods of the State including defence through a lawyer. This attitude or concept is or should be something normal within the anarchist movement but there are few companer@s who have put it into practice for diverse reasons or strategies.
Antigiuridismo Anarchico is the rejection of declaring a position to the State in front of the court or contributing to the circus of the State. Often the declarations of those who position themselves in this attitude are only directed as a dialogue or explanation to the compañer@s of their movement. This attitude is the rejection of any legal resources through which one could obtain "freedom". (more…)
Tags: Argentina, Azione Rivoluzionaria, Brigate Rosse, Conspiracion Acrata, Conspiracy of Cells of Fire, Emma Goldman, Gabriella Segata Antonilli, Greece, Italy, Luigi Galleani, Mario Buda, Max Stirner, Mexico, Sacco and Vanzetti, Severino Di Giovanni, USA
Posted in Library
Wednesday, October 12th, 2011
325 receives and transmits:
10 October 2011
On the night of Monday 10 October we hit the bastard system again with more fiery anger. Two cars at the GP Motors dealership in Newnham, Cambridge, were arsoned – we hope the flames spread to the others, bringing a roaring inferno to the quiet leafy streets. No one was outside, the only sign of the middle class residents awake was the blue glow of TV screens from curtained windows! While the insurrectionary action cell had adrenaline pumping, joy in the heart, the moon shining bright above and the refreshing night air.
Shout out to the impatient and the bored shaking off passiveness and going on the attack against society!!
To the Greek uprizers and most especially the CCF, you fill us with strength, stay strong and stay unbowed!
And to the anarchists on the attack around the world, in Mexico, Chile, Spain, Indonesia, Russia, Argentina, Italy, and everywhere else – we are winning, winning against society's cloying herd mentality and the meaningless lot set out for us in life.
As we know in our hearts, what we win is right here right now living with the head held high, the smile as we face a new day with dignity, the knowledge that whether or not the broader population upsurges against the imposed system and we have anything like the anarchist dream of a world of freedom and equality with no domination, we live without regrets as anarchists NOW.
Against the whole fucking disgusting cage of civilisation – wild destruction for total liberation!
Fire Cell / Informal Anarchist Federation

Tags: Argentina, Arson, Cambridge, Chile, Conspiracy of Cells of Fire, Fire Cell / Informal Anarchist Federation, GP Motors, Greece, Indonesia, Informal Anarchist Federation (FAI), International Revolutionary Front, International Solidarity, Italy, Mexico, Russia, Spain, UK
Posted in Direct Action
Saturday, October 1st, 2011
from Culmine, September 30th
"We believe that everything we were taught since childhood has been to make us unthinking beings, obedient and fearful citizens. From school to the family, which also passed by her, the powerful tell us what they want to say about the patriots, the heroes, and the "good" people, instead of speaking of the forgotten "Indians", as Columbus called them, who were eliminated here by Sarmiento with words and the Rock with the sword.
Today these forgotten people live in miserable slums and walk through life salvaging what they can to survive, despite all the overbearing behaviors that society teaches them. Such is the responsibility of the capitalist system.
Hardly anyone knows how to live without technology and every day they sell more unnecessary products. But whether people are offered them or demand them, they are only seduced by the vices of power and ambition, and with small or large investments they remain within the system and fit into society.
They still believe in religion and politics, and wait for a new leader to bring order to the country, some other fascist to remind them of Peron. Meanwhile, they're thrilled to buy fast cars, and if they can't afford that, they're content that "their team" won the soccer game, so they'll have something to talk about during their dreadful routine of work which they believe it is the only thing that makes them feel proud and useful. Otherwise they wouldn't be able to eat, would go crazy from boredom, they could become prisoners for their rebellion or even be killed. Those are the options available to people who are aware of the harsh reality that we live. And despite the different ways of understanding the world that exist, we're all the same, but some choose to simply drive cars, others decided to set them on fire in:
Marcos Paz and Pedro Lozano, Donato Alvarez and Tres Arroyos, Allende and Arregui, Emilio Lamarca and Nogoya.
Whether by day or night, at any moment we can attack that which oppresses us and keeps us from being free. Previously, in our last statement we forgot to mention that there were eight cars and luxury SUVs burned, on this occasion we claim only four.
Was it not luxury cars that were burned? If so, why not bring to light in the mass media?
This was for comrade Jose Lopez, imprisoned and charged with arson/bomb attacks against the established order in Madrid."
Friends of the Earth/Informal Anarchist Federation
Tags: Argentina, Arson, Friends of the Earth / FAI, Informal Anarchist Federation (FAI), International Revolutionary Front, International Solidarity, Jose Lopez, SUV
Posted in Direct Action
Monday, September 19th, 2011
We never forget our imprisoned comrades. We don't mystify our respect for them but neither are we indifferent to their everyday experience. Solidarity is not, as has been demonstrated on several occasions, just a beautiful word or a slogan, but a practice inseparable from our struggle. This can be expressed in many diverse ways, and there are moments when an idea takes shape with forcefulness and continuity. Given the delicate situation (in court and in prison) that faces our comrades Juan Aliste Vega, Marcelo Villarroel Sepúlveda, and Freddy Fuentevilla Saa, who are currently held captive in prisons of the Chilean state, several individuals from Buenos Aires have decided to form a new support network in order to provide updates and disseminate information about their situation, as well as hopefully assisting in their return to the streets.
As mentioned earlier in a communiqué published during the campaign to stop their deportation from Argentina, the discourse of the law (guilty/innocent) holds no validity for us because it refers to a language that isn't ours.
We have never intended, and don't intend now, to empty out the meaning of ideas and practices that threaten the State. We will always understand that while misery exists there will be rebellion, and because of this, our brothers are those who, one way or another, question and confront the system of authority we live in. We offer our solidarity to them, to be understood as an extension and intensification of their own struggle, which is ours as well.
We encourage other comrades to form new support networks or show solidarity in the way they see fit, to strengthen the struggle for Marcelo, Freddy and Juan's freedom.
A brief summary
In October of 2007, a Santiago branch of Banco Security was robbed, during which a servant of the bourgeoisie (a cop) was killed. From that moment, a political, juridical, media and police campaign was launched, aiming to use this well-known incident in the anti-capitalist struggle to criminalize specific people: just like during the Pinochet dictatorship and the so-called democratic transition. Shortly afterwards, more precisely, on December 13th of that year, comrade Axel Osorio was arrested and sentenced to 3 years and 1 day in prison. Fortunately, he is now back in the streets.
Clearly, the search didn't stop at that, and so on March 15th, 2008, in Neuquén Province, several police forces arrested comrades Freddy Fuentevilla and Marcelo Villarroel, as well as a third person who was soon deported to Chile and accused of "aiding".
Freddy (an ex-militant of the MIR [Movimiento de Izquierda Revolucionaria/Revolutionary Left Movement]) and Marcelo (an ex-militant of the Mapu Lautaro and currently an anarchist comrade) were subjected to severe beatings and interrogations by the Chilean and Argentinean police, until at last they were transferred to Unit No. 11, a maximum security prison with a long history of torture by officers and jailers, and both charged with the possession of a weapon of war.
From that moment on the Chilean State began a frantic race to ensure the speedy extradition of the two rebels and bring them before a military tribunal. At the same time, support networks were formed in Buenos Aires, Neuquén, La Plata, Valparaíso, Santiago, etc, spreading news of the case to comrades and offering political asylum in Argentina.
Moreover, despite their constant subjugation by jailers and judges, Freddy and Marcelo have been able to get their voices and thoughts communicated through letters and telephone calls, which builds support from the other side of the walls. This has resulted in numerous activities such as: days of action, blockades of roads and train tracks, demonstrations and public events, concerts, lectures, debates, and direct actions of all kinds. These increased even more after November 17, 2008, when the comrades decided to begin a hunger strike, which finished on January 9, 2009, winning basic improvements in the conditions of their confinement. Before then, Freddy and Marcelo were isolated 23 hours a day without sunlight or contact with other prisoners.
We can't fail to mention the solidarity that has developed around the expected repression unleashed by the state. One example is the imprisonment of comrade Andrea Urzua Cid on September 18, 2008, accused of trying to sneak explosives into Neuquén prison following an alleged escape attempt. She was released 48 days later, but was imprisoned again as a target in what the media calls the "bombs case" and is now on house arrest in Chile.
Nor do we forget the constant threats, and in some cases, beatings, which comrades from many regions were subjected to while in prison.
Finally, on December 15, 2009, the Argentinean state, by the hand of Interior Minister Florencio Randazzo and with the complicity of President Cristina Kirchner and Michelle Bachelet, signed the treaty for the extradition of Marcelo and Freddy from Argentina to Chile…
Another comrade arrested
On July 9, 2010, comrade Juan Aliste Vega (a fugitive since October 2007) was arrested at the bus station in Retiro. He was also accused of participating in the robbery of the Banco Security. The arrest was replayed for days in the mass media, as an exemplary achievement of the joint operation between Argentinean and Chilean police forces, making us wonder if there will be a repeat of Operation Condor [The counter-insurgency campaign operated by various South American states in the 1970's, with cooperation from the CIA]. Juan is locked up in Prison No. 1 of Ezeiza.
Immediate responses were organized, such as graffiti, leaflets, road blockades and communication of various forms, but this time the Argentinean government didn't want trouble and decided to get rid of Juan quickly. He was expelled on July 22, but not before having been tortured by the federal prison service (prison guards), the anti-terrorist squad of the Argentinean Federal Police, as well as members of the Chilean investigative police, who have long been used in Argentina to find comrades who refuse to surrender themselves to the enemy's courts…
The comrades' current situation
Today, Marcelo, Freddy and Juan are in the High Security Prison of Santiago in Chile, awaiting the trial, which is expected to begin in November with several hearings. While the media incessantly reprints the pictures of the dead policeman's widow, clamoring for revenge for their "loss" and President Piñera and his inferiors all spread the social condemnation of these three warriors, we know they are strong and in high spirits, proud of their decisions and of having followed through with them to the end.
We recently learned that, like Marcelo, Freddy and Juan were subjected to searches and punishments. Such is the behavior of wretches who are scared of what they don't understand—they attack it. We proceed attentively, and once again urge comrades to express their solidarity with Freddy, Marcelo and Juan.
WHILE MISERY EXISTS, THERE WILL BE REVOLT!
ONLY STRUGGLE MAKES US FREE!
FREDDY FUENTEVILLA, MARCELO VILLARROEL, JUAN ALISTE, TO THE STREETS!
FOR THE DESTRUCTION OF ALL PRISONS, FOR FREEDOM!
Support Network, Buenos Aires
http://freddymarcelojuan.noblogs.org/
– freddymarcelojuan(at)yahoo.com
Tags: Argentina, Buenos Aires, Chile, Freddy Fuentevilla Saa, Juan Aliste Vega, Marcelo Villarroel Sepúlveda, Repression
Posted in Prison Struggle
Friday, June 24th, 2011
From culmine, translated by war on society:
During the international week for total liberation we went to the Banco Santander Rio at Av. Gaona and Cuenca in the Flores Neighborhood, we doused two ATMs with gasoline and we left an incendiary device that then burned and destroyed them.
We share this action with those who take the decision to go on the offensive for human, animal and earth liberation.
Remembering Mauricio Morales.
For the freedom of Walter Bond, Marie Mason and Eric McDavid in the United States; Silvia, Billy and Costa in Switzerland who next month will be judged by the authorities of that country; 10 months into the bombs case, solidarity with the anarchists in Chile.
The war against this society continues in all places, in Italy, France, Spain, Mexico, etc.
Imprisoned, the comrades of Conspiracy of Cells of Fire do not collaborate with their enemies and struggle until the end.
For those fallen in combat against the forces of social control in Argentina, prisoners in the Ezeiza, Marcos Paz, Devoto prisons…
For all those who conspire in the extension of permanent conflict against the powers that dominate our lives. A fraternal greeting.
For the proliferation of attacks against authority and its properties.
Until the last animal is free, we are all prisoners.
Long live direct action that breaks with those established in the system.
To not wait; the spectacle must end; to be participants in what we desire.

Luciano Pitronello Incendiary Cell
Tags: Argentina, Conspiracy of Cells of Fire, Costantino Ragusa, Eric McDavid, International Solidarity, June 11th Solidarity, Luca Bernasconi, Luciano Pitronello Incendiary Cell, Luciano Pitronello Schuffeneger, Marcos Paz, Mauricio Morales, Prisoners in the Devoto prisons, Prisoners in the Ezeiza, Santander Bank, Silvia Guerin, Walter Bond
Posted in Direct Action
Thursday, January 6th, 2011
30 December 2010
"In response to the trials scheduled for the coming days and the repression against our anarchist comrades from the Fire Cells Conspiracy, we decided to attack the Greek embassy in Argentina during the early morning of December 30, 2010.
Our attack coincides with a series of attacks perpetrated by comrades in Greece and Italy, because we understand solidarity as a weapon that we must use in order to confront the defenders of society's prison system.
Just like the executioners who repeatedly murder unarmed people fighting for a piece of land to live on, we show no mercy in attacking authority when it's least expected.
We remind them that we have plenty of reasons to blow them sky-high, into the Malos Aires of this region they appropriated. And even though it might take us a while to redress the balance, we won't just sit around waiting for others to do what we can do ourselves.
No matter how much they tighten their security, we will always find the places where they are most vulnerable. Because we are everywhere, constantly thinking about how to eradicate domination and exploitation."
LIBERTY OR DEATH
Tags: Argentina, Buenos Aires, Conspiracy of Cells of Fire, Greek Embassy, International Solidarity
Posted in Direct Action
Monday, January 3rd, 2011
30 December 2010

Argentinian Molotov attack twins with a powerful bomb outside the Athens administrative court. Long Live Anarchism. Social Insurrection and Freedom for All.
Buenos Aires, Argentina – Explosion outside the Greek Embassy
Shortly before the bombing in Athens, a smaller explosion occurred outside the Greek Embassy in Buenos Aires in the middle of the night. "According to the initial findings of the Argentinean police, the blast was caused by a Molotov cocktail thrown by unidentified assailants," the Greek Foreign Ministry said in a statement.
–
From mainstream media
Athens, Greece — A powerful bomb detonated outside a court building near central Athens on Thursday morning, causing significant damage but no injuries, the police said. The authorities found the device and cordoned off the area around the Athens administrative court after calls to the private television station Alter and the daily newspaper Eleftherotypia at about 7:40 a.m. warned that a bomb would go off there in 40 minutes. "In both cases, the caller said the device had been strapped to a scooter outside the courthouse and gave the scooter's registration number," said an officer at the Athens police headquarters who spoke on the condition of anonymity because he was not authorized to comment publicly. "The explosion occurred two minutes after the deadline," the officer said, adding that police bomb disposal experts had gathered the remnants of the device and the vehicle and were examining them. A local resident told the private television station Skai that he had seen two men dressed in police uniforms pull up near the court building on a motorcycle about 6:30 a.m. The witness said he greeted the men, who told him they were abandoning the scooter because it had engine problems. According to the witness, the pair then got into a white van parked nearby and were driven away by a third person. The explosion damaged the facade of the court building as well as several cars, and also blew out windows in nearby apartment buildings.
The caller who provided the warning in the Athens bombing was described as a man speaking clearly in Greek. The blast occurred in a densely populated area in the city's Ambelokipi district, shattering windows and nearby shop storefronts in a 200-meter (yard) radius, and seriously damaging at least 10 cars. It sent up a cloud of smoke that was visible across the city.
Police said the bomb was stored in a hard luggage case in the back of a motorcycle reported stolen in a nearby area of Athens several hours earlier.
An initial examination of the site, suggested that the explosive Anfo — a mixture of ammonium nitrate and fuel oil used in construction but also in improvised explosive devices — was used, police investigators said. The material has been used in the past and seized in police raids in recent months on suspected militant safehouses.
Tags: Argentina, Athens, Buenos Aires, Greece, Greek Embassy, Molotov
Posted in Direct Action