Posts Tagged 'Arson'
Tuesday, July 23rd, 2019
On the night of July the 8th a car parked outside the office of SCA in Östersund in mid Sweden was torched. SCA is one of the companies responsible for the clearcutting and destruction of oldgrowth forests in Sweden.
Their terror of the wild will have consequences. We will no longer stand by silent and watch their eco-terrorism destroy the last wild forests in the north of Europe.
With fire and sabotage we will hunt you. Destroy the one who destroys.
For the wild!
ELF
Tags: Arson, Earth Liberation Front, Östersund, SCA (Forestry Industry), Sweden
Posted in Eco Struggle
Tuesday, June 25th, 2019
We hate prisons, many of our comrades are held in them, some are tortured, and prisons are at the heart of enforcing the established order. Vinci builds prisons, this vehicle belonged to them, so we wanted to set it on fire. So the train of thought that led to the destruction of the road construction vehicle on June 24 was actually quite simple.
(more…)
Tags: Arson, Eurovia-Vinci, Germany, International Solidarity, Leipzig, Sabotage, Solidarity Action, Vinci
Posted in Direct Action
Saturday, June 1st, 2019
"Burn all prisons, with or without walls!" – The call for a Subversive May, as an extension of the proposal for an Anarchist May 1st in Berlin, is understood by us as a call to extend the attack on different levels. We agree with the idea not to confine ourselves to one day but to constantly and unpredictably attack the functioning of existing society and prove that its security is an illusion.
The apparatus of power includes not only the murderers of the State, but also the mercenaries of the private security companies. Securitas vehicles once parked undisturbed in the GESOBAG housing estate where they act as security guards to prevent the intervention of cops during conflicts with tenants or tensions with the property management. Securitas is also engaged in surveillance work in prisons and public spaces worldwide. (more…)
Tags: Alfredo Cospito, Anahi Salcedo, Arson, Berlin, Dimitris Koufodinas, Dimitris Koufontinas, Germany, Informal Anarchist Federation (FAI), International Revolutionary Front, International Solidarity, Mauricio Morales, Securitas
Posted in Direct Action
Saturday, June 1st, 2019
[Hunger Strike By Prisoner Dimitris Koufontinas Ends in Success – AMW]
Athens, Greece: Responsibility Claim for the Arson Attack against Eurobank branch
We were taught that everything is commodity, everything can be exchanged. We didn't understand the small print of history: that we are commodity too; working power that is exchanged with peanuts, prayers and curses, and a daily reverence to alienation, to the shattering of every human dignity. We referred to the wage slavery as our highest value and intention. We didn't feel the waves of history carving our skin, we didn't feel the razor blades of political economy chiseling our motion.
We 've shown discipline to our times' teachings, which are nothing more than the dominant narrative that wants us producing and consuming machines, that wants for itself the monopoly of the decision about what is included and what is excluded by its normativity. A dominant narrative by a dominant world that leaves its bloody marks on us everyday, fracturing the individual, feeding it with oppression and neuroses, killing every desire for experimentation and vitality and replacing them with miserable micro-rivalries and intrigue, disguising the emptiness. (more…)
Tags: 17 November, Anahi Salcedo, Arson, Athens, Dimitris Koufodinas, Dimitris Koufontinas, Greece, International Solidarity, Mauricio Morales, Revolutionary Solidarity, Sabotage
Posted in Direct Action
Wednesday, May 15th, 2019
FUEGO, INCENDIO Y MEMORIA POR MAURICIO MORALES

"No retrocedemos: estamos aquí. No intentamos: podemos. No mendigamos: robamos. No borramos: quemamos.
No esperamos: ardemos de impaciencia… La Conspiración nunca será arrestada, porque no se trata simplemente
de una organización sino de un flujo de ideas, y a las ideas no se les puede detener… "
CCF. Sección Ilegal
La noche del 12 de mayo nos agrupamos para llevar a cabo nuestro cometido. Recordar a diez años de su partida al compañero Anarquista Mauricio Morales, quien muere tras la inesperada activación del artefacto explosivo que transportaba la madrugada del 22 de mayo del 2009.Este artefacto tenia como único objetivo, la escuela de gendarmeria de Chile.
Respondiendo y contribuyendo al llamado internacional de acción y propaganda en memoria de Mauricio Morales… (more…)
Tags: Arson, Chile, International Solidarity, Mauricio Morales, Sabotage, Santiago
Posted in Direct Action
Wednesday, May 15th, 2019
Wednesday 8, Black May.
We installed two explosive devices in the building of the Service of Internal Taxes (SII), located at 281 General del Canto Street, Providencia.
In the face of progress and development, materialized today in projects such as TPP-11 and the APEC Summit, we recognize the need to lift different forms of organization, betting on the proliferation of links, spaces and networks that converge in attack and resistance.
With this action we remember the anarchists Mauricio Morales and Zoé Aveilla, who risked everything for a world free of domination.
MEMORY, HONOR AND COMBAT!
LONG LIVE ANARCHY!
Tags: Arson, Chile, International Solidarity, Mauricio Morales, Providencia, Sabotage, Santiago, Service of Internal Taxes (SII), Zoé Aveilla
Posted in Direct Action
Tuesday, May 14th, 2019

OUR THEORY: communication through PRACTICE. Attack 2
(orginal: https://de.indymedia.org/node/32606)
… The battles against Amazon or Google sites: Rightfully, attacks against the infrastructure of the almost daily mentioned "technological attack" are carried out with a certain regularity. Often the criticism is directed against the always as more extensive perceived surveillance that seems to prevent us increasingly from becoming rebellious.
To counter this, the nightly action becomes a little more thoughtful, secret or even technically sophisticated each time. In the claims of responsibility it is written for the thousandth time why it is legitimate to attack x,y,z, or why an event a has now been followed by action b, as we also did in the first part of this series (https://actforfree.nostate.net/?p=33432). (more…)
Tags: Arson, Berlin, Germany, Sabotage, Wisag
Posted in Direct Action
Saturday, May 11th, 2019
On the weekend of 28th and 29th of April, 2 ATMs were burned in Vienna (Austria) as a message of solidarity with the comrade Lisa, who is imprisoned at the moment in Barcelona. She was charged for robbing a bank in Germany.
We don't want to live in a capitalist world, in which consumption and property are forming the center of being.
An action to strengthen ourselves, so we will never stop attacking these realities in all places – against the domination of capitalism and state, against prison and all other forms of incarceration and oppression
– for sticking together and for freedom!
Tags: Arson, ATM Burned, Austria, International Solidarity, Lisa, Sabotage, Solidarity Action, Vienna
Posted in Direct Action
Monday, May 6th, 2019
[Noticias de la Guerra Social]
El 18 de abril de 1989 los jóvenes Ivan Palacios (19) y Erick Rodriguez (20) tras participar activamente en un grupo de acción y resistencia a la dictadura que se encontraba infiltrado desde sus comienzos, se disponen a colocar una carga explosiva en un transformador de luz ubicado en Avenida San Pablo con Radal, en las cercanías de la población Simon Bolivar.
La acción estaba avisada a efectivos de la CNI (Central Nacional de Inteligencia) quienes prepararon una emboscada donde acribillaron a ambos jóvenes miristas.
Desde entonces en la población Simón Bolívar se recuerda esa fecha con actividades, velatones, manifestaciones y enfrentamientos con la policía. (more…)
Tags: Arson, Chile, Coordinadora Informal-Grupúsculo Iconoclasta, Sabotage, Santiago, Solidarity Action
Posted in Direct Action
Sunday, April 21st, 2019
Local newspapers have reported that a TV and mobile phone tower was set on fire in Terragnolo, in the Potrich (Trentino) area on April 16th at around 10PM. Painted slogans reading "Solidarity With Anarchist Prisoners", "Stop Video Conferencing" (which replaces prisoner transfers to court hearings), "Stop Blocking Mail" and "The Spirit Continues" were found at the site.
Of the four incendiary bottles used to start the fire, only one managed to ignite the cables, the other three that were located inside the electrical transformers failed to ignite due to 'lack of oxygen' according to the carabiniers [paramilitary police] in charge of the investigation. A person who lived nearby spotted the flames from the street and notified the fire brigade, however they arrived to late to prevent many of the cables from burning. This location is also part of a region that has been selected to experience the 5G network in the near future.
Technicians were able to restore TV service during the night, however mobile phone reception is still not properly restored.
Freedom For All,
Fire To The Prisons

Source and some good photos:
https://sansattendre.noblogs.org/post/2019/04/19/terragnolo-trentin-italie-incendie-dune-antenne-relais-en-solidarite-avec-les-anarchistes-incarceres-16-avril-2019/
Tags: Arson, Italy, Sabotage, Solidarity Action, Trentino
Posted in Direct Action
Wednesday, April 17th, 2019
Comment from the team Effect Monroe
[presented in Russian social media]
We watched the film "Popular Front.Ukrainian militant anarchists." Production, directorial work are at a high level and do not cause questions, but we will comment on the focus of journalists on one anarchist group, Revolutionary Dia. Let's go over the news headlines from Ukraine for 2018, which are also available in English:
05/19/2018 Anarchists burned the crossover / anarchist revenge group "Svyatoshinskaya golytba"
05/21/2018 In Kiev, anarchists set fire to Lexus,belonging to deputy chairman of the EPU Grachev / "Fedos Schus" cell
09/19/2018 In Kiev, anarchists attacked the training center of the Ministry of Internal Affairs/ Ilya Romanov cell
In addition, the anonymous attacks in 2018, mentioned in the film Revolutionary Anarchists in BUR'18:
01/04/2018 Arson of municipal police cars
04/15/2018 The explosion at the Kyivenergo building
06/22/2018 Arson of the Oschadbank branch.
The rebels regularly declared about attacks in Ukraine until 2018 – while the communiques are signed by different groups: in half of the cases, these actions are claimed by FAI–IRF, the "Informal Anarchist Federation". This is an active trend in Ukrainian anarchism which is quite different from the ideology of "Revdia" – therefore, in our opinion, the authors of the film should have taken this into account.
Tags: Arson, Informal Anarchist Federation, Kiev, Sabotage, Ukraine, Video
Posted in Direct Action
Wednesday, April 17th, 2019
"Many of our people died, but you could not destroy anarchy.
Its roots are too deep,
it was born in the bosom of a rotten society that is collapsing,
it is a violent reaction against the established order,
it represents the aspirations of freedom and equality
who come to break authoritarianism.
It is everywhere, which makes it indomitable,
and in the end it will end up winning and it will kill you."
– Ravachol
Governments of the past and present have succeeded with the murderous and neo-colonialist policies of neo-liberalism. When it comes to hostile reception of refugees or fueling xenophobia and racism, European countries and all Western governments have promoted and financed wars and created social destabilization where it is convenient to preserve the interests of the oil, arms and mineral trades. The consequences of these death policies are managed today with an iron fist resulting in the closure of borders and ports, deportations, murders at sea and arrests at the borders. (more…)
Tags: Arson, Genoa, Italy, Sabotage
Posted in No Borders
Wednesday, March 20th, 2019
Publié sur https://de.indymedia.org/node/28420 le 21.01.2019 par: Autonome Gruppen (groupes autonomes) Cellule "Soledad Casilda Hernáez Vargas":
"Encore une fois, ce sont pas ceux qui le méritent qui se retrouvent dos au mur. La politique se plaît dans le role de médiatrice entre Padovicz(1) et la Liebig34(2) et Padovicz se plaît dans le role du gros capitaliste influent qui malmaine quelques locataire.trices et squatteurs.ses rebelles. Celles et ceux qui voient dans le Nordkiez(3) de Friedrichshain la graine d'une vie meilleure, se retrouvent là, comme toujours. Derrière elles et eux, rien d'autre que le mur. Il n'y a pas de main tendue puissante, et pas non plus d'issue. (more…)
Tags: Afrin, Arson, Berlin, Germany, Kurdish Struggle, People's Defence Units (Y.P.G.), Rojava, Sabotage, Thyssenkrupp, Wiseg, Women's Defense Units (YPJ)
Posted in Direct Action
Tuesday, March 12th, 2019
(Graz/Austria) – Car of Sodexo set on fire
In the darkness of the 6th of march we set a car of the company Sodexo in Graz on fire. Sodexo makes a profit with the deportation system by delivering shitty food to deportation centers. All companies that profit from this industry are our enemies and just deserve our hatred.
We feel connected to all accomplices who are fighting against the domination in this world.
Above all, those behind bars and those who support them, we want to show our revolutionary solidarity through this fire!
Through the walls we specifically send a burning hug to all recently detained anarchists in Turin, Trento and Rovereto. SILVIA, NICCOLO, BEPPE, ANTONIO, STECCO, RUPERT, AGNESE, SASHA, POZA, NICO, GIULIO tutti liberi!
We also send a burning greeting through the bars to Loić! We hope that you will feel supported by such acts in your unbending attitude.
For this action, we used fire accelerators that we filled into emptied beverage cans. We put the cans on the floor under the tires of the car. After 5 to 10 minutes, the tires burn and the car flares off.

Fire to Sodexo!
Fire to all cages!
–
(Graz/Austria) – Karre von Sodexo angezündet
In der Dunkelheit des 6.3. haben wir in Graz eine Karre der Firma Sodexo angezündet. Sodexo macht mit dem Ausschaffungssystem Profit indem es Abschiebeknäste mit schaebigem Essen versorgt. Alle Firmen die aus dieser Industrie Profit schlagen sind unsere Feinde und verdinen unseren Hass.
Allen Kompliz_innen die gegen die Herrrschaft dieser Welt kämpfen fühlen wir uns verbunden.
Vor allem jenen hinter Gittern und jenen die sie unterstützen möchten wir mit diesem Feuer unsere revolutionäre Solidarität zeigen!
Durch die Mauer senden wir speziell eine freurige Umarmung an alle kürzlich Inhaftierten Anarchist_innen in Turin, Trient und Rovereto. SILVIA, NICCOLO, BEPPE, ANTONIO, STECCO, RUPERT, AGNESE, SASHA, POZA, NICO, GIULIO tutti liberi!
Ebenfalls senden wir einen feurigen Gruss durch die Gitter an Loić! Wir hoffen das du dich durch solche Taten in deiner unbeugsamen Haltung unterstützt fühlst.
Für diese Aktion verwendeten wir Brandbeschleuniger den wir in entleerte Getränkedosen umfüllten. Die Dosen stellten wir auf den Boden unter die Reifen der Karre. Nach 5 bis 10 Minuten brennen die Reifen und die Karre fackelt ab.
Feuer für Sodexo!
Feuer allen Käfigen!
Tags: Arson, Austria, Graz, International Solidarity, Italy, Migrant Struggle, Operation Renata, Operation Scintilla, Sabotage, Sodexo
Posted in Direct Action
Monday, March 11th, 2019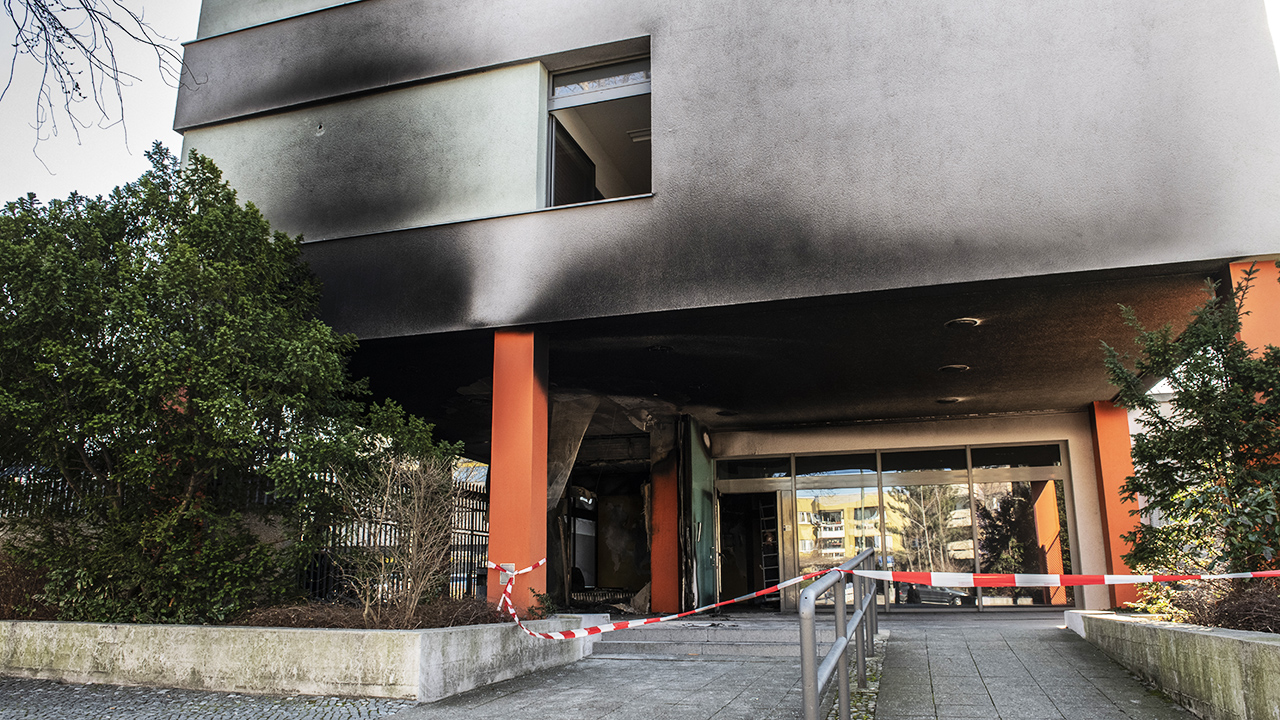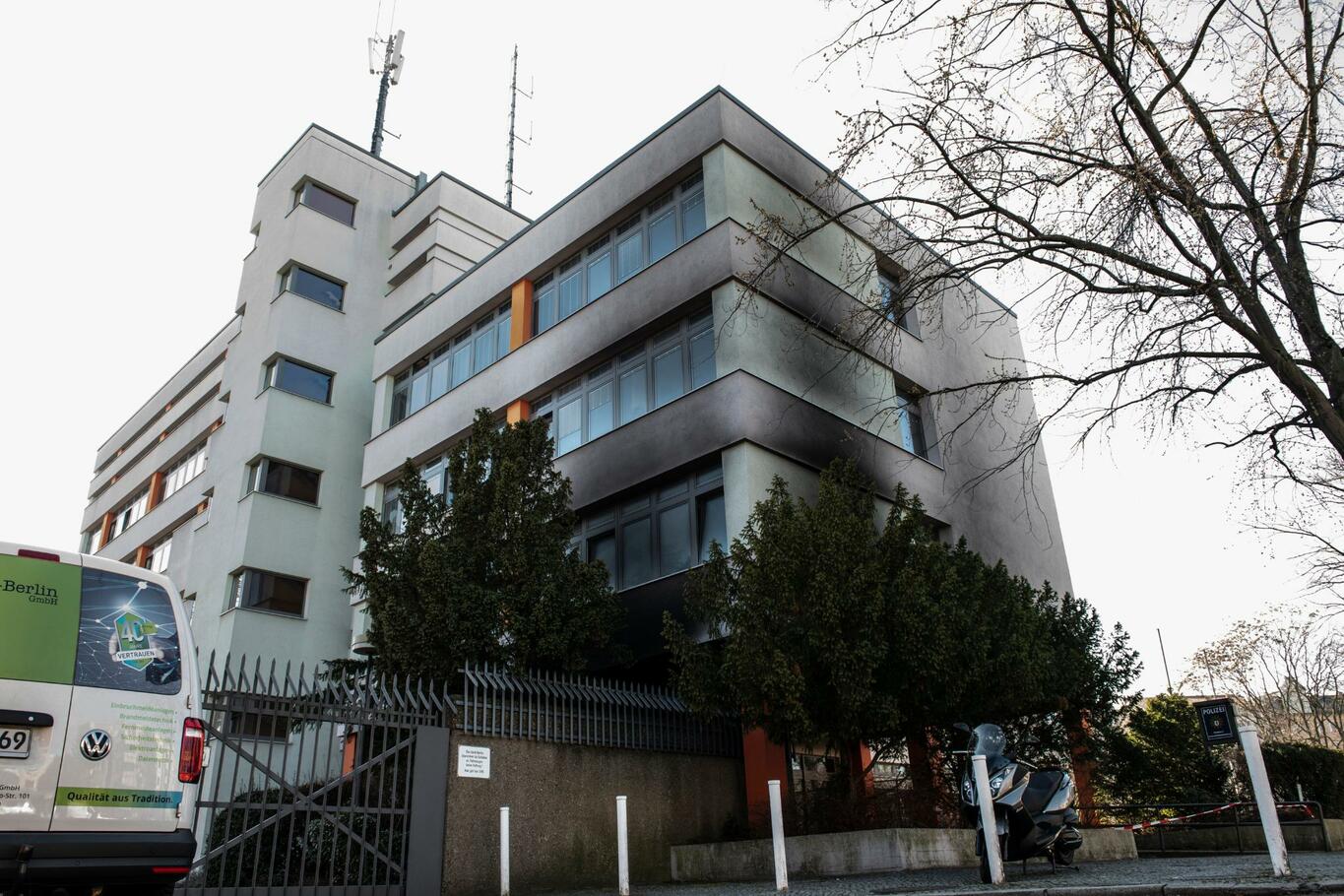 Berlin: Our propaganda remains the attack: cops are murderers!
No words of justification are necessary for that, what has happened to a cop station in Berlin on the morning of February 27, 2019. All those who were already handcuffed, humiliated by the cops, sexually assaulted, beaten, driven through the streets, jailed, or detained understands our language. Our fire speaks to those who have understood or learned that it is always a danger to life and limb to fall into the hands of the state. Many who were dragged in patrol cars or cop stations did not leave them alive.
We do not hope for justice, nor for more humanistic cops. Instead, we deepen our enemy determination and draw a line that is appropriate to the quality of social conflicts. There is nothing to discuss with the killers and their collaborators. Not even if you present yourself all year round as friends and helpers at their police congress.
Nothing is forgotten and we are not ready to forgive. Instead of celebrating its own role as a victim, it is necessary to organize further attacks against the cops and to disassemble their sense of inviolability step by step.
Part of this we have contributed with our act. The casualness with which the cops and the press deal with the attack on the building on Invalidenstraße belies their losses. As we ignited the used 60 liters of gas under the canopy of the entrance area, the fire could jam under the ceiling and cause considerable damage there, which will remind them for a long time that they need to expect nothing but our hatred.
We greet Loic in the Hamburg prison and all upright prisoners of the social war and promise them to continue to aim at the pigs.
For Ebuka Mama Subek, who was recently murdered in an Athenian police station. For Oury Jalloh, Hans-Jürgen Rose and Mario Bichtemann, who were killed by pigs in Dessauer. For Halim, Carlo, Dennis and Amed!
For the revolutionary revenge!
Tags: Arson, Berlin, Germany, Sabotage, Solidarity Action
Posted in Direct Action