Posts Tagged 'Arson'
Wednesday, September 16th, 2020
via: Sans Nom
At around 4am during the night of Thursday September 10, in Otley Road, Bradford (West Yorkshire), a pylon topped with a 5G antenna was set on fire. The fire lit at the foot of the pylon rose right to the summit, destroying everything along the way.
The next day. Given the structural damage to the pylon, it had to be cut in three and disassembled. At least 90 mobile phone antennas have been sabotaged [in the UK] since April and the last period of lockdown, often by fire, according to official figures.
As has now become customary in some countries, vultures and State parrots immediately jumped on the hypothesis of conspiratorial opponents to 5G, while this attack is anonymous and there are plenty of other reasons for taking on this kind of telecommunication structure.
These devices contribute to alienation and the alimentation of this techno-scientific world, that empties our existence and perfects the exercise of power through control. Against all viruses, including that of the technological pandemic, fire is in any case a good remedy. Next!
[summary from the English press, 11 September 2020]
Translated by Act for freedom now!
Tags: 5G, Arson, Bradford, Sabotage, UK
Posted in Direct Action
Monday, September 14th, 2020
ES | Barcelona, España: Adjudicación de atentado incendiario contra antena telefónica
FR | Barcelone (Espagne) : Incendie d'une antenne-relais
Technological domination is a giant with feet of clay. All it takes is a little bit of determination and caution to make it wobble. On the night of August 31st we set fire to a mobile phone antenna in El Prat de Llobregat (Barcelona).
Solidarity and complicity with all those who walk with their heads held high, both inside and outside the prisons.
And long live anarchy!
Tags: Arson, Barcelona, Catalonia, Catalunya, Sabotage, Spain
Posted in Direct Action
Friday, September 11th, 2020
Desde los inicios de lo que hoy conocemos como dominio y civilización, la cosificación y explotación de lo salvaje ha reducido la vida a simples productos y servicios, y por lo tanto, necesita que estos sean movilizados y dirigidos hacia y dentro de las grandes urbes, siguiendo con esto las trayectorias trazadas por los artífices del modelo económico imperante en los distintos períodos de la historia conocida.
El transporte de la mercancía ha resultado ser desde entonces un órgano vital para el Poder y sus propósitos de control sobre los territorios que hoy denominan ciudades. La organización y la forma en que se rige el ritmo de la vida en estos lugares, responde solo a los intereses y el beneficio de unos pocos orquestadores de este sistema de consumo y muerte.
Las máquinas que día a día recorren las innumerables carreteras y calles transportando mercancía humana, son igualmente incinerables que las que transportan mercancías extraídas de la tierra. Ambos tipos cotidianamente mueven a través de las innumerables carreteras y calles, tanto en el Wallmapu como en $antiago, lo que llaman "recursos"; unos producto de la explotación de la tierra, otras para la explotación humana. Así es como se mantiene el flujo de la devastación de la tierra, y así se mantiene el flujo de la devastación de nuestras vidas. (more…)
Tags: Arson, Black September, Chile, Claudia López, Francisco Solar, Jhonny Cariqueo, Joaquín García Chanks, José Huenante, Juan Aliste Vega, Macarena Valdés, Marcelo Villarroel Sepúlveda, Monica Caballero, RED (Ex-Transantiago Bus Company), RP Global (Company), Sabotage, San Miguel, Santiago, Transantiago, Wallmapu
Posted in Direct Action
Thursday, August 27th, 2020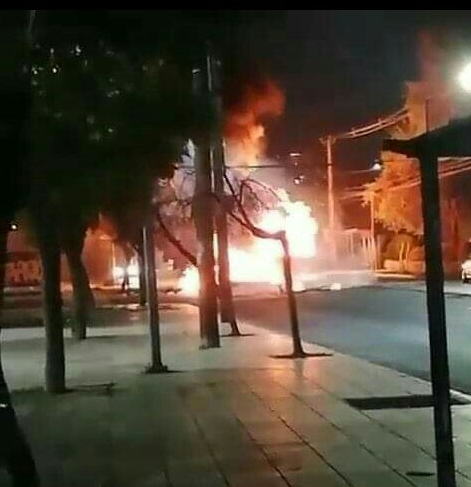 The context of fear and submission to the pandemic that has been so well capitalized on by states around the world, especially the one that the "Chilean" state is trying to subjugate us with. And one month after the arrest of Mónica Caballero and Francisco Solar.
Different anarchic individuals organized themselves in advance to give a little taste of the incendiary sabotage during the commemoration of the murder of the land fighter Maca Valdés in the emblematic and historical town of Simón Bolívar and the fighters Erick Rodríguez and Iván Palacios.
At 21:30 we intercepted a caterpillar bus from route 402 of the modern fleet of the wealthy and fascist company Metbus. It came without people because it was the last route. We got the driver off the bus – not before he had taken all his things out – and reminded him that this was not against him but against his bosses. We gave him money to pay for a taxi to his house and set the machine on fire to the sound of the shouts of joy and adrenaline from the people who were demonstrating. (more…)
Tags: Arson, Chile, Francisco Solar, Monica Caballero, Sabotage, Santiago, Transantiago
Posted in Direct Action
Sunday, August 2nd, 2020
This is what the investigators looking into the unexpected blaze at the Parsec 3.26 on April 27, on the outskirts of Lecce in full lockdown, have had. And since Finimondo published a text which did not condemn what happened and were not outraged by it, quite the contrary, and as the animators of Finimondo live not far from the headquarters of that company whose social and economic reason for being is to embody Big Brother, you want to bet that 1 + 1 +
So today, Monday July 27th, we were dragged out of bed early in the morning. No, it wasn't the alarm clock, it was the Digos [political police]. They came to carry out a search and to give one of us a notice of investigation. They suspect he was the one who left "a pot containing petrol and two camping gas canisters" near the techno-cop company in Salento. The search, particularly attentive to computer equipment (which allows "understanding of the actual purposes of the act") and clothing (being strangely attracted to multicolour, black must have gone out of fashion), had a positive outcome. No, but what are we saying, positive is too little, we would go as far as to say very positive. In fact, it seems they have discovered that there are traces of Finimondo's text on the computer used by the suspect who has fired the Prosecutor's imagination so much (you don't say?). Moreover two camping gas canisters were seized (oh really?). Finally – you will never believe it! – they even found pots in his kitchen (seriously?). They didn't seize them, only photographed them, for everlasting evidence. As we anticipated, 1 + 1 + …
Who knows if all this will be enough for the brainstorming of the public prosecutor's office of Lecce, in the guise of prosecutors Guglielmo Cataldi e Giovanna Cannarile, to pass to action. With the times being as they are, that would be nothing surprising. Only the near future will tell. And then, this Parsec 3.26… with all its means and technique… at least a nice clear image of the skull, or the cheekbones, or the scrotum of the well-meaning arsonist… all their algorithms, for what? to have some Digos agents sent out to photograph a couple of pots? Crazy.
Well, we'll think about that tomorrow. We're going back to sleep…
[27/7/20]
Finimondo

Translated by Act for freedom now!
Tags: Arson, Facial Recognition, Finimondo, Italy, Lecce, Parsec 3.26 (Company), Raids, Repression, Sabotage
Posted in Social Control
Thursday, July 30th, 2020
"5G NETWORK HARMFUL TO HEALTH AND THE PLANET. STOP 5G!"
We learn from the press of the regime that between the end of June and the middle of July 2020 a blackout occurred in Cremona which left much of the city in the dark; in another episode a telephone exchange would have caught fire: some writings against 5G were found near the place of the fire.
via: roundrobin.info
Translated by Act for freedom now!
Tags: 5G, Anti-technology, Arson, Cremona, Italy, Sabotage
Posted in Direct Action
Monday, July 20th, 2020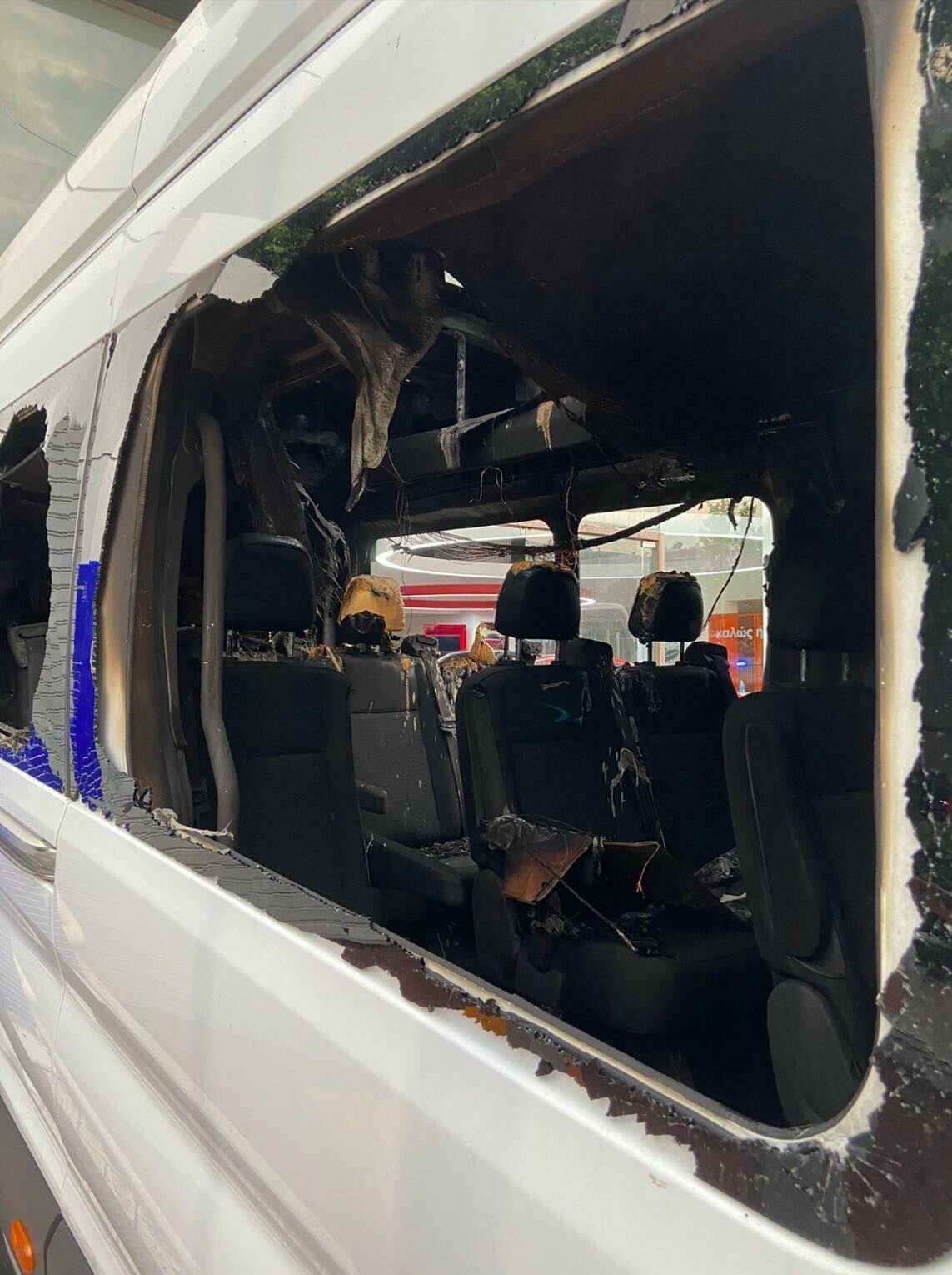 Besieged bodies among the concrete, between the cameras eyes, crossing daily life with careful but daring steps, moved by an ethic forged by negations.
We are folks that woke up from the social lethargy, having as weapon our solidarity to the fighting individuals towards the world. We want to be the crack that will join the others, destroying a system that represents injustice and "deadly injuries".
So, at the night of 7/7/2020, we chose to plant four incendiary devices to the Ford car dealership of Sfakianakis company, resulting to three burnt-down vehicles and a destroyed showcase. Our target was totally not random, as this specific company equips the state apparatus with vehicles, and also the moment of our attack coincides the uprising in USA, the homeland of Ford.
By that we choose to be the aroma of night-flower that bungs the nostrils of the decay, and we want this smell to break every authoritarian nose, to close every mouth that pukes shit, to cut every hand that points at our bodies full of racism, homophobia and sexism.
Carmine Night-Flowers
Tags: Arson, Athens, Ford, Greece, International Solidarity, Sabotage
Posted in Direct Action
Saturday, July 4th, 2020
From Attaque:
The voice of the North / Friday July 3, 2020
Finally, on May 3 at around 1:30 a.m., the fire at the Orange 5-SFR antenna relay planted on rue Gustave-Eiffel, in the industrial zone of Douai-Dorignies, was indeed deemed criminal. After thinking that the destruction of this equipment was accidental, the investigators considered another avenue and the Douai prosecutor's office utilised the judicial police.
Two months of work were not too much to put names on the suspects. This Tuesday, six people (five men, including a minor, and a woman) were arrested by the criminal brigade of the interregional direction of the judicial police (DIPJ) of Lille, with the support of the research and intervention brigade. Domiciled in Roubaix and Villeneuve d'Ascq, these suspects, "all close to circles advocating a form of violent protest" according to the DIPJ which announces these arrests, were placed in police custody. According to the Douai prosecutor's office, they come from antifa circles, black blocks or even the movement of yellow vests.
Quickly, the only woman in the group was left free and will not be prosecuted. The other five were brought to justice. The four major suspects, aged 22 to 32, were brought before the prosecutor on Thursday. Two of them were remanded in the evening, the other two left free under judicial supervision.
All four were presented for immediate appearance before the Douai Criminal Court on Friday afternoon and, at their request, their trial was postponed.
The minor, originally from Pas-de-Calais, was indicted by a judge of the judicial court of Béthune for "destruction of property in an organized gang and association of criminals with a view to committing an offense", Indicates the DIPJ, then placed under judicial control.
The destruction of this relay antenna would have caused "damage estimated between € 300,000 and € 500,000".
Tags: Anti-technology, Arson, Douai, Nord, Repression, Roubaix, Villeneuve d'Ascq
Posted in Social Control
Thursday, June 25th, 2020
EN | Genoa, Italy: Incendiary Attack Against a Police Vehicle Depot in Marassi
I danni della globalizzazione sono arrivati anche in occidente e ci siamo trovati a farne I conti direttamente. La reazione non è stata certo in una prospettiva di soluzione delle cause, bensì un ulteriore passo veloce verso il progresso ed un intensificarsi del dominio tecno-scientifico, della trasformazione e del rapido adeguamento delle logiche di autoritarismo e profitto.
Anche in tempi di pandemia il governo ha garantito gli affari delle case farmaceutiche e dei signori della guerra. Attraverso le politiche capitaliste gli Stati hanno continuato la produzione industriale a scapito dei lavoratori e le operazioni militari a scapito di intere popolazioni.
Anche nel porto di Genova hanno continuato a transitare navi cariche di carri armati e altri armamenti, dirette verso gli Emirati Arabi.
Lo Stato ha chiarito quali sono I suoi interessi, molto lontani dai reali bisogni degli individui, ed in continuità con la politica tecno-industriale:
imposizione di tecnologie nocive come il 5G e controllo sociale di massa (realizzato con la militarizzazione dei territori, l'accellerazione tecnologica e l'utilizzo di vari mezzi come droni, GPS, motoscafi, elicotteri e vari progetti "smart"). (more…)
Tags: Arson, Genoa, International Solidarity, Italy, Operation Bialystok, Operation Prometeo, Operation Scripta Manent, Sabotage
Posted in Direct Action
Wednesday, June 24th, 2020
Three weeks ago a 4G/3G mobile phone tower was torched. We did this as a response of pure hostility to the technoindustrial nightmare we are living in.
Like a vengeful wraith, we placed our enchanted incendiary devises in the cables connecting the tower to the leviathanic network. We howled to the moon when we lit the fuses and cursed the civilisation for all eternity. Only by fire can the technoindustrial leviathan be exorcised. Minutes later the cables were engulfed by a raging fire making the tower loose its connection to cyberspace. In the sudden silence when mobile phone calls and internet connections became emptiness, only the devouring fire could be heard.
Only darkness brings us to the place where we feel at home. The bright industrial lights that make the city shine burnes our eyes and clouds our hearts. But the cybernetic silence we caused with our fire to the tower made our bodies feel alive and joy filling our hearts.
Today everything is back to normality except the burnt cables and the silenced tower. Programmers and bosses are waging the next assault on our beloved darkness. 5G towers are now live in Malmö, Gothenburg and Stockholm. The next level of Levathianic control are rolled out in front of our eyes. The slaves of the society are applauding their incarceration.
We wish that the totality of civilisation was engulfed in flames. Burnt to ashes darkness would finally flourish. In every step our foot touch the concrete and asphalt we put a curse on Leviathan. In every step our foot touch earth and soil and plants and roots we sing our joy for the dark and the wild.
We know that a future without Leviathan never will come but this doesn't stop us from dreaming of its death. It never stops us from conjuring incendiary devices burning its rotting body. It never stops us from cursing its shining armour and techno industrial light. Kill kill kill is all that Leviathan can say. Burn burn burn is our response.
Little cursing and conjuring lovers of darkness
FAI/ELF
Tags: Arson, Earth Liberation Front, Informal Anarchist Federation (FAI), Malmo, Sabotage, Sweden
Posted in Direct Action
Friday, June 12th, 2020
On the night of June 10, 2020 the building of Criminal Investigations Department (Kyiv, 25, Naberezhne highway) was attacked by petrol bomb.
The other day appalling news came from Kagarlyk, Ukraine, where on the night of May 24, police officers assaulted and raped a woman who had been summoned as a witness. The details – policemen put a gas mask on a woman, handcuffed her and shot from their duty weapons above her head – flashed around the nation.
Same kind of news come from the other side of the Dnepr river, where police officers who killed a five-year-old boy in Pereiaslav-Khmelnytskyi were released from prison on bail.
Since the beginning of this quarantine the police flooded the streets of Kyiv. Control and police pressure have increased, unwarranted and unjustified inspections have become more frequent. Like the conduct of the police in Kyiv's Podol: stop-and-search inspections of passersby under false pretenses, solicitation of bribes, beatings in police stations.
These episodes are merely details of the big puzzle. "Police reforms" remain a complete waste of time, because police is an instrument of violence in the hands of the State. It is criminal per se, all misdeeds of its personnel – simply extreme manifestations of monopoly on violence.
Through our action, we slap the police in the face. We appeal to the society and to every person to join in this endeavour, to not remain indifferent, to organize themselves and to resist actively. People from Minneapolis, USA are setting an example for us – in response to the racist killing of a black man by beastly policeman, they started a real street war against state oppressors and sadists in uniform.
Society can protect itself from both the crime and the police. This requires determination, mutual assistance and self-organization – developing institutions of self-government and peoples militia.
We encourage everyone to act so all atrocities of the police and the State do not remain unpunished!
We're calling to arms!
Brave Ones
–
UPDATE: Ukranian mass-media and the police confirmed that the attack on the Criminal Investigations Department of Kyiv had taken place on the night of June 10, 2020. There are reports that fire destroyed at least one office in the building, a few more are badly damaged. Some journalists have managed to "connect" the attack with Pavel Sheremet murder case.
Video from "Kyiv Operative" shows Kyiv firefighters putting out a fire in Criminal Investigations Department building, which was attacked by anarchists.
–
Tags: Arson, Fuck the Police, George Floyd, International Solidarity, Kiev, Molotovs, Police Bastards, Sabotage, Ukraine
Posted in Direct Action
Wednesday, June 10th, 2020
Smash the police state!
Vienna. In the night from June 7th to June 8th two cop cars were attacked, flambéed and devitrifyed.
It was a pleasure to demolish these cars.
For us this was an action against repression and harassment.
Against the constant fear of violence by the agents of the state.
Against racist motivated violence and murder.
For us this is an action against the daily swallowing of this reality, against the constant fear.
This time we stroke back. May the act empower us and everyone else in our struggles!
We don't want the cops and we don't need them – neither in our city nor anywhere else.
Cops don't serve our society. They aren't our friends. They are not neutral because they serve the ruling order, capitalism and the ones who own the goods. Armed with the monopoly of violence they have the right to chase everyone who can't or won't obey: the homeless, the youth, punks, people without papers, refugees, migrants, activists, addicts, revolutionaries, …
Examples for the just mentioned institutionalized violence are many – e.g. the climate strikes 2019 (where copes tried to drive over the head of an activist) or the just happened racist murder of George Floyd in the USA.
The biggest thefts are made by rich entrepreneurs, states, banks, housing agencies, mass-farming companies and renters. The ones who get imprisoned are folks who tried to find a way out of their situations.
The cruel violence is started daily by police, military, prisons and border regimes who are legitimized by the state to keep the current local and global hierarchy in place. On the other hand people who act in solidarity with each other, who fight for freedom, for climate protection, against exploitation and oppression are being surveilled and chased as terrorists.
We are sick of being oppressed and harassed and maybe the absence of these cars will prevent some actions from the police!
Corona made once more clear the circumstances under which we are living. The ones who were hit the strongest by the measurements are those who already suffered under "normal circumstances". Folks had to work even more over-hours, couldn't pay their rent, got stuck at borders, lost their jobs, got locked up in mass-quarantine or got harassed from cops in parks. This new-gained power was instantly misused against everybody randomly. This is nothing new. It is never safe to be alone with cops!
Everyone has their reasons.
There is no such thing as a good cop.
Let's solve our problems ourselves instead of calling the police.

For a life in freedom – for a society without police and their cars.
– Folks who randomly met, kept 1 m distance and were all wearing face masks.
Tags: Arson, Austria, Fuck the Police, George Floyd, Sabotage, Solidarity Action, Vienna
Posted in Direct Action
Monday, May 4th, 2020
Another May Day, another cell tower set alight. A small act in the earliest hours, but an escalation beyond the norm. And we never want to return to 'normalcy.' We don't know the difference between 4G and 5G. All we know is we want none of it.
The tower's proximity to a train yard, a major pharmaceutical company's office, and other military/mercenary enterprises in the Philadelphia Navy Yard was intended to interfere with their operations, however small the impact. It should also be a reminder that no one is untouchable if you have the appropriate determination. And this particular act was quite easy.
The first flame was a warm hug for the comrade Badger, allegedly on the run after a series of similar incidents in Bristol. Stay free!
The ensuing smoke a signal to the comrades undergoing the Scripta Manent persecution in Italy… we stand with you!

For freedom,
for anarchy!

Bristling Badger Brigade
Tags: 1st May, 5G, Arson, Huw 'Badger' Norfolk, International Solidarity, Mayday, Operation Scripta Manent, Philadelphia, Sabotage, Solidarity Action, USA
Posted in Direct Action
Monday, May 4th, 2020
For autonomous, decentralized May Day, we torched an Amazon van in Los Angeles County.
We could not sit idly by and watch the spread of COVID-19 turn ICE detention centers into full blown death camps
Amazon provides the cloud servers that hosts the Investigative Case Management system, the database utilized by ICE and other Federal agencies to compile public and private data to track and deport immigrants. Amazon plays a role in every raid; every family separation; and every death at the hands of ICE. It was the goal of this action to raise the stakes for companies like Amazon that provide critical border enforcement infrastructure.
In solidarity with with migrants currently on hunger strike in ICE facilities throughout the country. In solidarity with warehouse and grocery workers engaging in wildcat strikes on May Day.
Against the imposition of borders and the proliferation of the surveillance state
Anarchist Fire
#DestroyWhiteSupremacy
#MayDayStrike
Tags: 1st May, Amazon (Company), Arson, Coronvirus, Immigration Customs and Enforcement (ICE), Los Angeles, Los Angeles County, Mayday, Migrant Struggle, Sabotage, USA
Posted in Direct Action
Friday, May 1st, 2020
This is a translation of a Greek text claiming the responsibility for some incendiary attacks on two vehicles of the Hellenic Post and a vehicle of a security company at Thessaloniki, Greece. This action took place during the quarantine days, in the middle of April 2020, by the "Constantly Fluid Union". The photos are taken from corporate media. Here is the original source-link with the Greek text.
We responsibly declare that we are irresponsible
We move around insubordinate
We will not leave the fight for later
So let's play
The night falls on the metropolis.
The roles have been consolidated, as the quarantine conjuncture builds a new routine, having passed a big period of time.
A routine being controlled and which simultaneously controls us.
Citizens are enclosed inside their homes, they open their TVs for the evening program. The question is if they ever closed them all day. Some of them, recalling the glorious days of their "freedom", take a battle position on their balcony; they are the initiative protectors, those checking who moves around and who doesn't. They don't just gaze, they feed their thirstiness for control and police inspection of their neighbourhoods. Snitches, responsible citizens, good house-keepers, supporters of the military junta, alpha males; they emit the disgusting smell wafting around the city, which is empty of people and full of cops.
And of course cops experience once again the protagonist role. Dispersed on the streets, wandering around as imposing figures, they dominate the neighbourhoods and proudly check the people. Sometimes they don't even need to do this, because they get their pleasure by the anxious glances and steps of the passengers, even if they don't stop some of them.
The imposed routine of confinement that we experience since more than one month, has generated unprecedented feelings to us. Things that since now were considered as dystopic (reports of moving around, control of the social field in militarized terms, cops in the streets, drones), now are just reality, and other things (such us protests, posterings, gatherings) are getting criminalized.
Our hatred for authority and the complex of power in which we survive isn't paused. We need to invent new praxises, both to achieve the pre-quarantine obvious things, and to continue causing open wounds and cracks on the existent. We try, by being close to each other, to not get seized by fear, wherever it comes from. We find targets to attack, so as not to die by tedium or in front of a screen, and simultaneously to elicit clandestine complicit smiles to our comrades.
And when does all this finish?
Probably when it is defined by those who set the game of law.
When is it crumbled up?
When some people choose to have some flammable stuff on them during a purposeless walk.
A fire can disturb the rules, disturb those who set them, because apparently some individuals intend neither to obey nor to submit. And maybe this fire is the healing element that can be channelized through the streets of the ghost-town, and through the eyes of the gloomy and almost lifeless people composing it.
On Friday 10/04, we set fire to two vehicles of ELTA (Hellenic Post), at Papanastasiou street, opposite to Ippokratio hospital.
On Wednesday 15/04, we placed an incendiary device to a vehicle of a security company at Sikies area.

We send a signal of solidarity to all those who, even if they are incarcerated and directly afflicted by the state of exemption, though they continue to have a decent and combatant position.
Our incendiary greetings to all the migrants who revolt inside the detention centres, to all the prisoners inside the Greek hellholes, who experience revengeful transfers or repressive investigations in their cells by the scum of Greek Police.
With happiness and pleasure overflowing from our eyes, we declare that nothing will remain unanswered, we will come back armed with more rage, being more rabid and dangerous.
From Korinthos to Malandrino, Thebes, Domokos, and from Paranesti to Corfu, Koridalos, Chania and Grevena: FIRE AND FLAMES TO EVERY CELL / CAGE.

RAGE AND CONSCIOUSNESS, NEGATION AND VIOLENCE, LET'S SPREAD CHAOS AND ANARCHY
Constantly Fluid Union
Received via Translation Initiative.
Tags: Anti-Prison, Arson, Constantly Fluid Union, Coronavirus, Greece, Hellenic Post (ELTA), International Solidarity, Sabotage, Solidarity Action, Thessaloniki
Posted in Direct Action