Posts Tagged 'Arson'
Saturday, November 7th, 2020
On 5th of November a fire destroyed five patrol cars of the Federal Police and two private cars of the Bundespolizei Station at Tegel Airport. This is the claim:
No judgment without us! Attack on Federal Police for the 3 from the park bench
In Hamburg today, the trial against the three comrades accused of the planned arson (parkbanksolidarity.blackblogs.org) is to end with a verdict. For now almost 15 months two of them are kept in jail and one in supervised "freedom" in hostage- custody of the state. Hostages for the authorities' enduring belief that by making an example of the few, they can achieve the education of all. In this respect, we too see ourselves in the dock with our comrades in Hamburg, and while the court and public prosecutor's office were still sleeping the sleep of the self-righteous, we have put our complicity into action.

Defending Militant Practice
When the handcuffs clicked last July, the cops still believed they had finally landed a relevant blow against the militant groups in Hamburg and perhaps even beyond. They were so sure of this that they wanted to share their joy and their files with the press immediately. In the meantime, however, it has become quite quiet on the side of our enemies in this respect, which is probably not least due to the fact that they were once again unable to maintain their initial sovereignty of interpretation even before their own court. However, we do not want to deal with the legal level here – without downplaying the work done there – we would also lack the necessary insight. Instead, we want to talk about why our demands for solidarity – apart from essential things like emotional, social and financial support for those affected – also include carrying out direct actions. (more…)
Tags: Arson, Berlin, Germany, Park Bench 3, Sabotage, Solidarity Action, Tegel Airport
Posted in Direct Action
Friday, October 30th, 2020
(Berlin, October 9, 2020 – and the nights before.)
Tags: Arson, Demo, Eviction, Germany, International Solidarity, Liebig34, Liebig34/XB, Repression, Sabotage, Video
Posted in Social Control
Friday, October 30th, 2020
"Forward everyone! And with arms and heart, word and pen, dagger and gun, irony and curse, theft, poisoning and arson, let's make… war on society!" -Dejaque.
We claim the bus station destruction, BCA Bank Destruction, Roxy mall looting, burning of car and police posts and the burning of the luxury car during the Jakarta insurrection. It's not just about our refusal of the Omnibus law, it's also an accumulation of numbness, and anger against the imbalance that is produced by the dominant system nowadays. This direct action is not only a sort of confrontation against the ruling class, but this is also a solidarity to the street combatants. We're sure that peaceful protest doesn't give us anything and every state is an oppressor.
Solidarity to all combatants and anti-authoritarian prisoners around the world. Solidarity to all anarchist comrades in Belarus, Malaysia, Chile, Greece, Hong Kong, Rojava, and every autonomous liberationist in the world.
Solidarity to all combatants that were captured in October 8, there is no verdict until freedom.
We want to see the world burn, dancing around all the burning cities as they turn into dust. Because we are holding a new world in our hearts.
We are no one, but we are angry!
–Anonymous, Jakarta, Indonesia
–
Komunike Aksi Jakarta
"Melangkahlah kalian semua! Bersama dengan senjata senjata dan hati, kata dan pena, pisau belati dan senapan, ironi dan kutukan, pencurian, meracuni dan pembakaran rumah, mari wujudkan, perang di tengah masyarakat" -Dejaque
Kami menyatakan bahwa pembakaran halte di beberapa titik aksi, penghancuran Bank BCA, penjarahan Mall Roxy, pembakaran pos dan mobil polisi, serta pembakaran mobil mewah saat aksi di Jakarta pada tanggal 8 Oktober. Dan ini bukan hanya menyoal penolakan terhadap Omnibus Law, melainkan akumulasi kemuakan dan kemarahan atas segala bentuk ketimpangan yang diproduksi oleh sistem dominan hari ini. Aksi ini juga tidak terbatas sebagai konfrontasi terhadap penguasa, namun juga solidaritas untuk setiap kombatan di jalanan. Kami menyakini bahwa aksi damai tak menghasilkan apapun dan setiap produk negara adalah bentuk penindasan.
Solidaritas untuk semua kombatan di jalanan dan seluruh tahanan anti-otoritarian di seluruh dunia. Soidaritas kepada kaum anarkis di Belarusia, Malaysia, Chile, Yunani, Hongkong, Rojava, dan seluruh upaya upaya pembebasan— demi terbentuk daerah otonom.
Solidaritas untuk kombatan yang tertangkap di tanggal 8 Oktober di setiap titik penghancuran, tak ada vonis yang pantas kecuali vonis bebas.
Kami ingin melihat dunia terbakar, menari bersama menyaksikan kota menjadi puing dan debu. Karena kami menggenggam dunia baru di hati kami.

Kami bukanlah siapa siapa, kami hanya ingin menegaskan bahwa kami marah!

-Anonymous. Jakarta, Indonesia.
Tags: Arson, Indonesia, Jakarta, Riots, Sabotage, Social Insurrection
Posted in Direct Action
Friday, October 30th, 2020
We (Maverick Cell – FAI) claim responsibility for the arson attack on 20 October 2020 at the police office in front of the University Tanjungpura-Pontianak (West Borneo) because of our unstoppable anger and disgust against the police apparatus (the enemy in human form). We're disgusted by those who want to cooperate and support the police apparatus and their bullshit rehabilitation, we only want to attack. We don't have any illusion to correct the very nature of police brutality. We don't offer a solution- we want an uncompromising collapse of the system -, and "You" have to take control of yourself because of the chaos tricks of the state and the capitalists "you" support. And also this action is condemnation for progressive students who pretend to act on behalf of the people (especially in Pontianak) but still they're a cult for identity politics by saying "Long live students!", and they colluded with the police for the arrests of our brothers.
Our starting point as anarchists is to believe that anarchy is a complete negation of authority. The absence of "justifying" the authoritarianism in the natural form must be destroyed. This thinking finds that deepness within ourselves: autonomy, self-care, love; take control from yourself to yourself. Our turning point is getting stuck in a crowd of mass action that determines a time and attitude within the act. We become complacent about moralization, and therefore the passion was hidden. We become who we are not. This is of course paralysis but not death; comrades who attack head-on are antibodies to us – we feel so – and this "gift" is the spark point that must resonate.
This attack is dedicated to anarchists and fellow subversives held by the state. And also for the brave Mikhail Zhlobitsky. Solidarity with the entire Combatant Indonesia and the World.
RESONANCE FOR INSURRECTIONARIES
Maverick Cell – Informal Anarchist Federation
–
Kami (Maverick Cell – FAI) bertanggung jawab serangan pembakaran pada tanggal 20 Oktober 2020 di kantor pos polisi depan Universitas
Tanjungpura-Pontianak karena kemarahan dan kemuakan tak terbendung lagi terhadap aparat kepolisian (musuh dalam diri manusia). Kami menyangkal, mereka yang mengingkan sekaligus menghidupi aparat kepolisian agar mengayomi seseorang, dengan serangan. Kami tidak akan menuntut "anda" untuk merefomasi kepolisian karena brutalitas. Tidak solusi yang akan kami berikan – melainkan kehendak keruntuhan tanpa kompromi -, dan "anda" harus mengambil kendali untuk diri sendiri karena kekacauan muslihat yang diperbuat oleh negara dan kapitalis yang "kalian" dukung. Dan juga tindakan ini adalah kecaman untuk para mahasiswa progresif mengatas-namakan rakyat(secara khusus di Pontianak) namun masih mengkultuskan identitas politik dengan berkata "Hidup Mahasiswa!" Dan bersekongkol dengan aparat kepolisian atas penangkapan saudara-saudara dalam aksi massa!
Titik awal kami sebagai anarkis ialah yakin bahwa anarki adalah menyangkal otoritas. Ketiadaan atas "membenarkan" ototarian sebagai wujud yang alami mesti dihancurkan. Pemikiran ini menemukan bahwa dalam diri kami sendiri : otonomi, jaga diri, cinta kasih; mengambil kendali dari diri sendiri untuk diri sendiri. Titik balik kami adalah terjebak dalam kerumunan aksi massa yang menentukan satu waktu dan sikap dalam bertindak. Kami terlena atas moralisasi tersebut, dan karenanya gairah kami terpendam. Kami menjadi yang bukan diri kami sendirinya. Ini tentu kelumpuhan namun bukan kematian ; rekan-rekan yang menyerang lansung adalah antibodi bagi kami -kami merasa begitu- dan "pemberian" ini adalah titik api yang harus beresonansi.
Serangan dengan klaim ini kami dedikasi untuk rekan-rekan anarkis dan subversif yang ditahan oleh negara. Dan juga buat Mikhail Zhlobitsky yang berani – sang kalatisator. Solidaritas untuk Kombatan seluruh Indonesia dan Dunia.
RESONANSI BUAT PEMBERONTAK!
Sel Maverick – Federasi Anarkis Informal
Tags: Arson, Indonesia, Informal Anarchist Federation (FAI), International Solidarity, Maverick Cell - FAI, Misha Zhlobitsky, Pontianak, Sabotage
Posted in Direct Action
Wednesday, October 14th, 2020
FR | Keerom, Papouasie occidentale (Indonésie) : Incendie des bureaux de l'agence pour l'emploi
PT Freeport Indonesia (FI) has been present in Papua for decades since the start of the annexation of West Papua by colonial Indonesia. What PT FI produces is only natural destruction, expulsion of indigenous people, and genocide. We think Freeport's existence can only be destroyed if West Papua is separated from Indonesia, but it is not the formation of a West Papua state that we want, but the West Papua Confederation, people control not state control!
We (Long Live Eric King Revolutionary Cell – Informal Anarchist Federation) send our greetings to Lekagak Telengen, Egianus Kogoya, and other West Papuan guerrillas who are among the lush forests of Papua. We invite our comrades who live in cities to start urban guerrilla units and start attacks on the symbols of capitalism and the colonial state of Indonesia.
We clearly declare our hostility towards the opportunist politician Benny Wenda and other shits at the ULMWP who can live comfortably in a foreign country while trying to take struggle for West Papua liberation leadership control. True liberation is from gun and civilian insurrection, not lobbies in air-conditioned buildings!
We also don't forget to send our hugs to comrades in Indonesia who are starting a rebellion against the Omnibus Law and Joko Widodo's neoliberal regime, to our comrades in Malaysia who have to face repression for fighting the fascist kingdom of Malaysia, to the YPG-YPJ guerrillas in Rojava who are facing asymmetrical war against Turkey, and anti-authoritarian insurgents around the world.
We claim the burning of the labour offices building in the regent office complex of Keerom, West Papua during the riots on 1 October 2020. We are among the masses angry at Indonesian colonialism, this is just our opening attack and this is not the last. Get ready for explosion and explosion that will keep on the track!
If the state and capitalism still exist, peace will never be realized. Therefore, the state and capitalism must be destroyed at once !!
Let the fire light up the liberation of West Papua.
Long Live Eric King Revolutionary Cell – (FAI-FRI)
Tags: Anti-Colonialism, Arson, Indonesia, Informal Anarchist Federation (FAI), International Revolutionary Front, International Solidarity, Keerom, Long Live Eric King Revolutionary Cell - FAI/FRI, PT Freeport Indonesia (FI), Sabotage, West Papua, West Papua Independence
Posted in Direct Action
Friday, October 9th, 2020
FR | Yogyakarta (Indonésie) : La CCF/Nemesis Action revendique l'incendie d'une voiture de luxe
ES | YOGYAKARTA, INDONESIA: «CCF / ACCIÓN NÉMESIS» ASUME LA RESPONSABILIDAD DEL INCENDIO PROVOCADO DE UN COCHE DE LUJO
GR | Ινδονησία, Γιογκιακάρτα: "ΣΠΦ / Δράση Νέμεσις" – Ανάληψη ευθύνης για τον εμπρησμό πολυτελούς αμαξιού
Yogyakarta – Indonesia : We claim the burning of a luxury car in front of the Sinar Mas office last night on Ring Road Utara Yogyakarta. And it's not just solidarity for combatants on the streets against the Omnibus Law. But because we understand that the Sinar Mas Group is responsible for the destruction of rainforests in Indonesia to be converted into the palm oil industry.
Solidarity for all combatants throughout Indonesia. Solidarity with Belarus. Solidarity for anarchists in Chile, Greece, Hong Kong, Rojava!
Long Live the Rebellion!

"We want the world and we want it on fire".
Conspiracy of Cells of Fire / Nemesis Action
–
Kami mengklaim pembakaran mobil mewah di depan kantor Sinar Mas semalam di Ring Road Utara Yogyakarta. Dan ini bukan hanya solidaritas untuk kombatan di jalanan melawan Omnibus Law. Tapi karena kami paham bahwa Sinar Mas Grup bertanggung jawab atas penghancuran hutan hujan di Indonesia untuk dikonversikan ke industri Sawit.
Solidaritas buat semua Kombatan seantero Indonesia. Solidaritas buat Belarus. Solidaritas untuk kaum anarkis di Chile, Yunani, Hongkong, Rojava!
Panjang Umur Pemberontakan!
"We want the world and we want it on fire".
Konspirasi Sel-sel Api / Aksi Nemesis
Tags: Arson, Conspiracy of Cells of Fire, Conspiracy of Cells of Fire / Nemesis Action, Ecological Destruction, Indonesia, Informal Anarchist Federation (FAI), International Solidarity, Sabotage, Sinar Mas Group, Yogyakarta
Posted in Direct Action
Thursday, October 8th, 2020
On October 9, the Anarcha-Queer Feminist House Project at Liebig Strasse 34 is to be evacuated. Another eviction that joins a long list of forced evictions and displacement processes of recent years, which are always enforced with all violence and political will, no matter what government. Just like the "Schwarzer Kanal" car park, which resided on the banks of the Spree on Michaelkirchstraße until 2010.
Today, Kreuzberg is the figurehead for marketing strategies to attract nouveau riche and technology companies. And what is still missing there is of course nothing other than luxury apartments and start-up offices. So even this last fallow area of the former car park is disappearing beneath the concrete. Pressure to perform, competition and smart separation are promising. The Elements, as the construction project is called, is being implemented by the Swiss construction company Implenia, which recently achieved some notoriety for its involvement in the new prison building in Basel.
Whoever came up with this name in his or her styled office, whoever is responsible for the construction in the executive suites and political rooms – let them know that we are not forgetting the history that this place actually tells us. Just try to bury it with your diggers, it continues to grow between us and in other places. These are the moments when we discussed at the fire bucket and laughed under trees. Moments when we met in places like these, became rebellious and organized against the monotony and cruelty of the conditions that surround us.
We have no hope in the political theater of parliaments. Politics puts its protective hand over capital and sends its willing henchmen to beat us out of our homes if the law so wishes. There can be no dialogue, because the rulers have long since made it clear where they stand. Innumerable occupations of the last years have been mercilessly cleared away. Tenants are thrown onto the street in the middle of a pandemic, while at the same time there is talk of consideration. There is actually no more dishonest way of doing things.
Well, we will not leave this eviction unanswered either. Because what we are left with is solidarity and the knowledge that we can strike back at any time. Like last night, when we used incendiary devices to torch two excavators at the construction site of "The Elements". Maybe you should think about the four elements again, fire doesn't seem to get you very well at least.
Greetings,
Some chaotics
Translation from IMC DE.
More solidarity actions here.
Tags: Arson, Berlin, Germany, Implenia (Construction Company), Liebig34, Liebig34/XB, Sabotage, Solidarity Action, The Elements (Gentrification Project)
Posted in Direct Action
Monday, September 28th, 2020
FR | Bath (UK) : Incendie en solidarité avec les six inculpé.e.s de l'attaque d'une antenne 5G en France
We torched an Orange mast in the South West; a few miles outside of Bath (UK), to show that we too despise the dodgy technology that promises to enhance our futures, while imprisoning our minds. Solidarity with the six comrades who were arrested for an arson attack on an Orange relay 5-SFR antenna that was burnt in the industrial zone of Douai-Dorignies, France.
Act locally, give solidarity globally….
….especially solidarity with those on the streets across the world who have resisted lock-downs, and pushed beyond the mediated options of social media, to physically attack the racist police, and all the structures that support them.
See you on the streets. Stay safe, stay rowdy.
Tags: 5G, Anti-technology, Arson, Bath, International Solidarity, Orange (Phone Company), Sabotage, Solidarity Action, UK
Posted in Direct Action
Thursday, September 24th, 2020
The world has heard, through their direct consequences and through worried voices in the media, of a large number of arson attacks on communication infrastructure. Independent and biased demands have long since drawn the image of clandestine rebel activities, not only on French territory, against a society of organized putrefaction. These activities are always thought of as complementary, never as a substitute for more visible, more reachable and yet equally radical struggles.
And now the state is trying, with a repressive blow against a few revolutionaries, to lighten the darkness a little. 14 people are accused of having organized themselves to systematically sabotage the relay antennas (https://attaque.noblogs.org/post/2020/09/10/haut-rhin-quatorze-mises-en-examen-pour-neuf-incendies-dantennes-relais/). We are far from giving credit to the information from the police, because it is a common practice of the oppressors to project their fantasies and fears onto a few officially elected ones and to brand them with the violence of justice. This is done in order to make examples at any cost. This method is called terror.
Although we may not believe in the propaganda of the State, we are sure that the practice and organization of violence from below has once again become a reality and a necessity. Mass gatherings of people in the struggle against the state and capitalism and their dynamics are necessarily subject to fluctuations. We have seen how the state apparatus as a whole can be shaken by a wave of collective rage when it underestimates its enemies. And we have seen and experienced in our own flesh and blood what this state has done when it has observed the problem and tackled it with scientific precision: it has invested money in its forces of law and order and freed them from almost all control, until they are once again in a position to massacre the population. Many of them have, unfortunately but with good reason, been taken off the streets for the moment. (more…)
Tags: Arson, Car Burning, France, Solidarity Action, Val-de-Marne, Vincennes
Posted in Direct Action
Wednesday, September 16th, 2020
via: Sans Nom
At around 4am during the night of Thursday September 10, in Otley Road, Bradford (West Yorkshire), a pylon topped with a 5G antenna was set on fire. The fire lit at the foot of the pylon rose right to the summit, destroying everything along the way.
The next day. Given the structural damage to the pylon, it had to be cut in three and disassembled. At least 90 mobile phone antennas have been sabotaged [in the UK] since April and the last period of lockdown, often by fire, according to official figures.
As has now become customary in some countries, vultures and State parrots immediately jumped on the hypothesis of conspiratorial opponents to 5G, while this attack is anonymous and there are plenty of other reasons for taking on this kind of telecommunication structure.
These devices contribute to alienation and the alimentation of this techno-scientific world, that empties our existence and perfects the exercise of power through control. Against all viruses, including that of the technological pandemic, fire is in any case a good remedy. Next!
[summary from the English press, 11 September 2020]
Translated by Act for freedom now!
Tags: 5G, Arson, Bradford, Sabotage, UK
Posted in Direct Action
Monday, September 14th, 2020
ES | Barcelona, España: Adjudicación de atentado incendiario contra antena telefónica
FR | Barcelone (Espagne) : Incendie d'une antenne-relais
Technological domination is a giant with feet of clay. All it takes is a little bit of determination and caution to make it wobble. On the night of August 31st we set fire to a mobile phone antenna in El Prat de Llobregat (Barcelona).
Solidarity and complicity with all those who walk with their heads held high, both inside and outside the prisons.
And long live anarchy!
Tags: Arson, Barcelona, Catalonia, Catalunya, Sabotage, Spain
Posted in Direct Action
Friday, September 11th, 2020
Desde los inicios de lo que hoy conocemos como dominio y civilización, la cosificación y explotación de lo salvaje ha reducido la vida a simples productos y servicios, y por lo tanto, necesita que estos sean movilizados y dirigidos hacia y dentro de las grandes urbes, siguiendo con esto las trayectorias trazadas por los artífices del modelo económico imperante en los distintos períodos de la historia conocida.
El transporte de la mercancía ha resultado ser desde entonces un órgano vital para el Poder y sus propósitos de control sobre los territorios que hoy denominan ciudades. La organización y la forma en que se rige el ritmo de la vida en estos lugares, responde solo a los intereses y el beneficio de unos pocos orquestadores de este sistema de consumo y muerte.
Las máquinas que día a día recorren las innumerables carreteras y calles transportando mercancía humana, son igualmente incinerables que las que transportan mercancías extraídas de la tierra. Ambos tipos cotidianamente mueven a través de las innumerables carreteras y calles, tanto en el Wallmapu como en $antiago, lo que llaman "recursos"; unos producto de la explotación de la tierra, otras para la explotación humana. Así es como se mantiene el flujo de la devastación de la tierra, y así se mantiene el flujo de la devastación de nuestras vidas. (more…)
Tags: Arson, Black September, Chile, Claudia López, Francisco Solar, Jhonny Cariqueo, Joaquín García Chanks, José Huenante, Juan Aliste Vega, Macarena Valdés, Marcelo Villarroel Sepúlveda, Monica Caballero, RED (Ex-Transantiago Bus Company), RP Global (Company), Sabotage, San Miguel, Santiago, Transantiago, Wallmapu
Posted in Direct Action
Sunday, August 2nd, 2020
This is what the investigators looking into the unexpected blaze at the Parsec 3.26 on April 27, on the outskirts of Lecce in full lockdown, have had. And since Finimondo published a text which did not condemn what happened and were not outraged by it, quite the contrary, and as the animators of Finimondo live not far from the headquarters of that company whose social and economic reason for being is to embody Big Brother, you want to bet that 1 + 1 +
So today, Monday July 27th, we were dragged out of bed early in the morning. No, it wasn't the alarm clock, it was the Digos [political police]. They came to carry out a search and to give one of us a notice of investigation. They suspect he was the one who left "a pot containing petrol and two camping gas canisters" near the techno-cop company in Salento. The search, particularly attentive to computer equipment (which allows "understanding of the actual purposes of the act") and clothing (being strangely attracted to multicolour, black must have gone out of fashion), had a positive outcome. No, but what are we saying, positive is too little, we would go as far as to say very positive. In fact, it seems they have discovered that there are traces of Finimondo's text on the computer used by the suspect who has fired the Prosecutor's imagination so much (you don't say?). Moreover two camping gas canisters were seized (oh really?). Finally – you will never believe it! – they even found pots in his kitchen (seriously?). They didn't seize them, only photographed them, for everlasting evidence. As we anticipated, 1 + 1 + …
Who knows if all this will be enough for the brainstorming of the public prosecutor's office of Lecce, in the guise of prosecutors Guglielmo Cataldi e Giovanna Cannarile, to pass to action. With the times being as they are, that would be nothing surprising. Only the near future will tell. And then, this Parsec 3.26… with all its means and technique… at least a nice clear image of the skull, or the cheekbones, or the scrotum of the well-meaning arsonist… all their algorithms, for what? to have some Digos agents sent out to photograph a couple of pots? Crazy.
Well, we'll think about that tomorrow. We're going back to sleep…
[27/7/20]
Finimondo

Translated by Act for freedom now!
Tags: Arson, Facial Recognition, Finimondo, Italy, Lecce, Parsec 3.26 (Company), Raids, Repression, Sabotage
Posted in Social Control
Monday, July 20th, 2020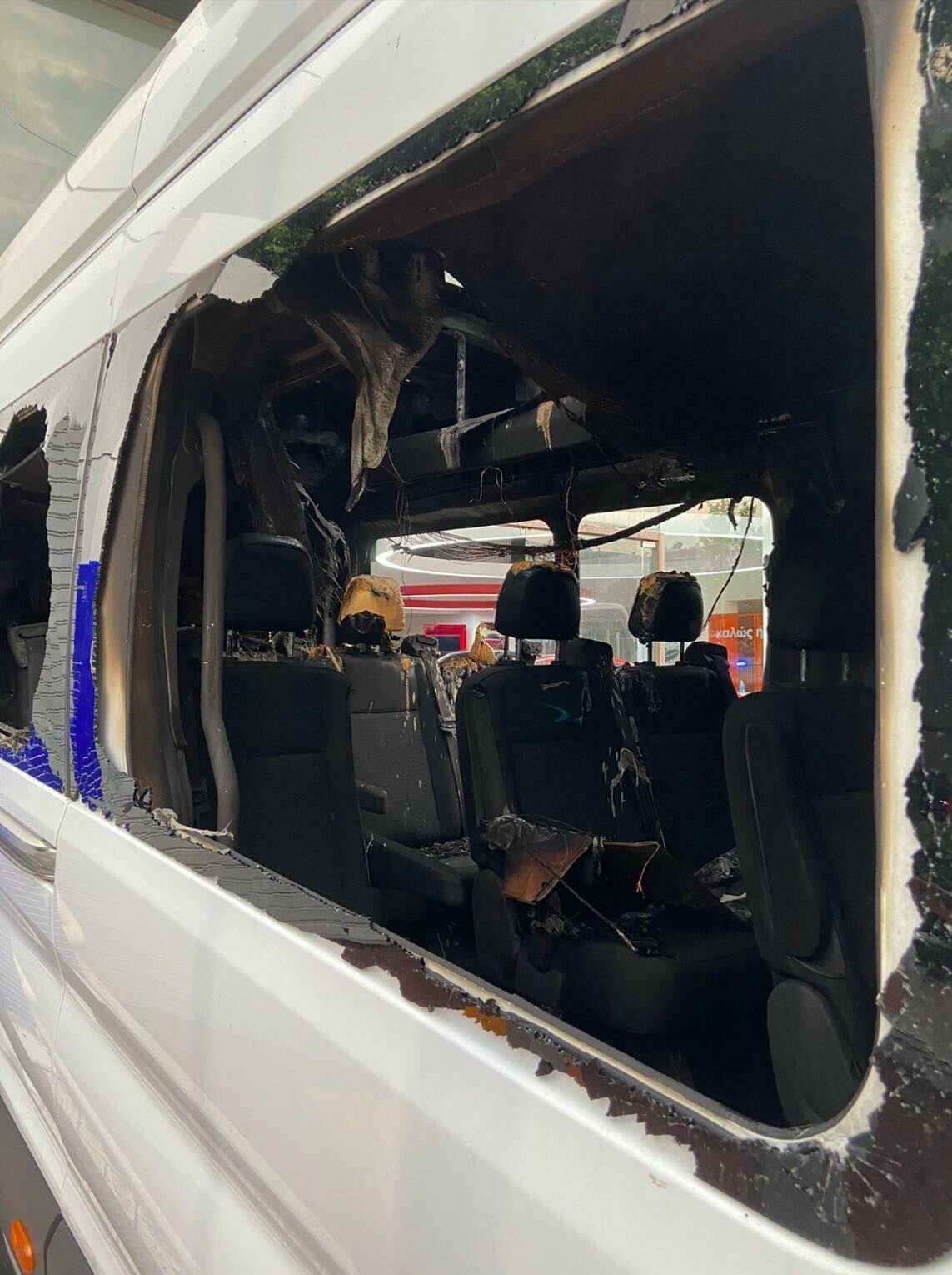 Besieged bodies among the concrete, between the cameras eyes, crossing daily life with careful but daring steps, moved by an ethic forged by negations.
We are folks that woke up from the social lethargy, having as weapon our solidarity to the fighting individuals towards the world. We want to be the crack that will join the others, destroying a system that represents injustice and "deadly injuries".
So, at the night of 7/7/2020, we chose to plant four incendiary devices to the Ford car dealership of Sfakianakis company, resulting to three burnt-down vehicles and a destroyed showcase. Our target was totally not random, as this specific company equips the state apparatus with vehicles, and also the moment of our attack coincides the uprising in USA, the homeland of Ford.
By that we choose to be the aroma of night-flower that bungs the nostrils of the decay, and we want this smell to break every authoritarian nose, to close every mouth that pukes shit, to cut every hand that points at our bodies full of racism, homophobia and sexism.

Carmine Night-Flowers
Tags: Arson, Athens, Ford, Greece, International Solidarity, Sabotage
Posted in Direct Action
Saturday, July 4th, 2020
From Attaque:
The voice of the North / Friday July 3, 2020
Finally, on May 3 at around 1:30 a.m., the fire at the Orange 5-SFR antenna relay planted on rue Gustave-Eiffel, in the industrial zone of Douai-Dorignies, was indeed deemed criminal. After thinking that the destruction of this equipment was accidental, the investigators considered another avenue and the Douai prosecutor's office utilised the judicial police.
Two months of work were not too much to put names on the suspects. This Tuesday, six people (five men, including a minor, and a woman) were arrested by the criminal brigade of the interregional direction of the judicial police (DIPJ) of Lille, with the support of the research and intervention brigade. Domiciled in Roubaix and Villeneuve d'Ascq, these suspects, "all close to circles advocating a form of violent protest" according to the DIPJ which announces these arrests, were placed in police custody. According to the Douai prosecutor's office, they come from antifa circles, black blocks or even the movement of yellow vests.
Quickly, the only woman in the group was left free and will not be prosecuted. The other five were brought to justice. The four major suspects, aged 22 to 32, were brought before the prosecutor on Thursday. Two of them were remanded in the evening, the other two left free under judicial supervision.
All four were presented for immediate appearance before the Douai Criminal Court on Friday afternoon and, at their request, their trial was postponed.
The minor, originally from Pas-de-Calais, was indicted by a judge of the judicial court of Béthune for "destruction of property in an organized gang and association of criminals with a view to committing an offense", Indicates the DIPJ, then placed under judicial control.
The destruction of this relay antenna would have caused "damage estimated between € 300,000 and € 500,000".
Tags: Anti-technology, Arson, Douai, Nord, Repression, Roubaix, Villeneuve d'Ascq
Posted in Social Control