Posts Tagged 'Arson'
Friday, July 1st, 2016
Phoenix Project 2016 #2 [#1]
We take responsibility for an incendiary attack on 28.6.16 against police vehicles stored at their depot located at Poplar Way East, Avonmouth, Bristol. The depot also stores crowd control barricade units, CCTV vans, staff support and military vehicles occasionally.
We dedicate the action to the imprisoned members of the Conspiracy of Cells of Fire and Aggeliki Spyropoulou, as well as to those in the attempted escape case.
This action is for the imprisoned comrades in UK, Greece, Chile, Russia, Poland, France, Czech Republic, France, Spain, Italy and around the world.
War to the 'Smart Cities' and the prison-society.
Long live anarchy and the wild.
Rain Cell – FAI/IRF
Tags: Aggeliki Spyropoulou, Arson, Avonmouth, Bristol, CCF Escape case, Conspiracy of Cells of Fire, Informal Anarchist Federation (FAI), International Revolutionary Front, International Solidarity, Phoenix Project, Rain Cell - FAI / IRF, Sabotage, UK
Posted in Direct Action
Thursday, June 23rd, 2016
During and after the "social movement", we'll never stop following our destructive passions, pursuing our dreams of freedom, sowing the chaos of revolt in the order of authority. "Tout peut basculer"; anarchist newspaper published in Paris
In the early hours of June 9th 2016, we paid a brief visit to the offices of the French insurance company AXA in the centre of Athens and torched one of their vans. We ruled out the possibility of attacking the building with the means that are currently at our disposal, for the simple reason that we wouldn't have caused considerable damage beyond broken windows and perhaps a small fire. Nevertheless, their vehicle that was parked every night next to their offices gave us a good opportunity to attack them quickly and discreetly.
We attacked a target that's located in an area where, in addition to patrols, cops are constantly present; we were also aware that the surrounding cafeterias and sex shops are frequented by cops with or without uniform. But it only takes a good preparation to strike every potential target.
We chose to attack AXA as a minimum display of complicity with rebels in France, who are fighting in the streets for more than three months. We make it clear, however, that this is not an act of solidarity with "social movements" or the leftists who ask for law reforms, more democracy and a "fairer" Power; nor with the unions that try to manipulate the revolt to satisfy their own interest; nor with "the poor people" or "the working class" who complain now that the legislation affects their pockets and want the State to guarantee them a return to normalcy and a welfare regime. A normalcy and welfare built on the obedience and servitude of the consumerist mass. (more…)
Tags: Anarchonihilist Commando Gianfranco Bertoli - FAI/FRI, Arson, Athens, Greece, June 11th Solidarity, Sabotage
Posted in Direct Action
Thursday, June 9th, 2016
The last days of May, in the centre of Athens, we torched two ATMs of Alpha Bank, as well as an excavator used for the metro line extension in the area of Exarchia.
We perceive the State's effort to upgrade the control and disciplining mechanism as a way of establishing a consumerist and peaceful normalcy everywhere, and attacking spaces that diffuse anarchist theorisations and practices – which is why we choose to attack every form of Power with all available means.
We also carried out this action in memory of our comrade Mauricio Morales, who was killed on May 22nd 2009; and in solidarity with our incarcerated comrades.
ALL OUR FALLEN COMRADES COME ALIVE
THROUGH THE FLAMES OF INSURGENCY
GUERRILLA GREETINGS TO THE CCF COMRADES
GALLOWS FOR THE JUDGES, BULLETS FOR THE COPS
FIGHT NATIONS, SQUAT THE WORLD

Cell for the diffusion of insurrectionist violence / FAI-IRF
–
via contra info
Tags: Arson, Athens, ATM Burned, Cell for the diffusion of insurrectionist violence / FAI-IRF, Fuck the Nations - Squat the World, Greece, Informal Anarchist Federation (FAI), International Revolutionary Front, Mauricio Morales, Sabotage
Posted in Direct Action
Thursday, June 9th, 2016
At a time when human zombies nourish their survival with social norms and superficial appearances driven by the legitimacy of Power, essentially legitimising the present miserable life, the conflict with the latter automatically marks an opening up of a field of dialectic to the feelings of the living. Boredom knocks on the door of all of us, and we try to transmute it into its denial. We are exactly there where the wait for a mass uprising has become trite, where the appetite for destruction of the rotten world is identical to our pleasure.
In the early hours of May 27th 2016, we burned two vehicles of the Hellenic Post (ELTA) in Aghioi Anargyroi.
With this action we send a minimum signal of strength to CCF, who is on trial for the escape plan and other cases, and to the rest of the anarchists implicated in these cases as well.
Let's get more dangerous for Power.
Exponents of the creative nothing / Commando Mauricio Morales
Informal Anarchist Federation/International Revolutionary Front (FAI/FRI)
–

via contrainfo
Tags: Arson, Athens, CCF Escape case, Exponents of the creative nothing / Commando Mauricio Morales - FAI/FRI, Greece, Informal Anarchist Federation (FAI), International Revolutionary Front, Mauricio Morales, Sabotage
Posted in Direct Action
Thursday, June 9th, 2016
We are far from taking a strong defence of any individual who presents him/herself as enemy of the State and of all forms of dominion (over humans, animals and nature). We see how – and many imprisoned and not imprisoned comrades are right in this – not everyone can be defined a comrade or relations be forged with them.
In particular we want to generate a debate on what's happening with the groups of action that deny anarchy is political objective and everyday struggle. These are so-called eco-extremists who shout coolly 'death to anarchy' thus disowning their own origins and formation, the idea following which they used to take nourishment from the warriors of the urban guerrilla of the past and the present, and then they went on to emphasize certain aspects that have always been within anarchy and its struggle for the liberation of humans, our brothers the animals and the earth.
Being extraneous to the constant tension we want to keep and to our struggle to make anarchy alive, a certain self-proclaimed eco-extremist sector is throwing away the libertarian ideal that manifests itself in the insurrectional struggle.
A certain small group linked to the imaginary category of 'symbolic populations' and musical/countercultural university areas (they disown university but they attend it… and they study the subjects they hate so much), despise the human animal and therefore see the enemy everywhere. (more…)
Tags: Arson, Chile, Informal Anarchist Federation (FAI), International Revolutionary Front, Jauría Saboteadora Heriberto Salazar (FAI-FRI), Sabotage
Posted in Autonomy
Monday, May 30th, 2016
On the morning of May 23rd in complicity with the full moon we decided to attack, in a city taken by police and military, we joined the night which makes us invisible and provides anonymity and secrecy. We torched a Banamex branch by placing tires in front of it and watering them with gasoline. So we illuminated the darkness and struck a blow, it's a fleeting moment, but it's a moment we enjoy and that for a few seconds makes us feel a little freer, releasing the fire that slowly eats away at the awful branch and it's ATMs. We decided to videotape it so that everyone can see that some actions are easy to carry out, to encourage all comrades to take action wherever they are.
It is undeniable, we are everywhere. We see banks and those responsible for them as direct generators of poverty and social inequality. Banks are the temples where the "God" of money comes and goes, where misery is managed, where that "God" is placed above any form of life. (more…)
Tags: Arson, Banamex Bank, Conspiracy of Cells of Fire, Fernando Barcenas, Francisco Solar, Informal Anarchic Individualities, International Solidarity, Mauricio Morales, Mexico, Monica Caballero, Sabotage, Sebastián Oversluij Seguel, Tamara Sol
Posted in Direct Action
Monday, May 30th, 2016
Update : An open letter from anarchist groups in Warsaw is published below.
Correction: Radykalne Ogrodki Dzialkowe (ROD) was attacked with a raid and searches only, there was no attempted eviction.
On the night between Sunday the 22nd & Monday the 23rd of May three comrades were detained near the car park of South Warsaw police station. Cops claim to have found an explosive device under a police car. All three comrades were taken into custody at the station and one comrade was severely beaten. The comrades refused to cooperate and denied all accusations of 'terrorism' and attempting to bomb the police station. The comrades received support from the anarchist community and 3 squats from Warsaw (Przychodnia, Syrena, Radykalne Ogrody Działkowe) and were provided with legal representation.
The same day police raided and tried to evict Radykalne Ogrody Działkowe squat where one of the arrested comrades lived and search for evidence. According to the "Reclaim The Fields" website: "Cops arrived between 4 and 5AM. They invaded the squat area by cutting fences and demolishing the gate with a forklift. Six undercover police invaded people's rooms. One friend woke up and found himself surrounded by cops questioning him about his identity. They then proceeded to search the entire squat." (more…)
Tags: Arson, Poland, Repression, Sabotage, Warsaw
Posted in Social Control
Thursday, May 26th, 2016
Barricadas lunes 23 de mayo, 7am.
El 22 de mayo del año 2009, muere nuestro compañero anarquista Mauricio
Morales, mientras intentaba activar un artefacto explosivo que dejaría
en la escuela de gendarmería de $hile, institución destinada a formar
seres que humillan y torturan han trasgredido la ley de los poderosos.
A 7 años de su muerte abrazamos sus ideas de libertad y de rechazo a
gendarmería y/o cualquier institución o símbolo de autoridad.
La memoria de nuestrxs compañerxs es vital para continuar la lucha
contra este sistema de dominación.
POR LA AGUDIZACIÓN DE LOS CONFLICTOS
POR LA EXPANCIÓN DE LOS FOCOS DE INSURRECCIÓN
QUE SE EXPANDA LA REVUELTA ANÁRQUICA
A 7 AÑOS DE NUESTRO COMPAÑERO MAURICIO MORALES, CONTINUAMOS LUCHANDO
CONTRA TODA AUTORIDAD Y POR LA ANARQUÍA. (more…)
Tags: Arson, Burning Barricades, Chile, Mauricio Morales, Santiago
Posted in Direct Action
Friday, April 29th, 2016
More info on InsurrectionNews:
Blaze last night at Korydallos prison to threaten the Golden Dawn neo-nazi prisoners, disturb the order, humiliate the warden Vassilis Lambrakis and solidarity to Fabio and Tony in solitary confinement. Fire started in the women's section where political prisoners in isolation are held.
Riot cops and special forces were summoned and the two imprisoned comrades taken.

Fire to the Prisons
Tags: Arson, Athens, Fabio Dusco, Greece, Korydallos Prison, Tony Nebiu
Posted in Prison Struggle
Tuesday, April 26th, 2016
On the evening of 23 April a group of saboteurs set fire to high-voltage cables at the Hambach site, preventing the place from working. Hambach forest is the scene of a protracted ecological battle against the company RWE, which is aiming to destroy the forest for coal mining. The construction operation will now suffer huge financial losses due to the successful arson.
Find the communique in German here:

http://linksunten.indymedia.org/de/node/176670
Tags: Arson, Germany, Hambach Forest, RWE
Posted in Eco Struggle
Monday, April 18th, 2016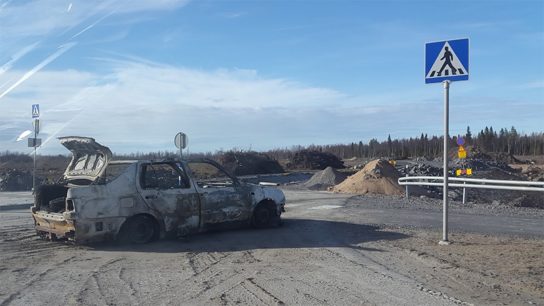 Fennovoima-Rosatom tries to build a new nuclear power plant in Pyhäjoki, Finland. Nuclear energy is by every standard outdated technology, financially unprofitable, it increases the centralization of energy production and produces hazardous nuclear waste for generations to come.
On top of it all, Fennovoima-Rosatom is destroying unique nature as we speak and messing up the Bay of Bothnia. The chosen location is a crappy one for a nuclear power plant by any means. Close to sea, close to groundwater. For example, the builders need to lift the ground level with meters to even get to start the constructions.
On Tuesday 12/04 at 6 in the morning we blocked the traffic of the only road leading to the construction site, and the landfills from continuing, by burning a crappy car filled with car tires etc. In the middle of that Fennovoima road.
The paintjob on the car said "Dialog Devil". That's our dialogue and that's what we have to say to everyone demanding dialogue with Fennovoima-Rosatom.
We also want to send our solidarity to Hambach forest occupation where comrades are battling against the climate killing energy giant RWE despite heavy repression against them. One struggle!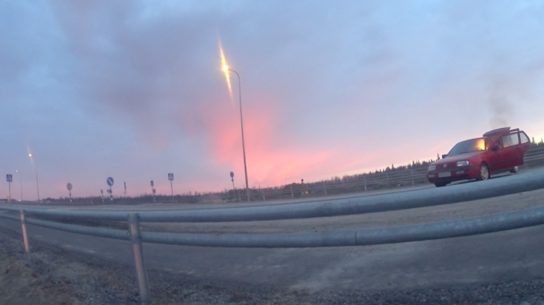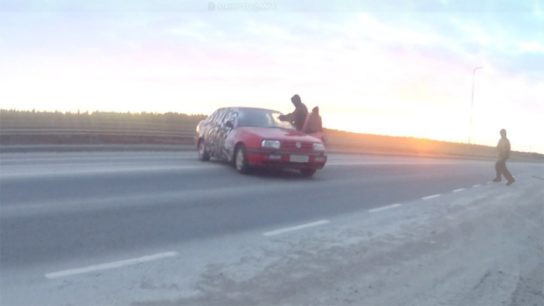 Tags: Anti-Nuclear, Arson, Barricades, Blockade, Burning Barricades, Ecological Destruction, Fennovoima, Finland, Hambach Forest, Pyhäjoki
Posted in Eco Struggle
Sunday, April 10th, 2016
Атака на Голосеевский райсуд (08.04.2016)

Check out the communique and the video:
https://vimeo.com/162263722

Tags: Arson, Kiev, Ukraine
Posted in Direct Action
Sunday, April 3rd, 2016
We take responsibility for the arson attack on the 29th of March. We burned two cars of the private security company Securitas. With this attack we want to bring to light the co-operation between Securitas and Fennovoima nuclear energy company that is known for its destruction of the environment.
The 1st of April will be the first day that Securitas will be in charge of the construction site in Hanhikivenniemi, where the latest nuclear plant is meant to be built.

With this arson we welcome Securitas to Fennovoima!
We want to send our solidarity to Monica and Francisco.
And all the prisoners of the world!
Tags: Arson, Car Burning, Fennovoima, Finland, Francisco Solar, Hanhikivenniemi, Monica Caballero, Securitas
Posted in Direct Action
Saturday, March 26th, 2016
Bomba de ruido en visita nocturna a sede de la UDI.
Madrugada del 23 de Marzo – Santiago
Cuando nos declaramos a viva voz enemigxs de la dominación, contrarixs a la forma de vida impuesta vigilada y controlada por el poder, es una obligación aportar en aquel camino elegido, aportar desde la multiformidad de la acción directa en pos de la lucha. Es así como queremos vivir y lo demostramos con acción antagónica, diciéndole a las policías, al poder. Aquí estamos, existimos, no nos rendimos. Multiplicaremos nuestro accionar, lo potenciaremos, para atacar cuando menos se lo esperen. (more…)
Tags: Arson, Burning Barricades, Célula por el Incendio Javier Recabarren, Chile, Claudia López, Francisco Solar, Freddy Fuentevilla Saa, International Solidarity, Javier Recabarren, Jhonny Cariqueo, Juan Aliste Vega, Lambros Foundas, Marcelo Villarroel Sepúlveda, Mauricio Morales, Monica Caballero, Santiago, Sebastián Oversluij Seguel
Posted in Direct Action
Thursday, March 24th, 2016
Modern capitalistic society is a society of control. And this because the system engages in an unending and total attempt to maintain the normality of social life. From this condition of control, the technology of surveillance could not be absent, as the technological development is directly related to the progression of authority and its ways it imposes itself.
State and capital, as active users of technology, shape this form of surveillance, aiming at profits and their own further imposition. From cameras in big cities and public transport for the security of those "who have nothing to hide" (and for this reason prefer to show everything) to the cameras in work spaces in order to "secure" our productivity and normality in consumerist procedures. And from the new biometric IDs to personal files on everyone, which is formed in relation to visited internet sites, preferences, music listened to, books read, financial transactions, data that is recorded by various colossal companies that have identified a big part of our lives with targeted ads and product promotion for consumption.
As years pass, as much as technology develops, we will have to deal more and more with inventions that, consciously or not, contribute to repression. This is a logical consequence since a big part of research on this field is financed and guided by state and inter-state authorities, as well as multinational companies that try to solve their concern for better fortification and profit production. (more…)
Tags: Arson, Greece, Grigoris Tsironis, Sabotage, Tasos Theofilou, Thessaloniki
Posted in Direct Action