Posts Tagged 'Arson'
Tuesday, January 13th, 2015
received anonymously (translation); click here for video from the action:
"Progress and science have been declared enemies of nature and freedom, managed for those who possess power and want to keep it on their side no matter what it takes. A fundamental part of its development is the separation of humans from the rest of nature, and one of the practices to generate its development is the incarceration and use of animals. We decided to start a fierce campaign against animal testing in particular at the National University of La Plata, where they experiment with cats, guinea pigs and other animals. (more…)
Tags: Animal Liberation, Argentina, Arson, National University of La Plata
Posted in Eco Struggle
Tuesday, December 23rd, 2014
[Noticias de la Guerra Social]
El 24 noviembre del 2014, cerca de las 13:30 Hrs distintos encapuchados
cubiertos con overoles blancos avanzan sigilosamente hasta las puertas
de la Brigada de Homicidios de la Policía de Investigaciones, ubicada
en calle Condell a escazas cuadras de la Universidad Academia de
Humanismo Cristiano.
Una vez en los accesos al cuartel, instalan cadenas y candados
bloqueando los accesos, para luego lanzar bombas molotov en su interior
e incendiar un auto particular de un detective que se encontraba en la
entrada de la guarida de investigaciones.
El ataque fue gravado circunstancialmente por una oficina vecina al
lugar del ataque mostrando lo rápido y directo de la arremetida
incendiaria, sin que la policía alcanzara a responder ni abrir las
cadenas y candados. (more…)
Tags: Arson, Brigada de Homicidios de la Policía de Investigaciones, Chile, Santiago
Posted in Direct Action
Thursday, December 11th, 2014
Edited version via InterArma:
*NEITHER HOLIDAYS – NOR UNIVERSITY EXAMS*
*FIRE TO PRISONS*
"I stand here as your declared and unrepentant enemy, I do not beg for
your lenience, I do not seek to engage in dialogue with you and your
peers. My values are at war with yours, so that every phrase I come out
with against you is a razor scoring the masks of your hypocrisy and
making clear the position and the role of each of us. You redact
hundreds of pages of files and you constantly form new cases, in order
to bury us in the prisons of your democracy, for decades. You are
preparing to impose "special detention conditions" on us, which is the
only coup missing from the pantheon of "special treatment" (prison
transfers, trials, laws), which you create to fight us. The simple laws
of physics dictate, that reaction is the consequence of action. Outside
this courtroom on free lands, there are rebelious people, comrades for
me, terrorists for you, who don't intend to tolerate our extermination,
without making you and your political supervisors bleed first. You can
take this as a threat if you like. I believe, that this is the cynical
reality. Each option has its own cost. I guess, that, as judges and
servants of the law, you would agree with me on this."
(Nikos Romanos)
Fragment of the statement at the trial for the robbery in Velvento, Kozani
In the frenetic and ever changing social reality that surrounds us, even
the scientific consultants of the bellwethers of the capitalist system
fall out in their predictions. In addition to the individual
geostrategic choices of their peer competitors (Palestine, Syria,
Ukraine, Iran, etc.) and some flaws and contradictions of the system
that appear to be sharpened during the (because of this) exacerbated
condition of the ongoing structural crisis, that which crumples the
fragile humanitarian masks of statists and refutes, constantly, every
certainty about the future, every myth concerning the omnipotence of the
state and any idea about the futility of the liberation struggle, is the
imponderable factor of the insurgents of this world.
The 'europeanisation' of the Greek prison system, the aggravating penal
repression of social struggles, the escalation of counter-terrorism
policy dictated by interstate police conferences about Justice and
National Security, the bounty on the heads of revolutionaries and the
recent legal establishment and announcement of the construction of a
high security prison (type C) in Domokos, that aims primarily at
prisoners involved in cases of armed revolutionary action, are all
"signs of the times" and expressions of class domination of the vast
majority of formal and informal social institutions controlled by the
State and Capital. The global and multi-level, capitalist and cultural
restructuring attempted, with the economic crisis as pretext and means,
requires social "peace", mass vassalage, individualization and above all
annihilation of "internal enemies".
There are, however, times when the analyzes are redundant, rage and
hatred for the established order become a stream that threatens to drown
not only the usurpers of our lives but also every indolent, hypocritical
challenger and inactive, indignant humanist. There are no excuses! We
are constantly looking for ways to escape the grid of imposition of
domination and strive to reclaim moments of an – in advance – alienated
life, deregulating and seeking to dismantle the clocks of the social
machine, while maintaining an open bet of anarchist revolution and total
rupture with the regime.
***
The imprisoned anarchist urban guerrilla Nikos Romanos, friend of
Alexandros Grigoropoulos, who was present at his murder by the uniformed
worm Korkoneas, is one of the dozens of anarchist prisoners of war of
the Hellenic Republic, who in recent years have faced the inquisitors of
the judicial mafia and the special treatment reserved for political
enemies of the system, and who boldly defended the project and the
values of Anarchy, taking responsibility and having the costs of certain
choices stemmed from them, regardless of the jumble of prosecutions
against them and the harsh conditions of incarceration, that have
implications on their physical existence and freedom.
Since 1st February '13 when he was arrested after a car chase following
the double expropriation of state money along with his comrades
G.Mihailidis, A-D.Bourzoukos and D.Politis in the city of Veria and the
province of Kozani, comrade Romanos, a member of the Informal Anarchist
Federation, is now among those anarchist prisoners who found themselves,
and among other people "accused" for participating in armed
revolutionary groups, temporarily in Greek prisons for bank robberies,
which were chosen as a means of disengagement from the established,
time-consuming living solution of wage slavery and of the strengthening
of the urban guerrilla warfare.
From the juvenile prison of Avlona, he participated in the national
exams and he is now considered – by law – as a student at TEI of Athens
and he is entitled to prison leaves in order to attend the courses,
which the State refuses to grant him. (A similar example is the case of
political prisoner Hercules Kostaris, convicted for involvement in the
Revolutionary Organization 17 November, who has taken over 200 regular
and educational prison leaves in recent years, which were stopped on
the pretext of the runaway of Christodoulos Ksiros). Not having any
illusions about the institution of education as a tool of subjugation
and domestication of people in the hands of Domination and the role of
the university as a factory that produces docile slaves in the service
of the capitalist profitability and normality, our comrade, who is now
in Korydallos prison refusing to unravel the maypole of the
responsibilities of the prison council and the special interrogator
Nikopoulos, is on a hunger strike since November 10th demanding the
granting of his "right", for a breath of freedom!
Factual solidarity and support in this difficult struggle have already
been expressed by the others "arrested for Velvedo case" also with a
hunger strike inside the walls. At the same time, a broad, diverse
solidarity movement has developed throughout the Greek territory, while
public propaganda moves and nocturnal "interventions" are made abroad.
***
Remembering the axiom of uncertainty in the natural world and rejecting
the classical, deterministic conception of the proletarian onslaught at
the sky, the centralized organization models of the Struggle and
optimistic estimates of a shallow, reformist, idealism of "maturation of
the objective conditions", we are there where ideologies impact on the
brutal reality; where the existential rebellion is combined with
horizontal and autonomous class struggle with internationalist and
anti-state character, as it is manifested in each specific
circumstances, becomes an integral part of the social war and seeks to
place anarchist characteristics for the war against Authority and the
liberation of Man and Nature; there where our conventions and
contradictions in everyday life do not prevent us from seeing the
tactical utility and to recognize the partiality of "intermediate
struggles" and the necessity of organizing the anarchist struggle as a
whole, individually and collectively; where only those who were
imprisoned, tortured or killed for devoting themselves to the project of
social liberation, without bowing their heads, can perceive the nobility
of soul and motivation in all its glory; where the consolidation of fear
as a permanent emotional state does not find fertile ground and its
every germ is forcibly uprooted as a parasite that sucks the evergreen
tree of the Revolution; where, at present, the theory meets practice and
any trace of doubt regarding answer to the dilemma of the Selection of a
submissive life or a life in Battle is nullified in front of the rise of
anarchist conscience; we are at the point of no return …
We are inspired by the shooting stars and the fortitude of the people
who fought with the Beast. By night embracing us we swoop in hostile
grounds, creating oases of fire within the social desert. So, in the
morning of 1/12, we torched a school bus owned by St. Lawrence College
in Ag. Dimitrios. Also, we claim responsibility for the attack with gas
canisters, shortly after midnight on 6/12, against a car owned by the
construction company Aktor Facility Management (subsidiary of ELLAKTOR
group, known for its involvement in mining gold in Skouries, Halkidiki
and several cases of pillaging of the natural environment). The attacks
will continue.
*VICTORY TO THE STRUGGLE OF NIKOS ROMANOS*
*STRENGTH TO THE ANARCHIST PRISONERS ON HUNGER STRIKE*
*SOLIDARITY WITH THE WANTED COMRADES AROUND THE WORLD*
*LONG LIVE THE FREE MAN*
*LONG LIVE ANARCHY*
For the widespread (anti) – social insurgence,
*Eternal students at the University of Anarchist Insurrection/FAI – IRF*
Tags: Andreas-Dimitris Bourzoukos, Arson, Athens, Car Burning, Christodoulos Xiros, Dimitris Politis, Eternal students at the University of Anarchist Insurrection/FAI – IRF, Giannis Michailidis, Greece, Hercules Kostaris, Hunger Strike, Informal Anarchist Federation (FAI), International Revolutionary Front, Kozani, Nikos Romanos, Solidarity Action, Velvento, Veria
Posted in Direct Action
Friday, December 5th, 2014
On Tuesday the 2nd of December 2014, we burned three vehicles belonging to members of the European Parliament. The attack took place near the Général Lartigue Avenue in Brussels.
This action is an act of offensive solidarity with anarchist Romanos, currently on hunger strike.
Solidarity with the anarchist and revolutionary prisoners, in Greece and everywhere else.
Solidarity with the fights of the comrades in Chile.
–
via contrainfo
Tags: Arson, Belgium, Brussels, International Solidarity, Nikos Romanos, Solidarity Action
Posted in Direct Action
Friday, December 5th, 2014
In the night of 1st of December, we broke down windows of a road roller and cut its cables in the Kocasinan district of Istanbul, with the intention to show our solidarity to anarchist prisoner Nikos Romanos, who is on hunger strike since 24 days and then to Yannis Michailidis, Andreas-Dimitris Bourzoukos, and Dimitris Politis who have started a hunger strike in support of Nikos Romanos in the Greek prisons.
Then we spray-painted some slogans on a wall close to the target: "Nikos Romanos" and "Fire to the prison cells".
With this small action, we also salute the warriors who have fallen while not giving way to ISIS butchers, we salute rebels who refuse to stay as protestors, then fight
against cops and attack to the targets of repression and exploitation in Mexico, France, Ferguson and Santiago, we salute ALF-ELF cells who increase actions and attacks in Istanbul and around, we salute the insurrectionaries who got bored of being armchair revolutionaries, who got bored of insurrectional vaporings and Fetishism of Organisation and who got bored of losing their anarchic imagination in
the swamp of liberal opposition.
Until freedom of Nikos Romanos and all anarchist prisoners of war around the world…
Solidarity… Attack… İnsurrection…
Until Total Liberation…
Social War!

Earth Liberation Front (ELF) / Insurrectionary Solidarity Faction
–
Tags: Andreas-Dimitris Bourzoukos, Arson, Dimitris Politis, Earth Liberation Front, Earth Liberation Front (ELF) / Insurrectionary Solidarity Faction, Giannis Michailidis, International Solidarity, Istanbul, Nikos Romanos, Solidarity Action, Turkey
Posted in Direct Action
Wednesday, December 3rd, 2014
Act for freedom now! receives anonymous:
Anarchists in action. Today 3/12/14 we set on fire a security car in London in solidarity with our brothers Nikos Romanos. Yiannis Mixailidis, Andreas-Dimitris Bourzoukos, Dimitris Politis, they are on hunger strike in Athens.
That night we kept our eyes fixed on the horizon and saw many falling stars drawing their own chaotic paths. And we counted them over and over, we made wishes, calculated the odds. We knew that our desire for a free life had to step over all that oppresses us, murders us, destroys us, so we dived into the void just like the shooting stars we were observing. Since then innumerable stars have fallen, perhaps it's time for our star to fall, who knows? If we had the answers ready, we wouldn't have become what we are, but selfish bastards who would teach people how to become rodents that eat each other as they do today. At least we still remain implacable and stubborn like the people of our kind. And those of us who closed their eyes in pain and travelled far continue to keep their eyes stuck on that night sky we also observed. And they watch us fall, beautiful and shining stars. Now it's our turn. Now, without hesitation, we fall.
We salute! our comrades of F.A.I. Torches in the Night – Earth Liberation Front.
SOLIDARITY MEANS ATTACK!
FAI – Fires on the Horizon – Nikos Romanos
–
Updates about the hungerstrike
Tags: Andreas-Dimitris Bourzoukos, Arson, Dimitris Politis, FAI - Fires on the Horizon – Nikos Romanos, Giannis Mihailidis, Informal Anarchist Federation (FAI), London, Nikos Romanos, Solidarity Action, UK
Posted in Direct Action
Friday, November 28th, 2014
Last night (25/26 November), the first spark of fire that burns today in France, Greece and USA, illuminated the space under a car of the city-police, which was parked outside the police station in Mazowiecka street in Warsaw.
We'd chosen the target not by accident.
The institution of the City Police – summoned in purpose of cleaning the city-parks had become a paramilitary group, who 'cleans' mainly homeless people, hustles kids that smokes weed or skip school. So called routine 'interventions' usually end up with brutal violence – petting boys in uniforms' egos.
That's how on the 3rd of October, the City police's intervention ended in Szczecinek – by dumping a 20 year old beaten to a pulp in front of hospital. For that, or for other interventions of this type – no policeman was ever held responsible – so we're taking the justice in our hands.
It disgusts us that they're walking the streets with impunity and pride. Just like the murderer of Max Itoya – Artur Brzeziński, Mike Brown's executioner – Darren Wilson or the killer of Remi from Testet. There is no, and there will not be the agreement for that from the part of the society. We will not leave them alone, because when they put on their uniforms, they stop acting as people, they stop being people in our eyes, they're the bodyguards of the government – the money advocate.
Politicians recently are racing in postulating to dissolve the city-police. Neither the orders from up there, nor any reform that would dissolve the services under a concrete name (not holding responsible these bandits in uniforms and in the same time helping to grow other services) is not going to be enough for us.
The idea of dissolving the city-police that we're putting into practice is a physical confrontation. It will not leave out the police, prison guards or border police. We know, that we're taking part in the global wave of resistance that already takes place and will grow stronger, also here – in Poland. So, don't be afraid to act! let them finally feel the fear, that they're serving us. Destroying the law enforcements isn't difficult – start from killing the cop in your own head.
Our symbolic action we're dedicating to the memory of Remi killed by the cops in french Testet and to friends behind the bars.
Instead of a minute of silence – a whole life in struggle!
Fire to all the prisons, closed detention camps, psychiatric wards and police stations!
Queer Meinhof/ FAI (Informal Anarchist Federation)
Tags: Arson, Fuck the Law, Fuck the Police, Informal Anarchist Federation (FAI), Poland, Police Bastards, Queer Meinhof / FAI, Solidarity Action, Warsaw
Posted in Direct Action
Friday, November 28th, 2014
[Noticias de la Guerra Social]
Durante la madrugada del 9 de Noviembre del 2014, anónimos lanzaron
cocteles molotov contra una automotora Nissan Cidef consiguiendo
incendiar y expandir el fuego por al menos 3 automóviles
Al lugar llego la policía y bomberos, quienes impotentes observaban como
el fuego consumía los vehículos a la venta que culminaron con una
perdida económica evaluada en cerca de 17 millones de pesos.
El ataque incendiario se produjo en la esquina de 5 de Abril con la
calle Aeropuerto, cerca de la Villa Francia y no se encontraron ni
panfletos ni adjudicaciones del ataque.
Durante la madrugada del 17 de Noviembre del 2014 anonimxs atacaron con
artefactos incendiarios la automotora portillo, ubicada en la comuna de
La Reina. El fuego se expandió sobre un auto de lujo, el artefacto
incendiario –según la prensa y la policía- habría estado compuesto por
balones de camping gas y botellas de plástico con combustible.
Esta vez tampoco se encontraron ni panfletos ni rayados relacionados con
el ataque incendiario.
Tags: Arson, Car Burning, Chile, La Reina, Nissan, Santiago
Posted in Direct Action
Wednesday, November 26th, 2014
325 receives and transmits:
French police have killed Rémi Fraisse while they try to rout a combative forest occupation that prevents the Sivens dam. We have burned a vehicle in the service of the French multinational GDF (who work towards the new nuclear reactor not far away at Hinkley Point on top of other nuclear projects in many countries, force dams on irreplaceable Amazonian indigenous lands with the support of Brazil's military, provide facility management for the police force in this region, run utilities on the Shetland Islands for one of the biggest oil and gas terminals in Europe, manage multiple French prisons, and all around design technologies which attempt to disguise industrial capitalism as sustainable development for the same banks and commercial entities as always).
This was in the Long Ashton area, where we then also burned an audacious 4×4, two luxury sports cars, and a vehicle of OCS (who are considered one of the top security companies in the UK, providing guard personnel, patrols, CCTV instillation and monitoring, etc.). (more…)
Tags: Arson, Bristol, F.A.I. Torches in the Night -Earth Liberation Front, Nikos Romanos, Rémi Fraisse, UK
Posted in Direct Action
Tuesday, November 4th, 2014
Act for freedom now! receives:
When the enemy seems to be standing up well and uses all means to crash anything opposite, then the attack towards him, his symbols and infrastructures is the only way. Wherever we look we see various types of authority, either called cop, judge either called school, bank, church, prison. Institutions of a rotten system that every day remind us that we are not free. Their real value will be shown with their destruction and through ashes and wreckage their beauty will be shown. No more compromises fit here right now. Their place should be taken over by determination and continuous struggle.
In the undeclared war which is taking place, when there isn't direct usage of weapons, then other means are mobilised in order to hit the mind and the soul of every unrepentant revolutionary.
The new high security prisons are aiming right at that, his extermination. When its their turn, judges and prosecutors give revengeful long sentences. Prosecutor Olga Smirli confirmed her role at the trial for the ATE bank (now Pireaus Bank) in Pyrgetos Larisa giving away 16 years to G.NAXAKIS and G.SARAFOUDIS, with the only evidence being their political identity.
Either the two comrades participated in the robbery, either not, we are with them and we dedicate them the attack on Pireaus Bank on the early hours of the 10th of September in Sykies, Thessaloniki. This act is a small sign of solidarity and a message that everything continues…
Lets fight, everyone in their own way, forcefully, with the means that they have, till the end, until total liberation.
STRENGTH TO N.MAZIOTIS AND P.ROUPA
A RAISED FIST TO ALL REVOLUTIONARIES
(10/9/2014)
Tags: Arson, Giannis Naxakis, Greece, Grigoris Sarafoudis, Nikos Maziotis, Pireaus Bank, Pola Roupa, Solidarity Action, Thessaloniki
Posted in Direct Action
Tuesday, October 28th, 2014
325 receives and transmits this report:
The early hours of October 24th, we hit "Bristol" bar in Davaki Street, Ampelokipous with an incendiary device. This specific shop belongs to a well known member of Golden Dawn who was also a candidate in the local elections, Christos Zervas, and it is one of the Golden Dawn's deputies and other fascists' hangout.
This action is devoted to the memory of Pavlos Fyssas, of Shehzad Luqman and the other innumerable immigrants who were victims of state violence, expressed in the sea and land borders.
We carry on the antifascist struggle in the streets and in the squares and we wait nothing from the state "antifascism" and its fellow travelers, they are our enemies instead.
We don't forget the struggle's imprisoned and prosecuted ones.
Preventative arrests, persecutions and torture will not go unanswered.
(Anonymous claim of responsibility)
Translation by VbD
Tags: Anti-Fascism, Arson, Athens, Christos Zervas, Golden Dawn, Greece, Migrants, No Borders, Pavlos Fyssas, Shehzad Luqman
Posted in Anti-Fascist, No Borders
Saturday, October 11th, 2014
325 receives and transmits:
Early Tuesday morning (7 Oct. 2014), a German federal police car was set on fire at the Badischer Bahnhof (train station) in Basel. The car was completely destroyed. This action was in solidarity with the struggling refugees in Berlin and everywhere!
There, as here in Switzerland, people are degraded to problems for which a solution should be found. The solutions of politicians and authorities, as well as the cops as their henchmen, always mean confinement to detention centers, repression and often deportation to peoples' countries of origin, or third countries.
The struggle of migrants, which they have determined for themselves against the systematic oppression they face, encourages us and at the same time, shows us the need for us to contribute to the sabotage of this repression machinery.
This action is also our response to the upcoming European police operation 'Mos Maiorum' (13th-26th Oct. 2014), which will attempt to have 18,000 police, in cooperation with Frontex, control and arrest as many people without residence permits as possible.
Active solidarity with all struggling migrants in Berlin and everywhere!
translated from: http://switzerland.indymedia.org/de/2014/10/93441.shtml
Tags: Arson, Basel, Berlin, Car Burning, Frontex, Migrants, Mos Maiorum, Racism, Solidarity Action, Switzerland
Posted in No Borders
Sunday, October 5th, 2014
Translated from linksunten.indymedia.org by anarchist comrade Marco Camenisch. Translated from Italian by act for freedom now.
In the night between 26th and 27th July 2014 we tossed molotov bottles at several 'Bayer AG' vehicles – and with this action we started off our Tendency of Eco Struggle.
Poisoning and exploiting
During the first world war 'Friedr. Bayer & Co' (which later became 'Bayer AG') produced explosives and chemicals for war purposes. Their troubles in getting supplies were not due to humanitarian scruples but to security risks and lack of labour force. As soon as the war turned into trench warfare gas begun to be strategically used as a weapon, and Bayer begun to supply the army with tens of thousands of tons of various types of gas.
Not content with their turnover, 'Friedr. Bayer & Co' also formed alliances with other chemical companies in a 'community of interest' following the example of the American Trusts of the time.
The economic crisis that followed the war didn't last long, and in 1925 nine chemical companies led by 'BASF' formed 'JG Farben'.
At the beginning (1926), 'JG Farben' didn't embrace the aspirations of the national-socialist party, but then they realized that their production of synthetic petrol couldn't function without funding. Back in 1932, a year before the electoral victory of NSDAP (German National-Socialist Workers' Party), the company made contact with Hitler and obtained his support. In order to guarantee stability in their profits, 'JG Farben' thought it useful to contribute to the electoral expenses of the NSDAP with about 400,000 Reichsmark (German marks). Since then their cooperation with the Nazi regime flourished almost without frictions.
Almost the entire board of directors of the company became members of the NSDAP, while monopolization made 'JG Farben' the fourth most important company in the world.
During the Spanish Civil war, the company provided financial support to Franco's troops, while in Guernica the Luftwaffe had the chance to test an incendiary bomb produced by 'JG Farben' on civilians. During the second world war 'JG Farben' was committed to the production of war weaponry and was one of the responsible for the murder and exploitation of prisoners in concentration camps.
As soon as 'JG Farben' discovered a suitable site for production near Auschwitz, they started to seek for a hard labour force. In February 1941 Carl Krauch, an important member of 'BASF'/'JG Farben', wrote a letter to Hermann Goring asking him to convince Himmler to use prisoners in concentration camps as slave-workers in the plant of Buna. From the collaboration with 'JG Farben' Himmler expected the supply of materials necessary to expand the concentration camp in Auschwitz. In this regard he ordered Karl Wolff to forge a strict alliance with 'JG Farben'. (more…)
Tags: Arson, Bayer AG, Biotechnology, Germany, Molotovs
Posted in Direct Action
Sunday, October 5th, 2014
Anarchists in Australia issue a call out for decentralised attacks, disorder, riots and sabotage around the topic of the G20.
The G20 is meeting in Brisbane in November. This elite decision making body epitomises the undemocratic nature of state-sponsored global capitalism; delegates from the 20 wealthiest economic zones make self-serving proclamations which affect everyone, without open discussion or oversight. …
We are calling for people to form affinity groups in their home towns and
autonomously organise decentralised direct action against the G20 and the capitalist occupation of our lives.
See you on the streets!!
http://planbg20.wordpress.com/
Tags: Arson, Australia, Brisbane, Fuck the Law, G20, Insurrection, Riots, Sabotage
Posted in Autonomy
Sunday, October 5th, 2014
People of Kobane, hear us. In this bitter hour of the inhuman threat, we see you freedom lovers in the world and we call to you: take courage. The city of Kobane is surrounded by the ISIS-murderers. On three sides ISIS confronts the city. If they take the city. it will inevitably lead to a massacre of the remaining Kurdish people on site. They have no way to flee to the north, because there already waiting are the Turkish army …
Turkey will decide at the present day on the extension of the 'anti-terrorist' struggle. This will mainly affect Kurdish people in Syria, which they as well as the PKK (Kurdish Peoples Party) stand on the Turkish terror list. Turkey's fear of the Kurdish people is greater than of the ISIS-fighters. For example, Turkey supports the ISIS-fighters to their best of their will, for example, at border crossings to Syria or arms shipments that were observed by Kurdish people, or the medical care of injured ISIS-fighters in Turkish territory. On the Turkish side of the border, the Turkish army is using force of arms against all those Kurdish people trying to come to Kobane to oppose the corruption. Clashes occur daily there between Turkish security forces and Kurdish people who come from all over Turkey to help the trapped fighters of YPG in Kobane.
Tonight we have attacked the Turkish State in the NATO hinterland to brand it as an inhuman actor in this conflict. Two vehicles of the Turkish State – representatives of the Embassy are burned … At the same time, we appeal to everyone, not to stand idly by, ignite the solidarity for our brothers and sisters.
We tremble with the combatants, but their determination is our courage. We will not abandon the ideals and freedom. Maximum global solidarity!
Long live freedom!
In Memory of Berivan Sason, fallen but never dead!
Commando Berivan Sason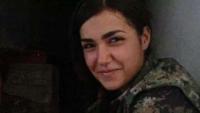 NB: Ceylan Ozalp (Code Name: Berivan Sason) was an active fighter and leader with several comrades in the northern Syrian Kurdish city Kobanê in armed resistance against the ISIS/Daesh.
Tags: Arson, Berlin, Car Burning, Commando Berivan Sason, Germany, International Solidarity, Islamic State in Iraq and Syria (ISIS), Sabotage, Turkey
Posted in Direct Action