Posts Tagged 'Arson'
Saturday, June 22nd, 2013
Hidden inside a quiet business park in Portishead, just outside Bristol, is a UK Border Agency office from where an immigration crime team work with police, including launching raids in the south-west. We visited Thursday night into Friday (with the death of anarchist Carlo Guiliani in combat with police during the G8 summit 12 years ago still fresh in our minds) to set fires that damaged the building and burnt 6 vehicles stationed there – 3 cars, 2 blacked-out people carrier vans (known to be used for dawn snatches of immigrant family groups) and 1 large van. The border regime mercenaries draw the attention of our total contempt the same as any other cop does, and now this long arm of the State has felt that we are close and we don't stop.
A couple of weeks earlier, high noon on Sunday 2nd at a Tascor corporation depot at a Cribbs Causeway/Patchway area trading estate, 2 minibuses with barred passenger windows had their windscreens smashed and multiple dents to the bodywork of the cabs. Tascor (formerly Reliance Secure Task Management) work for the Border Agency and Border Force to 'escort' detainees between immigration prisons and to their deportations, utilizing the consequence-free violence their position furnishes them with such as during the recent forced removals of Marius Betondi and Raul Ally, and are the largest private sector provider of this 'service' worldwide (having taken over these duties in the UK from Group 4 Security in 2011). They also run designated holding rooms and short-term holding facilities throughout the UK as well as for UK border forces in Calais and Coquelles, France.
Capitalism profit greatly from a pool of cheap migrant labor, including known 'illegals' who are even more vulnerable to the bosses' blackmail. The State criminalizes those they decide are non-productive, utilizing poisonous nationalism to further divide the exploited (like the recent wave of hatred against anyone thought to appear 'Muslim') and to win elections. The 'lucky' migrants get to arrive in the slums of alienated Western society and are thrust into competition with other urban poor, the 'unlucky' or unprofitable in deportation prisons, in both cases governed by fear and racialized policing. However this sorting of human bodies doesn't always go as smoothly as planned: mass hungerstrikes in Dutch detention facilities and heavy rioting on the streets of Sweden are recent instances of refusal to submit to such degradation.
We don't want a world where the tyranny of immigration bureaucrats can mean the difference between life and death, and unique beings are categorized and labelled to wring the maximum profit and subordination from us all. We don't want the indignity of every movement being scrutinized for the purposed of social control and enclosure, whether at borders, on the housing estates, in school or at work.
The legend has it that 'we' are lucky to live here, under democratic totalitarianism with some comfortable cages and technological addiction to escape from reality. But infact we are surrounded by depression, divides of wealth and race and gender, devoid of any earth-based selfsufficiency and dependant on the very machine we hate. This machine is only fuelled by rampant exploitation here and largely in the countries that migrants have fled from, creating a disgusting feedback loop as industrial civilization consumes everything in its path. We want to demolish the myth that there is any good place to be within a global system of interconnected misery.
Our struggle is far from the calls for peaceful (re)integration of 'illegals' into this faceless society. We also don't want to set ourselves up as advocates of homogenized groups of migrants, nor to sanctify them all for their specific oppression. Instead of abstract humanitarian charity, we search for the rebel affinity that may be found with migrants who maybe want more than a different regime, and who breach borders, wound guards and destroy prisons from the Mediterranean to Australia; that may be found in the hearts of those who self-organize, with or without accomplices.
Borders are just one significant expression of the currently dominant order, in a world of divisions both physical and psychological, of walls segregating populations, classes and imaginations. Our attack carries the seeds for another world. One where each and every creature is free to roam as they choose. Our borderless solidarity bursts out like our flames for people struggling for life unchained, for Gabriel Pombo da Silva, the CCF imprisoned members, comrades raided in Belgium, Marco Camenisch, Henry Zegarrundo, the anarchists held in Italy and Denmark, the dignified criminals, lawless fugitives, rebellious migrants and other socially disaffected who arm their rage to fight for liberation.
We would consider this our leaving gift to the UK Border Agency, due to be renamed and reorganized in the future – except it turns out it'll mainly be "the same jobs", "in the same places", "with the same mission". We know that their same regime of exploitation will continue more adapted and integrated, so likewise our war is perpetually against all forms of categorization and control that attempt to hinder free movement and wild life on Earth. Nothing is over, everything continues.
Borderless Solidarity Cell (Informal Anarchist Federation)
Tags: Arson, Border Agency, Borderless Solidarity Cell (Informal Anarchist Federation), Bristol, Carlo Giuliani, Conspiracy of Cells of Fire, Conspiracy of Cells of Fire : Imprisoned Members Cell, Gabriel Pombo da Silva, Informal Anarchist Federation (FAI), International Revolutionary Front, International Solidarity, Marco Camenisch, Migrant Struggle, Migrants, Portishead, Racism, Tascor, UK, UKBA
Posted in Direct Action
Tuesday, May 28th, 2013
Who believed that May would pass without direct action?
With fire we responded again.
Recalling the warrior Mauricio Morales and showing solidarity with the comrades imprisoned in Temuco, we set fire to the entrance of the National Association of Prison Guards, located at Santa Monica steps in downtown Cumming Street of the city of Santiago, on Sunday May 12. With this we add a new action to those which have already been claimed by other groups in "alternative medias" but silenced by the "official release".
We said in our previous attack on a property of Gendarmerie of Chile in January this year, we will not let the torturers be tranquil in their dens. The criticism of the authoritarian system and prison facilities cannot be separated from the direct attack on those who try to break the will of our rebel imprisoned comrades. Prison guards have decided voluntarily to live as enemies of freedom and are active contributors to domination, in exchange for shares of power that materialize in confinement and to humiliate our prisoners and their families.
In April, the anti-authoritarian comrade Ariadna Torres was punished in the Women's Prison of Temuco for insulting a judge and the jailers who seized a letter from the companion to the outside.
We sent a copy of this email again to the jailers of Chile so that they know that our anarchist comrades, anti-authoritarians and revolutionary prisoners in Chile are not for the authorities little games, and for every attack the answer will come back with fire, explosions and shrapnel.
We ask comrades of action why there has been a decline in violent activity against the enemy? One thing is the excitement of the street-fighting, but in May there has been fewer direct attacks and planned bombings, arson and sabotage against the wealthy, and also their system of misery. That the anti-authoritarian attacks are sustained over time and not by a police story, depends on us. That the option for revolutionary violence and its connection with the anti-authoritarian struggle (and its various forms of being implemented) be not just a youth fashion, depends on us. Boosting and multiplying the direct actions in quantity and quality depends only on our will.
In May, we remember those comrades murdered by the State in Chicago in 1886; to Daniel Menco, young man killed in 1999; to young Rodrigo Cisternas, worker killed by police in Chile in 2007 after being crushed by a police vehicle with a backhoe; to the compa Henry prisoner since May of last year in Bolivia [currently on house arrest]; and Nicola Gai and Alfredo Cospito, prisoners in Italy, imprisoned for a year accused of the shot to the leg of a boss of a scientific nuclear company.
Regards to the clandestine comrades and prisoners worldwide.
MAURICIO MORALES LIVES IN DIRECT ACTION.
Insurrectional Anti-authoritarian Cell Panagiotis Argyrou, affinity of the FAI/FRI. Chile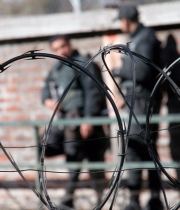 Tags: Alfredo Cospito, Arson, Chile, Conspiracy of Cells of Fire, Conspiracy of Cells of Fire : Imprisoned Members Cell, Greece, Henry Zegarrundo, Informal Anarchist Federation (FAI), International Revolutionary Front, International Solidarity, Italy, Mauricio Morales, Nicola Gai, Panagiotis Argirou, Santiago
Posted in Direct Action
Sunday, May 26th, 2013
Communique for incendiary attack on prison guards' gym
from materialanarquista, translated by waronsociety:
"One would say, then, that force is aimed at imposing the organization of a certain social order in which a minority governs, while violence tends to destroy this order. The bourgeoisie has used force since the dawn of time up to modern times, while the proletariat reacts to the present, through violence, against it and against the state" – George Sorel
THE GANG IS FURIOUS:
In this moment, the weight of history falls on our backs, the memory of the combatants, fallen and victorious compañerxs in a struggle since the origins of humanity, just like that, varying in material and quantitative terms. How to confront a corporeal beast with an unprecedented historical force; class society is a material and also an idea, essence and phenomenon present in humanity's individual and collective consciousness. The state, private property, its armed forces, the productive modes and the permanent, continual complicity of a humanity subject to the decisions of an omnipresent authority.
Tags: Anarchic Gang of Fury (B.A.C.), Arson, Chile, Fuck the Law, Incendiary Cell for the Subversion of the Existent, Molotovs
Posted in Direct Action
Friday, April 19th, 2013
On 20/03/2013 4 SUVs burned down in Voronezh. Police suspects arson.
On 02/04/2013 somebody threw an armed frag grenade into police station lobby in New Voronezh (Voronezh region). Cops arrested a suspect, no further news about his fate or reasons for action.
On 08/04/2013 2 Mercedes and Volvo were torched in Northern Moscow.
Source: https://blackblocg.info/ (all news come from corporate media)
Tags: Arson, Fuck the Law, Russia, SUV, Voronezh
Posted in Direct Action
Monday, April 15th, 2013
Arson and damage against Mitie vehicles in Bristol
Over the weekend we attacked 2 different Mitie vans. Behind the "Bush" pub 5 minutes from Templemeads, on a sunny evening during rush hour we took the opportunity to spike two wheels and pour paint stripper over the vehicle. We may have been seen, so what, good luck to em, we look just like everyone else.
We chose not to only push our struggle in the hours of darkness, recognising that our expressed anger, if witnessed, probably leaves a question in the mind of the onlooker. On this occasion we decided the risk was worth it. We also burnt a Mitie van in East Bristol, setting fire to it at night.
Mitie are one of several companies to have benefited hugely from the privatisation started by Thatcher in the 1980s. The outsourcing of immigration prisons such as Campsfield was one step in building an empire which now includes prisons, youth offender institutes, probation services, and extends to housing and "sustainable" energy sources. We are not asking for state controlled versions of the above. But calling for fire to all prisons – immigration, youth or otherwise.
As well as "detention centres", Mitie now run 6 different prisons -including 2 youth offender institutes. They are partners with the UK Border agency and the Prisons Service. Last year workers for Mitie in London went on strike after a pregnant worker was badly mistreated, and ended up in hospital whilst working for Mitie.
Across the country, people of all ages are placed in the "care" of Mitie and are beaten and denied their freedom. These small actions are in solidarity with them, and anyone who was on the streets this weekend.
Mitie claims to support people but their move into housing and energy do nothing to change the fact that they are intent on profiting from any aspect of life.
Fire to the prisons!
Burn in hell Maggie!
Tags: Arson, Bristol, Car Burning, Margaret Thatcher, Mitie, UK
Posted in Direct Action
Saturday, April 13th, 2013
ONE LESS ENEMY OF FREEDOM – LETS DANCE ON HER GRAVE!
To celebrate the news of Thatcher's death we smashed the front windows of the Conservative Club on Fishponds Road in Bristol in the early hours of this morning.
No matter how many tributes to a "great woman" appear in the media, we will never remember her as anything other than a vicious tyrant who rolled out the aggressive free market capitalism that flourishes today. The only good politician is a dead one!
Even compared to politicians in general Thatcher was one of the most hated figures in recent UK history, which is why she was under armed guard 24 hours a day until her death in the five star Ritz hotel. She led an all out assault on living conditions of the "underclass" she so openly despised, entrenching and enriching the ruling classes. We are only a few of the thousands upon thousands who are lining up to piss on her grave.
The response in Bristol to her death was immediate. The night the news broke there was a large street party in Easton to celebrate. When cops arrived to break it up they were met with bricks, bottles and burning barricades, injuring several state thugs and damaging a police vehicle. Our thoughts are with the arrested and the many more who defied the riot squad and their "pacifist" allies.
We attacked the club where Thatcher's arse lickers hang out, but don't get us wrong – political parties are only one face of the global dominant order. The same system of exploitation they represent churns on regardless of who hold office. Thatcher's day saw forceful revolt against her regime (the miners strike, the poll tax rebellion and more), and today's rulers can be sure that they also face our fury.
Thatcher actively supported and defended Pinochet's military dictatorship in Chile. Under the new economic dictatorship of democracy, rebellious students, Mapuche indigenous warriors and anarchist-subversives continue to be persecuted by the same fascist-era laws. We greet Marcelo, Juan and Freddy in Santiago high security dungeon, solid social fighters since the time of Pinochet's rule, and those targeted by the Chilean state's latest frame-up who are held in Temuco women's prison (also the scene of a recent riot).
Finally, our team takes responsibility for the recent arson on a police 4×4 in a garage off Pennywell Road in Easton. These servants of the state should never be safe on the streets from our attack, here as in Moscow, Cairo or Montreal.
FUCK THE LAW AND THE PEACE POLICE!
FOR A RIOTOUS SATURDAY 13TH EVERYWHERE!
WAR ON POLITICIANS, DEATH TO THE STATE!
–unruly anarchists (in the spirit of Millbank)
Tags: Arson, Bristol, Conservative Association, Conservative Party, Evil Dead, Fuck the Law, Margaret Thatcher, Sabotage, UK
Posted in Direct Action
Wednesday, April 3rd, 2013
We speak through fire. To remember and always keep on our mind, our sisters and brothers who are kidnapped by the state and seized behind bars. To continue the urban guerrilla warfare against enemies of freedom. Let the action speak for us.
On March 31, we burned down 3 buildings owned by the Major of Aceh Tamiang, Hamdan Sati. This is our first action done in Aceh, a region where religious fundamentalists in the past threw 64 punks into a rehabilitation camp and made them 'normal'. But, we want to clarify that we aren't Acehnese. We have no citizenship because we are borderless. We are the angry ones who light the fire of freedom.
Solidarity to the imprisoned members of CCF and Th. Mavropoulos, Camenisch, da Silva and Italian comrades arrested during the Ardire, Thor, and Mangifuoco operations and to Cospito and Gai. And last but not least, we salute our fire to comrades of Kozani 4 who were recently arrested.
War continues
Anger Unit
ICR/FAI/IRF
–
Mass media video links about the action:
video.news.viva.co.id/read/24435-kelompok-misterius-bakar-3-gedung-milik-bupati-aceh-tamiang
Tags: Aceh, Alfredo Cospito, Anger Unit / ICR-FAI-IRF, Arson, Conspiracy of Cells of Fire, Conspiracy of Cells of Fire : Imprisoned Members Cell, Gabriel Pombo da Silva, Hamdan Sati, Indonesia, Informal Anarchist Federation (FAI), International Conspiracy for Revenge, International Revolutionary Front, International Solidarity, Kozani, Marco Camenisch, Nicola Gai, Operation Ardire, Operation Thor, RO-FAI (Indonesia Section), Theofilos Mavropoulos
Posted in Direct Action
Tuesday, April 2nd, 2013
TORINO (21th of March)
During the night, an arson targeted the entrance gate of Geo Studio Servizi, an architects company which collaborates with the construction of a High Speed Train (TAV) in Val Susa.
TORINO (14th of March)
During the night, three banks were attacked with hammers. The windows got broken and the ATM's damaged. Tags were painted on the walls saying "Basta sfratti" (stop expulsions) and "Pagherete tutto" (You will pay for everything). According to the police, this attack could be a vengeance for the arrest of three comrades during an anti-expulsion action.
NAPOLI (4th of March)
During the night the Citta della Scienza (City of Science) in Napoli burned to the ground. This institution was well known, even beyond the national borders and consisted of a incubator for companies and a training center to promote the "scientific citizenship". In a few hours this monument of technological research was destroyed. According to the newspapers it was an arson.
TORINO (2th of March)
During the night, fire was put to an electrical cabin which provides electricity for the Office for Immigration in the corso Verona. Some say this attack could be linked to the recent revolts in the detention center for immigrants in Torino.
News translated from different Italian websites.
Tags: Arson, Geo Studio Servizi, Italy, Napoli, Sabotage, TAV, Torino, Val Susa
Posted in Direct Action
Saturday, March 23rd, 2013
The DB burns as a solidarity token for imprisoned anarchists in Greece!
In the early hours of February 27th, in search of a suitable target for a solidarity action with Nikos Romanos, Dimitris Politis, Andreas-Dimitris Bourzoukos and Yannis Michailidis, we spotted a vehicle belonging to the Deutsche Bahn in the neighbourhood of Prenzlauer Berg, in Berlin, which we wrapped up in the flames of international solidarity.
At the Deutsche Bahn AG (German railway corporation), ten managers of its subsidiary DB International have bribed public officials for engineering services contracts in several African States and in Greece, as the Frankfurt judiciary confirmed (according to a report of the 'Süddeutsche Zeitung' in April 2010).
Since 2008, in a number of legal battles, it has been documented that the German companies Siemens, MAN Ferrostaal and Deutsche Bahn have bought off politicians in Greece on a large scale, and thus 'financed' political decisions in their favour. So, the Siemens Group alone 'invested' since the mid-1990s and for about a decade 15 million euros per year in Greece, in order to propitiate in this way politicians of both major parties, Nea Dimokratia and PASOK.
While another Deutsche Bahn subsidiary, the Schenker logistics company, transports war supplies for the Bundeswehr (German armed forces), the Deutsche Bahn and the Defense Ministry are running a symbiotic cooperation: "The BwFuhrparkService GmbH has developed and implemented an economical and customer-oriented mobility concept for the German military. […] The company is a joint venture of the Ministry of Defense as well as the Deutsche Bahn AG. The BwFuhrparkService guarantees customized logistic concepts, reduction of costs and an increase of the utilization and provision of secure vehicles. As a mobility services provider of the German military, the company offers comprehensive experience in the management of more complex fleet vehicles and the production of individual fleet solutions" (excerpts from dbfuhrpark.de/index.php?id=131).
In January 2013, Dr. Rüdiger Grube spoke on the topic 'The Deutsche Bahn AG – Current Challenges and Perspectives' at the military academy of the German armed forces, while 61-year-old Moorburger—chairman of the board of the Deutsche Bahn in Berlin since May 2009—explained to over 200 guests the DB AG corporate strategy and processes.
On the 16th of April, the DB Mobility Logistics and the Berlin's BFD ('Vocational Advancement Service' for the education and training of military personnel) will hold a Soldiers Day under the motto 'No job like any other.' The event is aimed at men and women soldiers who are interested in being trained and employed by the Deutsche Bahn.
Therefore, we classify the Deutsche Bahn as a de facto belligerent power and component of the German military/NATO, that will not allow any social changes in Greece but will rather go to any lengths in order to assist the suppression of a revolt. The Deutsche Bahn is one of the German enterprises that profit from the crisis in Greece, as was its predecessor, the Reichsbahn during German fascism.
Last night's fire was meant to show to the prisoners Nikos Romanos, Dimitris Politis, Andreas-Dimitris Bourzoukos and Yannis Michailidis that we are aware of their arrest and torture on the 1st of February after the double robbery in Kozani, and here, in the heart of the beast, we will try everything possible for the downfall of capitalism and its helpers.
Long live Anarchy! Death to all States!
Chaotics of the Night
Tags: Andreas-Dimitris Bourzoukos, Arson, Car Burning, Deutsche Bahn, Dimitris Politis, Germany, Greece, International Solidarity, Kozani, Nikos Romanos, Yannis Michailidis
Posted in Direct Action
Sunday, March 17th, 2013
On Monday, 4th March an anarchist guerilla group burned down an ATM of the Commercial Bank in Trizinia area, Greece. The initial target was the expropriation of the ATM's money in order to fund anarchist direct actions but the incendiary device was not enough to breach the ATM's concrete armor, so the comrades burned it down. The anarchist guerilla group "Lone Wolf Cell, FAI-IRF" claimed responsibility of the attack by publishing a communiqué.
Tags: Arson, ATM Burned, Greece, Lone Wolf Cell / FAI-IRF, Sabotage, Trizinia
Posted in Direct Action
Sunday, March 17th, 2013
In the spirit of March 15's past, a cop car was set on fire on the evening of March 15th, at the Poste 33 police station in Parc-Ex, Montreal. This action was taken to complement the 17th annual demonstration against police (and their brutality) that took place earlier that day.
We also send a message of support to Marco Camenisch in his struggles from inside prison in Switzerland.
—
Note: Police units attacked the annual anti-police demo in Montreal this year and arrested over 200 people in a preemptive assault. The target of the demo was the downtown policestation.
Tags: Arson, Canada, Fuck the Law, International Day of Action Against Police Brutality, International Solidarity, Marco Camenisch, Montreal, Police Bastards, Police Brutality, Switzerland
Posted in Direct Action
Wednesday, March 13th, 2013
On Wednesday, 06/03/13, we paid a visit to yet another highway expansion site. We looked for a decent target and, upon finding one, put 6 litres of gasoline wired to a timer inside driver's cockpit. Alas, the excavator didn't burn out completely: as soon as flames burst out of the cockpit, workers rushed over and started fighting the fire. It appears that they have succeeded. Nevertheless, our point was made. In the following texts we'll speak of ways of assembling a primitive clockwork timer and how to upgrade on molotov fuse.
A traditional salute to our comrades. We express wholehearted support to every anarchist who's got in trouble. We hope you are reading this. Granted, this period is not the best one for you, but times will change and this will pass. Of course, no need to hope for a cloudless future. We wish you luck and all the best.
Our solidarity to all the imprisoned comrades from CCF, those on the run and under trial. To everyone who continues to fight, who refuses to bow down. To all our brothers and sisters who finds strength to resist. We dedicate this arson to you. We see you in the streets.
– Conspiracy of Cells of Fire : Russia, "Artificers cell"
Tags: Arson, Conspiracy of Cells of Fire, Conspiracy of Cells of Fire: Russian Cell, Russia
Posted in Direct Action
Wednesday, March 13th, 2013
We have received message from our comrades: "We have burned a big Ford nearby VDNKH subway station about two weeks ago. The car had a pass of Police ministry behind a windshield and it looks like a typical car granted for official of medium/high level. We proclaim solidarity with all our comrades prosecuted. And you, police pigs, should know that any of your aggression etc. against freedom fighters won't be unrequited."
Tags: Arson, Car Burning, Fuck the Law, Moscow, Russia
Posted in Direct Action
Wednesday, March 6th, 2013
The fire still burns. With the news of the release of two of the three Grand Jury Resistors ( Matt and it warmed our hearts but also filled them with anger. The state has taken parts of their life they will never get back. We also have not forgotten about the third resister (Maddy) and all the other nameless ones.
So last night, we decided to send a message that the release of our comrades will not stop our attacks on financial infrastructure, government and all others who oppress and take away our freedom. An unsuspecting bank, CIBC, had a Molotov cocktail thrown at it. The flames brought new life to our minds and destruction to the bank and a sense of insecurity to the Vancouver Police and the banks investors that they will never be able to stop us and that our attacks will increase.
The fire will always burn. Last night, we let that fire burn a financial institution that profits off the lives of the workers and foreclosures of families homes. Let this inspire anarchists and other radical elements of Vancouver, Coast Salish Territory, to attack and to attack now. We cannot be stopped.
Love, to all comrades from CST Vancouver
–
Also see: Attack on Seattle "Green Development" Solidarity with Grand Jury Resistors (USA)
Tags: Arson, Canada, CIBC, CST Vancouver, Grand Jury, International Solidarity, Molotovs, Vancouver
Posted in Direct Action
Monday, March 4th, 2013
On Thursday 13/02 the local office of the nationalistic party "Golden Dawn" in Piraeus was assaulted and surrendered in flames. The building, where the attack took place, is situated really close to the local police headquarters. The Nazi's shithole was destroyed completely. The group "Organisation Zero Tolerance" claimed responsibility for this action by publishing a communiqué.
Tags: Arson, Golden Dawn, Greece, Organisation Zero Tolerance, Piraeus
Posted in Anti-Fascist