Posts Tagged 'Arson'
Monday, September 2nd, 2013
Censored by the reactionary civil servants who administer Bristol IMC:
The full weight of our entrapment in within this society presses down on us unbearably. Un-named grief, frustration, loneliness and insecurity are the stories of our lives for the most part, stretching back generations. Like money talks loudest and silences all other principles, like concrete and tarmac isolate us from the rest of the planet as it sickens, and like the dominant culture casts humans as robots to work-consume-reproduce-obey… we are physically and emotionally smothered every day by a cheapened, artificial existence keeping us far from our dreams outside the mould.
Awakening anger pierces the fog of confusion from our alienated condition, seeking out worthy targets for the rage. Any notion of truce with the ruling institutions aiming at reform only conforms to the disarmed roles they would coerce us into. Immediate insurrection seems vital. We raise our masks and step out into the night to speak through a language as old as Domination: sabotage and conspiracy. (more…)
Tags: Arson, Barclays bank, Bristol, Freddy Fuentevilla Saa, Informal Anarchist Federation (FAI), International Solidarity, Juan Aliste Vega, Kozani, Marcelo Villarroel Sepúlveda, Marco Camenisch, Roger Clement, Sabotage, UK, Walter Bond
Posted in Direct Action
Wednesday, August 28th, 2013
Brief Message To The Enemies (Phoenix Project part 5)
We will not talk about "unfair prosecutions", about "the climate of terror against those who fight", nor about the "new totalitarian-ism" and things like that. That's because we know that none of these is new. These are simply snapshots of the ancient war between two incompatible words: on the one side lies the disgusting world of the Authority, of the submissive crowd and of the social cesspit and on the other side, the anarchist insurgents, the insubordinate fighters of the Negative, those who do not bow down to nobody. We will neither talk about the others. The ones who these days feel secretly happy and relieved. Now it's not the time nor the place to do so. They should bear in mind, however, that the time will come to talk about these things. –
– Freedom To The Wolves of The North
When we said "nothing is over", it's not only just words. Our threats will turn into action, time by time, every second we get the chance. And every time, we will bring our actions closer to your face. Directly in front of your guns, uniforms and prison – repressive tools that are often used to kidnap our revolutionary comrades. We will never let you sleep well, because our war is not over yet. (more…)
Tags: 'ICR-FAI-IRF / Free Mandylas and Tsavdaridis Cell', Alfredo Cospito, Andreas Tsavdaridis, Arson, Balikpapan, Conspiracy of Cells of Fire : Imprisoned Members Cell, Freddy Fuentevilla Saa, Fuck the Law, Hans Niemeyer, Indonesia, Informal Anarchist Federation (FAI), International Revolutionary Front, International Solidarity, Juan Aliste Vega, Kozani, Marcelo Villarroel Sepúlveda, Nadir Squat, Nicola Gai, Operation "SHADOW", Operation Ardire, Operation Thor, Phoenix Project, Sabotage, Spyros Mandylas
Posted in Direct Action
Wednesday, August 28th, 2013
August 27, 2013 – Responsibility claim for large-scale arson of £16million police firearms training facilities and vandalism of vehicles of the corporate security services:

The (under construction) Police Firearms Training Centre in Black Rock Quarry, Portishead, situated directly beneath the Avon and Somerset Police regional headquarters was our target on the night of 26th August, and we left it with flames licking high. The facility is intended to serve forces across the South West.
After climbing into the quarry we used accelerant to burn the major electrical cables at five junction points throughout the complex, and doused and lighted a pallet of electrical fittings and wires. More than twelve hours later the fire is still burning. It put smiles on our faces to realise how easy it was to enter their gun club and leave a fuck you signature right in the belly of the beast, with a curious fox as our only witness.
On the same night others of us attacked two vehicles near St George, Bristol with paint stripper and by slashing the tyres – one G4S and one Amey. In the UK and globally G4S provide prison and security services and profit from many aspects of prison society. Amey, in a joint venture with GEO transport prisoners in England and Wales and run courthouses in Bristol and North Somerset.
In the City around us the lock down increases; there is a general atmosphere of rising fear and powerlessness; there is more and more surveillance, and security guards with handcuffs appear on more and more doors. Tensions across the world are simmering as people lose faith in the system. As a response to this insecurity the state is militarising it's police with firearms, remote control drones and 'non-lethal' weapons that regularly kill. At the same time they develop the preventative 'soft cop' buffer of community support officers, liaison teams and so on, that are more fitting with the democratic image. They even get some help from leftists such as John Drury from Aufheben with his contributions on crowd control, who is as terrified of the unmanageable as the ruling classes are. The British state is a world leader in counter-insurgency techniques. Their expertise is the result of generations long brutal colonisation, like in India, Kenya and to this day in Ireland. (more…)
Tags: Amey, Angry Foxes Cell, Angry Foxes Cell in collaboration with ACAB, Arson, Badger Cull, Black Rock Quarry, Bristol, Fuck the Law, G4S, GEO, International Solidarity, John Drury, Kostas Sakkas, Police Firearms Training Centre, Portishead, UK
Posted in Direct Action
Sunday, August 25th, 2013
Civilization is not established by itself but by the people who support it. People who turned themselves into one of the poles of the civilization. Humans are the ones who gave birth to civilization. It also means that no one is innocent or not guilty in this present life. Every one plays their part in supporting the sustainability of civilization. So, every part of work, values, property, actions and every one who enjoy the benefits from civilization are enemies for us.
How it can be?
Humans are the creators for what is so-called: Culture. Culture is the direct mirror of civilization. Culture is but one of the brainwashing processes to make one bow and degrade the wild desires. Culture is not only a batch of values but tools of repression and hegemony. And two forms of among many culture's faces is school and arts.
It lead us to send our fire to the Arts Institute of Jakarta located in Cikini, on 20th August. We brought our hatred to the heart of the hangout place of artists who are only puppets of civilization. We put an incendiary device in an empty room of the third floor in the afternoon. We did our action directly in the face of a group of artists who are the self-considered "avant-garde" and who felt that they were revolutionaries. We set the fire to laugh at their passivity which is nothing but another gesture that supports the civilization to keep running.
Arts Institute of Jakarta for a long time are filled with illusions. This place breed individuals who play a main role in creating a "counter-culture" which is only another culture, rather than to discover and attack the whole picture of culture: Civilization. They produce songs, paintings, buildings, poems, and different forms of arts to help civilization stick its nails of domination.
Our only regret is how the fire does not accomplish itself to burn down the whole building because of another of civilization's helpers: the firefighters, who came in less than one hour to extinguish fires. But it's not the end or our last action. We will hit you again.

ELF-Indonesian Fraction
PS: We send our greetings to the FAI / Friends of Earth in Argentina who burned down hundreds of cars and comrades of ELF-Russia. Also to the revolutionary prisoners around the world.
mass media link:
http://news.detik.com/read/2013/08/20/184808/2335547/10/gedung-kampus-ikj-cikini-terbakar
http://news.detik.com/read/2013/08/20/193158/2335586/10/api-yang-membakar-gedung-kampus-ikj-berhasil-dipadamkan
Tags: Arson, Earth Liberation Front, ELF- Indonesian Fraction, Indonesia, International Solidarity, Jakarta, Sabotage
Posted in Direct Action
Tuesday, August 20th, 2013
we receive and transmit:
About two weeks ago we torched a tracked excavator at the place where workers were destroying Ismailovo park. The vehicle was parked on the side of the highway, where they were adding more lanes to the road. It took us 3-4 minutes to do the job. We approached. We set up our load of rags, no rush (we targeted spots between the cockpit, engine room and hydraulics in the arm). Added some gasoline and set it on fire. Quickly ran to the opposite side of the street, took our bottles of beer from bags and headed towards the nearby subway station. After about 10 minutes of walking we saw a firefighter brigade (all noisy and flashy) driving to the place of recent ecotage (they would be just in time to save the smoking remains).
Words of encouragement to our Ukranian comrades who for reasons unknown suspended all activity. We would also like to mention our rage at the sentence of Igor "Squash" Kharchenko: http://grani.ru/Society/Law/m.217970.html [antifascist from Moscow, sentenced to prison time after a controversial trial process despite all evidence proving his innocence – trans.]
Have no doubt, we will avenge him.
– ELF-Moscow
Tags: Arson, Earth Liberation Front, Earth Liberation Front (Russia), ELF-Moscow, Russia, Sabotage
Posted in Direct Action
Sunday, August 11th, 2013
We receive and transmit:
At the end of July 2013 near Maikop (resp. Adygeya) we carried out an ecotage action at the highway construction site. We chose a moonless night to reach the site of this horrendous rape of nature and chose our targets: personal belongings of slave-workers as well as corporate property. Having picked up a stone in the ditch nearby, we cracked open a window and poured some gasoline inside the mobile housing unit (we made sure no workers were inside before the attack). The rest of gasoline was poured on the wheels. In the next moment a flash of match send this shit to hell where it properly belongs. We wish the construction company to follow the vehicle there. Our withdrawal was lit with flames (as usual). No guard turned up to stop us (as usual).
Do not wait for the optimal moment to present itself before you go on the offensive. Only the state of permanent conflict will make your personality strong. If you follow the track of biding your time, hoarding money, buying some sophisticated stuff for the action – you're subconsciously withdrawing from the struggle. No camouflage or fancy boots will carry out the action for you (though they do help). All things are mere tools. Go outside and fight now! Do not listen to those who murmur: "now is not the time"! To hell with famous ideologists! To hell with "inappropriate anarchy"! Anarchy is here and now! To hell with union struggle! Working class is dead just like the present day society. It's rotten. It's in decay. Yet we are supposed to communicate with it just like Russians are supposed to communicate with Lenin. Do what you want the way you want it to be done. Fight for your own freedom. Fight for yourselves. Fight for your brothers and sisters. Fight for the future of your children. Nobody will grant you freedom unless you take it by force for yourselves. If now is not the time for you to step over "the law", to look beyond the templates of accepted "resistance", then we bet you won't find any courage inside when the civil war starts. We wish you luck.
CCF-Russia, 2013
Tags: Adygeya, Arson, Conspiracy of Cells of Fire, Conspiracy of Cells of Fire: Russian Cell, Maikop, Russia, Sabotage
Posted in Direct Action
Saturday, August 3rd, 2013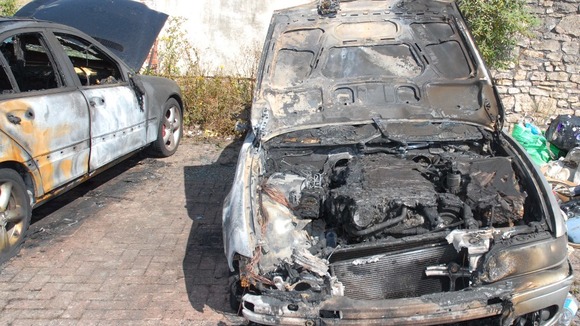 24 July – Mercedes and BMW set alight that were parked at Barry Football Club, South Wales. No one was arrested or injured. Police appealed for information because they have none.
July 30 – Three car fires in South East Ipswich were all the work of arsonists. Afterwards in the local media, police appealed for more information and revealed more acts of property damage had taken place, including against two of their own police cars. It all kicked off when a blaze broke out in Ravenswood Avenue at about 12.40am, when a number of people reported a car on fire in a wooded area on land between Ravenswood Avenue and Gainsborough Sports Centre. An East Ipswich fire crew turned up and had the flames under control by 1.03am. The damage was so bad that no identifiable features remained on the vehicle, which is thought to have been a Vauxhall Vectra or similar. At 4.17am, a Ford transit van was reported alight in Fletcher Road – and then a stolen car in Landseer Park at 5.05am. Between the fires, at 4.38am, a grey BMW and a black Ford Focus were damaged in Orwell Gardens. Shortly before 6.45am it was discovered the windows of a police car were smashed in Clapgate Lane, at the Ipswich south east safer neighbourhood team base. At 8.15am another police car was found to have had its windows smashed and damage done to the body work in Heath Road, at the Ipswich north east safer neighbourhood Team base.
Tags: Arson, Barry, Car Burning, Fuck the Law, Ipswich, UK, Wales
Posted in Direct Action
Sunday, June 30th, 2013
A CONTRIBUTION FOR THE INFORMAL ANARCHIST FEDERATION – INTERNATIONAL REVOLUTIONARY FRONT
Today, the society is the prison. In the prison's system, no one can be neutral. Each one of us full of consciousness has made a choice to choose which side you'll stand for. No unconscious choices. Because a choice, is made by an individual and not by god. Therefore there will be no "civilians" in this asymmetric war. There is only two antagonistic sides: those who fought for the total destruction of the society and those who fought to defend it.
The formation of the society are the alienating forms. Alienated one from the other in many forms of imaginary borders which is protected by guns, laws, prisons, codes of morality and the "faith" of those who believed that the borders are real. And for us, all those who believe in the borders are the enemy.
In our sight, the good citizens and the paramilitaries who where built by the military and have the same attitudes and behaviors like military are enemies who deserved our attacks, the same attacks FAI-FRI sent to their religious institutions, schools, factories, army-barracks, banks and all the supporters of the system named: Society.
Though it's true that for many people, –even those who are self-proclaimed 'anarchists'–, that from a fire that destroyed every building we attacked, it does not look that "revolution" would soon arrive. This is a stupid prediction because it puts our actions in their cage of "revolutionism". An error occurred due to the habit of generalizing all individual events on the social scale, which is where we are enemies of it. They have too long used the ancient glasses, so see how the presence of new urban guerrilla groups is something that does not fit in their glasses. They will even easily use the label 'euro-centrism' or 'latin-centrism', because they think numbers are that important. Something which is inherited from the classical anarchist thought with a mixture of Marxism that is really disgusting. Those –very Marxist– anarchists who eventually became re-stuck on the same logic with the Leftist: Mass.
That's why, we are not at all interested in becoming involved in the wave of mass protest against fuel price hikes. Those who took to the streets carrying banners and shouting, because they consumed the same event. They perform repetitive and predictable actions. They shouted until hoarse and expect changes from the parliament or state generosity. They hide in the terminology of "peaceful protest" to hide their inability to attack the oppressors, because they are cowards. They are cowards who only live from the "revolutionary" events to quench the thirst of the "revolutionary" in them.
Although on the other hand, we know clearly there is a small fraction of individuals who remain firmly in war –like in battle that they have lived in the days of yesterday– and not judging a wave of mass awakening that occurred recently in Indonesia as something "revolutionary". To those whose eyes see clearly, we are really proud to call them comrades.
Each of those who read the communiqué must realize that we have a logic and reasoning that would not be possible according to the logic used by the pacifist, social activists and the Leftist and other citizens –including the social anarchists– which does not comprise part of our group. For us, it does not matter and is also not an issue that is important at this time. Each individual has the right to hold opinions and justifications respectively. Each group will have a different analysis of the foundation with the other groups. Every person is entitled to choose their own path for how to get involved, and take personal responsibility. Each individual must find tactics that suit them and select it.
In the end, the Informal Anarchist Federation–International Revolutionary Front must necessarily be seen as an international project between individuals, cells or groups who share the passion and anger. FAI-FRI is not an umbrella organization or union which collects only those who are called "nihilist-individualist" and "the radical anti-civilization". But FAI-FRI is a temporary meeting point for acts of solidarity, an act of revenge on the enemy, simultaneous attacks, which are not intended to embrace "a better future" but to see the collapse of the hypocritical society: Today.

ANGER UNIT
INTERNATIONAL CONSPIRACY FOR REVENGE (ICR)
INFORMAL ANARCHIST FEDERATION (FAI)
INTERNATIONAL REVOLUTIONARY FRONT (FRI)

PS: To show the hardness of our hearts, we burned down the three-floor clothing warehouse in di Jl Pengukiran Raya No 1, RT 03/03, Kelurahan Pekojan, Kecamatan Tambora, Jakarta Barat. We chose the warehouse so to show to the unionists that the workers goals are not to be workers anymore, and not for eight-hours, democracy inside the factory, freedom of association or other reformist demands.
Tags: A Contribution for the FAI-FRI, Anger Unit / ICR-FAI-IRF, Arson, Indonesia, Informal Anarchist Federation (FAI), International Revolutionary Front, Jakarta, Letter, RO-FAI (Indonesia Section), Sabotage
Posted in Direct Action
Friday, June 28th, 2013
from Lucioles, translated by waronsociety:
Lucioles [Fireflies] is an irregular newsletter containing texts of analysis and agitation in Paris and the surrounding area and analysis of everyday life from an anarchist perspective. We discuss different manifestations of insubordination and attacks in which we can recognize ourselves and uncover potential rupture against the State, capitalism and domination in all its forms by attempting to connect them each to everyday life. We do not desire to represent anyone or defend any particular piece of territory which is a scale model of this shit world. (more…)
Tags: Arson, France, Fuck the Law, Lucioles, Paris, Sabotage
Posted in Direct Action
Wednesday, June 26th, 2013
Torching of four ATMs in Athens
For the past 30 months anarchist Kostas Sakkas remains in prison without a trial. Since 4/6 the comrade is on a hunger strike fighting for his immediate release. As small action of solidarity, in the night of Thursday 13/6 we burned down 4 ATMs at Kaniggos square.
Stay strong comrade
Immediate release of the hunger striker Kostas Sakkas
Arson Barrage in Athens
Anarchist K.Sakkas is on a hunger strike since 4/6, claiming his immediate release as due to a judicial coup, he remains imprisoned without a trial for more than 30 months, although he has already served his 2 pre-trial sentences.
We stand next to our comrade by launching our attack as the circumstances demand. From 15 to 18 June we torched the following targets:
The local office of New Democracy in Keratsini
Two ATMs in Palaio Faliro
One ATM in Kypseli
The private motorbike of a cop in Zografu
The private motorbike of a cop in Glyfada
The private motorbike of a cop in Petralona
Immediate release of Kostas Sakkas
Everything continues…
Torching of an ATM in Athens
As a small action of solidarity, in the night of Saturday 22/6, we torched an ATM in Vatatzi street, in Neapoli.
Stay strong comrade
Immediate release of the hunger striker Kostas Sakkas
The struggle continues…
Tags: Arson, Athens, ATM Burned, Greece, Kostas Sakkas, Sabotage, Solidarity Action
Posted in Direct Action
Saturday, June 22nd, 2013
Hidden inside a quiet business park in Portishead, just outside Bristol, is a UK Border Agency office from where an immigration crime team work with police, including launching raids in the south-west. We visited Thursday night into Friday (with the death of anarchist Carlo Guiliani in combat with police during the G8 summit 12 years ago still fresh in our minds) to set fires that damaged the building and burnt 6 vehicles stationed there – 3 cars, 2 blacked-out people carrier vans (known to be used for dawn snatches of immigrant family groups) and 1 large van. The border regime mercenaries draw the attention of our total contempt the same as any other cop does, and now this long arm of the State has felt that we are close and we don't stop.
A couple of weeks earlier, high noon on Sunday 2nd at a Tascor corporation depot at a Cribbs Causeway/Patchway area trading estate, 2 minibuses with barred passenger windows had their windscreens smashed and multiple dents to the bodywork of the cabs. Tascor (formerly Reliance Secure Task Management) work for the Border Agency and Border Force to 'escort' detainees between immigration prisons and to their deportations, utilizing the consequence-free violence their position furnishes them with such as during the recent forced removals of Marius Betondi and Raul Ally, and are the largest private sector provider of this 'service' worldwide (having taken over these duties in the UK from Group 4 Security in 2011). They also run designated holding rooms and short-term holding facilities throughout the UK as well as for UK border forces in Calais and Coquelles, France.
Capitalism profit greatly from a pool of cheap migrant labor, including known 'illegals' who are even more vulnerable to the bosses' blackmail. The State criminalizes those they decide are non-productive, utilizing poisonous nationalism to further divide the exploited (like the recent wave of hatred against anyone thought to appear 'Muslim') and to win elections. The 'lucky' migrants get to arrive in the slums of alienated Western society and are thrust into competition with other urban poor, the 'unlucky' or unprofitable in deportation prisons, in both cases governed by fear and racialized policing. However this sorting of human bodies doesn't always go as smoothly as planned: mass hungerstrikes in Dutch detention facilities and heavy rioting on the streets of Sweden are recent instances of refusal to submit to such degradation.
We don't want a world where the tyranny of immigration bureaucrats can mean the difference between life and death, and unique beings are categorized and labelled to wring the maximum profit and subordination from us all. We don't want the indignity of every movement being scrutinized for the purposed of social control and enclosure, whether at borders, on the housing estates, in school or at work.
The legend has it that 'we' are lucky to live here, under democratic totalitarianism with some comfortable cages and technological addiction to escape from reality. But infact we are surrounded by depression, divides of wealth and race and gender, devoid of any earth-based selfsufficiency and dependant on the very machine we hate. This machine is only fuelled by rampant exploitation here and largely in the countries that migrants have fled from, creating a disgusting feedback loop as industrial civilization consumes everything in its path. We want to demolish the myth that there is any good place to be within a global system of interconnected misery.
Our struggle is far from the calls for peaceful (re)integration of 'illegals' into this faceless society. We also don't want to set ourselves up as advocates of homogenized groups of migrants, nor to sanctify them all for their specific oppression. Instead of abstract humanitarian charity, we search for the rebel affinity that may be found with migrants who maybe want more than a different regime, and who breach borders, wound guards and destroy prisons from the Mediterranean to Australia; that may be found in the hearts of those who self-organize, with or without accomplices.
Borders are just one significant expression of the currently dominant order, in a world of divisions both physical and psychological, of walls segregating populations, classes and imaginations. Our attack carries the seeds for another world. One where each and every creature is free to roam as they choose. Our borderless solidarity bursts out like our flames for people struggling for life unchained, for Gabriel Pombo da Silva, the CCF imprisoned members, comrades raided in Belgium, Marco Camenisch, Henry Zegarrundo, the anarchists held in Italy and Denmark, the dignified criminals, lawless fugitives, rebellious migrants and other socially disaffected who arm their rage to fight for liberation.
We would consider this our leaving gift to the UK Border Agency, due to be renamed and reorganized in the future – except it turns out it'll mainly be "the same jobs", "in the same places", "with the same mission". We know that their same regime of exploitation will continue more adapted and integrated, so likewise our war is perpetually against all forms of categorization and control that attempt to hinder free movement and wild life on Earth. Nothing is over, everything continues.
Borderless Solidarity Cell (Informal Anarchist Federation)
Tags: Arson, Border Agency, Borderless Solidarity Cell (Informal Anarchist Federation), Bristol, Carlo Giuliani, Conspiracy of Cells of Fire, Conspiracy of Cells of Fire : Imprisoned Members Cell, Gabriel Pombo da Silva, Informal Anarchist Federation (FAI), International Revolutionary Front, International Solidarity, Marco Camenisch, Migrant Struggle, Migrants, Portishead, Racism, Tascor, UK, UKBA
Posted in Direct Action
Tuesday, May 28th, 2013
Who believed that May would pass without direct action?
With fire we responded again.
Recalling the warrior Mauricio Morales and showing solidarity with the comrades imprisoned in Temuco, we set fire to the entrance of the National Association of Prison Guards, located at Santa Monica steps in downtown Cumming Street of the city of Santiago, on Sunday May 12. With this we add a new action to those which have already been claimed by other groups in "alternative medias" but silenced by the "official release".
We said in our previous attack on a property of Gendarmerie of Chile in January this year, we will not let the torturers be tranquil in their dens. The criticism of the authoritarian system and prison facilities cannot be separated from the direct attack on those who try to break the will of our rebel imprisoned comrades. Prison guards have decided voluntarily to live as enemies of freedom and are active contributors to domination, in exchange for shares of power that materialize in confinement and to humiliate our prisoners and their families.
In April, the anti-authoritarian comrade Ariadna Torres was punished in the Women's Prison of Temuco for insulting a judge and the jailers who seized a letter from the companion to the outside.
We sent a copy of this email again to the jailers of Chile so that they know that our anarchist comrades, anti-authoritarians and revolutionary prisoners in Chile are not for the authorities little games, and for every attack the answer will come back with fire, explosions and shrapnel.
We ask comrades of action why there has been a decline in violent activity against the enemy? One thing is the excitement of the street-fighting, but in May there has been fewer direct attacks and planned bombings, arson and sabotage against the wealthy, and also their system of misery. That the anti-authoritarian attacks are sustained over time and not by a police story, depends on us. That the option for revolutionary violence and its connection with the anti-authoritarian struggle (and its various forms of being implemented) be not just a youth fashion, depends on us. Boosting and multiplying the direct actions in quantity and quality depends only on our will.
In May, we remember those comrades murdered by the State in Chicago in 1886; to Daniel Menco, young man killed in 1999; to young Rodrigo Cisternas, worker killed by police in Chile in 2007 after being crushed by a police vehicle with a backhoe; to the compa Henry prisoner since May of last year in Bolivia [currently on house arrest]; and Nicola Gai and Alfredo Cospito, prisoners in Italy, imprisoned for a year accused of the shot to the leg of a boss of a scientific nuclear company.
Regards to the clandestine comrades and prisoners worldwide.
MAURICIO MORALES LIVES IN DIRECT ACTION.
Insurrectional Anti-authoritarian Cell Panagiotis Argyrou, affinity of the FAI/FRI. Chile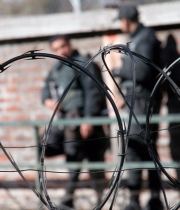 Tags: Alfredo Cospito, Arson, Chile, Conspiracy of Cells of Fire, Conspiracy of Cells of Fire : Imprisoned Members Cell, Greece, Henry Zegarrundo, Informal Anarchist Federation (FAI), International Revolutionary Front, International Solidarity, Italy, Mauricio Morales, Nicola Gai, Panagiotis Argirou, Santiago
Posted in Direct Action
Sunday, May 26th, 2013
Communique for incendiary attack on prison guards' gym
from materialanarquista, translated by waronsociety:
"One would say, then, that force is aimed at imposing the organization of a certain social order in which a minority governs, while violence tends to destroy this order. The bourgeoisie has used force since the dawn of time up to modern times, while the proletariat reacts to the present, through violence, against it and against the state" – George Sorel
THE GANG IS FURIOUS:
In this moment, the weight of history falls on our backs, the memory of the combatants, fallen and victorious compañerxs in a struggle since the origins of humanity, just like that, varying in material and quantitative terms. How to confront a corporeal beast with an unprecedented historical force; class society is a material and also an idea, essence and phenomenon present in humanity's individual and collective consciousness. The state, private property, its armed forces, the productive modes and the permanent, continual complicity of a humanity subject to the decisions of an omnipresent authority.
Tags: Anarchic Gang of Fury (B.A.C.), Arson, Chile, Fuck the Law, Incendiary Cell for the Subversion of the Existent, Molotovs
Posted in Direct Action
Friday, April 19th, 2013
On 20/03/2013 4 SUVs burned down in Voronezh. Police suspects arson.
On 02/04/2013 somebody threw an armed frag grenade into police station lobby in New Voronezh (Voronezh region). Cops arrested a suspect, no further news about his fate or reasons for action.
On 08/04/2013 2 Mercedes and Volvo were torched in Northern Moscow.
Source: https://blackblocg.info/ (all news come from corporate media)
Tags: Arson, Fuck the Law, Russia, SUV, Voronezh
Posted in Direct Action
Monday, April 15th, 2013
Arson and damage against Mitie vehicles in Bristol
Over the weekend we attacked 2 different Mitie vans. Behind the "Bush" pub 5 minutes from Templemeads, on a sunny evening during rush hour we took the opportunity to spike two wheels and pour paint stripper over the vehicle. We may have been seen, so what, good luck to em, we look just like everyone else.
We chose not to only push our struggle in the hours of darkness, recognising that our expressed anger, if witnessed, probably leaves a question in the mind of the onlooker. On this occasion we decided the risk was worth it. We also burnt a Mitie van in East Bristol, setting fire to it at night.
Mitie are one of several companies to have benefited hugely from the privatisation started by Thatcher in the 1980s. The outsourcing of immigration prisons such as Campsfield was one step in building an empire which now includes prisons, youth offender institutes, probation services, and extends to housing and "sustainable" energy sources. We are not asking for state controlled versions of the above. But calling for fire to all prisons – immigration, youth or otherwise.
As well as "detention centres", Mitie now run 6 different prisons -including 2 youth offender institutes. They are partners with the UK Border agency and the Prisons Service. Last year workers for Mitie in London went on strike after a pregnant worker was badly mistreated, and ended up in hospital whilst working for Mitie.
Across the country, people of all ages are placed in the "care" of Mitie and are beaten and denied their freedom. These small actions are in solidarity with them, and anyone who was on the streets this weekend.
Mitie claims to support people but their move into housing and energy do nothing to change the fact that they are intent on profiting from any aspect of life.
Fire to the prisons!
Burn in hell Maggie!
Tags: Arson, Bristol, Car Burning, Margaret Thatcher, Mitie, UK
Posted in Direct Action